Are you wondering, " what are the national parks near me?" Well, you have come to the right place! We at Trekaroo are total national park junkies and are working hard to visit them all while bring all our best national park tips to you!
National parks are sure to fascinate kids of all ages and build a love for the outdoors and historic sites.
We have guides to dozens of national parks. They cover what to do, where to stay, and which hikes you won't want to miss. It is our goal to bring you the best coverage of national parks near you as well as help you plan amazing national park road trips and adventures.
National Parks Near Me- Plan Your National Park Vacation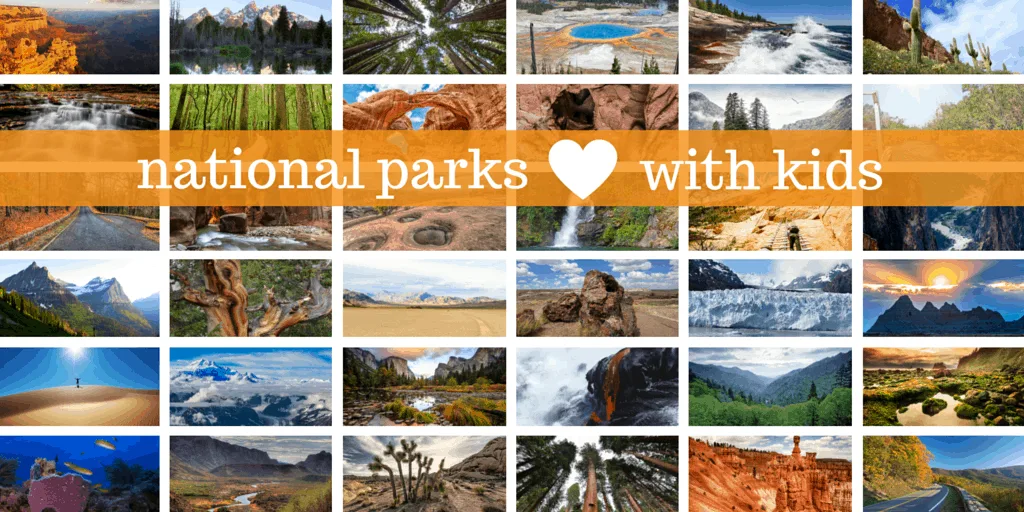 National Parks Near Me in California
California's natural beauty shines bright in its gorgeous natural parks. There are more national park units in California than in any other state! Dramatic hiking, stunning forests, and numerous kid-friendly accommodations and campgrounds abound. You will definitely want to purchase a national parks pass before heading out to see all these great parks.
Yosemite National Park, Sequoia National Park and Kings Canyon National Parks are home to wonderful Sierra Nevada hiking and scenery. These parks are home to granite monoliths, stunning alpine scenery, and the biggest living organisms on the planet- the Giant Sequoias.
Further north is Lassen Volcanic National Park, an active volcano that is very much alive and begging to be explored.
Redwood National Park hugs the state's northern coastline, and is home to the tallest trees on the planet.
Southern California is home to some great national parks as well. Channel Islands National Park sits off the coast, wild and rugged as it has been for centuries.
The deserts of Southern California have their own unique beauty. Death Valley National Park has massive sand dunes and is home to the lowest and hottest spot in North America. Joshua Tree National Park is a boulder climber's paradise that comes alive with a riot of color after a wet winter..
The newest California national park is Pinnacles National Park. It is a great place to hike, wander through caves, and see the California condor in flight.
In addition to national parks, California is home to several national park units like monuments, seashores, historic sites, recreational areas, and more. Click on an image below to read comprehensive guides or reviews of these parks.
National Parks Near Me in the Southwest
Dry, windy conditions and an amazing amount of ancient water have carved out some pretty incredible national parks in the Southwest. The epitome, Grand Canyon National Park, is certainly stunning. The North Rim and the South Rim each offer something different.
Arizona is also home to Saguaro National Park, which is known for its low desert scenery and towering Saguaro cacti as well as Petrified Forest National Park. Once a thriving forest, this desert is now littered with logs turned to stone.
Utah's national parks make for one epic road trip. Zion National Park is known for it gorgeous canyons, include the famous hike through a river in the Narrows. At Bryce Canyon National Park you can find towering hoodoos and an ancient Bristlecone pine trees.
Over by Moab, Arches National Park is known for its namesake, and Delicate Arch is the queen of them all. Nearby Canyonlands National Park has its own arches as well as sprawling desert views for miles around. Capitol Reef National Park rounds out Utah's "big five". It has a rich pioneer history, great hiking trails, and orchards ripe for the picking.
Nevada has is home to remote Great Basin National Park. The park has Lehman Cave at its base and tons of alpine scenery to enjoy as visitors wind further up into the park's mountains.
New Mexico is home to two national parks. Carlsbad Caverns National Park is home to some of the most famous and impressive caverns on the planet. White Sands National Park is a national monument that recently became a national park with dramatically-colored san dunes.
Click on the images below to find comprehensive guides, reviews, and road trip itineraries.
National Parks Near Me in the Mountain States
Another goldmine for the national park system, the Mountain Region of the United States boasts an incredible lineup of parks.
Colorado is home to four great national parks. Desert exploration can be achieved at Great Sand Dunes National Park. Kids can't get enough of sliding down the sand dunes.
Mesa Verde National Park in southwest Colorado is home to ancient cliff dwellings that are a blast to explore. Also in southwest Colorado, Black Canyon of the Gunnison National Park offers incredible canyon views and trails.
Up north, explore the mountainous wonder of Rocky Mountain National Park, a hiker's paradise. It is also a great place to spot wildlife like mountain goats, bears, bighorn sheep, elk, and moose.
Continue the tour of the Rocky Mountains as you head north through Grand Teton National Park in Wyoming. Head to Jenny Lake and take a boat to a hike with an incredible view. Next door is Yellowstone National Park, America's first national park known for its geysers and ample wildlife.
Your Rocky Mountain journey continues up in Glacier National Park in Montana. Going to the Sun Road is one of the most scenic drives in the United States with waterfalls galore.
Best National Parks Near Me in Texas and the Midwest
Everything's bigger in Texas, including the national parks. Explore 800,000 acres of remote wilderness Big Bend National Park which boasts three diverse ecosystems: the Rio Grande, the Chihuahuan Desert, and the Chisos Mountains. Guadalupe Mountains National Park offers numerous hiking trails in an extensive wilderness area.
The Dakotas are home to three national parks. North Dakota has Theodore Roosevelt National Park, known for its wide prairies and wild horses. South Dakota has Badlands National Park, a barren landscape with its own distinct beauty, and Wind Cave National Park, known for its boxwork cave formations.
Isle Royale National Park is located on a remote island in Michigan and requires a boat or sea plane entrance. This lesser-known gem receives less visitors per year than Yellowstone gets in a day!
Voyageurs National Park in northern Minnesota features diverse ecosystems and landscapes carved out by glacial movement, and offers free camping!
Ohio's Cuyahoga Valley National Park features family-friendly hikes through forests, beautiful scenery, and a fun train ride.
National Parks Near Me in the East
The crown jewel of the northeast, Acadia National Park, is situated on the eastern seaboard of Maine. It was the first national park established east of the Mississippi River. Explore tide pools, kayak, bike, or hike through this beautiful park.
Explore nearby National Historic Parks: Saratoga | Women's Rights | Morristown
The diversity of the southeast is reflected in its national parks. Mammoth Cave National Park in Kentucky is home to the largest known cave system in the entire world! In nearby West Virginia is our newest national park, New River Gorge National Park. Hot Springs National Park has the smallest footprint, and preserves historic hot springs in the city of Hot Springs, Arkansas.
Mountain hikes and great fall color can be found in Shenandoah National Park and Great Smoky Mountains National Park, America's most visited park.
South Carolina's Congaree National Park preserves a large tract of hardwoods forest that filled with cypress and other deciduous trees. It is a great place to kayak through the swamp or stroll the boardwalks.
Down in Florida water-based fun can be had at Biscayne National Park. It is close to Miami and known for its coral reefs Dry Tortugas National Park sits off the coast of the Florida Keys. It preserves a historic fort and has plenty for water lovers to enjoy. Everglades National Park rounds out Florida's national park offerings with alligators and vast, swampy rivers of grass.
In the Caribbean, there is even a national park in the US Virgin Islands. What a great excuse for an island vacation!
National Parks Near Me in the Pacific Northwest
The Pacific Northwest boas some great national parks. Mount Rainier National Park is known for its alpine beauty. Crater Lake National Park is home to some of the bluest waters on the planet.
North Cascades National Park has towns that you have to boat into to reach! Olympic National Park is know for its diversity. You can walk through rain forests, explore tide pools, and hike mountain trails all in the same park!
Trekaroo Tip: Check out the San Juan Islands, a national historic park in Washington.
National Parks in Alaska
Alaska boasts eight national parks including the popular Denali National Park. Glacier Bay National Park, and Kenai Fjords National Park are also popular with families. Click on the images below to read articles covering these amazing national parks.
Additional national parks in Alaska include Lake Clark, Wrangell-St. Elias, Kobuk Valley, Katmai, and Gates of Arctic. Some of the parks are extremely remote and require special arrangements to reach.
National Parks in Hawaii
Explore the beauty and diversity of Hawaii's national parks including Haleakala National Park, which dominates Maui as it soars 10,023 over the stunning beaches below. Don't miss Hawaii Volcanoes National Park, home to the most active volcano on the planet, Kilauea.
Click on the images below to read details on visiting both parks.
Tips and Tricks for National Parks Near You
Did you know that 4th graders (and their families) can visit national parks for free? Check out the Every Kid in a Park Initiative. Trekaroo has more tips and suggestions to help your plan your national park adventures. Click on the images below to read more!
Further Reading About National Parks
Although our Trekaroo guides are pretty awesome, we love the hands-on learning that takes place with kids using the National Geographic National Parks books series.
National Geographic Guide to National Parks of the United States– This guide might as well be the national park bible. It covers all the US National Parks, offering detailed information on how to get there, what to do, and when to go to each park. Trekaroo's Editor has read it cover to cover a dozen times over the years.
National Geographic Kids National Parks Guide USA– This guide serves as the kid-friendly version of the original National Geographic Guide to National Parks of the United States. It engages children with great imagery, fun facts, and interesting details about all of our national parks. Don't be surprised if you find yourself stealing this book away from your children. It is truly for all ages.
National Geographic Junior Ranger Activity Book– Heading out on a National Park road trip? Bring this book along to keep the kids entertained. It is filled with over 140 pages of puzzles, games, and facts centered around the National Parks. The best part? Your kids will be learning while having fun!
National Park Kids Funny Fill-In My National Parks Adventure– This book is basically Mad Libs with a national park theme. It is fun for car rides or tent time at your favorite national park campground.
Special thanks to Katie Bodell who created the original version of this resource.