To the lover of pure wildness Alaska is one of the most wonderful countries in the world." – John Muir, Travels in Alaska

Photo by: Sharlene Earnshaw
"Whoa." The words involuntarily escaped my mouth. I had never opened my door to discover a massive glacier staring back at me. My awe was abruptly interrupted by the sound of my daughter, Mari, opening the door to her cabin. "Whoa! Mom, there's a huge glacier right there!"
Whoa indeed. Clearly we weren't in the Lower 48 anymore.
The waters of the Endicott Arm are like a sculpture garden. Floating remnants of glacier range in hue from stark white to Powerade blue – a color I didn't previously believe could be found in nature – and drift about in shapes that beg to be identified. "That one looks like a bear sitting on a glacier,",Mari excitedly pointed out. Her bear was surrounded by sculptured birds, a pyramid, and even a chunk of ice crudely shaped like the state of Texas. The air was still and the fog was beginning to break, revealing the dramatic scene.
Our destination for the day was Dawes Glacier, a massive beast of a tide water glacier sitting at the end of Endicott Arm. The scenery reminded me of Norway's fjord country, complete with towering mountains and plunging waterfalls. Nature in Alaska is super-sized and it's easy to lose perspective on just how big everything is. At first glance, there was no way to tell Dawes Glacier towered 200 feet above the water line and stretched a mile wide. The mountain tops soared 4000 feet above us but felt like they were close enough to reach.
The Safari Endeavor anchored a few miles from the glacier and we boarded skiff boats to get a closer look. We were told that for safety's sake, boats needed to stay at least 1/4 mile away from the glacier; it didn't take us long to figure out why. A huge chunk of ice fell from the glacier and we cheered as it hit the surface with a loud clap of thunder, shooting water 100 feet into the air and causing a massive wave which slowly rolled towards our skiff floating 1/2 mile away. By the time the wave reached us, it was nothing more than a gentle roll causing the boat to casually bob alongside a deep blue iceberg the size of a VW bus.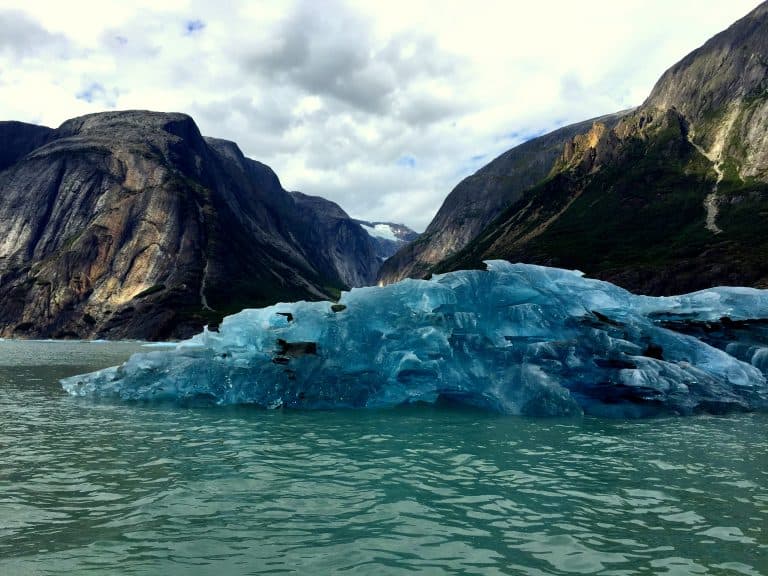 Dawes glacier put on quite a show for us. We witnessed multiple chunks of ice falling from the glacier – an event known as calving – but the true highlight of the day was when we saw a gargantuan chunk of ice break from the underwater portion of the glacier and shoot up towards the surface like a monster-sized cobalt blue whale. Judging by the contagious excitement of our guide, Sarah, we could tell that seeing a shooter was quite rare.
Not so rare were the abundant wildlife sightings our group experienced during our skiff tour of the waters near Dawes Glacier. Tiny harbor porpoises dashed about in between sparkling chunks of ice while a bald eagle soared overhead. As we approached a roaring waterfall plunging into the fjord we discovered a group of harbor seals frolicking at its base. Dozens more seals lounged like sunbathing bananas on little ice berglets dotting the water.
We disembarked from the skiff and stepped on board the Safari Endeavor just as cocktail hour was about to begin. Everyone gathered in lounge, which essentially serves as the ship's living room, and jovially celebrated the day's events. The kids played card games and drank custom juice concoctions, courtesy of our beloved bartender Kikka, while adults sipped on everything from crafted cocktails to Alaskan microbrews. Dawes Glacier grew smaller as the ship slowly glided away. Dinner was nothing short of exquisite with large picture windows allowing for continuous viewing of the wild Alaskan landscape. Seared sea scallop with a blood orange gastrique, coriander rubbed lamb with sweet onion chutney and mint yogurt sauce or black bean and roasted pepper empanadas; the choices were all as divine as their descriptions suggested and the portions were satisfying without being overwhelming. The evening was capped off with a hot tub soak and one more glass of wine.
It was a pretty epic first day. Luckily each day aboard the Safari Endeavor managed to live up to the first day's sky-high standard.
Bush Whacking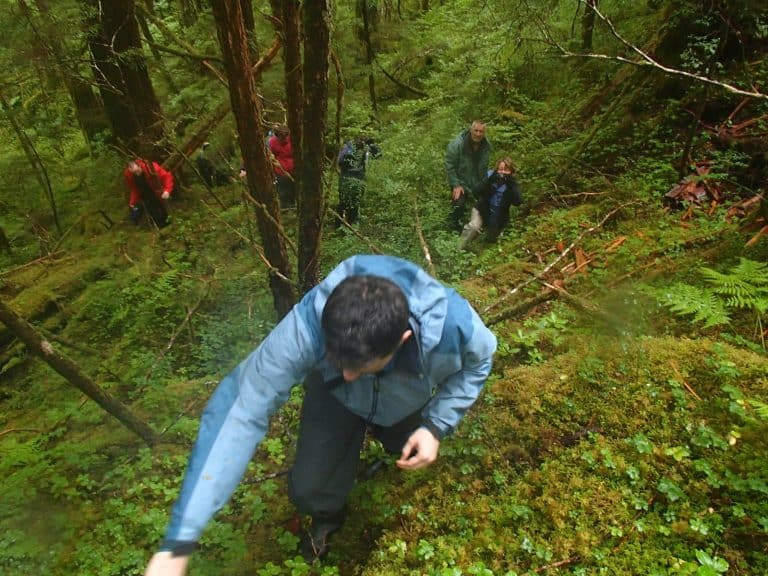 Each day onboard Uncruise in Southeast Alaska, passengers had the option of selecting from a few different excursions (or could opt to doing nothing at all). Bush whacking, adventurous guided walks through the forest without a formal trail to follow, quickly became my favorite option. My family had been greeted with the traditional Southeastern Alaska drizzle when we woke up on Tuesday morning. After watching a humpback whale spout and surface while enjoying our breakfast of corned beef hash in the dining room, we donned our rain gear and hopped aboard a skiff for our first land-based adventure of the trip. The rain seemed a bit more constant while on board the motorized raft but once we reached the shore, we realized it had slowed to a steady sprinkle. It was time for tide pooling, Alaska style.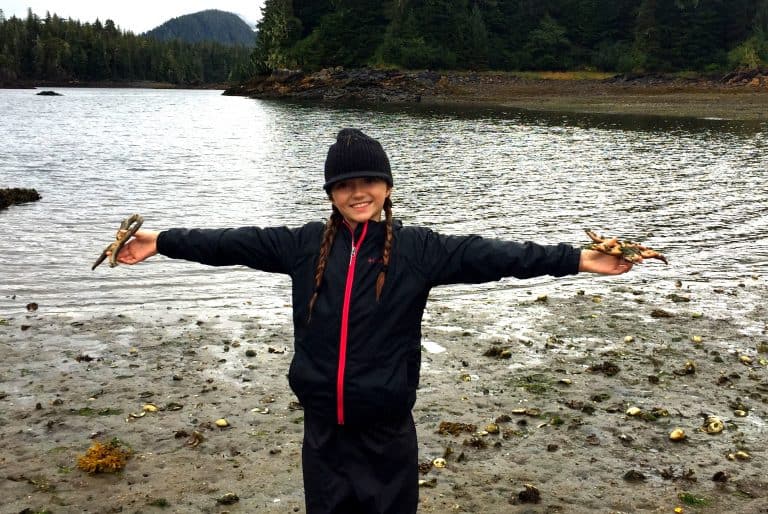 Jagged igneous rocks lined the shoreline, creating tide pools filled with critters such tiny urchins, wispy red anemones, and sea stars in a variety of shapes, sizes, and colors. After a bit of waterfront exploration, our guide told it was time to head inland. In contrast to the hard, sometimes slippery surface of the shore, the floor of the forest interior was a cushiony, soft carpet of thick peat moss. Our bush-whacking route followed a game trail, likely created by deer, moose, or bear. We climbed over fallen logs, pushing aside alder and ferns, avoiding thorny devil's claw, and snacking on wild blueberries along the way. The forest was rich with life, from towering Sitka spruce to various forms of lowly, but still lovely, fungus. Our guide spotted a banana slug chilling on a piece of bark and encouraged us all to give him a kiss. How could we resist?
Our guide pointed out the chirping sound of a bald eagle and one of my fellow bushwhackers spotted him high in the tree. It wasn't long before a massive nest atop an old tree was spied. After our group climb down a steep, moss-cushioned hillside, we took a moment to stop and take pictures in the marvelous old growth of Tongass National Forest. Just as we were about to trek on, I spotted an eagle perched just above us at the top of the hill, no more than 20 feet away. "Holy crap an eagle!" I gasped, noting that it didn't have the trademark bald head. Was it a golden eagle, I wondered? "It's a juvenile," a fellow hiker remarked. Of course! Inquisitive and unafraid, the eagle remained on a hillside, marveling at our spectacle while we marveled at his.
Skiff Tours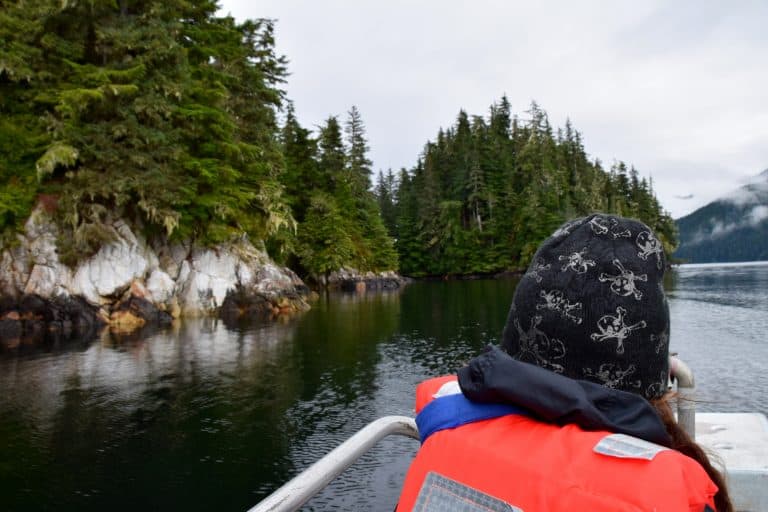 Every skiff tour is different. One might be dominated by the spectacle of teenage sea lions rolling and tumbling with one another, delighting in a recent catch of a fleshy salmon. Another day, you might be lucky enough to spy a mother bear and her cubs cruising along the shore, looking for clams to dig up and pop open like cans of Pringles. Tours are lead by crew members with diverse backgrounds, such as a salmon biologist who manages to get everyone on-board excited about the fish that is the most important link in the food chain of Southeast Alaska.
---
---
Whale Watching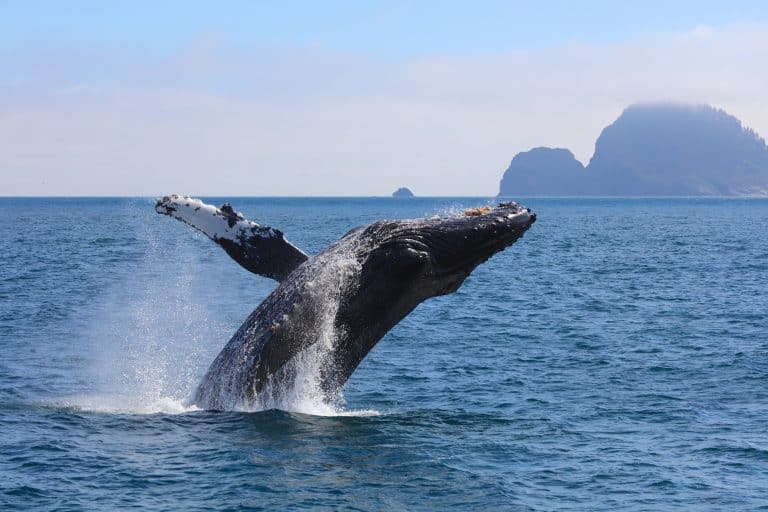 You want to see whales? Oh don't you worry, you will see plenty of whales aboard an Uncruise in Southeast Alaska. Sometimes you will see them from the windows of the dining room or lounge, casually feeding of the plankton-rich waters. Other times you might simply hear a humpback exhale, your view blinded by pea soup fog surrounding the boat. Then suddenly one breaches, close enough give you true perspective on just how massive these marvelous beasts truly are. One evening as the sun was setting, we cruised right into a glistening bowl of whale soup. Whales, too numerous to count, let their presence be known as they flipped their tails and sent whooshes of spout spray into the air. In that moment it felt like the world was only occupied by my shipmates, the whales, and the setting sun.
Kayaking and Paddle Boarding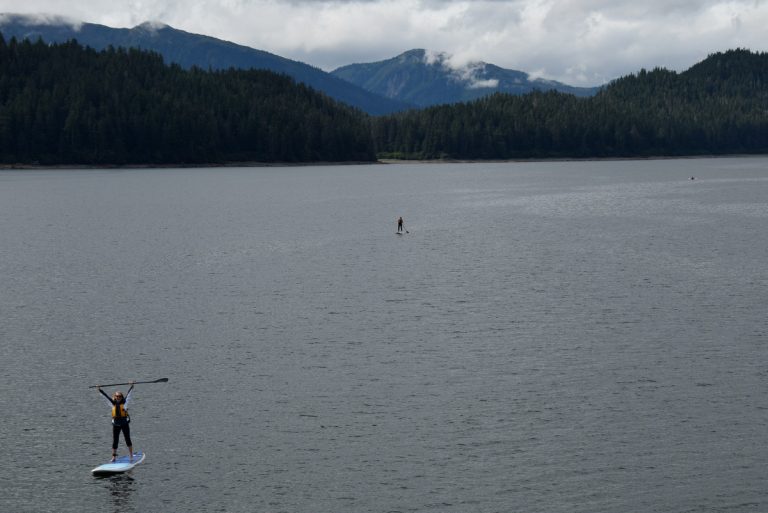 One of the special ways to explore the inlets of Southeast Alaska is via paddle. Guided kayak tours range in length from a 1.5 hour paddle suitable for beginners to a multi-hour hike and paddle expedition that includes lunch. If you prefer to go at your own pace, open paddle days will be your favorite. Paddle boarding was never an experience I expected to have while in Alaska but it is certainly one I will never forget. Standing on a simple board surrounded by the impressively large landscape was a profound reminder of how grand nature is and how small we truly are.
Glacier Bay National Park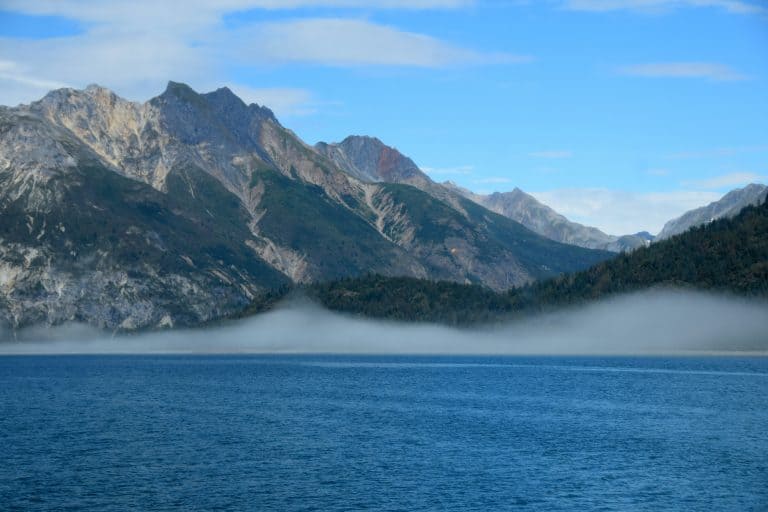 One of the biggest highlights of Uncruise's Exploring Muir's Wilderness Itinerary is the day the ship spends in Glacier Bay National Park. As with all cruise ships entering the park, a National Park Ranger boards to serve as guide. Since the Safari Endeavor is a small ship, each passenger had the opportunity to interact with the ranger and ask plenty of questions.
We arrived bright and early at Margerie Glacier, a particularly pretty tidewater glacier sitting near the US-Canadian border in the far reaches of the park, and the weather was remarkable. Glacier Bay has a reputation for being a cloudy place – it is in a rain forest after all – but that day the weather gods must have been celebrating the National Park Service's 100th birthday with us. After admiring the glacier and watching her calve with hot coffee in hand, we headed down to the dining room for another tasty breakfast. The ship headed south through Glacier Bay, cruising through a place that was filled with 4000 feet of ice when Thomas Jefferson was signing the Declaration of Independence.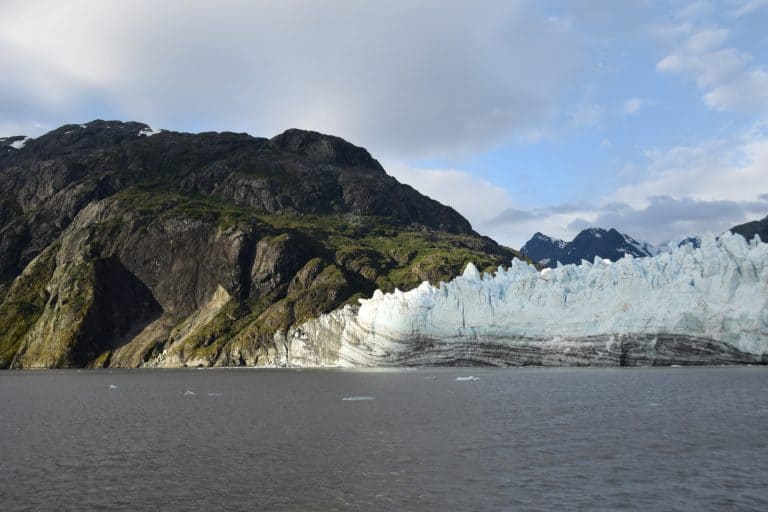 Gloomy Knob, normally reflective of its name, was basking in sun when we arrived. Dolomite and granite shone more like obsidian as the sun hit damp rock cliff edges. This spot is prime mountain goat viewing country because the rocky knob is a bit of an island in a surrounding forest filled with predators such as wolves and wolverines. We used our binoculars to spy on the furry, white, sure-footed creatures. Fellow passengers worked together to make sure everyone spotted one sunbathing. "Follow the second crevasse from the right up the mountain. He's standing near the cottonwood tree."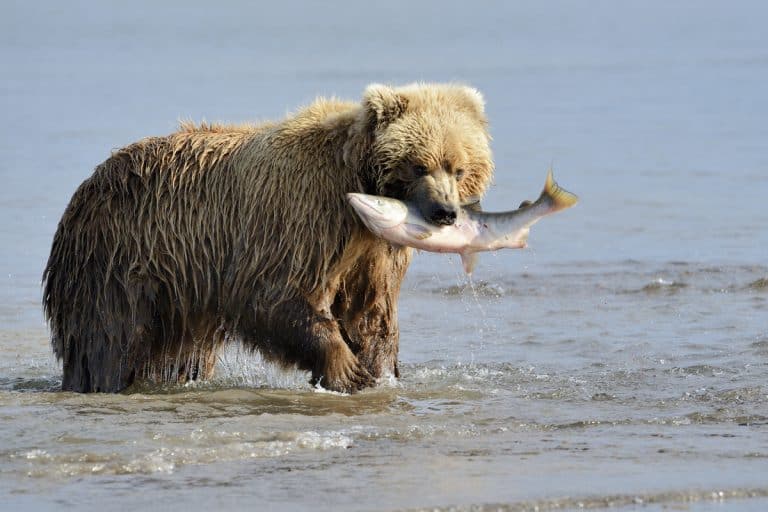 Just around the corner from Gloomy Knob, a black-furred grizzly bear was out strolling on the beach. It wasn't long before he disappeared behind a boulder, which stood at the edge of a stream. We watched a bald eagle chomp on a recently caught salmon, hoping that Mr. Grizzly would make a second appearance. After about 10 minutes he did, wandering further up the stream before disappearing and then reappearing shortly thereafter with a silvery salmon flapping in his mouth. He didn't waste time climbing up the rocks and into the alder where he could feast on his prize in private. I decided to toast the bear's catch with a Bloody Mary better than any I have ever had on Bourbon Street- courtesy of Kikka.
A couple hours later, the children were in the middle of a lively game of Monopoly in the lounge. The only property still up for grabs was Marvin Gardens and my son, Ben, had just gone to jail (directly to jail. He did not pass go. He did not collect $200.) when over the loudspeaker we heard "orcas have been spotted off the front of the boat." The kids let out a cheer and multi-colored cash dropped to the floor as we all sprint for the bow. We spotted a spray and then the characteristically upright dorsal fin of an orca. More cheers! This was the holy grail of sea life for my son. A true highlight of his summer. The adrenaline and euphoria of the moment lasted long after the pod was out of sight.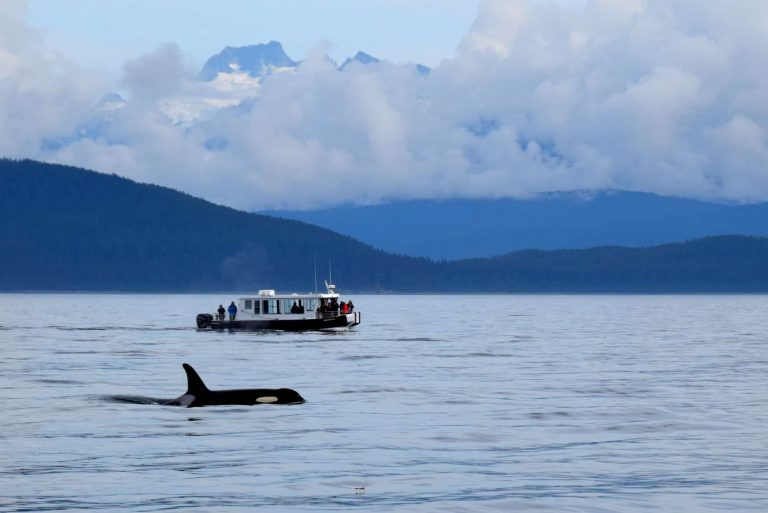 Uncruise by the Numbers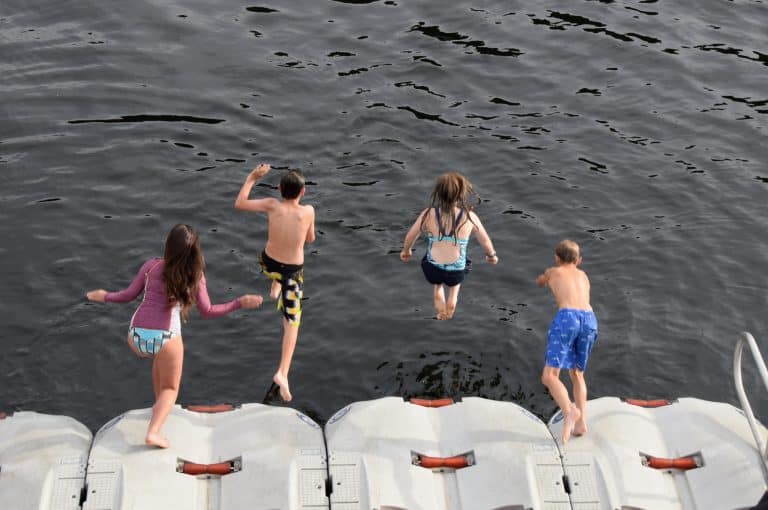 Are you brave enough to take the polar bear plunge?
84- The maximum number of guests aboard the Safari Endeavor, our Uncruise home for the week. All of the ships in Uncruise's fleet are small. Their smallest, the Safari Quest, hosts just 22 guests. Their largest, the S.S. Legacy, hosts up to 88.
34- The number of crew members aboard the Safari Endeavor. This puts the passenger to crew ratio at 2.5:1. The Uncruise staff is diverse, hardworking, helpful, and friendly. Expect to know almost all their names by the end of the trip, they most certainly will know yours.
12- The number of different Alaskan itineraries that Uncruise offers. My family experienced the Exploring Muir's Wilderness itinerary which began in Juneau and explored places such as Endicott Arm, Icy Strait, and Glacier Bay National Park.
6– The number of different species of sea mammal we saw while enjoying our Uncruise: seals, sea lions, sea otters, porpoises, humpback whales, and orcas.
7- The number of grizzly bears we saw during our trip.
Dozens- The number or bald eagles and humpback whales we saw. They were too numerous to count!
0- The amount of extra dollars we had to spend on excursions, meals, or drinks. Everything was included on this trip!
7- The number of different destinations around the Pacific that Uncruise currently visits. Their newest itineraries are taking guests to Costa Rica and Panama. Trekaroo founders Liling and Brennan had an incredible time with their family on an Uncruise vacation in Baja's Sea of Cortez.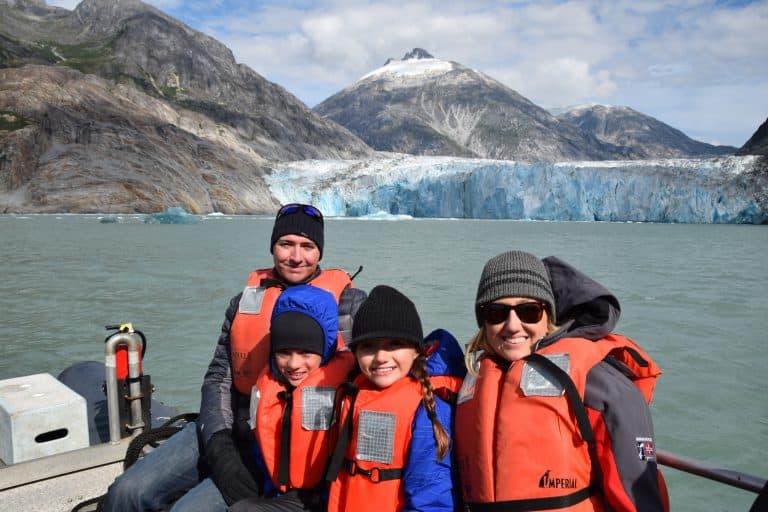 Start Your Adventure

Book with UnCruise and get an additional $100 off per cabin for any offer you find online. Book more than 8 cabins for additional savings.

Offer code: TREK19
Disclosure: In order to facilitate this story, Uncruise gave my family a reduced rate. All opinions are my own. As of 2019, because of our fabulous experiences, we have established UnCruise as one of our trip partners.