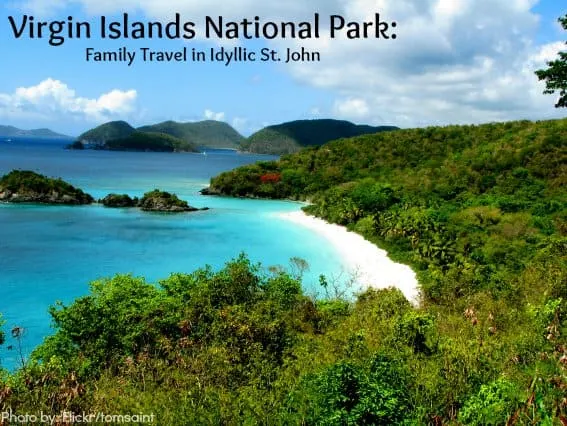 Like most families, ours enjoys the rest and relaxation a beach vacation provides. However, it doesn't take long for us to feel antsy for our next dose of adventure. St. John US VI has proven to be just the right style of island getaway for us- no passport required!
St. John is part of the three island chain that comprises the United States Virgin Islands. St. Thomas gets the most chatter due to its multitude of resorts and cruise ship stops. St. Croix has the honor of being the largest of the three islands, while St. John is the smallest and least developed. Almost 2/3 of St. John is dedicated to National Park land and since the park includes coastal waters and shoreline, almost all the beaches are free and public! This is not a place of casinos and nightlife. St. John US VI is a slow-moving, family-friendly tropical paradise where natural beauty and wildlife abound.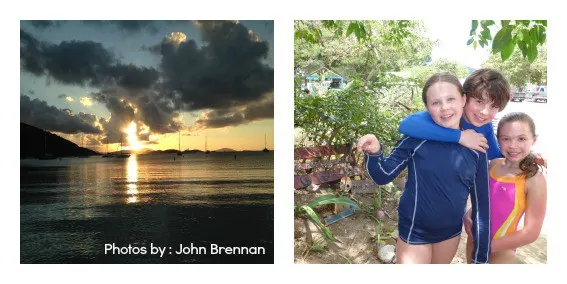 Virgin Islands National Park was created after Laurence Rockefeller enjoyed some quality vacation time on the island. He proceeded to buy up most of the island, created the quietly stylish Caneel Bay resort, and donated a good portion of the land back to the government for the creation of Virgin Islands National Park. Average daily temperatures are in the 80's year round and the trade winds provide a great respite from the heat. Palm trees, lush mountains, and crystal clear blue waters all create a magnificent island getaway. Get ready for some phenomenal snorkeling opportunities, hiking trails, island history revolving around settlers and sugar plantations, and, of course, beach time and island sunsets!
Fun and Adventure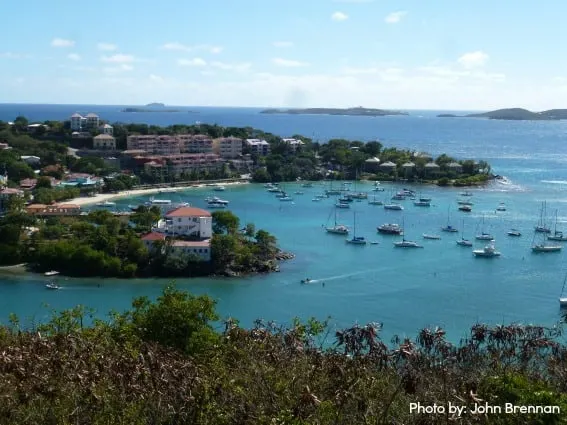 Since much of the island reserved for the national park, it is most certainly a naturalist's heaven. Most tourists enter St. John via Cruz Bay. This is the busy side of the island and home to most of the residents. Shops and restaurants line the streets and a National Park Visitor's Center sits within walking distance of the ferry port. A stop here provides helpful information about hiking trails, historical sites, and beaches.
Hiking on St. John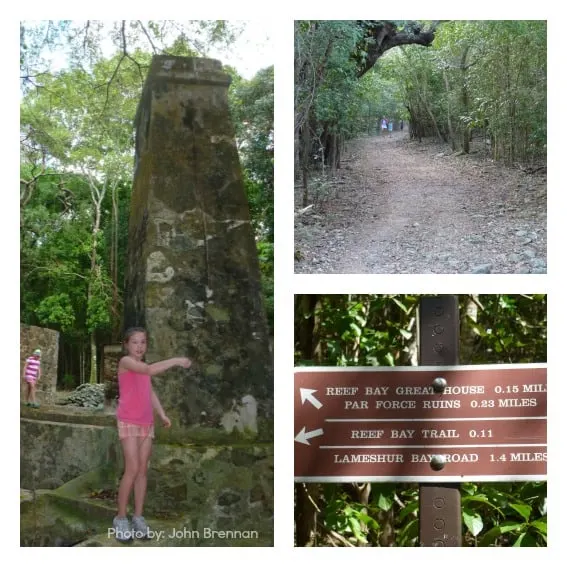 Although hiking on a tropical island might be a bit on the warm side, trails in St. John almost always reward with a splendid slice of sand along the water or a windswept view. Make sure you pack your snorkeling gear in your day pack, along with plenty of water. The most famous and well-traveled trail is the Reef Bay Hike. This 2 mile, one-way trail offers sweeping vistas, plantation ruins, critter sightings, and snorkeling in the bay at trail's end. With a reservation, the National Park Service will ferry your party back to the beginning of the trail via boat. If you have no reservation, it is a tough hike back up. You can reach the same location via the longer but more level Lameshur Bay Trail. There is no park service to ferry you here.
There are plenty more hikes to choose from, none are overly technical and all promise a view, history, or a snorkel! The Salt Pond Bay hike is another one of our favorites. We completed this hike a few years back and ran into a local resident salt mining in the flats. She gathered up what looked to be 5 year's worth of salt cakes and carried them on her head to the top of the trail. The mud flats at Francis Bay are ripe with land crabs. Across from Cinnamon Bay, there is an interpretive trail around a sugar plantation ruin. Cinnamon Bay also holds ranger led programs. We once stumbled upon an astronomy program where we got to see so many beautiful stars and constellations in a non-light polluted sky. What a difference from home!
A Plantation History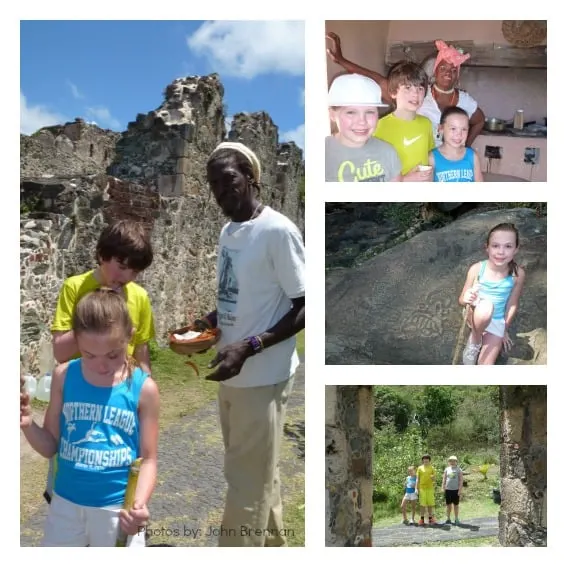 At the Annaberg Sugar Plantation, set right on the ocean in Leinster Bay, visions of nearby Tortola make up the scenery. From the top we could see a stingray swimming in the crystal clear water. We spent some time looking for the beautiful Frangipani caterpillar. Informed volunteer docents answer any questions you can muster up and provide information about the plantation and slavery on the island. Miss Olivia is on hand at the plantation, baking historically correct "dumb bread" or Johnny Cakes. My crew remembered these seaside snacks from our visit 5 years ago and were looking forward to trying them again this trip. Additionally, they had been talking about Charles the gardener periodically during those same 5 years. To our surprise, we found that he still worked at the plantation. He was happy to share with us the fire pit, the garden, stories of the plantation, and samples of the garden food. We ate our fill of coconut, peas, sugar cane, and, a family favorite, tamarind. This time our kids knew well enough to not swallow the seed. We hope Charles is there for our next trip.
Best Snorkeling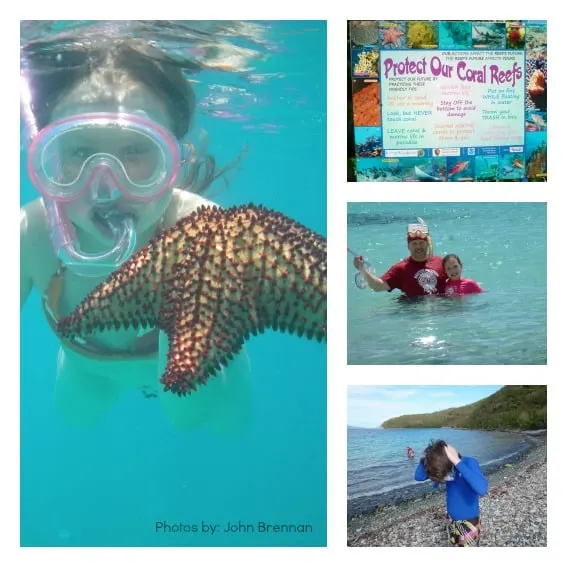 You cannot come to St. John and not snorkel. Snorkeling is the high-point of our visits. The waters are clear, the fish are abundant, and the snorkeling is easy. Five years ago my youngest needed the help of her Dad to maneuver; this year as a nine-year-old she was an old pro. The kids spent hours face down looking for the likes of Trunkfish, Porcupine Fish, Parrot Fish, Sting Rays, and more. The treasured sightings are always the sea turtles that lazily munch on the sea grass and quickly swim away if you get to close. An attached Remora gets bonus points.
As part of the Virgin Islands National Park, Trunk Bay is a great spot for inexperienced snorkelers. There are lifeguards, beautiful sandy beaches for sandcastles, very little current, sandy bottoms, and a guided underwater trail for learning. The kids quickly grew bored with the trail and wanted to explore all around the bay. Once we had our snorkeling mastered we tried some other spots on the island. A favorite was Leinster Bay and the nearby Waterlemon Cay. After a mile hike along the pelican hunting grounds of the bay, you can get to the beach. A swim across the bay brings you to Waterlemon Cay. Waterlemon is a small island off the beach where the snorkeling is terrific and almost feels like your own private island. Locals enjoy snorkeling at Haulover Bay which is on the far east side of the island where very few tourists make the trek. Access to the water is a quick hop out of your car to either side of this sliver of island. The beach may not be St. John's best, but the snorkeling is tops!
Favorite Beaches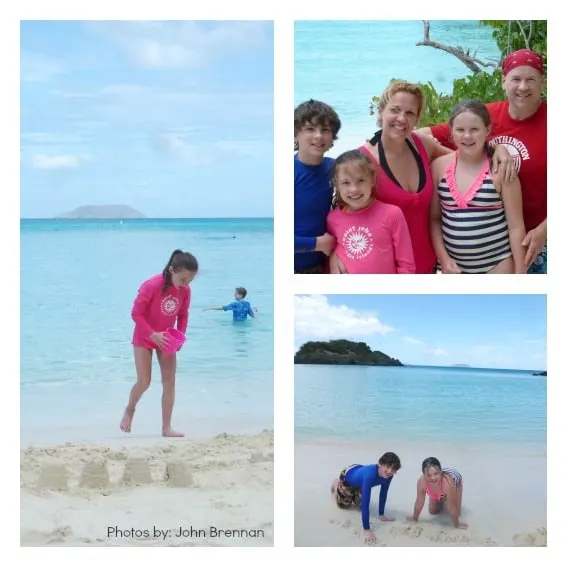 We could not get enough of St. John's beaches. The sugary sand was ideal for sandcastles and the sunset views are memory makers. Trunk Bay is one of the best. While it might be more crowded than other beaches due to its proximity to town, the views are terrific, and the sand is incredible. Our favorite is Maho Bay. The parking area is right across the road from the beach and there is plenty of room for everyone. The snorkeling is good and the vista tremendous. Our favorite sunsets happen at Maho. With four–wheel drive, we were able to head to Lameshur Beach. There are fewer people, terrific views, and adventure on the four-wheel drive trail. Our boys even spotted an invasive and poisonous Lionfish out there. We learned we needed to report it to the National Park Service as they are trying to control this pesky population.
Know Before You Go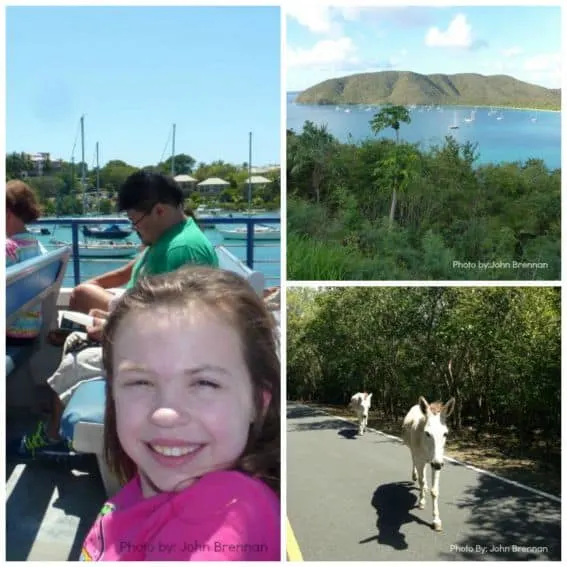 A visit to America's Caribbean and the Virgin Island National Park of St. John is one we hope to continue repeating. Twice we have had a terrific time bringing our children to this unspoiled island paradise. We have learned a few valuable insights to share.
You can only get there by ferry. Sure, the rich and famous might charter a helicopter to land on the one island pad, but the rest of us come on the ferry from either Red Hook or Charlotte Amalie St. Thomas. The Red Hook Ferry leaves on the hour. From the ferry from Red Hook, expect to take a one hour taxi ride from the airport. If you leave from Charlotte Amalie, the taxi ride from the airport is about ten minutes. The cost works out to be the same.
There are two main sections of the island. Cruz Bay is the seaport where the ferries unload every hour. Day tourists from other islands tend to congregate in this area. Coral Bay is on the other side of the island. While the distance is only seven miles, a curvy winding road makes it about ½ hour trip. Coral Bay is quieter and there are fewer amenities. The only gas station on the island is on Cruz Bay.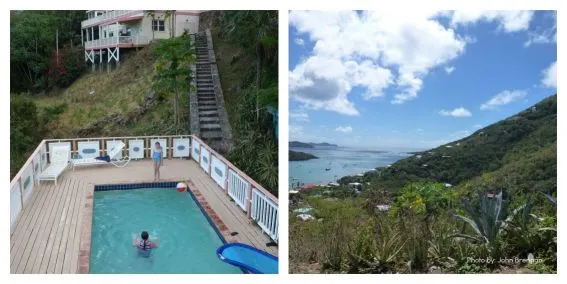 Many tourists rent villas on the island. We rented Villa Mahr from VRBO. We chose to do this as we planned on seeing as much of the park as possible on our own time. The villa was in Coral Bay and it had everything we needed- three separate sleeping areas, a full kitchen, large living area, bath, all linens, beach chairs and sand toys, a pool, and beautiful views of Coral Bay. The distance from the busiest part of the island meant that we needed to rent a vehicle. Choose your location based on your preference.
Driving is on the left: Rent a four-wheel drive vehicle for maximum touring. Some roads require a modicum of four-wheel drive experience. DRIVE LEFT!
Taxis will take you to most places you want to go. If you choose not to rent a vehicle, a taxi will be required to get your group to any points of interest. Most leave from Cruz Bay and may be modified flatbed trucks or buses.
Be Polite. The custom here is to greet each other with a sincere Good Morning or Good Afternoon before asking questions or doing business. Cultural awareness goes a long way. Also bathing beauties should be covered up in town.
Food can be expensive. Whether you are eating out or cooking a meal in your villa, expect to pay 25-30% more for food. We attempted to buy some green grapes at the market but the asking price of $16 was too rich for our blood.
You will probably see friendly mules. There are feral animals on the island. Goats, mules, and chicken seem to roam free. The roosters seem quite confused and cackle the night away, not wanting to wait for sunrise. We got used to them after the second night.
No passport is required. US Citizens need only bring a government form of ID. Remember to bring birth certificates for kids!
Wear sun protection. This seems obvious, but even with preparation it is still so easy to get burned while snorkeling. The best protection includes rash guards that completely cover your back and arms, especially for the sensitive skin of youngsters. When the sun sets be prepared for mosquitoes and no-see-ums.