Spring is a beautiful season in America's Southwest. The cactus bloom — yellow, fiery red, and deep purplish burgundy. The temperatures stay moderate, ranging from a cool 55 degrees in the highest elevations of New Mexico and topping out around 90 degrees Fahrenheit in Tucson and Phoenix. It's possible to walk among southern Arizona's towering saguaro cactus in the morning hours without breaking a sweat on more temperate days, and you won't need a winter jacket to enjoy the natural beauty of Los Alamos high above Santa Fe.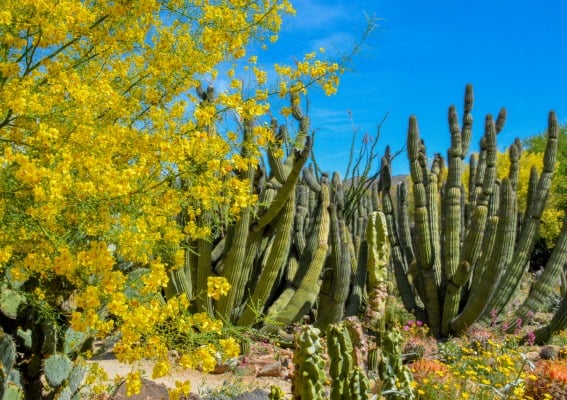 I was originally inspired to plan a trip to New Mexico when two of my eight year old daughter's closest friends moved to Los Alamos and El Paso. Upon looking at our school calendar and noting an extraordinarily long spring break of over ten days, I added in a visit with family in Phoenix; then I began checking the map for National Park sites along our route. Ultimately, our epic southwest road trip took 13 days; we visited 11 National Park units and 3 state parks in Arizona, New Mexico and Texas.
Hit the Road on an Epic Southwest Road Trip Vacation
Phoenix – The Easiest Southwestern US City to Reach Via Air
We spent virtually all our time in the Phoenix at our hotel pool at the Embassy Suites in Scottsdale visiting with family only venturing out to eat tacos off the happy hour menu at Blanco Tacos just down the road.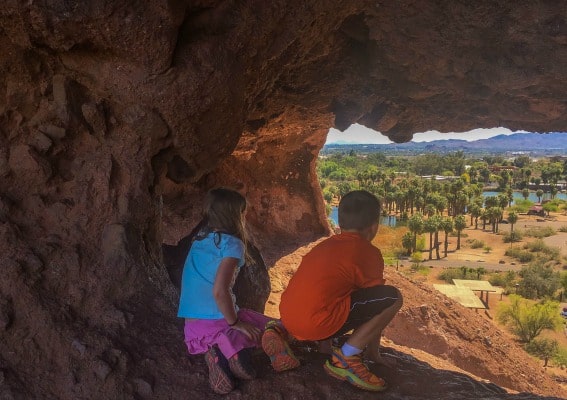 If you are flying to reach America's Southwest, there is no better place to begin your adventure than at Phoenix's Sky Harbor Airport. It is an American Airlines hub so it is a direct flight from many other cities that American Airlines services across the country — in our case Reagan National just across the Potomac River from Washington DC.
From Papago Park, home to both the Phoenix Zoo and the Desert Botanic Gardens, to the unique Musical Instrument Museum, Phoenix has plenty of places to enjoy as a family. There are world-class museums for those days that it is simply too hot to be outside and a variety of hikes and outdoor venues to enjoy the warm desert heat of winter and spring, like the Hole in the Rock at Papago Park (pictured.)
Look for current hotel deals in Phoenix
For a local parent's top choices on where to go in Phoenix with kids, check out Trekaroo's Top 10 Things to Do with Kids in Phoenix.
A Scenic Drive from Phoenix to Flagstaff – Tonto Natural Bridge State Park and Walnut Canyon National Monument
Starting out in early from Scottsdale, we drove approximately 90 minutes northeast on Highway 87 to Tonto Natural Bridge State Park. After a couple hours of hiking, we hit the road for Montezuma's Castle National Monument — which we reached in just about an hour. Our final stop of the day was at Walnut Canyon National Monument just a few miles outside of Flagstaff along I-40.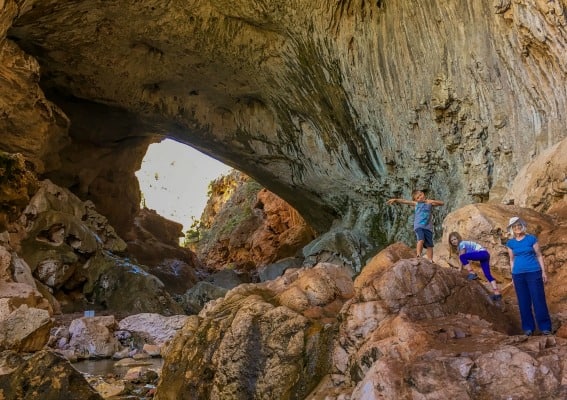 Forget the scenic drives that we took through Saguaro National Park and Petrified Forest National Park, my favorite drive of our two week road trip was the stretch of highway 87 from Scottsdale to Payson. In early April there are a variety of green cacti, including saguaros, dotting the mountainous desert landscape as the road winds its way upward to peaks covered in pine trees and greenery. From the town of Payson, the road to Tonto Natural Bridge State Park slowly descends into a canyon. The state park has several short, but rocky and steep, trails that lead to waterfalls and down to the natural bridge. It's possible to scramble on the damp, slippery rocks beneath the arch and traverse the entire 400 foot long tunnel. Overhead there are swallows flitting from one hole in the rock to another.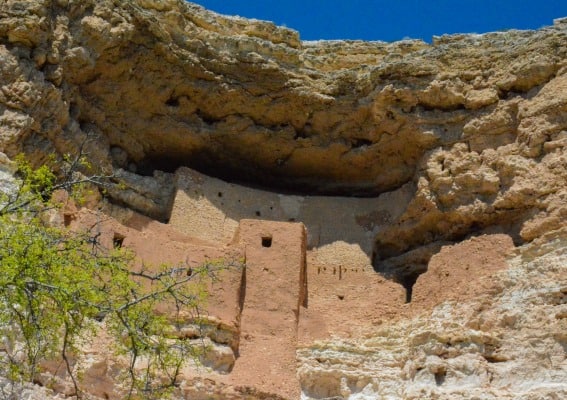 Montezuma's Castle National Monument is one of Arizona's most popular due to it's location right along highway 17 the main road connecting Phoenix with Flagstaff and the Grand Canyon. There is a short, half-mile, paved trail loop that aims to show visitors why the ancient Sinagua people may have chosen to settle in this location along the river but up high on the cliff side. The museum in the visitor center and junior ranger booklet give a nice overview of the people that lived in this area over the last several centuries.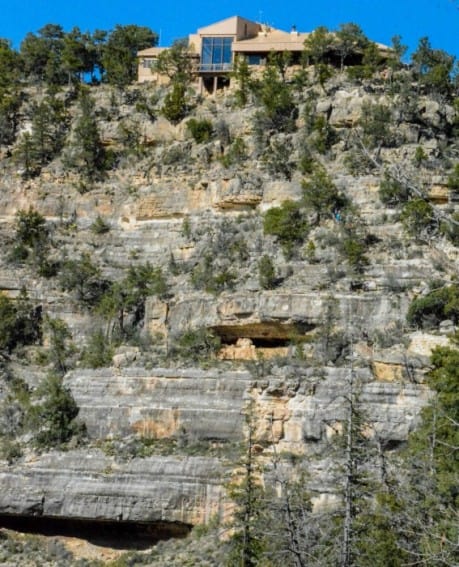 While the focus of Montezuma's Castle NM tends more towards the history than the scenery, the opposite is true at Walnut Canyon National Monument. While the dwellings made by the Sinagua people at Walnut Canyon are in many ways similar to those at Montezuma's Castle NM, there was less to read and learn at Walnut Canyon. However, the views at Walnut Canyon are simply spectacular! Be sure to arrive at least 90 minutes before closing time in order to hike the .9 miles Island Trail that descends 185 feet into the canyon and meanders past several reconstructed cliff dwelling rooms that are fun to explore and perfect for a photo op.
There's so much more for families to do in Flagstaff! Check out Trekaroo's Family Fun in Flagstaff for more ideas.
Petrified Forest National Park and Arizona's Painted Desert
From our hotel in Holbrook, we drove southeast to the southern entrance of Petrified Forest National Park. We hiked the Crystal Forest Trail and the Blue Mesa Trail before turning in our Junior Ranger booklets at the Rainbow Forest Museum Visitor Center.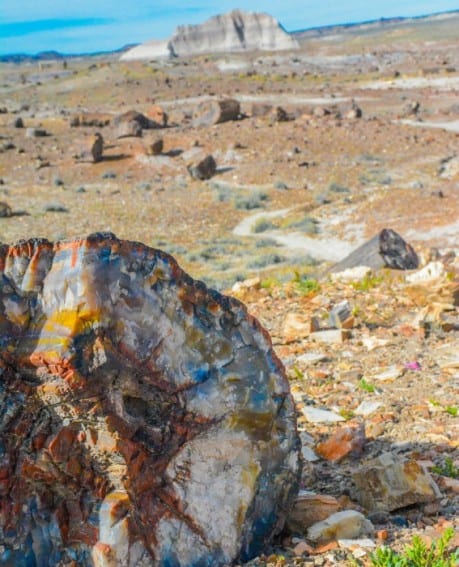 The hues of color found in the petrified wood and sedimentary hillsides of clay at this eastern Arizona park are truly unique. A junior ranger activity that we completed asks children to list the colors that they find in these rocks and describe how they feel, but even as an adult, I struggle to define this rainbow of color. There are two basic types of experiences and trails that this national park has to offer: trails that feature the most colorful and extraordinary petrified wood logs and those that offer the most spectacular landscape views. Hiking on the Crystal Forest Trail, we saw lizards, birds and a small rabbit amongst the colorful petrified rock logs. On the Blue Mesa Trail we descended into a canyon highlighted by deep shades of blue.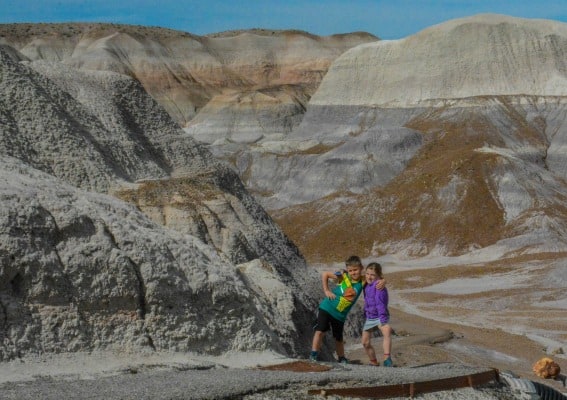 Want to explore more in Arizona? Check out Trekaroo's Top 10 Things for Families to Do in Arizona
Eastward Through Volcanic New Mexico – El Morro National Monument and El Malpais National Monument
After spending the morning at Petrified Forest National Park, we drove through the tiny town of St Johns (there's a Subway sandwich shop there – but little else) and the Zuni Reservation, which has some spectacular scenery, to El Morro National Monument. In the springtime, we lost an hour crossing the border into New Mexico. We chose to fully explore El Morro, hiking the 2 mile Headland Trail. That left us very little time to stop at El Malpais on our way to Santa Fe.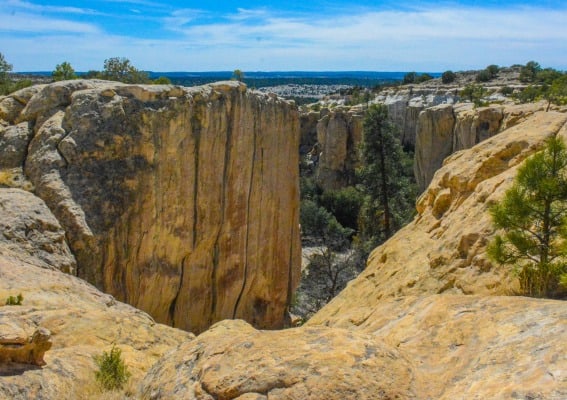 Along with the Slot Canyon Trail at Kasha-Katuwe Tent Rocks, the Headlands Trail at El Morro National Monument was one of my favorites of our entire two week adventure. First, the trail follows the base of the enormous sandstone bluff; in the sandstone there are countless inscriptions from poetry written by traveling Spaniards to petroglyphs left by ancient Puebloan people. The visitor center provides hikers free guides to borrow that translate many of the inscriptions and highlight some of the more unusual ones. But the hike does not end there; hikers have the option to continue up via steep switchbacks to the top of the sandstone bluff. The rocky trail along the top not only is a fun path to walk but also affords some awesome views of the valley below and the Zuni Mountains. Finally, atop the bluff there are the excavated Atsinna ruins dating back over 700 years; they seem curiously placed high above the water source that brought people to El Morro over many centuries. El Morro is an fascinating place that combines history and unique scenic beauty.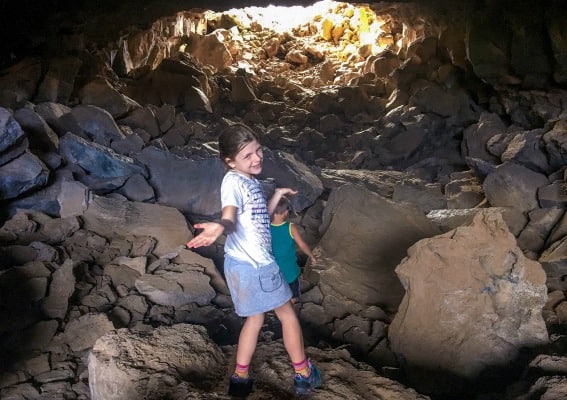 It would take another full day to full appreciate the scenery of El Malpais National Monument, just 20 -30 minutes down the highway from El Morro National Monument. The volcanic landscape, sandstone cliffs and signature arch are all worth a visit, but, sadly, we only had a short time. So, we stopped for only 15-20 minutes to take a brief climb through a lava tube that the ranger at El Morro had recommended to us.
For more information about making your visit to these national monuments a more educational one, check out Trekaroo's Road School: Learning about Native American History and Culture through Travel.
A Weekend in Santa Fe and Los Alamos
While visiting some friends in Los Alamos, we spent a weekend at the Homewood Suites Santa Fe North conveniently located between Los Alamos and Santa Fe. We thoroughly enjoyed Northern New Mexican cuisine in between hikes at Kasha-Katuwe Tent Rocks and Bandelier National Monument. Bandelier gets my kids vote for their favorite place on the entire road trip.
Kasha- Katuwe Tent Rocks National Monument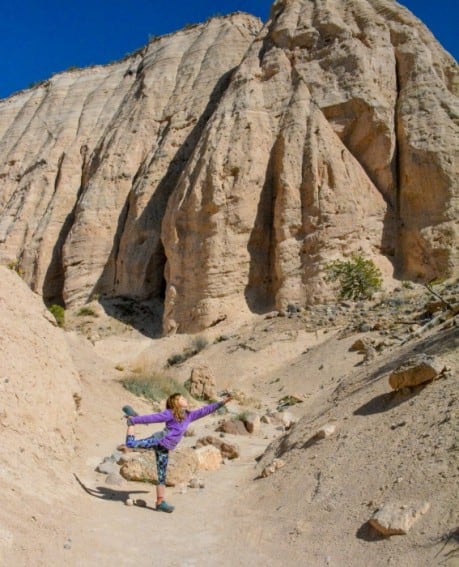 Despite the mountains off in the distance, the drive between Albuquerque and Santa Fe doesn't appear particularly inspiring, but in fact, one of the state's most curious landscapes is only a 15-20 minute detour from the highway. Kasha-Kawutwe Tent Rocks were designated a National Monument in 2001; though you won't see it on the National Parks website because it is managed by the BLM (Bureau of Land Management.) While rangers and staff are much more scarce at BLM sites, there is a junior ranger booklet available for which children can earn a patch upon completion. Most visitors to Kasha-Katuwe hike one of two trails the flat, easy Cave Loop or the in-and-out Slot Canyon.
The Slot Canyon Trail passes through a slot canyon before climbing above the whimsical tent rocks for an overhead view. In the morning hours, tourists are few and the canyons are shadowy — but as the day progresses light shines into the narrow passageways that form the canyons and the parking lot fills up.
Historic Santa Fe
I have to admit that we spent most of our time in the city of Santa Fe eating. Due to local recommendations, we stuffed ourselves with only the best enchiladas, chile rellenos and sopaipillas the entire weekend. Our favorite restaurant in Santa Fe was La Choza, but the family run Angelina's Restaurant in Espanola might have been even tastier and more authentic. Of course a stroll around the arcades and churches of historic downtown area of Santa Fe is absolutely essential when visiting this area as well.
Check for hotel availability in Santa Fe
Looking for ideas on where to enjoy Santa Fe's art scene with kids or where to stay? Check out Trekaroo's Top Five Things To Do Near Santa Fe with Kids and Santa Fe with Kids: For Artisans and Adventurers
Los Alamos and Bandelier National Monument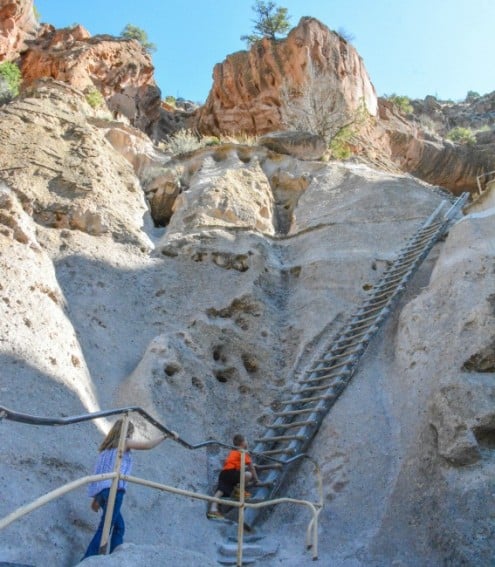 My kids may have been happier at Bandelier National Monument than at any playground we visited on this two-week road trip. They scurried up the nearly vertical ladders at the Alcove House only taking the time to yell down to me, "Faster, Mom!" While I carefully made my way down, they were already at the bottom waving to me and asking to take a video on the next set of ladders. Back on the Main Loop Trail they played inside the reconstructed cavetes as long as I would allow – getting ridiculously dirty in the process. But, yes, my daughter did complete the junior ranger activity booklet, and I'm sure that she learned quite a bit about life would have been like at Bandelier centuries ago as well. With the National Laboratory just up the road, educational programs are of exceptional quality in Los Alamos area. (As an example, Bandelier NM had four separate junior ranger booklets tied to certain grade levels and standards.)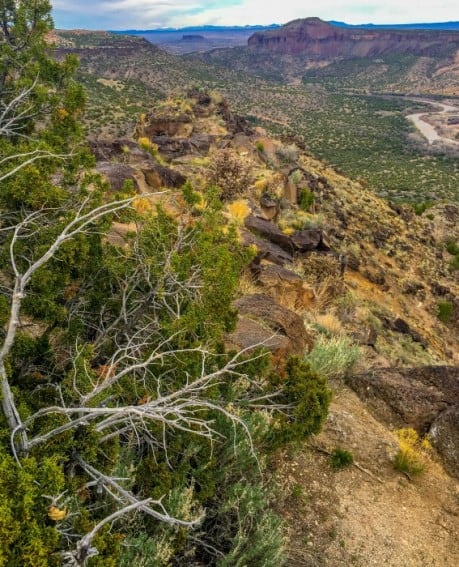 A visit to Los Alamos should not stop after a hike at Bandelier National Monument. The town has a fabulous small science museum the Bradbury Science Museum, that features both the history of the nuclear lab and hands on exhibits highlighting modern scientific accomplishments. In nearby White Rock there is an overlook of the Rio Grande from a neighborhood park that compares to the view from the Grand Canyon; there is hidden natural beauty around every corner up on the hill in Los Alamos. Finally, for a real adventure, head upwards out of town to the Valles Caldera a natural preserve with a plethora of back country trails.
Carlsbad Caverns National Park – Worthy of Every American Bucket List
On our final day in Santa Fe, we enjoyed lunch at the popular Maria's New Mexican Restaurant and started our drive towards Carlsbad. Based on the map, this appeared to be one of the most desolate (and boring) stretches of road on our trip, and it was. In Carlsbad, we stocked-up on groceries and ate dinner before driving further south to White's City were our motel was located just about 10 minutes from Carlsbad Caverns National Park.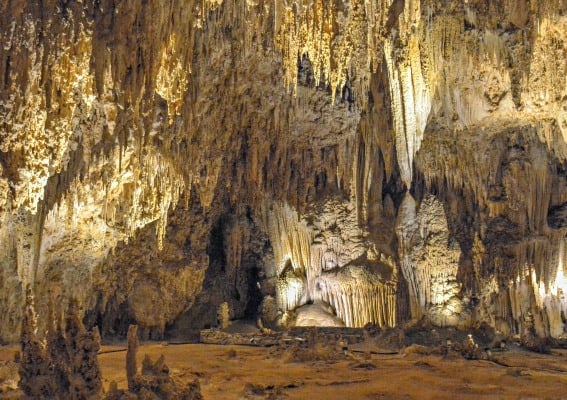 Yes, as you have undoubtedly heard, Carlsbad Caverns are simply amazing! The rooms are so large, and chances are, these caverns are different from any caverns that you have experienced before; I haven't seen any caves of this magnitude in my travels from California to Virginia. The features of the caverns were formed by a different chemical process than most caverns in America – which explains why they are found so deep underground away from any known water source. Though the features are familiar, stalagmites, stalactites, curtains and columns, everything is on a much grander scale.
There are several different tour options available at the caverns. Families who are not big planners will be happy to know that the tours of the Big Room are self-guided, beginning either at the elevator beside the ticket desk in the Visitor Center or by walking down into the cavern's natural entrance just outside. Tours of the stunningly intricate King's Palace can be reserved online prior to your visit (at least a couple of weeks ahead of time to avoid disappointment.) For more adventurous families there is a full complement of tour options available, including tours of caves at more remote sites.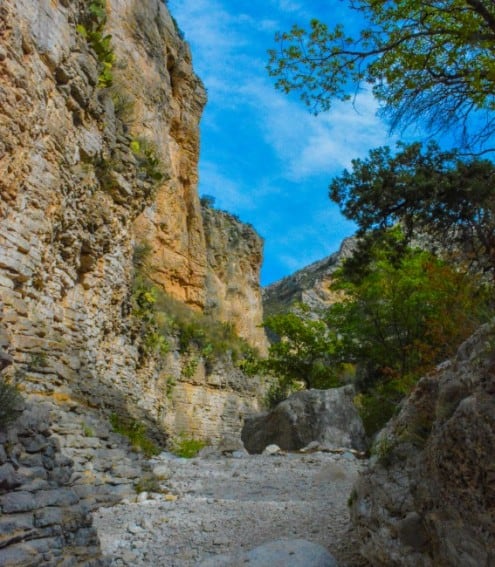 Just down the road from Carlsbad Caverns, one of the most familiar and recognizable of the United States' 59 National Parks, is Guadalupe Mountains National Park, one of the least visited parks in the lower 48 states. Hikes in the Guadalupe Mountains tend to be long, and there are few services around the park. However, if you have an extra half day, there are some kid-friendly trails available among the park's rugged wilderness peaks. The park is notable as it includes the tallest peak in the state of Texas – though this high elevation, mountainous park hardly looks like it belongs in the Lone Star state.
Want to know more details about planning a visit to Carlsbad Caverns National Park and Guadalupe Mountains National Park with your family? Check out A Family Guide to Carlsbad Caverns National Park and Guadalupe Mountains National Park
El Paso – A Cultural Crossroads
After a full day and a half exploring Carlsbad Caverns National Park and the nearby Guadalupe Mountains National Park, we drove to El Paso stopping at Hueco Tanks State Park. Sadly instead of enjoying the mountains and exploring El Paso, we spent most of our time in El Paso in Urgent Care getting some antibiotics and at our hotel, Embassy Suites by Hilton El Paso.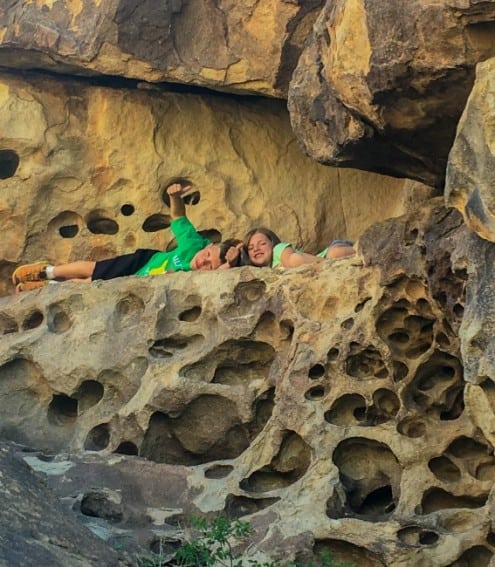 Stopping at Hueco Tanks State Park was a total afterthought for our family. We were trying to escape thunderstorms forecasted up by Guadalupe Mountains decided to drive on to El Paso. Based on our experience, it's best to come to Hueco Tanks prepared with some knowledge about the park and its purpose. Due to damage done to the petroglyphs and pictographs in the 1980s and 1990s, an educational video is required for all visitors to instill a sense of respect for the history and the land. Also, much of the park is now only available via guided tour on specific dates. I would highly recommend a guided program if one is available – I personally found it challenging to identify the historic pictographs on the rocks even though helpful volunteers in the information center had explained where to look.
The historic pictographs and hiking opportunities are actually not the most popular reason for visiting Hueco Tanks; most visitors come to the park to climb. My kids were no exception. There are several shaded picnic areas beside walled of rock naturally notched with child-sized foot and hand holes. After I finished scouting out the rocks for snakes and other dangers, my kids climbed and scampered over the rocks for hours. Both Hueco Tanks State Park and Franklin Mountains State Park in El Paso have junior ranger activity booklets and patches for children to earn.
White Sands National Monument – Fun in the Sand and the Sun
We took a bit of a detour to reach White Sands National Monument on our way west out of El Paso. From White Sands we drove to Deming, New Mexico – and stopped at our hotel, Best Western Deming Southwest Inn. Rather than spend the evening watching cartoons and wishing the outdoor hotel pool was open, we made a quick trip to City of Rocks State Park about a half hour outside the city.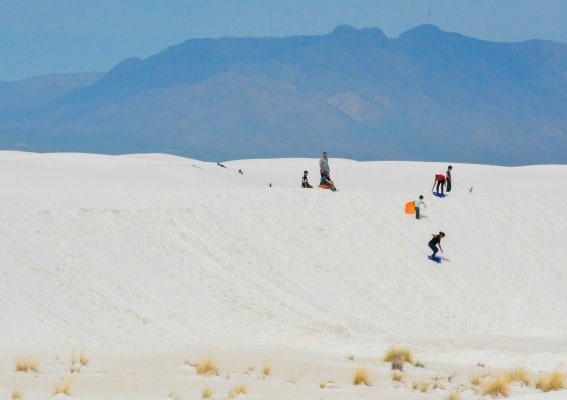 Pictures of White Sands National Monument clearly show that it is a beautiful place; the rippled, windblown sand dunes, framed by peaks in the far distance, seem to sit just begging to be photographed. But, honestly, White Sands is not a national park where for families need to put on their hiking boots and hit the trails with cameras and backpacks; it's a place to play. Even with the bright sun beaming down, the pure white gypsum sand stays damp and cool. Kids can dig in the sand, sled down the dunes, or even fly a kite. So, pick up a kite, a picnic lunch, and plenty of water at a store somewhere along your travels. Then stop by the store at the park's entrance to purchase a plastic sled and some wax. Finally, park your car at the end of the road beside a mountain of sand and enjoy a few hours of simple, relaxed play time — perfect for all ages.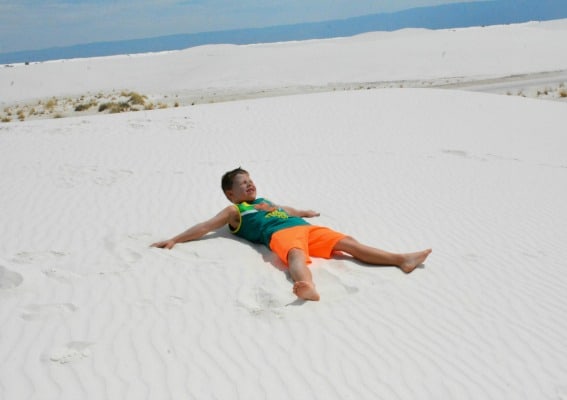 Our day at White Sands National Monument and later City of Rocks State Park outside of Deming was as relaxed and playful as life gets on a fast-paced road trip. My kids loved pretending that the maze-like boulder piles at the state park were their "homes" and I enjoyed photographing the low light over the strangely shaped rocks. City of Rocks is a popular place for RVs to park and camp; the sites are cleverly tucked into the rocks which protect them from the gusty desert winds. I can only imagine bringing a group of families here and letting the kids run off to play one epic game of hide and seek.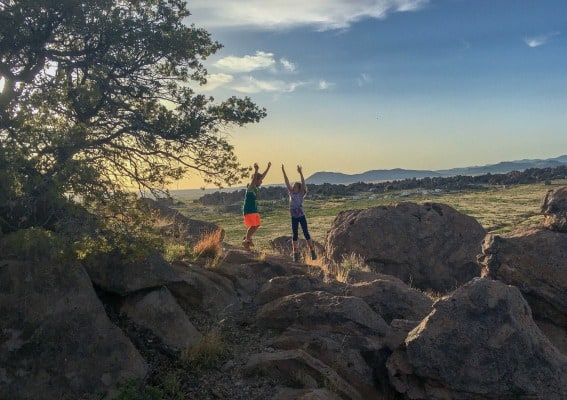 Want to extend your road trip even further into New Mexico? Check out Trekaroo's Top 10 Things for Families to Do in New Mexico
A Hidden Gem Southeastern Arizona – Chiricahua National Monument
From Deming we drove west, across the Arizona border on I-10 to the remote Chiricahua National Monument – far, far away from reliable cell phone service. When we arrived at Chiricahua, we filled up on water and headed out to the Echo Canyon Trail in hopes of beating the heat. Upon our return to the Visitor Center, we joined in on National Junior Ranger Day festivities. Finally, got on the road towards our hotel in Benson about an hour away.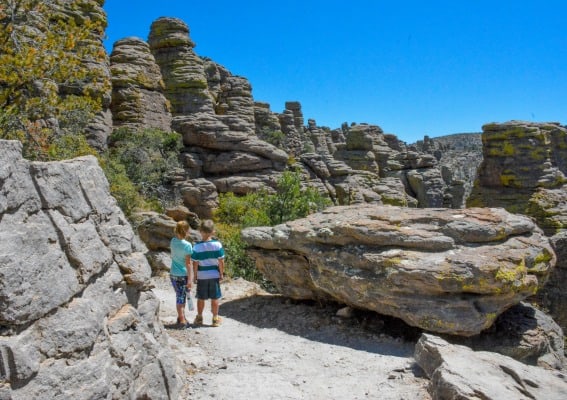 Most people familiar with America's Southwest can recognize the striking hoodoo rock formations of Bryce National Park in Utah; these pink-tinged, natural stone pillars rising up from the canyon floor are some of the most photographed features in the United States National Park system. But, few people know that hoodoos can be found all over the Southwest, and even fewer are have hiked among the hoodoos of Chiricahua National Monument. There's one obvious difference between the rock formations in Utah and those in this remote corner of southeastern Arizona; the hoodoos in Chiricahua are not as brilliantly colored and are often topped with green lichen. In the early 20th century, this area was aptly nicknamed a "Wonderland of Rocks" in an effort to get the area classified as a National Monument and draw in visitors. My kids, who seem to want to climb every rock that they see, would definitely agree that this "wonderland" is far better than any playground.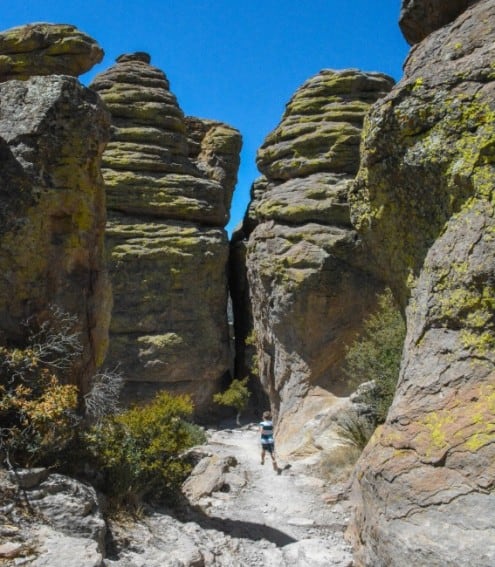 We hiked the 3.3 mile Echo Canyon Loop descending roughly 500 feet into the canyon and back up again. I'm not sure if it was the elevation, having been on the road for nearly two weeks or the heat, but for us, this hike felt like it was much longer than three miles. Generally, it is recommended to hike down through Echo Canyon first before heading back up the less scenic Hailstone and Ed Riggs Trails. The Echo Canyon trail winds around the rock formations as it descends into the canyon; there are plenty of large boulders just off the trail to keeps the kids happy scrambling from one rock to another.
Saguaro National Park and Tucson – Towering Cacti in the Hot Desert Sun
From Benson, we had only a short 45 minute drive to the eastern district of Saguaro National Park. We arrived early, before the heat of the day, so that we could get out of the car and walk a bit along the park loop road. After completing the park loop, we stopped at the Rincon Mountain Visitor Center where the kids were sworn in as Saguaro National Park junior rangers. For lunch we stopped at El Charro Cafe before checking into our hotel, Omni Tucson National Resort, and heading to the pool.  
The following day we visited the Arizona- Sonora Desert Museum and drove through the western district of Saguaro National Park before driving two hours back to Scottsdale.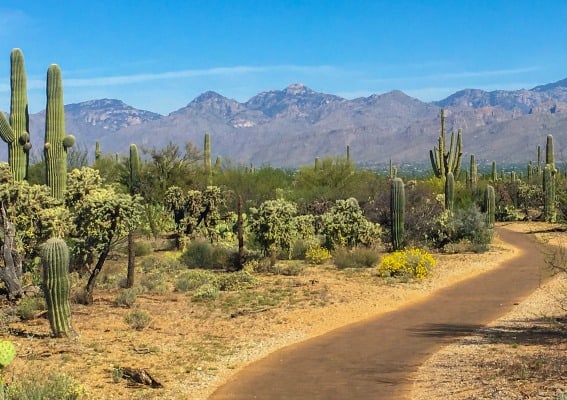 Saguaro National Park is comprised of two separate districts on either side of the sprawling city of Tucson. The eastern district is nestled amongst the city's suburbs and is a popular destination for locals out on their morning jog or bike ride. Unlike the western district rough roads, the eastern district's loop drive is fully paved. The road is quite narrow in spots as it winds amongst the saguaro cacti. We drove the loop on a warm 80 degree Sunday morning, windows down slowly appreciating the colorful blooming cacti. We only stopped the car and ventured out onto the trails a couple times during our drive, but it was totally worth it to walk beside and pose for a picture beneath the 20-25 foot tall towering saguaro.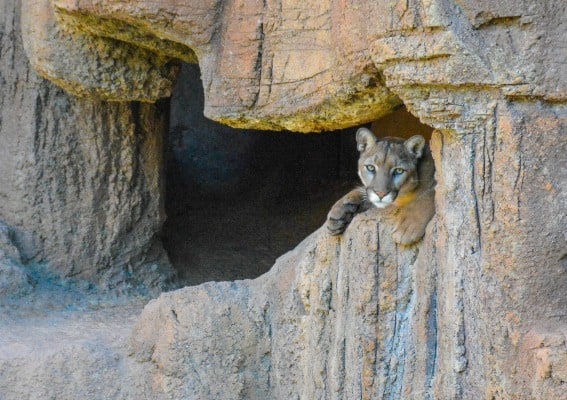 We found the western district of Saguaro National Park to be more remote, and when we visited in mid-April, we saw a few saguaro beginning to bloom. The western district of the park is only a short drive away from Tucson's Arizona-Sonora Desert Museum. The Desert Museum is home to many animals that live in the Sonoran Desert — it's part outdoor natural science museum, part zoo, and part botanic gardens. While I loved the flowering cactus garden in full bloom, my kids could not get enough of the cave exhibit were they could climb through a man-made cave replica complete with stalagmites and stalactites. There are also trails for families who would like to roam amongst the desert plants.