If you are looking for a summer national park experience that is crowd free, head to Great Basin. Just 90,000 people visit Great Basin each year (Yellowstone receives 3 million visitors), but those who head to this remote place quickly discover there are so many great things to do in Great Basin National Park
Those who make the journey are rewarded with 100-mile views, ornately decorated caves, wondrous alpine scenery, trees older than Jesus, and some of the most magnificent night skies in the Lower 48. Here are the best places to see in Great Basin National Park on your adventure-filled family vacation.
Where is Great Basin National Park?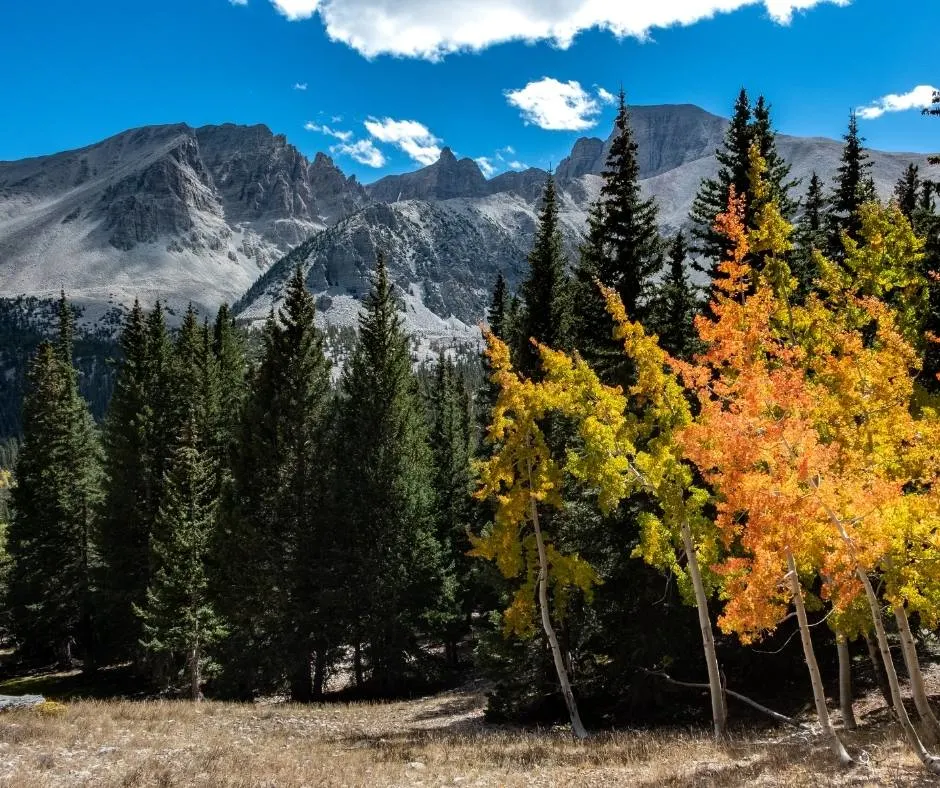 The Great Basin is a 200,000 square mile area encompassing Nevada, Western Utah, and a portion of California's desert country where all the water drains internally.
Here, precipitation either evaporates, sinks underground, or flows into a lake; none of it makes it to the ocean. This lack of drainage gives this vast region of tall mountains and sagebrush valleys its name.
Great Basin National Park is located close to the Utah/Nevada border, about 4 hours from Salt Lake City and 4 1/2 hours from Las Vegas. Accessed via Hwy 50, dubbed the "Loneliest Road in America" by Life magazine, Great Basin National Park is truly out in the middle of nowhere.
Passing cars are few and far between and 80-mile gaps between service stations are filled with nothing but a desolate, wild landscape.
The closest town is Baker, a tiny hamlet with only 65 residents. There are limited services in town such as gas, a small restaurant, gift shop, and an RV park. If you are looking for a more full service town, Ely is about an hour to the west.
Look for current hotel deals near Great Basin National Park. As a Booking.com affiliate Trekaroo guarantees the lowest rates.
The Best Things to do in Great Basin National Park
Visit the Lehman Caves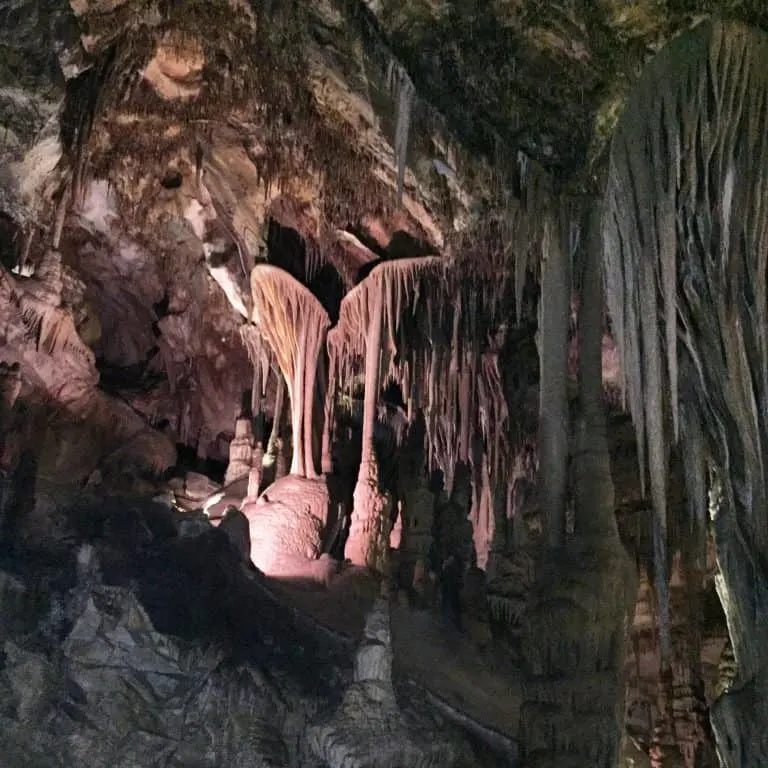 Great Basin National Park began as Lehman Caves National Monument in 1922. This marble and limestone cavern system filled with stalactites, stalagmites, flowstone, shield formations, and even cave bacon.
The caves are open for 60 and 90 minute tours year round and advance reservations are highly recommended. Tours can be booked online.
No doubt about it, a tour of Lehman Caves is an essential Great Basin National Park experience. My family enjoyed the Grand Palace Tour where we learned about the cave's colorful history. The cave has played host to proms, a speakeasy, and even the movie, Wizard of Mars.
We have been lucky enough to visit several caves during our travels and Lehman Caves rank near the top in terms of being the most "decorated" with cave formations. The park ranger leading our tour did a great job of engaging all the children without dumbing things down for the adults.
Trekaroo Tip: During the summer months I suggest making reservations at least a week in advance. Please note that children under five are not allowed on the 90-minute Grand Palace Tour but they are welcome on the 60-minute Lodge Room Tour.
Explore the Wheeler Peak Area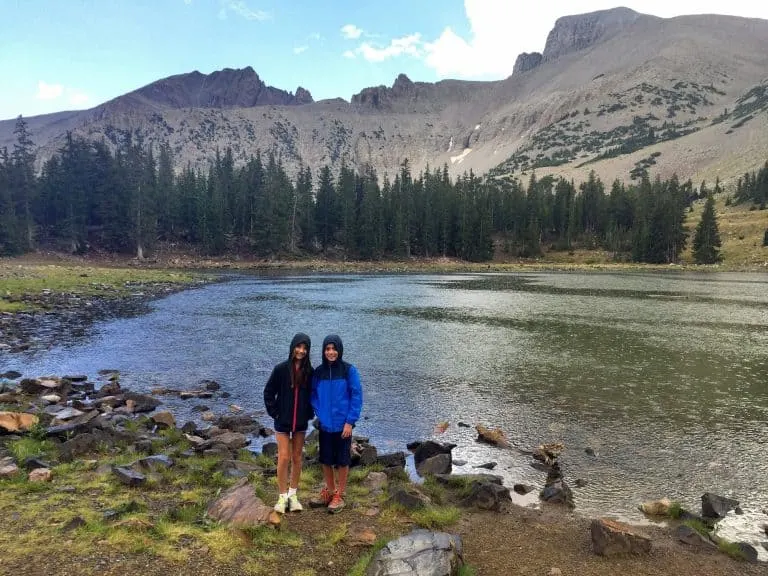 The mountains of the Snake Range, which include Wheeler Peak, are like alpine islands in a sea of sagebrush. Wheeler Peak rises 13,063 feet above sea level, dominating the horizon with its jagged, treeless top.
Wheeler Peak Scenic Drive leads drivers on a path that winds quickly up the mountainside, leaving the desert floor far behind. Be sure to stop at various overlooks to enjoy expansive views that stretch for 100 miles and beyond.
At road's end, several different hikes await. Please keep in mind that hikes in this area have a starting elevation of around 10,000 feet, so the air is much thinner than at sea level. We found that spending a couple days in the high desert at 5-7,000 feet in elevation prior to our Wheeler Peak area hikes helped us avoid altitude-related issues.
Weather can vary greatly in different parts of Great Basin National Park. During our visit it was hot and sunny by Lehman caves at the base of the mountains and it actually hailed on us in the middle of the summer up on the Alpine Lakes Loop Trail.
Explore more of the state! Here are the top 10 things to do in Nevada with kids.
Great Basin National Park Hiking
Alpine Lakes Loop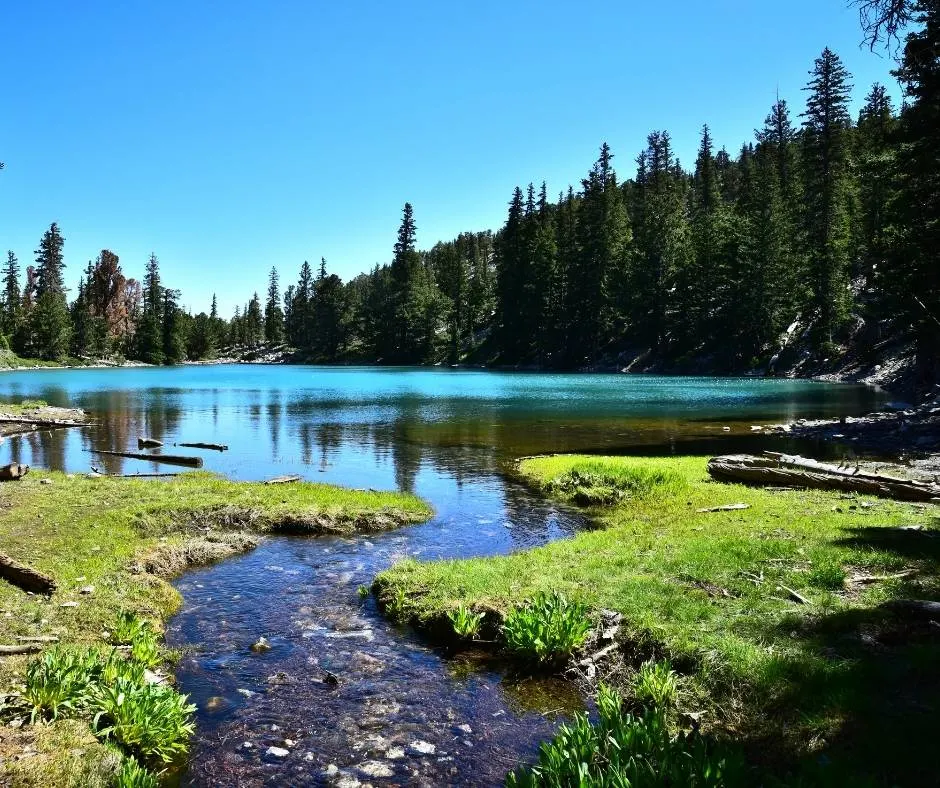 This 2.7 mile round-trip hike gently gains elevation. It winds through an alpine forest, passing idyllic streams as well two lovely little lakes with superb views of Wheeler Peak in the background. Wildlife sightings are possible. We saw deer and a flock of wild turkeys.
Bristlecone Trail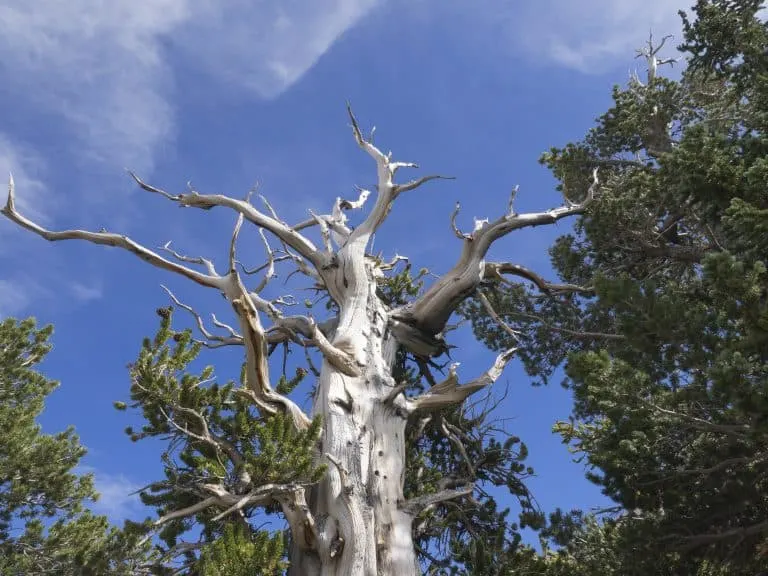 This trail is 2.8 miles round-trip and gains 600 feet in elevation at a moderate pace. It leads to a grove of Bristlecone Pines, ancient trees that can live for 5,000 years.
A short interpretive loop in the grove provides great information about the trees, including their ages and why these trees live for so long. The Bristlecone Trail can easily be combined with the Alpine Lakes Loop for a hike that is 4.4 miles in length.
Glacier Trail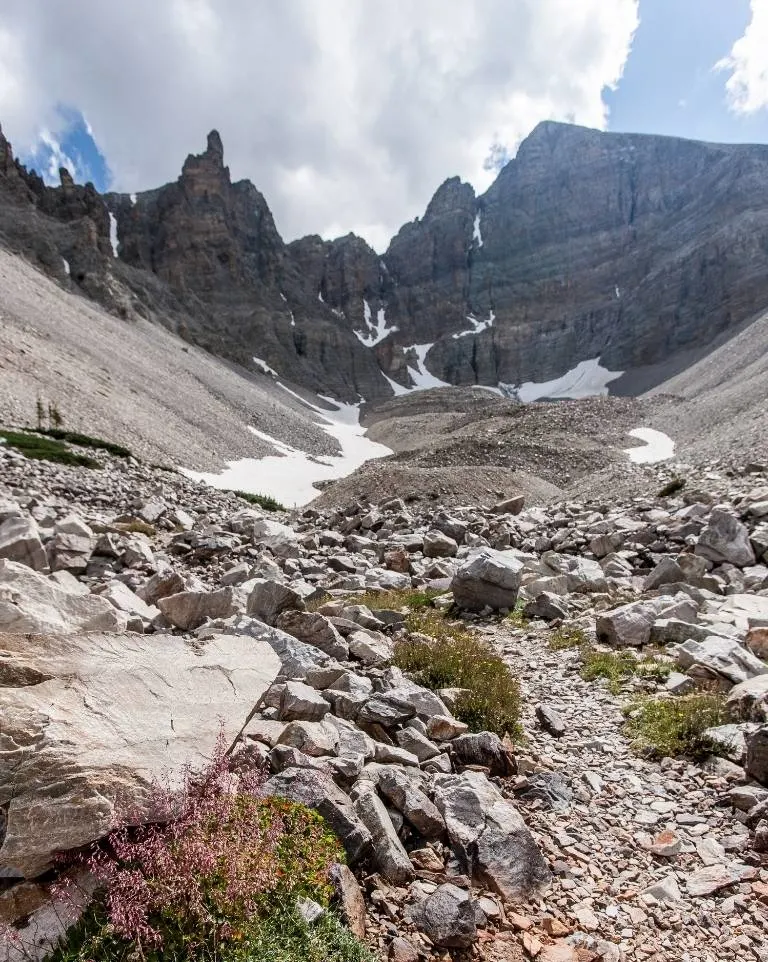 If you continue on up the mountain one mile past the Bristlecone Grove, you will reach a rock glacier. It is the only glacier in Nevada and one of the most southernmost glaciers in the northern hemisphere.
It is hard to believe a glacier can exist with the high desert floor sitting just 5,000 feet below. The Glacier Trail is 4.6 miles round trip and gains a total elevation of 1,100 feet at a moderate pace.
Sky Islands Forest Nature Trail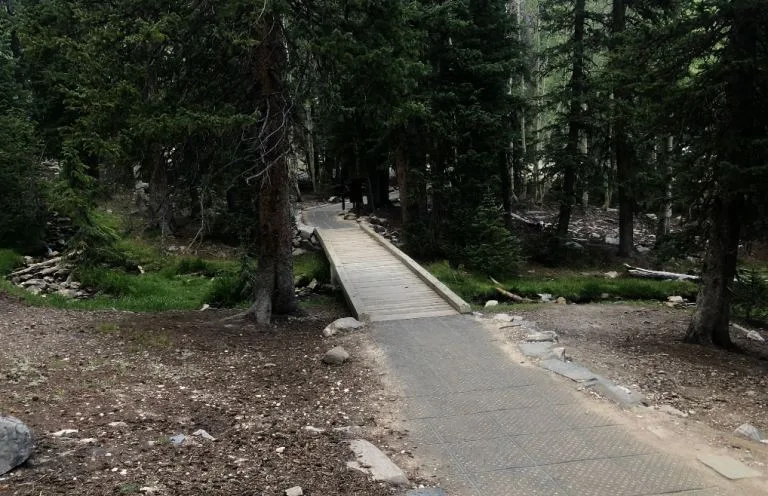 This trail is wheelchair (and stroller) accessible, making it a nice option for little ones or individuals with mobility issues. It is just under a half-mile round trip. It winds through the alpine forest and features interpretive signs which highlight how the forest is cut off from other forests by distance and elevation, creating a "sky island".
Wheeler Peak Trail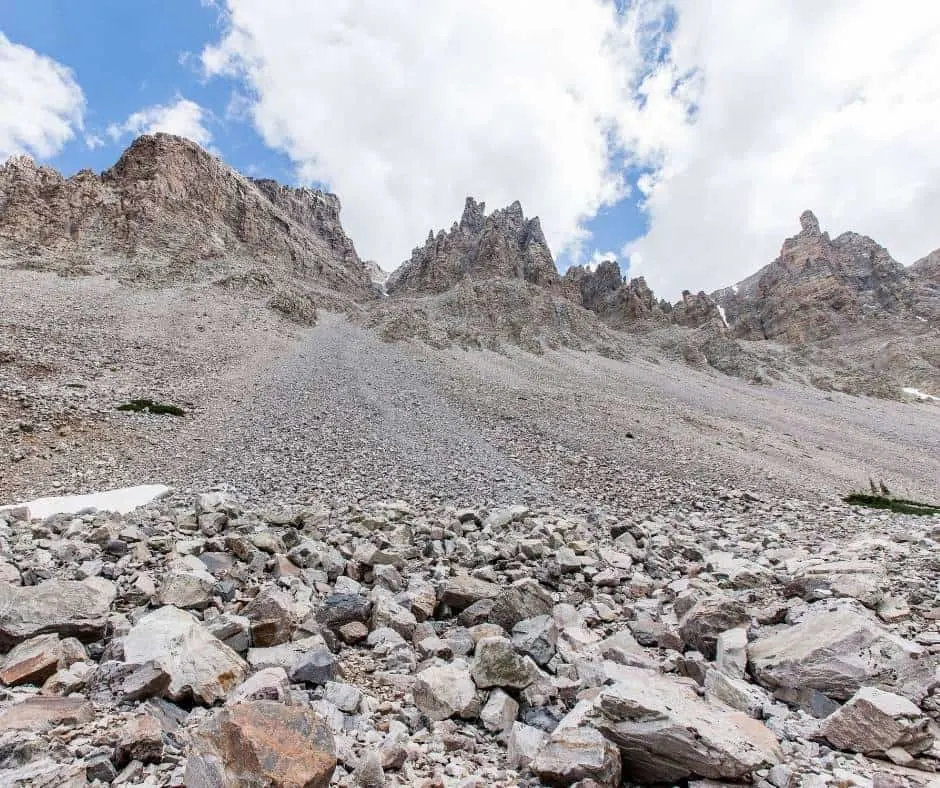 This trail is 8.2 miles round trip and gains almost 3,000 feet in elevation. It should be started very early in the morning so that hikers can get down off the peak before afternoon thunderstorms roll in.
The trail follows a ridge line at the top and has some steep drop offs. It is best suited for adults and teens with previous high altitude hiking experience. Those who make it to the top are rewarded with views only a 13,000-foot peak can offer.
Look for the best hotel prices near Great Basin National Park.
See the Stars at Great Basin National Park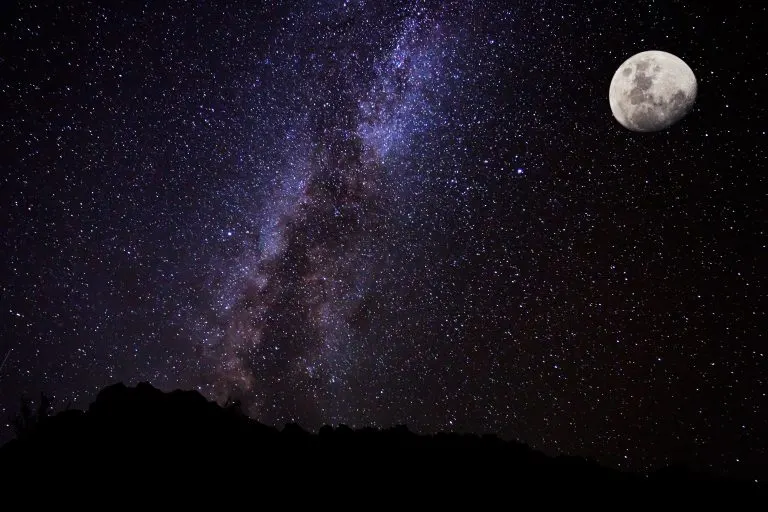 Due to its remote location, high elevation, and dry desert air, Great Basin National Park has some of the darkest skies in the United States. On a clear, moonless night, five planets, thousands of stars, meteors, and the Milky Way galaxy can all be seen with the naked eye.
The park has received the designation as an official International Dark Sky Park. Park rangers host astronomy programs at the Lehman Caves Visitor Center and there are telescopes available for use.
On select dates through the year, The Night Sky Star Train pulls out of Ely, Nevada, and takes passengers in to Great Basin National Park to see the stars. National Park "Dark Rangers" are on board and bring their special telescope for some incredible night sky viewing.
Trekaroo member Amy Stromsodt reports, "The rangers showed us the stars, constellations, planets, and we even saw the Milky Way and International Space Station. They had telescopes set for us and were very knowledgeable. We had a marvelous time!"
Great Basin National Park Lodging
The only lodging options within the park are tent campgrounds. Lower Lehman Creek Campground is the only campground open year round. The other campgrounds are open from the end of May through the end of September.
Upper Lehman Creek Campground, Lower Lehman Creek Campground, Wheeler Peak Campground, and Baker Creek Campground are first come, first served. Grey Cliffs Campground accepts reservations.
Services and lodging are basic in Baker, the gateway city for the park. We stayed at the Border Inn in Baker. The rooms were clean but very dated. They have RV parking as well.
If you want better lodging and dining options, they can be found in Ely, NV. Ely is 70 miles west of the park visitor center.
Things to Know Before You Go to Great Basin National Park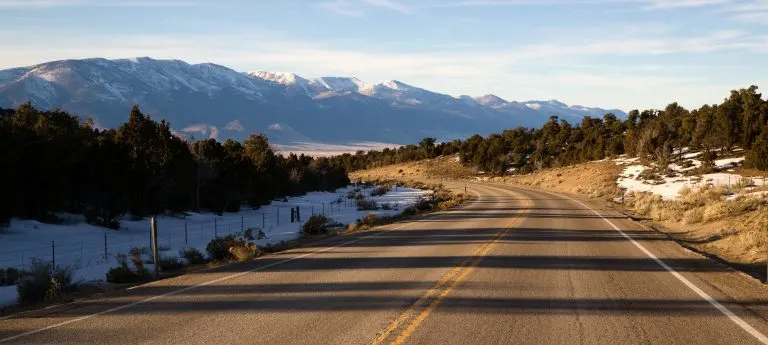 Great Basin is a remote park located near the Utah/Nevada border in central Nevada. A car is vital for reaching and exploring this park. Fuel up whenever you see a gas station; the next one might be 80 miles away! The nearest major airports are in Salt Lake City (234 miles away) or Las Vegas (286 miles away).
Food is not available in the Wheeler Peak area. Be sure to bring your own when heading up the mountain.
Weather can vary greatly at Great Basin. It might be 90+ degrees at the park visitor center and 30-40 degrees cooler up by Wheeler Peak. The temperature is a constant 50 degrees inside Lehman Caves so be sure to bring a jacket.
Afternoon thunderstorms and showers are common in the Wheeler Peak area so if you want to avoid weather, hikes should be attempted earlier in the day. Truth be told, my family actually loved our afternoon hikes through the rain and hail. It made things more adventurous and kept us cool.
Don't forget to have your children complete the Great Basin Junior Ranger program. Booklets can be picked up at the main park visitor center as well as the Lehman Caves visitor center. The visitor center is also a great place to ask park rangers questions and explore several interactive exhibits.
Trekaroo has guides, tips, and reviews of national parks across the United States written by families who have been there.