California is home to more national park units than anywhere else in the country, but what are the best national parks in California?
As a Golden State native and national park enthusiast, I happen to know a thing or two about the best national parks in California! From urban oases to remote and wild places, there is so much to see and do! Here are 15 of my favorite national park units in California, from the mountains to the coast to the desert.
Best National Parks in California
1. Yosemite National Park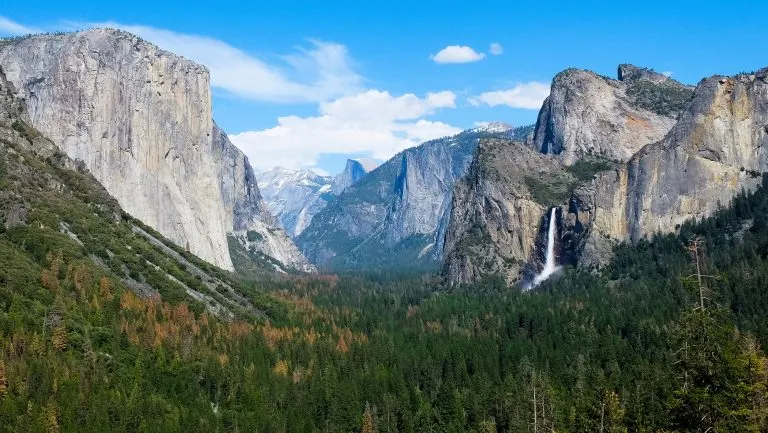 Yosemite National Park is easily one of the best national parks in California. Families return to this special place again and again, because it is simply drop dead gorgeous.
Yosemite Valley is the most popular destination within Yosemite National Park, thanks to its impressive waterfalls, remarkable granite features like Half Dome and El Capitan, abundant wildlife, and scenic meadows.
But beyond, Yosemite Valley, there is still so much more of the park to see and enjoy. Yosemite is also home to three Sequoia groves (the largest trees on the planet) and Tioga Pass- an high Sierra wonderland.
Given the size and scope of Yosemite, I suggest that you plan on spend at least two to three full days exploring the park. But, I also know that sometimes schedules won't allow for that which is why I recommend California Travel Life's Yosemite in One Day itinerary if you are short on time.
Regardless of your schedule, be sure to read about our favorite things to do in Yosemite with kids before your visit. Yosemite made our list of the best national parks for kids. See what other parks made the list!
Unfortunately, Yosemite can be insanely crowded at times, especially during the summer. Want to see Yosemite without throngs of people? It can be done! Check out our guide to Visiting Yosemite Without the Crowds.
There are so many great day hikes in Yosemite National Park that you won't want to miss. Here are the 16 best easy hikes in Yosemite National Park. Planning on visiting the park with young kids? Check out these 5 hikes for tykes in Yosemite.
2. Death Valley National Park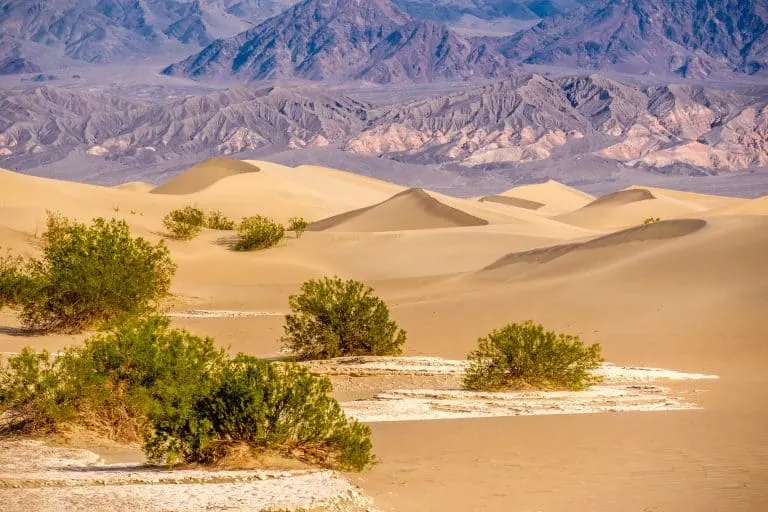 Yosemite may only be about 160 miles away from Death Valley, but they feel like completely different planets. Both have their own unique beauty and both are definitely among the best national parks in California.
Death Valley is well-known for its fiery summer temps which can surpass 130 degrees during a heat wave, but it is a delightful place to visit during the winter when the weather is mild.
This park is one of stark contrasts. Badwater Basin, the lowest spot in North America at -282 feet, is impressively offset by Telescope Peak looming 11,331 feet above just 15 miles away.
There are lots of great places to hike inside of Death Valley National Park, and you don't have to stay on trails while you explore. As a matter of fact, many places don't have trails at all! We love Golden Canyon, Sidewinder Canyon, and Mosaic Canyon.
Sand dunes are always a hit with families. Kids love to bring a snow board or plastic sled and slide down the Mesquite Flat Sand Dunes.
But wait, there's more! You can read all about the many great things to do in Death Valley in our article that covers the park's top attractions as well important tips for your visit.
3. Sequoia National Park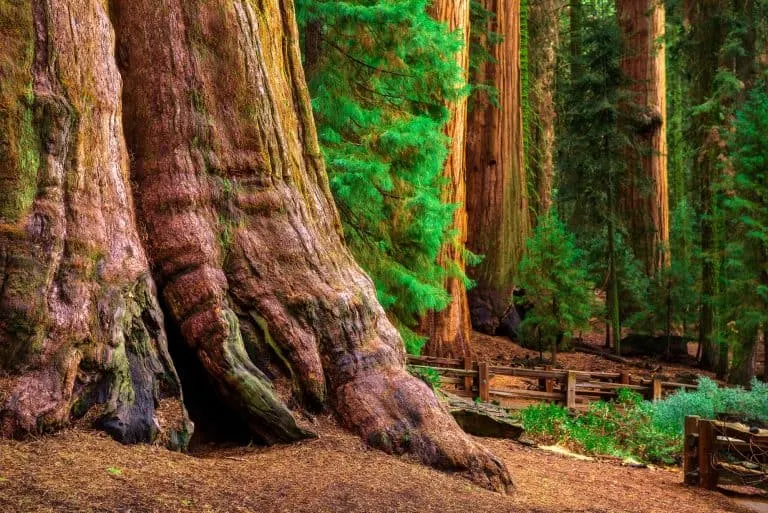 The largest tree on the planet, General Sherman, makes his home in Sequoia National Park. This park is known for its namesake trees which will make you feel like an ant when you stand beside them.
There are several expansive Sequoia groves within the park, filled with trees that are thousands of years old. Just think about how much history these trees have lived through!
Beyond the impressive trees, this park is filled with great hiking and tremendous Sierra Nevada scenery. Don't miss the trail to Tokopah Falls or the views atop Moro Rock during your visit. Here are our favorite hikes in Sequoia and Kings Canyon, Sequoia's sister park.
4. Kings Canyon National Park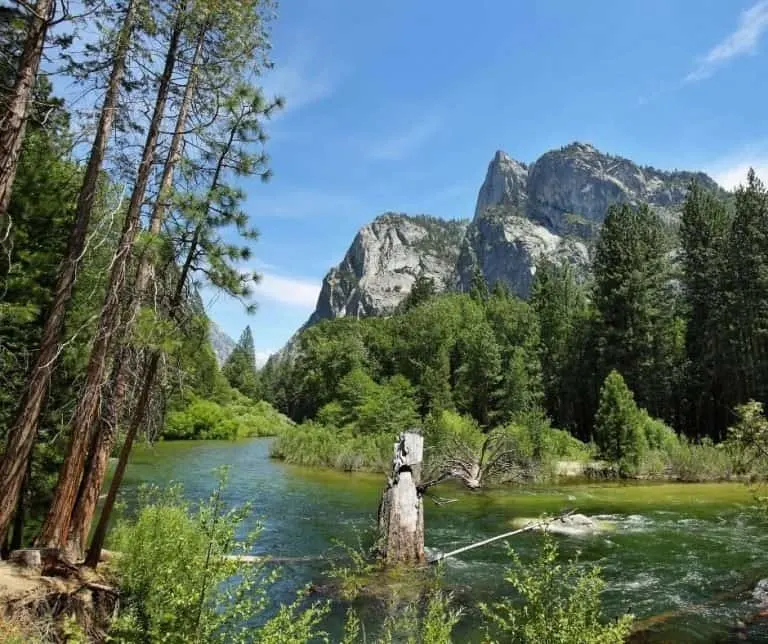 King Canyon definitely earns its way into the best national parks in California club, thanks to its diverse scenery. This national park really feels like two separate parks to me.
It is home to Grant Grove, an impressive Sequoia Grove that is just down the road from Sequoia National Park. Families love being able to actually walk through the hallowed out trunk of a fallen Sequoia tree in this grove.
The other portion of the park is accessed via a winding mountain road which ends in valley that gives Yosemite Valley a run for its money. It is certainly less crowded and has beautiful granite peaks and sprawling meadows to enjoy.
We especially love hiking the Zumwalt Meadow loop, stopping to see Sheep's Creek Cascade, and playing in the Kings River on warm summer days.
Be sure to make a stop at Boyden Cave on your way to or from the valley. This marble cave is located deep in Kings Canyon and is open for tours.
See more of California's amazing mountain parks on this epic road-tested national parks road trip.
5. Joshua Tree National Park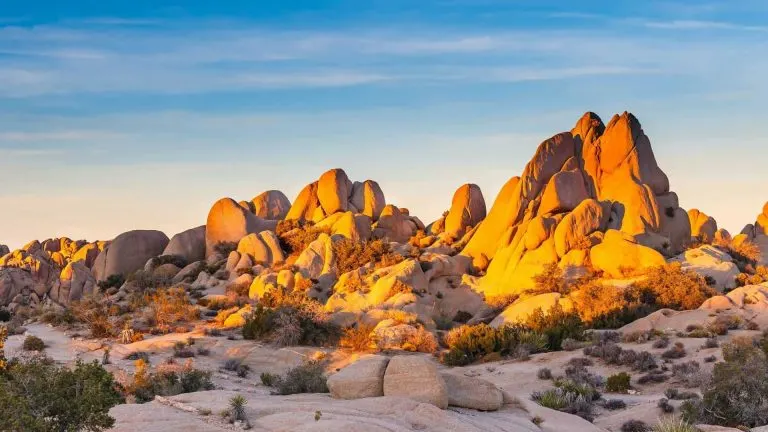 Joshua Tree National Park is a unique national park where you can see two complete different desert environments, the Mojave high desert and the Colorado low desert, converge.
With its towering boulders, diverse desert life, and iconic namesake trees, it's no wonder that over two million people make the journey into the desert to visit Joshua Tree National Park every year.
Joshua Tree is a great place to enjoy rock climbing and bouldering, and there are plenty of fun options for novices and experts alike.
Since this is a desert national park, it can get very hot during the summer months. The best time to visit this park is the spring when wildflowers are in bloom and the weather is mild. If you visit during the winter, don't be surprised to encounter temperatures in the 40s and 50s. The high desert can get quite chilly!
Highlights of this park include Skull Rock, the Keys Ranch tour, bouldering in Hidden Valley, and the sprawling vistas at Keys View. You can read more details about what to do in Joshua Tree in our comprehensive article about the park.
6. Golden Gate National Recreation Area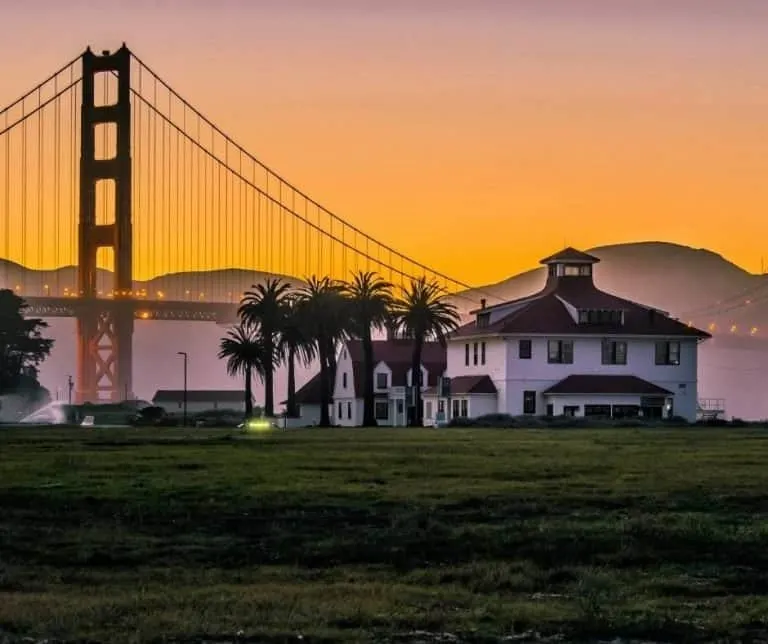 The Golden Gate National Recreation Area encompasses many of the national parks highlights in the San Francisco area. Alcatraz, Point Bonita, the Marin Headlands, Crissy Field, and the Presidio of San Francisco are some of the special spots in Golden Gate NRA.
Alcatraz is the world famous island home to a maximum security prison that once housed some of the worst criminals and best escape artists of its time. Today you can book a cruise across the bay to take a variety of tours on the island.
The Presidio is a former US Army outpost that has been decommissioned and turned into a park filled with beautiful beaches, great hikes, and even the Walt Disney Family Museum. You can read all about the many things to do in the San Francisco Presidio.
Just across the Golden Gate Bridge from San Francisco, the Marin Headlands are beautiful bluffs with some of the best views of the Golden Gate and San Francisco, as well as hikes that take you past abandoned military batteries which make for great places for imaginative play.
Point Bonita is located next to the Marin Headlands and there is a fun hike to a lighthouse that includes a tunnel and a small footbridge. The lighthouse was built in 1855 (the third on the West Coast) and is still used today to help ships navigate the Golden Gates notorious fog.
Read more about the national parks near San Francisco and what there is to do in each one.
7. Lassen Volcanic National Park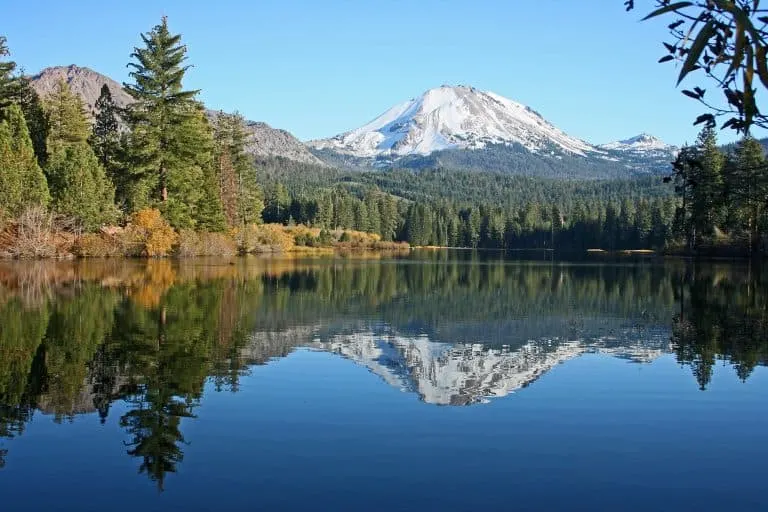 Did you know there is an active volcano in California? Mt. Lassen hasn't erupted for over 100 years, but it is still very much alive.
Mt. Lassen Volcanic National Park is a great place to see volcanic activity such as bubbling mud pots and boiling, sulphurous springs.
If you do one hike in the park, make it be the trail to Bumpass Hell. The trail is three miles round trip and only has a 300 foot elevation gain. The Bumpass Hell area has a boardwalk to walk on as you enjoy steam vents, sulfur streams, and bubbling mud pots.
Manzanita Lake is another spot you won't want to miss. Mt. Lassen reflects on its waters, begging to be photographed. Families will enjoy kayaking, trout fishing, and hiking around the lake on a 1.5-mile trail.
Other highlights include Kings Creek Falls and the epic hike to the summit of Mt. Lassen. The trail gains 2,000 feet in elevation in 2.5 miles, topping out at 10,457 feet and offers great views of the area devastated by the 1915 eruption.
Trekaroo Tip: Don't miss Subway Cave lava tube which was formed by an ancient volcanic eruption. It sits a few miles outside the park border and is fun to explore with flashlights.
8. Point Reyes National Seashore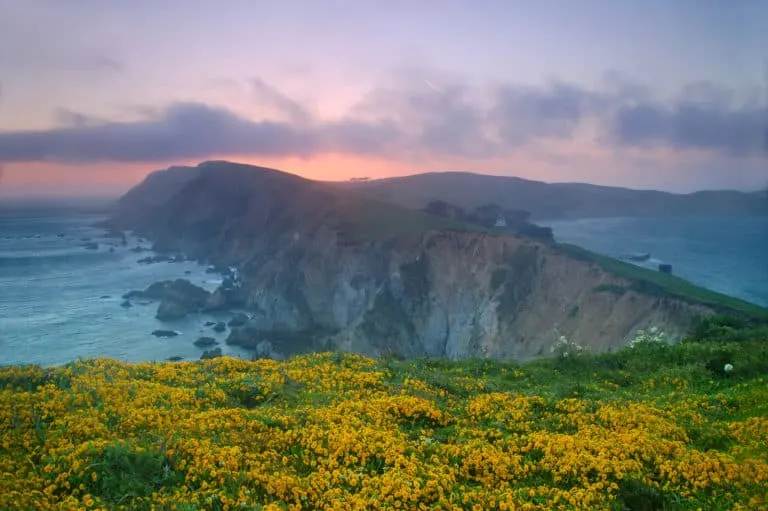 Point Reyes National Seashore may only be 40 miles from San Francisco, but it might as well be a world away. Thanks to its protected status, this landscape looks largely like it did 400 years ago and is a great way to experience California's coastline at its wildest.
Point Reyes is a great place for wildlife viewing and tide pool exploration. There are all sorts of marine mammals that call the area home, including raucous elephant seals and a variety of whales that are easy to spot from the shore, especially during the winter and spring migrations.
The lighthouse on Point Reyes is a popular attraction, as are the many beaches in the area (which are not suitable for swimming due to frigid waters and rough surf).
Keep your eyes out for the cattle which live on Point Reyes and can sometimes cause traffic jams when they aren't interested in moving off the road. Stop by the Point Reyes Farmstead Cheese Company to taste cheese made locally, including the famed Point Reyes blue cheese.
Near the Bear Valley visitor center, you won't want to miss the recreated Miwok Village and the 0.6-mile Earthquake Trail which highlights the movement of the famed San Andreas Fault through interpretive signs and fence along the trail that illustrates the 16 feet of displacement that occurred as a result of the 1906 San Francisco earthquake.
Another spot you will definitely want to make time for is Tomales Bay. This bay is great for kayaking and there is a large herd of tule elk that calls the grasslands of Tomales Point home.
9. Devils Postpile National Monument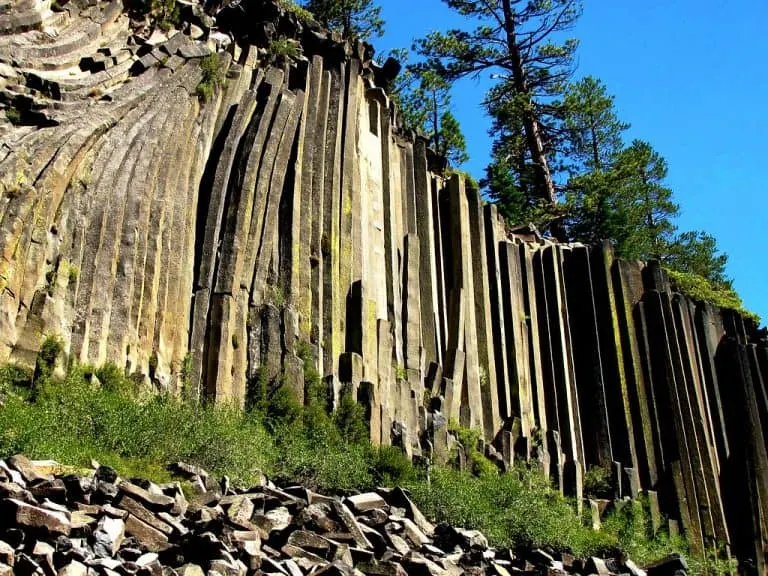 Located just outside of the ski resort town of Mammoth Lakes is Devils Postpile National Monument, home to an impressive and extremely rare example of columnar basalt.
The Postpile is made up of thin columns of pentagonal basalt rock formed by lava cooling about 100,000 years ago. It is an easy, 0.8 mile hike from the parking lot to Devils Postpile. There is also a trail which leads you to the top of the formation which is worth exploring.
You will definitely want to continue walking two miles further down the trail to reach Rainbow Falls. This impressive waterfall is 100-feet tall and usually has a rainbow at its base when the sun is shining on the falls.
From Rainbow Falls, take the trail up to Reds Meadow to grab a milkshake from the legendary Mule House Cafe, a popular stop for through-hikers on the Pacific Crest Trail. There are also horseback rides available here.
Devils Postpile is a seasonal park due to heavy snowfall. The road down to the park typically opens in mid to late June and closes after the first significant snowfall, usually in late September or October.
Since the national monument is popular and parking is limited, there is a mandatory shuttle that runs from late June through Labor Day. Parking is located near the Mammoth Mountain Adventure Center. Shuttle parking fills up fast so arrive early and purchase your shuttle tickets ahead of time to secure your spot.
The shuttle picks up at the Devil's Postpile NM parking area as well as Reds Meadow and will take you back to Mammoth Mountain Adventure Center.
This is one of the few national parks in California that allows dogs on trails, so feel free to bring along Fido. Nearly all of the trails in the Mammoth Lakes area are dog friendly. You will, however, be required to muzzle your dog for the duration of the shuttle ride.
Read about all the fun things to do in Mammoth during the summer.
10. Channel Islands National Park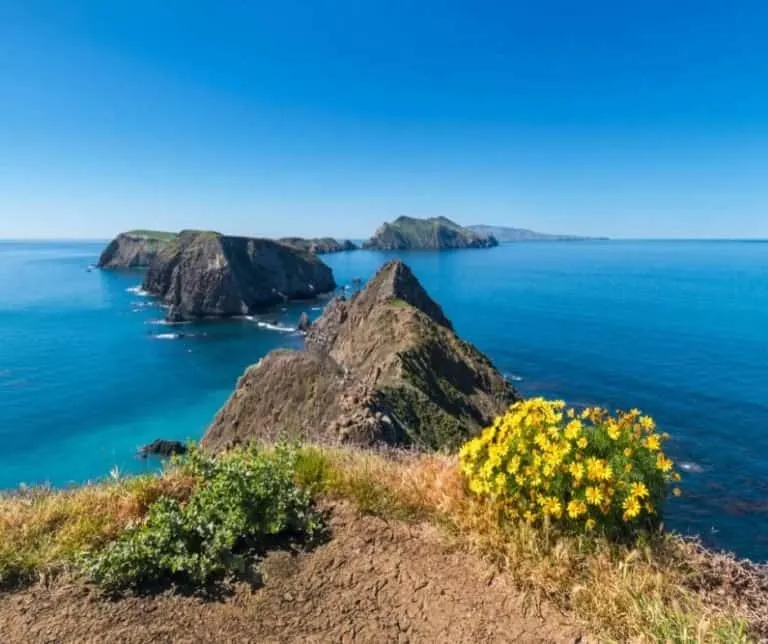 Channel Islands National Park may be the closest to Los Angeles, but access to this park is only available via private boat or Island Packers boat ferries, so only about 400,000 people visit each year.
There is no lodging on the islands, only basic camping. Day trips are popular ways to see the islands, and Anacapa and Santa Cruz are the most popular islands to visit.
Sea kayaking is a popular activity at Channel Islands National Park. Santa Cruz is the most popular place for sea kayaking thanks to its incredible sea caves. Santa Barbara Adventure Company offers great sea kayaking tours.
Snorkeling is another popular thing to do in Channel Islands National Park. The water is cold, so wetsuits are highly encouraged. The kelp forests surrounding the islands are amazing and full of life.
Hiking is another popular activity, especially during wildflower season in the spring. Keep your eyes out for the tiny island fox which stands at just a foot tall and weighs only 4-5lbs. Also scan the coastline for whales and dolphins which frequent the waters.
11. Cabrillo National Monument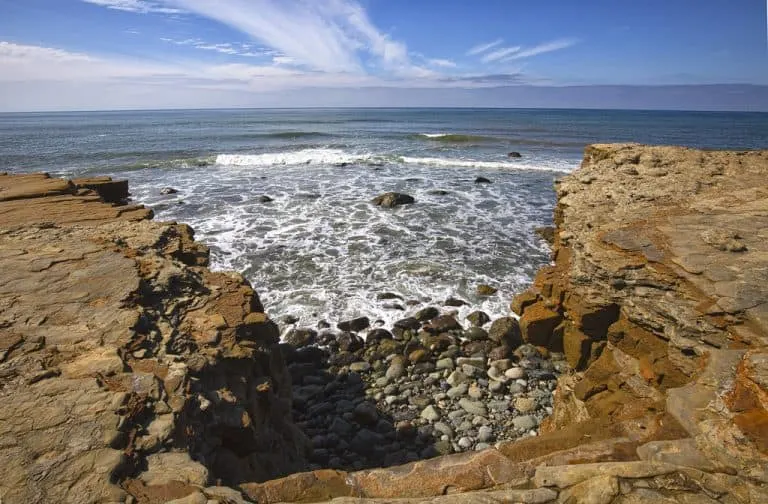 On the southern tip of the Point Loma Peninsula in San Diego is Cabrillo National Monument. It honors Juan Rodriguez Cabrillo, the first European to set foot on the West Coast. He landed in San Diego Bay on September 28, 1542.
The monument is also home to Old Point Loma Lighthouse, one of the eight original lighthouse built on the West Coast. There are also some nice tide pools in the area to explore.
Prime time to visit this area is December through March, when gray whales can often be spotted off Point Loma during the migration to and from their birthing grounds off the coast of Mexico.
No matter which time of year you visit, the views of San Diego and its harbor are spectacular and not to be missed. Here are our favorite things to do in San Diego with kids.
12. Lava Beds National Monument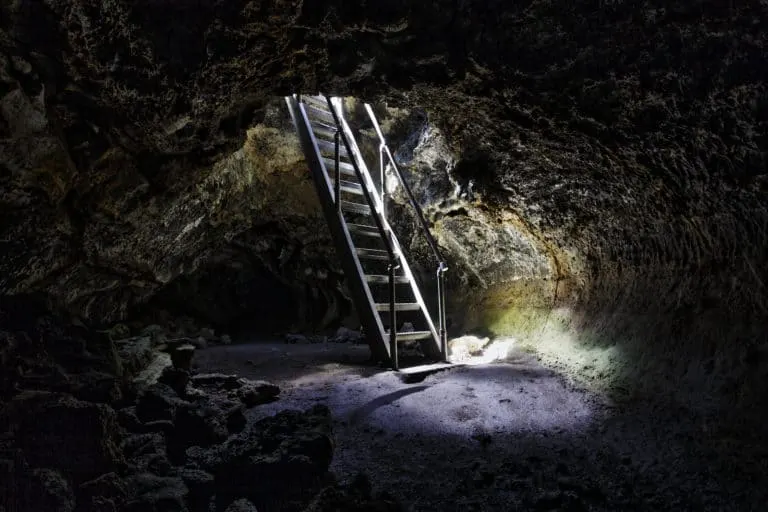 The northeastern corner of California is extremely rural and home to the largest concentration of lava tubes in North America. Lava Beds National Monument is located near the California/Oregon border and has several lava tubes and caves which are open for exploration.
Pack good flashlights. sturdy shoes, and sweatshirts because caves are dark and temps are much cooler below the surface. If you happen to forget headlamps or other cave exploring supplies, the park's small visitor center has them available for rent.
The landscape at this national monument reminds me a bit of the scenery on the dry side of Hawaii's Big Island where lava rock and scrub brush dominate the scene. Up on the surface, the weather can be quite warm in the summer months with very little shade. But below the surface, things are nice and cool.
There are some pictographs and a few hikes which lead you to caves, but expect to spend the bulk of your time exploring underground.
Kids will enjoy the ice floor of Skull Cave, the ease of exploring beautiful Valentine Cave, and the life growing inside of Sunshine Cave, among several others.
13. Pinnacles National Park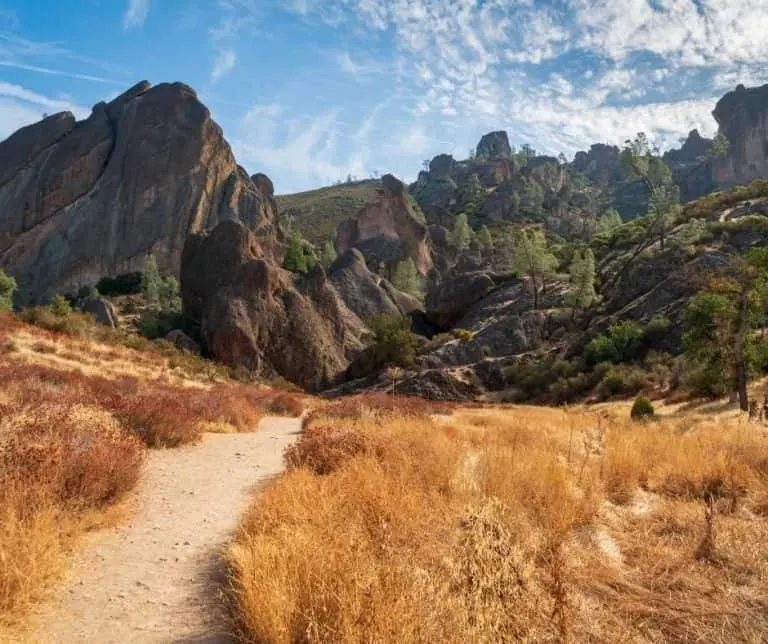 Pinnacles National Park is the newest national park in California, known for its famous for its caves, hikes, rock climbing, camping, and condors.
Located on the east side of the park, the Bear Gulch area is home to large talus caves that are formed by massive boulders. They are incredibly fun to scramble through on your way up to Bear Gulch Reservoir. The entire loop is 2.2 miles and gains 500 feet in elevation.
If you are on the west side of the park- there is no road connecting the two sides- the 2.4-mile Balconies Cave loop is a good option for families looking to explore some talus caves.. As with the Bear Gulch Cave, flashlights or headlamps are necessary.
As you hike the hills of Pinnacles National Park, keep your eyes out for the rare California condor. There are only about 300 living in the wild so spotting one of these giant birds is quite a treat.
Read our full guide to visiting Pinnacles National Park.
When you visit Pinnacles National Park, keep in mind that there really aren't any services like dining, lodging, and gas. There is a campground available, but all the other services are available at the gateway towns of Soledad or King City off Highway 101.
Pinnacles National Park is in Monterey County. Discover all the amazing outdoorsy things to do in the Monterey area.
14. Muir Woods National Monument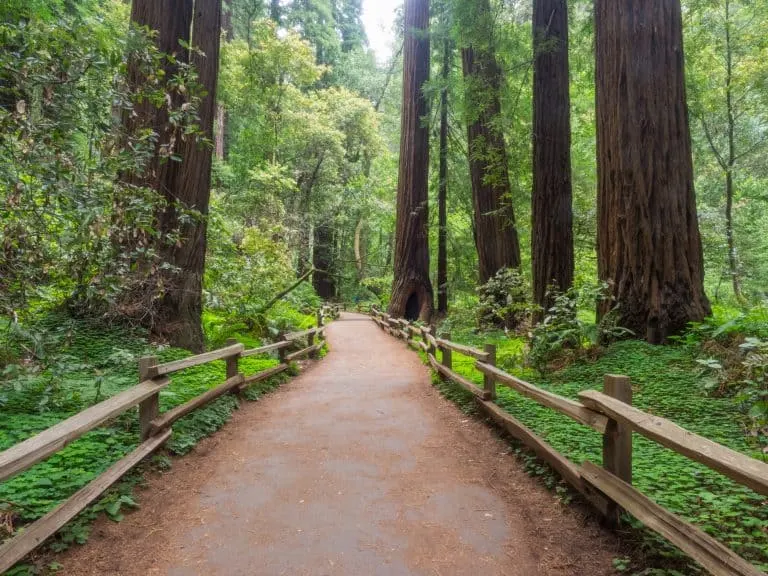 The dense forests and towering redwoods of Muir Woods make it one of the most unique national parks near San Francisco.
Due to its close proximity to San Francisco, this redwood forest is an incredibly popular destination. Parking must be reserved in advance and shuttles are available through gomuirwoods.com.
The main trail within the park is a loop that can be crossed at three points. Choose a ½ hour, 1 hour, or 1 ½ hour hike. The boardwalks along the loop are stroller friendly. You can also extend your hikes in the area by connecting to trails in neighboring Mount Tamalpais State Park.
Muir Beach is located three miles west of Muir Woods and is a great addition to your time in Muir Woods. This is not a swimming beach (that water is cold!) but it is beautiful.
15. Redwood National Park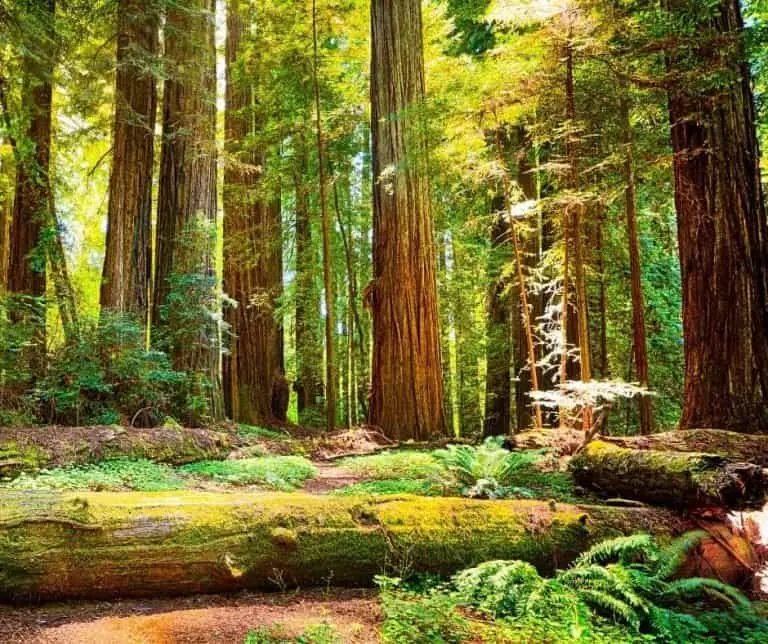 Redwood National and State Parks operates in conjunction with several state parks including Del Norte Coast Redwoods State Park, Jedediah Smith Redwoods State Park, and Prairie Creek Redwoods State Park. All of these parks protect the tallest trees in the world.
If you want to enjoy a scenic drive through the tallest trees in the world, then add the Newton B. Drury Scenic Parkway to your vacation itinerary. From November through May, the Newton B. Drury Scenic Parkway is closed to motorized vehicles on the first Saturday of each month. This is the ideal time to bike or hike this spectacular 10-mile route.
Visit Gold Bluffs Beach where elk are commonly seen hanging out by the sand. Then take short dirt road to Fern Canyon where you will feel as though you have stepped into Jurassic Park.
There are lush ferns covering the 30-foot walls of the canyon and a stream winding through. It is truly one of the most beautiful spots in the state.
Find national parks near you! Trekaroo has dozens of guides to national parks across America.