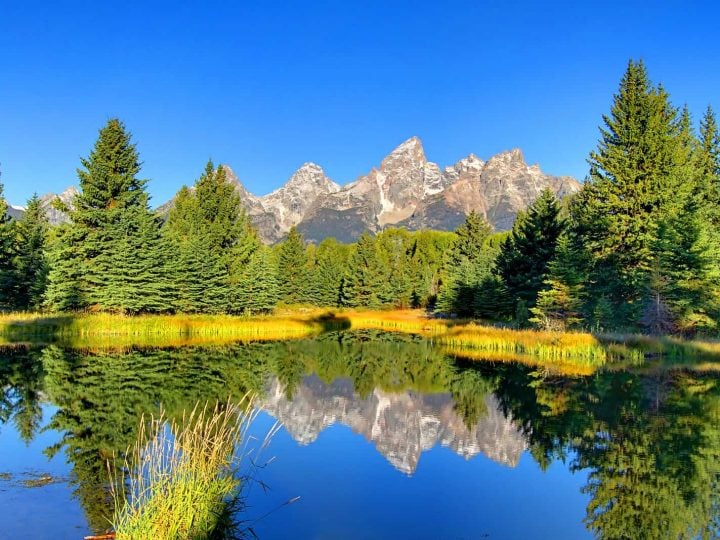 Ninety minutes south of Yellowstone lies Grand Teton National Park. Grand Teton is like Yellowstone's overlooked, underrated little sister. At only 310,000 acres, it is much smaller than Yellowstone and Glacier. However, its iconic jagged mountain peaks, the Snake River, pristine glacial lakes, and the Jackson Hole Valley, make Grand Teton National Park an incredible family destination.
Many simply pass through on their way to see Old Faithful, but there are so many things to do in Grand Teton National Park. So, if you're thinking about planning a trip to Wyoming or Yellowstone, check out this guide to exploring the Tetons, including where to stay, where to eat, what to do, and other tips for a family trip you'll never forget.
When to Visit Grand Teton National Park
Grand Teton National Park is open 24 hours a day, 365 days a year. However, the best time to visit is from mid-May to late September, when hiking trails, visitor centers, and water activities are all open.
Winter comes early in Wyoming, and by November most of the roads and facilities are shut down. This doesn't mean that you can't enjoy a winter visit, but if you're looking for the best weather to enjoy all that this park has to offer, then spring, summer and early fall are your best bets.
If you can plan a trip for late spring or early fall, you'll enjoy all the park has to offer, but with fewer crowds. Temperatures in May range from mid to upper 50's during the day to the 20's at night. September sees highs in the mid 60's, while lows at night can dip into the 30's.
While summer is when the park is at its most crowded, the weather is at its best. Low humidity and little rain result in plenty of opportunities to hike and kayak. A visit in July means day time temps in the upper 70's and lows at night in the 40's.
How to get to Grand Teton National Park
Drive to Grand Teton National Park
Grand Teton is often a stop on epic summer road trips. Its proximity to Yellowstone makes it easy to combine the two on a shorter itinerary. Or you can add it on to a longer trip which includes Glacier National Park.
Check out this epic Chicago to Yellowstone Road Trip itinerary.
Fly to Grand Teton National Park
The tricky thing about Grand Teton is how to get there if you're coming from further away. While you can fly into convenient Jackson Hole Airport, flights can be extremely expensive. Idaho Falls regional airport is about 2 hours away and those traveling to Yellowstone might also consider flying into Bozeman.
However, the best airfare will most likely be found if you fly in and out of Salt Lake City, which is about a 5-hour drive.
Things to Do in Grand Teton National Park with Kids
5 Family-Friendly Day Hikes in Grand Teton National Park
There are hiking trails for all ages and abilities in Grand Teton National Park. Here are some of our favorite hikes for families.
1. Moose Pond Trail
Distance: 3.2-mile loop trail
Details: Start at the Jenny Lake Visitors Center, and either hike the loop or hike out to the ponds and back. Be sure to keep your eye out for beavers and moose!
2. Hidden Falls
Distance: 1.3-mile out-and-back trail
Details: Take the ferry across Jenny Lake and then hike the mile trail to the falls. You can also skip the boat ride and hike the flat, 5-mile round-trip trail.
3. Schwabacher Nature Walk
Distance: 1.8-mile out-and-back trail
Details: This flat, short trail is one of the easiest hikes and boasts incredible views.
4. Leigh Lake
Distance: 2.9-mile out-and-back trail
Details: This trail was one of our favorites! It follows along the edge of String Lake and is absolutely stunning. It's about 1 mile out to Leigh Lake, and you can continue along the lake as long as you wish, but it's a non-looping trail, so you must hike back the way you came.
5. Lakeshore Trail
Distance: 2.1-mile figure eight trail
Details: This trail loops around Jackson Lake in a figure eight. You can pick it up right at the Colter Bay Visitors Center. The trail leads to various lookout points with magnificent views of the Teton Range
5 Fun Water Activities in Grand Teton National Park
Grand Teton is dotted with lakes and ponds and the Snake River flows through the park as well. So there is no shortage of water activities.
1. Rafting
Your family can enjoy scenic float tours and adventurous rafting trips on the Snake River. Tours depart from Jackson Lake Lodge. Or you can book a trip through the various independent rafting outfitters.
Read about a guided kayak trip with OARS in Grand Teton National Park.
2. Boat Cruises
Scenic boat cruises along Jackson Lake depart daily from Colter Bay Marina. You can also book a meal cruise, which takes passengers out to Elk Island.
3. Kayak, Canoe and Motorboat Rentals
Boating is a great way for your family to explore Jackson Lake. All rentals available at Colter Bay Marina.
4. Fishing
Guided fishing tours are available from Colter Bay.
5. Swimming
Although the water can be cold, there are swimming beaches at Colter Bay and Signal Mountain. You can also swim in String Lake and Leigh Lake.
Horseback Riding
If everyone in your group is eight years old and older, you can explore Grand Teton on horseback. Guided tours depart from Colter Bay, Jackson Lake Lodge, and Headwaters Lodge and Cabins.
Wildlife Viewing
If seeing wildlife is high on your family's must-see list, then make sure to head to Oxbow Bend. One of the most popular places for wildlife spotting, and a favorite of photographers, Oxbow Bend is located between Moran Junction and Jackson Lake Junction.
You might luck out and see moose, deer, and even bears. Speaking of bears, they're everywhere in Grand Teton, so make sure you travel in groups of three or more and carry bear spray. You might also spot a bald eagle or an otter. There are guided wildlife tours available as well with the nonprofit Teton Science Schools.
Junior Ranger Programs
Grand Teton National Park has a fantastic Junior Ranger Program. Your kids can pick up the activity guide and the Colter Bay and Jenny Lake Visitors Centers. After completing the required activities, kids will be sworn in as official junior park rangers, and receive a pin.
Biking
Biking is a great way to see the natural beauty of Grand Teton National Park. The multi-use bike pathway extends all the way from the town of Jackson. At Moose Jct. it follows Teton Park Rd. to the South Jenny Lake area. If you're looking to rent bikes in the park, head to Dornan's. In addition to bikes, they rent canoes, kayaks, and paddleboards.
Where to Stay in Grand Teton National Park
From camping to log cabins, to luxury digs, Grand Teton has plenty of in-park lodging options for your family. All reservations (except for Signal Mountain lodge) are handled through the Grand Teton Lodge Company. We're going to break down the lodging options by location, as each location has its own services on site.
Colter Bay Village
Nestled on the shores of Jackson Lake, with a view of the Tetons as its backdrop, Colter Bay Village is like a summer camp for the entire family.
Cabins
Choose from a number of cozy cabins, including 1 room cabins that sleep from 2-6 guests and two-room cabins which sleep between 6-10 guests. Each cabin has its own bathroom and comes with linens and towels.
Tent Cabins
If you're looking for more rustic accommodations, the tent cabins include pull-down bunk beds and they have cots for rent. While visitors are expected to bring their own bedding, there are a number of sleeping bags available to rent at the office.
Camping
Interested in camping? The campground at Colter Bay has 330 campsites, with fire pits, bathroom facilities, and laundry nearby. You cannot reserve the sites ahead of time, so make sure you get there early!
Dining & Shopping
There are two on-site restaurants in Colter Bay Village. The Ranch House offers breakfast, lunch and dinner in a nicer dining environment. While the Cafe Court offers lunch and dinner (and great pizza) in a more casual environment.
The Colter Bay General Store has everything you need for your campsite or your cabin. And you have to make sure to try the Huckleberry ice cream! The adjacent gift shop has tons of souvenirs, and the laundry facilities are right next door.
Headwaters Lodge & Cabins
If you're planning on combining Grand Teton and Yellowstone in the same trip, then Headwaters might be the perfect fit. Located between the two parks along the Snake River, lodging options include cabins, tent cabins, tent sites, and RV sites.
Cabins
Each cabin at Headwaters includes a private bathroom, a front porch, and rocking chairs. Cabin classes range from standard to premium and all sleep up to five when using a rollaway bed.
Camping
Headwaters has tent sites, camper cabins and RV sites with full hook up. Each site has its own firepit. While you can (and should) book camper cabins and RV sites ahead of time, the campsites cannot be reserved. The campground has on-site laundry facilities as well as renovated showers and bathrooms.
Dining & Shopping
Located in the Headwaters Lodge, Sheffields Restaurant serves breakfast, lunch, and dinner; you can also visit Sheffields Saloon for drinks. From souvenirs to camping supplies, the Headwaters gift shop and convenience stores have everything you need.
Jenny Lake Lodge
If you're looking for a more luxurious stay, then you might want to consider Jenny Lake Lodge. The lodge is a four diamond AAA resort, and the luxury cabins combine western charm with modern comfort.
Dining
The Jenny Lake Lodge Dining Room is fine dining at its best. Reservations are recommended for breakfast and required for dinner, where a five-course meal is served nightly.
Jackson Lake Lodge
Even if you're not staying at Jackson Lake Lodge, it's worth visiting the lobby just to take in the view of the Tetons from the 60-foot windows in the lobby. The lodge has 385 rooms including suites, lodge rooms, and cottages. In addition to restaurants and shopping, the hotel has an outdoor swimming pool and a complimentary guest shuttle for guests wanting to get to Colter Bay, Jenny Lake or the town of Jackson.
Dining
Jackson Lake Lodge has 4 on-site restaurants. For fine dining, check out the Mural Room, featuring panoramic views of the Tetons. The Blue Heron Lounge offers more casual dining and the Pioneer Grill features communal counter dining. If you're lounging at the pool, you can grab food and drinks at the Pool BBQ.
Signal Mountain Lodge
Located along the shores of Jackson Lake, Signal Mountain is comprised of 1 and 2 room cabins, single rooms, and bungalows. Signal Mountain also has campsites, which are first-come, first-serve.
Dining and Shopping
Signal Mountain has a number of dining options. Trapper Grill serves breakfast, lunch, and dinner. Peaks Restaurant offers more high-end dining. Both offer reasonably priced kids menus. Located 11 miles north of the lodge, Leek's Pizzeria offers local microbrews along with pizzas, sandwiches, and calzones. They also offer a kids menu.
The on-site gift shop and general store have everything you need from fishing supplies and snacks to souvenirs.
Grand Teton National Park Tips
Bring a reusable water bottle and take advantage of the park's many refilling stations.
Dress in layers and always be prepared for pop-up rain showers.
Respect wildlife and always stay at a safe distance. Park Rangers recommend at least 100 yards from bears and wolves and 25 yards from other large mammals like bison, elk, and moose.
If you're hiking, be sure to carry bear spray and stay in groups of three or more.
Make sure to check out the town of Jackson. There are a ton of great restaurants, breweries and even a farmers market. The Jackson Hole Rodeo is a blast too!
Take advantage of the many ranger programs- especially the evening ones.
Lead image by Bigstock.