Have you ever wanted to visit a national park with kids? How do you choose which national park to visit? There are 63 national parks in the U.S. -and that's not including national monuments and historic sites. So which are the best national parks for kids?
There are many things to consider when deciding which park to visit first. Families want parks that have features that will get kids excited to learn and explore. They want parks that are accsessible and diverse, and above all family friendly.
We think all the national parks are worth visiting, but some are definitely better than others.
How We Determined the Best National Parks For Kids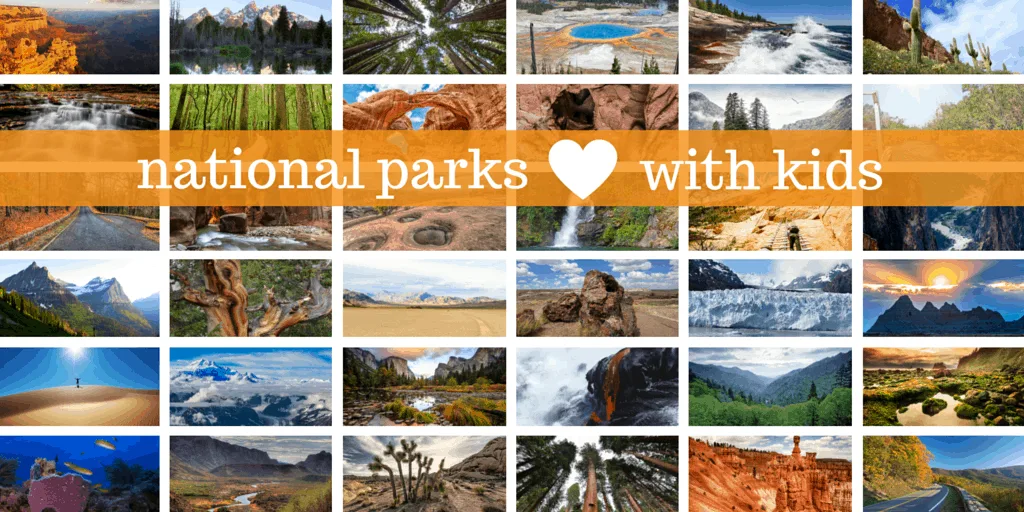 From the over 60 national parks, we narrowed down the list down to the most family-friendly parks that your kids should visit before they grow up.
Narrowing it down to just 10 of the best national parks for kids was hard, but we used the following factors to help us compile our list.
Appropriate for kids of all ages. Some parks are better suited for older kids due to being especially remote or undeveloped while others have full services, paved options for strollers, and plenty for all age groups to enjoy. We also wanted to put together a diverse collection of parks that each offer something unique and different.
Lodging available in the park or nearby. The reality is, many people, especially those new to the national park system are not campers, so we considered spots that had four-walled lodging. If you prefer campgrounds, check out our article on scoring a campground at popular national parks.
Best season to travel. We know that most families do their travel during school breaks and summer vacation. We wanted to have a mix of options that are great for summer vacation, Spring Break, or Winter Break. Have flexibility? Check out our article on off-peak travel to national parks.
The Best National Parks for Kids to Visit in 2022
1. Great Smoky Mountains National Park
Great Smoky Mountains is the most visited national park in America. It spans two states, North Carolina and Tennessee, and runs through part of the Blue Ridge Mountains.
Its lush forests with over 1,000 different kinds of flowers can be accessed from both Gatlinburg, TN and Cherokee, NC. The highest point is Clingman's Dome where a 50 ft. observation deck allows visitors to soak in some spectacular panoramic views.
Read our full guide to the best things to do in Great Smoky Mountains National Park with kids. We also have a wonderful Great Smoky Mountains road trip itinerary.
What Makes Great Smoky Mountains One of the Best National Parks for Kids?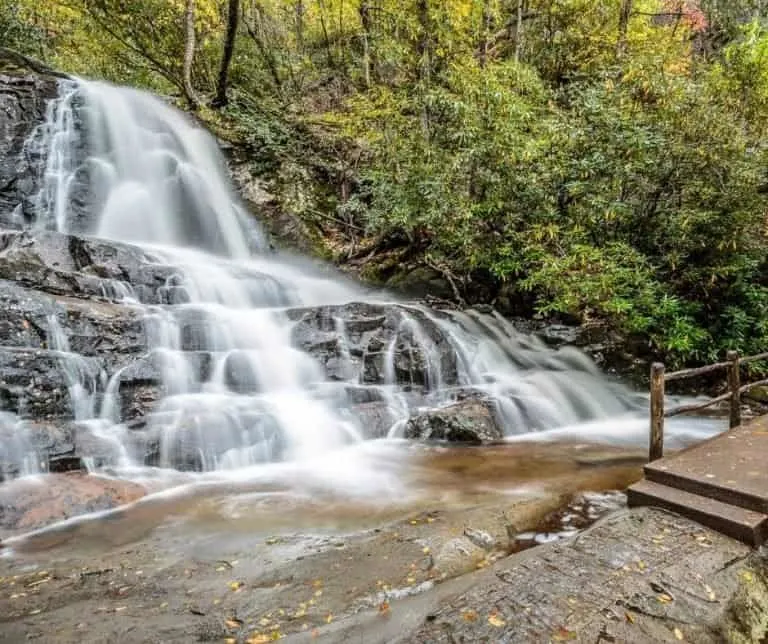 Many of Great Smoky Mountains National Park's most popular hiking trails, waterfalls, and mountaintop viewpoints are found along the 33-mile Newfound Gap Road.
Young children can walk the easy one-mile loop on Cosby Nature Trail. Older kids will enjoy the most popular hike to Alum Cave, 4.4-miles with moderate climbing.
One of the most popular hikes is to Laurel Falls. The hike is 2.6-miles round trip on a paved trail.
Kids who love horses will want to take a one-hour trail ride with Smokemont Stables. The ride crosses a creek, goes through a tunnel under a park road and though some hilly terrain, before returning back to the stables.
Distance from Airport
McGee-Tyson Airport is just south of Knoxville. It is 40 miles from the Gatlinburg entrance to the park. Coming from North Carolina, Asheville Regional Airport is the closest airport to the park. It's approximately a 42 miles from the park entrance.
Where to Stay When Visiting Great Smoky Mountains National Park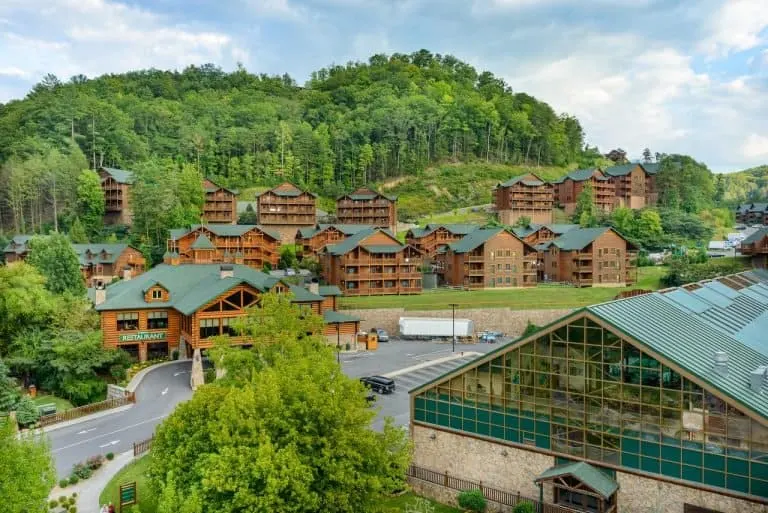 Westgate Smoky Mountain Resort and Spa is a lodging option that delivers on comfort and recreation for the kids. After a long day in the national park, this Gatlinburg resort with a very 'Daniel Boone' feel offers kids downtime in the pools and the indoor water park, Wild Bear Falls.
Best Season to Visit Great Smoky Mountain National Park
April to June is the best for hiking as well as peak leaf season from end of September to October. Depending on the weather, Great Smoky Mountain National Park can be a good Spring Break destination.
Traffic can be heavy during the leaf change but the scenery is absolutely breathtaking. Late June through early September can be hot and humid but is still a fine time visit. Just start your days earl
2. Yosemite National Park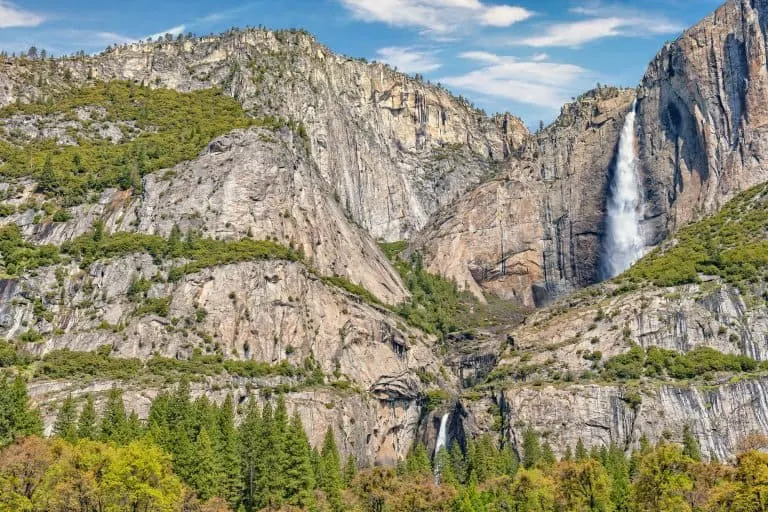 Abe Lincoln established Yosemite Valley as public land in 1864, with good reason. Crowds flock to experience the sight of misty waterfalls, granite monoliths, and towering sequoia trees.
Trekaroo has several great guides to visiting Yosemite National Park. Here are our favorite things to do in Yosemite with kids. We also have an article dedicated to easy hikes in Yosemite that are perfect for families with younger kids.
Yosemite can be a busy national park, but we know the best times to visit Yosemite and how to avoid the crowds during the peak season.
They key is to look for alternatives to the big attractions. For example, crowds flock to Glacier Point, but folks can catch and equally incredible view at Sentinel Dome with far fewer crowds.
Take the one-mile hike to gain a 360-degree view of the park including El Capitan, Half Dome, and the 2,425 ft. tall Yosemite Falls, the highest waterfall in North America.
What Makes Yosemite One of the Best National Parks for Kids?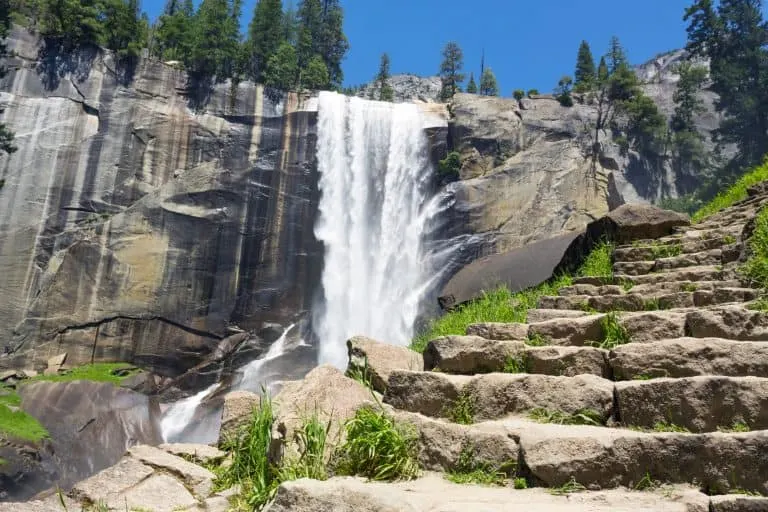 There isn't a more family-friendly national park than Yosemite. Paved roads make the stroller-ready hike easy for families with young children. Lower Yosemite Falls, Bridalveil Falls, Mirror Lake, and Tenaya Lake are all easy to reach with little ones.
For the 5-to-12-year-old range, trek up for a closer view of dramatic but serene Vernal Falls, hike to a Sequoia grove, or spend the day up in Tuolumne Meadows.
In the Valley, consider the open-air tram tour which is a great introduction to the park. You'll hit all of the highlights, from Half Dome to Tunnel View, while getting commentary from a park ranger.
While there is a free shuttle to major attractions, consider renting bikes from the Yosemite Lodge Bike Stand. Peddling around will cover more ground in the Valley than walking.
Active families with older children will love the challenging hike to the top of Upper Yosemite Falls and revel in the view. For a steep but rewarding trail, hike up the Mist Trail to Vernal Falls and Nevada Falls.
Distance from Airport
There are several options, including major international airports.
Fresno-Yosemite International Airport (FAT) is near the South Entrance and the Mariposa Grove of Giant Sequoias. It's about 2 ½ hours to Yosemite Valley but a good portion of the drive is within the park.
Three major international airports are affordable choices for driving to Yosemite from the Bay Area: San Francisco International (SFO), Oakland International (OAK), and San Jose International (SJC). All three of these airports are about three hours from a park entrance. Sacramento International Airport (SMF) is also about three hours away.
If you are visiting during the summer when Tioga Pass is open, Reno/Tahoe International (RNO) is a good choice. This airport makes it easy to turn your vacation into a road trip which includes Lake Tahoe, Mono Lake, and Yosemite. From Reno Airport, take highway 395 through scenic mountain country to Tioga Pass and into the park near the Tuolumne Meadows Visitors Center.
Where to Stay in Yosemite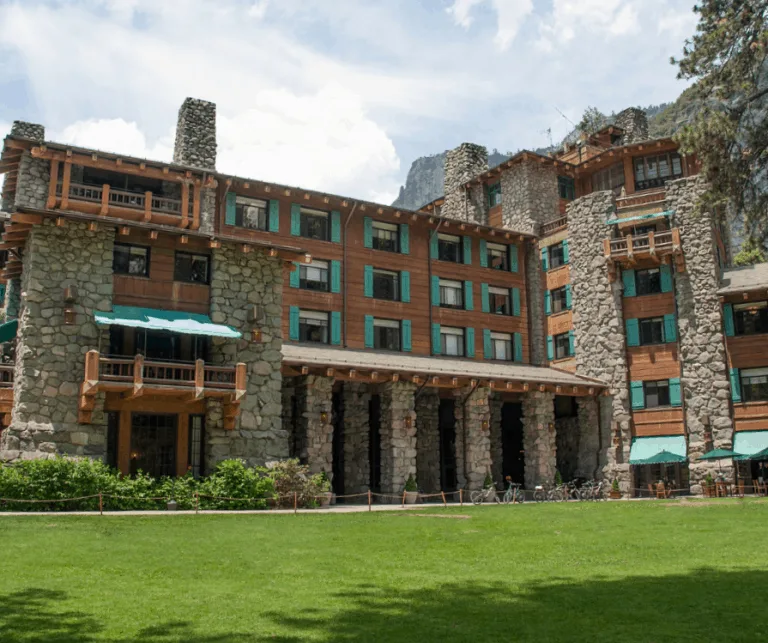 Anyone who has visited Yosemite has daydreamed about staying in the mighty Ahwahnee Hotel. This grand hotel was used by Stephen Mather, the first National Park director, to lure in the rich and important so that they could see just how incredible Yosemite Valley is and why it was worth funding.
His plan worked and lead to great improvements to our entire National Park System.
For a less expensive and centrally-located alternative, stay at Yosemite Valley Lodge or in one of the tent cabins at Curry Village. All of these Yosemite Valley lodging options should be booked far in advance of your trip.
Best Season to Visit Yosemite
Summer is the most popular time to visit. It is also the most crowded. The key is to start your day early, especially when trying to see the highlights in Yosemite Valley. And take advantage of the park shuttle instead of trying to find parking at each destination.
Late spring is a great time to visit. Waterfalls are at their peak and the summer heat hasn't set in. Some higher elevations of the park may still be closed due to snow. Spring Break can be great in Yosemite, but late season snowstorms are possible.
Early fall may not have heavy flowing waterfalls but it does have few people and lovely autumn colors. Winter in Yosemite Valley is special but inclement weather can shut down roads.
3. Yellowstone National Park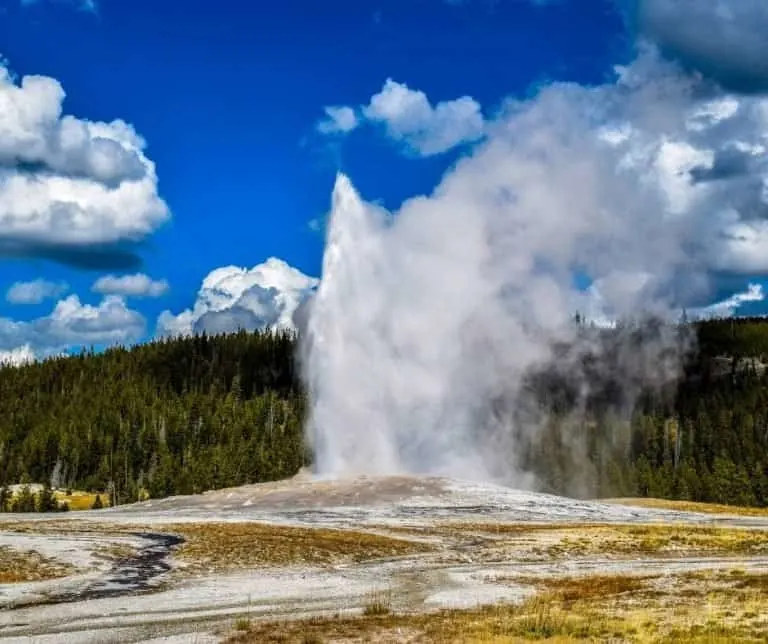 Yellowstone is the nation's first and oldest National Park. It is home to Old Faithful, the legendary geyser, as well as the largest concentration of geysers and thermal features on the planet! It is also known for its abundant wildlife, beautiful Lake Yellowstone, and the scenic Grand Canyon of Yellowstone.
If you plan on visiting this park (and we REALLY think you should) don't go without checking out our comprehensive guide to 25 Things to do in Yellowstone with Kids.
What Makes Yellowstone One of the Best National Parks for Kids?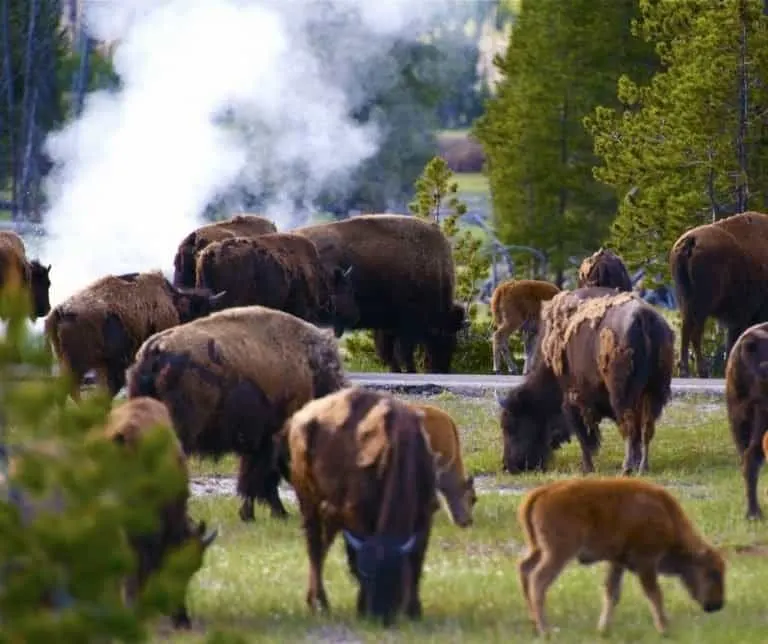 Yellowstone really is great for all ages. Children love spotting bison, elk, bears, and even wolves from their cars while driving through the park.
Many of the geysers are reached via stroller-friendly boardwalks and are sure to dazzle the entire family. And fishing and Old West cookouts to the mix and you have a recipe for a family vacation that they will never forget.
The one-mile loop hike around Artists' Paint Pots, featuring boiling mud pots surrounded by amazing colors of flora and fauna, is perfect for families with small children.
Other child-friendly stops include Norris Geyser Basin, the park's hottest basin, and Midway Geyser Basin, home to the world's largest hot spring. Make sure to hold hands with young children and keep them off the active geothermal features.
Take the youngest hikers on shorter strolls, such as the two-mile Yellowstone Lake Overlook trip from West Thumb Geyser Basin or the 1.2-mile hike to Trout Lake. Elementary-age kids will love Riddle Lake (five miles) or the Lost Lake Loop (four miles).
Here are some of our favorite Yellowstone hikes for families.
Older children and teens should try the Lone Star Geyser Trail (4.8 miles) to see a backcountry spout or the climb up 10,243-foot Mt. Washburn (5 or 6.2 miles, depending on starting point).
They can also take the bike ride up Blacktail Plateau Drive for a 7-mile cruise through forests and meadows, or try the 5-mile gravel Old Gardiner Road through excellent pronghorn antelope and elk habitat. You can rent bicycles in the Old Faithful area. Ride the road alongside the Upper Geyser Basin or Fountain Freight Road behind the Midway Geyser Basin.
Regardless of age, everyone will love spotting wildlife. Animals are everywhere in Yellowstone but the Lamar Valley and Hayden Valley are the best places to see wildlife, especially at dawn and dusk.
Distance from Airport
The closest airport to Yellowstone is Montana's West Yellowstone Regional Airport (WYS), just one mile north of the town of West Yellowstone and two miles north of the west entrance to the park on U.S. Hwy. 191.
Another options is the Jackson Hole Airport (JAC) at Grand Teton National Park, which is 56 miles of scenic driving away from the southern entrance of Yellowstone. This route is only available after the snow is cleared, which usually happens in mid-May.
Another options is Bozeman Yellowstone International Airport (BZN) in Montana. This airport is 88 miles (or 90 minutes) from the northern entrance to the park. The drive from the airport to the park is very scenic.
Lodging Recommendations
There is lots of lodging options within the park as well as near the park entrance at West Yellowstone. Choose from historic, grand hotels to basic cabins and campgrounds.
Old Faithful Lodge and Old Faithful Inn are just steps away from its namesake. Old Faithful Inn is considered the largest log structure in the world!
Lake Yellowstone Hotel is also centrally located. This historic, national landmark hotel sits adjacent to the lake and has a variety of rooms options as well as cottages.
West Yellowstone is a great place to stay just outside of the park's boundaries. There are various hotels, lodges, and home rentals in this small, gateway town.
Best Season to Visit
If you want to see and do it all, summer is the time to visit. Yes, there will be crowds but much of the park is closed during the long winter season.
You can try to enjoy the shoulder season in late May but weather is a bit unpredictable. Early fall is another nice option but the weather changes quickly. Many of the park's roads close for the season after the first significant snowfall.
4. Grand Teton National Park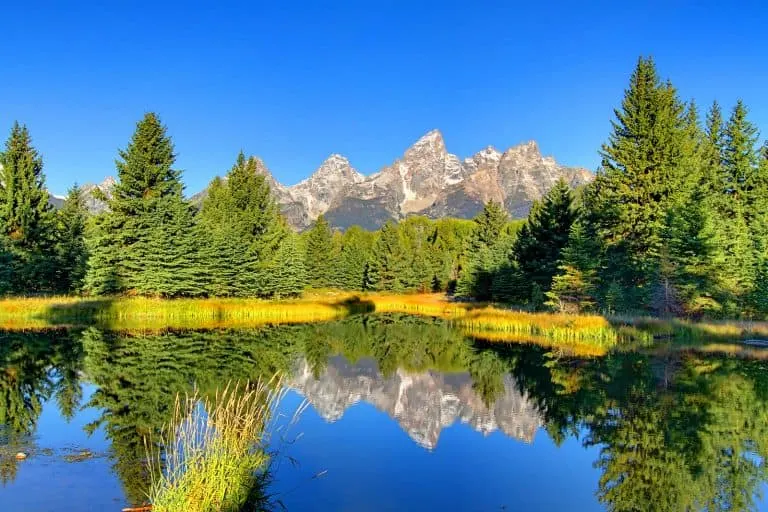 Often seen as the little sister to Yellowstone, Grand Teton can sometimes be overlooked. Don't make this mistake! We at Trekaroo think Grand Teton National Park is detinitely one of the best national parks for kids!
Only 10 miles from Yellowstone's southern entrance, this park is well-known for its dramatic peaks, including its namesake, the 13,774-foot Grand Teton. Grand Teton National Park has plenty of wildlife, great lakes, and vistas to enjoy, as well as plenty of fun trails to explore. Here are the best things to do in Grand Teton National Park with Kids.
What Makes Grand Teton One of the Best National Parks for Kids?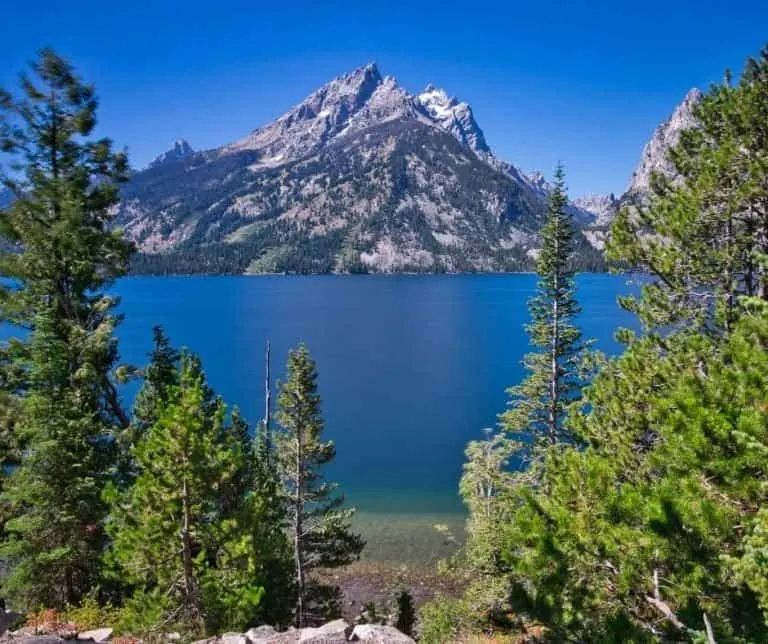 Little kids, particularly preschoolers, will enjoy the visitor center in Moose with excellent programming for kids. Be sure to check out the backpacks with art supplies.
Several lakeside trails are especially family-friendly such as Phelps Lake, String Lake, and especially, Jenny Lake. Skip rocks along the shore of Jackson Lake's pristine water, and watch for bison, bears, elk, and moose. Bathrooms for the little guys are located throughout the park and picnic areas.
Big kids can hike the gorgeous Paintbrush Canyon or kayak Colter and Half Moon Bays. Rent the two-person kayak from the Colter Bay Marina for half a day of paddling and wildlife viewing.
Hike 7.8 miles along the north and west sides of both String and Jenny Lakes to Hidden Falls and Inspiration Point, or shorten your hike by taking powerboat ferry across the lake to the trailhead.
Don't miss spotting the scenic wildlife while floating the mellow Snake River with gear from Solitude Float Trips.
One of the park's most defining traits is that it is the home to incredible wildlife. Think grizzly and black bears, elk, moose, bison, pronghorns, and big horned sheep grazing amongst a display of wildflowers.
There are wolves, coyotes, river otters, beavers, badgers, snowshoe hares, marmots, bald eagles, trumpeter swans, and trout. No doubt, the photo safaris are among the most popular of the park's tour offerings.
Distance from Airport
Jackson Hole Airport (JAC) is conveniently inside Grand Teton National Park. As a matter of fact, it is the only national park with an airport.
Lodging Recommendations Where to Stay When Visiting Grand Teton National Park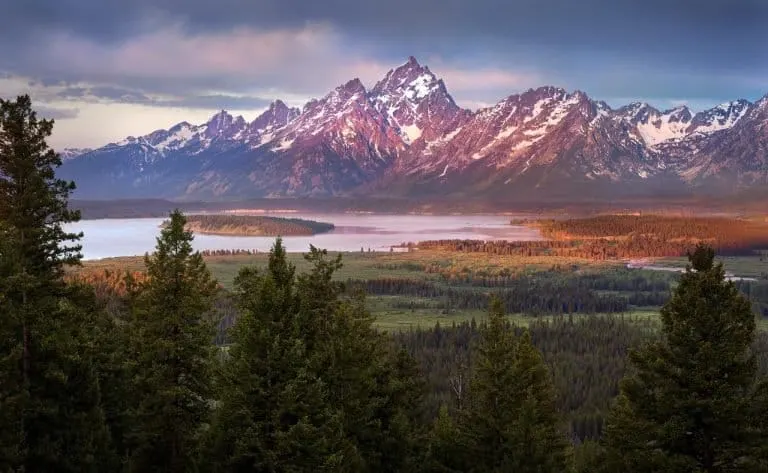 Jackson Lake Lodge makes an ideal base for families exploring Grand Teton National Park. Built in 1955 by John D. Rockefeller, the lodge was designed in the modernist International style and is now a National Historic Landmark. The views of the Teton ranges from the glass walls of the expansive second floor lobby are truly magnificent.
There 1950's era cabins that flank the main lodge which are designed to be clean, convenient budget lodging for travelers out exploring the park.
Triangle X Dude Ranch is also located within the park. Families can book 1-3 bedroom rustic cabins, which have heat, electricity, bathrooms with showers, and mini-fridges. Teens gather in the 'Main House' sitting room, where they teach each other card games, and kids play on the spacious grounds, enjoying games of soccer or hide-and-seek.
There are several lodging options in the park's gateway city of Jackson, Wyoming. As a Booking.com affiliate, Trekaroo is thrilled to offer its readers the lowest rates on lodging in Jackon.
Best Season to Visit
Summer is definitely the best time to visit due to harsh weather for most of the rest of the year. As with Yellowstone, you try to visit on the shoulders (September and late May) if the school calendar isn't a factor.
5. Rocky Mountain National Park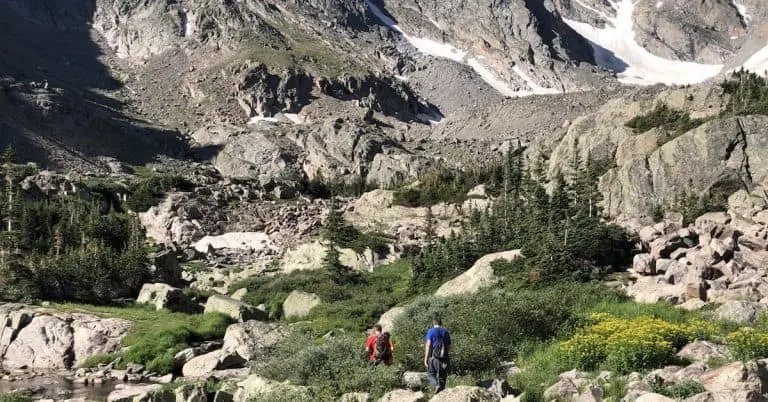 The Rocky Mountains stretch from British Columbia down into New Mexico, but Rocky Mountain National Park sits happily in Colorado, just outside of Estes Park.
Mountain majesty is the theme at Rocky Mountain National Park with 72 incredible peaks including some thirteeners (exceeding 13,000 ft) and Longs Peak (over 14,000 ft high).
Trekaroo has a guide to the best things to do in Rocky Mountain National Park with Kids as well as the Best Hikes in Rocky Mountain National Park for Families.
What Makes Rocky Mountain National Park One of the Best National Parks for Kids?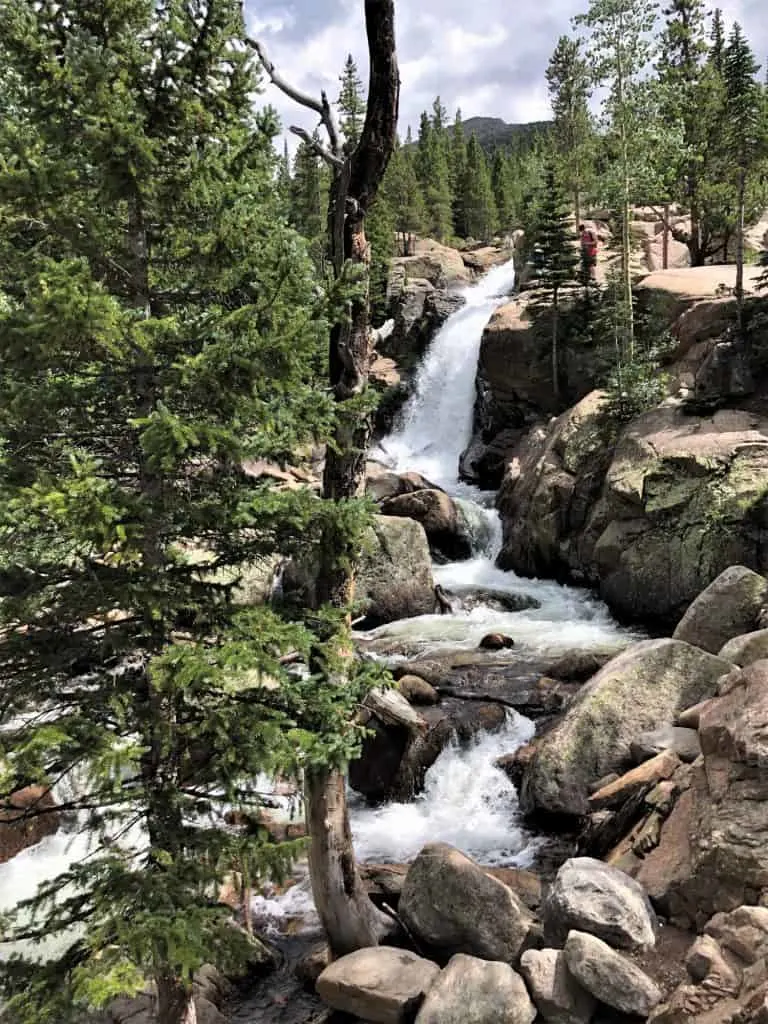 Bear Lake is a gentle, half-mile hike for families with young children, perfect for little ones in strollers as it is paved all the way around. A slightly more rugged-but-popular hike is to Alberta Falls, which explodes with color in early fall.
Coyote Valley Trail is a one-mile trail and a great spot to see elk and moose, especially during the early morning and early evening hours. It's located on the west side of the park, five miles north of the Kawuneeche Visitor Center and is both stroller and wheelchair accessible.
Take a drive up Trail Ridge Road, which peaks at 12,183 feet, and experience life at high elevation. The air is thin, but the views of wildflower meadows, moraines, and glaciers, are well worth it. Keep an eye out for elk—they can typically be spotted from the car.
Distance from Airport
Denver International Airport (DIA) is the closest major airport. From the airport it is a 90-minute drive to Estes Park, the park's gateway city.
Where to Stay Near Rocky Mountain National Park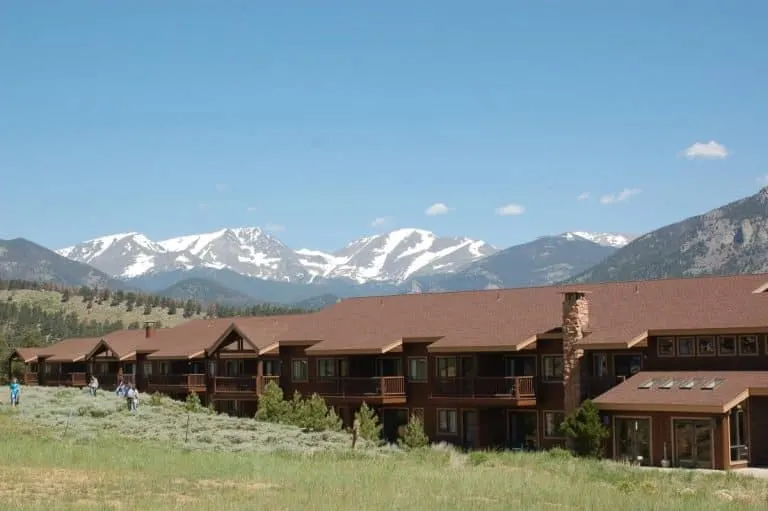 There is no lodging inside Rocky Mountain National Park but there are a lot of options outside the park in Grand Lake on the west side of the park and Estes Park on the east side. YMCA of the Rockies, Estes Park Center is a great family-friendly and large family group option.
YMCA of the Rockies Estes Park Center is truly a unique mountain resort-like center only three miles from downtown Estes Park in Colorado. It sits right at the doorstep of Rocky Mountain National Park with 860 acres, 216 cabins, five lodges, large vacation homes, and an amazing multitude of on-site activities.
Best Season to Visit Rocky Mountain National Park
June to September. You might be able to get away with a lovely spring trip but watch the weather from April to early June as storms come in quickly and continue to bring snow. Sneak in a trip in early fall and you will be rewarded with beautiful fall color from the Aspen groves.
6. Olympic National Park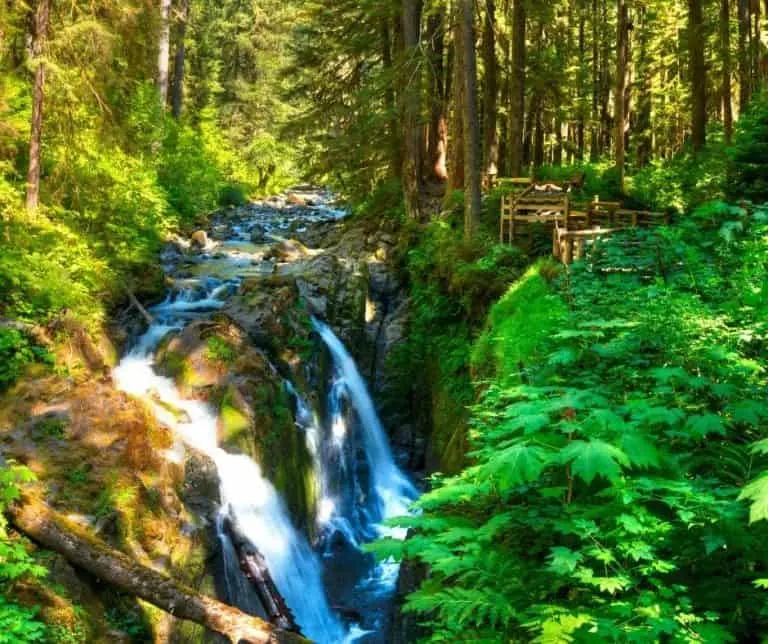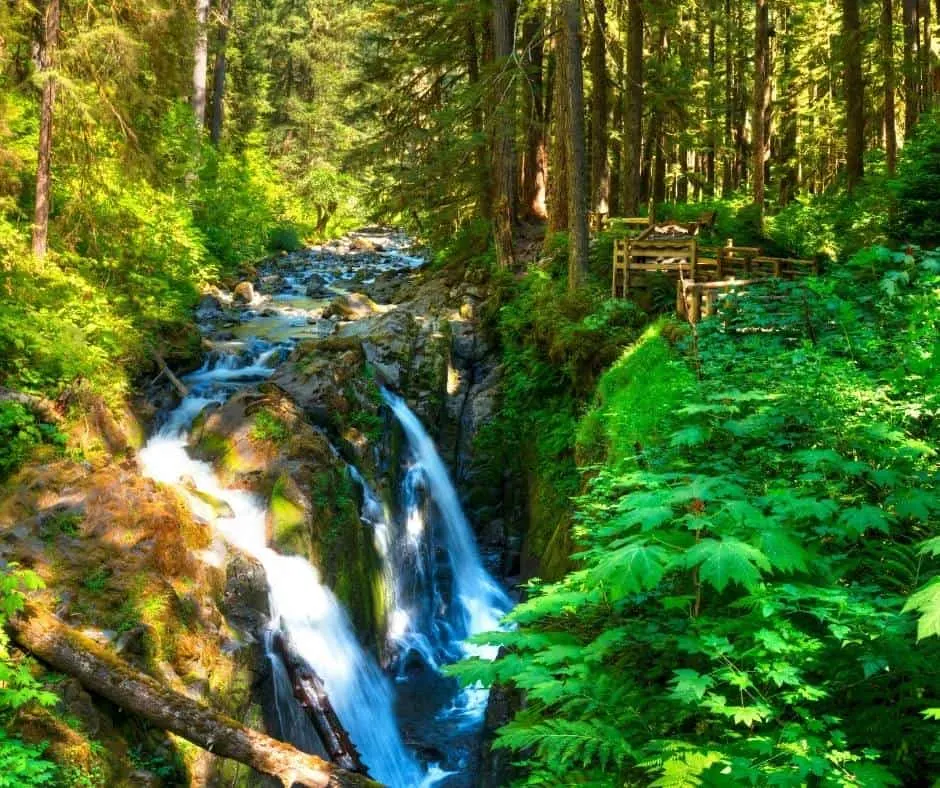 From dramatic, glacier-capped peaks of the Olympic Mountains to old growth rain forests nestled between the mountains and the rugged Pacific coastline, the magic of Olympic National Park is undeniable.
It's a spectacular wilderness park with four major ecosystems: subalpine, temperate rainforest, coast, and lowland forest. Not surprisingly, it is recognized as an International Biosphere Reserve and a World Heritage Site, and 95% of the land is designated wilderness.
Read our guide to the best things to do in Olympic National Park with kids to help you plan your visit.
What Makes Olympic One of the Best National Parks for Kids?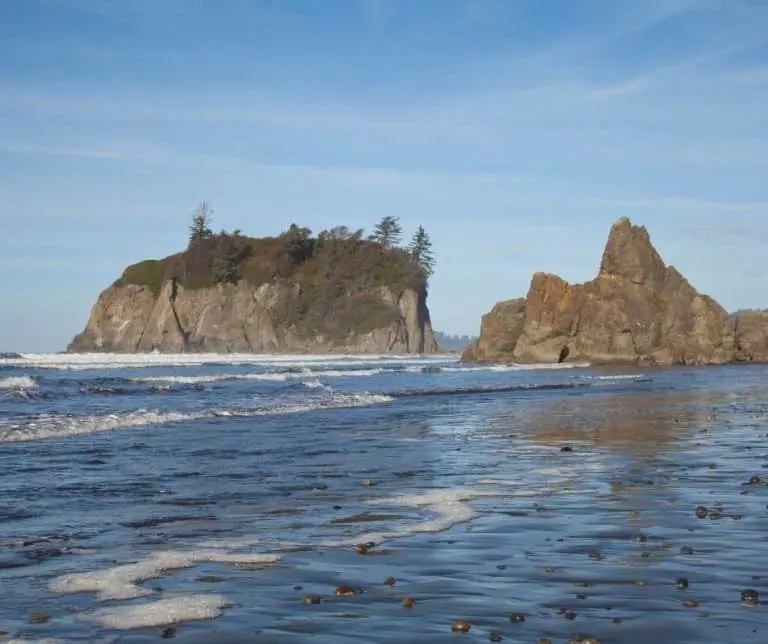 There are several family-friendly options within this diverse park, so it is no surprise that it made our list of the best national parks for kids.
Take the 0.8-mile interpretive Moments in Time Trail, which goes through the evergreen forest and by the lake to spot wildlife and different types of ancient trees that are three to seven centuries old.
Stroll around 12-mile Lake Crescent and stop by East Beach for a picnic and a swim. Near Lake Crescent Lodge, at Barnes Point there are two more fun hikes for kids.
Additional kid-friendly hikes include: South Shore Trail (.5 mile loop), Quinault Big Cedar Trail (.2 mile), Maple Glade Rain Forest Trail (.5 mile loop), and Kestner Homestead Trail (1.3 mile loop).
The Quinault Rain Forest Loop Drive is a 31-mile loop around Lake Quinault and up the Quinault River with many opportunities to get out of the car and see waterfalls, wildlife, or just take a walk through the forest.
Hike the Falls Creek Loop (1.6 miles) and be sure your family makes time to take the 0.8 mile hike down to Sol Duc Falls, the most photographed spot in the park.
The glorious Hall of Mosses Trail is inside the Hoh Rain Forest. This 0.8 mile loop trail winds through a pristine old growth forest where families will marvel at trees growing from the logs of fallen giants, mosses hanging like forest curtains, and a stream so clear that you can see a tiny forest of water plants growing along its bottom.
On the coast, kids will love inspecting the park's tide pools which are filled with sea stars, sea anemones, sea urchins, tiny fish, and even the occasional octopus.
Ruby Beach is known for its "sea stacks," weather-beaten pillars of rock jutting from beneath the waves. Kalaloch Beach is a wide, smooth, sandy beach, where a creek flows into the sea.
Distance from Airport
Sea-Tac (Seattle-Tacoma) International Airport (SEA) is about 2.5 hours from the park.
Where to Stay in Olympic National Park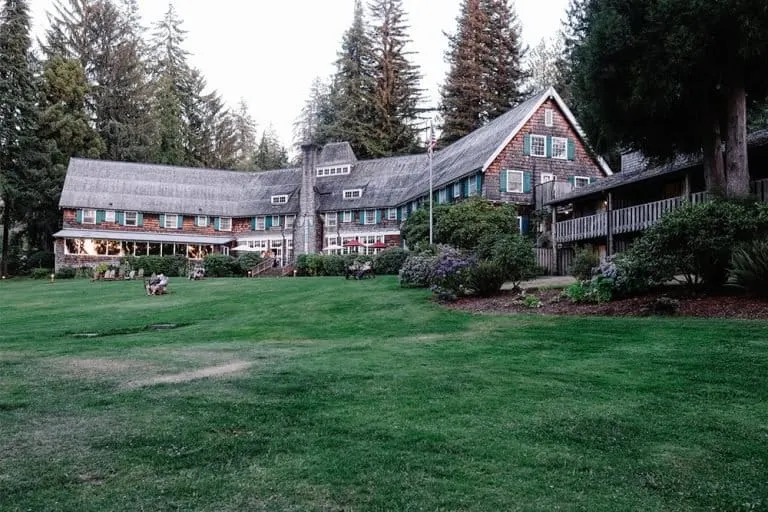 In the southwestern portion of the park is Lake Quinault Lodge. Built in 1926 in the Quinault Rainforest, the lodge is built in grand style with rustic elegance and incredible scenery.
Pairs of Adirondack chairs dot the grass, inviting couples to sit down for a evening glass of wine while the children play horseshoes, run around a charming white gazebo, or skip rocks into the lake.
Along the coast, the Quileute Oceanside Resort is a nice option in the tiny hamlet of La Push. There are motel rooms available as well as RV spots on the property, but the cabins are an especially great value for families.
Cabins feature bedrooms as well as full kitchen, dining, and living areas. They are steps from the driftwood-dotted Pacific Ocean.
If your family likes hot springs, you definitely will want to stay at the Sol Duc Hot Spring Resort cabins. Located in a lush temperate forest, these cabins are a good option for those who aren't quite up for tent camping and want to stay in the park's interior a nice, four-walled, option.
The resort is located at the Sol Duc Hot Springs, a natural spring with several hot pools built to take advantage of these healing mineral waters. The pools are open to park visitors for a fee but cabin guests are given complimentary access.
Best Season to Visit Olympic National Park
June through September if you want to experience the least amount of rain and the nicest temperatures. The park is open year-round but you don't get to be called a rain forest without plenty of rain, so dress appropriately!
7. Zion National Park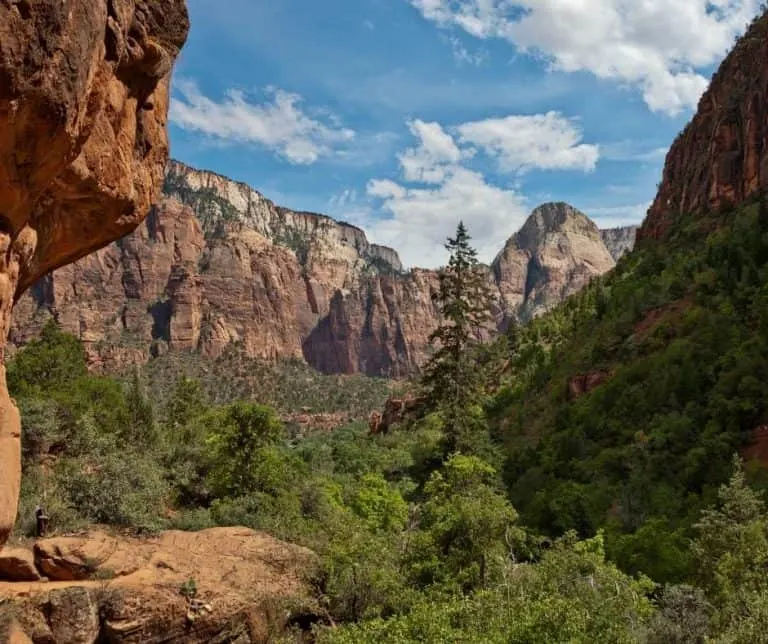 Zion National Park is one of the most beautiful places to visit in the Southwest. The 15-mile Zion Canyon sits at the crossroads of the Mojave Desert, the Colorado Plateau, and the Great Basin.
In other words, red rocks nestle beside waterfalls along a sprawling desert, and wildlife that do not usually hang out with each other actually cohabitate.
A complimentary, air-conditioned shuttle leaves from the Visitor Center between March and November and arrives every 10 minutes for the crowds that gather during the summer. All of the shuttles have bike racks, so consider exploring Zion by biking your way through the park!
Read our guide, 15 Epic Things to do in Zion National Park, which is filled with hikes and activities as well as food and lodging recommendations. We also have a great guide to visiting Zion in the winter.
What Makes Zion One of the Best National Parks for Kids?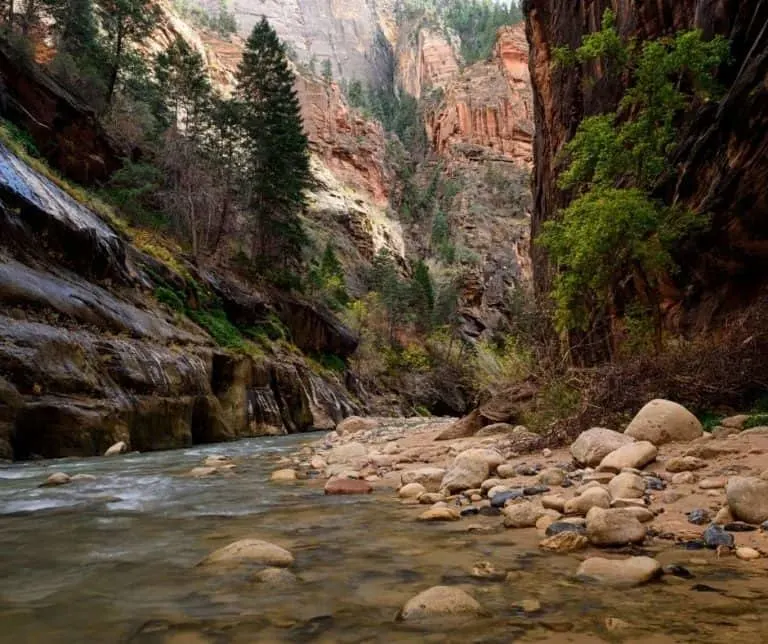 Zion is an adventure suitable for kids of all ages. For easy family-friendly trails, hike the Riverside Walk, the two-miles of paved Par'us Trail to Canyon Junction, the paved and stroller-friendly Weeping Rock, and of course, the Emerald Pools. The Zion Nature Center also has fun activities and exhibits for kids to explore.
For the big kids, there are plenty of opportunities to rappel cliffs, climb rocks, and squeeze through slot canyons with an experienced Red Desert Adventure canyoneering guide. Be prepared to challenge kids' confidence while canyoneering along sheer canyon walls!
Tubing the Virgin River in the town of Springdale is an especially popular during the months of May through July. Jeep tours and horseback riding are also great options for adventurous families.
Distance from Airport
McCarran International Airport in Las Vegas, Nevada (LAS), is the closest major airport. It is a three-hour drive from Zion.
For those coming or transferring from Salt Lake City and Los Angeles, St. George Municipal Airport (SGU) is the closest airport with a commercial airline. St. George is about an hour from Zion National Park.
Where to Stay Near Zion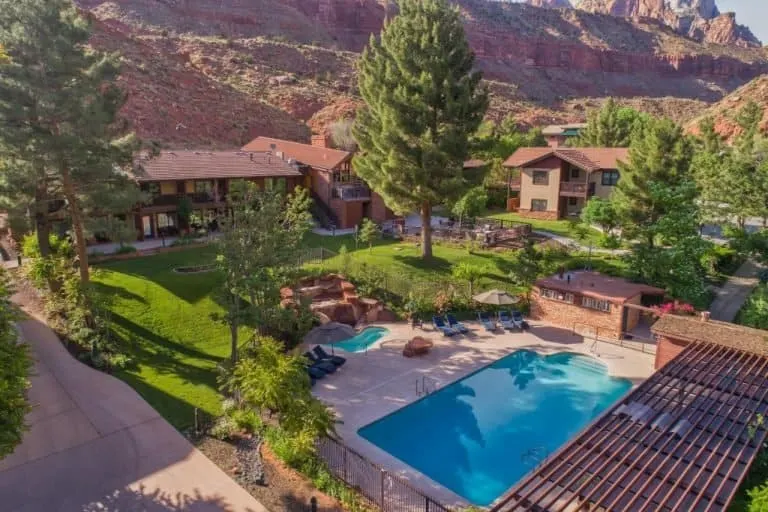 There is only one lodge within the park, Zion Lodge, but the town of Springdale hugs the park border is an excellent place to stay while exploring the park. There are shuttles in town which will drop you off at the visitor center. From there you can pick up the park shuttle.
Cable Mountain Lodge rooms feature full kitchens, large living areas, and plenty of space for large families in their suites. Cliffrose Springdale has a heated outdoor pool and waterfall hot tub, playground equipment, sandbox stocked with toys, and beach access along the Virgin River.
Best Season to Visit Zion National Park
Spring and fall are ideal, especially for hiking. Zion National Park is a great Spring Break destination because the weather is mild and usually sunny. Winter can be a nice time to visit as well, but an occasional snowfall is possible.
Summer is good for water hikes at the Narrows, but 100 degree days are typical. Despite the hot temperatures, it is still the most popular season to visit the park. Check the weather reports for flash floods during the summer monsoon season, especially in July and August.
Is the dry air of the desert calling your name? We have more tips on visiting desert national parks in Utah, Arizona, and California.
8. Acadia National Park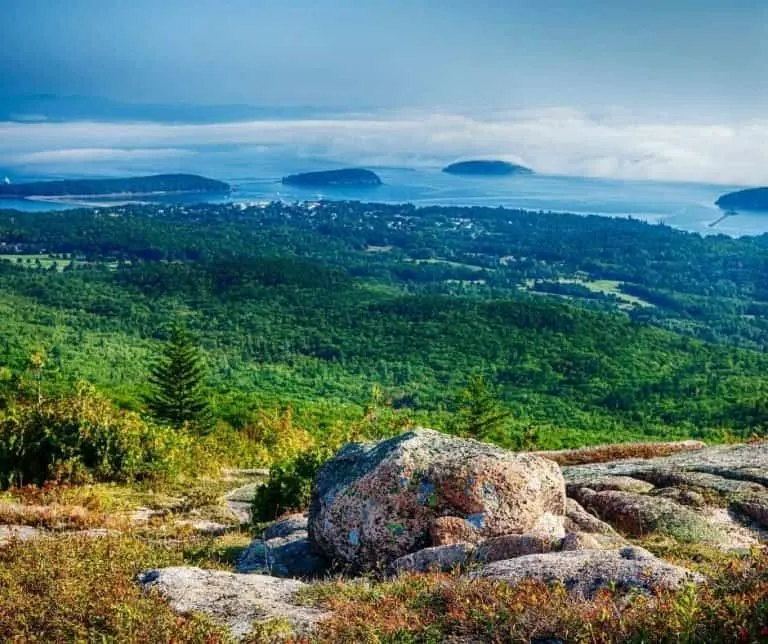 Tucked up into the northeastern corner of the United States, Acadia National Park in Maine is one of the best national parks for kids on the East Coast. Families love hiking along one of the most scenic stretches of Atlantic Coast.
Acadia National Park is a place to trade the sticky humid heat of cities for endless forested bike paths, rocky trails to coastal mountain peaks, and lakeside outdoor picnics.
Trekaroo has a guide filled with things to do in Acadia National Park.
What Makes Acadia One of the Best National Parks for Kids?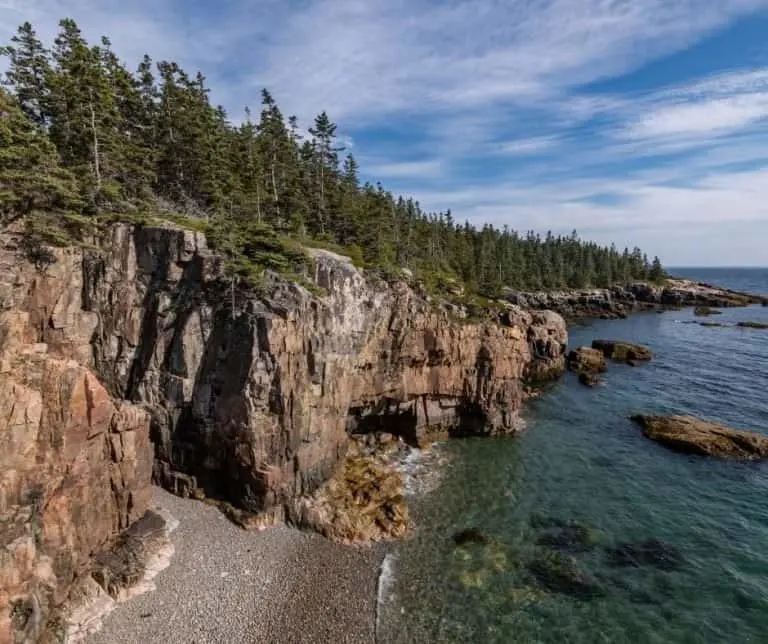 On a clear day, Cadillac Mountain is the gem of Mount Desert Island, where the majority of Acadia National Park is located. It's possible for families to hike or drive up to the summit.
Another highlight is the 27-mile Park Loop Road. This scenic drive feature miles of rocky shoreline, the Thunder Hole blowhole where water spouts can reach as high as 40 feet, and even a couple sandy beaches to enjoy.
There are several hikes to enjoy. The Great Head Trail goes up large rocky cliffs overlooking the beach and includes some rock scrambling. Ocean Path is a favorite for families, since is a relatively flat trail with plenty of opportunities to climb out onto the rocks overlooking the ocean.
Older kids who love adventure won't want to miss the Beehive Trail, known for its iron rungs and more challenging rock scrambles.
Since Acadia is an oceanfront park, you will definitely want to get out on the water. Visitors can hop on a small ferry boat that goes to one of the more remote islands near Mount Desert Island like the Cranberry Isles or Baker Island. Another option is to take a lobster boat tour or a wildlife boat tour out of Bar Harbor.
Distance from Airport
Bangor International Airport is the closest (BGR) is the closest international airport to Acadia National Park. It is about 50 miles away. The closest major airport is Boston Logan International Airport (BOS). It is about a five-hour drive from the national park.
Where to Stay Near Acadia National Park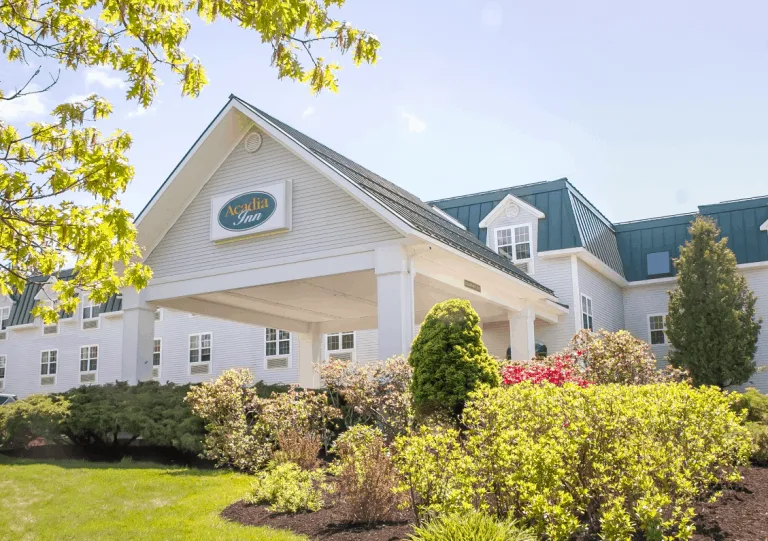 There is no four-walled lodging within the park but there are lots of options in the park's gateway city of Bar Harbor.
The Acadia Inn has lots of special activities for families, including: an outdoor movie night, lawn games, a pool, a wooden playground set, easy access to bike trails, a gift shop, campfire and s'mores.
The Harborside Hotel It is minutes away from Acadia National Park. They have 1-3 bedroom suites. Inside with full kitchens, fireplaces, dining rooms and private balconies. Kids will appreciate the heated, outdoor pool.
Best Seasons to Visit Acadia National Park
This is definitely a summer park but it can also be very crowded during the summer. If you are lucky enough to be able to get away in May or early fall, the park will be pleasant and relatively uncrowded.
9. Grand Canyon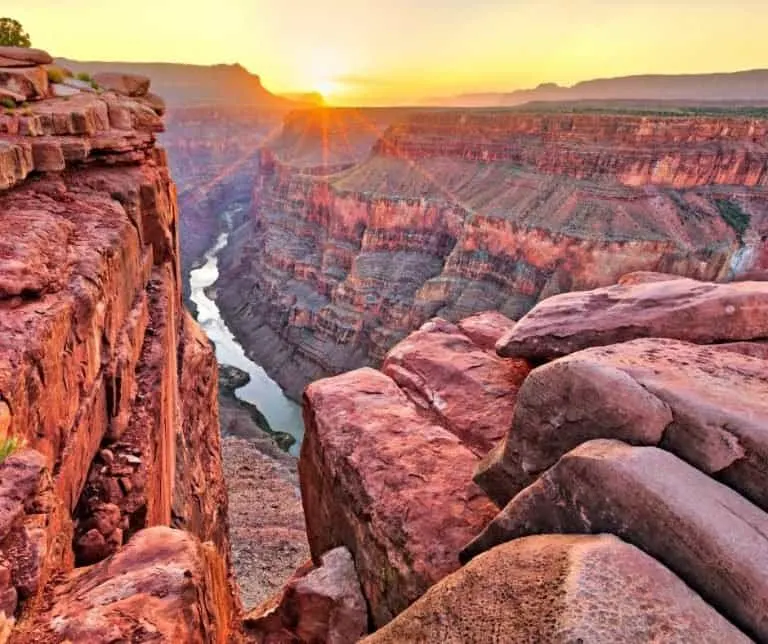 The Grand Canyon is certainly one of the most well-known and most-visited national parks in the United States. It is known for its incredible vistas and incredible cavern carved by eons of erosion caused by the Colorado River which now meanders over 5,000 feet below the rim.
Trekaroo has two guides to the Grand Canyon because it many ways, it feels like two separate parks. Our guide to things to do in the Grand Canyon South Rim is incredibly comprehensive. It includes lots of activities as well as where to stay and eat.
Our guide which covers the Grand Canyon North Rim is essential and comprehensive as well. Most people visit the South Rim because it is easiest to reach but the north rim is far less crowded and higher in elevation, offering a much different experience.
What Makes the Grand Canyon One of the Best National Parks for Kids?
I know what some of you might be thinking- how can a park with a giant hole in the middle be kid-friendly? I will give you a three word response- Grand Canyon Railroad.
You can take a day to ride the Grand Canyon Railroad into the park, explore the canyon for several hours, and then return to Williams, AZ. The scenic ride takes you through forests and wildlife and includes walk-throughs from the conductor, a "town marshall," an acted out train robbery, coloring and activity books, lollipops, and more.
The train departs daily in the morning from Williams, AZ and returns in the afternoon from the Grand Canyon with a 2.5-hour return trip.
Trips can be extended overnight with lodging packages from Grand Canyon Lodging companies offering you the chance to explore the canyon in more detail. During the holiday season, they even have a Polar Express themed-train which will absolutely enchant young children.
At the bottom of the Grand Canyon, about 5,200 feet deep, runs the mighty Colorado River. Most of the park's five million annual visitors admire the river from above, few experience it up close.
Adventurous older kids will want to go whitewater rafting on some of the Grand Canyon's 277 miles. There are several outfitters that will arrange everything from day trips to multi-week excursions.
Back up on the canyon rim, you will definitely want to go for a hike, especially during sunrise and sunset when the soft colors help the canyon walls show off their stripes. On the South Rim, don't miss Pima Point which is known for its sunrise and sunset views, as well as the sound of the Colorado River roaring below.
The Bright Angel Point Trail is the most popular on the Grand Canyon North Rim. It begins at the Grand Canyon Lodge and is only 0.7 miles in length round trip. The views along this trail are breathtaking. The Cape Royal Trail is a short, half-mile trail leads you to a spot where you can see all the way down to the Colorado Riverand also enjoy an arch-like formation called Angels Window.
Distance from Airport
From Phoenix Sky Harbor International Airport (PHX), it's a 3 hours and 35 min. drive to Grand Canyon South Rim. Flying into Las Vegas McCarran International Airport, Nevada (LAS) is the fastest way to reach the Grand Canyon North Rim but it is still over 4 1/2 hours away.
It is easy to combine a trip to Zion National Park with the Grand Canyon North Rim.
Where to Stay at the Grand Canyon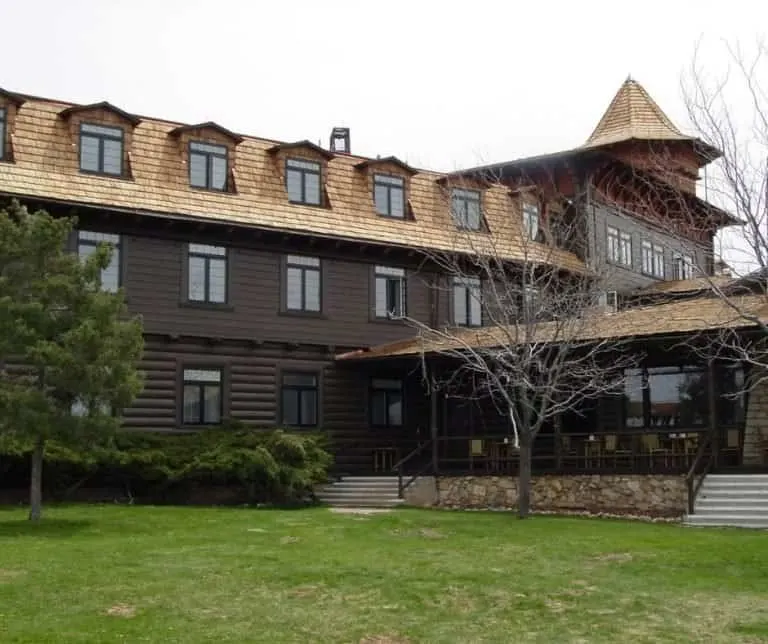 If you are planning a multi-day visit to the Grand Canyon South Rim, I highly recommend staying in Grand Canyon National Park to take advantage of the peace and quiet that occurs after in the morning hours of the park.
Stepping outside of your hotel room at 8am and not having to battle crowds to enjoy the views or a stroll along the rim trail is wonderful.
The nicest and most well-known hotel at the Grand Canyon is El Tovar Hotel. It was built by the railroads and known for hosting a variety of famous figures, including past presidents and movie stars.
If you are looking for a less expensive option, the Kachina Lodge is a good option for families. The lodge is located on the rim of the canyon near El Tovar, so amazing views are waiting just a few steps outside your door.
On the North Rim, stay in either the cabins or hotel rooms at Grand Canyon Lodge. The Grand Canyon Lodge is located in the hub of all things North Rim.
It consists of the main lodge building (which houses the main dining room) with its incredible back patio that sits on the edge of the Grand Canyon, a saloon, a deli, several rustic cabins, and two motel buildings.
Best Season to Visit the Grand Canyon
South Rim is open year round but the North Rim only Mid-May through Mid-October. Obviously, that means you need to visit the North Rim during the months that is open.
However, the South Rim of the Grand Canyon is actually a great place to visit, no matter the season. Yes, occasional winter snows and freezing temps can affect a winter visit, but the opportunity to do the Polar Express ride to the Grand Canyon shouldn't be missed!
Fall and Spring bring the most temperate weather, far less crowds, and more lodging opportunities. Summer brings 100+ temps at the South Rim and afternoon thunderstorms, but it is still the most popular time to visit.
10. Death Valley National Park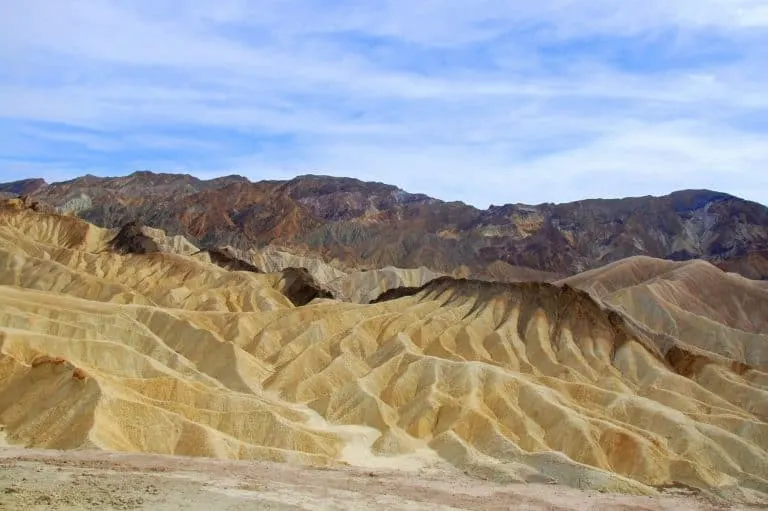 With a name like Death Valley, you might be surprised to learn it is one of the best national parks for kids. The truth is, Death Valley is actually filled with life and fun.
Families will experience few crowds and plenty of open space. The desert terrain hides geological wonders and beautiful spring wildflower blooms.
One of the reasons kids love Death Valley is because it is one of the few parks where they are given permission to head off trail!
Want to go climb up the side of that hill? Sure! Almost the entire park is up for grabs. The key to a pleasant Death Valley vacation is visiting during the right time of year. Skip the summers when temps can soar above 120 degrees!
What Makes Death Valley One of the Best National Parks for Kids?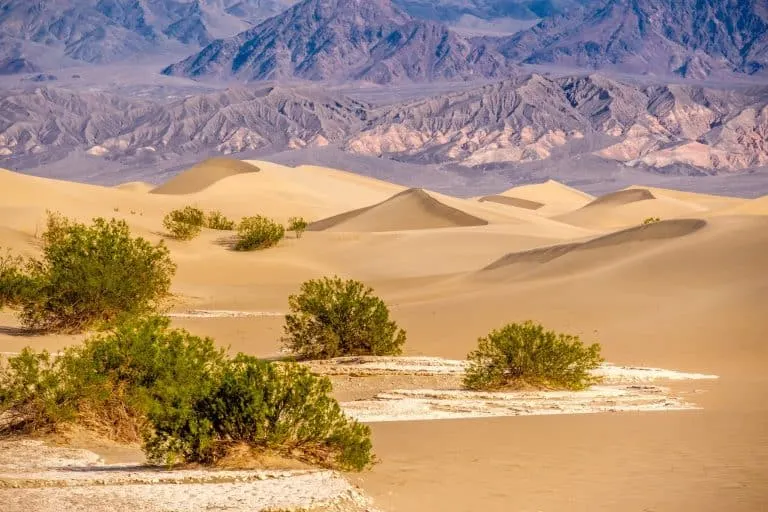 One thing nearly all kids will enjoy is the Mesquite Flat Sand Dunes. While they are not the largest dunes in Death Valley (that title goes to the Eureka Sand Dunes which requires a 2.5 hour drive down an extremely remote dirt road), they are the most accessible and very still very impressive.
Many bring along snowboards or plastic sleds and race down the dunes. Others just enjoy running or rolling down the dunes, or simple making sand angels.
There are several canyons in Death Valley that are fun to explore. Golden Canyon, Sidewinder Canyon, and Mosaic Canyon. Mosaic Canyon is my kids' favorite because the walls of this canyon look like polished marble and the opportunities to climb, scramble, and spot wildflowers are abundant.
Everyone loves heading to Badwater Basin. It is the lowest point in North America (-282 feet) and is impressively offset by Telescope Peak looming 11,331 feet above just 15 miles away. This is also where the hottest temperatures in world are often recorded in the summer.
Devil's Golf Course is also nearby. It is a huge expanse of rock salt eroded into jagged spires has formed a landscape like none you have ever seen before.
Another great aspect of Death Valley National Park is the impressive night sky. If it's not a full moon, bring a blanket and gaze at the millions of stars that light up the sky. It is a full moons, go for a moonlit walk on the sand dunes. Bring a flashlight just in case but you may not even need it.
Distance from Airport
Las Vegas McCarran International Airport is about two hours from Death Valley National Park.
Where to Stay in Death Valley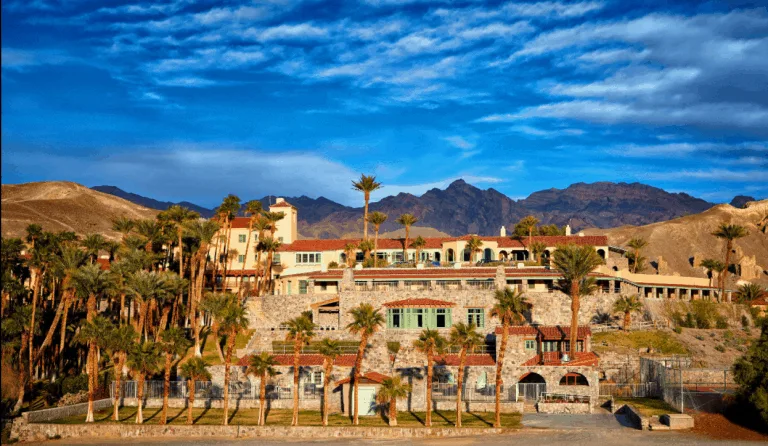 The Oasis at Death Valley is one resort with two hotels. Stay at the upscale and historic Inn at Death Valley or the more budget-friendly Ranch at Death Valley.
With a lodge and camping sites, the ranch also has a restaurant, store, playground, golf course, and hot spring fed pool.
The pool is an awesome spot to spend the middle of the day while you leave mornings and early evenings for exploration.
Best Season to Visit Death Valley National Park
Winter break is a great time to visit Death Valley because temperatures are mild and the weather is typically great for exploring the park.
The most beautiful time to visit Death Valley during spring wildflower season. The desert comes to life with a riot of color after an especially good rainy season.
Avoid summer. The park is far too hot and dangerous.
11. Arches National Park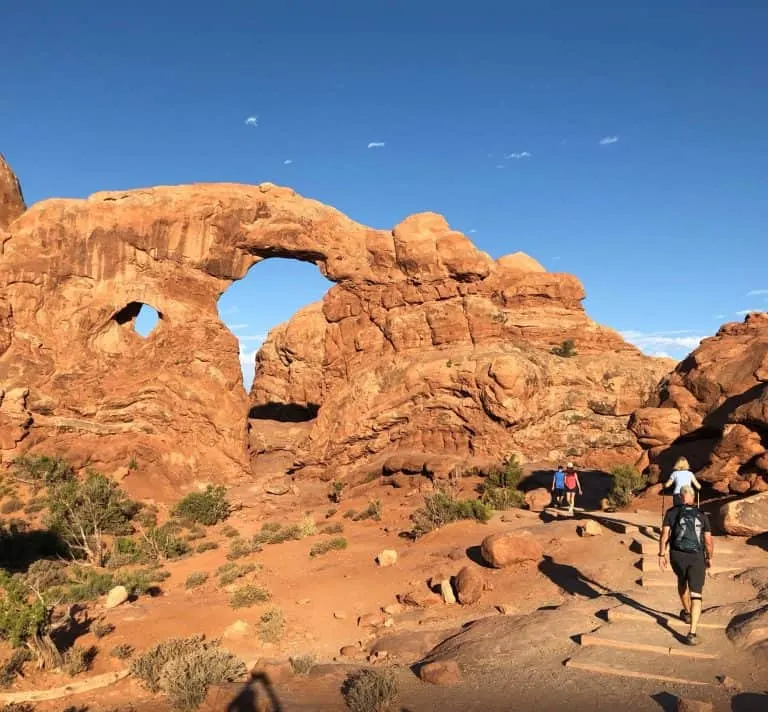 Arches National Park is only five miles outside of a popular destination in Utah for outdoor adventure lovers, Moab. This relatively compact park is a great day trip from Moab, especially when combined with another day trip to nearby Canyonlands National Park and the Colorado River.
The park has an 18-mile scenic drive which leads to several of the park's 2,000 arches. Services are limited inside the park but plentiful just outside of it. Pack in any food and water you might want to enjoy inside the park.
Trekaroo has a full guide to visiting Arches National Park with kids as well as a great article filled with awesome outdoorsy things to do in Moab with kids.
What Makes Arches One of the Best National Parks for Kids?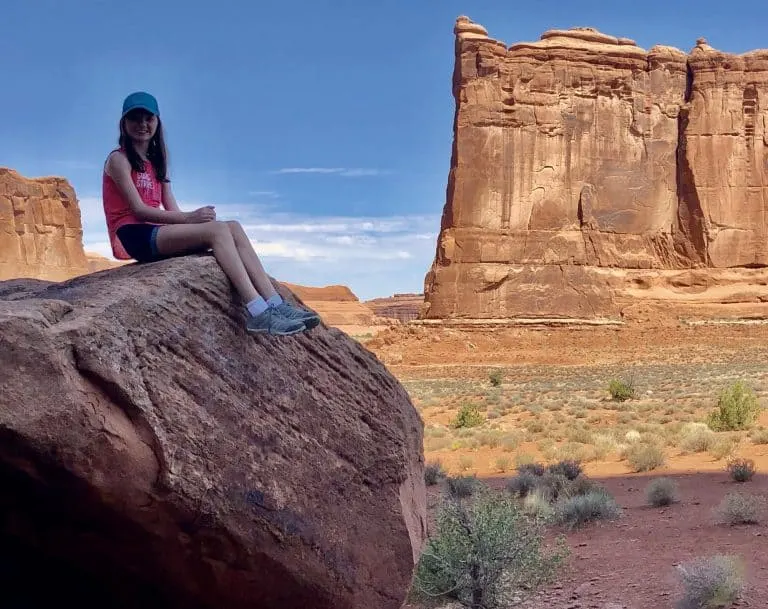 If you are looking for a great place to enjoy some easy hikes to impressive arches, head to the Windows section of Arches National Park.
Double Arch Trail is a great place to climb around and explore underneath the park's tallest arch. On the other side of the parking lot, the Windows Trail leads you to three massive arches on an easy, 1-mile loop.
If you are seeking to see the longest arch in the world , take the trail to Landscape Arch. It is an easy,1.6-mile round-trip hike and includes views of a couple arches along the way.
Delicate Arch is easily the most famous arch in the world, and it featured on Utah license plates. This is a popular hike that is best attempted around sunrise to avoid heat and crowds. It is three miles round trip and does gain 480 feet in elevation on the way to the arch.
Distance from Airport
The closest airport to Arches National Park is Canyonlands Regional Airport (CNY) in Moab which is serviced by commuter jets from Salt Lake or Denver and 11 miles from the park entrance.
The closest major airport Salt Lake City International Airport (SLC) which is about four hours away.
Where to Stay Near Arches National Park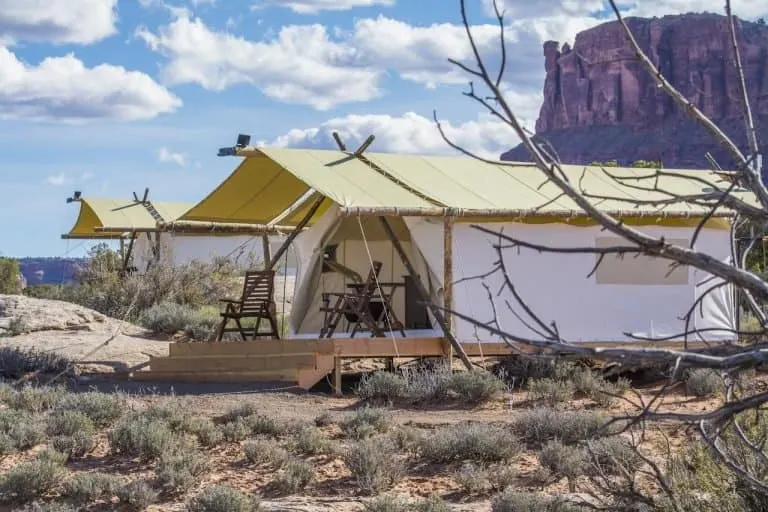 Moab Springs Ranch has nice cabins in a picturesque location just two miles from Arches National Park. If you are looking for something in the heart of Moab, we like Homewood Suites by Hilton Moab for its full kitchen in every room, indoor pool, and central location that is walkable to several restaurants and shops.
If you want to try glamping, Under Canvas Moab allows you to have a luxurious camping experience without having to pack all the gear or sleep on the ground.
Best Season to Visit Arches National Park
The best time to visit Arches is early spring or late fall. These seasons provide beautiful weather for families to explore outside, with average daytime temperatures right around 70 degrees.
Summer is still a very popular time to visit the park, despite the 100 degree days. If you start your days early, you will be rewarded with less people and cooler temps.
Timed-entry tickets are required for entry to Arches National Park April 3- October 3, 2022.
12. Joshua Tree National Park
I'm not sure I have ever met a child who doesn't love climbing on boulders and Joshua Tree is a truly a wonderland for boulder scrambling and rock climbing.
This national park is named for the curious-looking Joshua trees that dot its landscape, but this desert wonderland is much more than a Joshua tree reserve. It is a great place to hike, climb, and enjoy marvelous riots of wildflower color after a good rainy season.
Trekaroo has a full guide to visiting Joshua Tree National Park with kids to help you plan your perfect day.
What Makes Joshua Tree One of the Best National Parks for Kids?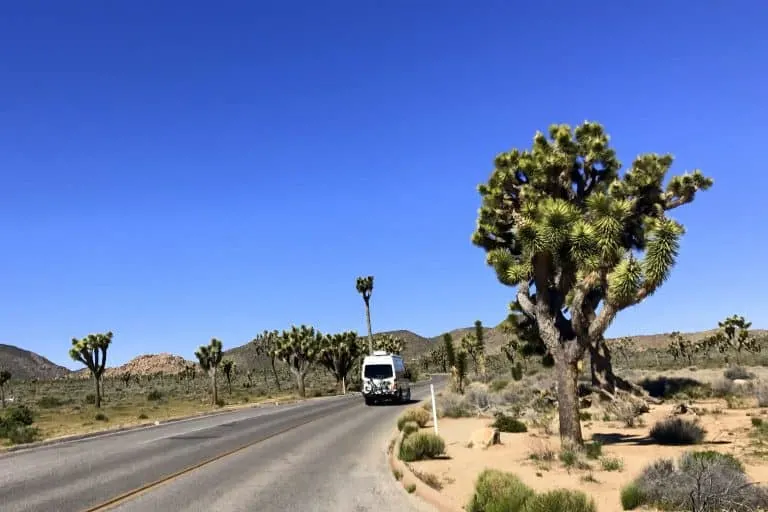 Hidden Valley is a great spot to climb and scramble over massive boulders. There is a nice one-mile loop trail which circles around the Hidden Valley area. The area around Skull Rock is another great spot to play amongst the boulders.
If you are looking for a fun and easy trail inside the park, head to Barker Dam. Kids will enjoy this 1.1 loop trail because there a plenty of small boulders to climb on along the way. Keep your eyes out for bighorn sheep which use the dam as a watering hole.
If you are looking for a bigger hike with huge views, try the Ryan Mountain trail. It gains 1,000 feet in 1.5 miles but the reward for your huffing and puffin is a 360-degree view of the park.
Prefer a view without the hike? Keys View is one of the most popular spots in the park for sprawling views of the Coachella Valley (home to Palm Springs) and even Salton Sea and mountains in Mexico on clear day.
Distance From Airport
The closest airport to Joshua Tree is Palm Springs International Airport (PSP) which is about an hour from the park. Ontario International Airport (ONT) is about 90 minutes away.
Where to Stay Near Joshua Tree National Park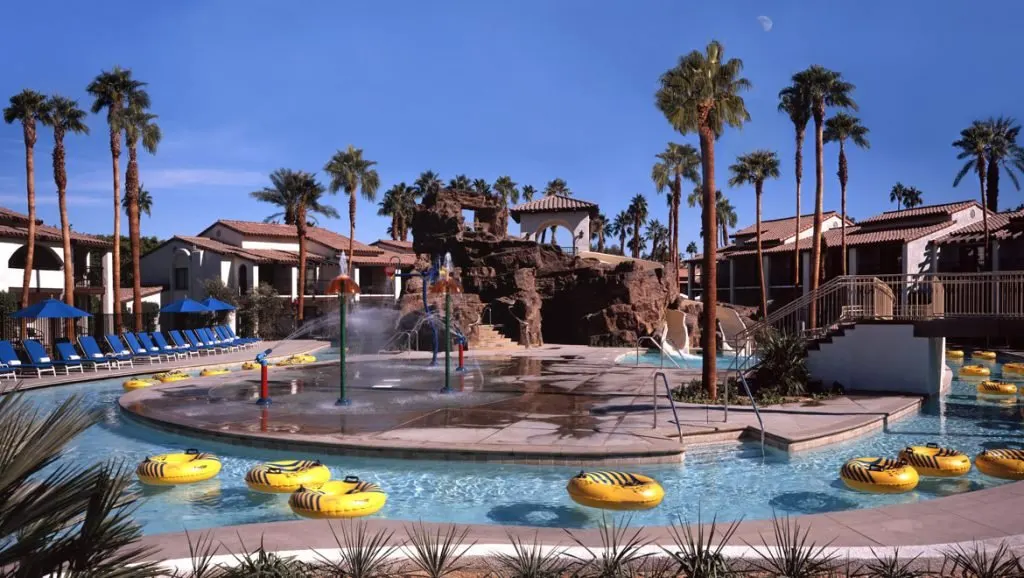 Many people stay in the Palm Springs area and visit Joshua Tree National Park as a day trip.
There are several incredible resorts in the Palm Springs area including Omni Rancho Las Palmas Resort, The Westin Mission Hills Resort Villas, Hyatt Regency Indian Wells Resort, and La Quinta Resort and Club which are known for their phenomenal pool complexes.
Best Season to Visit Joshua Tree National Park
Highs during the cool season (November through February) are typically in the 60s and 70s, perfect for hiking. March is still pleasant with temps in the 80s.
My favorite time to visit Joshua Tree National Park is during a wildflower bloom after a wet winter when the desert comes alive with color. This typically happens around late March or early April.
From May through September, expect highs from 90-110. The heat is oppressive, shade is minimal, and climbing on sun-baked rocks in the 100-degree heat could result in burns.
13. Hawaii Volcanoes National Park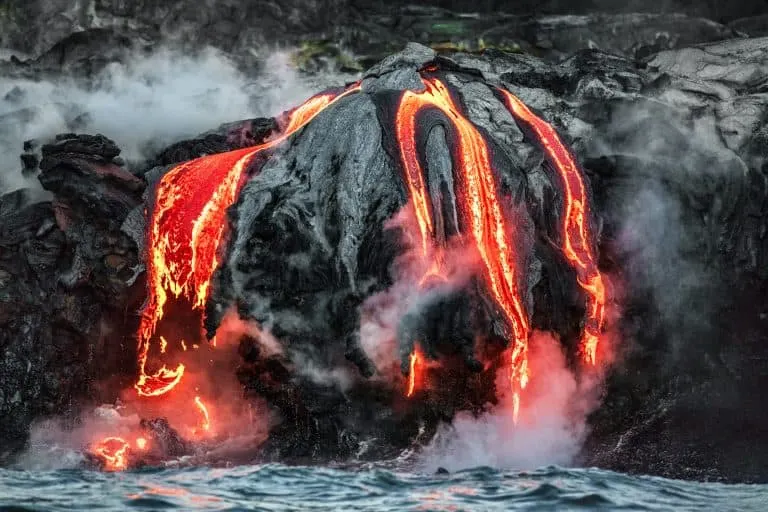 The most active volcano on the planet, Kilauea, is on the Big Island of Hawaii and Hawaii Volcanoes National Park is home to active volcanoes as well as seven unique ecological zones spanning from sea-level to nearly 14,000 feet.
Even when there aren't active lava flows, there are plenty of reminders that this volcano is very much alive. From lava lakes to sulphur banks, families will be able to catch a glimpse of volcanic activity.
They can also enjoy reminders of past explosions in the form of lava tubes, and lava fields. There are also some of the most incredible ocean views to enjoy as visitors wind their way down Chain of Craters Road.
Trekaroo does have a great guide to visiting Hawaii Volcanoes National Park as well the best things to do on the Big Island with kids.
What Makes Hawaii Volcanoes One of the Best National Parks for Kids?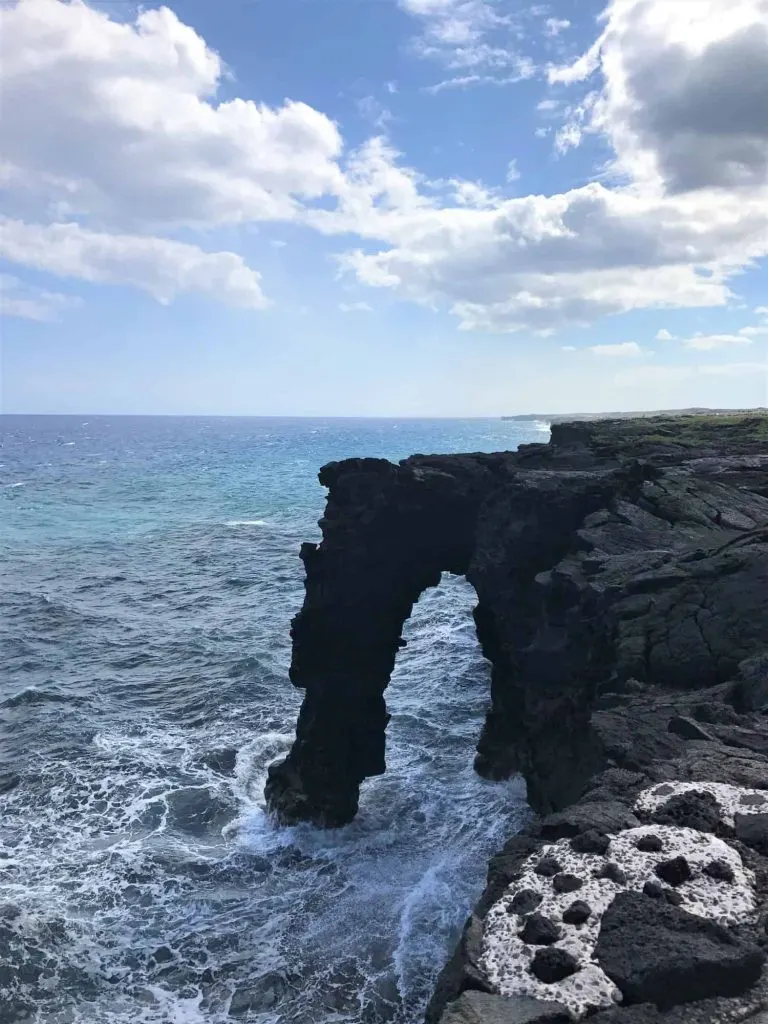 Visit the Halema'uma'u crater, the main crater of the Kīlauea volcano, to see the volcano in action. It is especially impressive in the evenings when the lave lake glows. There is a small volcano museum, the Jagger Museum, next to the crater which is fun to explore.
An easy boardwalk trail leads to the Ha'akulamanu sulphur banks. The area features venting steam, unique red-stained clay, and extremely smelly sulphuric gases (think rotten eggs!) perfect for the grossing out your kids. There are also steam vents along the main park road.
In the middle of a lush, tropical forest you'll find the Thurston Lava Tube which is fun to walk through. Further down Chain of Craters Road, you can explore one of several lava fields, as well as a hardened lava lake.
When you get closer to the coastline, take time to visirt the Puʻu Loa Petroglyphs and take in the impressive Hōlei Sea Arch.
Distance from Airport
The Hilo International Airport (ITO) is about 45 minutes away from Hawaii Volcanoes National Park. Kona International Airport (KOA) is two hours from the national park.
Where to Stay Near Hawaii Volcanoes National Park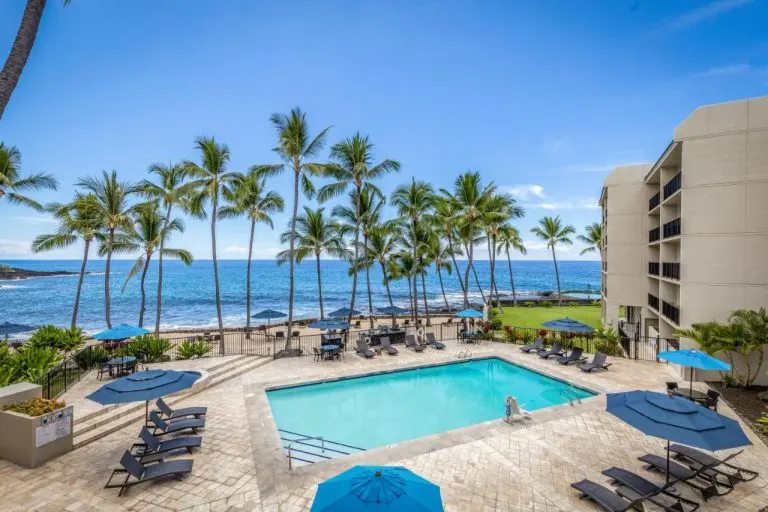 The park does have one in-park lodge, the Volcano House but reservations can be hard to secure and the lodge is small, so most people stay in either Hilo or in the Kailua-Kona area which is home to most of the popular resorts on the island.
In Hilo, we recommend Castle Hilo Hawaiin Hotel which has a lovely waterfront location and beautiful Liliukalani Garden just steps away.
Over in Kailua Kona, Aston Kona by the Sea and Outrigger Kona Resort and Spa, are two great options for famileis wanting to stay at resort on the sunny side of the island and visit Hawaii Volcanoes National Park as a day trip.
Best Season to Visit Hawaii Volcanoes National Park
Every season is a great season to visit Hawaii Volcanoes National Park. Rain and fog are frequent to the summt areas of the park but you can usually find sunshine as you head lower in elevation and closer to the coast. Weather tends to be fairly consistent year round.
14. Glacier National Park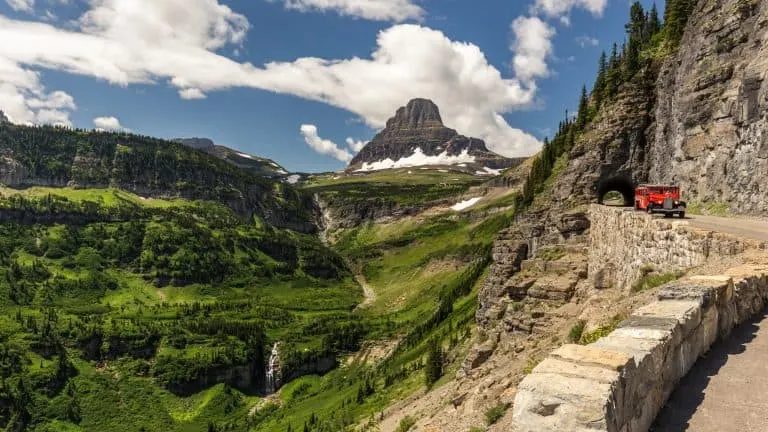 If you are looking for an alpine wonderland filled with waterfalls, wildlife,and some of the most jaw-dropping scenery in the country, head to Glacier National Park near the Montana/Canada border.
This is a park where your kids can touch snow in July and splash in crystal clear lakes. Here you can hike amongst jagged peaks, cascading waterfalls, and delicate wildflowers while catching a glimpse of a marmot, mountain goat or even a grizzly bear.
The park is especially popular for auto touring on the famed Going to the Sun Road. This road has a short season and become especially popular over the past few years so a reservation system has been put in place.
Yep, of course Trekaroo has a guide to visiting Glacier National Park with kids!
What Makes Glacier One of the Best National Parks for Kids?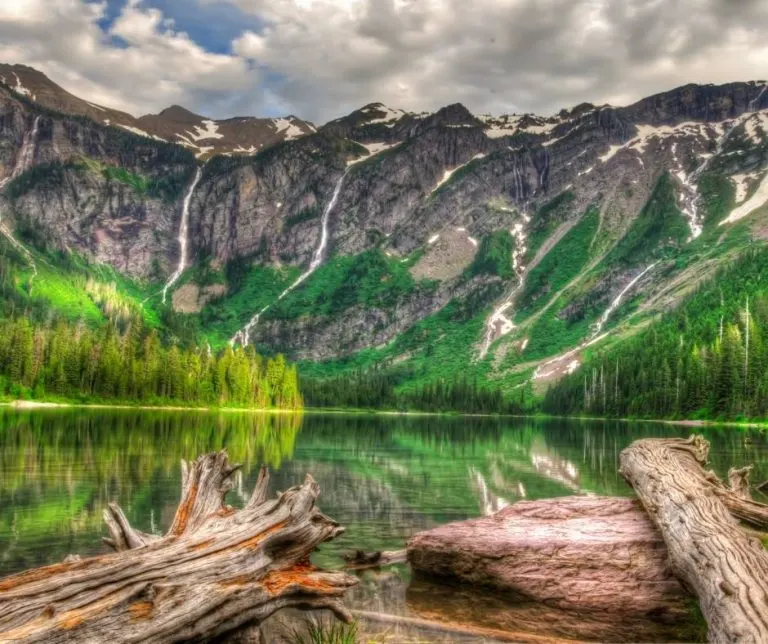 There are many hiking trails to take advantage of while on Going to the Sun Road. Trail of the Cedars is located north of Lake McDonald and is manageable for even the tiniest of hikers.
It connects to Avalanche Lake, known forrushing water, aqua-colored glacial water bodies, trees fallen from the avalanches, and the commanding views at the trail's end.
The Highland Trail, located at Logan's Pass is a long trail, but you can go as far as your kids little legs can handle. There are incredibly scenic visitas and wildlife sightings are commons, including marmots, pika, and mountian goats.
If you want to see glaciers inside the park, visit before 2030 (when they are predicted to disappear) and head to the park's Many Glacier area. Here you can take the challenging, eight-mile hike to Grinnell Glacier.
While visiting Glacier National Park you should make time to visit Waterton Lakes National Park as well. It sits just on the other side of the international border and is considered a sister park to Glacier. You can book a boat tour, visit the park's bison, or even hike in a red rock canyon!
Distance from Airport
Glacier Park International Airport (FCA) in Kalispell is 30 miles from teh west entrance to Glacier National Park. United, Delta, and Alaska do all service this small airport.
Where to Stay in Glacier National Park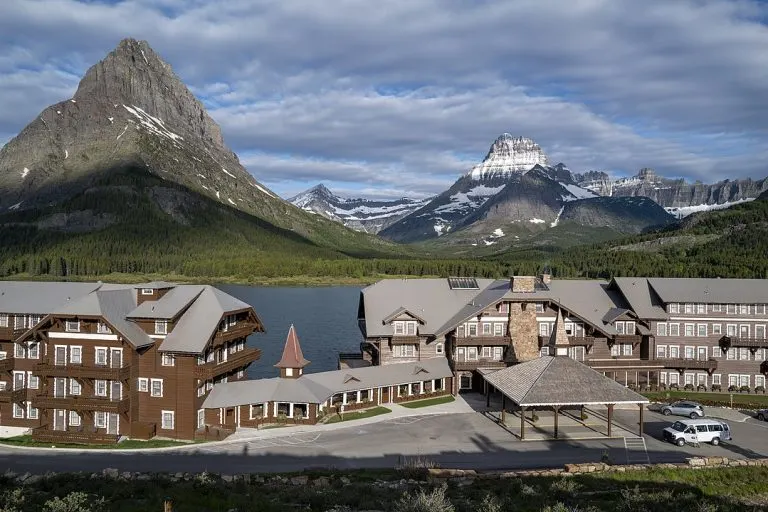 Glacier Park Lodge on the east end is a large lodge constructed of giant fir trees and offers great photo ops.
On the southeast shore of the lake, Lake McDonald Lodge on the Going to the Sun Road offers cabins, motel rooms, as well as cruises on the serene Lake McDonald.

Many Glacier Hotel is alpine retreat north of St. Mary, and more off the beaten path. It offers stunning views of Swiftcurrent Lake. There are also a couple motor lodges that are basically roadside motels within the park boundaries.
Best Season to Visit Glacier National Park
Summer is the best time to visit Glacier National Park since most of the park's main attractions are snowbound for most of the year. Since the window is small, there are definitely corwds to battle, but start your days early and you should be just fine.
15. Sequoia and Kings Canyon National Parks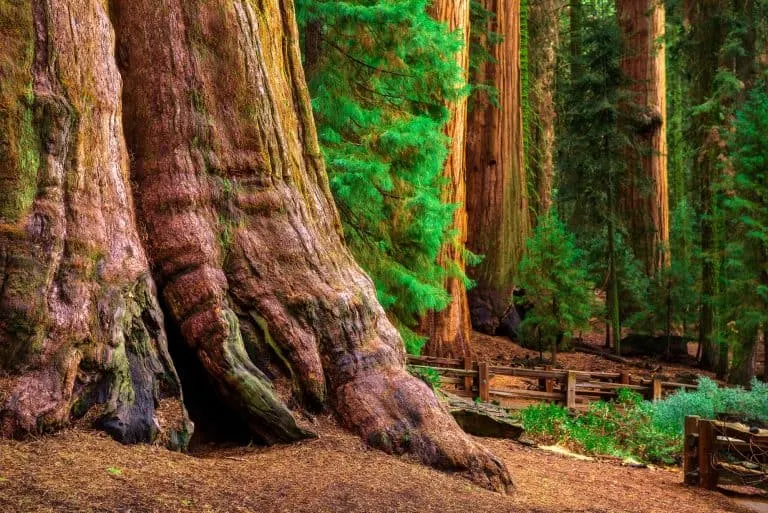 Sequoia and Kings Canyon are right next door to one another and operate together, so we have decided to lump them together as our last picks for the best national parks for kids.
We love these parks for their big (HUGE) trees and tremendous Sierra Nevada scenery. This is a place where you can stand in front of the largest tree on the planet (General Sherman), hike among the granite domes of the High Sierras, and visit a canyon that rivals Yosemite in terms of sheer beauty.
Sequoia and Kings have lots of great trails for families so, of course, we have a guide to the best hikes for families. Sequoia and Kings Canyon both made our list of the best national parks in California. See what else made the list!
Read for a road trip? Check out this incredible, 10-day road trip itinerary through Sequoia, Kings Canyon, Yosemite, and Lassen Volcanic National Parks.
What Makes Sequoia and Kings Canyon Some of the Best National Parks for Kids?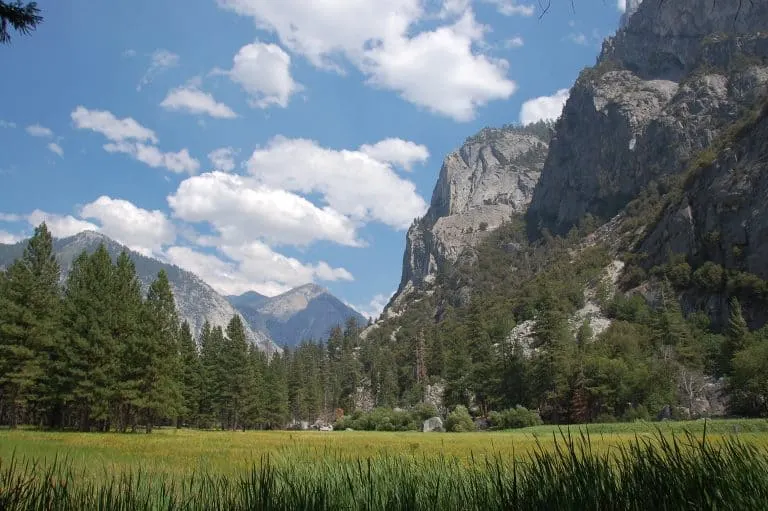 You can't miss the General Sherman Tree which is located in Sequoia's Giant Forest. Climbing up to the top of Moro Rock to take in views of the Central Valley and high peaks of the Sierra Nevada should be high on your list as well.
One of my favorite hikes inside the park is the four mile trail which follows the Kaweah River to Tokopah Falls. When the weather is warm, it is fun to play in the river's icy waters where it pools.
Over in Kings Canyons National Park you will want to make time to visit Grant Grove and Redwood Canyon, home to the largest Sequoia grove in the world.
Down at the bottom of Kings Canyon, Zumwalt Meadow is a magnifent place and the river that winds through is a wonderful place to float and play when summer's heat takes over.
There are also two caves to explore- Crystal Cave in Sequoia National Park, and Boyden Cave on the road down to Kings Canyon.
Distance From Airport
Fresno Yosemite International Airport (FAT) is 1 ¼ hours from Kings Canyon National Park and 1¾ hours from Sequoia National Park.
Where to Stay in Sequoia and Kings Canyon National Parks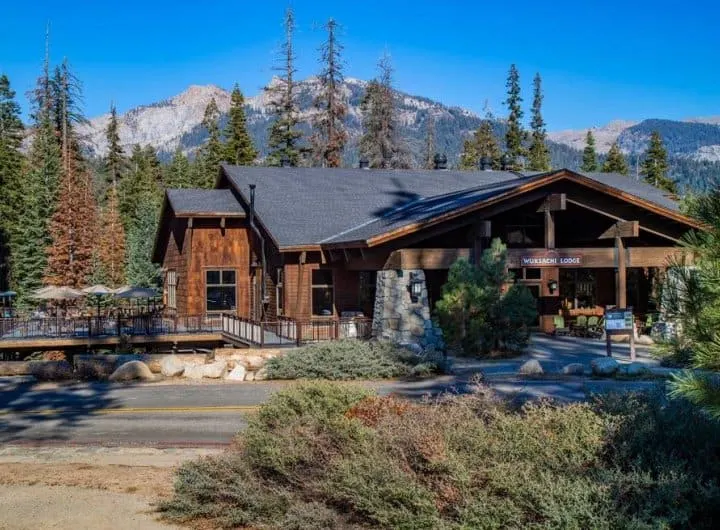 Wuksachi Lodge is centrally located in Sequoia National Park. It is just a short drive from several of the park's giant Sequoia grove. John Muir Lodge is another centrally located hotel, but within the boundaries of Kings Canyon Naitonal Park.
Best Seasons to Visit Sequoia and Kings Canyon National Parks
If you want to see and do it all, you really do have to visit in the summer when the road down to Kings Canyon is open. That being said, it can get pretty dang hot in these parks, especially in the lower elevations portions of the parks.
Spring and fall are great times to visit these parks, especially closer to the shoulder seasons of Paril and Ocrober. Crowds are small, temperatures are generally pleasant, and most of the park's major attractions are open.