Did you know that there are lots of fun things to do in OKC with kids? Oklahoma City is located along Route 66, making it a great stopover location while taking a road trip.
It is easily reached from Tulsa, Little Rock, or Kansas City for a fun weekend getaway, or can be combined with several other stops to result in a great family vacation. Whether you are a tourist or a local, we hope our list of our favorite things to do in Oklahoma City with kids will help your family have a terrific time in OKC.
Things to do in OKC with Kids
1. Explore Bricktown and Brickopolis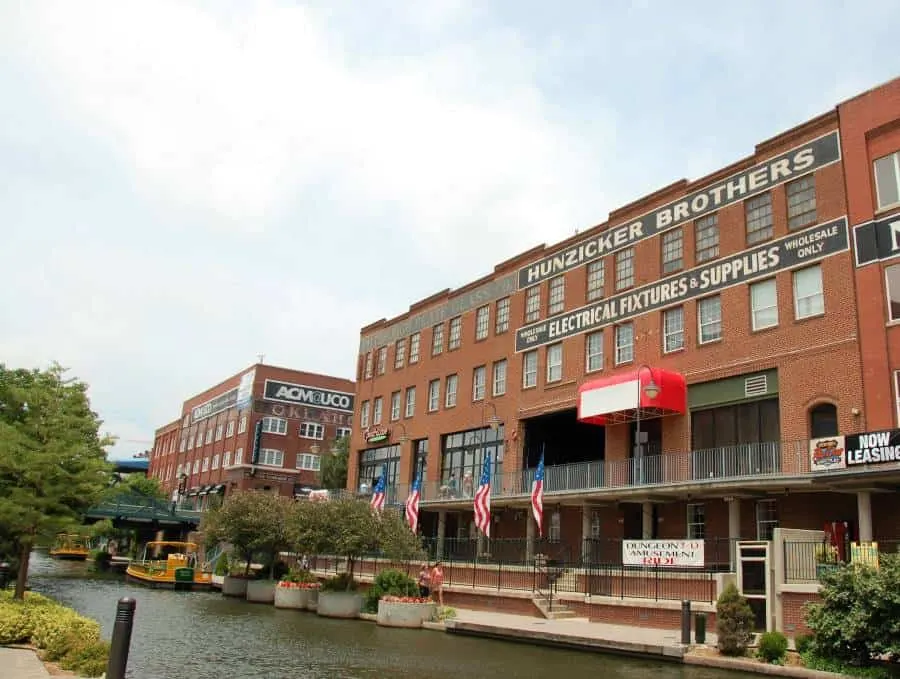 Bricktown is an entertainment district located in the heart of OKC near downtown. Families could spend the entire day walking around in Bricktown and never get bored. At the center is the Bricktown Canal and the River Walk.
The Bricktown Water Taxi's 45-minute tour is a great way to get familiar with the city, learn some history, and decide what's next on the itinerary. Each driver adds his/her own flavor to the tour. They also point out great shopping and dining spots along the way.
Your kids definitely won't want to miss Brickopolis, a two-story entertainment complex which features arcade games, laser tag, a bungee trampoline, climbing wall, mini golf, and more! They also serve up pizza, burgers, wings, and drinks.
Explore more of the state! Here are the best things to do in Oklahoma with kids.
2. Watch the Oklahoma City Thunder or Dodgers Play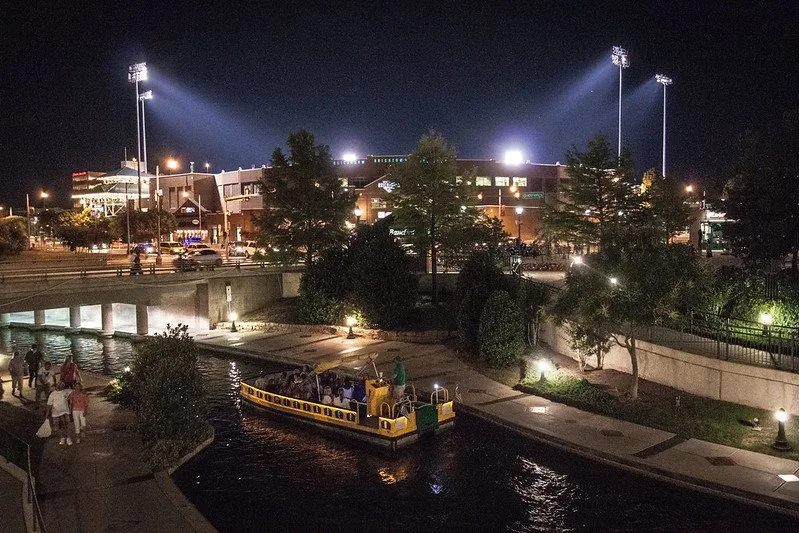 Depending on the time of year, sports fans can take in an Oklahoma City Thunder game at the nearby Chesapeake Energy Arena. The team (formerly the Seattle Supersonics) made their way to OKC in 2008 and have been a beloved part of the community ever since.
Does your family love baseball as much as mine? Treat them to a night out at Chickasaw Bricktown Ballpark, home of the Oklahoma City Dodgers, the Triple-A affiliate of the Los Angeles Dodgers. Minor league games are well known for being kid friendly and often have special experiences especially for the youngsters.
3. Get Perfect Pictures at the Myriad Botanical Gardens
The Myriad Botanical Gardens is the place to be in the summer months! The Children's Garden has daily free activities for young kids and the Thunder Fountain is sure to entertain small kids for hours.
The Crystal Bridge Tropical Conservatory may not hold little ones attention for long, but it will be a favorite for parents who love to take photos. Inside you'll find photo ops galore with 2,000 different plant varieties, and a 35-foot waterfall.
4. Pay Your Respects at the Oklahoma City National Memorial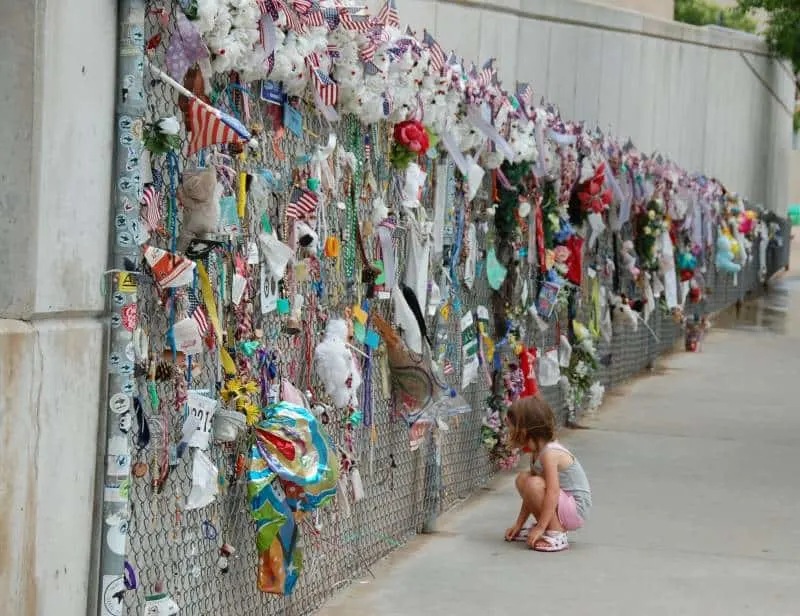 The Oklahoma City National Memorial is located where the tragic Oklahoma City bombing occurred, killing 168 on April, 19, 1995. The memorial itself is poignant and beautiful, with a reflecting pool, survivor wall, and field of empty chairs to represent the lives lost.
The memorial also includes a children's area with chalk and places for kids to draw to share their emotions about the tragedy and leave images of hope and comfort in honor of those lost.
The emotions most of us adults will feel while standing on the former ground of the Murray Building can be overwhelming, especially since so many children were killed during this tragedy. Older children will benefit from visiting the museum but it may be too hard for younger children to process.
5. Spend the Day at the Oklahoma City Zoo and Science Museum Oklahoma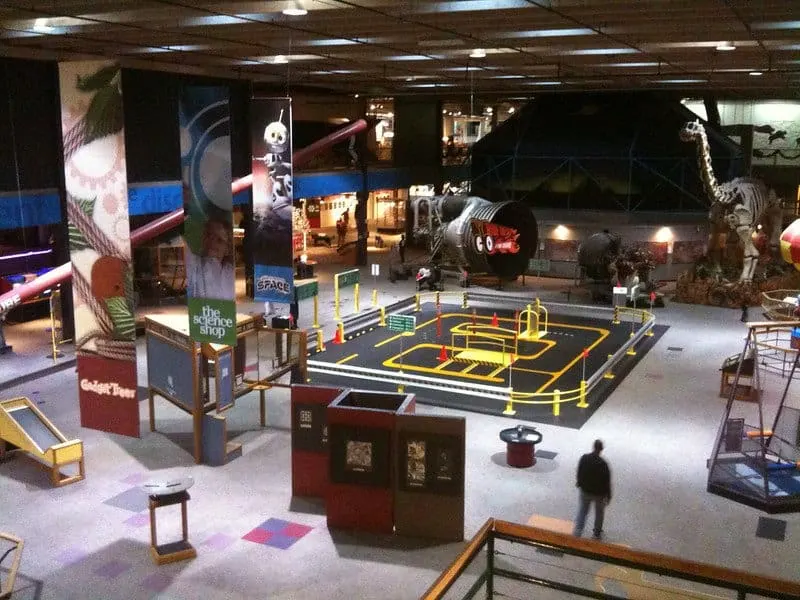 About 10 minutes from downtown in the Adventure District are the Oklahoma City Zoo and Science Museum Oklahoma. They are located side by side, and visiting both on the same day is completely doable.
If you are visiting OKC in the summertime, the zoo is a perfect way to start the day before it gets too hot. It features an elephant habitat, a children's zoo, the chance to pet stingrays, and feed giraffes and lorikeets for an additional charge.
When the sun gets too hot, enjoy a reasonably priced but decent lunch at the zoo, then head over to Science Museum Oklahoma for an afternoon of hands-on exhibits and learning disguised as fun. Kids can solve a mystery, create their own fog or lightning, or head to outer space in a simulator.
6. See Skeletons From Around the World at the Museum of Osteology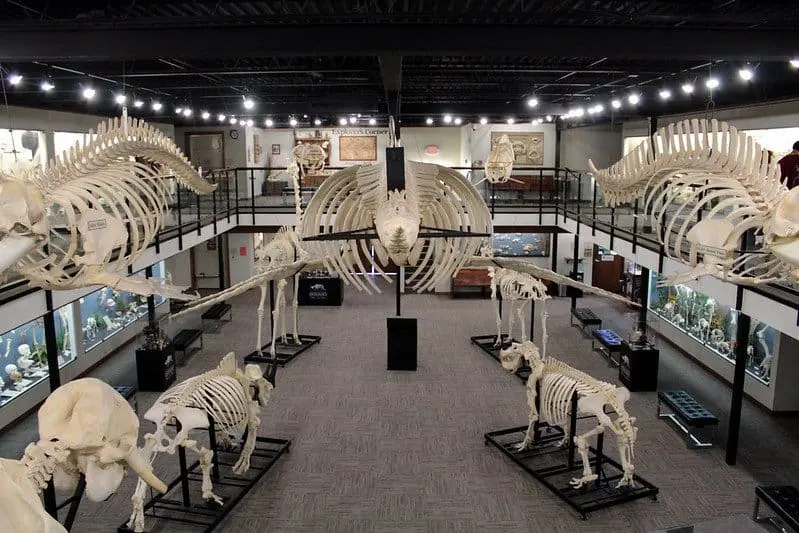 One of the most unique and fun things to do in OKC with kids is visit the Museum of Osteology. This museum has hundreds of skulls and skeletons from around the world of vertebrates.
There are exhibits on adaptation, locomotion, diversity of vertebrates, and even forensics. There are skeletons of various primates, marsupials, carnivores, birds, dinosaurs, and even a whale! It is really cool to see the similarities and differences of skeletal systems in person.
7. Enjoy Rides and Slides at Frontier City and Hurricane Harbor
Further outside the city is Frontier City, Oklahoma's largest amusement park, with 30 attractions and a small waterpark area. This Six Flags theme park has plenty of roller coasters, as well as rides for younger kids to enjoy. There is also a Wild West Gunfighter Show will is filled with action.
If it is hot out you definitely will want to spend some time at Hurricane Harbor Oklahoma City. This water park featuring 25 acres of slides, pools, and water playgrounds to keep your family entertained for hours.
8. National Cowboy & Western Heritage Museum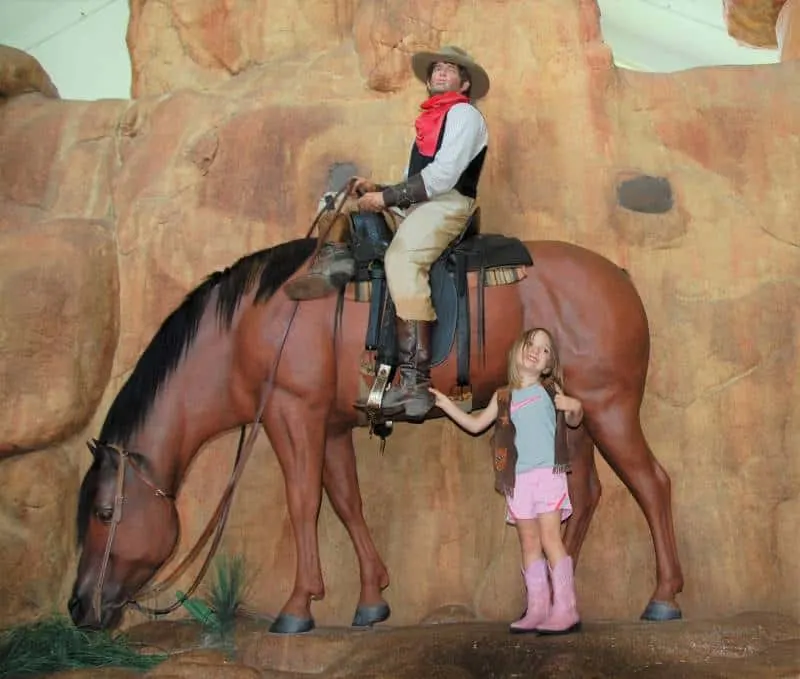 Visiting the National Cowboy & Western Heritage Museum is absolutely one of the best things to do in OKC with kids. This unique museum is filled with western art, cowboy memorabilia, and rodeo regalia.
Prosperity Junction is a replica of a turn-of-the-century cattle town which was built inside the museum. Walking around the town made really does feel like stepping into the Old West. Prosperity Junction has everything any respectable western town could need including a livery stable, saloon, church, mercantile, bank, jail, and railroad depot.
There is also a separate building housing a Children's Cowboy Corral. Here, kids can pretend to build a fire near the chuck wagon, try out different saddles, and even put on chaps and boots in the dress up area.
There are sections of the museum dedicated to the rodeo, a tribute to famous movie and tv stars who played Western roles, and even an entire exhibit dedicated to displaying 1300 different kinds of barbed wire!
9. Visit the Soda Pop Capital of the World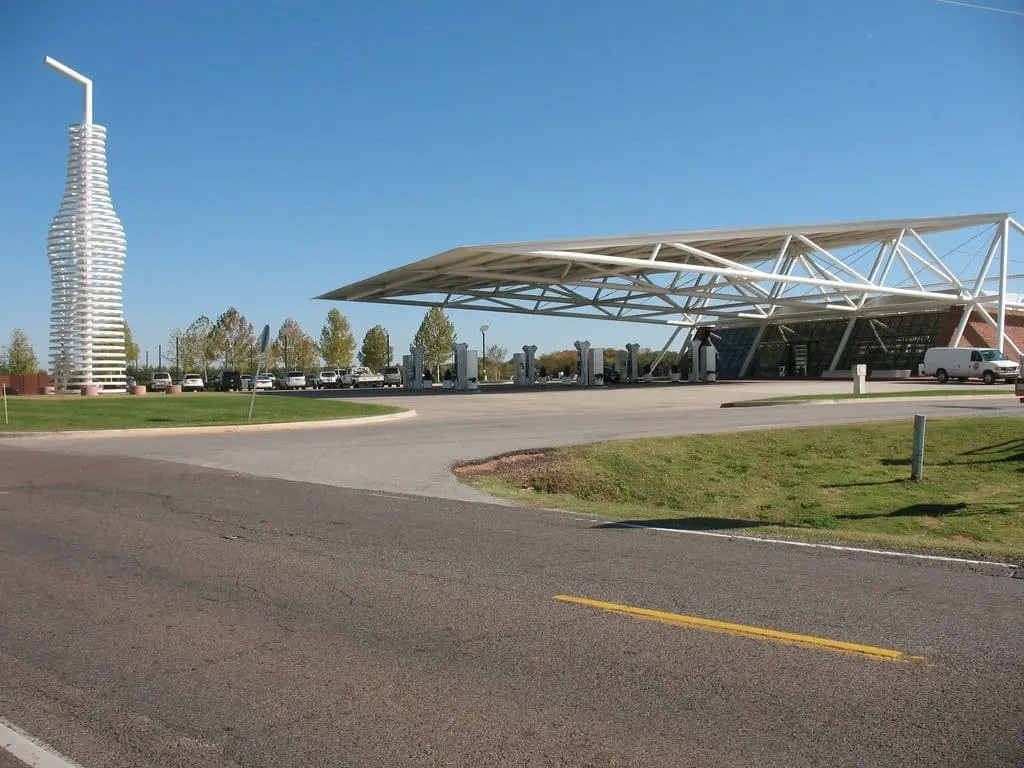 Located just outside Oklahoma City on Route 66 is Pops 66 Soda Ranch, home to 700 different kinds of soda available for purchase! You can miss it- just look for the giant pop bottle on the side of the road.
There are basic flavors like root beer as well as offbeat options like teriyaki beef jerky, corn, and Buffalo wings. There is also a diner serving up great hamburgers, chili dogs, and shakes and a great old fashioned candy selection. Pops is everything you want in a classic roadside attraction.
10. Have a Blast in the Boathouse District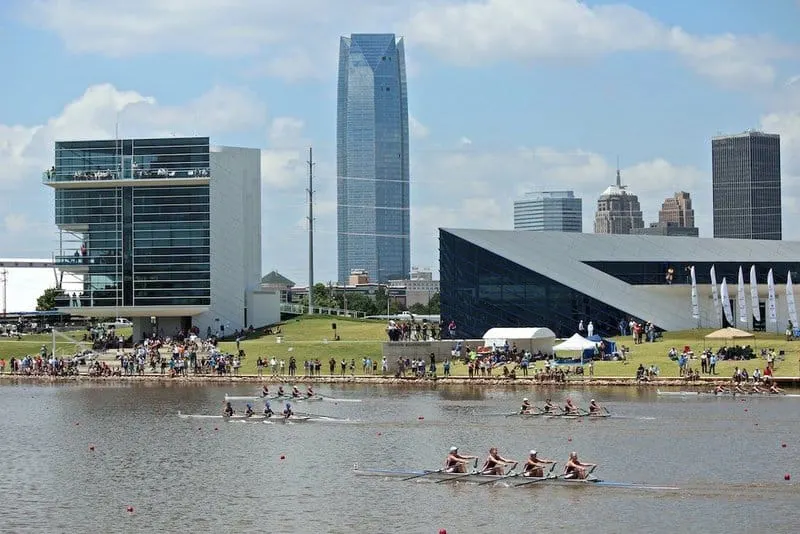 The Boathouse District is located just south of Bricktown and is the home to the US Olympic & Paralympic Training Site for rowing and kayaking at RIVERSPORT. These facilities allow visitors to use them as well.
In addition to whitewater kayaking and rafting there is also tubing, surfing and a new indoor snow skiing experience. Outside active families will enjoy a bike park and bike path as well as a six-story Sky Trail adventure course which is a ropes course with a zip line and a 72-foot slide. It is the great place to spend a full day being active and having fun.
Where to Eat in Bricktown OKC with Kids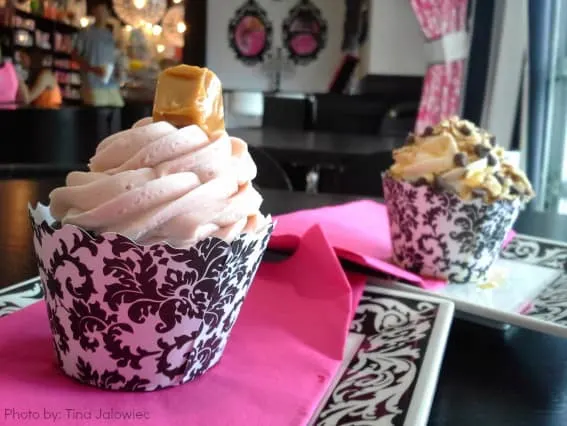 Bricktown has food and snacks for every budget and preference. For snacks, kids and adults alike will love the Bricktown Candy Co. Kids for the candy and gelato, adults for the nostalgia of what was once penny candy, and huge selection of gourmet sodas.
Just a few blocks away is Pinkitzel Cupcakes and Candy, a cupcake bakery/candy store/gift store/cafe. It's a little on the pricey side for cupcakes, but with a theme described as "Alice in Wonderland, Willy Wonka and Marie Antoinette," as well as cupcakes such as Pink Lemonade, Strawberry Shortcake, and Turtle Cheesecake, families really can't go wrong.
Mickey Mantle's Steakhouse and Toby Keith's I Love This Bar and Grill are popular spots to eat in Bricktown.. Fuzzy's Taco Shop and Texadelphia Social Grill, are nearby for quick and inexpensive eats.
Where to Stay in OKC with Kids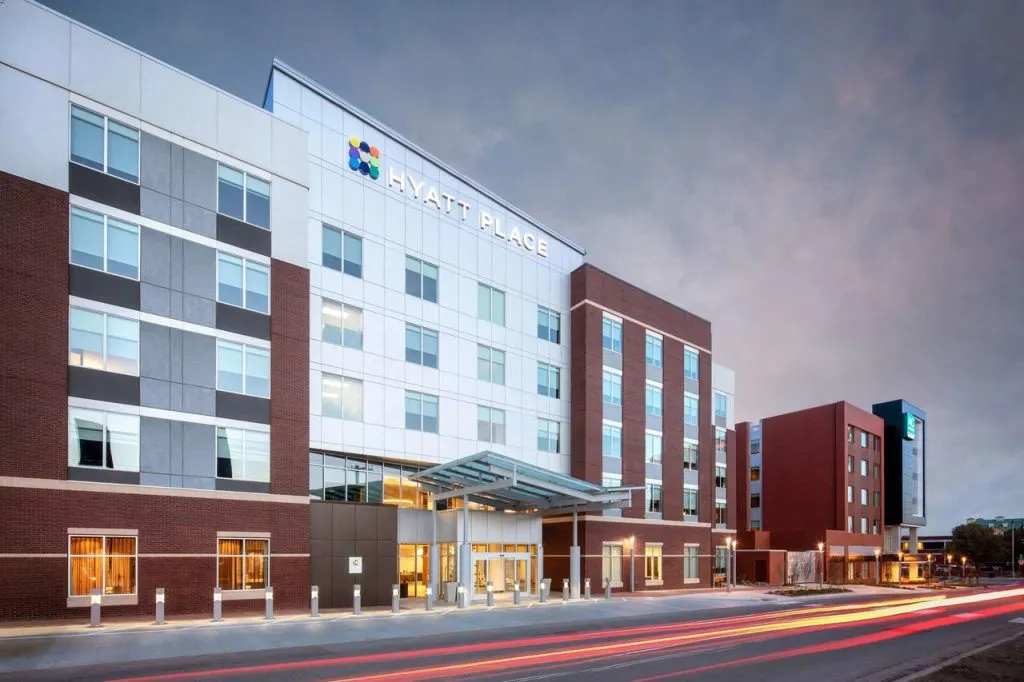 I have never met an Embassy Suites I didn't like and the Embassy Suites Oklahoma City/Downtown is no exception. We love that Embassy Suites have separate living areas from the sleeping areas, which allow for parents to enjoy some private time while the kids are sleeping. We also love the delicious and complimentary breakfast.
Another great option for families is the Hyatt Place Bricktown. This hotel offers family rooms, complimentary breakfast, in-room fridges, and even bowling onsite!
Day Trip to Chickasaw National Recreation Area from Oklahoma City with Kids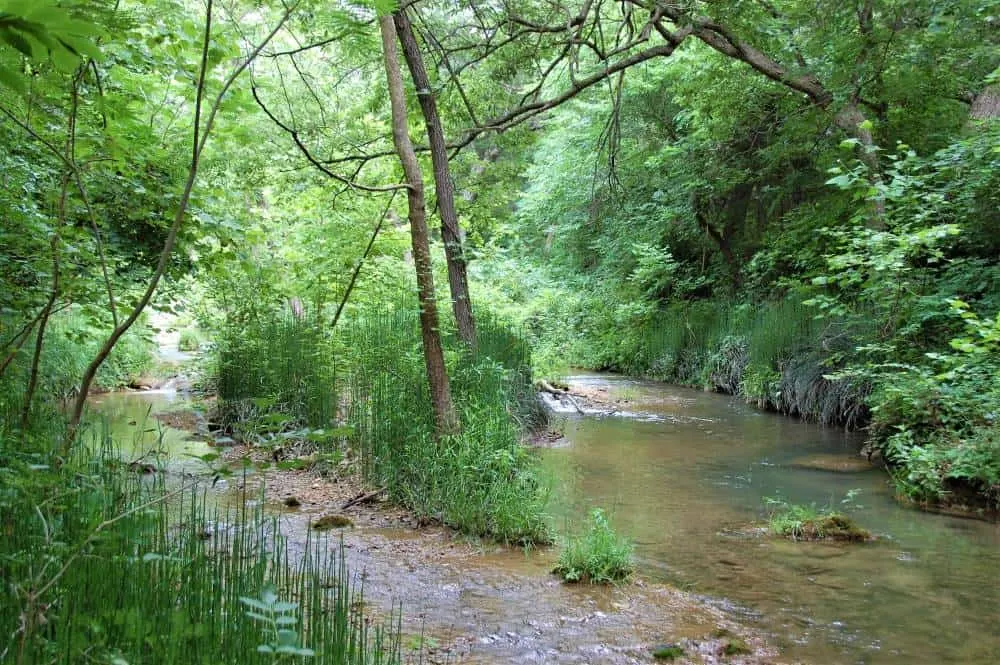 Chickasaw National Recreation Area is located in southern Oklahoma, about 90 minutes from OKC, and filled with lush green forest and beautiful creeks pouring over travertine terraces which serve as perfect swimming holes.
In between swims, take the 1.2 mile roundtrip out to Antelope Springs. The trail is surrounded by thick forest which will keep you cool if you are visiting during the warm season. At the end of the trail their is an outcropping of rocks from which the spring flows. Butterflies seemed to flock to the water and put on quite a colorful show.
Special thanks to Tina Jaloweic who wrote the original version of this article.