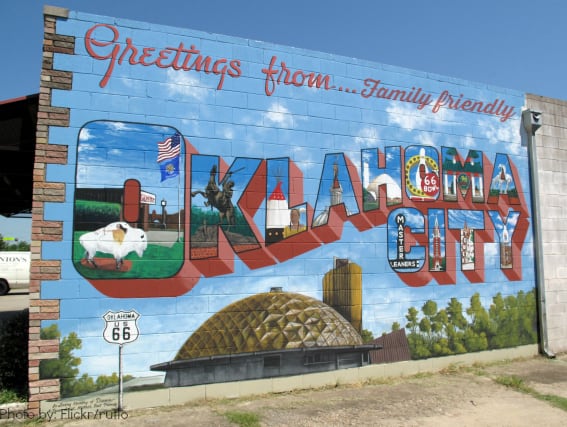 While many may not list Oklahoma City as one of their dream travel destinations, those who visit will find it is filled with family friendly activities for the sports fanatic and nature lover to the history buff.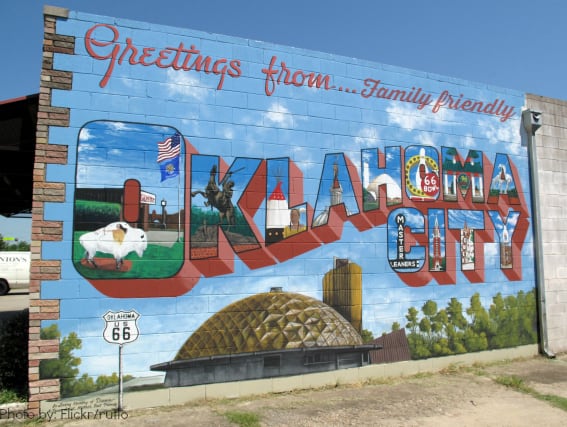 Explore Bricktown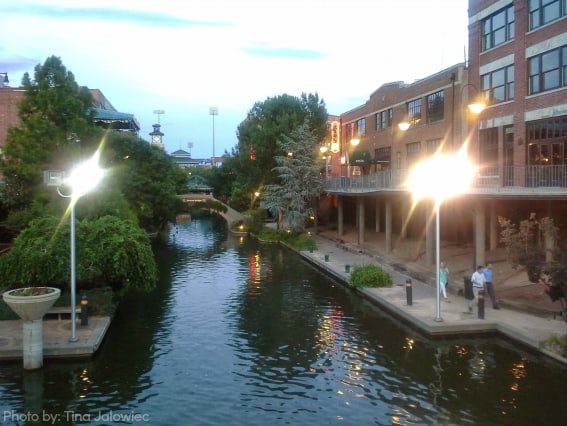 Bricktown is an entertainment district located in the heart of OKC near downtown. Families could spend the entire day walking around in Bricktown and never get bored. At the center is the Bricktown Canal and the River Walk. Although the actual river is nearby, the River Walk (inspired by San Antonio's of the same name) runs along the canal. The Bricktown Water Taxi's 45-minute tour is a great way to get familiar with the city, learn some history, and decide what's next on the itinerary. Each driver adds his/her own flavor to the tour.
Tip: The tour offers a different perspective on the city during the daytime and at night, so doing it twice is also recommended.
Enjoy a game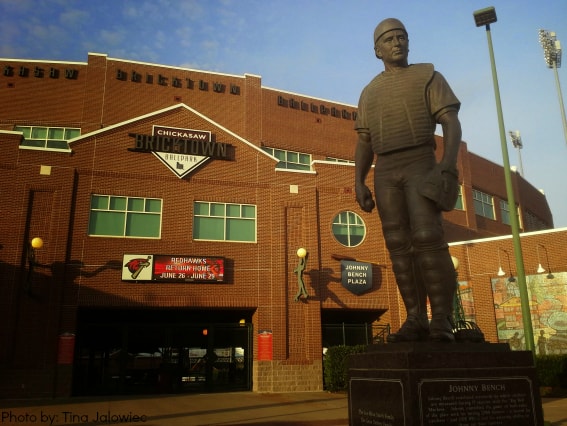 Depending on the time of year, sports fans can take in an Oklahoma City Thunder game at the nearby Chesapeake Energy Arena or treat themselves to a night out at Chickasaw Bricktown Ballpark, home of the Oklahoma City Red Hawks, the Triple-A affiliate of the Houston Astros. Tickets range from $7-19.
Check out the gardens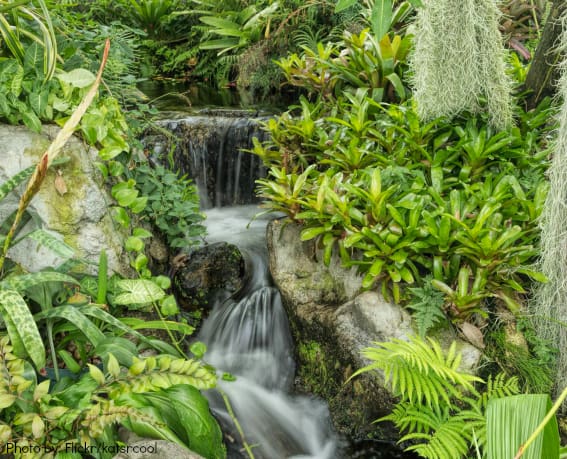 The Myriad Botanical Gardens is the place to be in the summer months! The Children's Garden has daily free activities for young kids and the Thunder Fountain is sure to entertain small kids for hours. The Crystal Bridge Tropical Conservatory may not hold little ones attention for long, but it will be a favorite for parents who love to take photos. Inside you'll find photo ops galore with 2,000 different plant varieties, and a 35-foot waterfall.
Pay your respects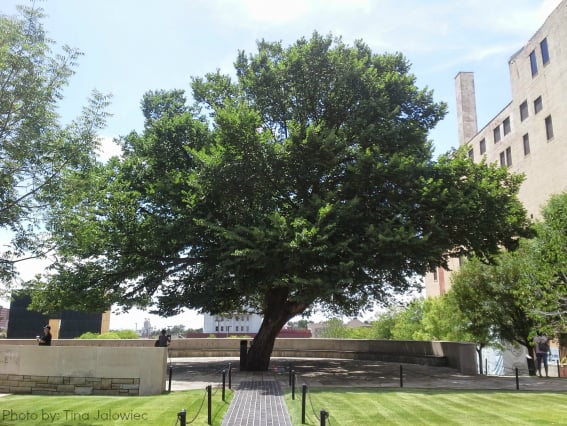 The Oklahoma City Memorial & Museum stands as an important reminder of the first terrorist attack on US soil. Families will have to decide individually if it is appropriate for their family to visit the site. It is difficult to explain to small children, as well as hard to see as a parent, due to the fact that so many families lost their children on that fateful day.
Hands-on learning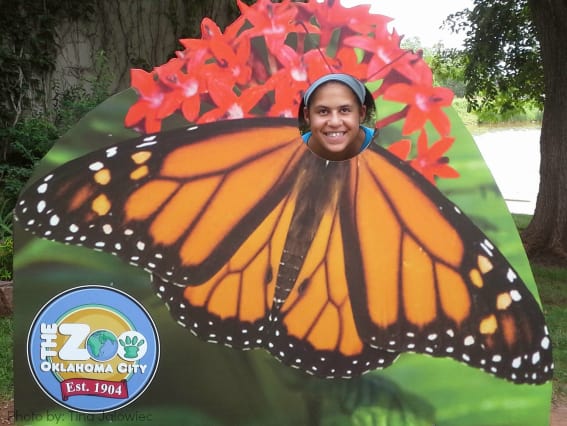 About ten minutes from downtown in the Adventure District, the Oklahoma City Zoo and Science Museum Oklahoma are located side by side, and visiting both on the same day is completely doable. If visiting OKC in the summertime, the zoo is a perfect way to start the day before it gets too hot. It features an elephant habitat, a children's zoo, and the chance to pet stingrays, or feed giraffes and lorikeets for an additional charge. When the sun gets too hot, enjoy a reasonably priced but decent lunch at the zoo, then head over to the museum for an afternoon of hands-on exhibits and learning disguised as fun. Kids can solve a mystery, create their own fog or lightning, or head to outer space in a simulator.
Frontier City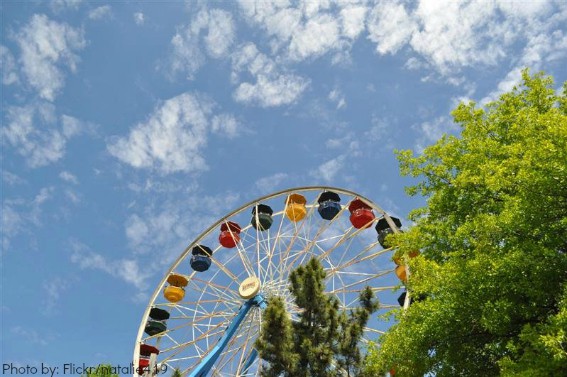 Further outside the city is Frontier City, Oklahoma's largest amusement park, with 30 attractions, and a small waterpark area. Older kids and little ones will enjoy it equally for different reason. Check the website prior to your visit to ensure that the attractions that appeal to your family area open.
Getting around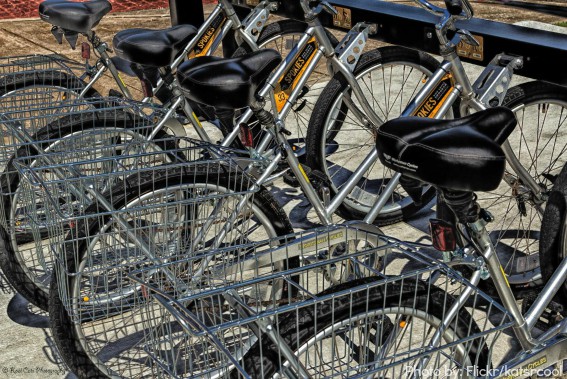 Oklahoma City is located along Route 66, making it a great stopover location while taking a long road trip. It is easily reached from Tulsa, Little Rock, or Kansas City for a great weekend getaway. Amtrak offers one round trip daily between OKC and Dallas/Fort Worth, and at a short three hour train ride, might just be worth leaving your car behind for a day or two for a fun family adventure!
Once in OKC, a car is helpful, but not necessary. The local public transportation, Embark, does not run very often, which makes some define it as slow, but if you check the schedule and know your destination, it is well worth it. At only $1.75 for adults, $.75 for kids ages 7-17, and free for kids 6 and under, it is definitely a money saver! Also recently introduced is Oklahoma City's new bike share program, Spokies. $5 a day will get you unlimited 30-minute bike rides, with seven bike kiosks located in the downtown/Bricktown area.
What to eat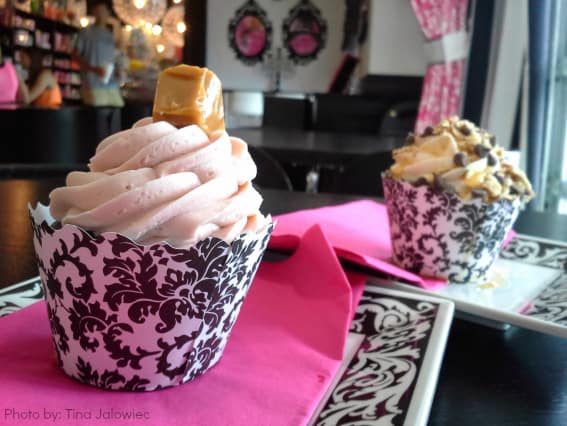 Bricktown has food and snacks for every budget and preference. For snacks, kids and adults alike will love the Bricktown Candy Co. Kids for the candy and gelato, adults for the nostalgia of what was once penny candy, and huge selection of gourmet sodas. Just a few blocks away is Pinkitzel Cupcakes and Candy, a cupcake bakery/candy store/gift store/cafe. It's a little on the pricey side for cupcakes, but with a theme described as "Alice in Wonderland, Willy Wonka and Marie Antoinette," as well as cupcakes such as Pink Lemonade, Strawberry Shortcake, and Turtle Cheesecake, families really can't go wrong. And of course no outing would truly be complete without ice cream! The Marble Slab Creamery satisfies with delicious offerings, though it can get a little crowded at night.
Mickey Mantle's Steakhouse, Toby Keith's I Love This Bar and Grill, and Nonna's Euro-American Ristorante and Bar, are all within a few blocks radius for sit-down meals on the more expensive side. Fuzzy's Taco Shop, Texadelphia Social Grill, and Bricktown Burgers, are nearby for quick and inexpensive eats.