Zion is one of our country's most visited national parks. An oasis in Southern Utah's red rock country, this national park is an all-season destination. So it should be no surprise that there are so many great things to do in Zion with kids!
Zion is the most popular of the Utah National Parks because it is within a day's drive of several metropolitan areas. Las Vegas, Los Angeles, Phoenix, and Salt Lake are all within a day's drive.
Zion's gateway city of Springdale offers several family-friendly lodging and dining options, as well as a free shuttle that has various stops around town.
Things to do in Zion With Kids
When to Visit Zion
The great news is that there is no bad time to visit Zion National Park with kids. The best time to go entirely depends on what is important to you.
Zion receives four million visitors per year. Most visit the park between April and September. But there is still plenty to enjoy in Zion during the winter.
Most trails stay open in the winter (subject to winter storms) and crowds are nonexistent. Plus, if you manage to catch Zion during a snowfall, you will be graced with tremendous beauty.
Another bonus of visiting Zion in the winter is that you can drive in Zion Canyon and directly to trailheads.
Check out our full guide to visiting in Zion in winter.
Outside of winter, the park service closes off the main road into Zion Canyon to public traffic and operates a free shuttle service.
During the spring and fall, hiking in Zion is awesome. The weather can be absolutely beautiful and the trails are begging to be explored. It can still be crowded, especially during Spring Break.
Summer is a very popular time to visit given the school break, but the weather can be downright hot! If you are going to hike, go early.
When the summer heat arrives, the Virgin River does help keep visitors cool. It is an ideal time for tubing or hiking through the park's legendary Narrows.
See all five of Utah's national parks with our Utah National Park Road Trip Itinerary.
Zion Visitor Center and Parking
As with all national parks, your first stop should be Zion's visitor center.
You can either take the free shuttle from Springdale to the visitor center or park in the lot (which can fill up by mid-morning during busy weekends).
Zion's visitor center features several interesting displays about the park, a gift shop/bookstore, and a free water bottle refill station. This is a great place to get current weather forecasts, especially during the summer monsoon season.
It is also where your kids can pick up their free Junior Ranger booklets. Activities in the book are broken down by age group and the reward for a completed booklet is a coveted Junior Ranger badge!
Things to do in Zion with Kids- Hikes
There are several great trails in Zion that offer something for all ages. From the stroller friendly Riverside Walk to the harrowing cliffs of Angels Landing which are best reserved for daring teens, this park has it all.
Lower Emerald Pool
Lower Emerald Pools is an easy trail that is suitable for all ages. The 0.6-mile trail begins across the street from Zion Lodge and heads back into a canyon to a grotto where water runs over the edge of the rocks above and into a set of pools.
Much of the trail is paved, which is nice for families with strollers. Expect to be sharing the trail with quite a few people during the high season.
This trail is accessed via the Zion Lodge shuttle stop.
Upper Emerald Pools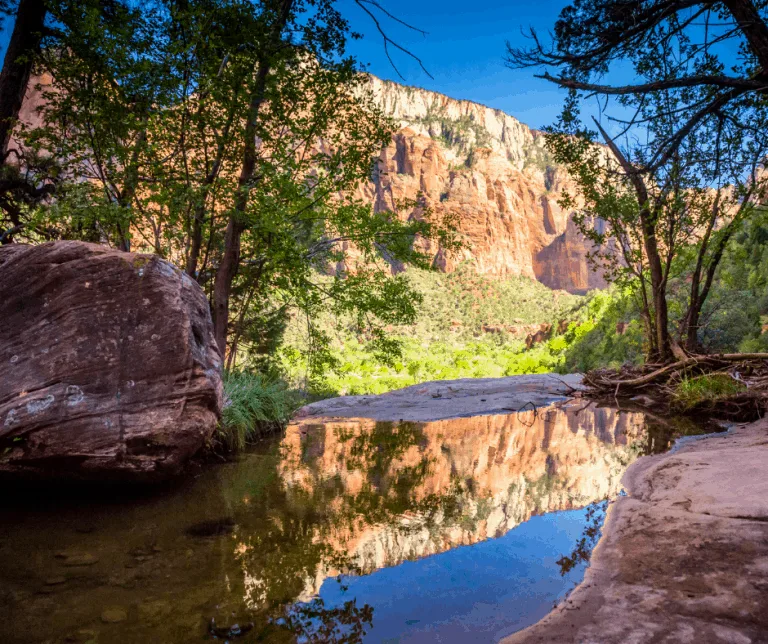 The Upper Emerald Pools trail is accessed via the Lower Emerald Pool trail and passes the middle and upper pools. This trail is very popular, especially on weekends, so arrive early.
The 0.5 mile uphill from Lower Emerald Pool to the Upper Emerald Pools, and does involve a little bit of rock scrambling. Still, I have seen kids of all ages on this trail.
Kayenta Trail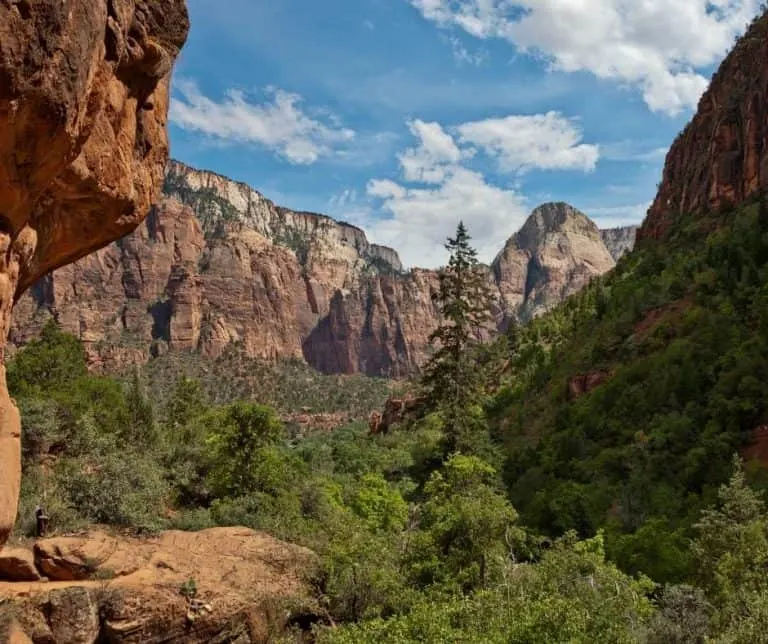 The one-mile (one way) Kayenta Trail is quiet in comparison to the Emerald Pool trails. This trail is best when combined with the Lower and Upper Emerald Pools.
Visit the Emerald Pools first. Then, when you begin to backtrack from the Upper Emerald Pools, keeps your eyes out for the Kayenta Trail. Follow the Kayenta Trail downhill for sprawling views of Zion Canyon and the Virgin River.
The Kayenta Trail ends near the Grotto shuttle stop.
Weeping Rock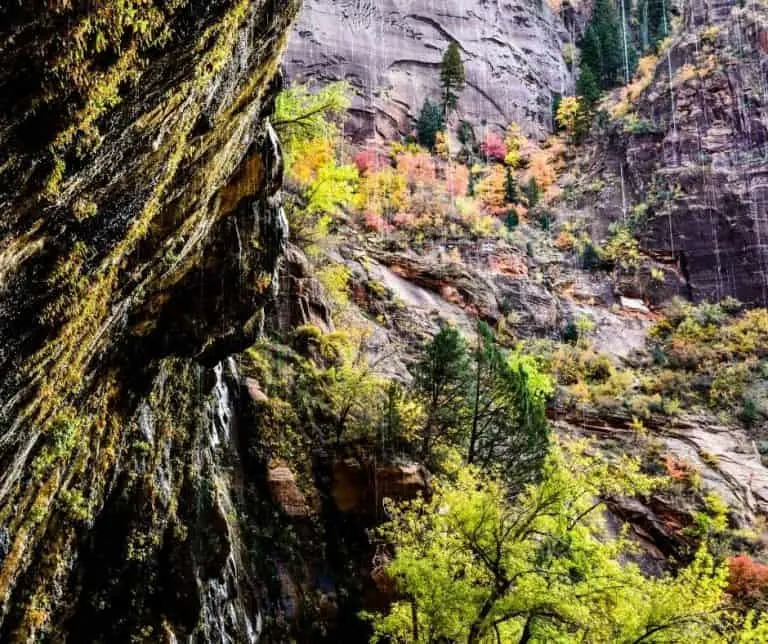 The Weeping Rock trail is more of a short but steep walk (.4 miles round trip) than a hike.
The paved path takes you along a creek to a mossy, dripping alcove that is both pretty and refreshingly cool during the summer heat. Expect to take about 30 minutes on this trail.
Weeping Rock can be accessed via the Weeping Rock shuttle stop.
Riverside Walk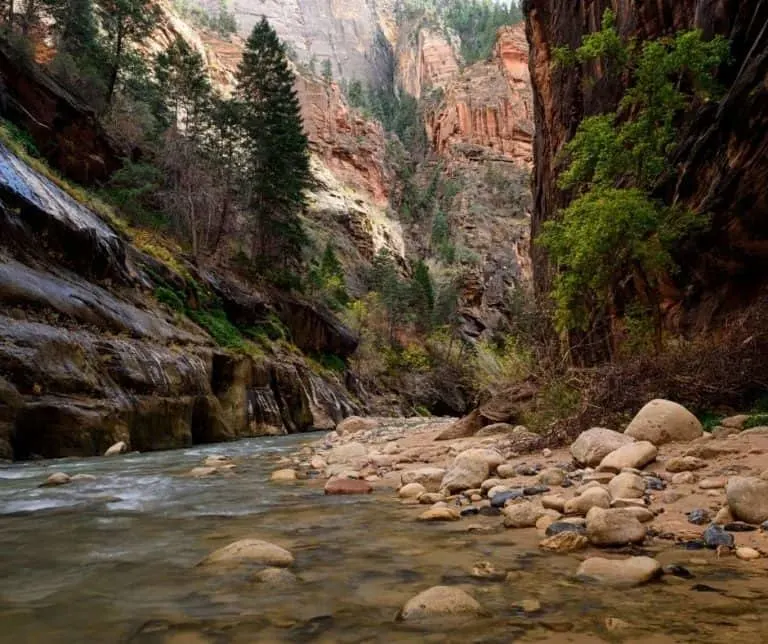 The Riverside Walk follows the North Fork of the Virgin River one mile into Zion Canyon. It is a flat, paved path but there are plenty of opportunities to play in or near the river along the way.
This popular trail ends where the Zion Narrows Trail begins. It is a great option for families with children in strollers.
Riverside Walk is accessed via the Temple of Sinawava stop on the Zion Canyon Shuttle.
The Zion Narrows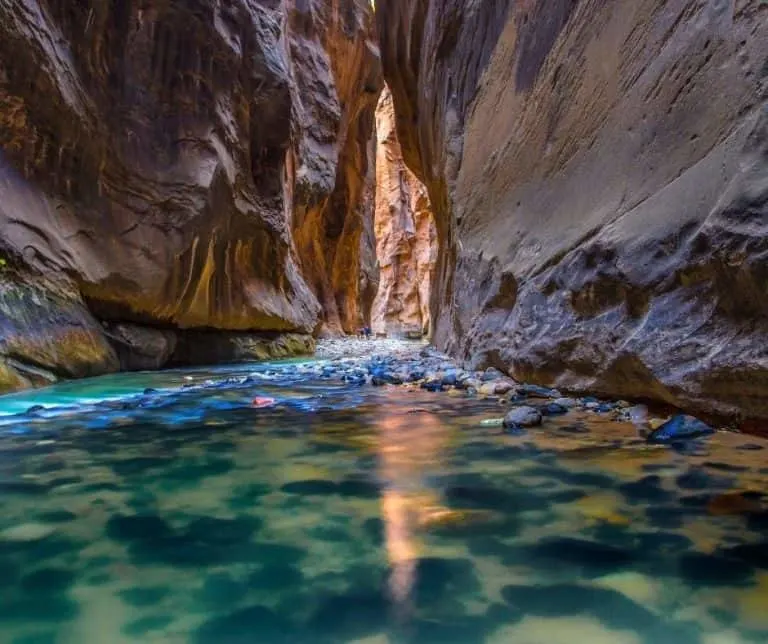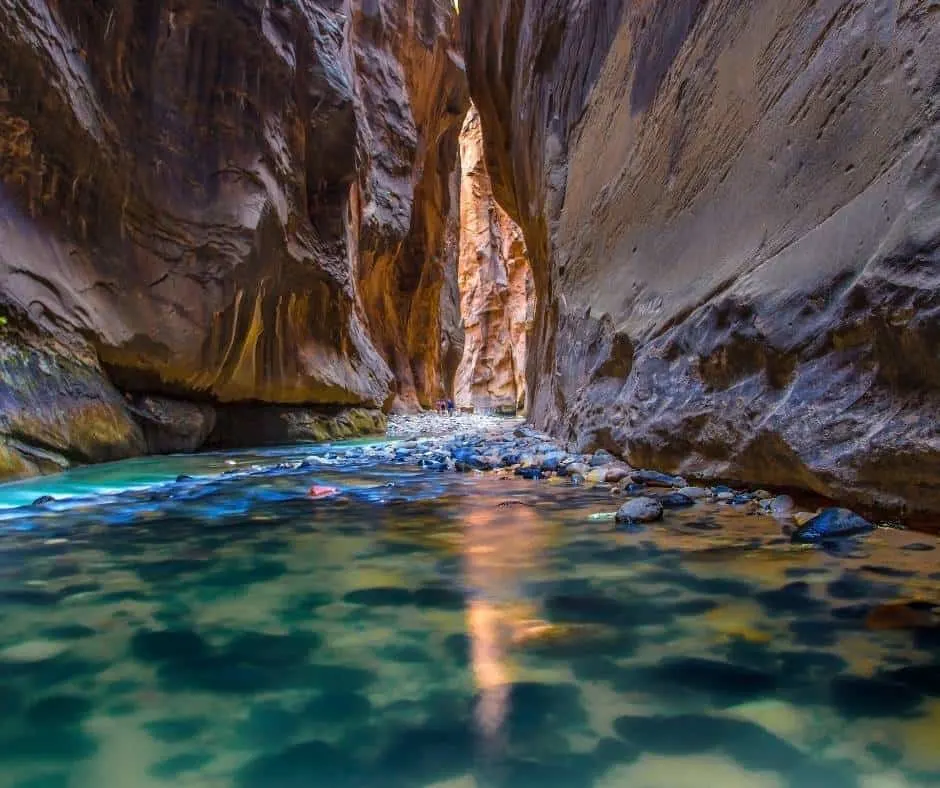 At the end of the Riverside Walk you will find The Narrows, a deep canyon cut by the Virgin River. This epic hike is almost entirely through cold water which can be refreshing during the heat of the summer.
Close toed shoes and a walking stick are essentials. It is also absolutely vital that you have a clear understanding of current weather conditions. The canyon should absolutely be avoided if there is a flash flood watch or warning.
In some sections the water can be ankle deep while in others it is high enough to require some swimming (especially earlier in the summer). Families can choose to hike in for several miles or just opt for a short out-and-back experience.
Here is a great guide to hiking the Narrows.
The Narrows are accessed via the Temple of Sinawava stop on the Zion Canyon Shuttle.
Pa'rus Trail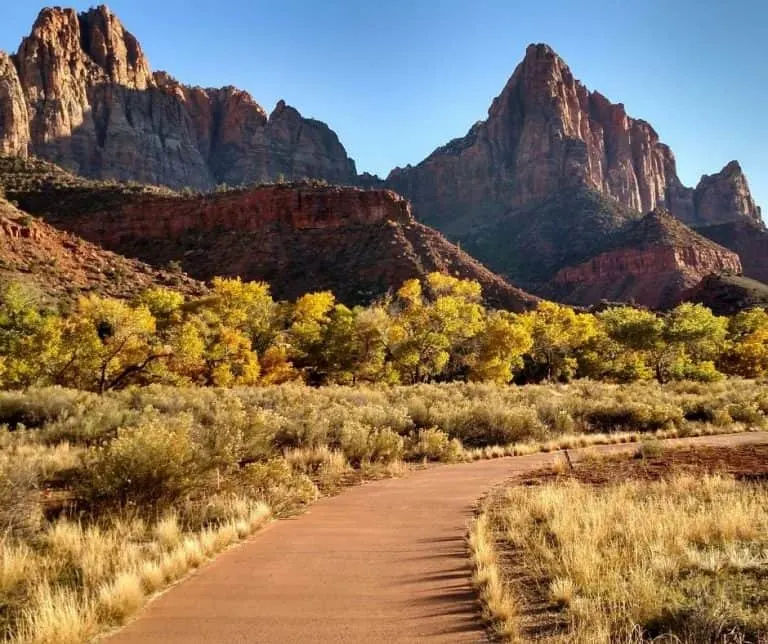 The Pa'rus Trail trail is about 1.9 miles from end to end and is ideal for walking, running, strollers, and bike riding.
It is especially wonderful at dusk when the sunlight makes the red rock glow. Wildlife such as wild turkeys, mule deer, chipmunks, and various birds can be spotted.
Shuttle stops at the Zion Canyon Visitor Center, the Zion Human History Museum, and at Canyon Junction can be found along this trail. This makes it easy to hike the trail one-way and then ride the shuttle back.
Angels Landing
If you have a fear of heights, the hike to Angels Landing is not the hike for you. This hike is a steep, 2.5 mile climb to a narrow view point with spectacular views.
Older children can handle the first two miles of the trail, but the last .5 mile is extremely narrow and requires holding on to cables with steep drops on either side.
I personally do not recommend taking kids on the final portion. Heck, I wouldn't even do the final portion and I am experienced hiker! Still, people take their kids on this trail every day.
Note: Due to the overwhelming popularity of this trail (thank you social media) and safety concerns there is now a limit on the number of people who can hike this trail daily. A permit is required and the permit is handed out via a lottery system. You can find all the details on the park website.
Angels Landing is accessed via The Grotto stop on the Zion Canyon Shuttle.
Canyon Overlook Trail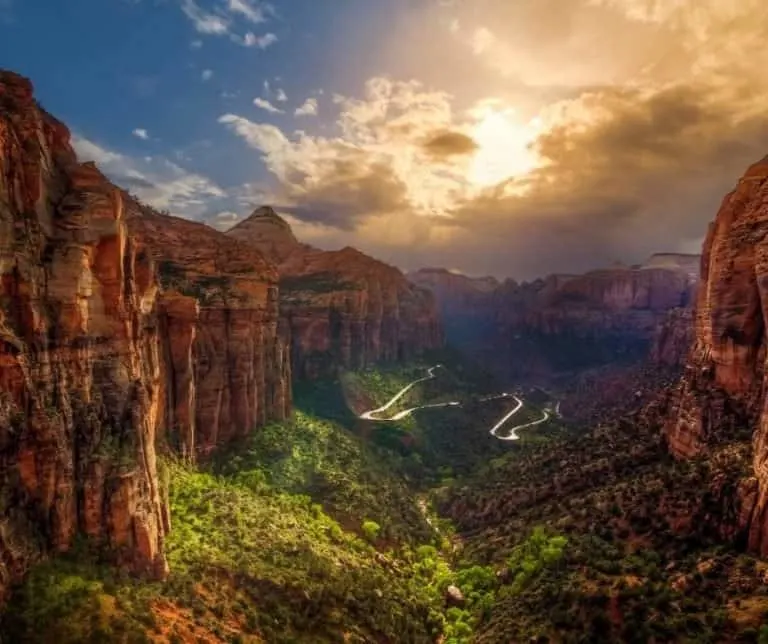 If you are headed out of Zion towards the northeast and on to other special spots in Southern Utah like Bryce Canyon National Park, you will have to pass through the famed Zion-Mt. Carmel Tunnel.
Located just past the Zion-Mt. Carmel Tunnel on Highway 9, is the Canyon Overlook Trail.
This trail does feature some steep drop-offs but those portions are mostly fenced. The trail is one mile in length and offers spectacular views of Pine Creek Canyon and lower Zion Canyon.
Trekaroo Tip: The parking lot for this trail can fill up quickly so it is best to attempt it early in the morning or later in the afternoon.
More Things to do in Zion with Kids
Explore Zion by Bike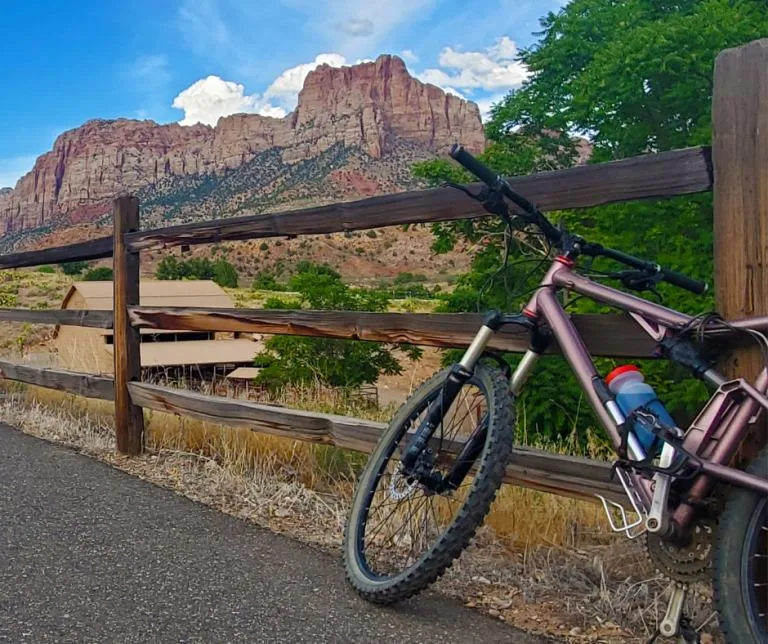 If the idea of dealing with the Zion shuttle gives you a headache before you have even arrived, consider renting E-bikes and exploring Zion Canyon on two wheels instead.
Zion Outfitters rents E-bikes, regular adult bikes, and regular childrens bikes. Helmets are included with rentals. Biking in Zion Canyon is quite safe because there are very few cars on the road. You can also place bikes on the shuttles at any stop if your group gets tired of pedaling.
It is very easy to pedal to a trail and hike because bike racks are available at the shuttle stops where the trailheads begin. Locks are included with E-bike rentals
Note: Children must be at least 14 to rent an E-bike.
Zion Human History Museum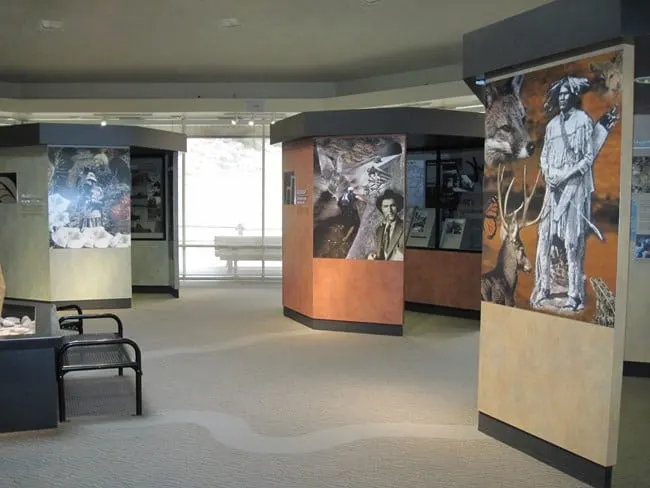 The Zion Human History Museum highlights the human history of Zion, from Native Americans to early pioneer settlers to the early days of the park's founding.
The museum has its own shuttle stop and shows a free, 22-minute video that gives a nice overview of Zion National Park.
Kids can watch this video as an alternative to the ranger-led program participation requirement to earn their Zion Junior Ranger badge.
Tubing on the Virgin River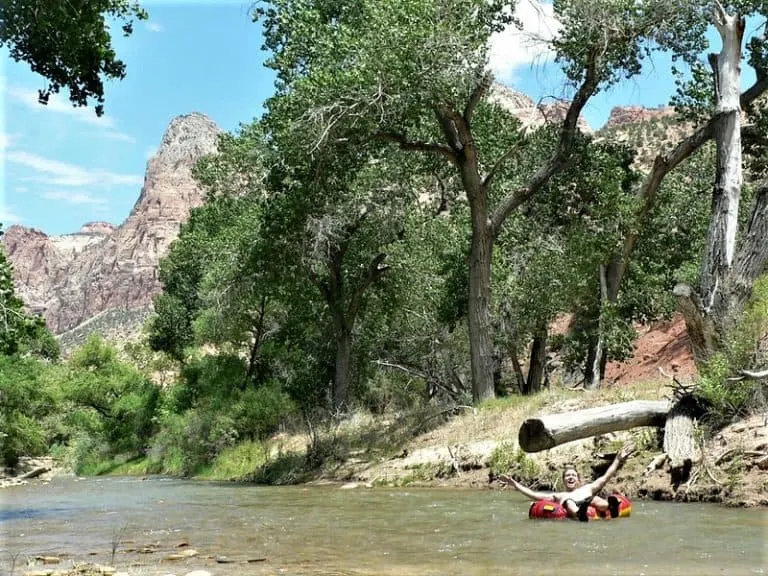 Tubing the Virgin River in the town of Springdale is an especially popular May through July. You can rent tubes from Zion Outfitter or bring your own. Zion Outfitter will not rent tubes to children younger than 12.
Remember to practice good water safety, especially with children. I do not recommend this activity unless your kids are strong swimmers because there are some small rapids and chances of flipping.
Trekaroo Tip: Wearing closed toed-shoes while tubing is highly recommended. There are some shallow spots and lots of rocks.
Canyoneering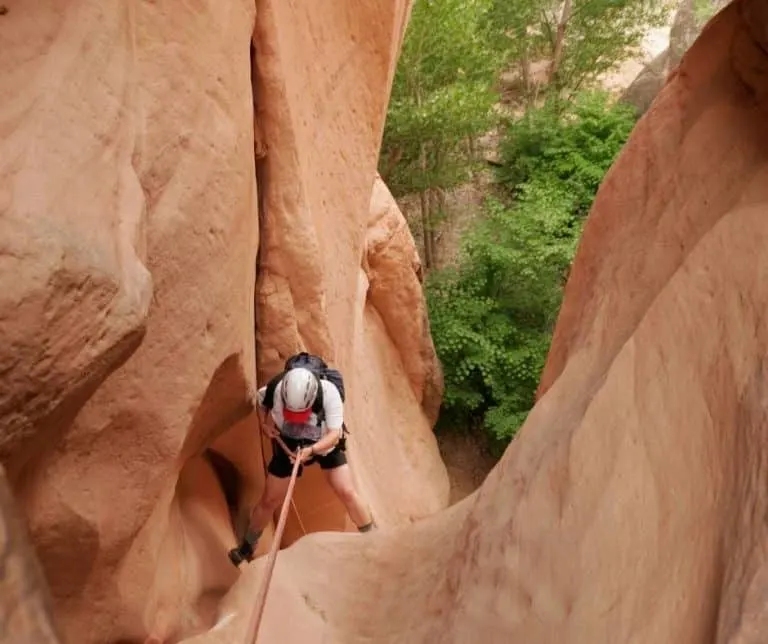 If you are looking for one of the most adventurous things to do in Zion with kids, your family should give canyoneering a go. You will have a blast rappelling in narrow slot canyons, scrambling over rocks, and wading through water on a guided half day or full day trip
Zion Outfitter has a special Family Adventure program designed for groups with kids younger than 12 or you can opt for the traditional full or half day Canyon Adventure with older kids.
Both programs are great for people who don't have canyoneering experience.
Take a Jeep or ATV Tour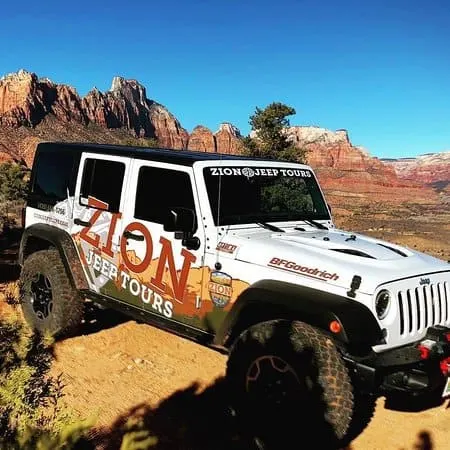 Get off road on an adventure in the stunning red rock wilds around Zion National Park. There are so many options for families, from drive-your-own ATVs to guided Jeep Tours.
Zion Off-Road Tours has both! Jeep tours can accommodate up to five people and allow children as young as seven. ATV drivers must be at least 18 and passengers can be as young as seven.
Book your family's epic Zion Jeep Tour.
Horseback Riding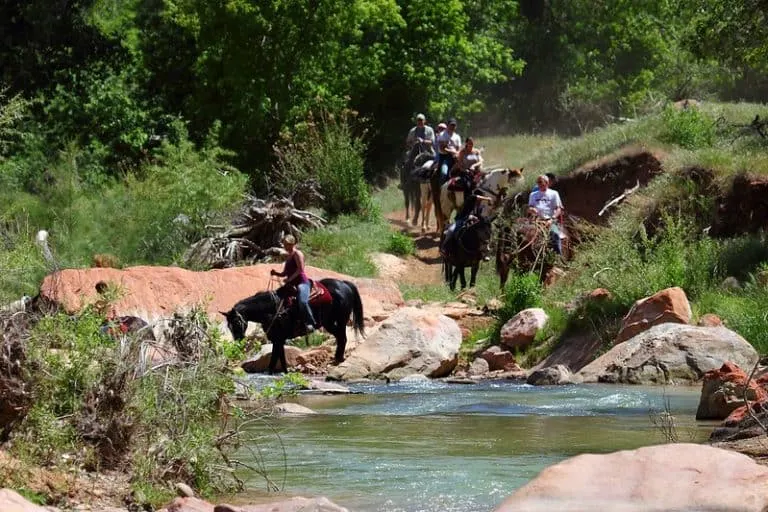 See Zion the way the pioneers did- on horseback! One hour rides are available which follow the Virgin River to the Court of the Patriarchs. Children as young as seven are welcome on these horseback tours.
Older children (10 and up) can join the three hour tour which climbs 500 feet and offers nice views of the southern end of the park.
Where to Stay Near Zion National Park
Most people visiting Zion National Park either camp inside the park or stay in the gateway city of Springdale which sits at the park boundary.
There is a free shuttle that stops at several hotels in town.
Camping at the Watchman Campground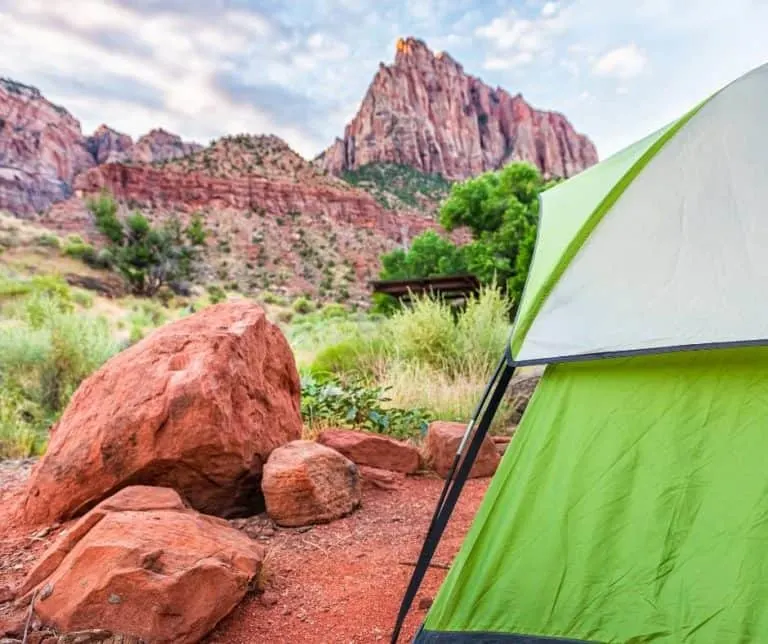 The most popular campground in Zion National Park is the Watchman Campground. The campground has tent and RV sites, clean bathrooms, and flush toilets. It is located close to the visitor center and town of Springdale.
There are several spots next to the Virgin River and some sites have more shade than others. The campground does not have showers but there are clean pay showers in town a short distance away.
Family Friendly Lodging in Zion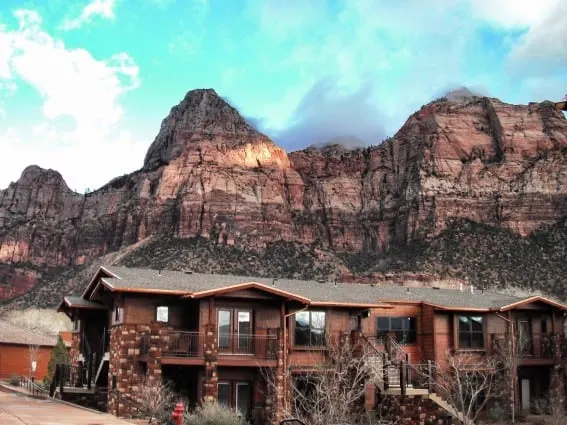 All the hotels listed (with the exception of Zion Lodge) are located in the town of Springdale and within walking distance to restaurants and shopping.
Zion Lodge
Zion Lodge is the official four-walled lodging within the park boundaries. There are hotel rooms as well as cabins.
Zion Lodge is also a great spot to shop for gifts in the lodge's gift shop or enjoy lunch on the lodge's expansive lawn. Castle Dome Café, the lodge's cafeteria counter, sells burgers, sandwiches, hot dogs, pizza, and salads.
Cable Mountain Lodge
Cable Mountain Lodge rooms feature full kitchens, large living areas, and plenty of space for large families in their suites.
Its pool area features magical views red rock canyon walls, making it a beautiful place to spend an afternoon.
Rocking chairs on the patio also offer views of the vibrant Zion cliffs. Cable Mountain Lodge is a short walk from the park entrance.
Cliffrose Springdale
Accommodations at Cliffrose Springdale range from standard hotel rooms to full suites with separate bedrooms and kitchen facilities. This property is now own by Hilton so you can rack up some rewards points with your stay!
Highlights include a heated outdoor pool and waterfall hot tub, playground equipment, sandbox stocked with toys, and beach access along the Virgin River. This property is within walking distance of the Zion National Park Visitor Center.
La Quinta Inn & Suites
La Quinta is one of the newer hotels in Springdale and it is located about one mile from Zion's visitor center along Springdale's main drag. The shuttle picks up about 100 yards away.
Rooms include a microwave, fridge, and high speed internet access. Your stay includes a free breakfast which features the normal continental breakfast stuff along with homemade cinnamon rolls, waffles, and breakfast sandwiches. There is a pool on site.
Where to Eat Near Zion National Park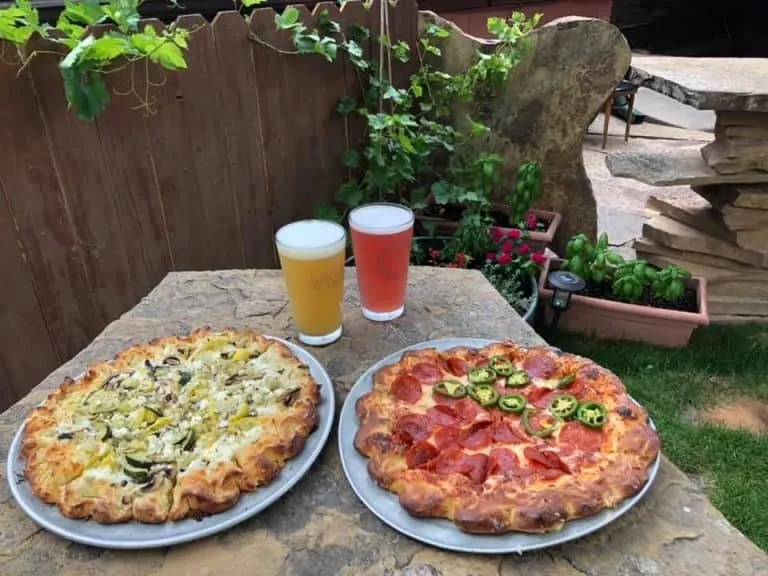 Castle Dome Café
This casual, cafeteria-style café is the only restaurant inside of Zion National Park. It is located at Zion Lodge.
The café serves up included burgers, sandwiches, hot dogs, pizza, salads, and ice cream. A dining patio is located outside.
Zion Pizza and Noodle
This casual dining establishment specializes in pizza and pasta. Seating is available inside and out.
Zion Pizza and Noodle can get crowded during the evenings of the high season so you might want to consider calling in your order and then taking your pizza and pasta as take out and having a picnic in a nearby park.
Wildcat Willie's and Bumbleberry Bakery
This country-themed restaurant features long benches, great BBQ meals, and a family-friendly atmosphere. The restaurant does have a kids menu.
The little Bumbleberry Bakery, tucked into the corner of the building that houses Wildcat Willies, is famous for its pies. They also serve up turnovers, muffins, brownies, and more.
Jack's Sports Grill
Jack's Sports Grill is another popular option. Their eclectic menu features salads, sandwiches, rice bowls, BBQ, burgers, and brats. Their location is family-friendly and a fun spot to catch the game.
Oscar's Cafe
Oscar's Cafe is a good place to eat if you want a variety of options. They have TexMex options like burritos and shrimp tacos, but they also have ribs, pork chops, burgers, sandwiches, and salads.
Oscar's a great choice for breakfast as well. They serve up breakfast burritos, omelets, and more!
Kolob Canyons Area of Zion National Park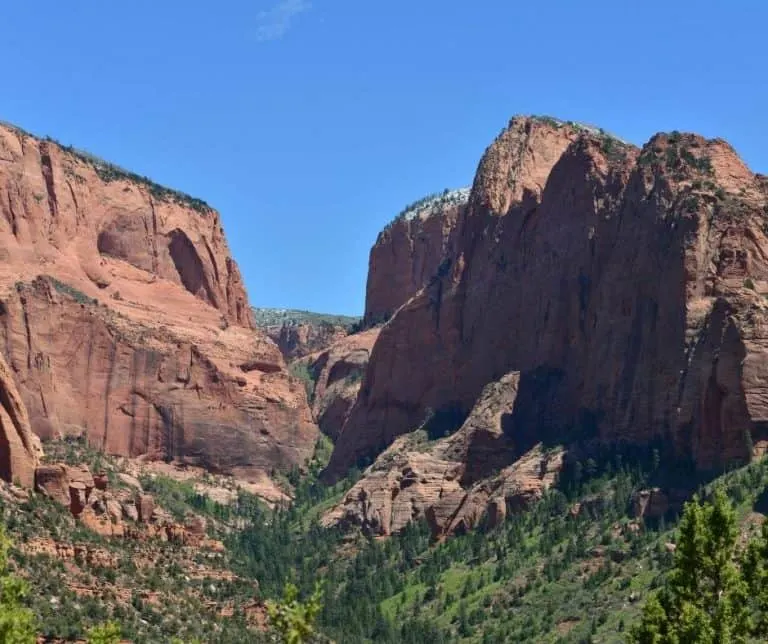 The Kolob Canyon portion of Zion National Park is located off Interstate 15 in between St. George and Cedar City. It is a great place to stop on a road trip to stretch your legs and visit this less visited portion of the park.
Exploring the state? Here are the Top 10 Things to do in Utah with Kids and 8 Places to Stop on a Utah Road Trip.
Kolob Canyons Visitor Center
The small Kolob Canyons visitor center is just off the highway and has clean toilets, maps, guide, and a small exhibit about geology. You must check in here to either purchase or show your National Park pass before heading further up Kolob Canyons Road.
Kolob Canyons Viewpoint & Timber Creek Overlook
This site sits at an elevation of 6,200 feet in elevation and is open year round. It serves as a picnic ground, overlook, and trailhead for the Timber Creek Overlook hike..
The Timber Creek Overlook hike is just one mile in length and has plenty of rocks at the overlook for the kids to climb on. The view at trail's end is expansive and looks down on Timber Creek and the surrounding wilds.