Since moving west 15 years ago, I've fallen in love with Colorado national parks. My family and I have traveled to all four of Colorado's national parks, and my 10-year-old daughter has completed Junior Ranger activity booklets at each, earning badges along the way.
I've loved introducing my children to some spectacular natural landscapes and geological wonders, and I've had fun hiking my way through the awesome settings.
For your next family vacation in my home state of Colorado, I highly recommend visiting at least one of our awesome national parks. Here's a peek at what you might see and do.
Exploring Colorado National Parks with Kids
1. Rocky Mountain National Park
Soaring mountain peaks, pristine high-altitude lakes, and plenty of opportunities for wildlife viewing are found in Rocky Mountain National Park, the most popular Colorado national park.
Rocky Mountain NP is located northwest of Denver, bordering Estes Park. This charming town is a great place to call home base as you explore the park.
Take your time motoring along Trail Ridge Road, which snakes across the Continental Divide. It is the highest paved road in the United States, topping off at more than 12,000 feet.
At the high-altitude Alpine Visitor Center, you can climb 168 steps that comprise the Alpine Ridge Trail. If you reach the top (crazy steep, but do-able for little legs), you're rewarded with 360-degree views of peaks as far as Wyoming.
One big draw for kids: Holtzman Historic Site, which was a tourist lodge in the early 1900s. Here, children can try on period clothing, wash socks on an old washboard, and learn how to rope a wooden "calf."
A couple of easy hikes for kids include the half-mile loop trail around Bear Lake and the path that skirts Sprague Lake. Check out our full guide to the best hikes in Rocky Mountain National Park for families.
Read more about exploring Rocky Mountain National Park with Kids.
2. Great Sand Dunes National Park & Preserve
Great Sand Dunes is one of the newer Colorado National Parks. It was previously a national monument.
It's a geological mystery as to why the country's tallest sand dunes collect at the base of the Sangre de Cristo Mountains. The whole family can learn about their evolution – and why scientists continue to debate the specifics – in the informative visitor center here.
The true highlight of this park is exploring the dunes themselves. You can hike up the massively tall formations that reach more than 700 feet and stretch for 50 miles. And then run, roll, or somersault down the gigantic piles of sand!
When we visited the Great Sand Dunes in June, Medano Creek at the dunes' base was flowing like crazy with spring snowmelt. The creek was shallow, and kids had a ball splashing and playing in the water. Next time we'll bring some inflatable rafts to this natural waterpark in south-central Colorado.
Check out this review of The Broadmoor Resort, a perfect place to rest up after a few busy days in the park.
3. Mesa Verde National Park
A World Heritage Site, Mesa Verde National Park in southwest Colorado perserves the land and dwellings once inhabited by Ancestral Puebloans nearly 1000 years ago.
The Ancestral Puebloans inhabited these lands for over 700 years and left behind fascinating cliff dwellings, some of which are accessed by tall ladders.
My then-two-year-old scrambled up several 10-foot ladders to reach Cliff Palace on a ranger-led tour. The next time we go, we're aiming for the "adventurous" tour, which includes climbing a 30-foot ladder and crawling through a 12-foot tunnel to access Balcony House.
With 600 dwellings, 4,000 archaeological sites, and myriad hiking trails and driving routes, there's plenty to see and do here. Consider spending a night or two at the park, and conveniently stay at the on-site Far View Lodge, open April through October.
Read our complete guide on things to do in Mesa Verde National Park with kids. It includes tips on hikes, tours, lodging, and dining.
4. Black Canyon of the Gunnison National Park
Black Canyon of the Gunnisson National Park is one probably the least known Colorado National Park.
If you're afraid of heights, you may not want to get too close to the edge of the look-out points at the Black Canyon of the Gunnison. My kids think it's hysterical when I stand way far back from railings and fences at just about any canyon overlook, but this one is especially daunting. Sheer cliff walls drop 2,000 feet down to the Gunnison River.
While many hikes are moderate or strenuous here, there are a couple of easy treks for kids, including the Cedar Point Nature Trail and the Rim Rock Nature Trail.
Do note that some rim edges don't have guardrails, so keep a careful eye on young children. Stop by the visitor center on the South Rim (enter via Montrose) to find out what ranger talks might be especially appealing for children.
Bonus Park: Colorado National Monument
Do you know the difference between a national park and a national monument? Among several distinctions, the former is appointed by U.S. Congress, the latter can be declared by the U.S. President.
Regardless of the terminology, Colorado National Monument outside Grand Junction contains amazing, otherworldly rock formations – and I had to include it in my list of must-see natural attractions in Colorado.
My family camped here last summer, and we found it absolutely fabulous for viewing massive, free-standing sandstone monoliths, rugged buttes, and steep canyons.
If you motor along Rim Rock Drive, there are plenty of opportunities to pull off and snap photos of the amazing scenery.
For another unique Colorado experience, check out how you can hike from Crested Butte to Aspen!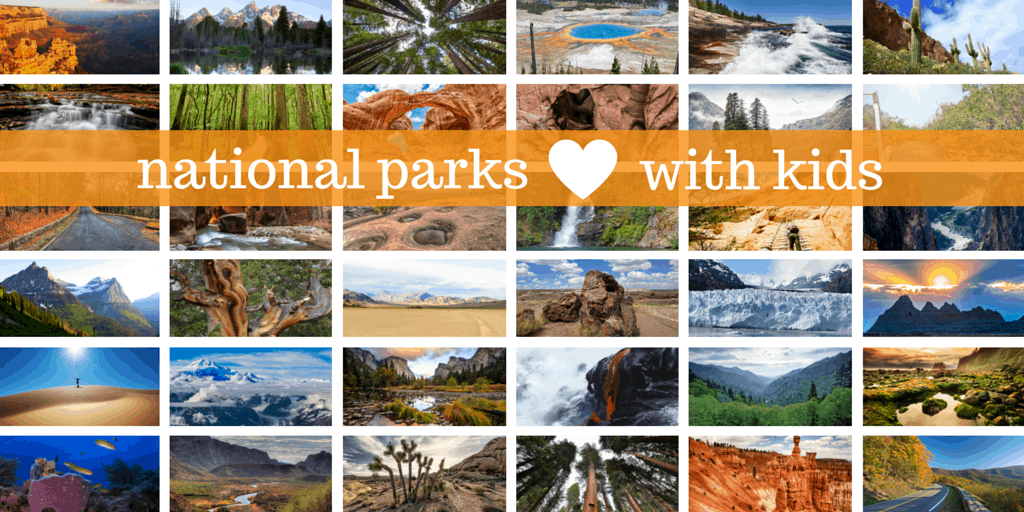 Excited to visit national parks with your kids? We are too! Visit our National Parks with Kids page for extensive coverage, tips & tricks for all our nation's National Parks.
Kara Williams is a freelance travel writer who makes her home in the Colorado Rockies with her husband and two children.
Featured photo by: Shutterstock