Grand Teton National Park is a beloved destination known for its multitude of hiking trails, but what are the best hikes in Grand Teton National Park for families?
We hit the trails to discover the best strolls, climbs, and views for day-hiking families exploring the park. This collection of hikes is big on Teton vistas, lovely lakes, and wildlife spotting opportunities. Whether you are looking for a short walk or a longer day hike, we have you covered.
Explore more of the park! Here are the best things to do in Grand Teton National Park with kids.
8 Best Hikes in Grand Teton National Park
1. Moose Pond Trail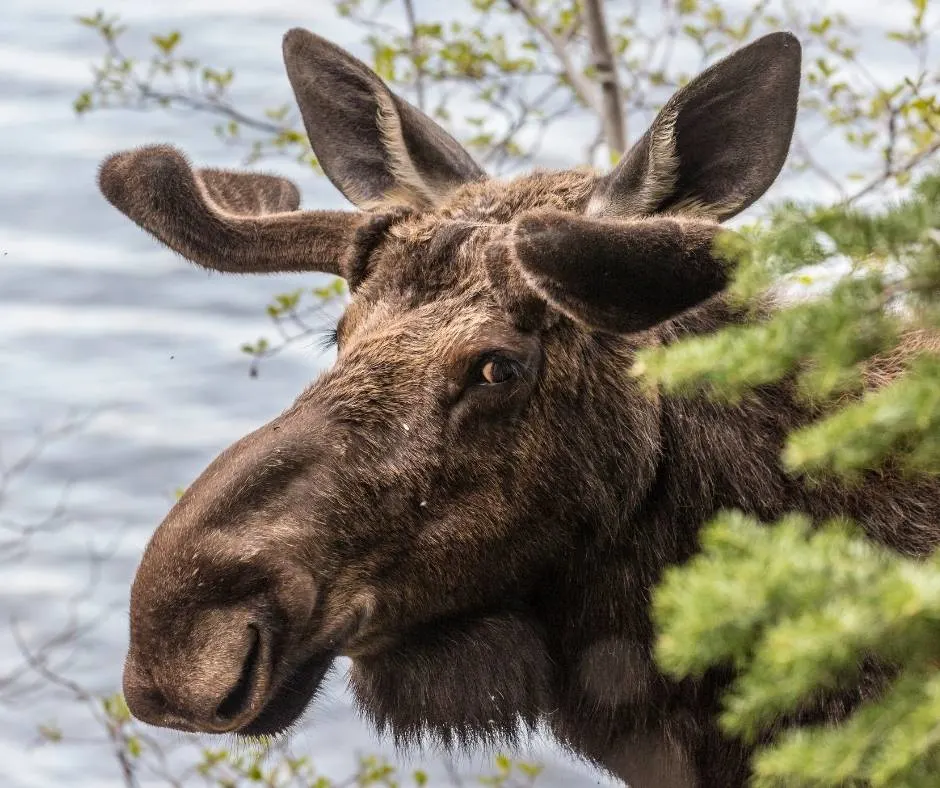 Distance: 3.2-mile loop trail
Details: Most people parking at the crowded Jenny Lake Visitor Center lot are headed for a hike that either goes around the lake or requires a ride on the ferry. Those hikes are certainly worth your time, but so is this one!
Start at the Jenny Lake Visitors Center and take the easy, 0.9-mile walk to Moose Ponds, a good place to spot moose and beaver. You can either hike the full loop or come back the way you came once you reach the ponds.
2. Schwabacher Nature Walk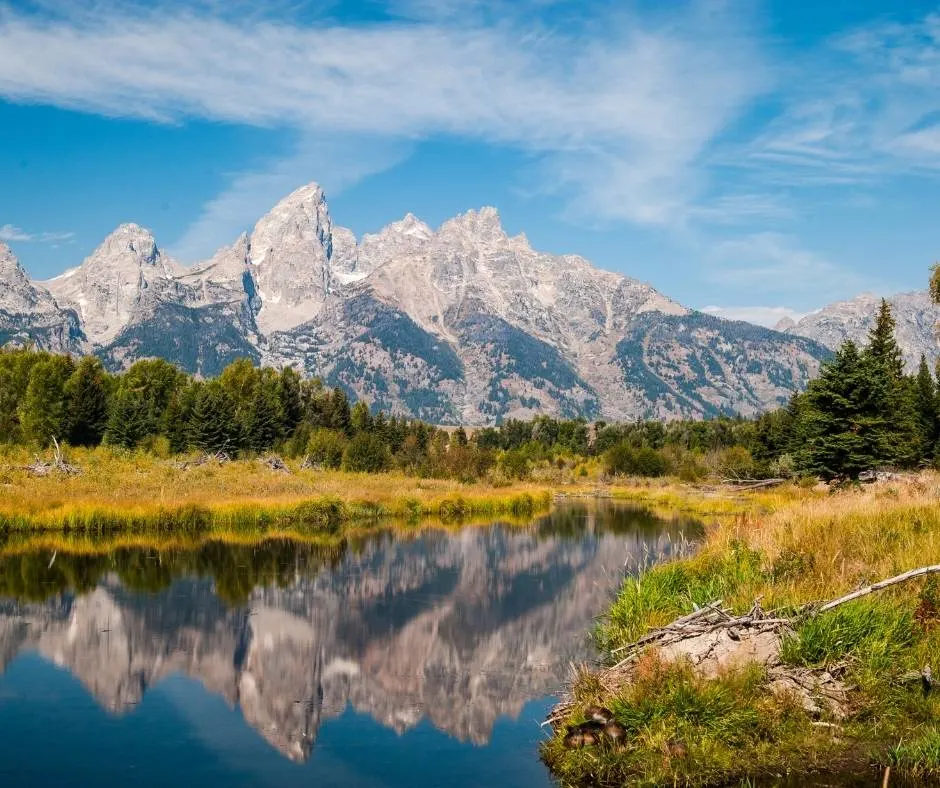 Distance: 1.8-mile out-and-back trail
Details: This flat, short trail is one of the easiest hikes in the park, and boasts incredible views of the Tetons with some wildlife viewing opportunities.
The trail is located in the southern portion of Grand Teton National Park near Moose Junction. It is located at the end Schwabacher Road (a gravel, one-mile road).
The hike wanders past a few different beaver ponds and which form a nice habitat for wildlife spotting, especially in the early morning and around dusk. Moose, pronghorn antelope, elk, and deer are spotted here.
Since this trail isn't marked on the park's maps and newsletters, it is less visited but the views are still incredible.
3. String Lake to Leigh Lake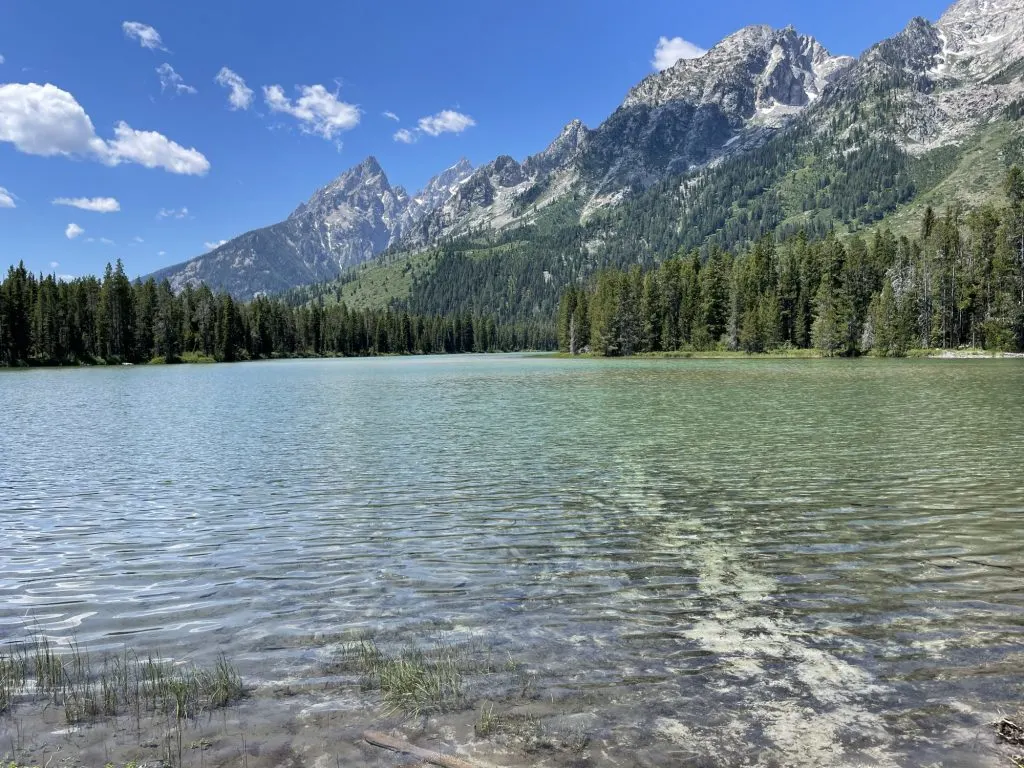 Distance: 2.9-mile out-and-back trail
Details: This might be the best family hike in all of Grand Teton National Park. It follows along the edge of String Lake and is absolutely stunning. The entire route has magnificent views.
It's about one mile out to Leigh Lake, and you can continue along the lake as long as you wish, but it's a non-looping trail, so you must hike back the way you came.
There are two lots near String Lake and both will fill up early in the day, so try to arrive early to snag your spot. String Lake is also popular with kayakers, paddle boarders, and those looking to cool off in the chilly waters.
4. Lakeshore Trail
Distance: 2.1-mile figure eight trail
Details: This trail loops around a peninsula on Jackson Lake's Colter Bay in a figure eight. You can pick it up right at the Colter Bay Visitors Center.
The trail leads to various lookout points with magnificent views of the Teton Range and Jackson Lake. It only has 150 feet of elevation gain on the entire trail, making it quite easy but enjoyable.
Be sure to capture pictures worthy of a postcard at the Snake River Overlook nearby.
5. Hidden Falls and Inspiration Point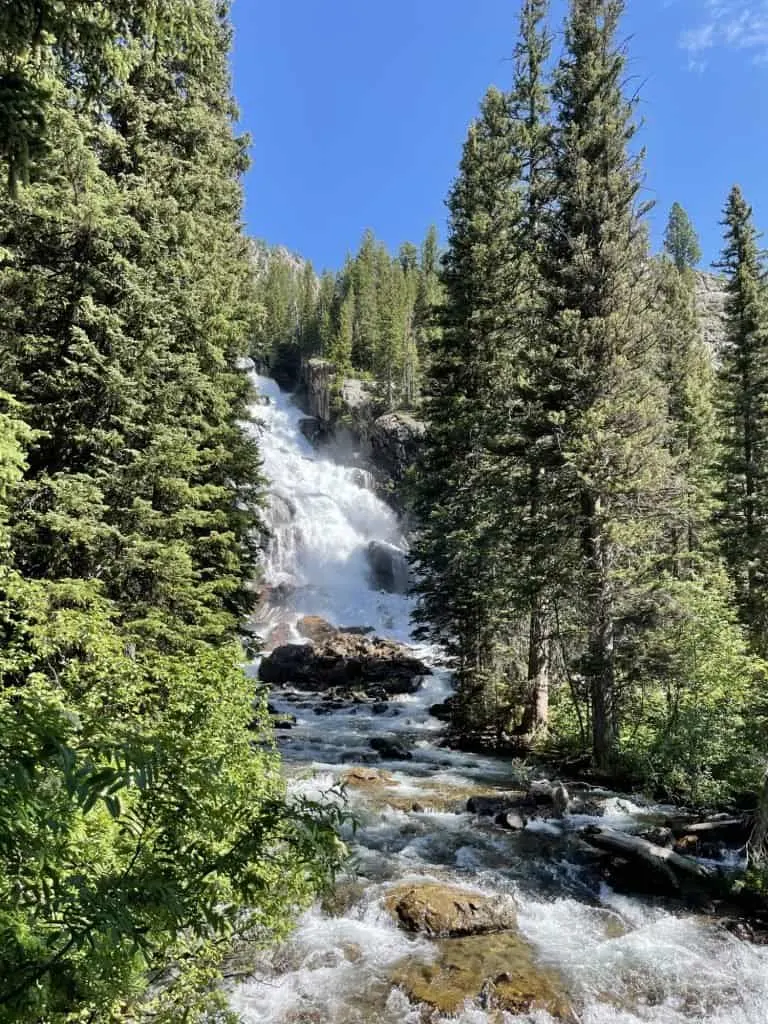 Distance: 2.0 miles out and back
Details: This is easily the most popular trail and surely on of the best hikes in Grand Teton National Park. And for good reason- it packs plenty of "wow" factor into a relatively short hike.
Most people reach this trailhead by taking the Jenny Lake ferry shuttle service from the marina near the Jenny Lake Visitor Venter (fee required) to the trailhead across the lake. You can walk to the the trailhead (see below) but that will add 3.8 miles to your hike.
The hike to Hidden Falls is easy, but does have 200 feet of elevation gain during the half-mile hike to the base of this impressive falls.
From there, you have the option of backtracking a hundred yards or so and then following the route up the mountainside for another half mile to Inspiration Point.
This hike does involve walking on a portion of the trail with steep drop offs, but as long as you hold hands with young children, anyone reasonably fit shouldn't have issues. My kids first did this hike when they were 2.5 years old.
The views of Jenny Lake and the surrounding area are certainly inspirational. If you want to enjoy it without large crowds, try to get on one of the first boats of the day.
6. Jenny Lake Loop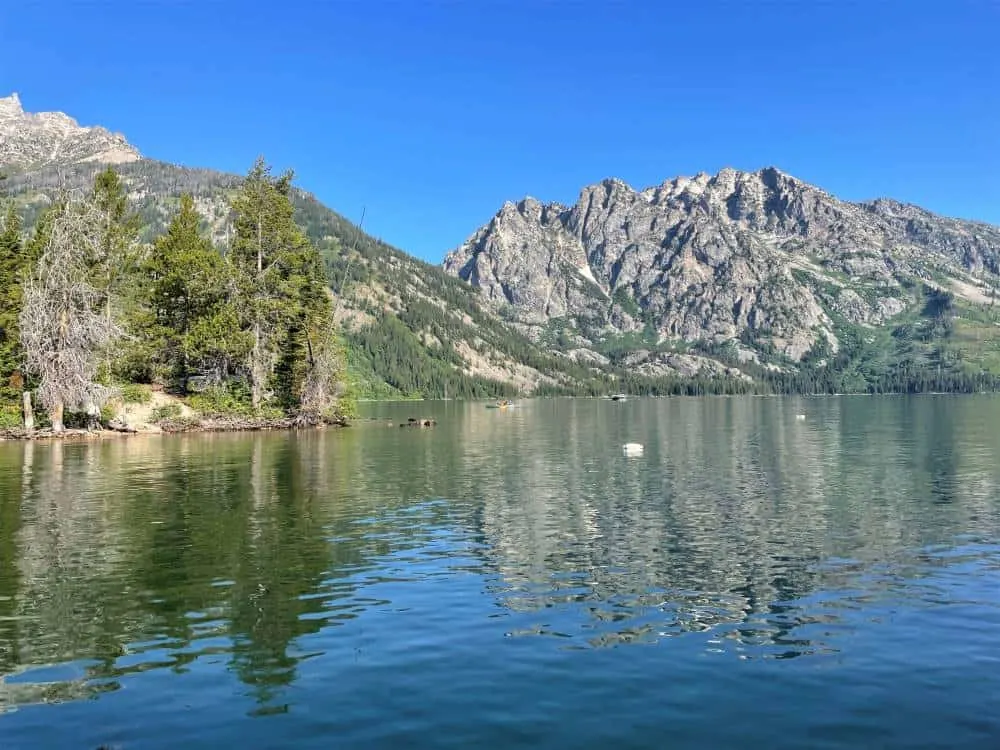 Distance: 7.6 miles round trip, 4.8 miles if you are just going to Hidden Falls and back.
Details: The Jenny Lake Loop is a lovely trail, but it is most commonly used as an alternative to taking the boat shuttle over to Hidden Falls and Inspiration Point.
Many families choose to hike the 2.4 miles to Hidden Falls, add on the extra leg to Inspiration Point, and then return via the boat shuttle. This route ends up being about 3.5 miles. Wildlife sightings (bear and moose) are common as you hike around Jenny Lake.
7. Cascade Canyon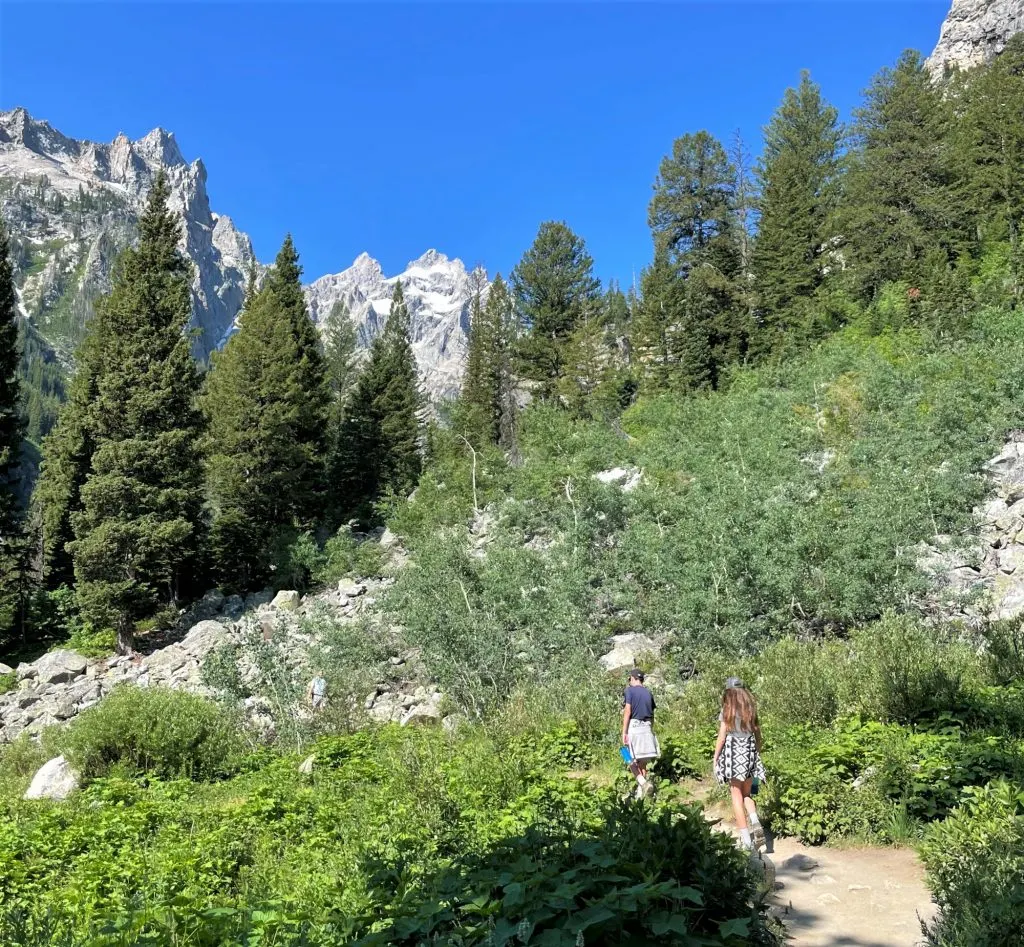 Distance: 9.5 miles round trip
Details: If you have hiked up to Inspiration Point and you aren't ready to stop enjoying the area just yet, keep following the trail as it heads back into Cascade Canyon.
Make this hike as long or as short as you would like by heading back into the canyon as far as your party wants, and then turning around.
The canyon is very nice and the elevation gain is minimal. The trail follows a creek along the way which meanders down small cascades and past damned by beaver ponds along the way. Moose are commonly spotted in the area.
8. Taggart Lake and Bradley Lake Loop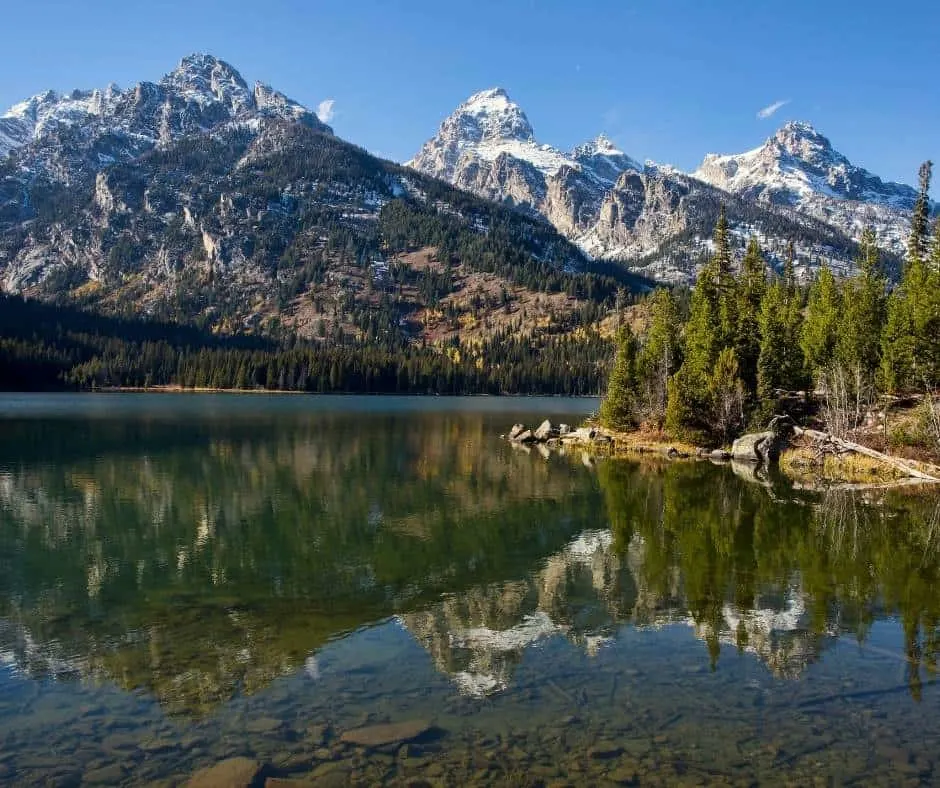 Distance: 5.9 miles round trip
Details: The Taggart Lake area is the second most popular trailhead in Grand Teton National Park. Rangers highly suggest you arrive early in the day (by 7:30am) if you want to snag a parking spot.
This is a great place to enjoy more incredible Teton views and another set of pristine lakes. The hike to Taggart Lake from the parking area is 1.5 miles, one way. You will pass through sagebrush and forest along the way.
It is 1.5 miles further to Bradley Lake, another nice lake that is less crowded than Taggart Lake. Complete the loop by taking the 2.0 miles trail back to where you started.