I love the diversity of our National Parks. Some parks draw visitors because of their exquisite natural beauty. Mesa Verde National Park's draws aren't towering waterfalls or prime wildlife viewing, but don't worry because there are plenty of exciting things to do in Mesa Verde with kids.
So what are the best things to do in Mesa Verde National Park? Mesa Verde is a great place to hike and enjoy nature, but the park's allure is the nearly thousand-year-old cliff dwellings that make up the United States' largest archaeological preserve.
Exploring Colorado's Mesa Verde with kids is a great way to immerse them in the history of what once was one of the great civilizations of the Americas. Adventures include climbing ladders into cliff side apartments and discovering the first national park in the world created specifically to preserve the works of humankind.
Mesa Verde with Kids- Your Ultimate Guide
When is the Best Time to Visit Mesa Verde National Park?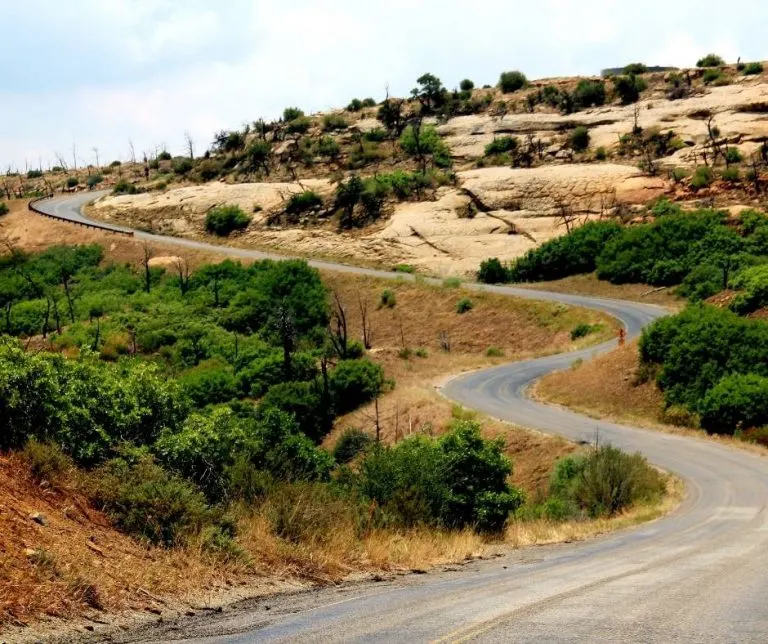 Mesa Verde is a seasonal park located in the Four Corners region of the United States. Most of the big draws are closed during the cold season.
Cliff dwelling tours are available in 2022 from May 1 through October 22.
For this reason, Mesa Verde is a park that is best visited late spring through the early fall. My family visited in late August and found the weather to be lovely and the crowds to be nonexistent. Crowds will be at their max during July.
How do you book a cliff dwelling tour in Mesa Verde National Park?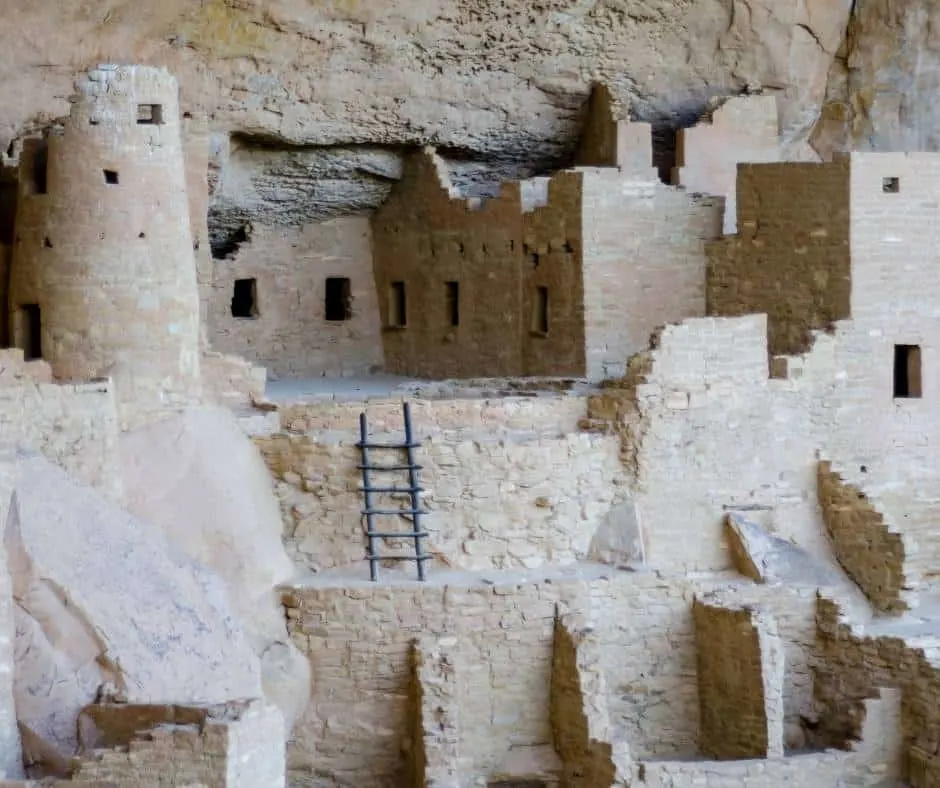 The true highlight of Mesa Verde National Park are the cliff dwelling tours. Tickets are inexpensive but required to tour these dwellings. Why? Quite simply, to protect the dwellings. Plus, small tour groups with knowledgeable rangers equal better experiences.
You must book your tickets on recreation.gov. Tickets are available 14 days in advance and each day opens at 8:00 am MST, on a rolling daily window.
Since cliff dwelling tours are very popular, I highly suggest you book them as soon as your date becomes available. Tickets do vary in price. Cliff Palace, Balcony House, and Long House are $8 per person. Mug House and Square Tower House are $25.
Things to do in Mesa Verde National Park
Visit the
Mesa Verde Visitor and Research Center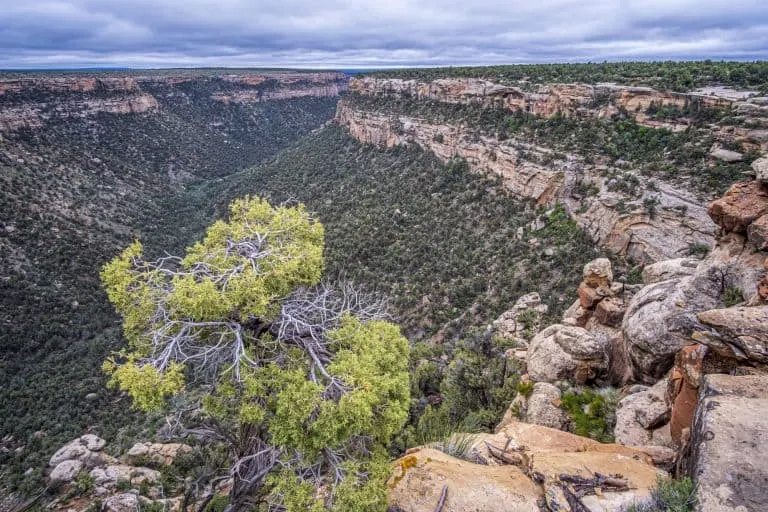 Your first stop once inside the park should be the Mesa Verde Visitor and Research Center. It is located just past the park's entrance station.
The visitor center also features interesting museum exhibits about the Ancestral Puebloans, a bookstore/gift shop, and is a great place to pick up Junior Ranger Booklets for your kids.
Check out the Chapin Mesa Archeological Museum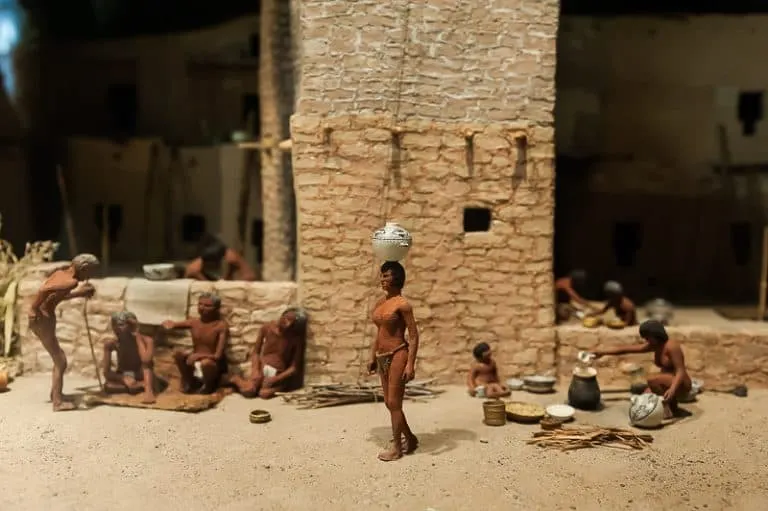 This museum serves as the visitor center for the Chapin Mesa area. It is also a good place to pick up or turn in Junior Ranger booklets and chat with park rangers. The museum has some nice exhibits on Ancestral Pueblo life. Additionally, there is a nice film worth watching before exploring Chapin Mesa.
Across the street from the museum is the Spruce Tree Terrace Cafe, the only dining option in the Chapin Mesa area. Food is served cafeteria style and includes a variety of sandwiches served with superb house-made chips as well as the ever popular Navajo taco. A gift shop is connected to the cafe and the lollipops they sell are divine.
Explore more of the state! Here are the top 10 things to do in Colorado with kids.
Check out the View of
Spruce Tree House Dwelling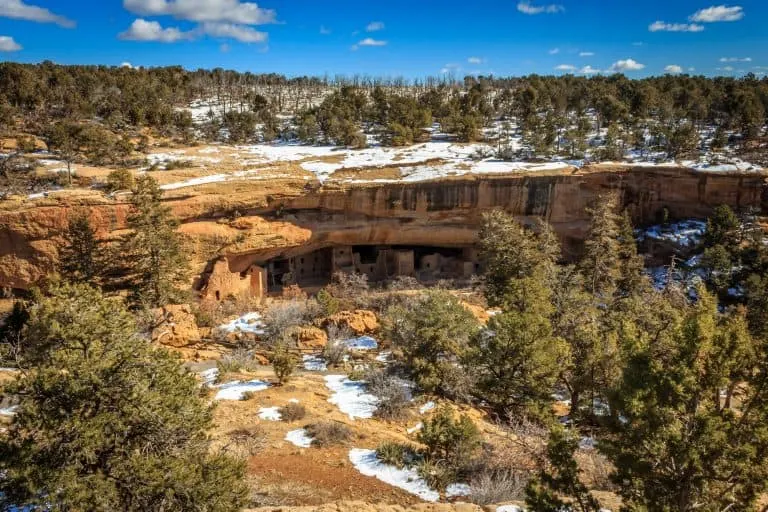 Located behind the Chapin Mesa Archaeological Museum, the Spruce Tree House is the third largest dwelling in the park.
It used to be the only cliff dwelling in Chapin Mesa that can be toured without a guide but due to safety concerns related to rock falls from the alcove aboev Spruce Tree House, it is now closed.
Thankfully, the park service opened another cliff dwelling that allows visitors to explore without reservations, Step House. Step House is located on Weatherhill Mesa.
Tour Cliff Palace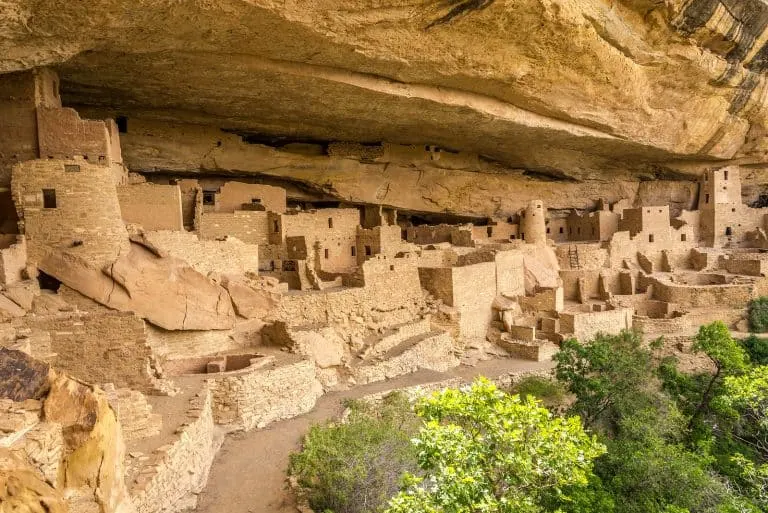 If you have ever dreamed of visiting Mesa Verde National Park, it is probably the stunning images of Cliff Palace that have fostered those dreams. This dwelling, the largest of them all, is in remarkable condition. It can only be visited on a guided tour.
My children and I found the tour of this dwelling to be fascinating. Our ranger did an excellent job of engaging all the kids on the tour.
He assigned them line leader duty (what kid doesn't like that?) and gave them the important job of reminding adults not to lean on the ruins. The ranger also talked about things kids are most interested in such as poop, childhood life, and food.
Trekaroo Tip: In order to access this dwelling, visitors must be able to climb down some stairs on a trail and climb a couple short ladders to exit the dwelling. The ladders are wide, slanted, and have large boulders on either side.. Our tour had children as young as 4 and 70-year-old seniors. If you are able-bodied and in reasonable shape, you should be fine.
Climb the Ladders of Balcony House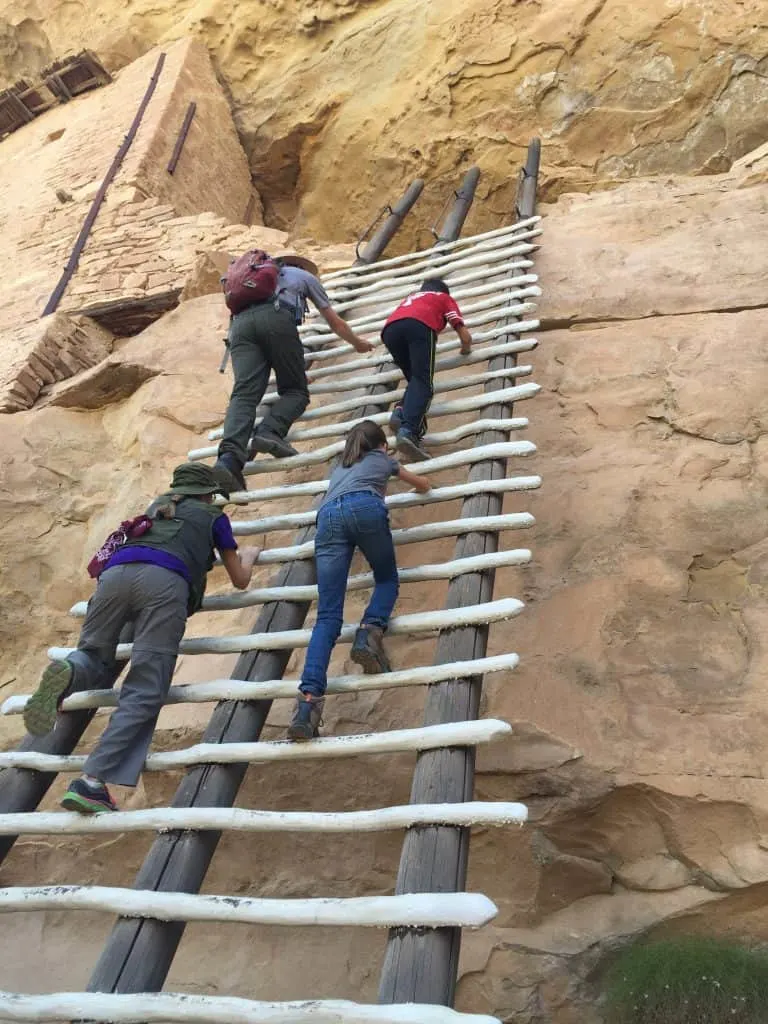 If you have children who love to climb, crawl, and explore, Balcony House will likely be their favorite cliff dwelling. My children loved the adventure of hiking down a hill, scaling up a 32-foot ladder, and climbing through a 12-foot-long tunnel on their way out of the dwelling.
Our ranger guide was engaging, passionate, and eager to interact with the children in our tour group. Just like Cliff Palace, this dwelling can only be accessed via a guided tour.
An example of the tunnel at Balcony House as well as the type of ladders you will be using are available at the main park visitor center. The ladder may look a bit intimidating for those with a fear of heights or falling (like myself), but it really wasn't too bad.
There are some drop offs since this is a cliff dwelling, so be mindful of your children and keep them away from edges. This tour is best for children ages six and up, as well as adults in reasonable shape.
Trekaroo Tip: If you plan on visiting both Cliff Palace and Balcony House with your kids, I suggest visiting Cliff Palace first. I think my kids would have been less interested in the Cliff Palace experience after visiting Balcony House simply because there is less adventure involved in Cliff Palace. Both are definitely worthy of your time.
Drive the Mesa Top Loop Road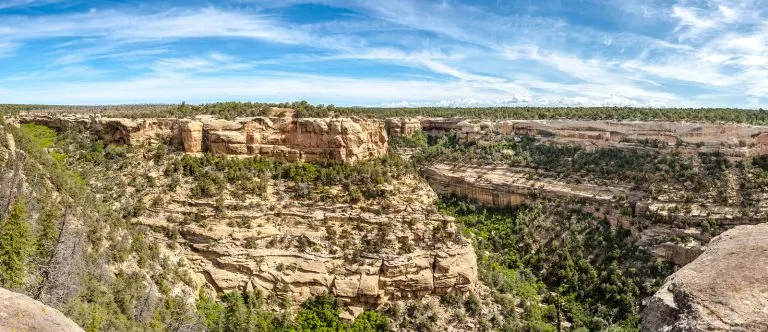 This six-mile drive on Mesa Top Loop Road includes several stops at overlooks and pit houses, the precursors to cliff dwellings. Young children may not be as impressed with these archaeological sites, but an activity in the Junior Ranger booklet focused on Mesa Top Loop will help hold their attention.
The highlight of the drive for my family was our stop at Sun Temple which gave us an incredible view of Cliff Palace. I recommend heading to Sun Temple after your Cliff Palace Tour so that you can really appreciate the dwelling your just explored.
Enjoy one of the Mesa Verde Hiking Trails at Chapin Mesa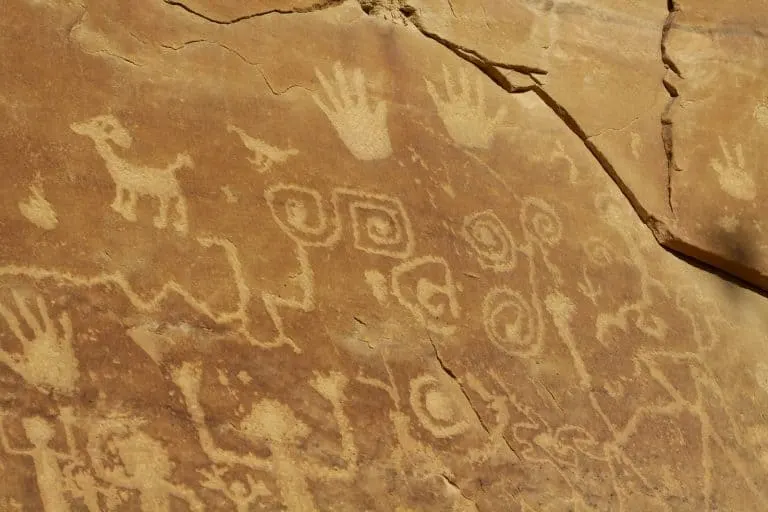 Mesa Verde is not a national park known for its world-class hiking. Still, there are a few hikes which are nice options for families looking to get out and enjoy a trail.
Beginning from the Spruce Tree House Trail, the Petroglyph Point Trail is a 2.4-mile, round-trip hike. It leads to the only accessible viewing of petroglyphs within the park.
Also beginning from the Spruce Tree House trail, the 2.4-mile Spruce Canyon Trail follows the bottom of the canyon. It allows families the opportunity to discover the plants and animals that live in this ecosystem.
Over at the Balcony House parking area, families will find the Soda Canyon Overlook Trail. It is 1.2 miles round trip and is the best viewpoint for Balcony House as well as some of the other sites along Soda Canyon.
Visit Wetherhill Mesa and Explore Long House and Step House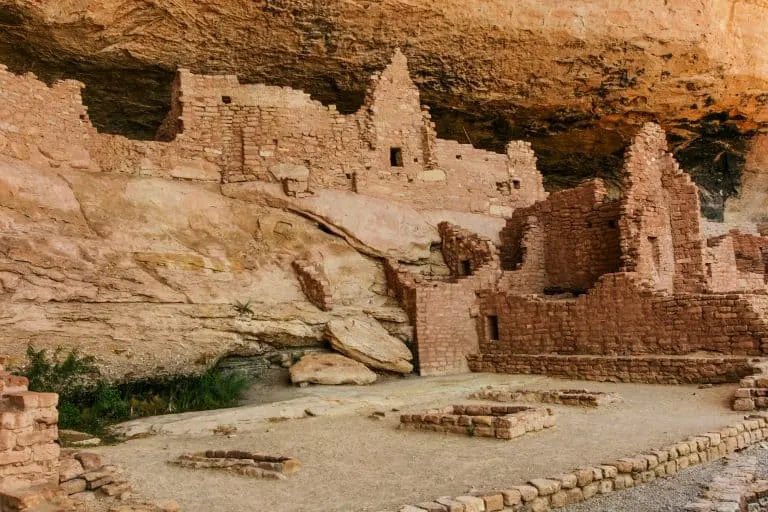 Located 12 miles from Far View, Wetherhill Mesa is a great option or families spending two days in the park or returning visitors who have already explored Chapin Mesa. The winding road to Wetherhill Mesa is open late May through early September.
The big highlight of this mesa is Long House, which is accessed via a ranger-led tour. This tour is more strenuous than Cliff House or Balcony House. It involves hiking 2.25 miles round trip (130 foot elevation change) and climbing two 15-foot ladders.
Due to the length of the tour (two hours) and the hike involved, this tour is best suited for elementary-aged children and up.
Step House is a self-guided cliff dwelling at Wetherhill Mesa. It is accessed via a 3/4-mile trail and 100-foot descent. There are park rangers on duty to answer any questions you might have.
In 2022, Step House is open from 9 am-3 pm May 1 to May 21 and 9 am-3:45 pm May 22 to October 22.
If you are looking to stretch your legs, consider hiking or biking the five-mile Long House Loop. It leads to some scenic overlooks and hiking trails.
The 2.25-mile Badger House Community Trail visits four mesa top archaeological sites. The Nordenskiold Site No. 16 Trail which leads to an overlook. The landscape on this trail was burned by a fire in 2000 and there is no shade.
Read about exploring all of Colorado's National Parks with kids.
Where to Stay When Visiting Mesa Verde National Park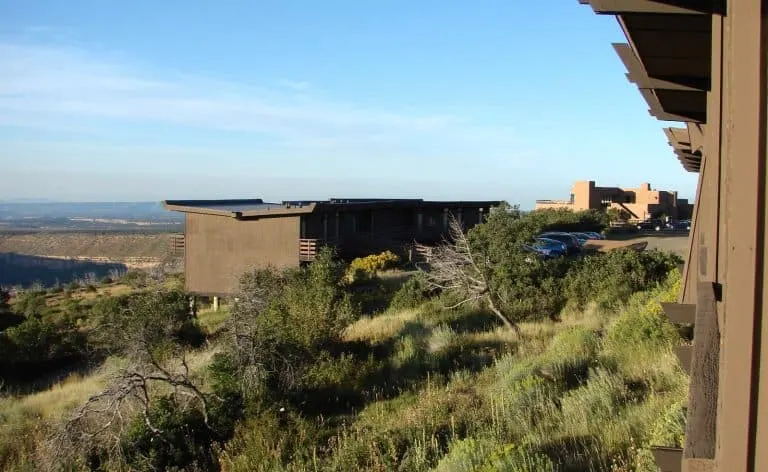 Cortez, Colorado may be only a short drive from the park entrance, but all of the big attractions and cliff dwellings in Mesa Verde National Park are over an hour from town and accessed via a winding road which climbs up the mesa. For this reason, I highly recommend staying inside the park.
Camping is available at the Morefield Campground inside the park, but even that is still a good 30 minutes from the main attractions.
The only lodging within the park is the Far View Lodge. It is located at the top of the mesa and is a short drive from the cliff dwellings. The rooms are nicely appointed motel-style rooms. The doors to the rooms face the parking lot and guests park in front of their rooms.
The rooms assume a low profile tucked into the hillside, which results in some awesome views of the valley thousands of feet below. As a matter of fact, since Mesa Verde is close to the Four Corners, you can actually see into four different states!
Dining Near Far View Lodge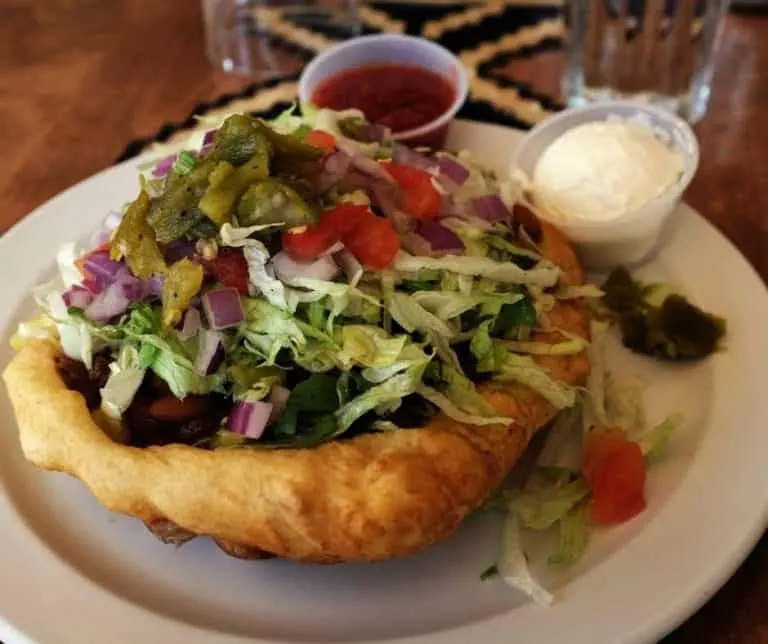 The main building of the Far View Lodge holds a gift shop, lounge (for the adults), and the Metate Room, the only sit-down dining establishment in Mesa Verde National Park. It is only open for dinner.
The more economical and kid-friendly option is Far View Terrace Cafe, located just down the street from Far View Lodge. The Terrace Cafe offers three meals a day, served cafeteria style. The building also houses a large gift shop and a coffee stand. The food at the Cafe is actually quite varied and really good. I highly recommend the Navajo taco.
Trekaroo Tip: A herd of wild horses can often be seen in the fields near Far View Lodge at sunset. Keep your eyes peeled!
Extend your road trip! Here are the best things to do in Colorado, New Mexico, Arizona, and Utah which make up the Four Corners.
Find National Parks near you! Trekaroo has dozens of guides and reviews of our nation's national parks.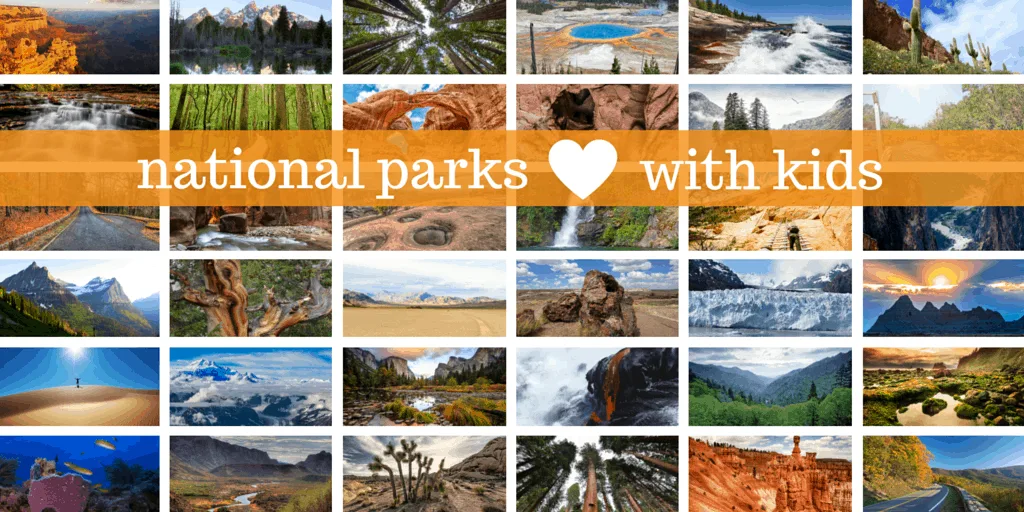 Disclosure: I received two complimentary nights at the Far View Lodge for the purposes of writing an unbiased review of the property and to cover Mesa Verde's family friendly offerings. I appreciate the hospitality but all opinions are my own.