Are you dreaming of an epic outdoor adventure? A Utah national parks road trip is one of the best national park road trips in the country!
Zion, Bryce Canyon, Capitol Reef, Arches, and Canyonlands make up Utah's "Mighty 5" and each has something special to offer families. Use this Utah national park road trip itinerary to plan your own dream vacation. Each stop includes hiking suggestions as well as dining and lodging recommendations. We think this road trip is one of the best in the US!
Utah National Parks Road Trip Itinerary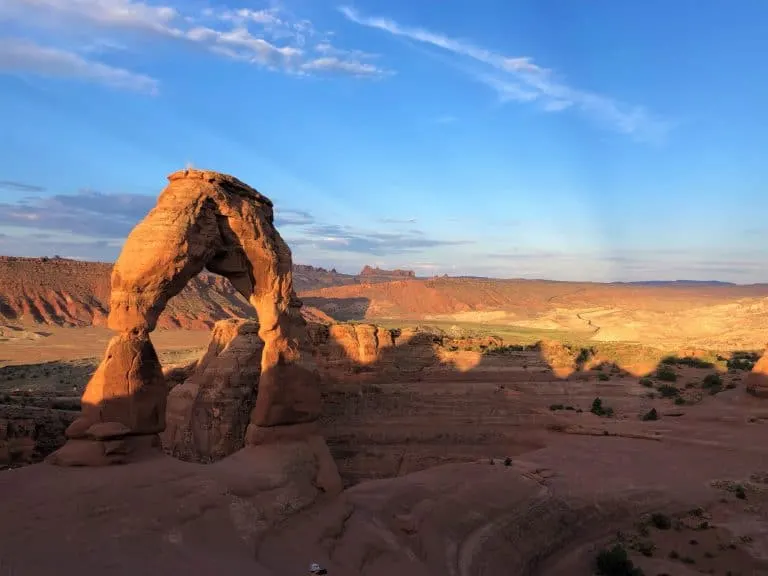 Start Your Utah National Parks Road Trip in Las Vegas
If your visit to the national parks in Utah will require a flight, fly into Las Vegas. Flights into this major tourist hub arrive from all over the country as well as the rest of the world. Because Las Vegas is such a popular destination, it is relatively easy to find discounted flights.
Utah national park road trips are extremely popular from Las Vegas, so van and RV rentals are plentiful. Best of all, Las Vegas is only 2 1/2 hours from Zion National Park, the first park on your itinerary!
There are actually 20 national parks near Las Vegas. You can use it as a hub to explore desert parks in CA and even the Grand Canyon is Arizona.
Spending time in Las Vegas? Here are our picks for the best things to do in Las Vegas with kids.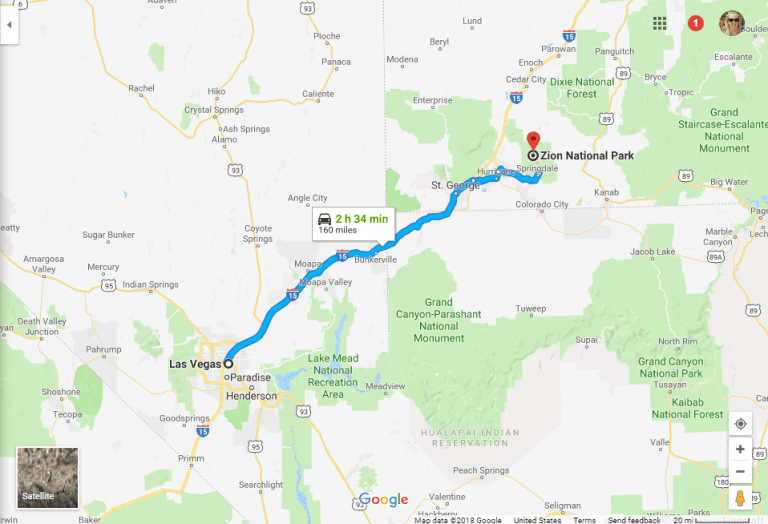 Utah National Parks Road Trip Days 1 & 2: Zion National Park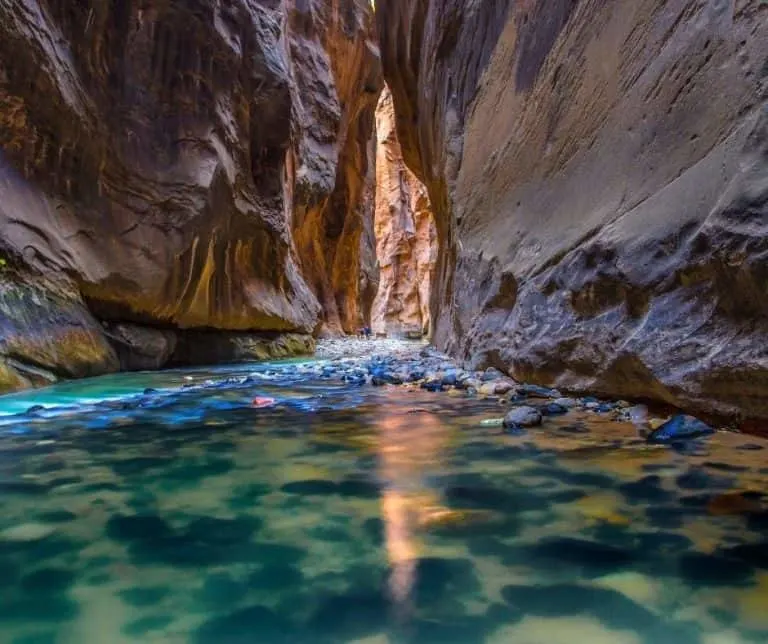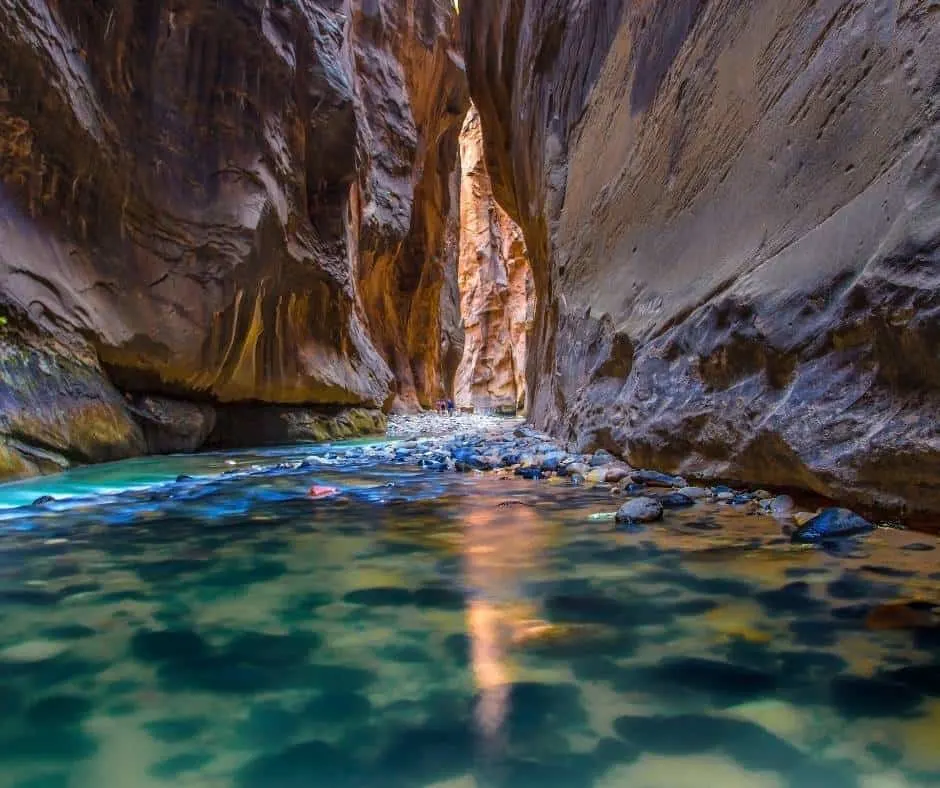 Zion National Park is the first stop on your Utah National Parks road trip. Ideally, your family should spend two nights in this park to get a chance to fully explore it.
This park is the most popular of the Utah National Parks because it is within a day's drive of several metropolitan areas. Las Vegas, Los Angeles, Phoenix, and Salt Lake are all within a day's drive.
Zion receives four million visitors per year. Most visit the park between April and September. During the busy months, the park service closes off the main road into Zion Canyon to public traffic and operates a free shuttle service. The shuttle is frequent and stops at major trailheads and attractions throughout the park.
We have a comprehensive guide on Things to do in Zion with Kids which you should absolutely check out before your visit. Winter is a less busy but wonderful time to visit Zion National Park. We have an article that covers everything you need to know about visiting Zion in winter.
Love to travel? You don't want to miss a review of these 20 travel subscription boxes.
Zion National Park Hikes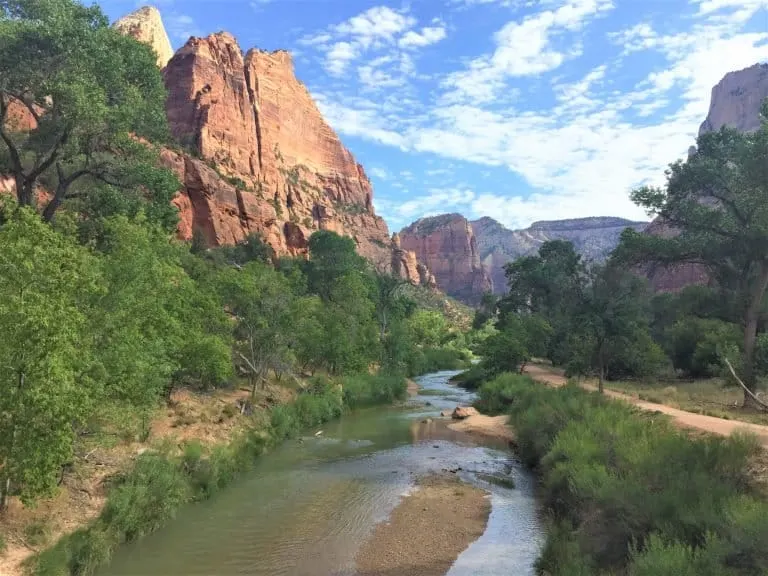 One of the most popular activities in Zion National Park is hiking. This park offers some diverse hikes that are great for families. During the summer months, it is recommended that you get out on the trails early to avoid crowds, enjoy cooler weather, and avoid afternoon monsoons.
Emerald Pools
Hiking to the Upper and Lower Emerald Pools is a popular activity for families. The trailhead can be accessed via the Zion Lodge Shuttle Stop. Kids will love walking under a waterfall and scrambling on the rocks near the Upper Emerald Pools.
Riverside Walk and The Narrows
Another popular hiking destination can be accessed via the Temple of Sinawava shuttle stop. Here you can enjoy the wildly popular Riverside Walk, a paved trail which is mostly shaded by the looming cliffs of Zion Canyon.
The Virgin River is a popular place to splash and cool off during the scorching summer heat. It can be very cold and swift during the spring snow melt. By the end of the summer, it is often running slow and low, making it ideal for hiking through the Narrows or floating in inner tubes.
The Narrows begin at the end of the Riverside Trail. Here, hikers wear hard-soled shoes and wade into the water to start their exploration of this dramatic canyon. Feel free to hike in as far as you would like, just be aware that water levels can vary (you may even have to swim in some spots) and the river bottom is rocky.
Be sure to check with Park Rangers to verify there are no flash floods in the forecast before heading out. This hike is epic, dirty, scenic, and fun!
Read about more great Zion National Park hikes in our guide to hiking in Zion National Park with kids.
Where to Stay Near Zion National Park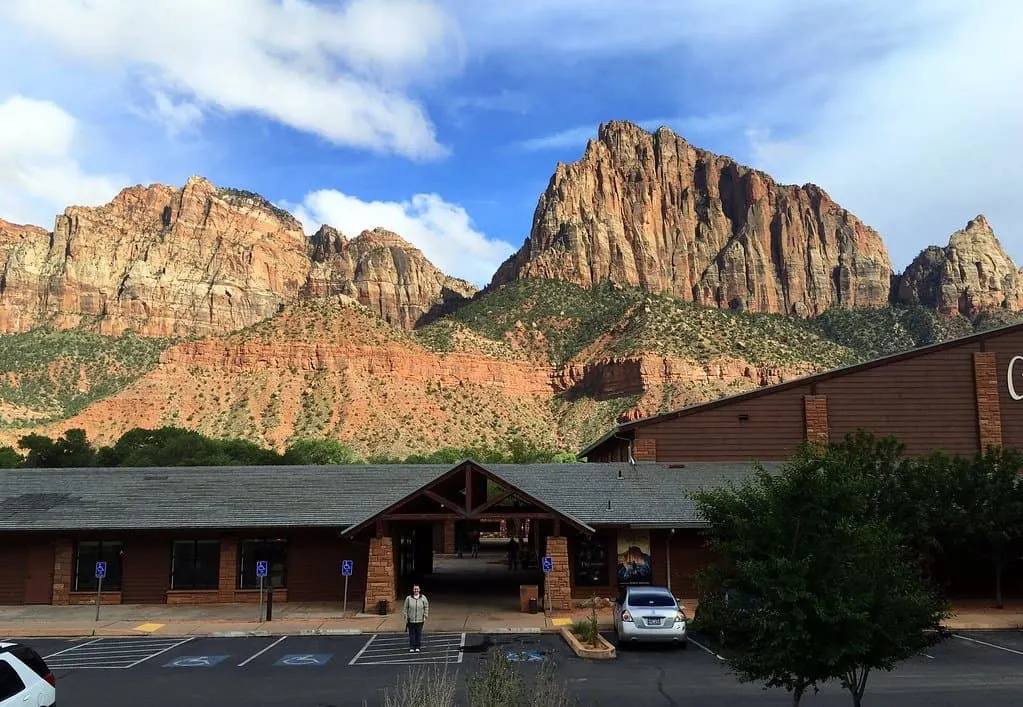 Most people visiting Zion National Park either camp inside the park or stay in the gateway city of Springdale which sits at the park boundary. There is a free shuttle that stops at several hotels in town as well as the Zion National Park Visitor Center. At the visitor center, parkgoers can connect with the Zion National Park shuttle.
The most popular campground in Zion National Park is the Watchman Campground. The campground, which has 176 regular sites and 6 groups sites, is located close to the Visitor Center and town of Springdale. There are several spots next to the Virgin River. The campground has nice bathrooms but no showers. Luckily, there are clean pay showers in town.
The Cable Mountain Lodge is a Trekaroo family favorite. Rooms feature full kitchens and plenty of space for large families in their suites. Rocking chairs on the patio overlook a grassy area with views of the vibrant Zion cliffs. The lodge's pool area has lovely red rock views as well. Cable Mountain Lodge is a short walk from the park entrance, restaurants, and shopping.
Cliffrose Springdale is another great option for families. Rooms run the gamut from standard to 2-bedroom suites with full kitchens. Families also enjoy the pool with waterfall hot tub, playground equipment, beach access to the Virgin River, and a central location. This is now a Hilton property so it is a great place to use up your loyalty points if you have them.
The La Quinta Inn and Suites is an excellent budget option in Springdale. The hotel is newer, and has a nice pool, free continental breakfast, and adjoining rooms. The location is excellent as well; 100 yards from a shuttle stop and within walking distance of several restaurants and shops.
Where to Eat Near Zion National Park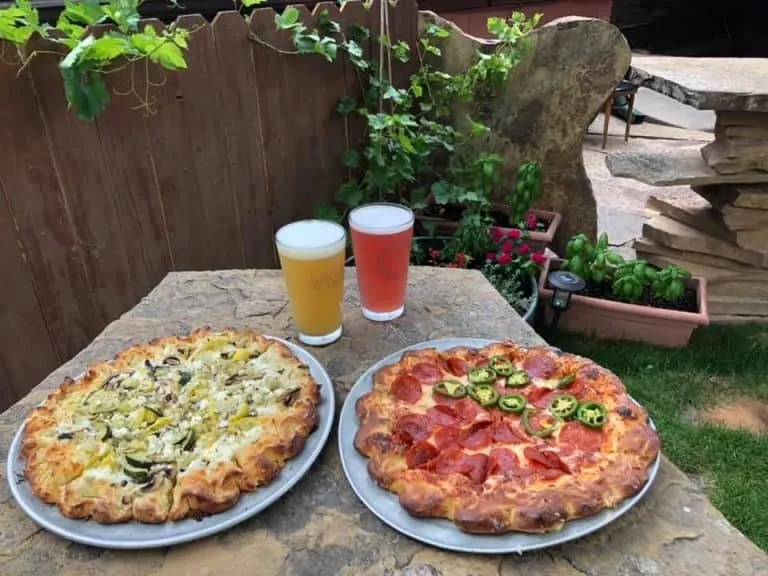 After a long day of hiking in Zion, a carb-loaded meal definitely hits the spot. Zion Pizza and Noodle is popular with families because the pizzas are great and their pasta dishes are tasty and creative.
If you aren't in the mood for pizza, try the homemade calzones or the Thai chicken pasta. You can also order you meal at Zion Pizza and Noodle as takeout and enjoy it at your hotel pool or playground.
Jack's Sports Grill is another popular option. Their eclectic menu features salads, sandwiches, rice bowls, BBQ, burgers, and brats. Their location is family-friendly and a fun spot to catch the game.
Oscar's Cafe is a good place to eat if you want a variety of options. They have TexMex options like burritos and shrimp tacos but they also have ribs, pork chops, burgers, sandwiches, and salads. Oscar's a great choice for breakfast as well. They serve up breakfast burritos, omelets, and more!
Utah National Parks Road Trip Day 3: Bryce Canyon National Park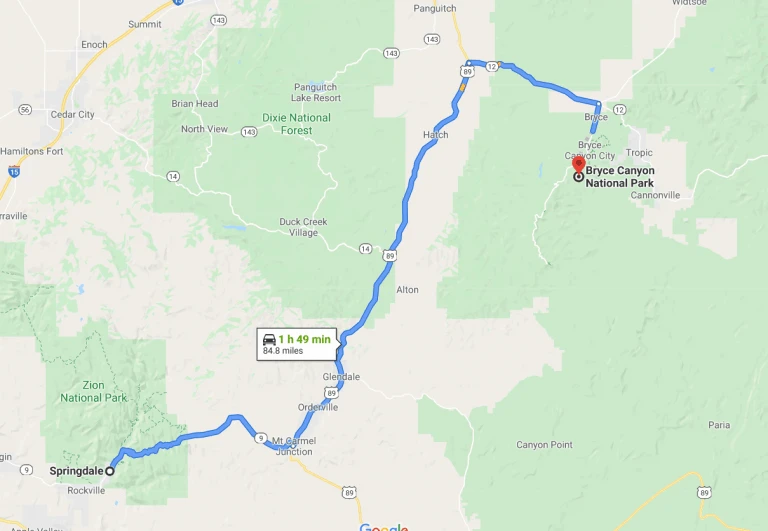 It is only a short, 110-minute drive from Zion National Park to Bryce Canyon National Park, making this the shortest drive on your Utah National Parks road trip itinerary.
It is also one of the most scenic drives of the road trip, especially when you are driving through the Mt. Carmel Tunnel area of Zion National Park and on Highway 12 approaching Bryce Canyon.
The White Mountain Trading Post at the Shell Station at the corner of Hwy 9 and Hwy 89 is a great place for a pitstop. There are plenty of interesting things to look at inside the trading post like Native American jewelry and goods, taxidermy animals, and a variety of souvenirs.
Bryce Canyon National Park is known for its incredible hoodoos, tall sandstone spires that are carved into creation by erosion. No doubt, Bryce Canyon is one of the most scenic spots in the entire country.
Bryce Canyon National Park Hikes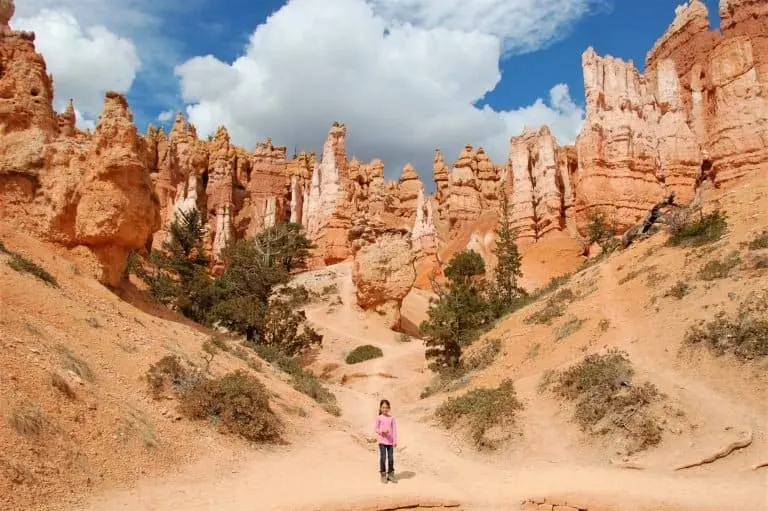 Navajo Loop & Queens Garden
Our favorite hike in Bryce Canyon is the 2.9-mile loop we created by combining the Navajo Trail with the Queens Garden Trail.
This allowed us to walk down into the canyon and experience the famed sandstone walls of "Wall Street", as well as a marvelous garden of handmade hoodoos created by fellow hikers. The hike is steep in spots but my kids have always handled it like champs.
We have hiked the Navajo Trail twice. The first time my kids were almost three and we did the traditional loop. It is steep and the drop offs are considerable, so we just made sure to hold hands the entire time and keep the kids on the inside during the switchbacks.
Wall Street is absolutely incredible and the hoodoo sky scrapers are dizzying. You truly have not experienced Bryce until you have made your way down into the amphitheater.
The second time we took the Navajo Trail my kids were older and we did it in conjunction with the Queens Garden Trail. I much preferred this loop though it is longer, 2.9 miles round trip. My kids had zero issue with the trail and I found it much easier to come back up using Queens Garden because it is less steep.
Bristlecone Loop
You also don't want to miss the Bristlecone Loop Trail. It is only one mile in length and relatively flat (only gaining about 200 feet in total elevation).
It begins near Rainbow Point, the highest portion of the park at over 9,000 feet in elevation, and makes its way through a forest of ancient bristlecone pine trees. Some of these trees are almost 2,000 years old!
The views from this trail are also exceptionally expansive. Expect to see eastward for over 100 miles. Be aware that the weather is typically cooler at this elevation and the air is thinner.
Mossy Cave
If your family is looking to play in a stream and take a quick stroll to a pretty spot, take the 0.8-mile hike to Mossy Cave. This trail follows a stream (perfectly for playing in) to a grotto where water drips down to feed a green carpet of moss on the grotto's ceiling. This spot is not on the scenic drive and is a good option to hit up on your way out of the park.
Where to Stay Near Bryce Canyon National Park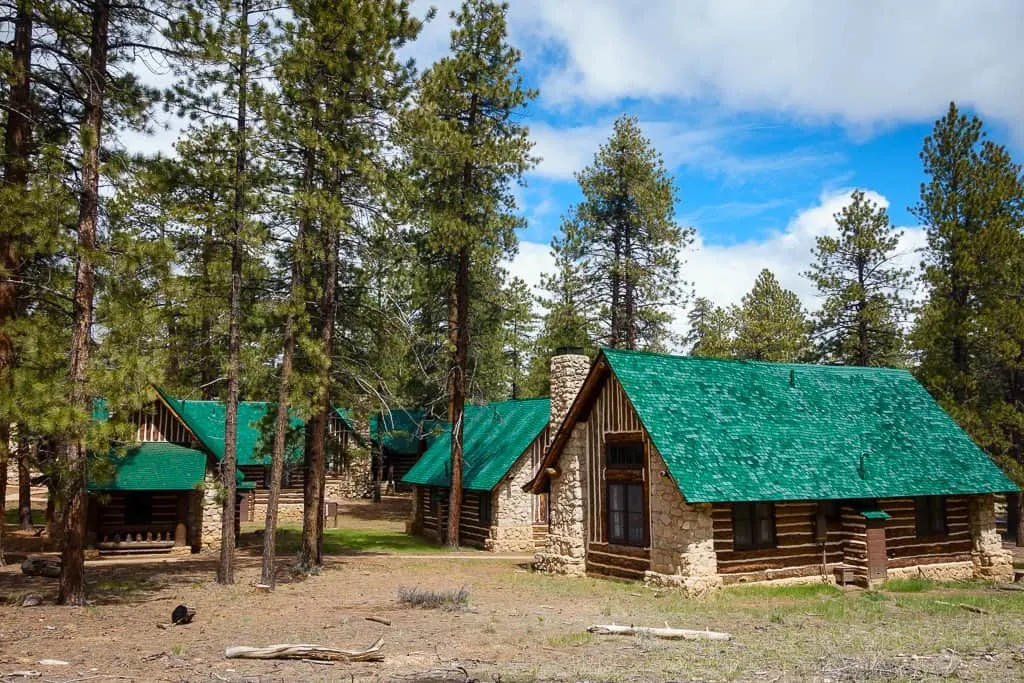 When visiting Bryce Canyon, you can either stay inside the park, or choose from one of the hotels that line the strip near the entrance to the park.
The Lodge at Bryce Canyon is the only four-walled lodging located inside the park. It is a historic lodge located within steps of the majestic, hoodoo-filled, Bryce Canyon amphitheater. There are typical guest rooms as well as cabin rentals available here.
Campers can choose from two different campgrounds inside the park. North Campground's sites are reservable reservation camping May 19th – October 7th. For the rest of the year they are first come, first serve. Sunset Campground has 99 sites on a first-come, first-served from April 15th – October 31st.There are no sewer, water or electrical hook-ups available.
Just a short drive from all the main attractions in Bryce Canyon National Park, you will find Ruby's Inn and Bryce Canyon Grand Hotel. Both are under the Best Western Plus branding and great options for families.
Ruby's is the original and has a gift shop, general store, post office, restaurant, and indoor pool. The Bryce Canyon Lodge is much newer (built around 2011) and modern. It has spacious rooms, a complimentary breakfast buffet, and modern amenities. Both offer great access to the park.
Where to Eat Near Bryce Canyon National Park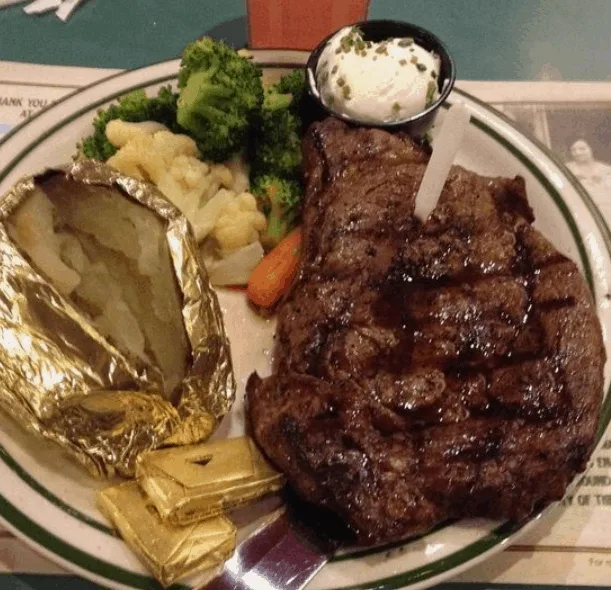 There is a dining room at the Lodge at Bryce Canyon. It is a popular place for all three meals of the day and is known for its burgers, sandwiches, steaks, and salads. Expect to pay a bit of premium for location, location, location.
Valhalla Pizzeria and Coffee Shop is also located within the park. It serves up —you guessed it—pizza and coffee drinks, as well as beer, wine, salads, and pastries. It is open for lunch and dinner only.
Ruby's Inn Cowboy Buffet and Steak Room is one of the most popular spots to eat for those staying just outside the park. It has been an area staple for years. The menu includes a variety of steaks, fish, chicken, pasta, and sandwiches.
If you are craving barbecue, make the drive into Tropic, 20 minutes down the road, and head to IDK Barbecue. It is known for its brisket, pulled pork, and ribs.
Utah National Parks Road Trip Days 4-5: Capitol Reef National Park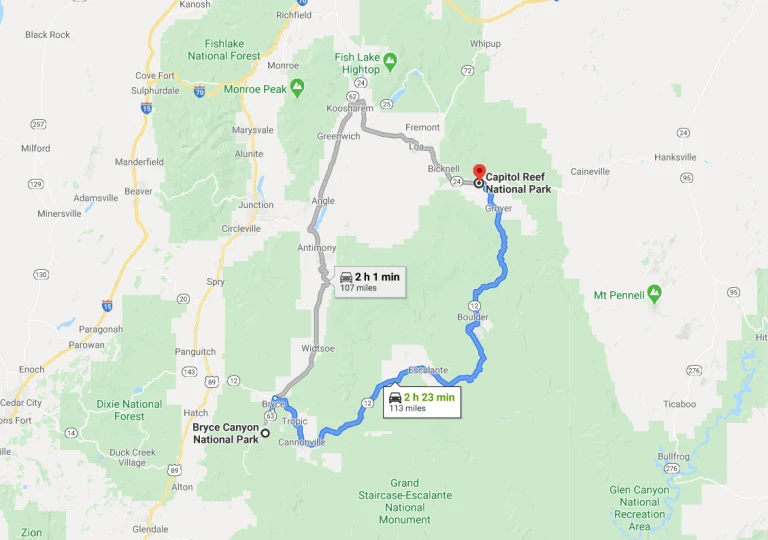 Take the scenic, 2 1/2-hour drive from Bryce Canyon National Park to Capitol Reef National Park along Utah's famed Highway 12.
While this drive may take less than 2 1/2 hours to complete, expect to be drawn to make several stops along the way. You will pass by Grand Staircase-Escalante National Monument, Dixie National Forest, and the Henry Mountains, home to the nation's only free-roaming bison.
Kodachrome Basin State Park is also worth the side trip. This aptly named park is named after the color film Kodachrome and beckons kids to explore its unique stone monoliths.
This drive is epic any time of year but it is particularly lovely in the fall when the leaves are changing in Dixie National Forest. As a matter of fact, it made our list of 10 Places to Enjoy Utah Fall Colors.
Capitol Reef National Park Hikes & More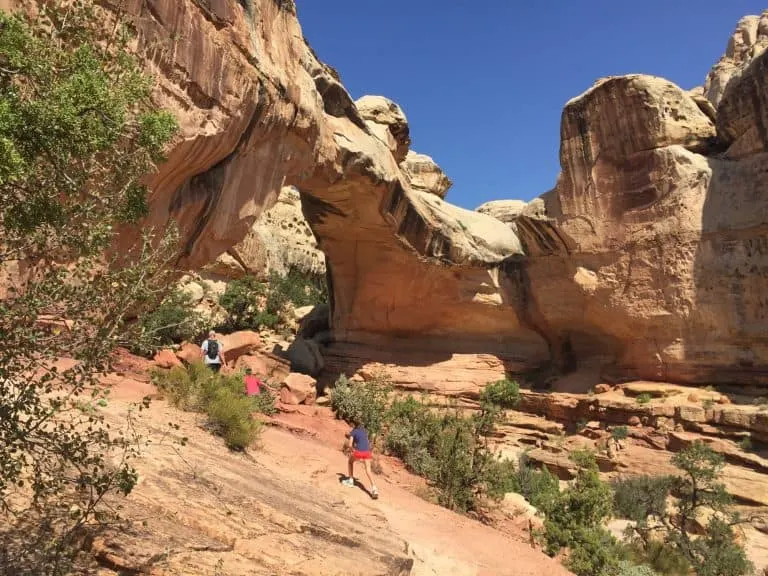 Capitol Reef is the least visited of Utah's "Big 5" National Parks, mostly because it has the most remote location. But trust me, it is worth the drive!
Capitol Reef's Fruit Orchards
Capitol Reef's largest draw is the Waterpocket Fold, a 100-mile-long sandstone buckle in the Earth's surface filled with narrow canyons and interesting geologic features. The pioneer settlement of Fruita, with century-old orchards still in use today, is a unique draw as well.
Nineteen orchards planted by the pioneers are filled with cherries, apricots, pears, peaches, and apples. You are welcome to pick fruit from any unlocked orchard and eat it inside the orchard for free!
Trekaroo Tip: Stop by the Gifford House across the street from the orchards and enjoy homemade mini-pie or fresh-baked cinnamon roll. Popular flavors can sell out early, so arrive sooner rather than later!
Grand Wash Trail
Your $10 national park entrance fee allows you to enjoy the Capitol Reef Scenic Drive and its hiking trails. The Grand Wash Trail leads you through a gradually narrowing canyon, eventually becoming 600 feet high and just 16 feet wide at one point.
My kids loved climbing in the various crevasses and alcoves in the wash's sandstone walls. Walk in as far as you'd like. It eventually meets up with Highway 24, three miles in.
Cassidy Arch
If you are looking for more of a challenge, take the 1.7-mile trail (one way) to Cassidy Arch. It gains a total of 950 feet in elevation along the way. Your efforts are rewarded with expansive views of the region as well as the sprawling Cassidy Arch. I recommend taking this hike in the early morning before the heat of the day (and lack of shade) makes things HOT.
Capitol Gorge
At the end of the scenic drive you will find the Capitol Gorge Trail. Here an easy hike through a narrow canyon takes you past petroglyphs drawn by the Fremont people who lived in this region from 600-1200 AD.
Further in, you will come across a Pioneer Registry on the side of the slot canyon. Pioneers passing through the region in the late 1800s and early 1900s etched and burned their names into the sandstone wall.
Hickman Bridge
If you are going to hike one trail in Capitol Reef, make it the jaunt to Hickman Bridge. This two-mile trail gradually climbs in elevation until it reaches the 133-foot arch known as Hickman Bridge. The bridge is impressive and the area around the bridge offers lovely shade from the often relentless desert heat.
Highway 24 Pit Stops
There are plenty of great sites to experience along Hwy 24. Coming from the town of Torrey, the park's small gateway city, your first stop should be Panorama Point. You will see Chimney Rock on the left just before reaching the turnoff to the point.
From the parking lot you will find short walks to Goosenecks Overlook and the short Sunset Point Trail which overlooks the Fremont River down below.
As you continue down Highway 24, be sure to stop at the Fruita Schoolhouse. Kids will love heading behind the school to discover where children of the past left their mark in the rocks.
Then, check out the Petroglyph Pullout which features a massive petroglyph panel carved into the sandstone wall above a boardwalk shaded by trees.
Where to Stay Near Capitol Reef National Park
The only lodging options inside of Capitol Reef National Park is campgrounds. There are three primitive campgrounds in remote portions of the park as well as the 71-site Fruita Campground. Sites at Fruita can be reserved March 1- October 31 and include a picnic table and fire pit, but no hookups.
Capitol Reef Resort sits in between the national park entrance and the town of Torrey. It offers a great variety of lodging options for families. There are spacious traditional rooms with private patios, large teepees framed by the dramatic red rock of the Waterpocket Fold, and covered wagons circling a shared fire pit.
Kids will love playing in the pool, running around on the expanses of grass, and roasting marshmallows with new-found friends. Horseback riding and llama hikes are also available on desert trails paralleling the property. The resort has a restaurant which offers a buffet-style breakfast as well as lunch and dinner.
Where to Eat Near Capitol Reef National Park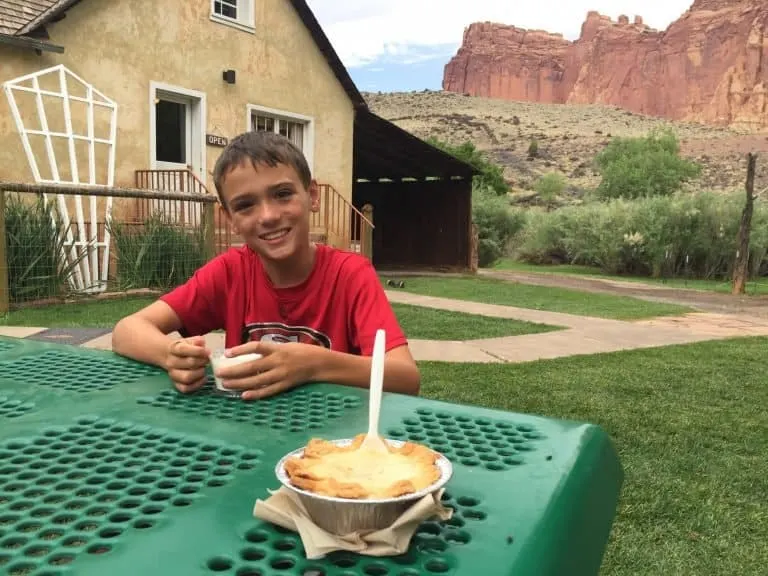 As mentioned above, you don't want to miss the pies and desserts at Gifford House, inside the park. But beyond that, there is no dining inside the national park.
Across the street from Capitol Reef Resort is the Rim Rock Restaurant and the Rim Rock Patio. This funky little patio bills itself as a "Spaghetti Western Cafe". It has wonderful views of Capitol Reef as well as a horseshoe pit to keep the kids occupied while waiting for your meal.
The Rim Rock Patio menu is simple with just a few options (think pizza, pasta, barbecue sandwiches, and salads) but what they do, they do well. I found the prices to be incredibly affordable, especially considering their remote location.
Rim Rock Restaurant is more upscale (but still casual) and features a variety of pastas, steaks, fish, and poultry options.
Utah National Parks Road Trip Days 6-8: Moab, Arches, and Canyonlands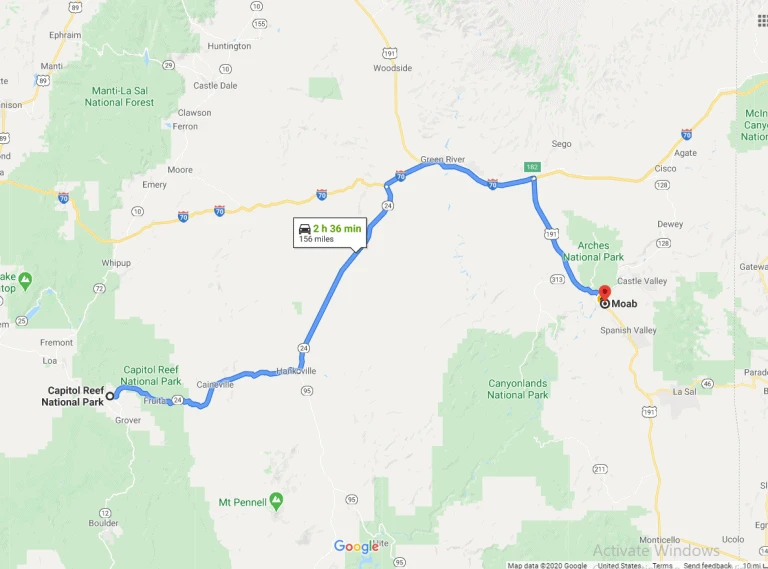 Expect it to take a bit more than 2 1/2 hours to drive from Capitol Reef to Moab. This drive is remote but still beautiful. At last you will reach Moab, an outdoor enthusiast's paradise.
There are so many great things to do in and around Moab, that it is easy to spend several days in this slick rock wonderland.
Moab is popular with mountain bikers, and is a great spot to take a Jeep tour or rent an ATV for the day. You can even book a rafting trip down the Colorado River to Lake Powell. It is also the perfect home base for exploring two national parks, Canyonlands and Arches National Park.
Read our full guide to all the great things to do in Moab with kids.
TIMED ENTRY FOR ARCHES NATIONAL PARK– The National Park system has become especially popular in the past few years (thank you Covid and Instagram) so several of the most popular national parks have gone to a time-entry system. Arches National Park is one of those parks.
Timed-entry tickets are required for entry to Arches National Park April 1- October 3, 2023. Tickets are released three months in advance at 8am Mountain Time on the first of the month. Visit the park website for full details on reservations.
Arches National Park Hikes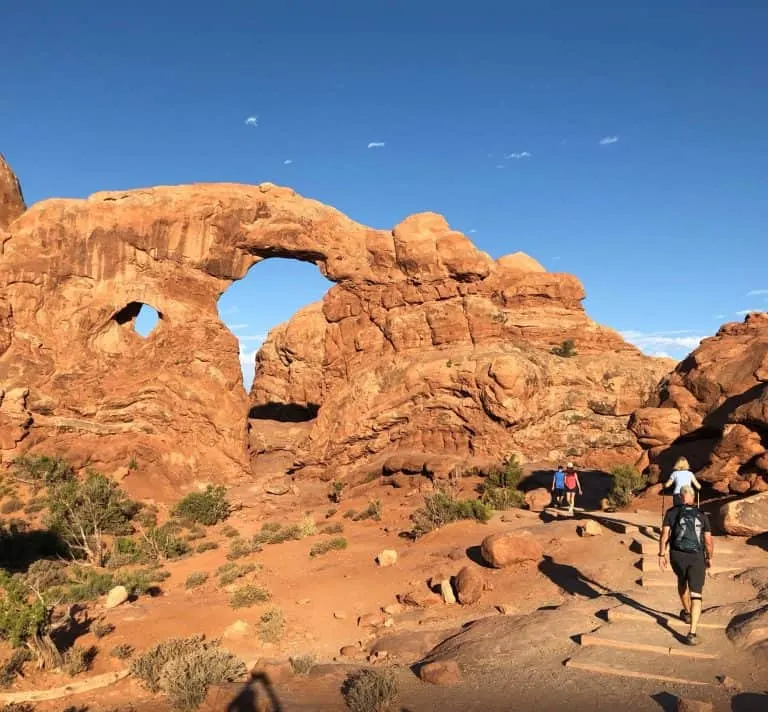 Arches National Park is only five miles outside of Moab. There is an 18-mile scenic drive which leads to several of the park's 2,000 arches. Services are limited inside the park but plentiful just outside of it. Pack in any food and water you might want to enjoy inside the park.
Read our full guide to Arches National Park with kids.
Double Arch and The Windows
If you are looking for a great place to enjoy some easy hikes to impressive arches, head to the Windows section of Arches National Park. It is especially mesmerizing (plus cooler and relatively empty) during the sunrise hours.
Double Arch Trail is a great place to climb around and explore underneath the park's tallest arch. It is basically a quick walk from the parking lot on a quarter-mile trail. Kids love to scramble about in the sandstone bowl of Double Arch.
On the other side of the parking lot, the Windows Trail leads you to three massive arches on an easy, 1-mile loop. This is a great place to stretch your legs while packing plenty of "wow factor" into a relatively short hike.
Landscape Arch
The longest arch in the world is Landscape Arch. The 1.6-mile round-trip hike to this arch includes views of a couple arches along the way. It is a fairly easy hike, but shade is limited so time your visit properly and bring plenty of water.
You are no longer able to walk under Landscape Arch because portions of it are beginning to fall off. So, plan your Utah national parks road trip sooner rather than later if you want to see this impressive sight for yourself!
Delicate Arch
The most famous arch in the world is probably Delicate Arch. Some might know it as the "Utah license plate" arch. The hike is only three miles round trip but the park service lists it as strenuous. I personally consider it moderate.
There is no shade and the trail is almost entirely exposed, so I suggest hiking this trail early in the morning (with plenty of water), especially during the summer months. Much of the trail is on slickrock which should be avoided if rain is in the forecast.
Don't worry, the beauty of this arch is well worth your efforts. Children as young as two were on the trail during my family's visit.
Read more about Arches National Park hikes.
Canyonlands National Park Hikes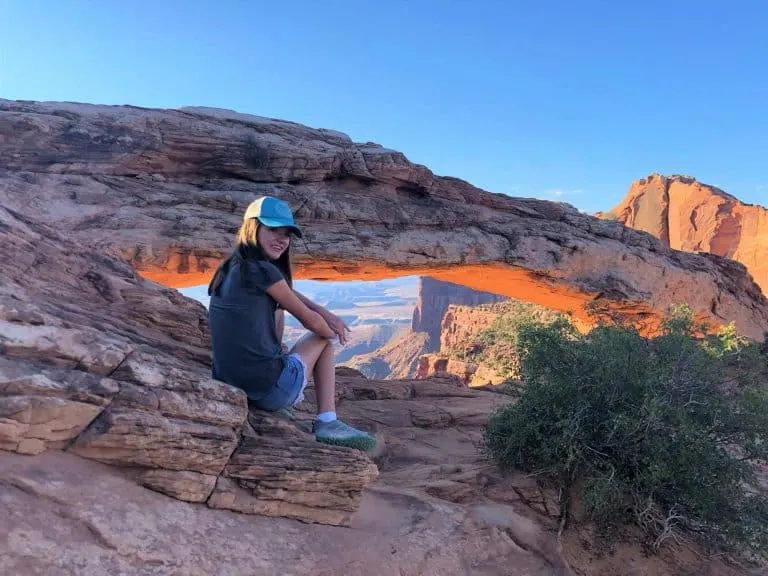 Canyonlands National Park is a short, 40-minute drive from Moab. Like Arches, services inside this park are limited, so bring your own food and water to enjoy while you are exploring the park.
Canyonlands is made up of three districts. The Islands in the Sky district is by far the most popular and easiest to access. It sits atop a 1500-foot mesa, making it literally an island in the sky.
Mesa Arch
Try to arrive in Canyonlands early in the day to avoid the heat and enjoy the light as it glows at Mesa Arch, which acts as a window to the sprawling canyons extending for miles and miles beyond. An easy, 0.7-mile loop trail serves as your access to this special spot.
Whale Rock
This fun, 0.8-mile trail climbs up Whale Rock, a dome-shaped monster that offers great views from the top. Kids love looking for stacked piles of rocks which mark the trail and lead the way up to the top. There is plenty of opportunity rock scrambling along the way.
Upheaval Dome
This one-mile trail leads uphill to an impact site. What caused the impact? That is still up for debate, but the most common theory is that a meteorite hit the site approximately 60 million years ago.
Grand View Point
This trail does a great job of showcasing the expansive views that have made Islands in the Sky so popular. It is a 2-mile, out-and-back trail which leads to the tip of the mesa. The trail is exposed to the sun so be sure to be mindful of the weather and bring plenty of water.
Make a Pit Stop in Dead Horse Point State Park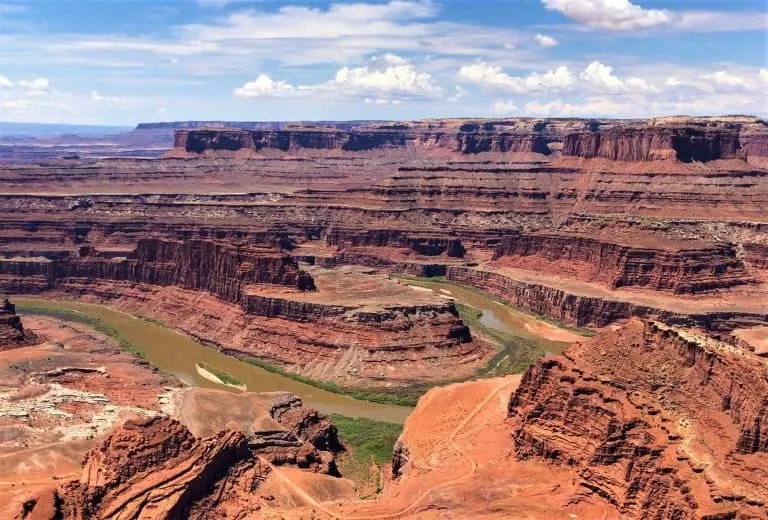 Just down the road from Canyonlands National Park is Deadhorse Point State Park. It is worth a quick stop on your way from Canyonlands back to Moab to see the famous point.
The trail from the visitor center to Deadhorse Point is nice, but if you're all "hiked out", you can just park in the lot near Deadhorse Point and take in the views.
Trekaroo Tip: There is an ice cream stand near the visitor center that is open during the summer months. It is a welcome treat in the desert heat.
Where to Stay Near Arches and Canyonlands National Parks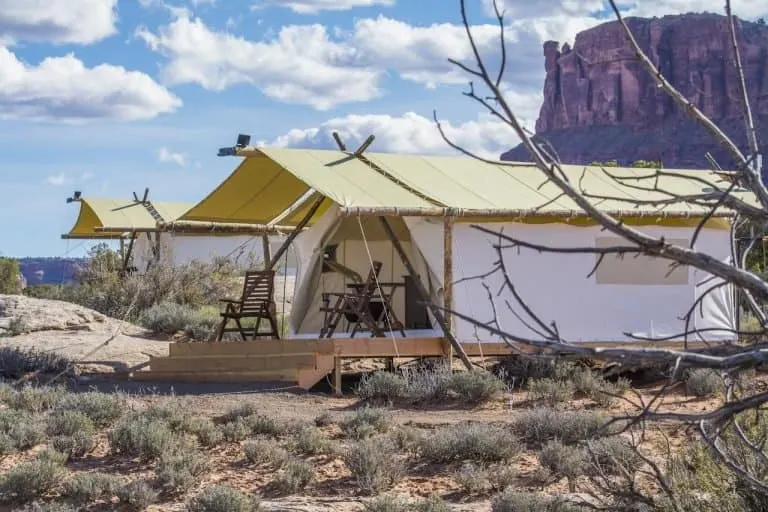 Moab is filled with lodging options. Here are some Trekaroo-approved spots:
Moab Springs Ranch– Cozy cabins in a picturesque location just two miles from Arches National Park.
Red Cliffs Lodge– Located 14 miles out of town. Each suite offers views of the creek or river.
Under Canvas Moab– This is glamping at its finest. Have a camping experience without having to pack for one or sleep on the ground.
Homewood Suites by Hilton Moab– Located in the heart of town, we love this hotel for families because of the full kitchen in every room, indoor pool, and central location. It is easy to walk to several local restaurants and souvenir shops from this spot.
Where to Eat in Moab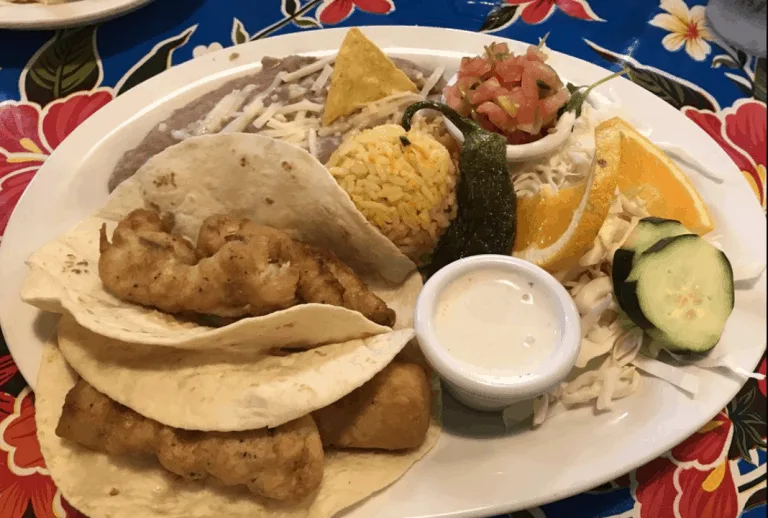 There are a multitude of dining options in Moab. Moab Brewery is a popular spot for a meal and something sudsy after spending the day exploring. It is very family friendly and has a variety of burgers, sandwiches, salads, and Mexican options on its menu. Plus, there's gelato!
If it is Mexican food that you are craving, Miguel's Baja Grill is a great option. The fish tacos are great, as are the fajitas, burritos, and margaritas. The outdoor dining in a festive setting helps set the casual and friendly vibe.
Quesadilla Mobilla is another great option. It's a food truck with a permanent location on Main Street that serves up a variety of quesadillas stuffed with all sorts of meats, cheeses, veggies, and sauces. It's a good spot to grab a bite before you are headed out on your next adventure.
Utah National Parks Road Trip Day 9: Moab to Las Vegas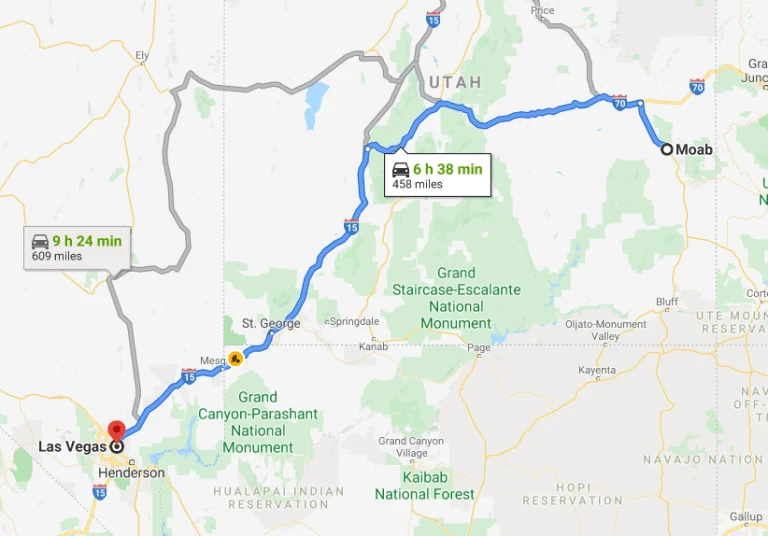 All good things must come to an end. The most direct route from Moab to Vegas is nearly seven hours of interstate driving. This stretch of the country is almost entirely rural. If you aren't ready to end your trip or are looking for a more scenic route, here are some great options:
Monument Valley, Four Corners and Mesa Verde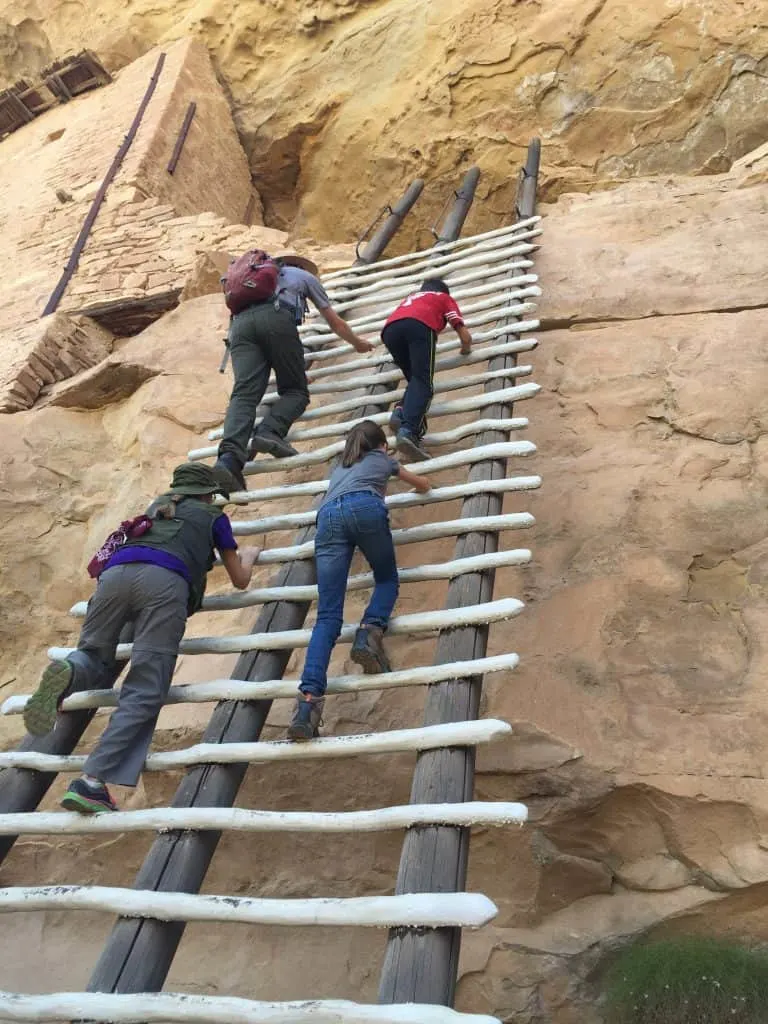 Head south into the Four Corners area, driving through Monument Valley, stopping to stand in four states at once, and spending some time at Mesa Verde National Park where you can climb in ancient cliff dwellings. Here is our complete guide to visiting Mesa Verde National Park.
House Boat Fun on Lake Powell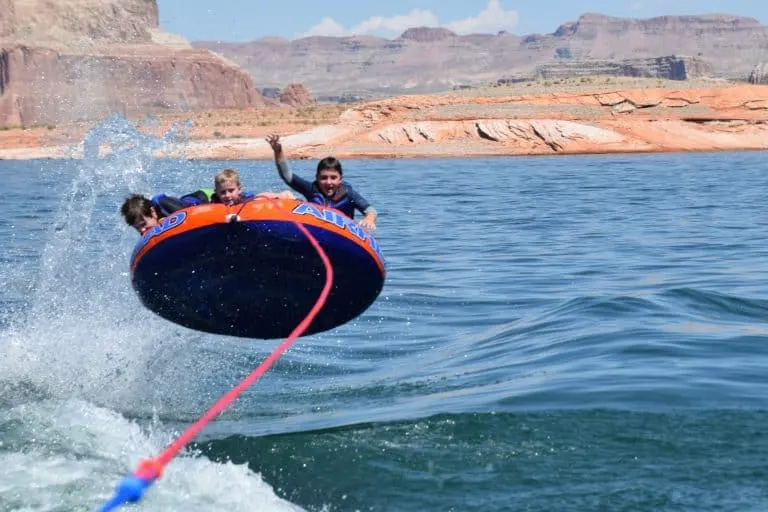 Straddling the Utah/Arizona border near Page, is Lake Powell, an enormous lake created by the damming of the Colorado River north of the Grand Canyon. The scenery is epic and the water is beckoning families to splash, play, and relax.
The best way to experience Lake Powell is to rent a houseboat. Here is everything you need to know to plan your own Lake Powell houseboat trip.
Still want more? The Grand Canyon is not too far down the road. We have guides to visiting the North Rim of the Grand Canyon as well things to do in the Grand Canyon South Rim.