Last Updated on
Trekaroo generates revenue from purchases made through links to our partner brands.
Have you ever wanted to visit a national park with kids? How do you choose which national park to visit? There are over 58 national parks in the U.S. -and that's not including national monuments and historic sites.
When our youngest child was independent enough, our family of five decided a family vacation to experience one of the country's treasured national parks was in order. It was a rite of passage that we had been eagerly awaiting, especially since we live too far to drive to one. But which one should we see first? There were so many great choices.
National Park With Kids
Decisions. Decisions.
From the over 58 national parks, I narrowed the list down to eight of the most popular, family-friendly parks. The chosen eight were: Great Smoky Mountains, Grand Canyon, Yosemite, Yellowstone, Rocky Mountain, Olympic, Zion, and Grand Teton. Deciding which one from these top eight national parks to visit was hard because there were the following factors to consider:
Age appropriateness for kids. Some parks are better suited for older kids due to its rugged terrains and activities, and some parks are fine for little feet.
Distance to and from the airport. We live in Houston so most probably, we'd be flying to a major airport closest to the park.
Available lodging. Many parks have none and some sell out quickly. Plus, we are generally a non-camping family. If you prefer campgrounds, see Trekaroo on scoring a campground at popular national parks.
Best season to travel. Since this would be our first visit with kids, we wanted to do it when school let out during their summer vacation. Note that off-peak visiting, usually wintertime, can be a good time to visit if you want to avoid the crowds and get discount lodging, but many services will not be available and driving conditions will be tricky. See Trekaroo on off-peak travel to national parks.
Interesting features of the parks. What's exciting about this particular national park? There are distinct features to each park and I've included the most interesting ones to help you choose a park that excites you and your family.
Here's a first timers guide to help you choose which national park to visit with kids.
Great Smoky Mountains National Park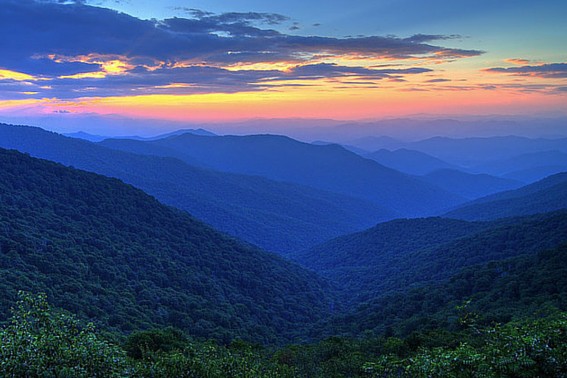 Photo By: flickr/Tyler Merbler
This is the most visited National Park in America. It also spans four counties across two states, and runs through part of the Blue Ridge Mountains. Its lush forests with over 1,000 different kinds of flowers can be accessed from both Gatlinburg, TN and Cherokee, NC. The highest point is Clingman's Dome where a 50 ft. observation deck allows visitors to soak in some spectacular panoramic views.
Age Appropriateness: Young children can walk the easy 1-mile loop on Cosby Nature Trail. Older kids will enjoy the most popular hike to Alum Cave, 4.4-miles with moderate climbing.
Distance to/from Airport: McGhee Tyson Airport (TN), 30-40 miles away.
Available Lodging: No motels or rental cabins. Only Le Conte Lodge.
Best Season to Visit: April to June is the best as well as peak leaf season from end of September to October; late June to early September is humid.
Interesting Features: Waterfalls, iconic view of Clingmans Dome, and the amazing night sky. The Charlies Bunion hike is gorgeous, but for the adventurous who need a challenge, the Mt. Cammerer Fire Tower is the hike of glory.
Grand Canyon National Park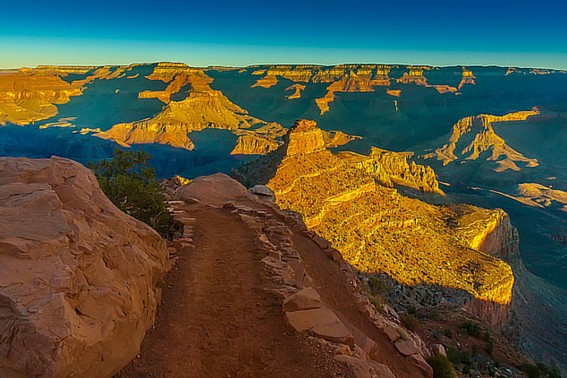 Photo By: flickr/Felix's Endless Journey
At the bottom of the Grand Canyon, about 5,200 feet deep, runs the mighty Colorado River. Most of the park's five million annual visitors admire the river from above, few experience it up close. It is a mythical place and first timers will want to explore the South Rim.
Age Appropriateness:
For young kids: Take a day to ride the Grand Canyon Railroad into the park, explore the canyon for several hours, and then return to Williams, AZ. The scenic ride takes you through forests and wildlife including walk-throughs from the conductor, a "town marshall," an acted out train robbery, coloring and activity books, lollipops, and more. The train departs daily in the morning from Williams, AZ and returns in the afternoon from the Grand Canyon with a 2.5 hour each way trip. Trips can be extended overnight with lodging packages from Grand Canyon Lodging companies offering you the chance to explore the canyon in more detail.
For big and adventurous kids: Go whitewater rafting the Grand Canyon's 277 miles. Western River Expeditions is a well-respected outfitter. The trip takes six to seven days and is open to anyone of reasonable health over the age of 12. No paddling experience required.
Distance to/from Airport: From Phoenix Sky Harbor International Airport (PHX), it's a 3 hours and 35 min. drive, 231 miles to Grand Canyon South Rim. Or fly to Las Vegas McCarran International Airport, Nevada (LAS) to see Grand Canyon west. From LAS to the West Rim, it's 2 hours and 30 min. drive, 121 miles.
Available Lodging:
South Rim: Stay at the historic El Tovar Hotel with incredible views of the canyon.
North Rim: Stay at the Grand Canyon Lodge with rim views. Be aware that this campground is within walking distance of the steep edge off the rim of the canyon. The Lodge is 90 min. from the West Rim.
Best Season to Visit: South Rim is open year round; North Rim only Mid-May through Mid-October. Fall and Spring bring the most temperate weather, far less crowds, and more lodging opportunities. Summer brings 100+ temps at the South Rim and it's monsoon season. Winter snows and freezing temps can affect a winter visit with kids.
Interesting Features: South Rim or North Rim? For dramatic, classic shots of the expansive canyon and powerful Colorado River, visit the South Rim. Also, South Rim is the closest point of entry from Phoenix Airport. Upper and Lower Canyon river rafting trips typically end and begin, respectively, at Bright Angel Trail at the South Rim. Take the ever-popular Grand Canyon Railway train ride, helicopter tours, van, and bus tours. Be ready for the legendary mule trips. Or simply soak it all in from the Grand Canyon Skywalk observation deck built in 2007 in the West Rim (four to five hours drive from the South Rim).
Yosemite National Park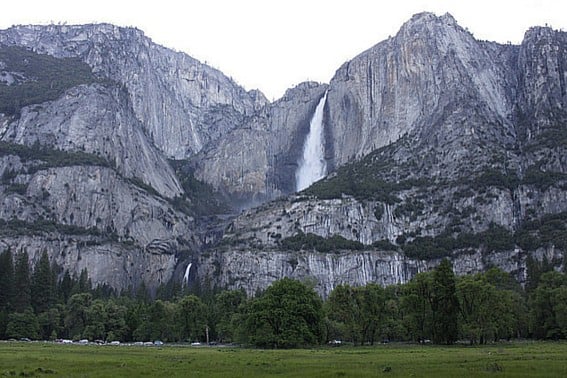 Photo by: flickr/edward stojakovic
Abe Lincoln established Yosemite Valley as public land in 1864, with good reason. Crowds flock to experience the sight of misty rapids, granite monoliths, and towering sequoia trees, but by foot and car at Glacier Point, folks can catch the incredible view at Sentinel Dome – without the crowds. Take the one-mile hike from the valley floor to earn a 360-degree view of the park including El Capitan, Half Dome, and the 2,425 ft. tall Yosemite Falls, the highest measured waterfall in North America.
Age Appropriateness: There isn't a more family-friendly national park than Yosemite. Paved roads make the stroller-ready hike easy for families with young children. For the 5- to 12-year-old range, trek up for a closer view of dramatic but serene Vernal, Bridalveil, or Sentinel Falls and take a "green dragon" tour. The open-air tram is also a great introduction to the park. You'll hit all of the highlights, from Half Dome to Tunnel View, while getting commentary from a park ranger.
Active families with older children will love the challenging hike to the top of Upper Yosemite Falls and revel in the view of the waterfalls, particularly Yosemite Falls. For a steep but rewarding trail, hike up the Mist Trail to Vernal Falls and Nevada Falls. While there is a free shuttle to major attractions, consider renting bikes from the Yosemite Lodge Bike Stand. Peddling around will cover more ground in the Valley than walking.
Distance to/from Airport: Lots of choices here including county airports and international airports.
There are three county airports between 2-2.5 hours drive to Yosemite Valley: Fresno-Yosemite International Airport (FAT) is near the South Entrance and the Mariposa Grove of Giant Sequoias. It's about 2 ½ hrs to Yosemite Valley. Merced Airport (MCE) has flights on Boutique Air to Oakland International Airport (OAK) and Los Angeles International Airport (LAX). From Merced, it is 2 hours to Yosemite. From Modesto City-County Airport (MOD), drive east on Highway 120 to Yosemite (or head south on Highway 99 to Merced, then take Highway 140 east into Yosemite). Allow about 1.5 hours to the park's Big Oak Flat or Arch Rock Entrance or about two hours to Yosemite Valley.
If traveling from far away, these three major international airports would be affordable choices: San Francisco International (SFO), Oakland International (OAK), and San Jose International (SJC). Depending on your itinerary and traffic, it takes roughly 5-8 hours of scenic driving.
For a monolithic-sized scenic drive (8-hour plus), Reno/Tahoe International (RNO) is a good choice, especially in the summer since there is a full slate of summer festivals in Reno as well as lots to see such as Topaz Lake, Bodie, Mono Lake, and Mono Craters. From Reno Airport, take highway 395 through scenic mountain country to Tioga Pass and into the park near the Tuolumne Meadows Visitors Center. The airport is also close to Lake Tahoe.
Available Lodging: For a whopping $400 per night, stay at Yosemite's Ahwahnee. For a less expensive and centrally-located alternative, stay at Yosemite Lodge.
Best Season to Visit: Summer is the most popular time to visit. There is minimal colorful fall foliage since most trees are evergreens. It gets snowy through May and into June.
Interesting Features: Too many to name, but here's a few amazing must-do's: See a meteor shower from a mountain top. Look for lodging packages that come with an astronomer and telescope, plus transportation to a choice viewing spot for the shower. See one of the many waterfalls including Yosemite Falls, Vernal, Nevada, and Bridalveil in May or June during peak runoff. Smell the wildflowers in Yosemite Valley and Wawona especially in June. Play in one of the three Giant Sequoia Groves: Mariposa, Tuolumne, and the Merced Grove. The Sequoia National Forest borders Yosemite to the south and these trees are as tall as a 26-story building and as old as 1,800 and 2,700 years old. Go on a moonlight hike to a valley through the Starry Skies Over Yosemite/Wawona program with basically zero light pollution; no flashlights needed. And dare to try the 18 miles of vertical hike to mesmerizing Half Dome, the grandest monolith of Yosemite Valley.
Yellowstone National Park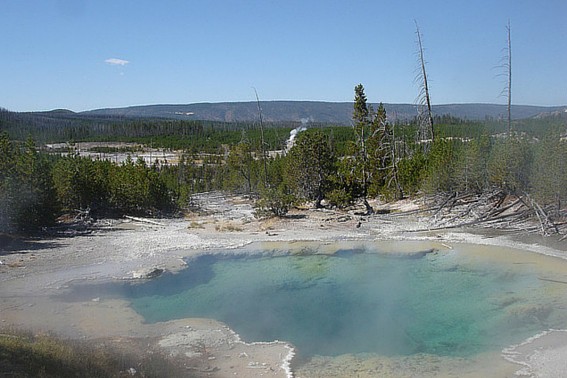 Photo By: flickr/Kevin Saff
Not only was the site an inspiration for Yogi Bear's Jellystone, but it is the nation's first and oldest National Park. Of course, it is also home to Old Faithful, the legendary geyser that was discovered in 1870 and erupts every hour or two.
Age Appropriateness: One mile loop hike around Artists' Paint Pots, its boiling mudpot surrounded by amazing colors of flora and fauna, is perfect for families with small children. Other child-friendly stops include Norris Geyser Basin, the park's hottest basin, and Midway Geyser Basin, home to the world's largest hot spring. Take the youngest hikers on shorter strolls, such as the 2-mile Yellowstone Lake Overlook trip from West Thumb Geyser Basin or the 1.2-mile hike to Trout Lake. Elementary-age kids will love Riddle Lake (5 miles) or the Lost Lake Loop (4 miles).
Older children and teens should try the Lone Star Geyser Trail (4.8 miles) to see a backcountry spout or the climb up 10,243-foot Mt. Washburn (5 or 6.2 miles, depending on starting point). For older kids, bike ride up Blacktail Plateau Drive for a 7-mile cruise through forests and meadows, or try the 5-mile gravel Old Gardiner Road through excellent pronghorn and elk habitat. You can also rent bicycles in the Old Faithful area. Ride the road alongside the Upper Geyser Basin or Fountain Freight Road behind the Midway Geyser Basin.
Distance to/from Airport: The closest airport to Yellowstone is Montana's West Yellowstone Regional Airport (WYS), just 1 mile north of the town of West Yellowstone (and 2 miles north of the west entrance to the park) on U.S. Hwy. 191. Another options is the Jackson Hole Airport (JAC) inside Grand Teton National Park, which is 56 miles of scenic driving away from the southern entrance of Yellowstone. (Note: This route is only available after the snow lifts, usually in mid-May as it is not open during the winter months.)
Available Lodging: Old Faithful Lodge or Old Faithful Inn are just steps away from its namesake. See this list of lodging inside the park.
Best Season to Visit: Summer. There's no humidity. Visit in early June to avoid crowds.
Interesting Features: This is the first National Park in the U.S. and in the world. Witness geysers and Old Faithful erupt every 92 minutes. See the canyons, Artists' Paint Pots, and swim in boiling Mammoth Hot Springs. Don't forget Grand Prismatic Hot Spring, the largest hot spring in America. With over 3,400 sq.mi. of wilderness, you're bound to spot wildlife such as elk, moose, bison, buffalo, and bears especially in the Hayden Valley. For more, check out Trekaroo's recommendations off the beaten tracks at Yellowstone.
Rocky Mountain National Park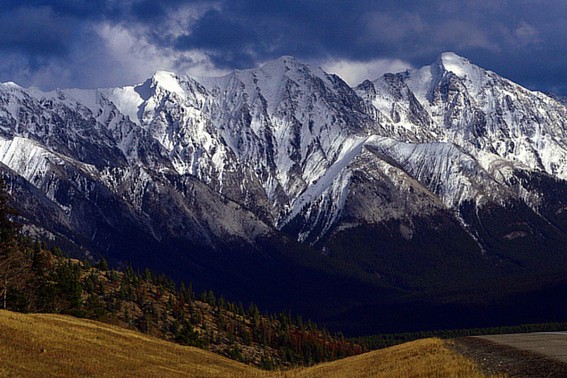 Photo By: flickr/Nature'sAura – C.McKee
The Rockies actually stretch from north British Columbia through western Canada and down to New Mexico, but the park itself sits happily in Colorado. Mountain majesty is the theme at Rocky Mountain National Park with 72 incredible peaks including some thirteeners (exceeding 13,000 ft) and Longs Peak (over 14,000 ft high).
Age Appropriateness: Bear Lake is a gentle, half-mile hike for families with young children, perfect for little ones in strollers as it is paved all the way around. A slightly more rugged, but popular half-mile hike, is to Alberta Falls, which explodes with color in early fall. Coyote Valley Trail is a one-mile trail and a great spot to see elk and moose, especially during the early morning and early evening hours. It's located on the west side of the park, five miles north of the Kawuneeche Visitor Center and is both stroller and wheelchair accessible. Take a drive up Trail Ridge Road, which peaks at 12,183 feet, and experience life at high elevation. The air is thin, but the views of wildflower meadows, moraines, and glaciers, are well worth it. Keep an eye out for elk—they can typically be spotted from the car.
Distance to/from Airport: Denver International Airport (DIA) is only a 90-minute drive from Estes Park.
Available Lodging: There is no lodging inside Rocky Mountain National Park but there are a lot of options outside the park in Grand Lake, Estes Park, and surrounding areas. YMCA of the Rockies, Estes Park Center is a great family-friendly and large family group option.
Best Season to Visit: Mid-June to September. Watch the weather from April to early June as storms come in quickly and continue to bring snow. The Rockies are also great place to ski in winter with Brekenridge, Vail, and Copper Mountain making the list for Trekaroo's best family ski resorts in 2016.
Interesting Features: It's a wildlife haven for elk, mule deer, marmots, pikas, wild turkeys, and dozens of other bird species. Moose, bighorn sheep, and black bears occasionally show their faces too. In outdoorsy, Colorado style with over 300 miles of hiking trails crisscrossing the park's gorgeous landscape, hike around Emerald, Cub, and Sprague Lake or Coyote Valley Trail. For more kid-friendly tips, see Trekaroo's recommendations for Rocky Mountain National Park.
Olympic National Park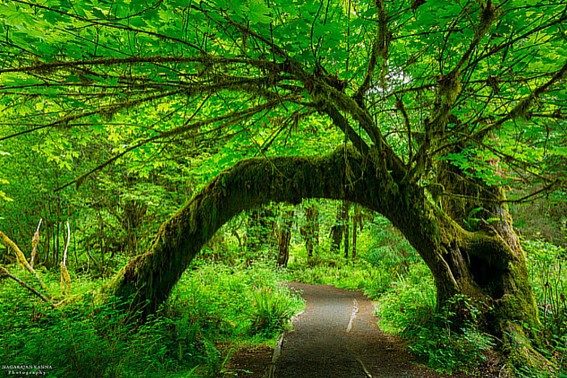 Photo By: flickr/Nagarajan Kanna
From dramatic, glacier-capped peaks of the Olympic Mountains to old growth forests in between the mountains and the Pacific Coastline, the magic of Olympic National Park is undeniable -Twilight fans notwithstanding. It's a spectacular wilderness park with four major ecosystems: subalpine, temperate rainforest, coast, and lowland forest. Not surprisingly, it is recognized as an International Biosphere Reserve and a World Heritage Site, and 95% of the land is designated wilderness.
Explore one the four rainforest canopies that are on the west side of the Washington Olympic Mountains. Families will enjoy the numerous trails that are very kid friendly, paved, low inclines, and shorter distances.
Age Appropriateness: There are several kid-friendly options within this park. Take the 0.8 mile interpretive Moments in Time Trail, which goes through the evergreen forest and by the lake to spot wildlife and different types of ancient trees that are three to seven centuries old. Stroll around 12-mile Lake Crescent and stop by East Beach for a picnic and a swim. Near Lake Crescent Lodge, at Barnes Point there are two more fun hikes for kids. Additional kid-friendly hikes include: South Shore Trail (.5 mile loop), Quinault Big Cedar Trail (.2 mile), Maple Glade Rain Forest Trail (.5 mile loop), and Kestner Homestead Trail (1.3 mile loop). The Quinault Rain Forest Loop Drive is a 31 mile loop around Lake Quinault and up the Quinault River with many opportunities to get out of the car and see waterfalls, wildlife, or just take a walk through the forest. Hike the Falls Creek Loop (1.6 miles) and be sure your family makes time to take the 0.8 mile hike down to Sol Duc Falls, the most photographed spot in the park.
The glorious Hall of Mosses trail is inside the Hoh Rain Forest. This 0.8 mile loop trail winds through a pristine old growth forest where families will marvel at trees growing from the logs of fallen giants, mosses hanging like forest curtains, and a stream so clear that you can see a tiny forest of water plants growing along its bottom.
Older kids will enjoy a longer hike such as the 2 miles round trip to Marymere Falls. For adventurous kids looking for a more extensive hiking adventure, they may want to spend a couple days hiking the Hoh River Trail, which leads 17.3 miles to Glacier Meadows, and Mount Olympus.
Distance to/from Airport: Sea-Tac (Seattle-Tacoma) International Airport (SEA) is about 2.5 hours to the park and Victoria International Airport (VYJ) about 3 hours to the park.
Available Lodging: Inside the park, stay at Lake Crescent Lodge, Log Cabin Resort, Sul Duc Hot Springs Resort, or year-round at Kalaloch Lodge. Trekaroo recommendations include Lake Quinault Lodge, Sol Duc Hot Spring Resort's cabins, and Quileute Oceanside Resort.
Best Season to Visit: June through September.
Interesting Features: The lush rainforests and the rugged beauty of the Pacific Coastline are the most striking features at Olympic. Hoh River Rainforest is one of the last remaining examples of a temperate rainforest in the United States.
Three stunning beaches are a must when visiting with kids. Ruby Beach is known for its "sea stacks," weather-beaten pillars of rock jutting from beneath the waves. It's a short hike through the woods down the beach where kids can build driftwood forts, pile up smooth stones, and sit on a log to have lunch. Kalaloch Beach is a wide, smooth, sandy beach, where a creek flows into the sea. And Beach 4 at Kalaloch is the best place to explore tide pools. Be sure to check the tide tables so you'll be at the beach at low tide where sea anemones hang from massive boulders and where sea stars use their steel grips to hang on to towering rocks.
Ready for more? Check out our additional guides on exploring Olympic Rainforest with kids and the Olympic Coast with kids.
Zion National Park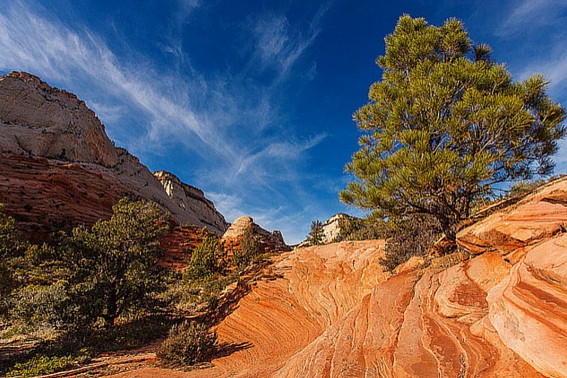 Photo by:flickr/James Marvin Phelps
Zion Canyon is the most popular point of destination in Zion National Park. The 15 mile canyon sits at the crossroads of the Mojave desert, the Colorado Plateau, and the Great Basin. In other words, red rocks nestle beside tropical waterfalls along a sprawling desert, and wildlife that do not usually hang out with each other actually cohabitate.
The complimentary, air-conditioned shuttle leaves from the Visitor Center between March and November and arrives every 10 minutes for the crowds that gather during the summer. All of the shuttles have bike racks, so consider exploring Zion by biking your way through the park!
Age Appropriateness: Zion is an adventure suitable for kids as young as five years old. For easy family-friendly trails, hike the Riverside Walk, the two-miles of paved Par'us Trail to Canyon Junction, the paved and stroller-friendly Weeping Rock, and of course, the Emerald Pools. The Zion Nature Center also has fun activities and exhibits for kids to explore.
For the big kids, there are plenty of opportunities to rappel cliffs, climb rocks, and squeeze through slot canyons with an experienced Red Desert Adventure canyoneering guide. Be prepared to challenge kids' confidence while canyoneering along sheer canyon walls!
Distance to/from Airport: Major airport: From McCarran International Airport in Las Vegas, Nevada (LAS), it's only a three-hour drive. For those coming or transferring from Salt Lake City and Los Angeles, St. George Municipal Airport (SGU) is the closest airport with a commercial airline.
Available Lodging: No one can drive into the canyon unless they are registered guests at Zion Lodge in Springdale. However, Cliffrose Lodge and Cable Mountain Lodge are within walking distance to the park entrance.
Best Season to Visit: Spring and Fall are ideal, especially for hiking. Summer is good for water hikes at the Narrows, but 100 degree days are typical in the summer. Check the weather reports for flash floods in late spring and summer. For off-season travelers, winter can be especially good since travelers can drive their own car instead of taking the shuttle bus; just beware of icy switchbacks.
Interesting Features: The Virgin River that runs through the canyon, cuts a long, narrow channel through the mountains of Utah to form the spectacular canyon of Zion National Park. Don't miss driving out the dramatic east side of Zion through the historic Zion/Mt. Carmel tunnel or visiting the Kolob Canyons area. Hike one or all three of the Emerald Pools with kids.
Is the dry air of the desert calling your name? We have more tips on visiting desert national parks.
Grand Teton National Park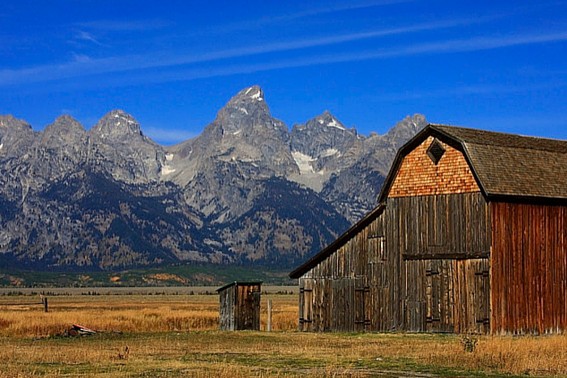 Photo By: flickr/fortherock
Often seen as the little sister to Yellowstone, Grand Teton may be overlooked, but Trekarooers think Grand Teton is more family-friendly. It's only 10 miles from famed Yellowstone and its dramatic peaks include its namesake, the 13,774-foot Grand Teton. Most folks head only to Yellowstone and miss out on Grand Teton's visual masterpiece in its own right. So, if quiet and solitude are important to your park experience, this park is more attractive because it isn't so darn crowded.
Age Appropriateness:
Little kids, particularly preschoolers, will enjoy the brand new Visitor Center in Moose with excellent programming for kids. Be sure to check out the backpacks with art supplies. Several trails are especially family-friendly such as Phelps Lake, String Lake, and especially, Jenny Lake. Skip rocks along the shore of Jackson Lake's pristine water, and watch for bison, bears, elk, and moose. Bathrooms for the little guys are located throughout the park and picnic areas.
Big kids can hike the gorgeous Paintbrush Canyon or kayak Colter and Half Moon Bays. Rent the two-person kayak from the Colter Bay Marina for half a day of paddling and wildlife viewing. Hike 7.8 miles along the north and west sides of both String and Jenny Lakes to Hidden Falls and Inspiration Point. Don't miss spotting the scenic wildlife while floating the mellow Snake River with gear from Solitude Float Trips.
Distance to/from Airport: Jackson Hole Airport (JAC) is conveniently inside Grand Teton.
Available Lodging: Jackson Lake Lodge and Triangle X Dude Ranch. There's also Spring Creek Ranch near Jackson Hole.
Best Season to Visit: Summer. There's no humidity.
Interesting Features:
This is the West, and its most defining trait is the incredible wildlife. Think grizzly and black bears, elk, moose, bison, pronghorns, and big horned sheep grazing amongst a display of wildflowers. There are wolves, coyotes, river otters, beavers, badgers, snowshoe hares, marmots, bald eagles, trumpeter swans, and trout. No doubt, the photo safaris are among the most popular of the park's tour offerings.
Of course with low humidity and hundreds of scenic trails to trek, the best part is taking in the mountain peaks and the lake vistas.
We have even more ideas on exploring the wildlife, food, and luxury at Grand Teton. Nearby Grand Teton in Wilson, WY is the beautiful Teton Raptor Center. For a boutique experience for kids ages 5 and up, learn more about the beautiful birds of prey native to this stunning location and participate in their intimate tours where "the guides are as interesting and engaging as the birds themselves."
Final Advice
You have successfully completed this first timers guide on choosing to visit a national park with kids! Our family decided Yosemite was the pick for our first national park experience. Whichever park you decide to visit, here are three final bits of advice to take away:
Always stop at the Visitor Center at every park to gather information beforehand.
Register your children for the Junior Ranger program.
Remember to make lodging reservations several months in advance, especially with the more popular parks like Yosemite and Yellowstone.
Featured Image Photo by: Bigstock/SerrNovik