Last Updated on
Trekaroo generates revenue from purchases made through links to our partner brands.
Have you ever wondered what it would be like to visit a world where giant boulders defy gravity, red rock pillars towered into the sky, and massive sandstone arches span over 100 yards? This unearthly wonderland is a reality at Arches National Park.
There are many great things to do in Arches National Park. With family-friendly trails and breathtaking views, it's no wonder this popular park attracts over 1.3 million visitors every year. Its proximity to Moab and Canyonlands National Park makes it a great vacation destination Here are the details on the best time to visit Arches National Park, things to do, and everything you should know before you go.
Things to do in Arches National Park
The Best Time to Visit Arches National Park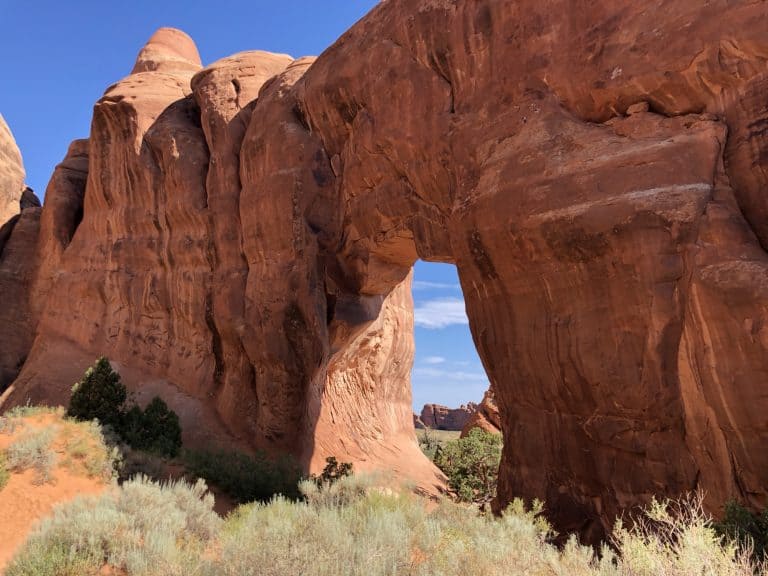 The best time to visit Arches is early spring or late fall. These seasons provide beautiful weather for families to explore outside, with average daytime temperatures right around 70 degrees. Timing a visit before spring break and after fall break may help cut down on the crowds.
Summers can get brutally hot in the high desert. If you visit during summer, start your day early and bring lots of water. We visited in July and tried to start our days around sunrise. The trails were nearly empty, the weather was nice, and the lighting was perfect.
Afternoon thunderstorms are common in the summer, so check the forecast to avoid getting caught in a monsoon.Even with the scorching heat, Arches stays busy from mid-March to mid-October.
If you don't mind the cold, consider a trip during the winter and experience the beauty of snow dusted red rocks in peaceful solitude. Be mindful that icy sandstone can be especially slippery so you may not be able to attempt some trails.
Junior Ranger & other Ranger Programs
Stop by the Visitor Center on your way in and grab a Junior Ranger packet or Red Rock Explorer backpack for the kids. These booklets and backpacks contain activities to help children explore the park and gain a deeper understanding of their surroundings. Return completed packets and backpacks to the Visitor Center to receive an Arches National Park Junior Ranger badge.
The rangers also lead guided hikes and discussions every day during the busy season (Spring-Fall). These programs provide a great way to learn about the geological history of the area. Check the Arches National Park website for the current schedule.
Scenic Drive
Driving along the 18-mile stretch of highway through the park brings visitors past amazing desert landscapes. Cruise past massive stone towers and beautiful blue sand dunes. There are plenty of viewpoints to stop and take pictures along the way. For those with a four-wheel drive vehicle, take a ride down one of scenic unpaved roads. Note that ATVs and similar vehicles are not allowed in the park.
Trails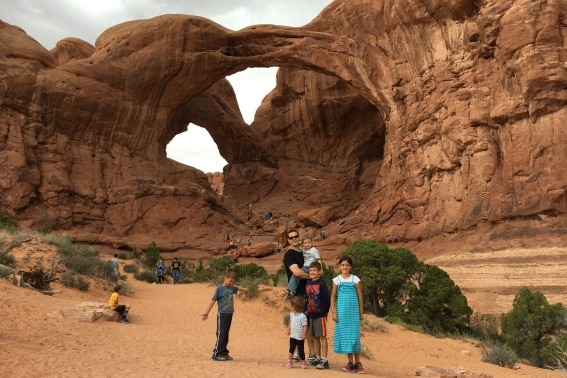 Photo by: Tiffany Vaughn
Standing under a massive sandstone arch is so much cooler than looking at it from the road. Most hiking trails at Arches range from easy to moderate difficulty and are perfect for families to gain a unique perspective. Here are some trails families will enjoy:
Where to Stay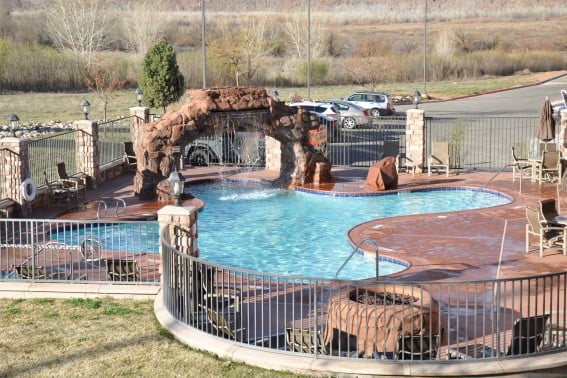 Photo by trekaroo/danyap
The city of Moab offers many great camping and hotel options for families visiting Arches National Park. Be sure to make reservations early when visiting during the busy season. These places can fill up fast.
The campgrounds in the park have no shade and can be very busy. Instead, try one of the many nearby choices like the Moab KOA. Here you'll get shade from the hot desert sun. Families also enjoy cooling off in the pool after a day of hiking.
If you love the great outdoors, but don't want the hassle of bringing all your gear, try Moab Under Canvas. This glamping resort provides comfortable beds and bathrooms inside a luxury tent or teepee. They are also conveniently located just outside the park.
Holiday Inn Express & Suites Moab has an awesome pool with a waterfall pouring from a replica of an arch. Families love their superb service, free breakfast, and large family room options.
Explore National Parks with kids. Read all about our top recommendations for a successful family vacation at one of these iconic locations.
Featured photo by: Shutterstock