Have you ever wondered what it would be like to visit a world where giant boulders defy gravity, red rock pillars towered into the sky, and massive sandstone arches span over 100 yards? This unearthly wonderland is a reality at Arches National Park.
There are many great things to do in Arches National Park. With family-friendly trails and breathtaking views, it's no wonder this popular park attracts over 1.3 million visitors every year.
Its proximity to Moab and Canyonlands National Park makes it a great vacation destination. Here are the details on the best time to visit Arches National Park with kids, things to do, and everything you should know before you go.
Ready for an epic adventure? Check out our Utah National Park Road Trip Itinerary.
The Best Time to Visit Arches National Park with Kids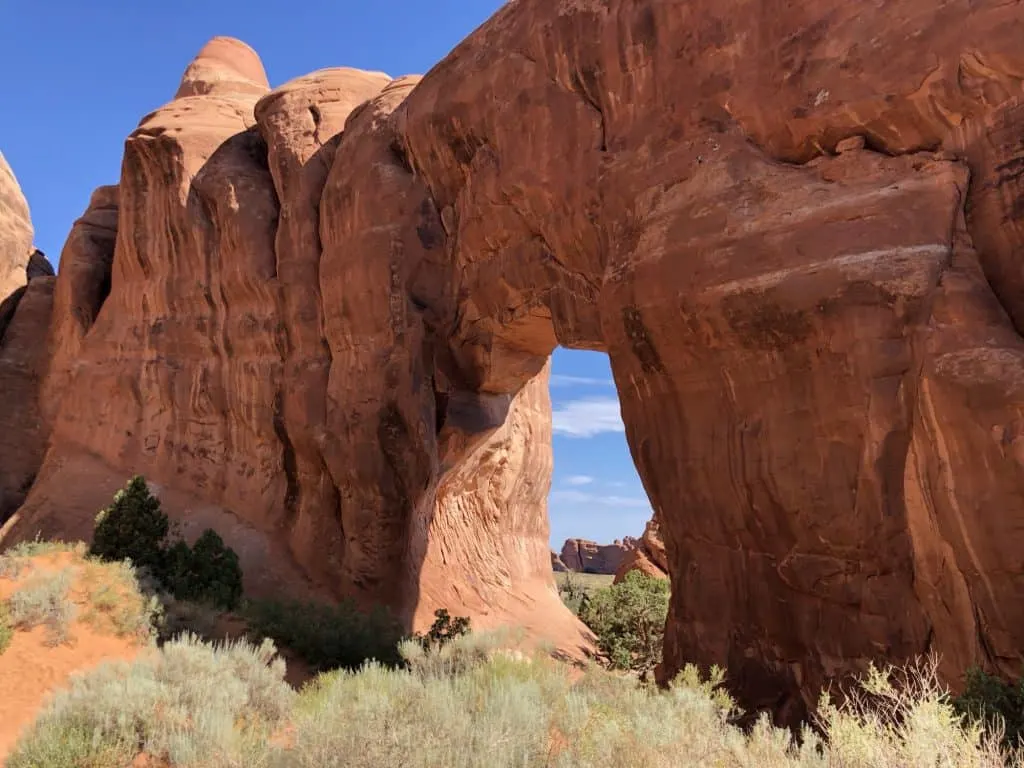 The best time to visit Arches is early spring or late fall. These seasons provide beautiful weather for families to explore outside, with average daytime temperatures right around 70 degrees. Timing a visit before spring break and after fall break may help cut down on the crowds.
Summers can get brutally hot in the high desert. If you visit during summer, start your day early and bring lots of water. We visited in July and tried to start our days around sunrise. The trails were nearly empty, the weather was nice, and the lighting was perfect.
Afternoon thunderstorms are common in the summer, so check the forecast to avoid getting caught in a monsoon.Even with the scorching heat, Arches stays busy from mid-March to mid-October.
If you don't mind the cold, consider a trip during the winter and experience the beauty of snow dusted red rocks in peaceful solitude. Be mindful that icy sandstone can be especially slippery so you may not be able to attempt some trails.
TIMED ENTRY NEW FOR 2022– The National Park system has become especially popular in the past few years (thank you Covid and Instagram) so several of the most popular national parks have gone to a time-entry system. Arches National Park is one of those parks.
Timed-entry tickets are required for entry to Arches National Park April 3- October 3, 2022. Tickets are released three months in advance at 8am Mountain Time on the first of the month. Visit the park website for full details on reservations.
Things to do in Arches National Park with Kids
1. Become a Junior Ranger or Attend a Ranger Program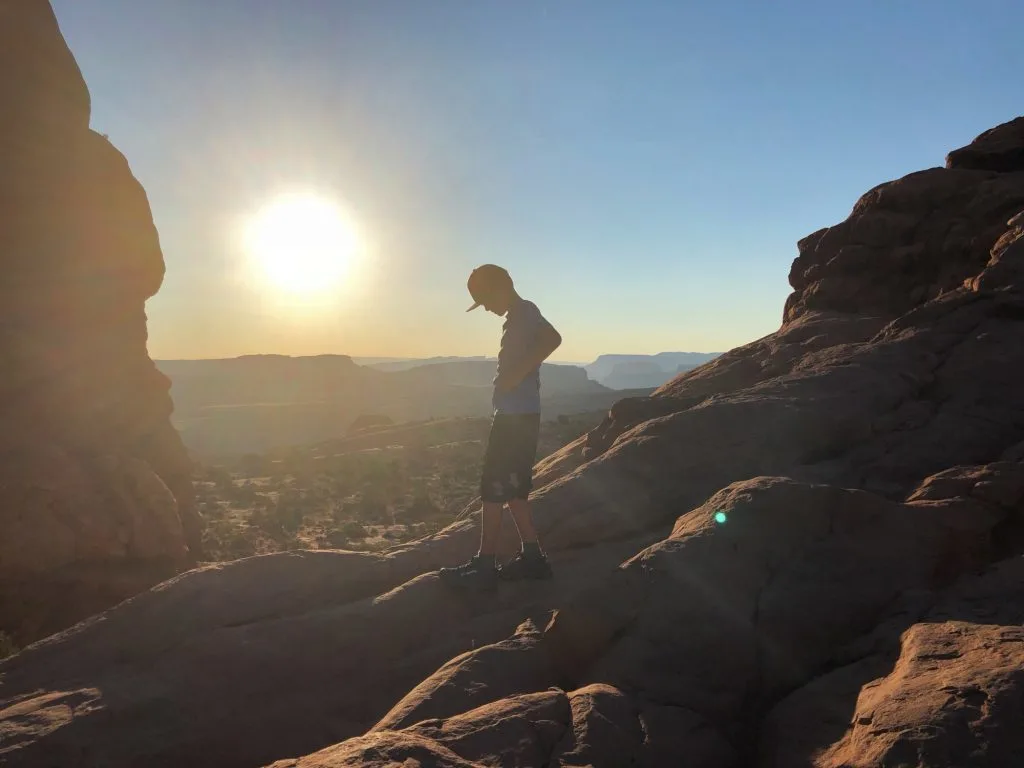 Stop by the Visitor Center on your way in to the park and grab a Junior Ranger packet or Red Rock Explorer backpack for the kids. These booklets and backpacks contain activities to help children explore the park and gain a deeper understanding of their surroundings.
Return completed packets and backpacks to the Visitor Center to receive an Arches National Park Junior Ranger badge.
The rangers also lead guided hikes and discussions every day during the busy season (Spring-Fall). These programs provide a great way to learn about the geological history of the area. Check the Arches National Park website for the current schedule.
2. Take the Arches National Park Scenic Drive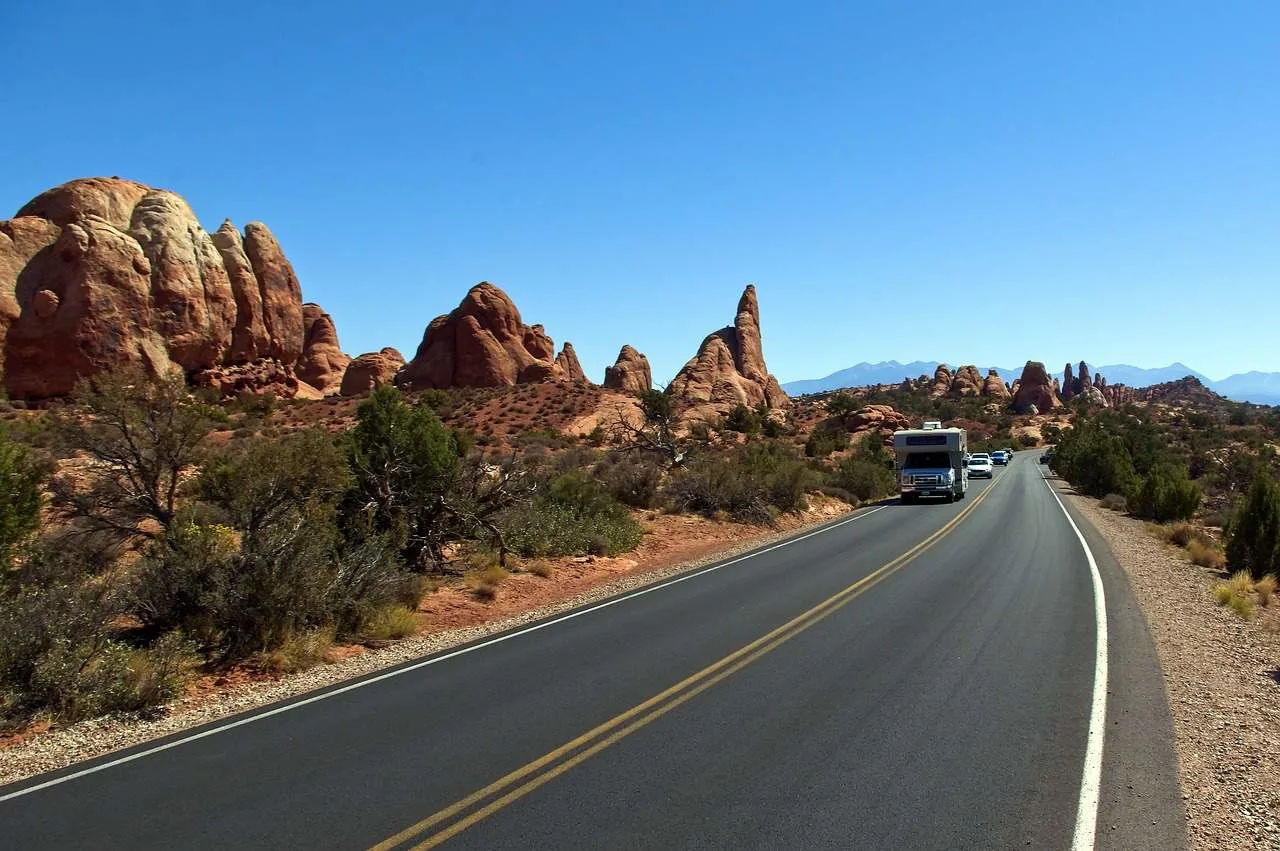 Driving along the 18-mile stretch of highway through the park brings visitors past amazing desert landscapes. Cruise past massive stone towers and beautiful blue sand dunes.
There are plenty of viewpoints to stop and take pictures along the way. For those with a four-wheel drive vehicle, take a ride down one of scenic unpaved roads. Note that ATVs and similar vehicles are not allowed in the park.
The Best Hikes in Arches National Park for Families
Standing under a massive sandstone arch is so much cooler than looking at it from the road. Most hiking trails at Arches range from easy to moderate difficulty and are perfect for families to gain a unique perspective. Here are some trails families will enjoy.
3. Landscape Arch Trail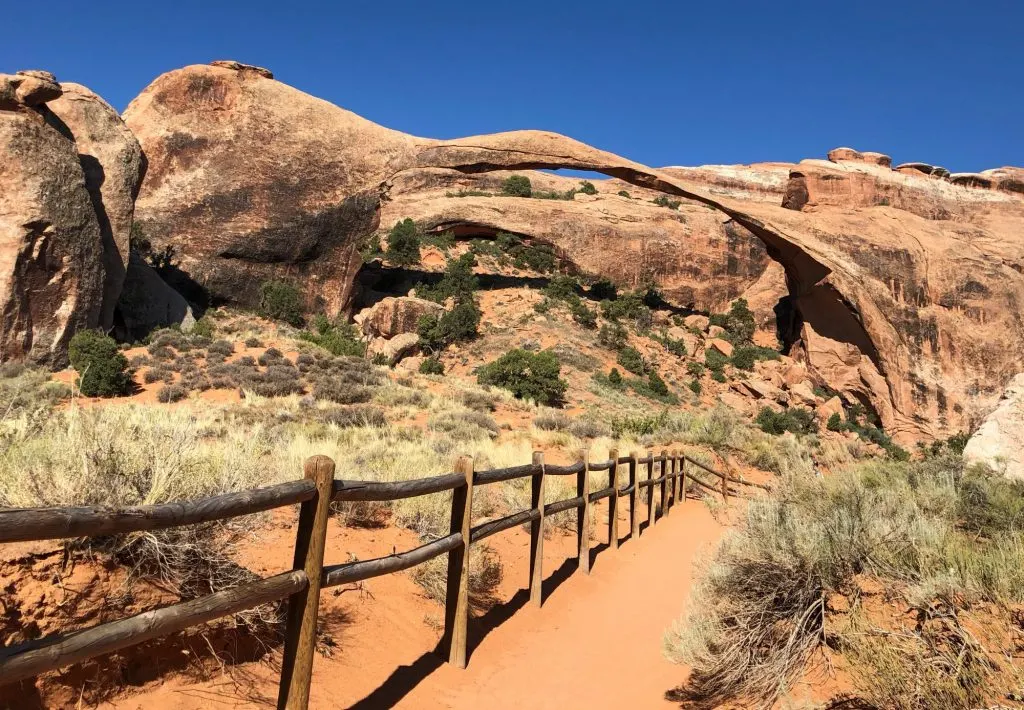 Take the Landscape Arch Trail to see the longest arch in the world. The 1.6-mile round trip hike is worth the unique chance to see an arch that spans the length of a football field.
It is a fairly easy hike, but shade is limited so time your visit properly and bring plenty of water. Unfortunately, you are no longer able to walk under Landscape Arch because portions of it are beginning to fall off.
4. Double Arch and The Windows Trails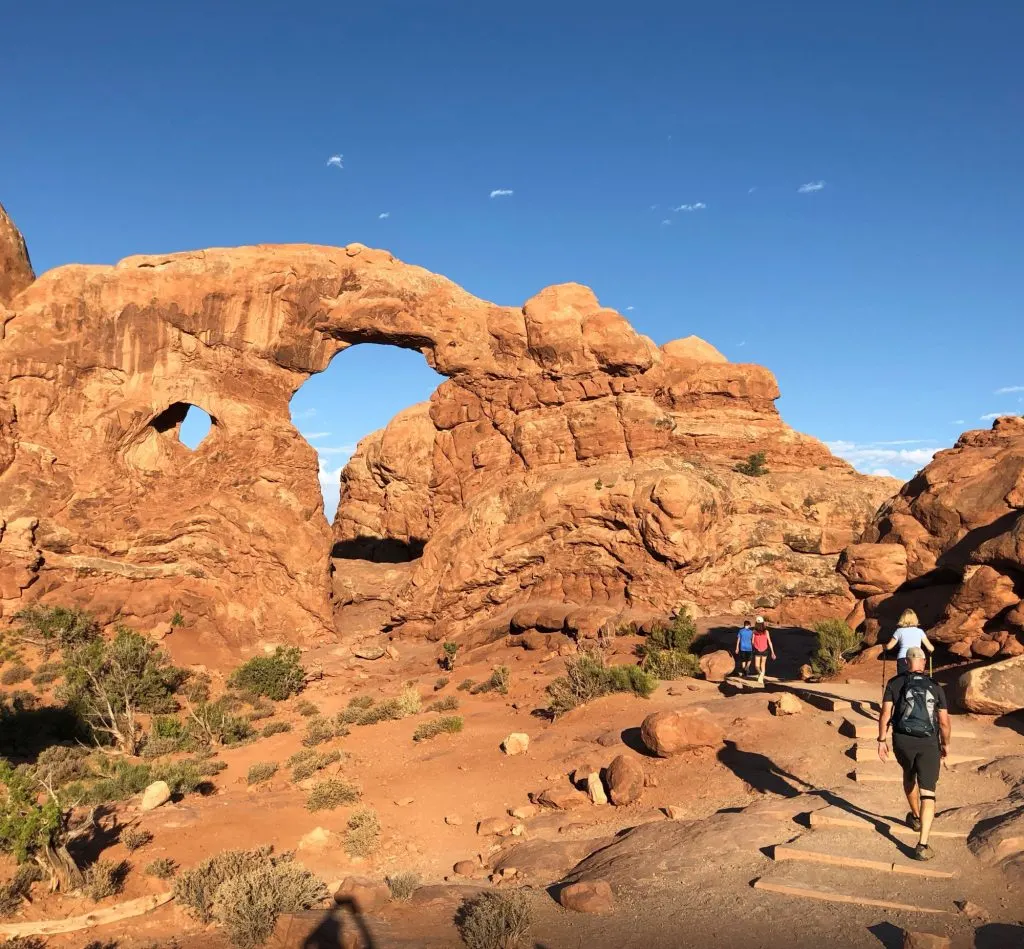 Double Arch Trail is a great place to climb around and explore inside the park's tallest arch. After walking an easy .25-mile trail, families can scramble around inside the bowl of double-arch before returning to the parking lot on the same trail.
Across the parking lot, the Windows Trail leads you under three massive arches in an easy 1-mile loop. This is a great place to stretch your legs while packing plenty of "wow factor" into a relatively short hike. Hike during golden hour to see the arches transform into unbelievable shades of red and orange.
5. Park Avenue Trail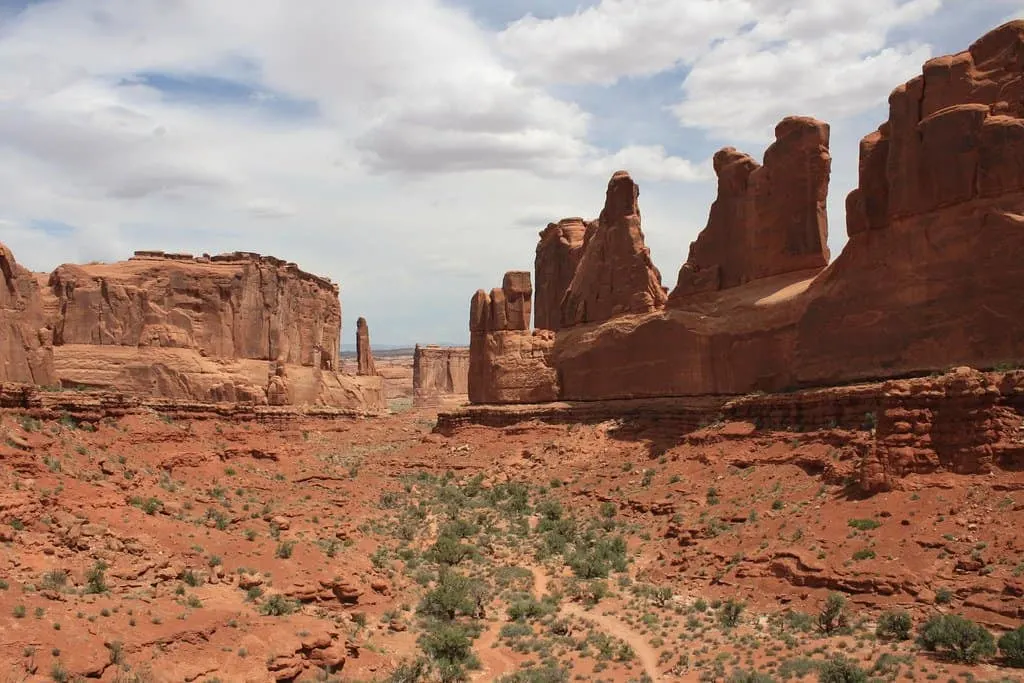 The Park Avenue Trail is a two mile out-and-back trail which travels between towering monoliths. The two miles can be cut down to just one if a driver drops you off at the trailhead and picks you up at Courthouse Towers. Kids love climbing over the boulders around the trail.
6. Delicate Arch Trail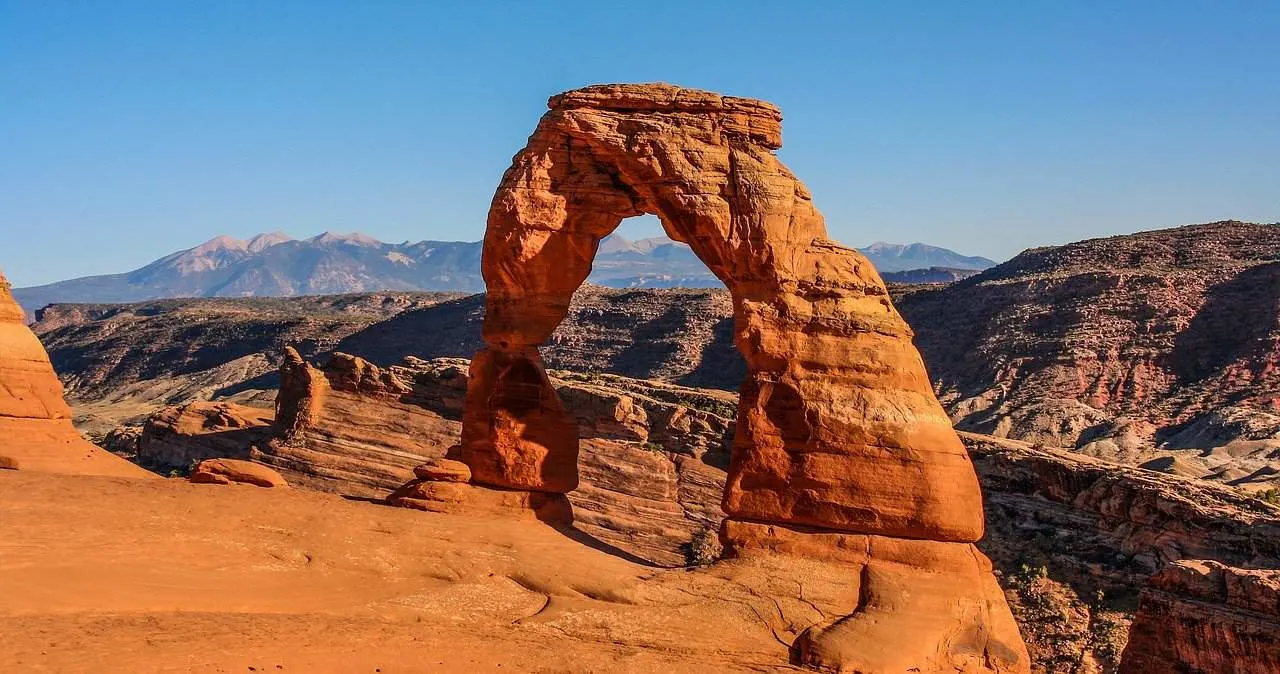 The Delicate Arch Trail leads to the world's most famous arch. Some might know it as the "Utah license plate" arch. Although this hike is rated as strenuous by the National Park Service, Trekaroo families have hiked the 3-mile round-trip trail with kids as young as two!
There are some steep parts and drop offs, but the reward is pretty awesome. There is no shade and the trail is almost entirely exposed, so we suggest hiking this trail early in the morning (with plenty of water), especially during the summer months. Much of the trail is on slickrock which should be avoided if rain is in the forecast.
Want to visit another great Utah national park? Read about 15 Amazing Things to do in Zion with Kids.
Where to Stay Near Arches National Park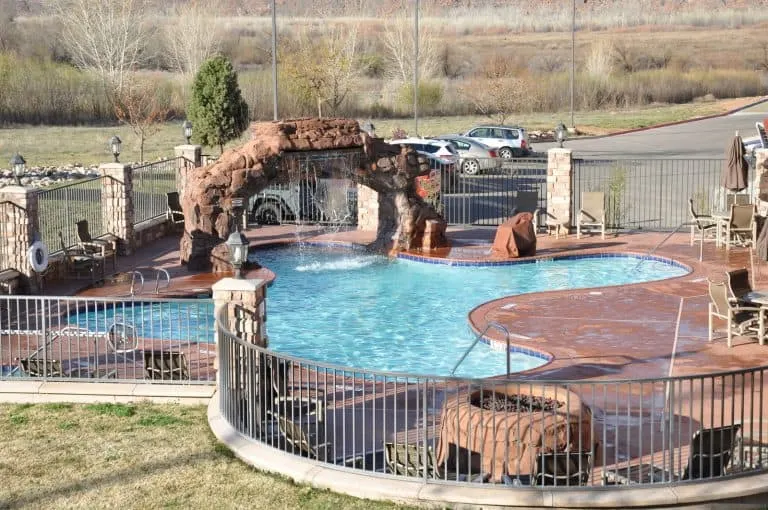 The city of Moab offers many great camping and hotel options for families visiting Arches National Park. Be sure to make reservations early when visiting during the busy season. These places can fill up fast!
The campgrounds in the park have no shade and can be very busy. Instead, try one of the many nearby choices like the Moab KOA. Here you'll get shade from the hot desert sun. Families also enjoy cooling off in the pool after a day of hiking.
If you love the great outdoors, but don't want the hassle of bringing all your gear, try Moab Under Canvas. This glamping resort provides comfortable beds and bathrooms inside a luxury tent or teepee. They are also conveniently located just outside the park.
Holiday Inn Express & Suites Moab has an awesome pool with a waterfall pouring from a replica of an arch. Families love their superb service, free breakfast, and large family room options.
If space and a free breakfast are a priority, check out the Homewood Suites by Hilton Moab. Located in the heart of town, we love this hotel for families because of the full kitchen in every room, indoor pool, and central location. It is easy to walk to several local restaurants and souvenir shops from this spot.
Explore National Parks with kids. Read all about our top recommendations for a successful family vacation at one of these iconic locations.