Before I visited Zion in winter, I pictured the famed slot canyons and rock formations of the park buried in snow, with park amenities shuttered for the season and the adjacent town of Springdale hard to access on wintry roads.
I could not have been more wrong- winter in Zion National Park is amazing! Thanks to its low elevation and Southern Utah location near St. George, Zion National Park is completely accessible in the winter, and often warmer than you'd think.
Check out our complete guide to Zion with kids which is filled with great tips for your Zion National Park, no matter the season.
Zion in Winter- What You Need to Know Before You Go
Does Zion Get Snow?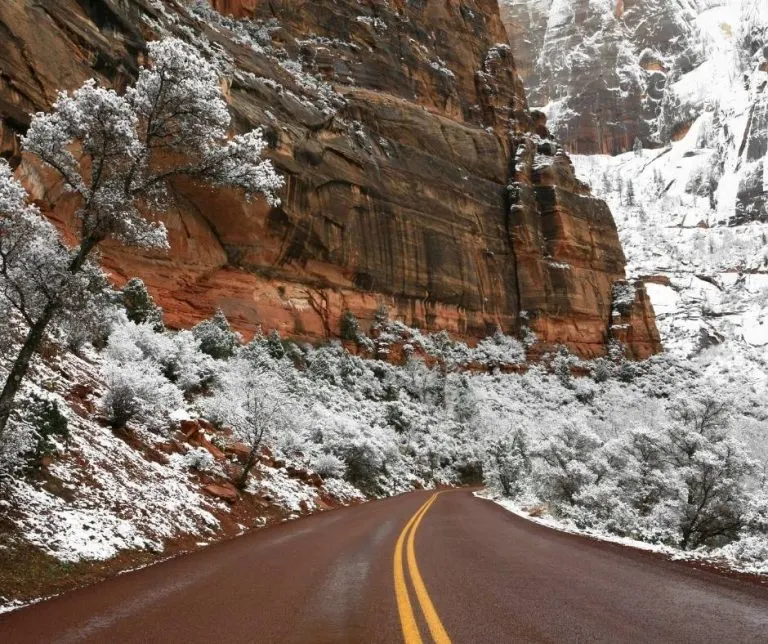 Is it worth going to Zion in winter? Definitely! Yes, Zion National Park does get snow, but it doesn't happen all that often. The lower elevations only see snow about 3.5 days out of the year, but when they do it is a sight to behold.
Unlike many of our national parks, Zion is completely accessible in winter as long as a storm hasn't temporarily shut down roads. Thankfully the plows move quickly so driving in the area isn't particularly treacherous.
Snow often melts at the lowest elevations of the park within just a couple hours. It can stick around longer at the higher points, and some portions of trails may be temporarily closed due to falling ice, but for the most part the park is open all year long.
What are Temperatures Like in Zion in Winter?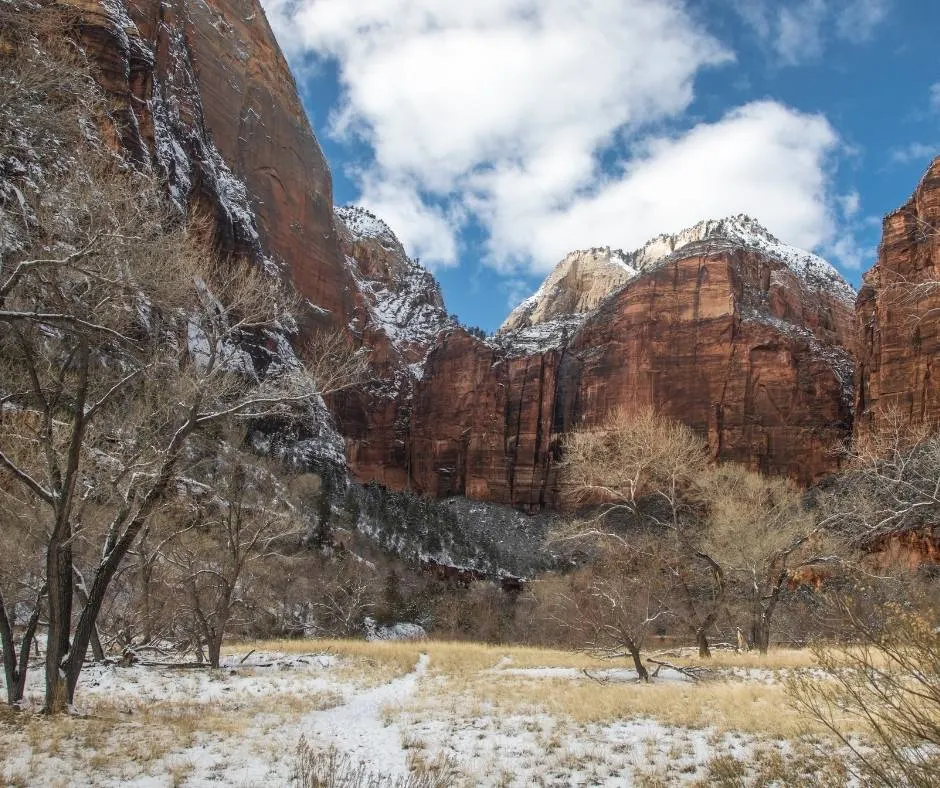 Visiting Zion National park in winter is a great way to enjoy hiking without sweating bullets. High temperatures in Zion National Park during the winter months of December, January, and February typically hover between 50 and 60 degrees. These are great temps for hiking and biking in the park.
Lows at night are quite chilly, and are typically around the 30 degree mark. This means that things can get icy, especially before the heat of the day sets in.
Things to do in Zion National Park in Winter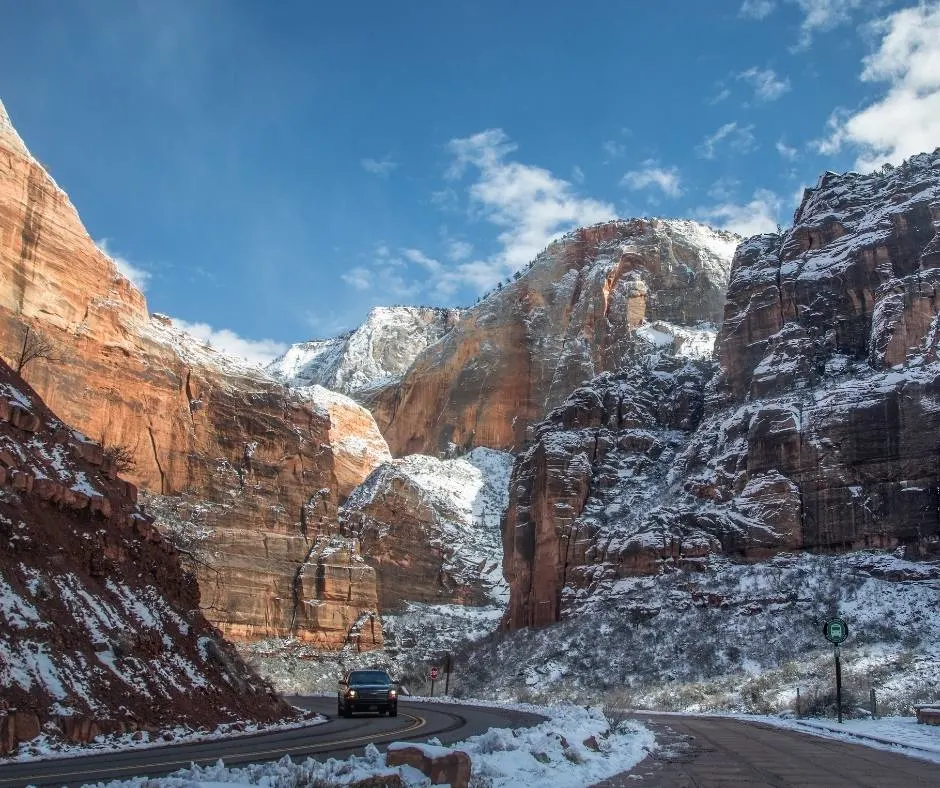 The great news is that you can do pretty much everything you would do in Zion in the summer during the winter, but without the crowds. We hiked several trails that are usually highly impacted during the warm weather months and encountered only a handful of other people.
Most of the hikes that start from points along the drive are open during the winter months which makes Zion National Park your personal playground in December, January, and February.
Zion Canyon Scenic Drive is closed to vehicle traffic in the summer, and visitors must use the park shuttle to get around. In the winter, however, the road is open so you can park near a trailhead and explore!
Shuttle service typically stops for the season the Monday after Thanksgiving. The only exception is during Christmas break when the shuttle operates due to heavier visitation. It stops operating again after New Years Day.
Because of the ice, we suggest you bring extra traction for your hiking boots. There are lots of inexpensive options for boots spikes on Amazon.
Here are a few spots you won't want to miss:
Weeping Rock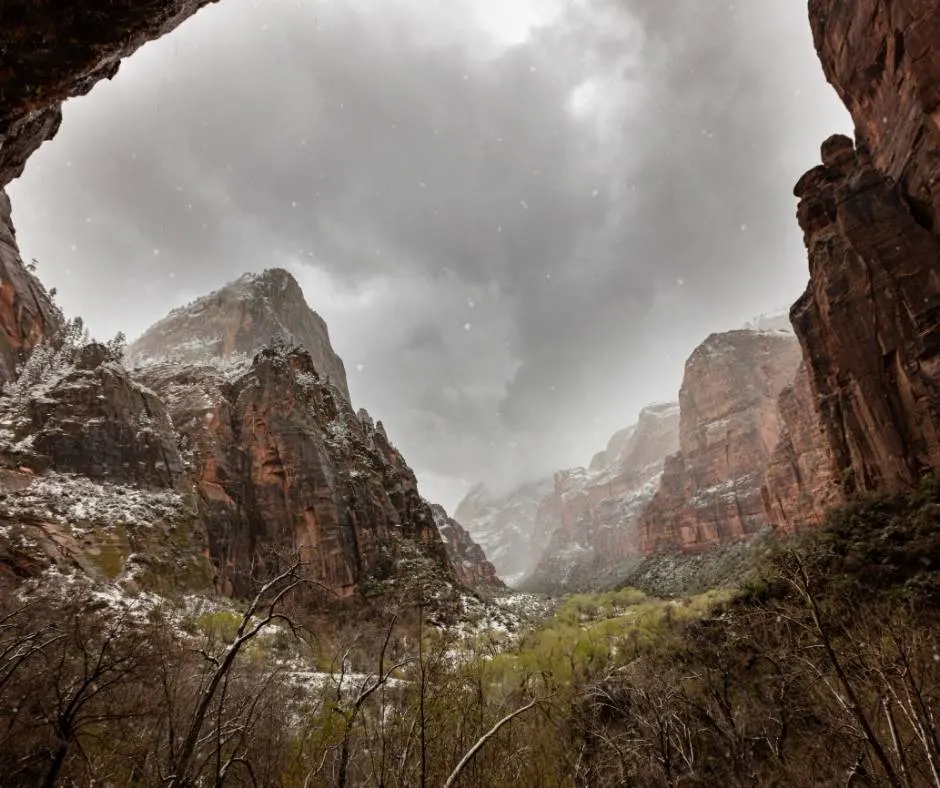 The Weeping Rock trail is more of a short but steep walk (.4 miles round trip) than a hike.
The paved path takes you along a creek to a mossy, dripping alcove can get icy, so be especially mindful of your footing.
Lower Emerald Pools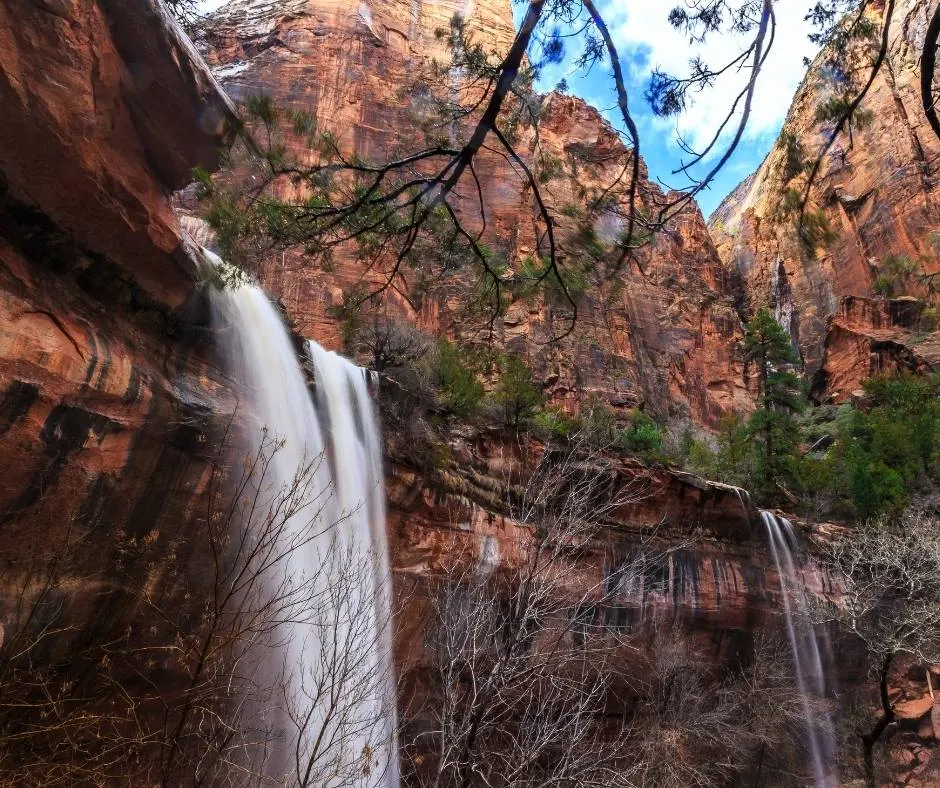 Lower Emerald Pools is an easy trail that is suitable for all ages. The 0.6-mile trail begins across the street from Zion Lodge and heads back into a canyon to a grotto where water runs over the edge of the rocks above and into a set of pools.
Much of the trail is paved, and its lower elevation makes it less prone to ice. Don't attempt Middle and Upper Emerald Pools without first talking to talking to rangers about current conditions.
Canyon Overlook Trail
One of our favorite things to do in Zion in winter is take in the incredible views. The Canyon Overlook trail is located just past the Zion-Mount Carmel Tunnel within the park (take a right at the 'Y'). Canyon Overlook offers big views for little effort and the whole hike is less than 1.5 miles.
It includes features that are always fun for kids like stair climbs, overhangs, and wooden planks. Just take care with young kids as there are drop-offs along the trail, though the overlook does feature a railing.
Sand Bench Trail
While we were at Canyon Overlook, a park ranger recommended the Sand Bench trail to us in winter. The Sand Bench Loop starts at the Court of the Patriarchs shuttle stop and is roughly 3.5 miles (round trip).
From the shuttle stop, take the hikers' bridge across the Virgin River. The trail crosses a stream, then continues past a landslide area from the '90s. You gain elevation of about 500 feet, much lower than any hikes to the canyon rims.
Plan to encounter sand, but as a winter bonus, it may be frozen or at least hardened. This trail is used by horses in the summer but operations are seasonal. Deer have been known to frequent the area as well.
Riverside Walk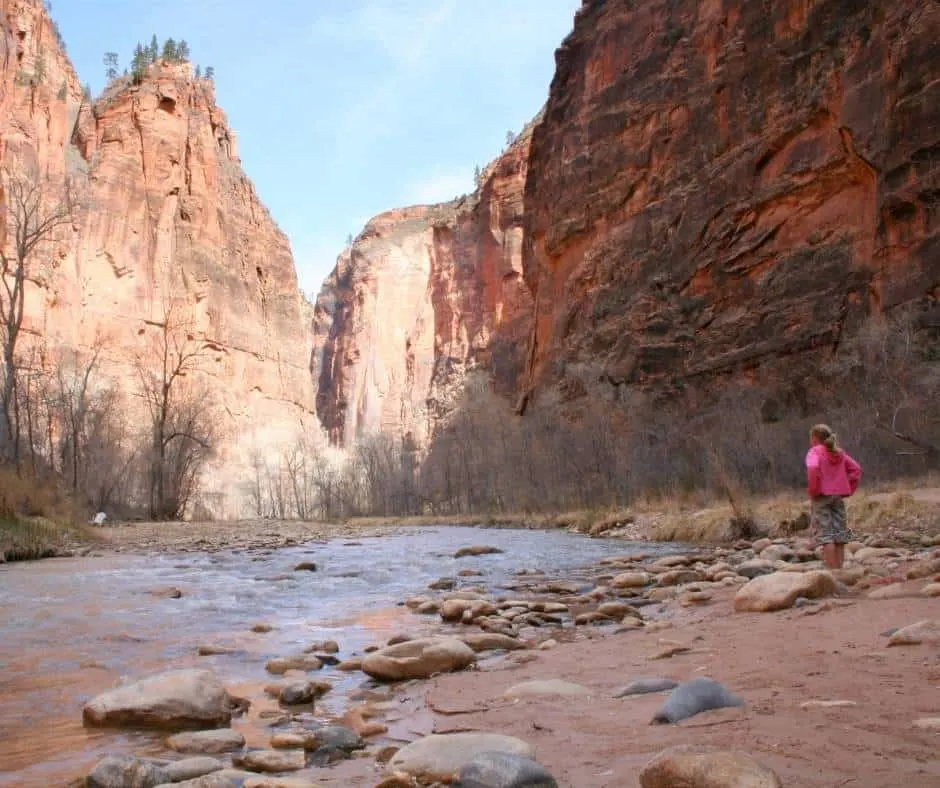 The Riverside Walk follows the Virgin River one mile into Zion Canyon. It is a flat, paved path with amazing views along the way.
This popular trail ends where the Zion Narrows Trail begins.
Can you do Zion Narrows in winter? Yes!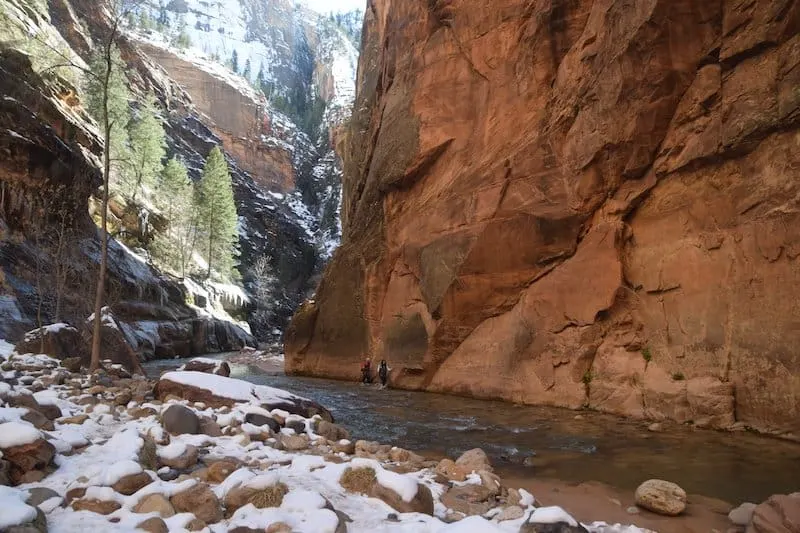 Hiking The Narrows was the highlight of our Zion winter trip. While we loved The Narrows in summer, going in winter is an entirely different experience.
Start at Zion Outfitter, located at the entrance of the park by the visitor center. These guys can set you up with dry suits along with special river shoes and booties. You'll definitely want all this gear for exploring The Narrows in winter.
For about $45 per person, you get dry bibs that go chest high, Adidas HydroLace canyoneering boots, neoprene socks, and a wooden hiking stick. For a little less, you can opt for waist high pants.
Note: You can rent the boots and socks in summer too, which I now realize would work better than the Keens we wore last time!
You can arrange for a guide to go with you in The Narrows, but families can also do it solo, provided you check the weather and conditions at the visitor center first. The Narrows are known for flash floods, which can happen any time of the year.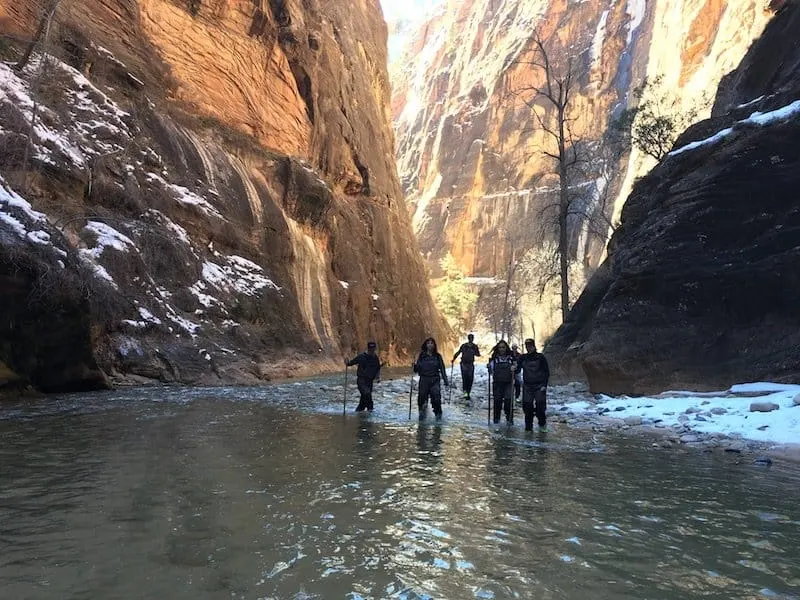 To get to the river, go up Zion Canyon Scenic Drive to the last stop, Temple of Sinawava. You'll take the Riverside Walk for one mile, which ends at an entrance to the Virgin River. During our visit, the trail was icy, so go slowly if needed, and be aware of icicles and potential falling ice above you.
Once in the river, make your way at will, sticking to the shallow spots as desired. The entire way up The Narrows to where it splits with Orderville Canyon takes a couple hours (it's about 3.5 miles), but families can stop anytime since it is an out-and-back experience.
Take care to keep your upper body dry. Water will pour into your dry suit from the top of the bib if you go too deep. Otherwise, the dry suit kept us very dry and comfortable. The canyoneering shoes will still let in water which is why you also wear the wetsuit-like sock.
The Narrows in winter are truly magical. The snow and ice contrast with the red rock and water with such beauty, you'll want your camera out at all times.
And unlike in summer, when you're wading through the river with crowds of people, you may have the river to yourself. I found myself completely alone more than once in the canyon.
Where to Stay at Zion National Park in Winter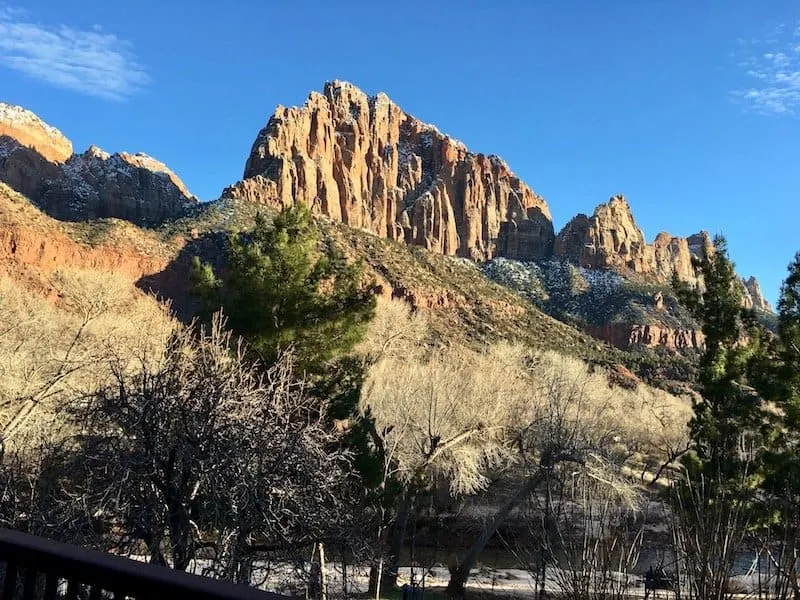 Springdale is the gateway town to Zion National Park, and it is filled with fun shops, galleries, and tasty places to eat.
I recommend staying in Springdale at least three days in winter to enjoy both the town and the park, then extending your stay in Southern Utah to include Bryce Canyon National Park or a Southern Utah ski resort. Brian Head Resort is only about an hour away, where families can snowmobile, ski, and snowboard to round out an adventurous vacation.
Cliffrose Springdale
We have stayed at Cliffrose Springdale in both summer and winter, and love this property. The lodge is just outside the park boundary next to the visitor center, and the view out of every window is fantastic.
In summer, the gardens and access to the river turn the Cliffrose into an extension of the park for outdoor play. In winter, the open, elegant lobby beckons and three outdoor hot tubs and a heated pool are at your disposal.
Cliffrose suites are perfect for larger families, as they have two bedrooms separated by a full kitchen and dining area, with balcony or patio.
Cable Mountain Lodge
Cable Mountain Lodge rooms feature full kitchens, large living areas, and plenty of space for large families in their suites.
Rocking chairs on the patio also offer views of the vibrant Zion cliffs. Cable Mountain Lodge is a short walk from the park entrance.
La Quinta Inn & Suites
This moderately-priced hotel is located about one mile from Zion's visitor center along Springdale's main drag.
Rooms at La Quinta Inn & Suites include a microwave, fridge, and high speed internet access. Your stay includes a free breakfast which features the normal continental breakfast stuff along with homemade cinnamon rolls, waffles, and breakfast sandwiches.
Find a National Park near you! Trekaroo has dozens of guides and articles about our nation's national parks.