1. Statue of Liberty and Ellis Island National Monuments: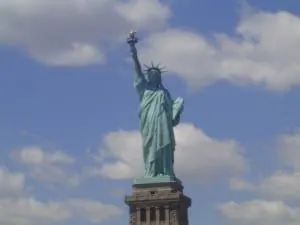 Hopping on a ferry from Battery Park in New York City and cruising out towards the Statue of Liberty and Ellis Island is a classic American experience. Its hard not to imagine what immigrants must have felt when they saw Lady Liberty for the first time, or how exciting it must have been to pass through the immigration station and onto a new life in the "New World". Both places are excellent spots to educate children on the important role that immgration has played in the founding of our country and the democracy that millions of people crossed the Atlantic in search of. Many families can trace ancestors back to Ellis Island so be sure to check the immigrant manifests while you are there.
2. Cabrillo National Monument: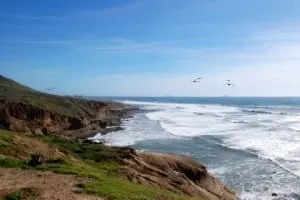 On the edge of Point Loma, San Diego is still wild. Waves pummel the cliffs, whales migrate past the Point Loma Lighthouse, and homage is paid to the first European to set foot on the West coast of the United States. Juan Rodriguez Cabrillo may have set foot on this land way back in 1542, but I imagine much of the scenery on the western side of the point looks the same today as it did over 450 years ago. The eastern side of the point offers incredible views of San Diego Harbor and the surrounding city. Cabrillo NM is a wonderful place to take your kids tidepooling. Anemones, owl limpets, and sea stars are just some of the sea creatures waiting to be discovered in intertidal zone. Be sure to stop by the visitor's center and have your kids try on a 16th century helmet and sword. Feeling the weight of the armor that the conquistadores wore will give them a greater appreciation of what life must have been like for Spanish explorers.
3. Dinosaur National Monument: What kid doesn't go through a dinosaur phase? Take advantage of their infatuation with thunder lizards and head out to Northwestern Colorado to visit Dinosaur National Monument. Hiking is extremely popular in this park and a great way to see the fossils and pictographs. The Fossil Discovery Trail cuts through multiple rock layers and exposes a wide variety of fossils and rocks. River rafting is also a common activity at Dinosaur National Monument, and children as young as 7 can enjoy a trip down the Green, Gunnison, or Yampa Rivers which run through the park.
4. Fort Sumter National Monument: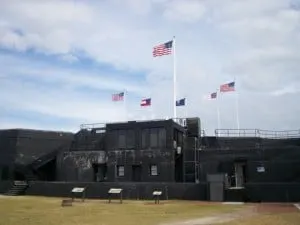 On April 12, 1861, the Confederate Army opened fire on this fort in Charleston Harbor. These first shots and the eventual capture of Fort Sumter signified the beginning the Civil War. Fort Sumter is only accessible by boat, and the 30 minute ferry ride through Charleston Harbor to the monnument is just part of the fun. Once on dry land, rangers will give a 10 minute historical talk and then visitors are free to take a self guided tour.
.
5. Mt. Rushmore National Memorial: Deep in the Black Hills of South Dakota, four presidents gaze out at the land they helped found, expand, unify, and preserve. Techinically speaking, Mount Rushmore is a memorial and not a monument, but it is so impressive and such an American icon, that I decided it had to be included in this list. It took 40 years to carve the 60 foot heads of Washington, Jefferson, Lincoln, and Roosevelt, but it will take only seconds of viewing to make a lasting impression.
.
.
.
.
.
Trekaroo is seeking families who love National Parks! Sign in and share your reviews on Trekaroo. Every review you write over the next 4 weeks can be can be entered in the $1000 Summer of Travel Contest!
Enter to win a National Park Pass

Related articles:
Trekaroo Families' Favorite Things to Do with Kids in Yosemite National Park
———Sharlene Earnshaw (aka doubleadventure) is Blogger-in-chief for Trekaroo and the blogger behind Double the Adventure.

Travel with kids to: CA | CO | DC | FL | HI | IL | MA | NC | NY | PA | TN | TX | VA | WA