What images come to mind when you think of the word desert? I used to just imagine flat stretches of nothingness with an occasional tumbleweed rolling by. That is until I visited America's great desert National Parks in Utah and Arizona and Southern California.
They may be classified as deserts, but that's just because it doesn't rain much. The beauty and adventure that can be found will blow away any ugly tumbleweeds as it becomes one of the best places you've ever explored. Desert nationals parks in Utah and Arizona and Southern California make for great off-season destinations.
Here is the lowdown on some of the best desert national parks with suggestions on when to visit, where to stay, and details to help you plan your trip.
Desert National Parks in Utah and Arizona and California
How Many National Parks Are Deserts?
If we are strictly referring to the 63 parks in the National Park Service that have the official "national park" title, there are 15- five in Utah, three in Arizona, two in New Mexico, two in Texas, one in Nevada, and two in California. These desert national parks are incredibly diverse and each has something unique to offer.
Several of these parks made our list of the best national parks for kids.
Zion National Park in Utah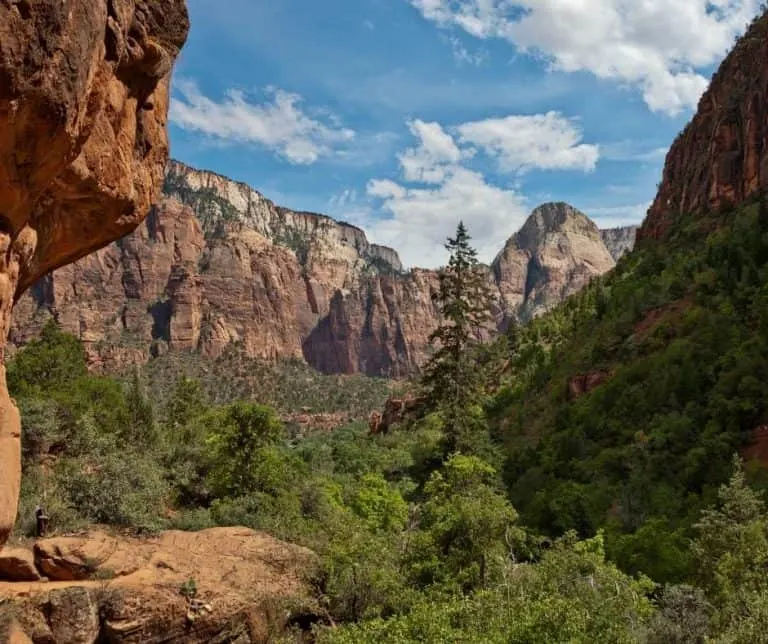 The Virgin River cut a long narrow channel through the mountains of Utah to form the spectacular canyon at Zion National Park. Traveling up into the canyon takes visitors past steep cliff walls and green grassy meadows. The canyon narrows to nearly five feet wide in the "Narrows", the very furthest section of the canyon that is popular for river hiking.
Best season to visit: Fall and spring. 100-degree days are common in the summer. Still, the park gets most of its visitation during the summer. Check weather reports for flash floods in late spring and summer.
Plan on taking the Zion Park Shuttle. For most of the year you can't drive into the canyon unless you are a registered guest at Zion Lodge.
Take day packs with water bottles, food, and supplies. Free water bottle refill stations can be found at various spots in the canyon including the visitor center, Zion Lodge, and the trailhead for the Riverside Walk. Cafeteria-style meals can be found at Zion Lodge's Castle Dome Cafe.
Read our complete guide to visiting Zion with kids. If you are visiting during the cool season you will want to read our guide to Winter in Zion.
One Day in Zion
Park your car and start at the Zion Canyon Visitor Center. Hop on the free shuttle bus and get off at one of the many stops. Hike one of the many family friendly trails such as the Emerald Pool Trail.
For this one, hop off the shuttle at the Zion Lodge and take the Lower Emerald Pool Trail. Continue on the to the Upper Emerald Pool Trail and take time to stop for a picnic at the upper pools. Head back down and link to the Kayenta Trail which follows the Virgin River from above until it meanders downhill to the Grotto shuttle stop.
Be sure to spend some time just playing in the Virgin River that runs through the canyon along the Riverside Trail.
Multiple Days in Zion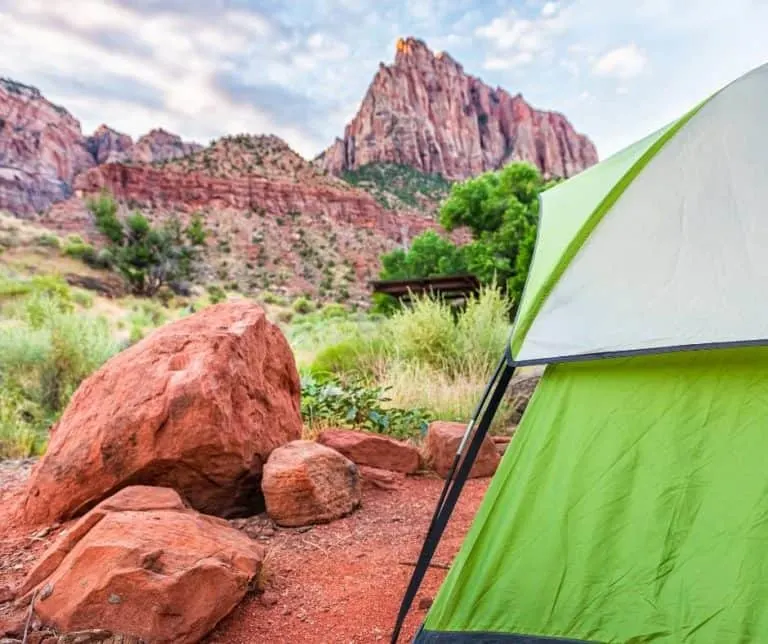 Stay at Watchman Campground next to the river or find great lodging in Springdale. Cable Mountain Lodge are within walking distance of the park entrance. Rent inner tubes and float down the tree-lined Virgin River.
Take the free shuttle into Springdale for many restaurant options. Don't miss driving out the dramatic east side of Zion through the historic Zion/Mt. Carmel tunnel or visiting the Kolob Canyons area.
Big Adventure in Zion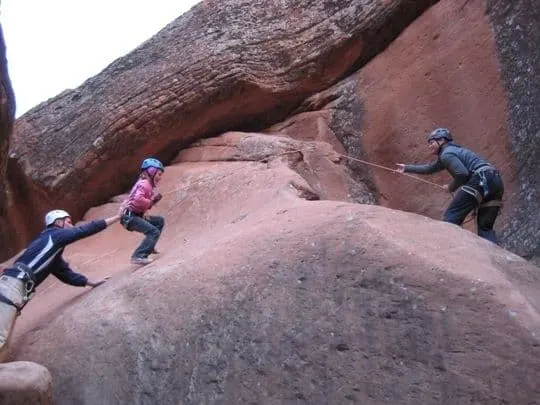 Rappel cliffs, climb rocks, and squeeze through slot canyons with an experienced Red Desert Adventure canyoneering guide. This adventure is suitable for kids as young as five years old. Be prepared to challenge kids' confidence while canyoneering along sheer canyon walls.
Bryce Canyon National Park in Utah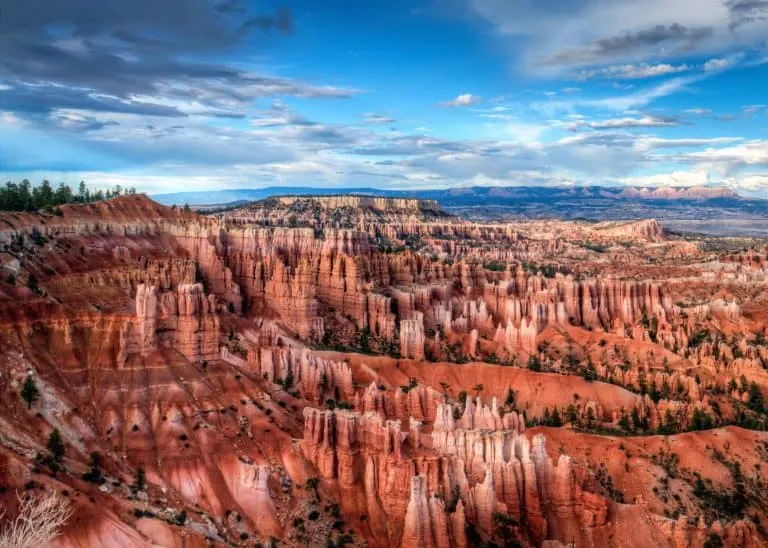 Hoodoo? You do as you explore Bryce Canyon National Park, known for its dramatic landscape of brilliant red spires filling marvelous amphitheaters that seem to appear out of nowhere.
Read our full guide to visiting Bryce Canyon National Park with kids.
Best season to visit: Late spring through early fall. Trails in this high elevation park are often icy and closed during the winter months.
Absolutely make the time and effort to experience walking amongst the hoodoos at the bottom of Bryce Amphitheater, just be sure to keep a firm grip on those little hands and wear good hiking shoes for the slippery gravel trails.
Check out our epic Utah National Park road trip itinerary.
One Day in Bryce Canyon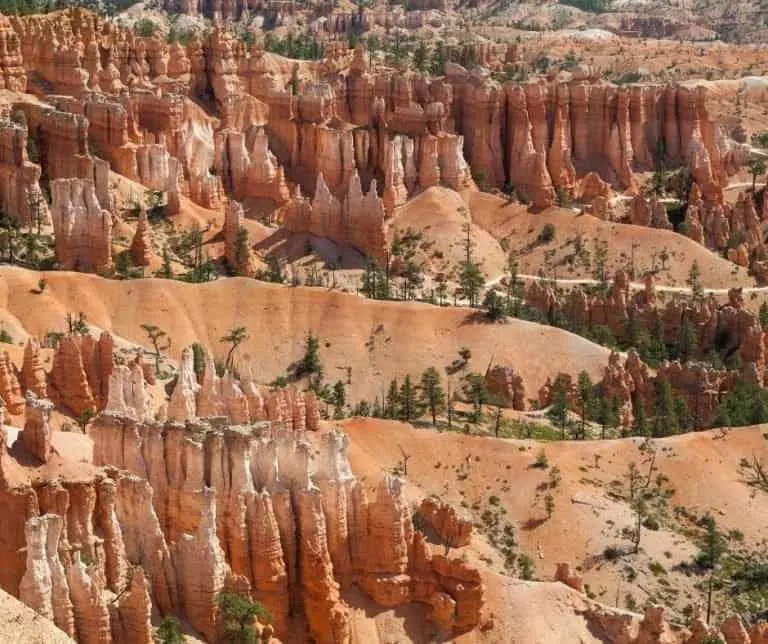 Head to the parking area near The Lodge at Bryce Canyon and walk towards stunning viewpoints with intriguing names such Inspiration Point, Sunrise Point, and Sunset Point. Grip the hands of your little ones because there are few rails separating you from the edge.
Strap on your hiking shoes and make your way down the Wall Street side of the Navajo Loop, marveling at towering hoodoos which surround you. Follow the signs towards Queens Garden when you reach the bottom of the amphitheater and make your way through a garden of miniature, man-made hoodoos along the way before making the steep trek back up.
This may be the most magnificent three-mile hike you ever experience. After your hike, continue driving the scenic drive, stopping to take in the views along the way.
Multiple Days in Bryce Canyon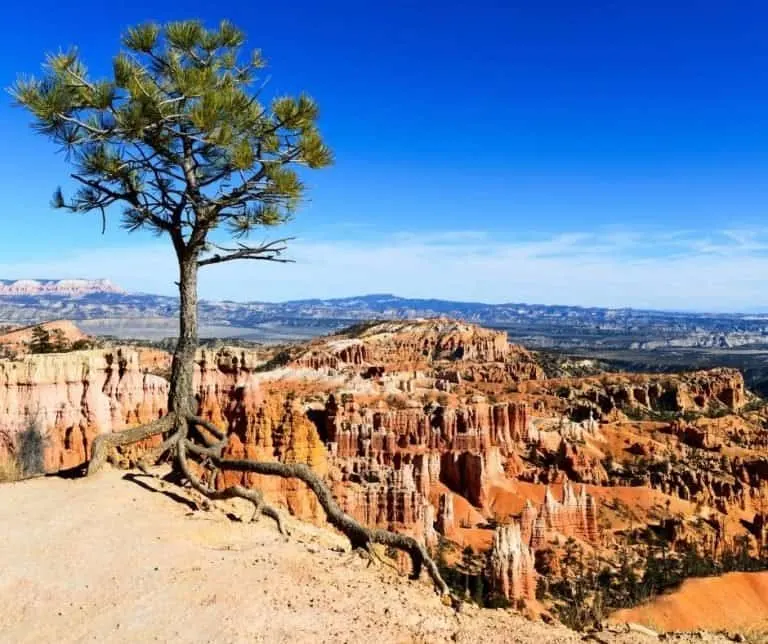 Stay at the Best Western Plus or Ruby's Inn near the park entrance or camp under the stars (Bryce has some of the best night sky viewing in the country) at the North or Sunset Campgrounds.
Experience the "Wall of Windows" on the Peekaboo Loop, see ancient bristlecone pines of Rainbow Point on the Bristlecone Loop Trail, and play in the creek that runs beside the Mossy Cave Trail.
Big Adventure in Bryce Canyon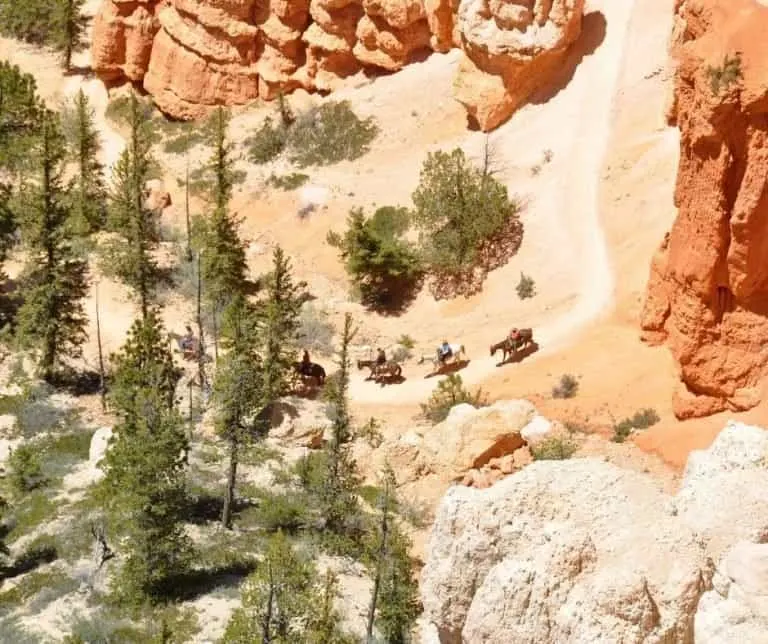 Kids as young as seven can take a mule ride down to the bottom of Bryce Amphitheater with Canyon Trail Rides. Two hour and ½ day trips are available.
Capitol Reef National Park in Utah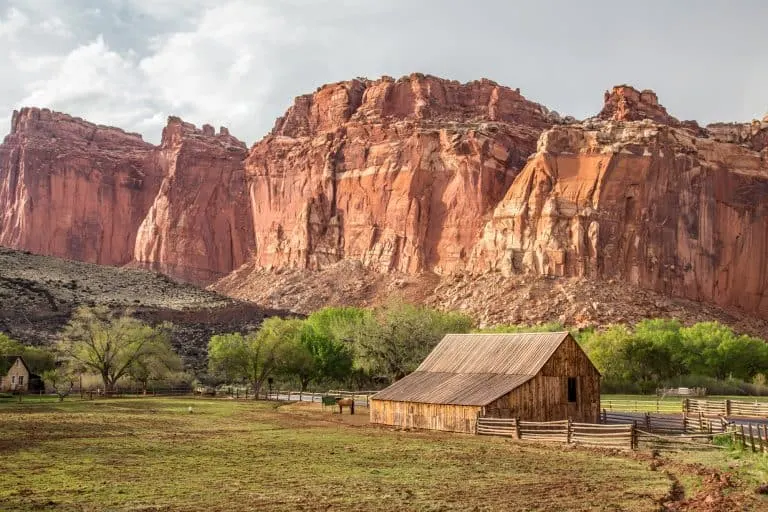 The reef in this park is actually a 100-mile ridge in the earth's crust surrounded by Navajo Sandstone domes similar to our Capitol buildings; thus a fitting name- Capitol Reef.
Best season to visit: Summer through fall. This park preserves historic pioneer orchards and invites visitors to harvest the fruit during summer and fall. Summers can be quite warm though, so plan to do your hiking early in the day.
This park is fee free along Highway 24. A small entrance fee is required if you do plan on driving the scenic drive south of the Fruita Campground.
There is no large scale food available for purchase within the park, so pack a picnic and enjoy the shade of cottonwood trees at the grassy picnic area near the visitors center.
Check out a free family fun pack full of useful tools, games, and activities at the visitor center to use as you explore the park.
One Day in Capitol Reef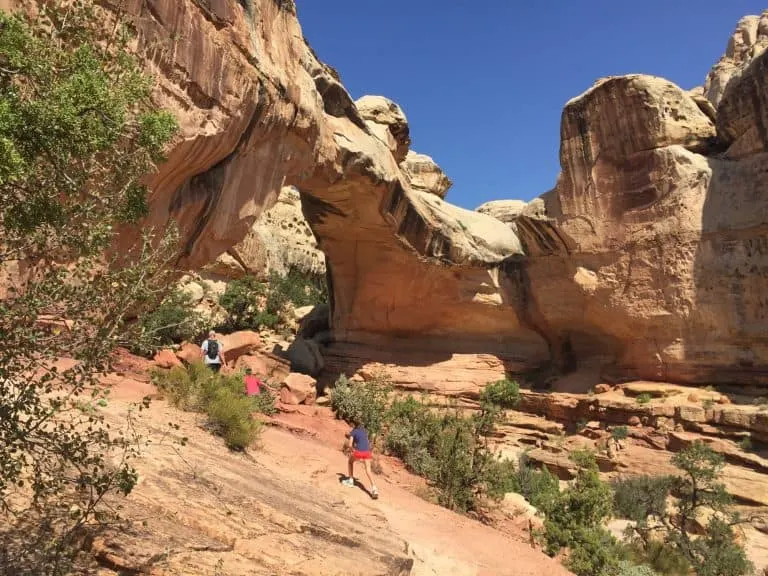 Visit the historic Fruita School and imagine classroom life as a pioneer student. Nearby, walk along the petroglyph panel and spot stories left behind by the ancient Fremont culture.
Hike the moderate one-mile trail to Hickman Bridge and witness a large natural arch up close. Then enjoy a healthy snack as you harvest fresh apples, peaches, cherries, apricots and pears in the park's historic pioneer orchards.
Read Trekaroo's full comprehensive guide on things to do in Capitol Reef National Park which includes hikes, activities, and food and lodging recommendations.
Multiple Days in Capitol Reef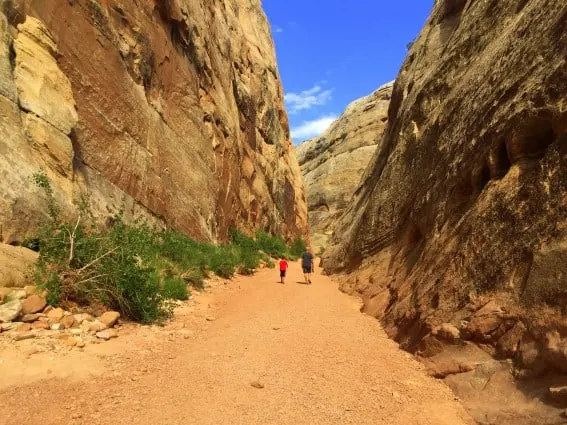 Stay at Fruita Campground or find great lodging at Capitol Reef Resort in nearby Torrey. Discover the remote areas of the park by exploring stops along the park's Scenic Drive. Be sure to pick up the inexpensive Scenic Drive brochure at the visitor center bookstore to help guide you along points of interest.
Stretch your legs at the Grand Wash spur road where kids will love exploring this narrow rock covered wash. If a fear of heights doesn't concern you, consider hiking to the top of Cassidy Arch where you can look 670 feet down to the canyon below.
Big Adventure in Capitol Reef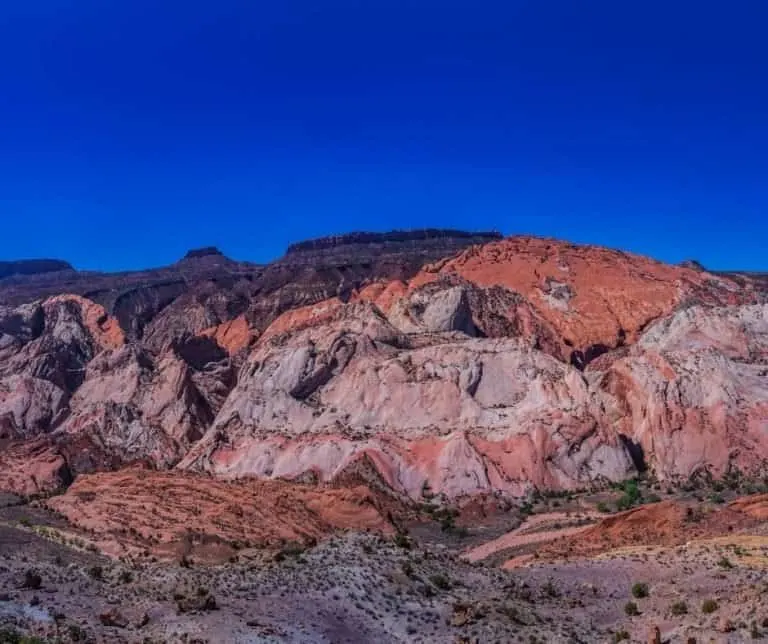 Drive the 4-wheel drive requisite Burr Trail Road through the park's remote Muley Twist Canyon. Stop along the Strike Valley Overlook and witness the park's namesake firsthand, the great 100-mile reef, also known as the Water Pocket Fold.
Arches National Park in Utah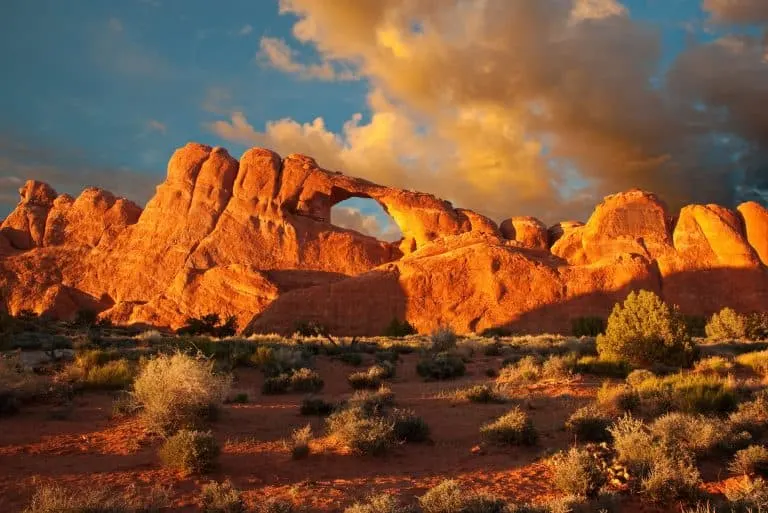 Arches National Park is home to the greatest concentration of natural sandstone arches anywhere on earth. At last count, the park has over 2,500 natural arches and hundreds of unique rock formations that will delight kids of all ages.
Best season to visit: Spring and fall. Extreme summer temperatures reaching over 100 degrees may limit your ability to comfortably explore park trails. If you do visit in the summer, hike in the early morning. Mild spring and fall temperatures are ideal to get out and play among the rock formations in this park.
Arrive early if you plan on exploring popular areas like Delicate Arch and Devils Garden since these trailhead parking spots usually fill up quickly. Be sure to pack plenty of drinking water since potable water is only available at the visitor center and Devils Garden area.
There is no food available for purchase within the park, so pack a picnic and enjoy dining amongst the park's unique sandstone formations. Finally, watch your step and stay on the trails because that black crust growing on the soil surface called cryptobiotic crust, is actually alive.
Read our full guide to visiting Arches National Park with kids.
One Day in Arches National Park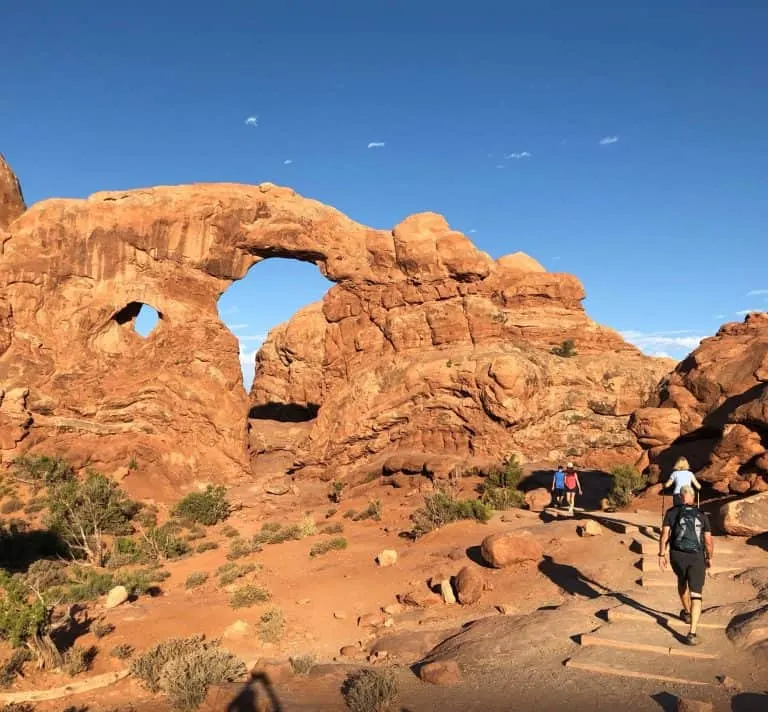 Stop in at the visitor center and pick up a free Junior Ranger booklet. Then practice self-control by driving straight to the Devils Garden parking area without stopping to admire viewpoints along the way. If you're early enough, you should find a coveted parking spot here.
Hike the easy 1.6 mile roundtrip trail to Landscape Arch, where you'll witness the earth's longest natural arch, measuring 306 feet. Picnic at Balanced Rock and strike a pose next to this gravity defying wonder, a perfect backdrop for a family photo.
Let kids run wild in the Windows District, home to Double Arch, or window shop for rocks along the natural city-scape of Park Avenue. Then watch the sun set through Turret Arch and wish you had opted for a multiple day visit.
Multiple Days in Arches National Park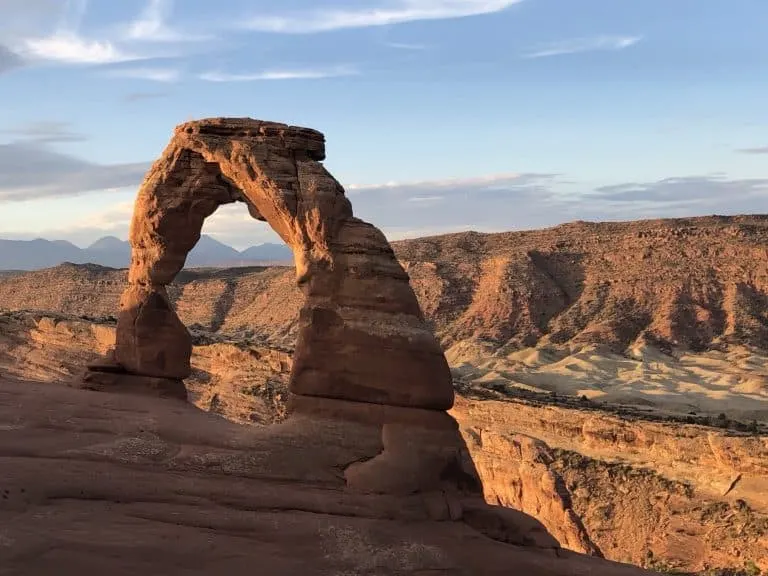 Be sure to make advance reservations if you plan on camping at the popular Devils Garden Campground inside the park, or find great lodging in Moab.
Hike the three-mile roundtrip trail to the iconic arch the welcomed Utah's 2002 Olympic torch, the infamous Delicate Arch. Attend a free ranger-led walk and learn more about the area's history and geology along some the park's kid-friendly trails.
Drive off the beaten path (and pavement) and explore the park's remote and rugged Lost Spring Canyon.
Big Adventure in Arches National Park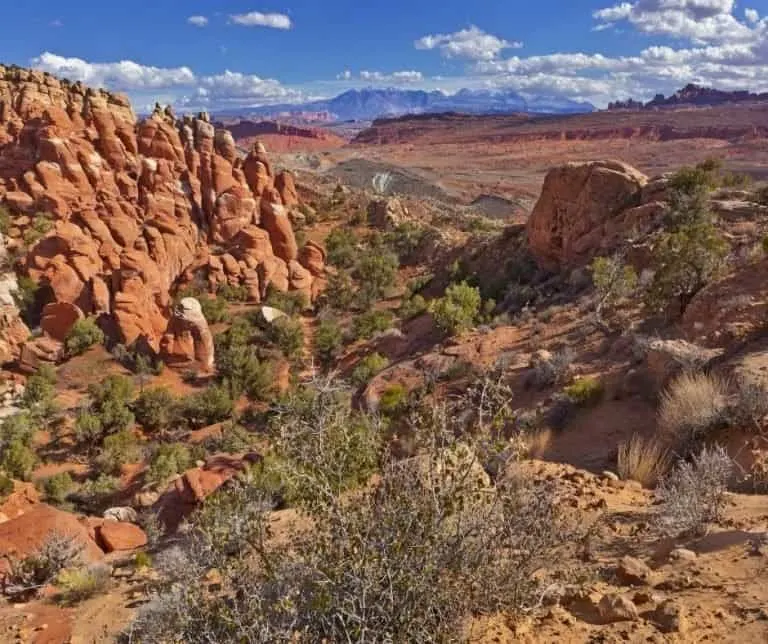 Explore the park's permit-only, maze-like, Fiery Furnace area with a park ranger. This two-mile, ranger-guided tour requires participants to squeeze through narrow canyons, shimmy along sandstone walls, and meander across narrow ledges.
Kids must be at least five years of age to participate. Reserve your spots early as this popular Ranger-led program fills up at least two months in advance.
Or book an Arches 4×4 tour from Moab. As a trusted Trip Advisor affiliate, we can offer the lowest rates on discount tickets.
Canyonlands National Park in Utah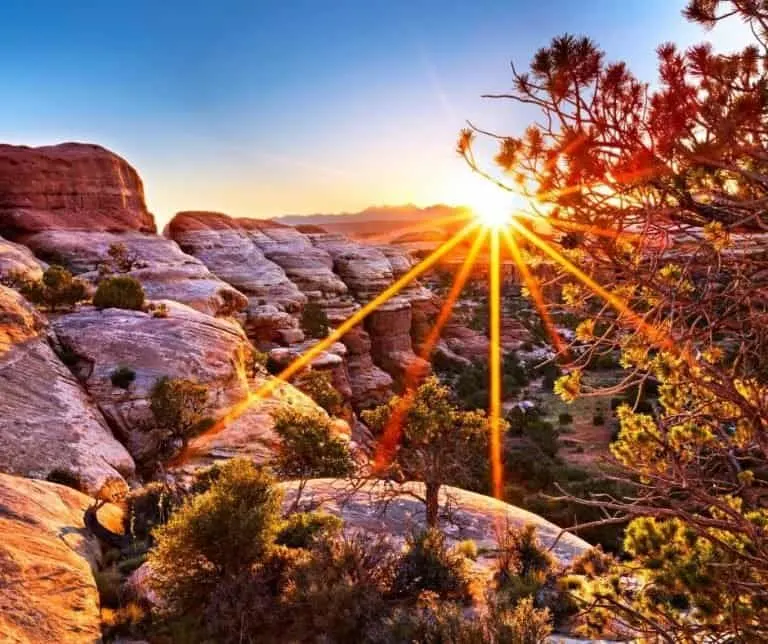 What do islands, needles, and mazes have in common? The answer, Canyonlands National Park, home to these three unique park districts that were carved and shaped by the Colorado and Green Rivers and their tributaries.
Best season to visit: Spring and fall. Extreme summer temperatures may reach above 100 degrees and late summer monsoon seasons brings storms that may cause flash flooding. If you do visit in the summer just try to start your days early. A sunrise through Mesa Arch is unforgettable.
The park's districts- Island, Needles, and Maze- are not interconnected by roads. Each of these separate districts has their own visitor center.
The Island District is the most accessible and see the bulk of the park's visitation given its proximity to Moab.. Portions of the Needles District may require four-wheel drive to access. The Maze District is least accessible via remote, four-wheel drive roads.
Here are our favorite things to do in Moab with kids.
There is no food available to purchase within the park, and potable water is only available at the Island or Needles visitor centers as well as Squaw Flat campground.
Finally, hold on to little ones. There is a reason why the Island District is called Island in the Sky- steep cliff faces, extreme drop-offs, and no safety rails.
One Day at Canyonlands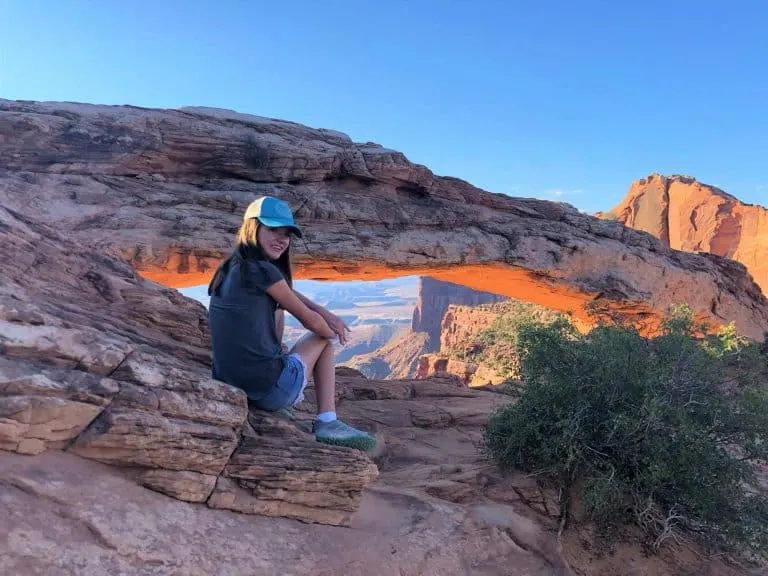 Stop in at the Island or Needles visitor centers and pick up a free explorer pack full of kid-friendly tools and guides which can be used while exploring the park. Greet sunrise through Mesa Arch which is accessed via a half-mile hike. Then, hike the two-mile round trip Grand View Point Trail which leads to the tip of the Island in the Sky mesa.
Learn more about the area's geology by attending one of the twice daily ranger programs at Grand View Point. Dine at the picnic area near Whale Rock, and then climb this naturally whale-shaped monolith and experience some amazing views of the adjacent Upheaval Dome.
Multiple Days at Canyonlands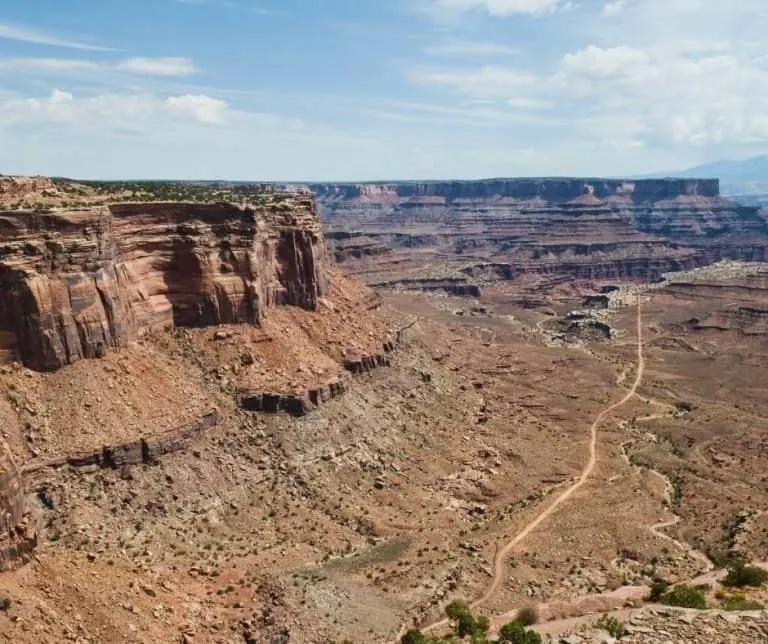 Camp at either the Squaw Flat Campground in the park's Needles District, or the Willow Flat Campground in the park's Island District. Sites at both of these campgrounds are offered on a first-come-first-serve basis, or find great lodging in Moab.
Mountain bike or four-wheel drive along portions of the 100-mile White Rim Road, a rugged unpaved road which loops around the Island in the Sky.
Spot bighorn sheep and enjoy the viewpoints along the 2.4-mile Slick Rock Trail. Then step back in time on the 0.6-mile, round-trip Cave Spring Trail and discover a historic cowboy line camp and prehistoric pictographs along the way.
Big Adventure in Canyonlands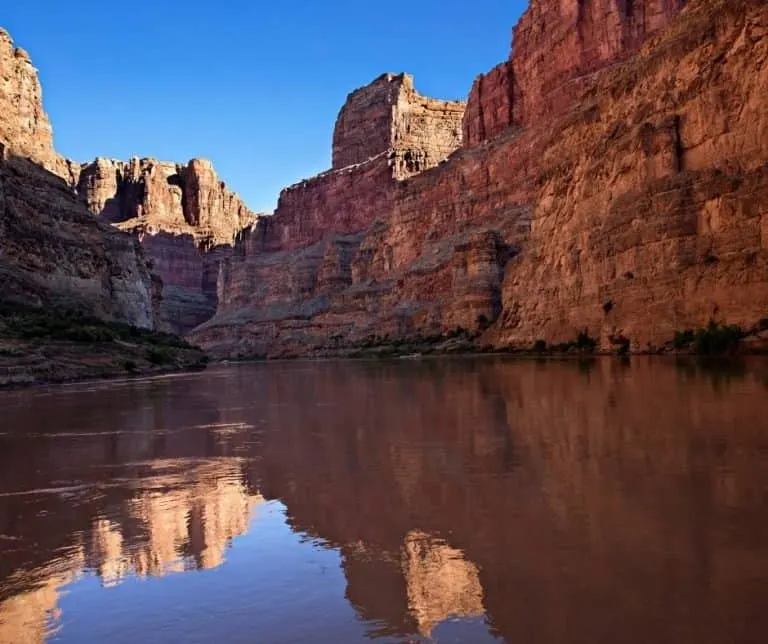 This park is home to the confluence of the Colorado and Green Rivers, resulting in the ideal location for some high adventure boating.
Calm waters lie above the rivers' confluence; below the confluence lies increased water flow and Cataract Canyon's 14-mile stretch of Class III to V white water. Local outfitters offer guided trips, from half-day float trips to week-long excursions.
Saguaro National Park in Arizona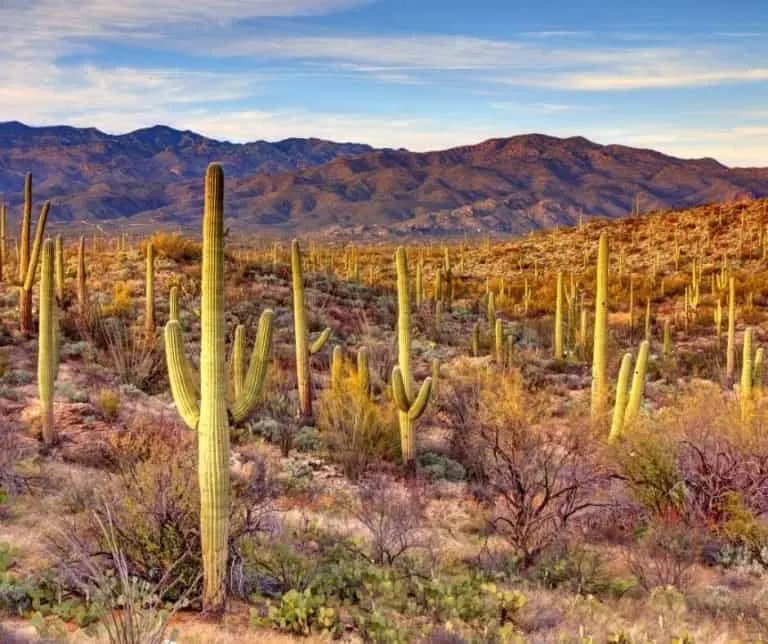 The giant saguaro ("sah-WAH-roh") is the quintessential picture of what a cactus is. Seeing them stand like statues amidst the rocks and hills of Saguaro National Park is absolutely beautiful and worth exploring.
Best season to visit: Fall through spring. Desert blooms come alive with winter and spring rains. The fruit of the saguaro ripens in June. Most of the park is sweltering during the summer months in this low desert park but you can explore the higher elevation back country in the Rincon Mountains during the summer.
There are two districts of the park-Tucson Mountain and Rincon Mountain- separated by the city of Tucson. Both are great for day visits with visitor centers, hiking trails, and picnic areas. Take a first aid kit (including tweezers for cactus pokes) and lots of water on any hike, even in winter, because of the low humidity.
Here are our favorite things to do in Tucson with kids and the best family resorts in Tucson.
One Day in Saguaro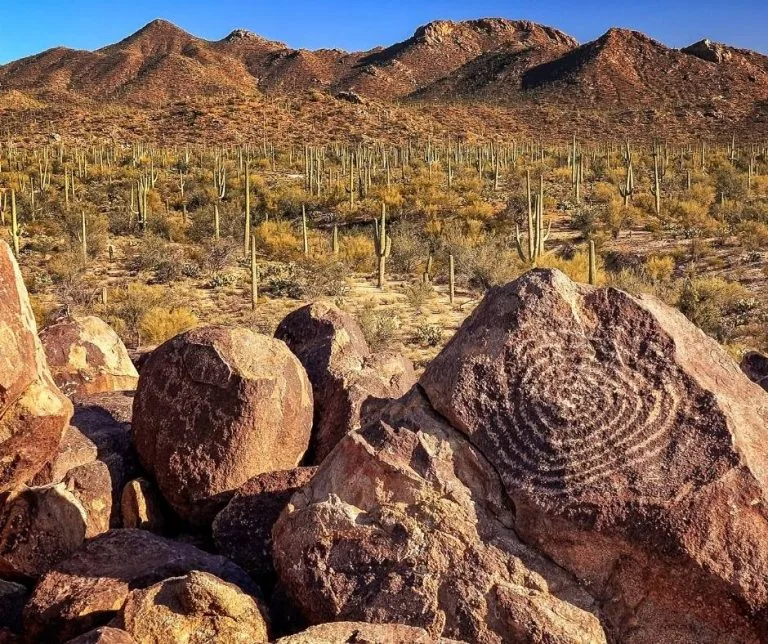 Start at the visitor center of either the Tucson Mountain District (West) or the Rincon Mountain District (East). Learn about the saguaros and pick up Junior Ranger books. Choose a nature trail along the looping drive and get out and explore.
The Freeman Homestead Trail on the east side is a one mile loop with interpretive signs. The Signal Hill Trail on the west side is a ½-mile climb to dozens of ancient petroglyphs.
For fun on the trail, imitate the saguaros "arms" and take silly pictures. Stay for the changing light of sunset which is one of the most beautiful moments in the desert.
Multiple Days in Saguaro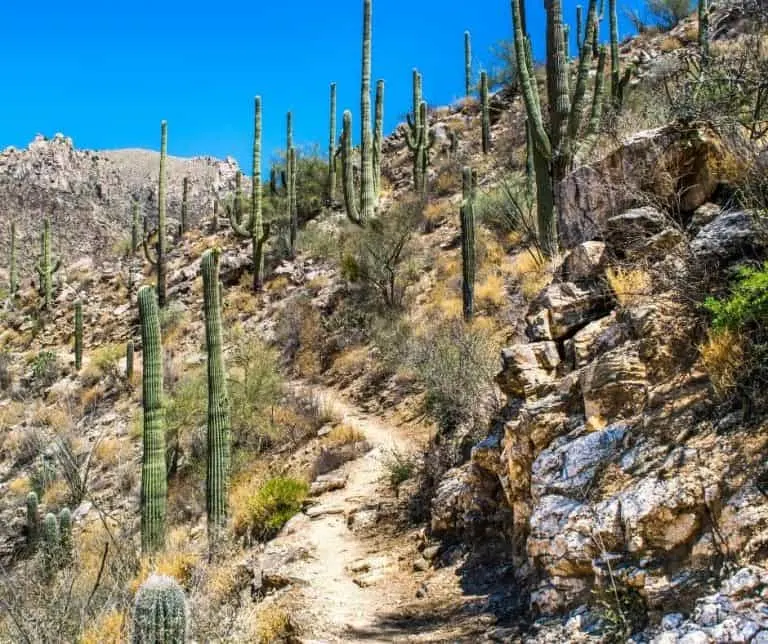 Visit both the west and east sides of Saguaro, hike the trails, and attend a ranger-led program with an overnight stay in Tucson. Or backpack into one of the six campgrounds in the higher elevation Rincon backcountry that are 6-12 miles from public access trailheads.
Big Adventure in Saguaro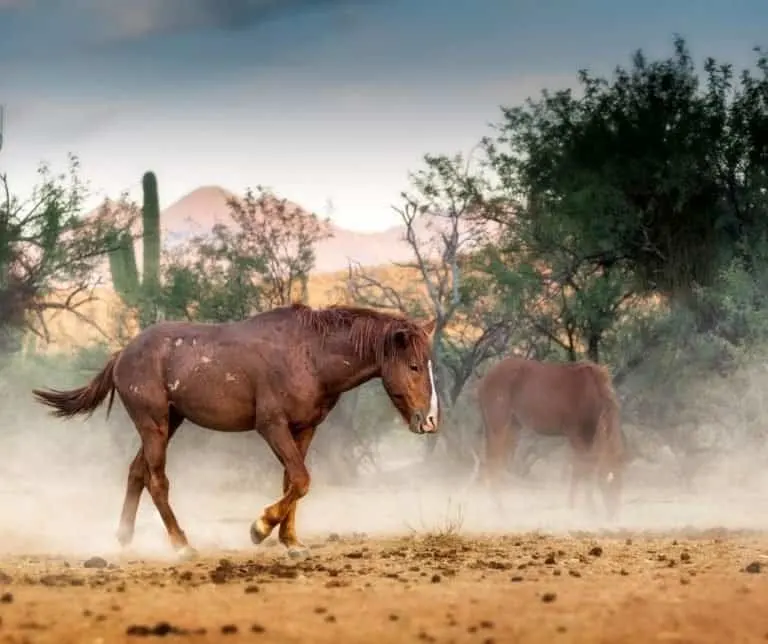 Stay at White Stallion Ranch, an all-inclusive dude ranch, and take the full day ride into Saguaro National Park.
Grand Canyon National Park in Arizona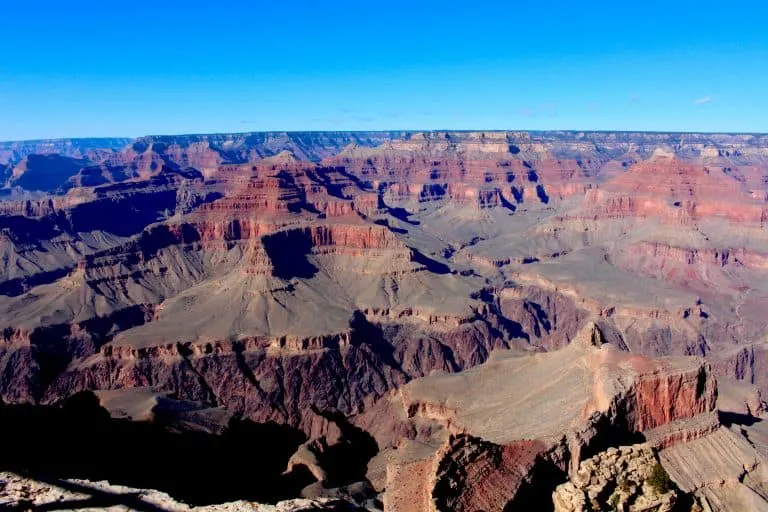 With nearly 5 million visitors each year, Grand Canyon National Park is one of the nation's most visited and celebrated parks in the system. Although still considered desert, the high elevation (nearly 7,000 feet) brings a dramatic change in temperatures, from snow storms in the winter to blazing heat in the summer.
Best time to visit: Fall and spring bring the most temperate weather, far less crowds, and more lodging opportunities. Summer can bring 100+ temps at the South Rim and there is a chance of thunderstorms with lightning. Still, summer is the most popular time to visit the park. Winter snows and freezing temps can affect a winter visit.
If you want to visit the North Rim of the Grand Canyon, we suggest visiting in the summer since it is closed for most of the rest of the year. Read our full guide to visiting the North Rim of the Grand Canyon.
In choosing which side of the Grand Canyon to visit, consider the following: the South Rim is open year-round but it is the most crowded and the easiest to access from major cities like Las Vegas and Phoenix.
The North Rim is open from mid-May to mid-November. It is less crowded during the summer and is shaded by pine forests, but it is a longer drive for most people and has fewer services.
Grand Canyon Village on the South Rim has groceries and other services but keep your gas tank full and keep water in your car. Numerous restaurants, snacks, and services are offered in the Village.
Keep your kids safe by staying on marked trails. Bring lots of water on any hike- one quart/liter per every two hours to drink is a good guide.
Hiking below the rim is very strenuous with dangerous cliffs. Don't overestimate your or your kid's ability for hiking and plan extra time for your return trip up the canyon. It usually takes twice as long to return uphill as it does to go down.
Read our full guide to visiting the South Rim of the Grand Canyon with kids. It includes things to do as well as lodging and dining recommendations.
One Day in the Grand Canyon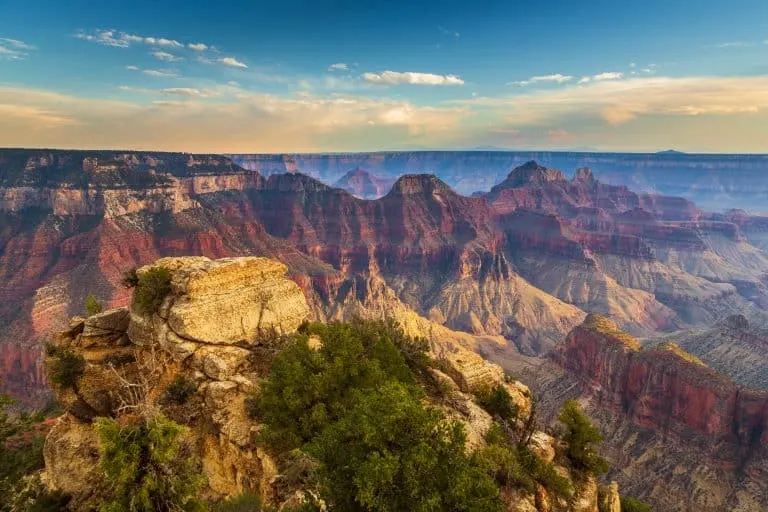 South Rim
Head straight to Verkamp's Visitor Center. The highly knowledgeable ranger staff can help you plan your vacation and offer your kids hands on activities to keep them engaged and empowered during your trip. Be sure to pick up Jr. Ranger books here!
Hike the relatively flat Rim Trail with expansive views of the canyon to various points along the way. Continue on for 1.3 miles to Yavapai Geology Museum and along the way you can see and touch canyon rocks along the award-winning Trail of Time. Hike as far as you would like and then hop on the free shuttle bus for a return trip to Verkamp's Visitor Center.
North Rim
Start at the North Rim Visitor Center to learn about the area, day hikes, ranger programs, and pick up Junior Ranger books. Take a short trek to Bright Angel Point for dramatic 360-degree views of the canyon. Continue along the rim trails for canyon and shady forest views.
Take the North Kaibab Trail as short distance down below the rim for amazing views. Remember, it takes twice as long to hike up as it does to hike down. Do not attempt to hike to the river and back in one day!
Drive to Point Imperial for the highest elevation views of the canyon.
Multiple Days in the Grand Canyon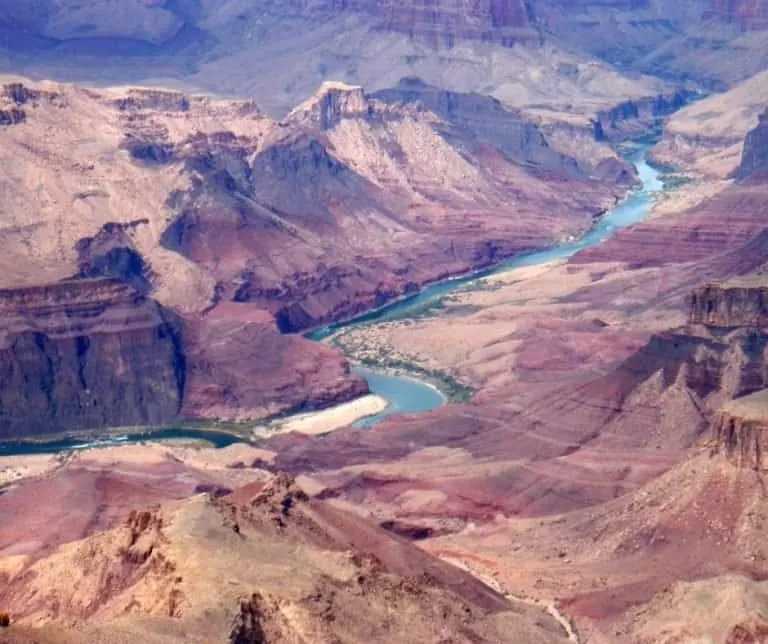 South Rim
Stay at the historic El Tovar Hotel with incredible views of the canyon. It was built in 1905 but was recently renovated. Or pitch a tent/park an RV at Mather Campground or the Desert View Campground for a night under the stars.
Take a moderate or difficult-rated trail down into the canyon. Plan on extra time for the return trip and bring extra water.The South Kaibab Trail or the Bright Angel Trail can be taken down into the canyon where campgrounds are available.
The NPS does NOT recommend hiking from the rim to the river and back again in one day. Check the Grand Canyon NPS webpage for specific details on trail campgrounds, hiking trails, and reservation information for campgrounds and Phantom Ranch. Meals are served at Phantom Ranch for both campers and hikers passing through.
North Rim
Stay at the Grand Canyon Lodge and enjoy rim views. Or pitch a tent/park an RV at North Rim Campground. Be aware that this campground is within walking distance of the steep edge of the rim of the canyon.
The North Kaibab Trail is a strenuous 13.7 mile trail to Phantom Ranch and Cottonwood Campground for an incredible adventure that could be attempted by active and healthy teens and adults.
Big Adventure in Grand Canyon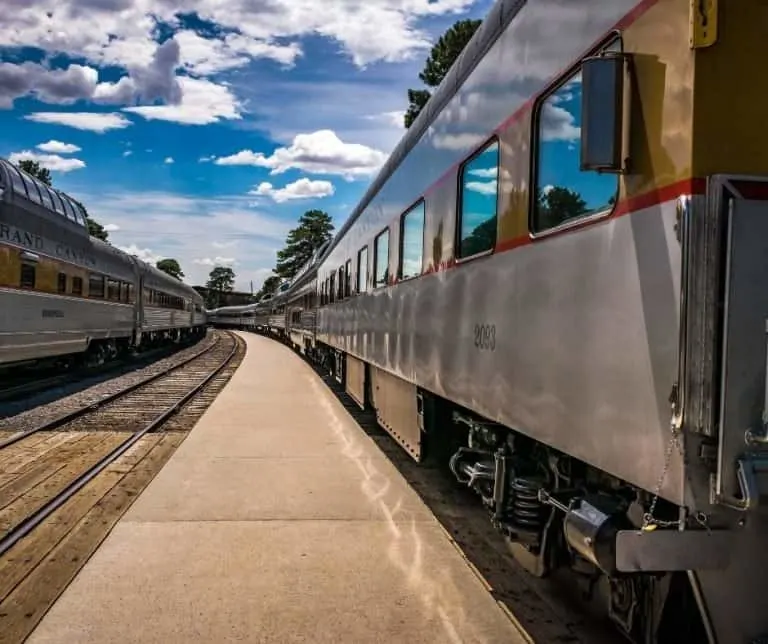 Take a day to ride the Grand Canyon Railroad into the park, explore the national park for several hours, and then return to Williams. The scenic ride takes you through the stunning forest and past wildlife.
Families will love how much fun the kids have with walk-through from the conductor, a "town marshall", an acted-out train robbery, color and activity books, lollipops, and more.
The train departs daily in the morning from Williams, AZ, and returns in the afternoon from the Grand Canyon. The ride is 2 1/2 hours each way. Trips can be extended overnight with lodging packages which will allow you to explore the canyon in more detail.
Ready for an epic adventure? How about a helicopter tour of the Grand Canyon?
Joshua Tree National Park in California
Large piles of boulders, some nearly 10 stories high, rise up out of the desert floor in Joshua Tree National Park. This area is named for the funny-looking trees that aren't actually trees, but rather yucca plants that sometimes look like men waving their arms in the desert.
Most visitors don't come for the trees, but rather the fun adventure of rock climbing. Families don't need to wear harnesses and scale rocks to enjoy this national park. Joshua Tree is about two hours from Disneyland and Los Angeles, making it a great day venture for families visiting Southern California.
Best season to visit: Fall through spring. Summer temps can exceed 100+ degrees and makes rock climbing and hiking unfriendly for families.
Bring water and food into the park. There are no food concessions and very limited water sources in some of the campgrounds. Find cavities under large rock boulders or crevices in the rocks to explore with little kids so that they don't climb dangerously high.
One Day in Joshua Tree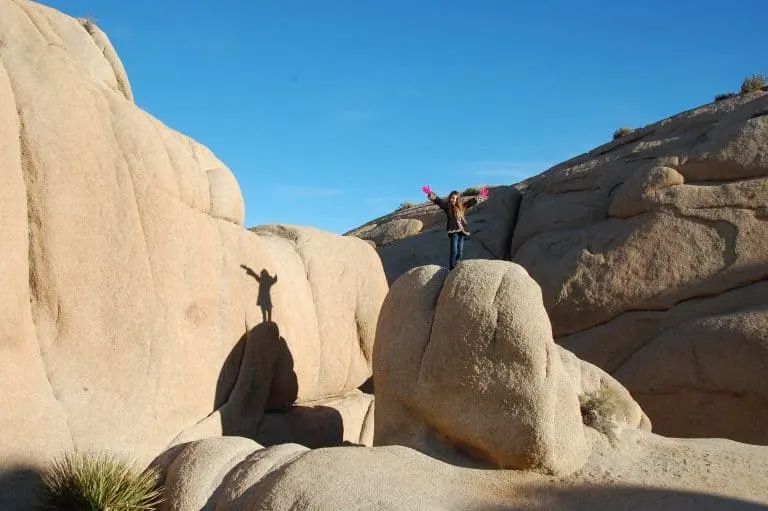 Start at the Joshua Tree Visitor Center off of Hwy 62 in the north section of the park. Pick up Junior Ranger books for kids to fill out and earn their badges. Drive in and stop at the Jumbo Rocks area or Hidden Valley Picnic Area to explore and climb the rocks.
Take a 1.1-mile hike on the Barker Dam Nature Trail. Drive out to Keys View to watch the sunset over the Palm Springs area and see the San Andreas Fault below.
Read our full guide to visiting Joshua Tree National Park with kids.
Multiple Days in Joshua Tree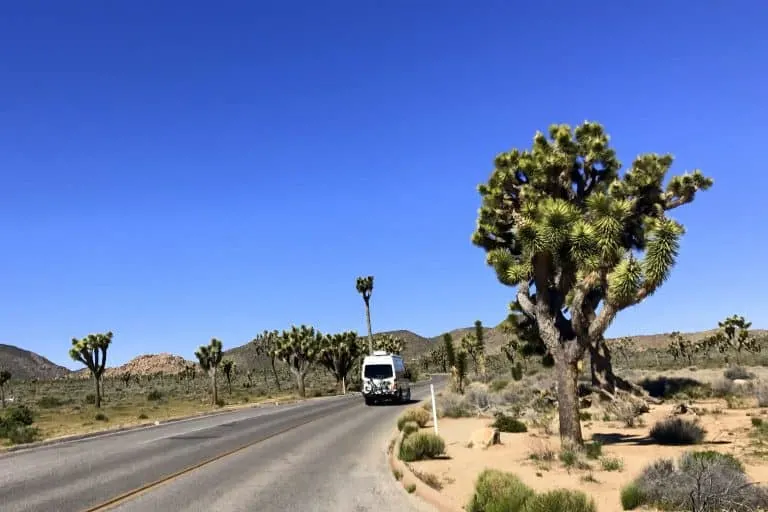 Stay at one of the campgrounds and sleep under the stars or find great lodging in Twentynine Palms or Palm Springs. Take a tour of Keys Ranch, a former homestead in the park. Drive down into the lower Colorado Desert portion of the park to the east and drastically different landscape and vegetation. Explore the little-known Cottonwood Springs area to discover a dry waterfall and remains of old gold mills.
Big Adventure in Joshua Tree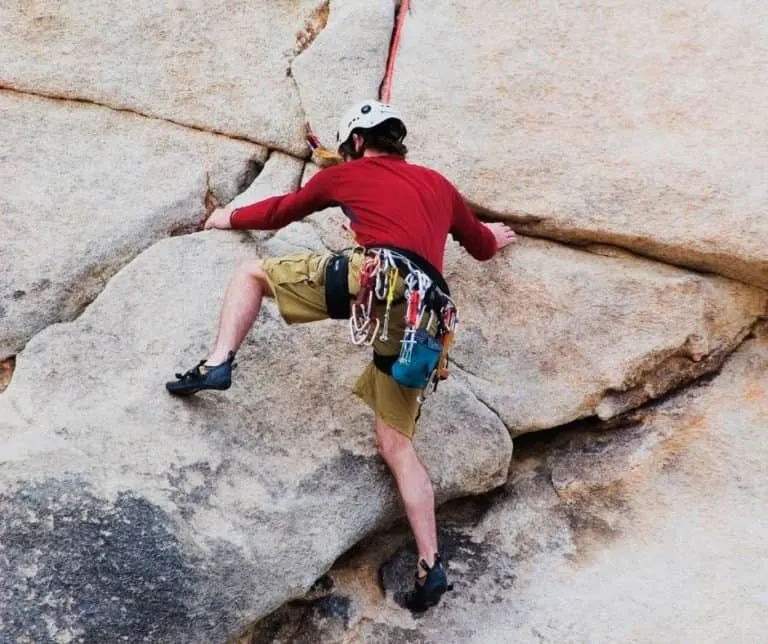 Get harnessed in and learn to scale the boulders with professional rock climbing gear. Family trips can include kids ages five and above for outfitters such as Joshua Tree Rock Climbing School.
Book your Beginning Rock Climbing Adventure.
Death Valley National Park in California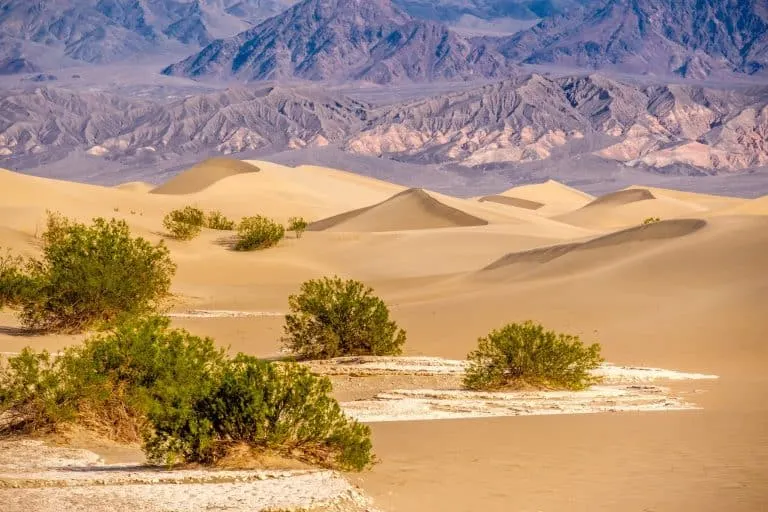 Despite its name, Death Valley National Park is very welcoming! Families will experience few crowds and plenty of open space. The desert terrain hides geological wonders and beautiful spring wildflower blooms. And what kid doesn't like hot springs and sand dunes?
Best season to visit: Fall through spring. In fact, the park is intolerable in the summer as temperatures reach 120 degrees! One of the best times to visit is March, when temps hold steady at 70-85 degrees.
Secure lodging early! While Death Valley is vast, there are only a few lodging options within the park and lodging outside park boundaries is quite far away. The Oasis at Death Valley is one resort with two hotels. Stay at the upscale and historic Inn at Death Valley or the more budget-friendly Ranch at Death Valley.
With a lodge and camping sites, the ranch also has a restaurant, store, playground, golf course, and hot spring fed pool. We do not recommend tent camping in Death Valley as the conditions change rapidly and the winds can be very harsh at night. RV or van camping is a better option.
The last option is Stovepipe Wells with a motel, camping, and restaurant, but it is further from the visitor center and most hikes. It is, however, closer to the sand dunes.
One Day in Death Valley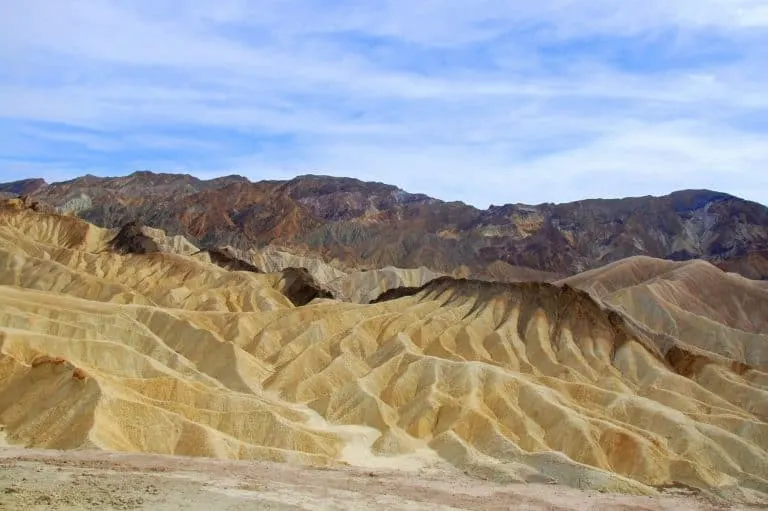 Death Valley is a hard park to visit in one day since it is so remote. If you are coming from Las Vegas or Los Angeles, start early. Arrive at the visitor's center at Furnace Creek to pick up your Junior Ranger booklets and maps, then drive the short distance to hike to Zabriskie Point. This popular trail starts in a narrow canyon and slowly winds upward through ribbons of rock to a great vista.
Eat lunch picnic style, then let the kids tackle the Mosaic Canyon Trail, where you don't have to venture far before being rewarded with color, protected by afternoon shade.
Make time to visit Badwater Basin, the lowest point in North America (-282 feet) which is impressively offset by Telescope Peak looming 11,331 feet above just 15 miles away. It is also where the hottest temperatures are recorded.
Read our complete guide on things to do in Death Valley which is filled with great tips for exploring the park.
Short on time? Check out these Death Valley day tours from Las Vegas.
Multiple Days in Death Valley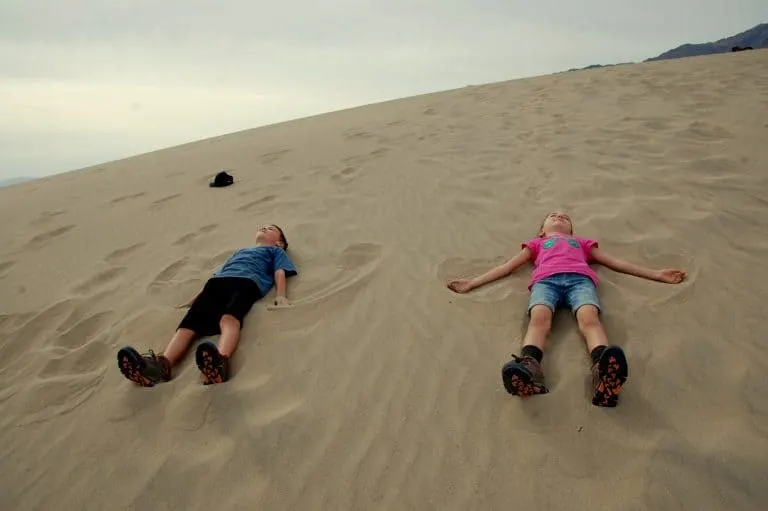 Stay at Ranch at Death Valley so you can take afternoons off to enjoy the pool. Spend one morning climbing and even snowboarding down the Mesquite Flat Sand Dunes at the center of the park and one afternoon touring Scottie's Castle (a Hearst-like dwelling filled with history).
Golden Canyon and Sidewinder Canyon are two other great places to hike. Salt Creek is a fun place to spot extremely rare pupfish that survive in water that reaches up to 90 degrees.
Big Adventure in Death Valley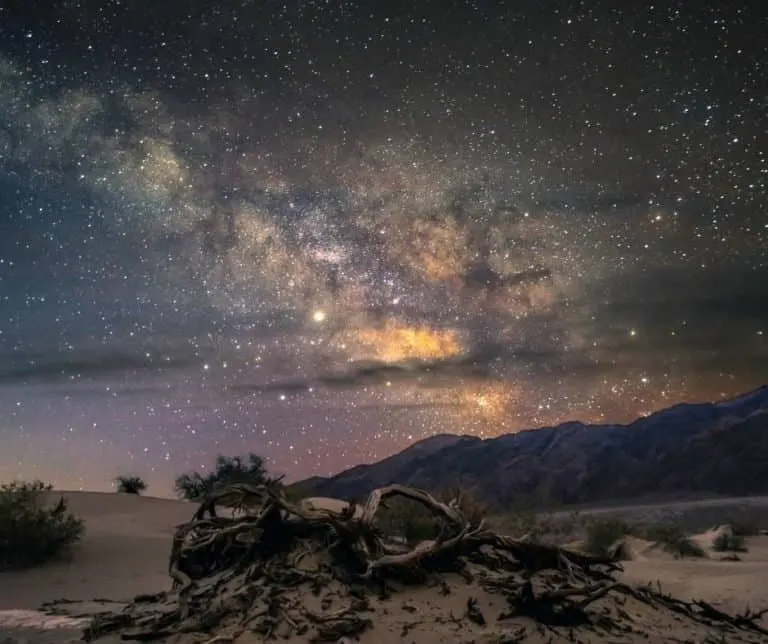 Go for a moonlit walk on the sand dunes. Bring a flashlight just in case, but watch for kangaroo rats, a kit fox, and the color of the rocks in Golden Canyon be lit up by the bright moonlight. If it's not a full moon, bring a blanket and gaze at the millions of stars that light up the sky.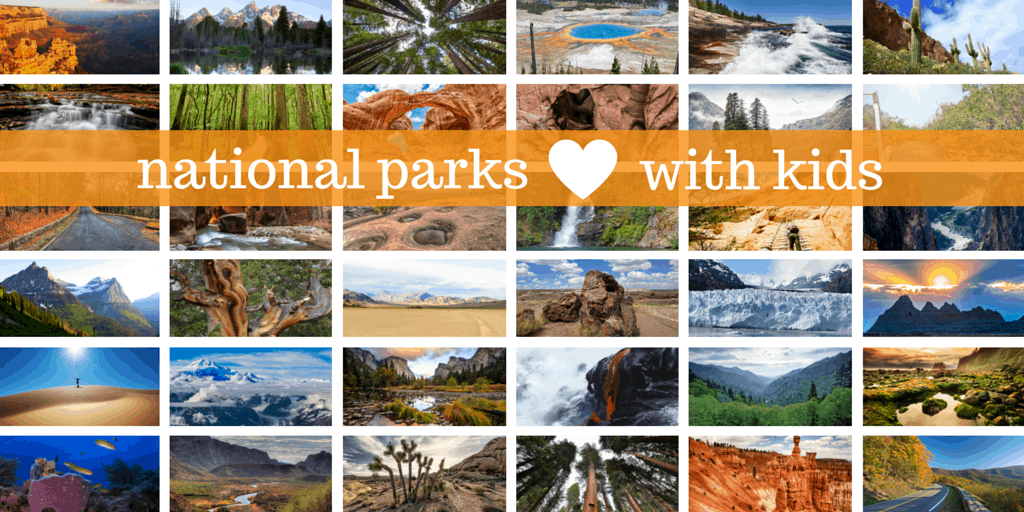 Excited to visit national parks with your kids? We are too! Visit our National Parks with Kids page for extensive coverage, tips & tricks for all our nation's national parks.
Many thanks to the Trekaroo contributors for this article including Ann Anderson (covering Capitol Reef, Arches, and Canyonlands); Amy Whitley covering Death Valley; Katie Bodell covering the Grand Canyon; Sharlene Earnshaw covering Bryce; and myself, Michelle McCoy covering Zion, Saguaro, and Joshua Tree.