National park vacations make for some of the best family vacations, but what are the best national parks for hiking?
Our national parks are great places to bond, be active, and enjoy some technology-free time in nature. One of our favorite things to do in national parks is hike. Hiking is a wonderful way to really become immersed in these special places.
We asked Trekaroo team members and family travel experts to share their picks for the best national park for hiking with kids, along with their favorite hikes inside those parks. Here are 14 of our favorites.
The 15 Best National Parks for Hiking
Bryce Canyon National Park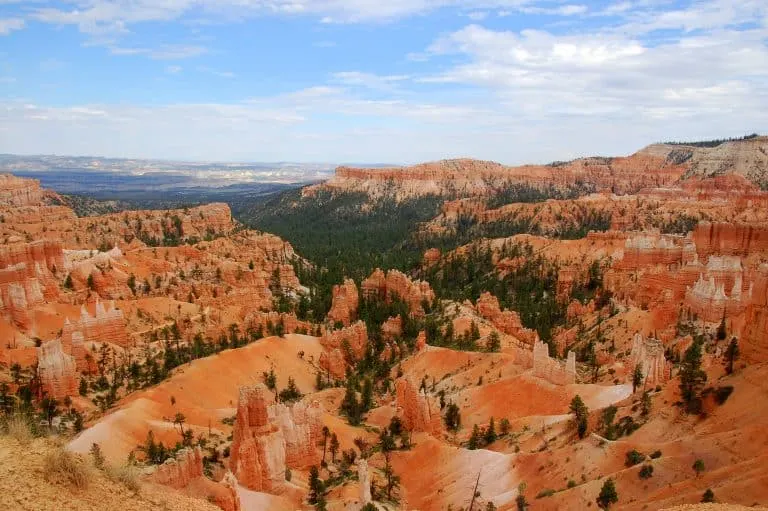 Towering skyscrapers of sandstone.
My family loved hiking down into Bryce Canyon and walking among the towering hoodoos. We consider it one of the best national parks for hiking because the "wow" factor on trail is high without having to cover a ton of distance.
Our favorite hike was the 2.9-mile loop we created by combining the Navajo Trail with the Queens Garden Trail.
This allowed us to walk down into the canyon and experience the famed sandstone walls of "Wall Street", as and spend some time fully immersed in the canyon with towering hoodoos all around us.. The hike is steep in spots but my 6-year-olds handled it like champs.
Read our complete guide highlighing things to do in Bryce with kids, as well as tips on where to stay and eat.
– Sharlene Earnshaw, Trekaroo Editor in Chief
Traveling with Grandma and Grandpa? You won't want to miss these national park vacations with grandparents.
Zion National Park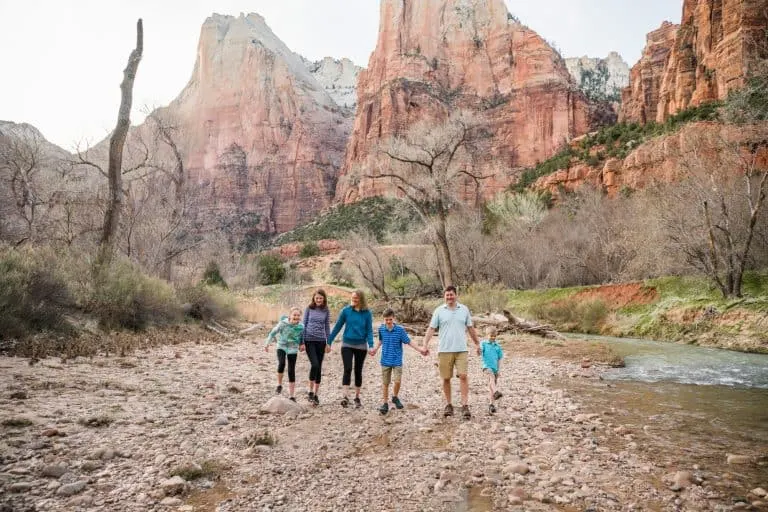 Red Sandstone Cliffs, kid-friendly hikes, and river fun!
With over 10 kid-friendly trails, a beautiful river to play in, and plenty of opportunities to spot wildlife, Zion National Park is ideal for families. It is one of the best national parks for hiking, especially in the spring and fall.
The last stop on the park's free shuttle is the Riverside Walk. This paved, 2.5-mile round- trip trail parallels the Virgin River with little elevation gain and plenty of places to stop and play in the water.
Other highlights include the two-mile hike to the Lower and Upper Emerald Pools, as well as the short, .25 mile trek to Weeping Rock.
– Arika Bauer a Nugget contributor and founder of Zion Adventure Photog
Trekaroo has a full guide to visiting Zion with kids as well as a special guide to visiting Zion in winter.
Hawaii Volcanoes National Park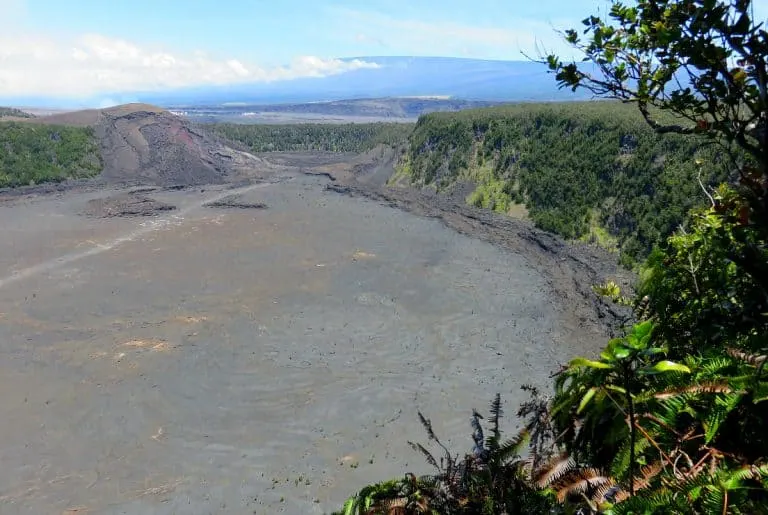 Hike across a still-steaming, hardened lava lake.
Home to one of the world's most active volcanoes, Hawaii Volcanoes National Park is one of the most unique parks in the National Park system. With more than 10 day-hiking trails, there is so much to see!
Our favorite hike is the Kiluaea Iki Trail. This almost four-mile loop takes you from a lush rain forest environment to the floor of a now hardened (but still steaming) lava lake from a lava flow in 1959.
The change in environment is incredible and walking across a lava lake is like nothing else we've ever experienced.
– Sara Wellensiek, Mom Endeavors
Hawaii Volcanoes National Park is in the Big Island of Hawaii. Here are our favorite things to do in the Big Island and the best beaches on Hawaii's Big Island.
Acadia National Park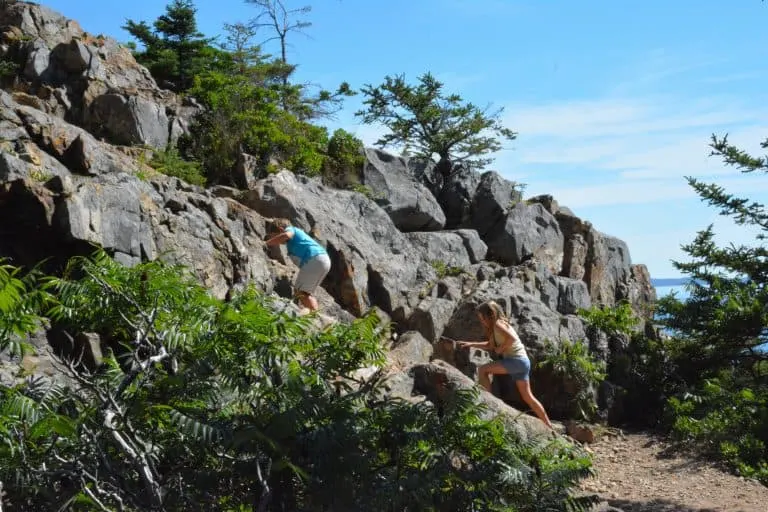 Climb rocky cliffs overlooking the Atlantic.
My eight-year-old little boy is happiest when he scrambling over rocks, hopping from one to the next. Acadia National Park is his hiking paradise.
The 158 miles of hiking trails in Maine's signature national park are notoriously rocky. However, these rocky cliffs afford some spectacular views of Maine's pristine coastline and iconic lighthouses making it one of the best national parks for hiking.
Our family's favorite hike in Acadia is the Great Head Trail overlooking Sand Beach. At only 1.7 miles round trip, this hike is possible for anyone in the family who can strap on a good pair of hiking boots and climb moderately difficult terrain.
After a good hike, cool off quickly with a dip in the Atlantic at Acadia's only sandy beach.
-Melissa Moore, Trekaroo Destination Specialist
Explore more of the state! Here are our favorite things to do in Maine with kids and an awesome Maine road trip itinerary.
Grand Teton National Park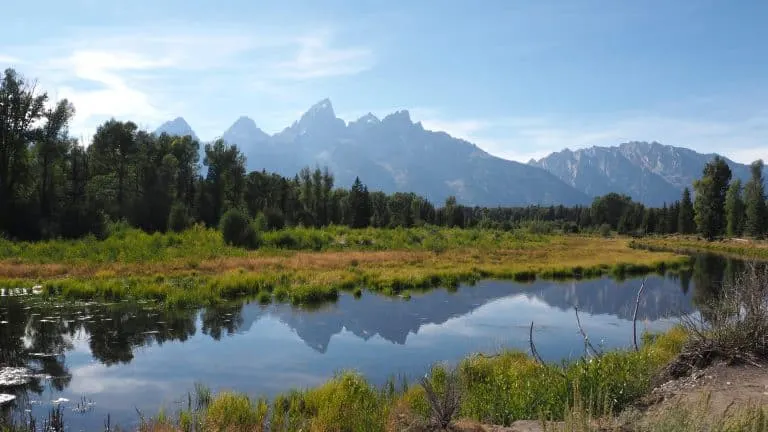 Majestic mountains and sparkling blue lakes offer jaw-dropping views.
Grand Teton National Park is the kind of park where you want to spend at least a week relaxing on one of its many lakes, climbing its majestic mountains, and finding the park's prettiest view points.
Jenny Lake and Inspiration Point trails are perfect for active families as they offer a mix of lake views, forest meanderings, and stunning views.
Round trip, Jenny Lake trail is 7.5 miles, but you can always take a shortcut by taking a shuttle boat across the lake and then follow the 1.5-mile trail up to Hidden Falls and Inspiration Point.
Families will also enjoy kayaking or paddleboarding on Jackson Lake, watching the bison on the Elk Ranch Flats, and taking endless pictures of the towering Tetons from the serene Schwabacher Landing.
– Tamara Gruber, We3Travel
Here is Trekaroo's complete guide to visiting Grand Teton National Park and the best hikes in Grand Teton National Park for families.
North Cascades National Park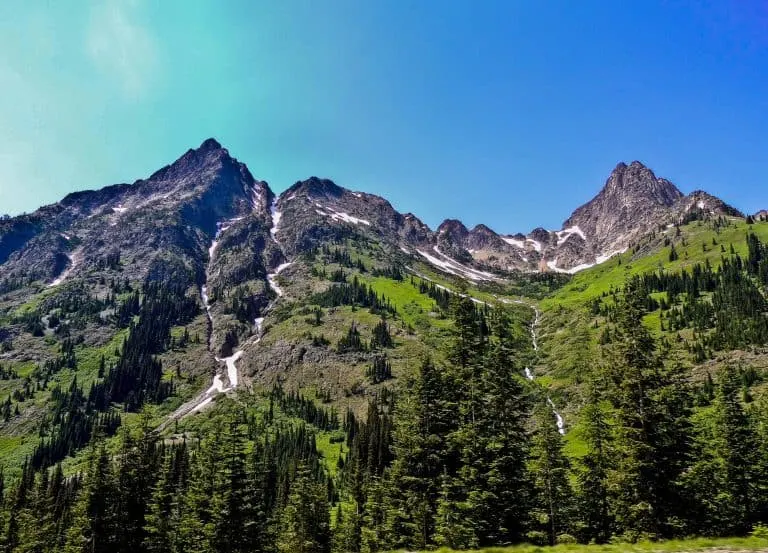 A rugged, alpine adventure for families.
Not far from Seattle is an overlooked wilderness with more glaciers than any other park outside of Alaska. Rugged peaks, virgin forests, vast turquoise lakes, and sub-alpine meadows make North Cascades National Park the perfect destination for adventure-loving families.
From our waterfront campsite at Colonial Creek Campground we explored several hiking trails. We especially enjoyed Thunder Knob, a 3.6-mile hike that is perfect for families.
Total elevation gain is 425 feet, and the views of Diablo Lake and the mountains are breathtaking! Colonial Creek Campground is also great for water-based fun, including kayaking, swimming, and fishing
– Tara Schatz, Freelance Writer and Photographer at Backroadramblers.com
Explore more of Washington! Here are our favorite things to do in Washington State wirh kids.
Great Smoky Mountains National Park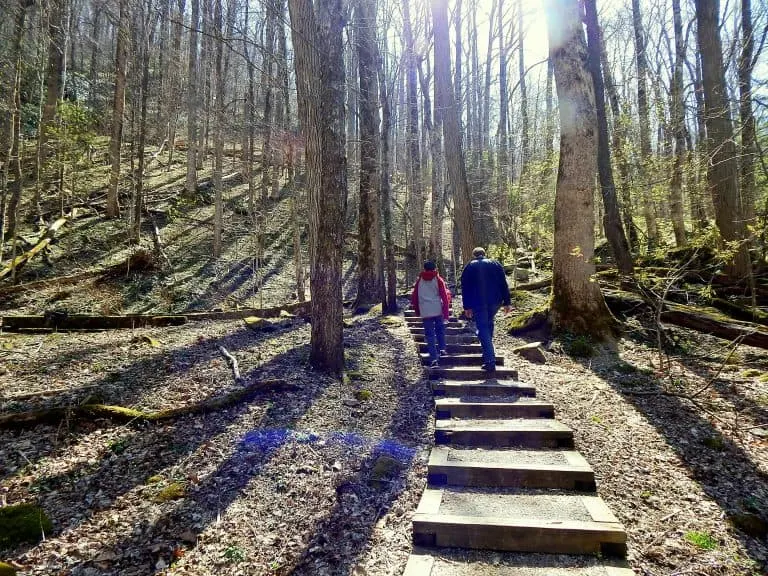 Hardwood forests and panoramic mountain views.
Great Smoky Mountains National Park, filled with spectacular views, natural beauty, and history, is the most visited national park in the United States.
The Cove Hardwood Trail, accessed at mile 6.2 of the Newfound Gap Road from the Chimney Tops Picnic area parking lot, is a 0.9-mile hike through the Southern Appalachian hardwood forest. The loop trail climbs a total of 226 feet with several sets of gentle stairs which my five-year-old daughter climbed with gusto.
Depending on the time of the year, the trail is covered with a variety of wildflowers and wildlife. We have seen many species of birds, small mammals, and even a snake!
If you have more time, don't miss the small trails, quiet walkways, and adventure on the Roaring Fork Nature Trail.
– Lauren Breeze, Nashvillefunforfamilies.com
Here are our favorite things to do in Great Smoky Mountains National Park and an awesome Smoky Mountains Road Trip Itinerary.
Glacier National Park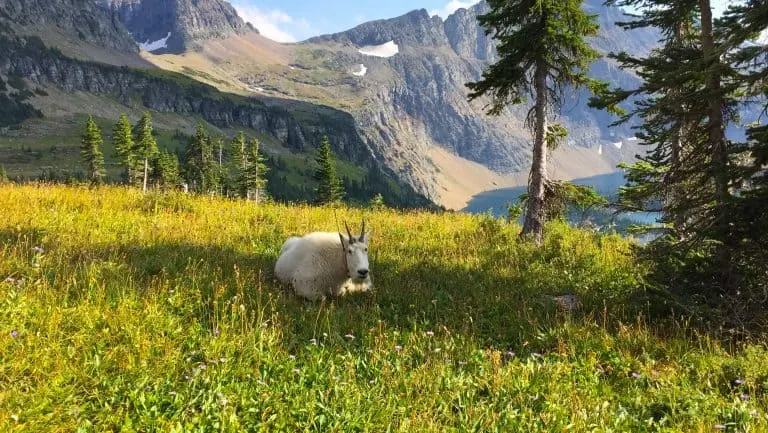 Waterfalls and Wildlife in an Alpine Wonderland
The hardest thing about hiking in Glacier National Park with kids is picking which trails to conquer! You can start with a simple one-mile boardwalk hike on the Trail of Cedars which takes you to a beautiful, bright blue waterfall.
Looking for a challenge? Head out on the 4.5-mile Avalanche Lake Trail which climbs 700 feet uphill to reach a gorgeous lake surrounded by alpine peaks.
Be sure to make time for the the 2.7-mile Hidden Lake Trail in Logan Pass where you may just see a mountain goat and her babies, as well as patches of snow still on the ground late into the summer. Spending more time in Montana? Check out these 5 places to visit for superb hiking.
– Bryanna Royal, Crazyfamilyadventure.com
Here are the best things to do in Montana with kids on a family vacation.
Denali National Park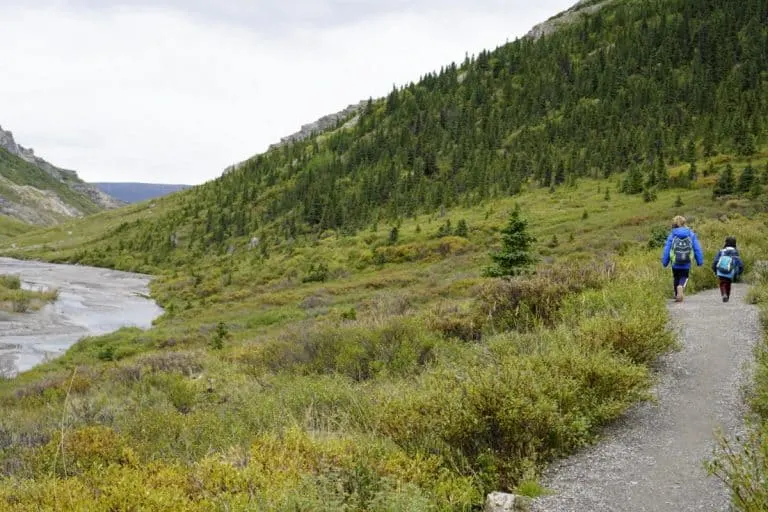 Off-trail hiking where the wild animals roam.
Denali National Park is one of our favorite parks due to the spectacular scenery, abundance of wild animal sightings, and the encouraged off-trail hiking. Kids love the excitement of charting their own path and exploring the unknown.
We love taking the green bus to Savage River- a walk along the river on the two-mile Savage River Loop is a must for families– or venturing to Eielson searching for grizzly bears on mountainsides along the way.
Another great trail for families is Horseshoe Lake, a relatively easy three-mile loop where you will often see beavers hard at work.
– Karilyn Owen, Nobackhome.com
Here are our favorite things to do in Alaska on a family vacation.
Mount Rainier National Park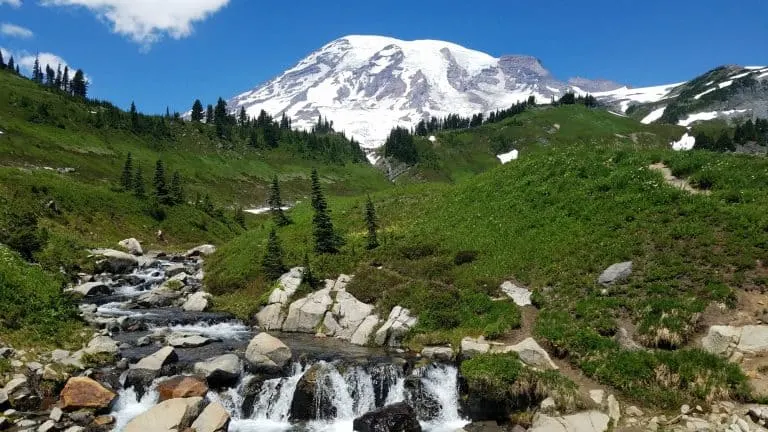 Panoramic mountain views, waterfalls, and wildflowers.
Mount Rainier is an ideal national park to visit any time of year for families with its incredible mountain views of the snow-covered peak, cascading waterfalls, and wildflowers galore. The most popular area is the Paradise side to the south, where you'll find trails for any age.
Consider the Myrtle Falls Hike, an easy, stroller-accessible, one-mile trail to a 72 foot waterfall, or continue on the 5+ mile Skyline trail loop with stunning views of the peak (14,411 feet high) and gorgeous summer wildflowers.
The northern, Sunrise side of the mountain will provide more opportunities for wildlife viewing (marmots, mountain goats & more) and panoramic mountain views at every turn.
– Jen Dotson, Thrifty Northwest Mom
Yellowstone National Park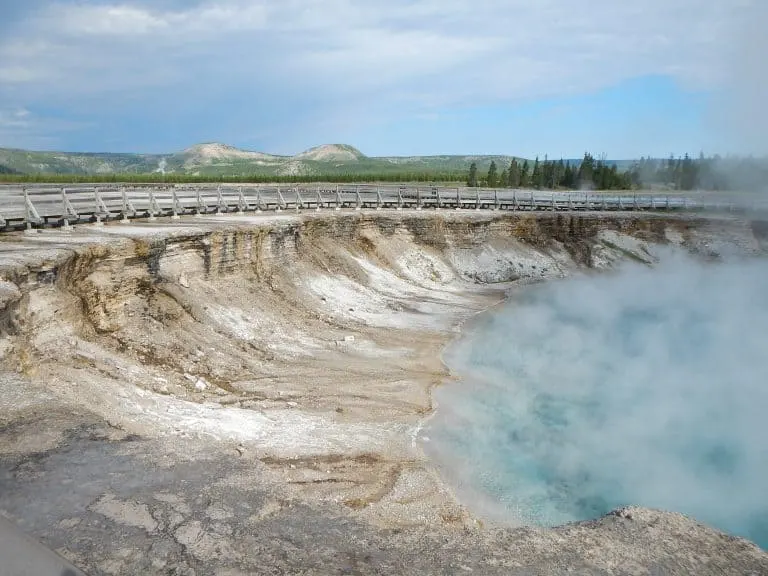 Mother Nature in all her glory.
My family had the experience of a lifetime walking the Fountain Paint Pot Trail and hiking the Grand Canyon of the Yellowstone on our trip to Yellowstone National Park.
Fountain Paint Pot Trail is an easy half-mile trail loop around a boardwalk and is perfect for families with small children. Mother Nature's wild side is on full display along the trail with fantastic views of the blue pools, pink mud pots, fumaroles (steam vents), and mini-geysers.
The Grand Canyon of the Yellowstone hike along the North Rim Trail is a bit more arduous with its steep upward climb, but you are rewarded with a magnificent view of Yellowstone Falls and the gorgeous yellow cliffs that blanket the landscape.
– Susan Pazera, founder of Mom on the Map
Here is our full guide to all the best things to do in Yellowstone with kids.
Grand Canyon National Park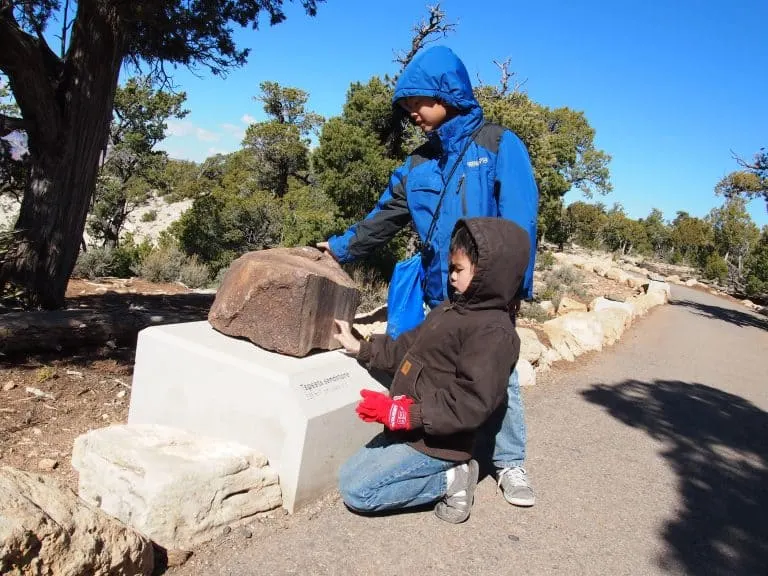 Hiking through geological space and time.
The Grand Canyon makes me gasp no matter how many times I set eyes upon it. The immensity of this mile-deep canyon of multicolored rock layers reveals the story of the earth.
There are two hikes that are particularly suitable for kids. The Trail of Time is a flat walk along the South Rim which takes walkers back in geological time by getting up close to rock samples extracted from the canyon.
Read our complete guide to visiting the Grand Canyon South Rim.
Bright Angel Trail and South Kaibab Trails descend into the walls of the canyon, offering a feeling of becoming enveloped by the canyon. It's a strenuous hike back up, so hiking only .5-1 mile down may be best for families with young children.
-Liling Pang, Trekaroo
Headed north? We have a comprehensive guide to visiting the North Rim of the Grand Canyon.
Rocky Mountain National Park
Spectacular waterfalls and 350 miles of trails.
With its peaks cresting over 12,000 feet and 265,000 acres spread out over 415 square miles, Rocky Mountain National Park tops our list of the best national parks for hiking. A road-trip-worthy, 48-mile drive take families through the park via Trail Ridge Road, the highest continuous road in the United States.
One of my favorite family-friendly hikes in this park is the wheelchair-accessible walk around Sprague Lake which offers fantastic views of the Continental Divide and possible glimpses of moose. Another is an easy hike to Adams Falls near the town of Grand Lake which even toddlers will enjoy
–Diana Rowe, TravelingInHeels.com
Read our full guide to the best hikes in Rocky Mountain National Park for families.
Yosemite National Park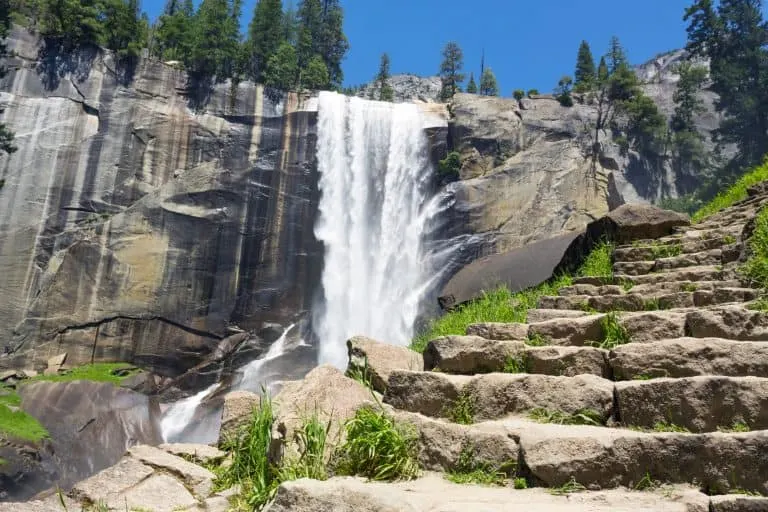 Stunning vistas, thundering waterfalls, and beautiful trails.
A hike in Yosemite reaps many scenic rewards. Hike the steep Mist Trail for one mile to stand atop the roaring Vernal Falls and watch the water cascade over a smooth granite cliff.
Or, take a more gentle 1-mile trail from the shuttle stop to Mirror Lake to gaze at the reflection of Half Dome in the water below. Even the shortest hike, the 1/4 mile trail to the base of Bridalveil Fall is a treat for any hiker.
Get rewarded by vistas of majestic waterfalls, towering granite cliffs, or ice cream in the general store on the return from any trail you take in Yosemite National Park.
-Michelle McCoy, Trekaroo Destination Specialist
We have lots of great Yosemite resources! Read about the top 10 things to do in Yosemite with kids. We also have an article about the best time to visit Yosemite and avoid the crowds, visiting Yosemite with toddlers, and the best easy hikes in Yosemite.
We also have a guide highlighting the best national parks in California that you won't want to miss!
Olympic National Park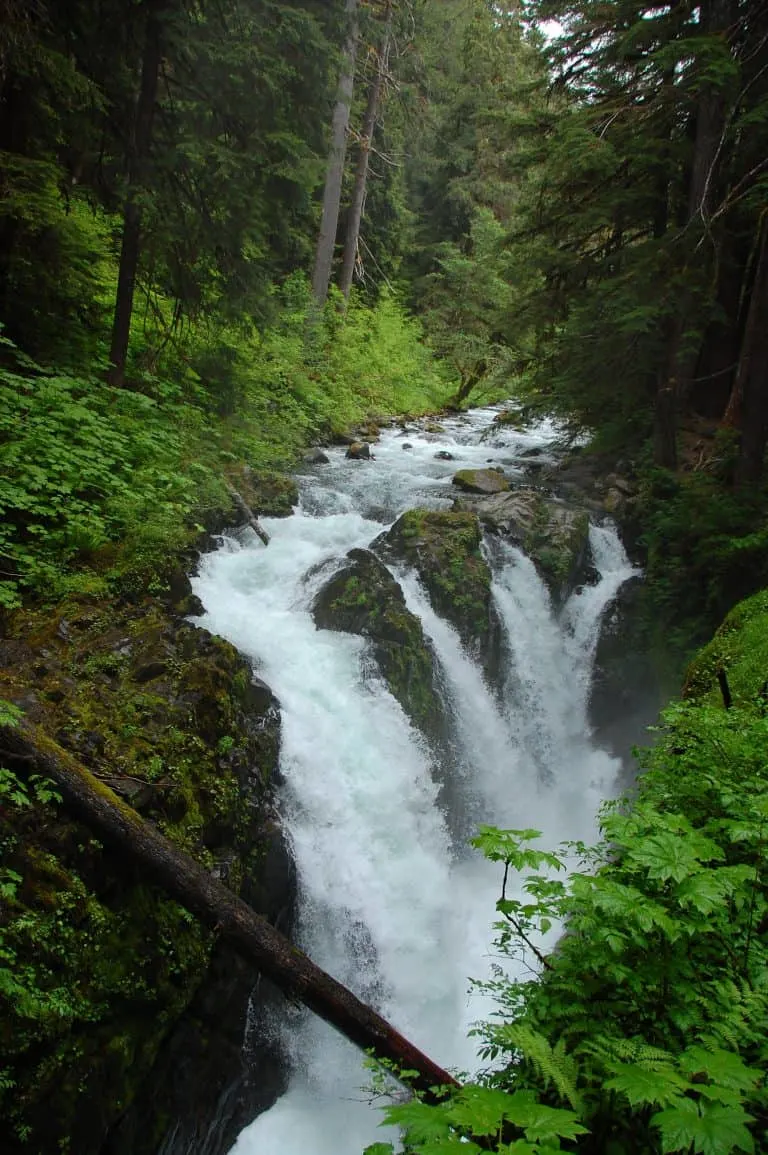 Diverse, expansive, and wild.
Visiting Olympic National Park is like visiting three incredibly different places. This massive park covers nearly a million acres of the Olympic penninsula, encompassing rainforests, rugged beaches with excellent tide pools, and alpine summits.
A great introduction to the temperate rain forest that dominates much of the area is 0.8-mile Hall of Mosses Trail in the Hoh Rainforest. Families will marvel at trees growing from the logs of fallen giants and moss hanging like forest curtains. The stream is so clear that you can see a tiny forest of water plants growing along its bottom.
Another trail you won't want to miss is the easy, 1.6-mile round-trip hike to Sol Duc Falls. It is no surprise that Sol Duc Falls is the most photographed spot in the park. It is impossible to not be wowed rushing falls as they plunge down a chute and deep into the thick forest below.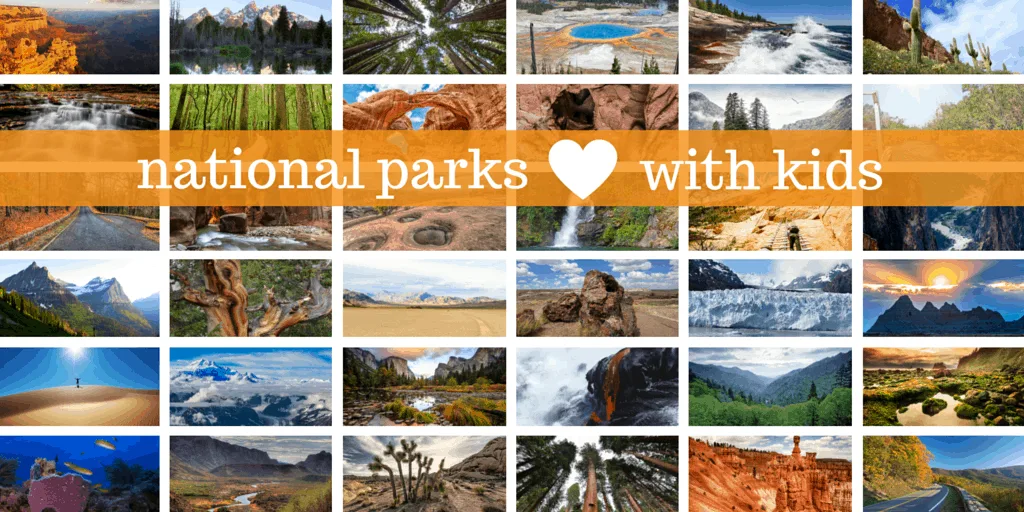 Lead image by Sharlene Earnshaw.