While Yosemite tends to get the most fame and park attendance of the Sierra Nevada national parks, Sequoia and Kings Canyon National Parks are just as beautiful and family friendly as their sister to the north. Better yet, there are plenty of Sequoia National Park hikes and Kings Canyon hikes that offer stunning scenery with far fewer people than its sister park to the north.
Here are Trekaroo's picks for the best hikes in Sequoia National Park and Kings Canyon National Park.
Best Hikes in Sequoia National Park
All national park visits should begin at a visitor center. This is the best place to get trail maps, Junior Ranger booklets, and talk to park rangers about the latest conditions inside the park before you head out on your day hikes.
It can be hot and dry in Sequoia during the summer months, so always make sure you have plenty of water. Our friends at Crazy Family Adventure recommend the Berkey Water Filter for eight years and find it perfect for travel.
Tokopah Falls Hike in Sequoia National Park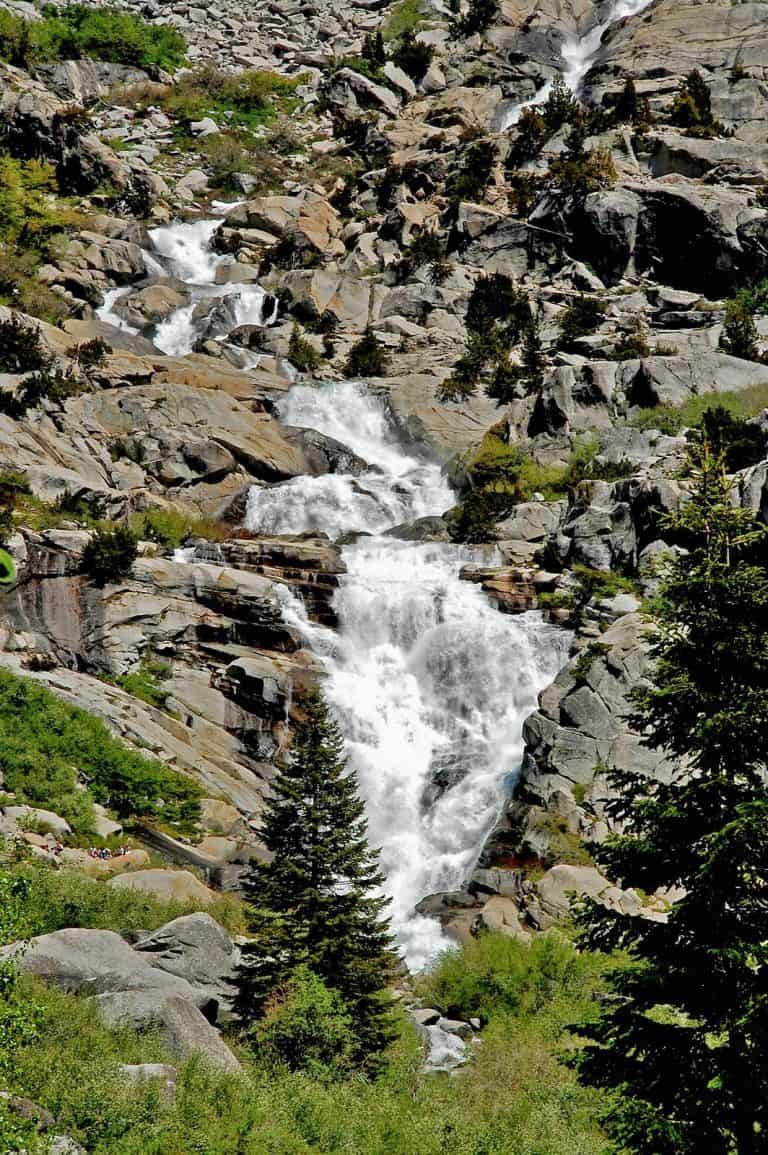 The trail to Tokopah Falls is definitely one of the best hikes in Sequoia National Park. The Tokopah Falls trail begins behind the popular Lodgepole Campground.
It follows the Marble Fork of the Kaweah River for 1.7 miles (3.4 miles round trip) to Tokopah Falls, which plummet 1200 feet. The trail is does gain some elevation, but mostly at the end. There is also some rock scrambling required at the end of the trail.
There are plenty of opportunities to play in the frigid but refreshing Kaweah River as it runs over slabs of granite and through the Lodgepole Pine forest along the way. Bears, deer, and marmots frequent the area. The falls are at their most impressive in early summer but the hike is beautiful any time.
Enjoying hiking in national parks? Here are our picks for the best national hikes parks with kids.
Big Trees Trail in Sequoia National Park
This 1.2-mile loop trail winds visitors through the Giant Forest with General Sherman, the largest tree in the world, standing as its behemoth centerpiece. The route is downhill from the parking lot so be prepared for an uphill jaunt on the way back.
There are several other sequoia trees in this grove that will leave you in awe. Pictures will never do these massive trees justice. You truly have to see them in person to understand just how gargantuan giant sequoias really are. This trail is the most popular in the park, so expect crowds.
Sequoia made our list of the best national parks in California. See what other special places made the list.
Moro Rock Trail in Sequoia National Park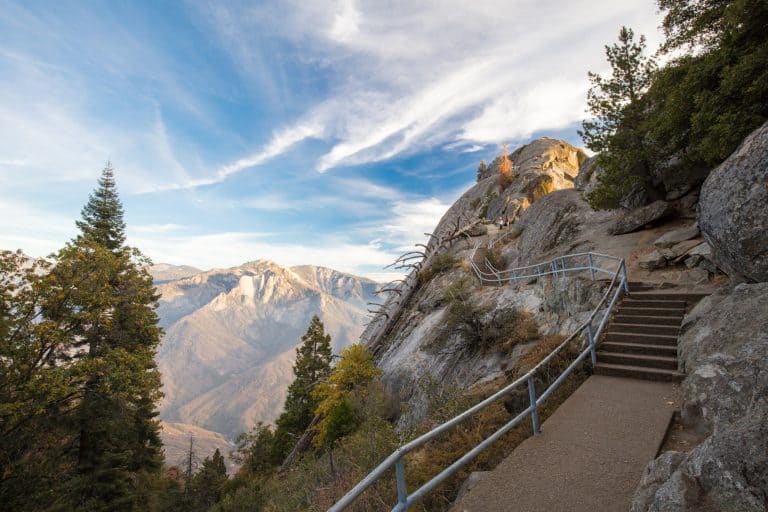 Just off Generals Highway is the 0.6-mile trail to the top of Moro Rock. One of the best hikes in Sequoia National Park, it actually feels like less of a hike and more of a climb.
Visitors basically climb up the side of massive granite dome on a series of stairs which are carved into the rock. Families with young children should definitely hold their little ones' hands tight, this climb takes you 300 feet off the ground.
The scenery at the top is spectacular and includes sprawling views of the Sierra Nevada Mountains and the Great Western Divide. People with a fear of heights, like myself, should expect their legs to turn to Jello and their time on top of the rock to be short before the waves of panic begin to settle in.
That being said, I would have really regretted it if my family didn't make the climb because the 360-degree views really do seem to go on forever.
Crescent Meadow Loop Trail in Sequoia National Park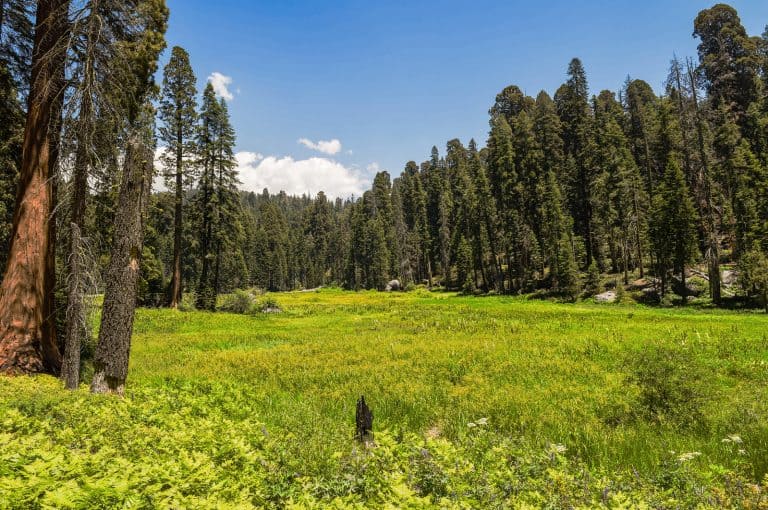 Past Moro Rock you will find the Crescent Meadow Loop Trail, a 1.8 mile trail which leads you around Crescent Meadow.
This trail is one of the best hikes in Sequoia National Park for families with young kids because it has relatively little elevation gain and is especially pretty in the spring when wildflowers are blooming. Another highlight from this trail is Tharp's Log, a hollowed sequoia that was once used as a cabin by settlers.
See more of California's amazing mountain parks on this national park road trip.
The Hart Tree and Fallen Goliath Loop in Redwood Canyon in Sequoia and Kings Canyon National Park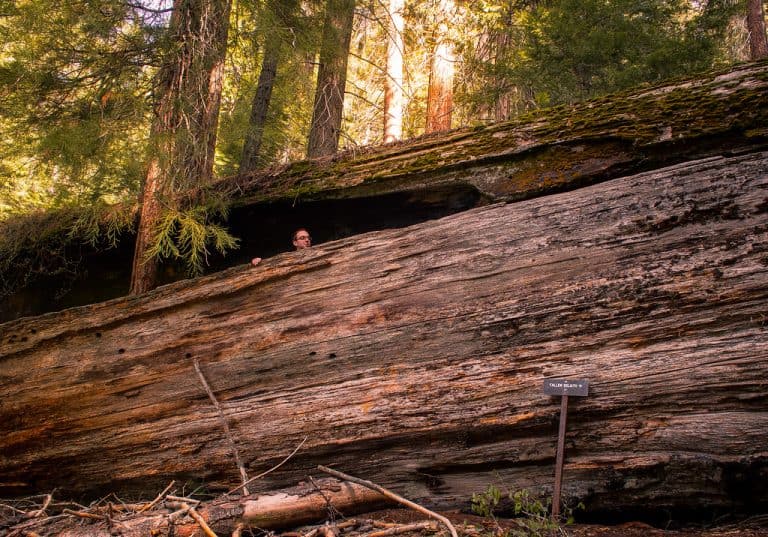 One great thing about Redwood Canyon is that you can backpack in this section of the park without having to go too far from civilization.
Another great thing about Redwood Canyon is that it is home to the largest sequoia grove in the world but far fewer people visit this grove because it requires more of a hike than more popular roadside groves. For this reason, this is one of the best hikes in Sequoia National Park for families who love to hikes without crowds.
The Hart Tree and Fallen Goliath Loop is 6.5 miles in length. It crosses Redwood Creek, past Hart Meadow, and through Tunnel Tree until reaching Hart Tree, the largest sequoia in the grove.
Once you pass a small waterfall you will come across the impressive Fallen Goliath. Finally, the trail continues up the canyon and along Redwood Creek as you head back to the parking area.
Note: You must be at least one mile from the trailhead if you choose to set up camp in Redwood Canyon.
Check out lodging reviews in Sequoia and Kings Canyon National Parks. Love to camp? Here is everything you need to know about camping in Kings Canyon National Park.
The Best Kings Canyon Hikes for Families
We couldn't write an article about the best hikes in Sequoia National Park without including some of our favorite hikes in Kings Canyon National Park as well. The two parks are neighbors and most people visit them both in one vacation.
Kings Canyon National Park has two sections- one that protects Grant Grove as well as another that protects rugged and remote Kings Canyon.
Grant Grove in Kings Canyon National Park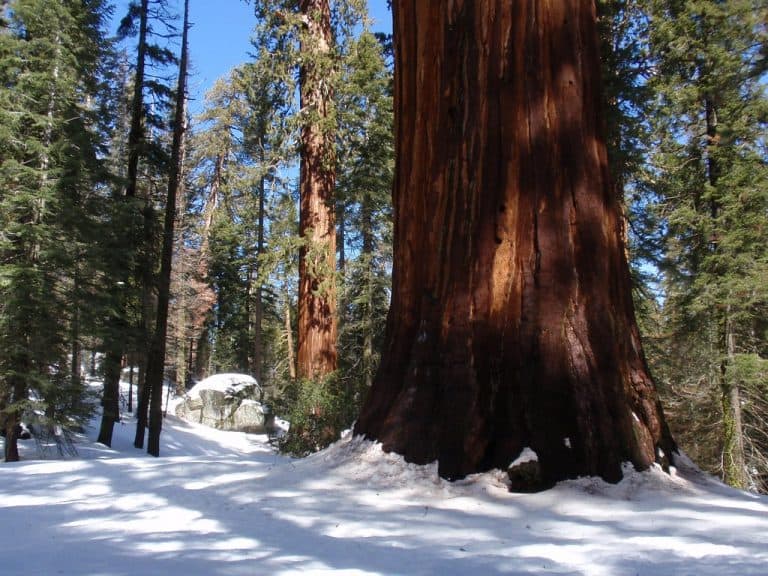 Take a walk among the giants and visit the widest tree in the world, the General Grant Tree. Calvin Coolidge proclaimed the General Grant to be the nation's Christmas Tree in 1926, and the honor still stands. The entire General Grant trail is a 0.5-mile loop.
Hikers won't want to miss the opportunity to walk through a fallen sequoia tree. Standing inside the trunk of the tree gives great perspective on the tree's size. Those seeking to extend their walk among the big trees can continue on the 1.5-mile North Grove Loop which begins in the Grant Grove.
Trekaroo Tip: While this hike is in Kings Canyon National Park it is actually closer to Sequoia National Park than the bottom of Kings Canyon.
Looking for the best place to camp in Kings Canyon National Park? Check out our list of family friendly campgrounds in Kings Canyon.
Zumwalt Meadow Loop in Kings Canyon National Park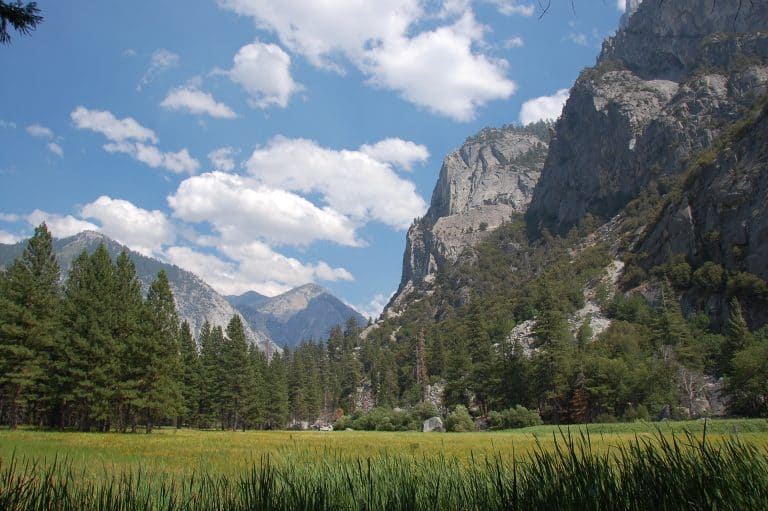 This hike has it all- big trees, a suspension bridge for pedestrians only, a gorgeous meadow framed by towering canyon walls, and plenty of great rocks to scramble on. The Zumwalt Meadow hike is 1.5-mile loop and mostly level, a great distance for all age groups.
On warm summer days, families will love splashing in the Kings River which flanks portions of the trail. Its easy to pack a picnic and enjoy an entire afternoon in this gorgeous location.
Explore more of the state! Here are the top 10 things to do in California with kids.
Sheep Creek Cascade Trail in Kings Canyon National Park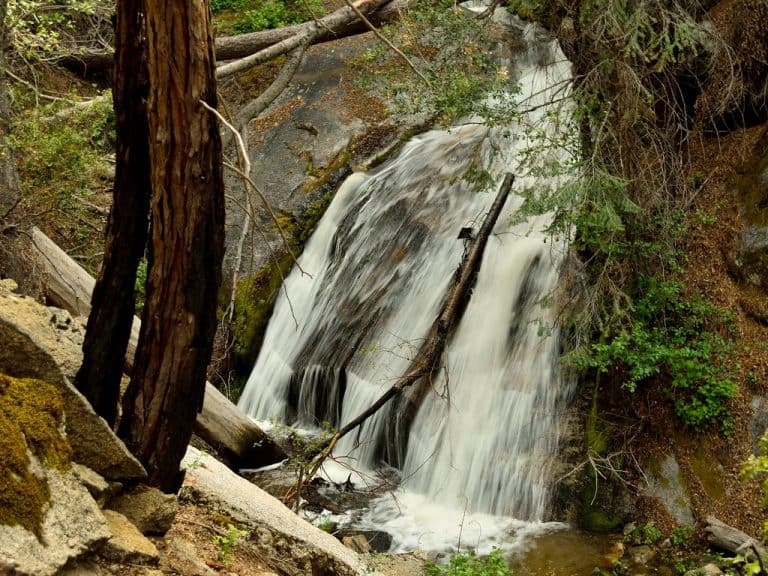 This two-mile round trip hike starts on the floor of the canyon and heads up the south face of the canyon wall to the small and glided cascades of Sheep Creek. Beautiful views of the Monarch Divide across the canyon are visible.
The trail is moderately wide, smooth, and shaded, but not paved. There is a 600′ elevation gain. The trail (Don Cecil Trail) starts across the road from Cedar Grove. Ask a ranger for specific directions to the trail head or look carefully for the hiking road sign after you pass the turn out for Cedar Grove.
Trekaroo has dozens of guides and reviews of our nation's amazing national parks.