Home to stunning scenery, iconic monuments, and lots outdoor fun, the Black Hills of South Dakota are truly one of the most family-friendly regions of America. From national parks to Wild West shootouts to the largest reptile zoo in the world (really!), there are so many fun things to do in the Black Hills!
A vacation in the Black Hills is road trip Americana at its finest. Where else can you visit a Native American trading post, see iconic faces carved in granite, watch bison graze on the prairie, and take your picture atop a six-foot jackalope all in the same day? Read on to discover why we fell in love with the Black Hills.
Explore more of the state! Here are 10 fun things to do in South Dakota.
Fun Things to do in the Black Hills of South Dakota
Rapid City- The Hub of Black Hills, South Dakota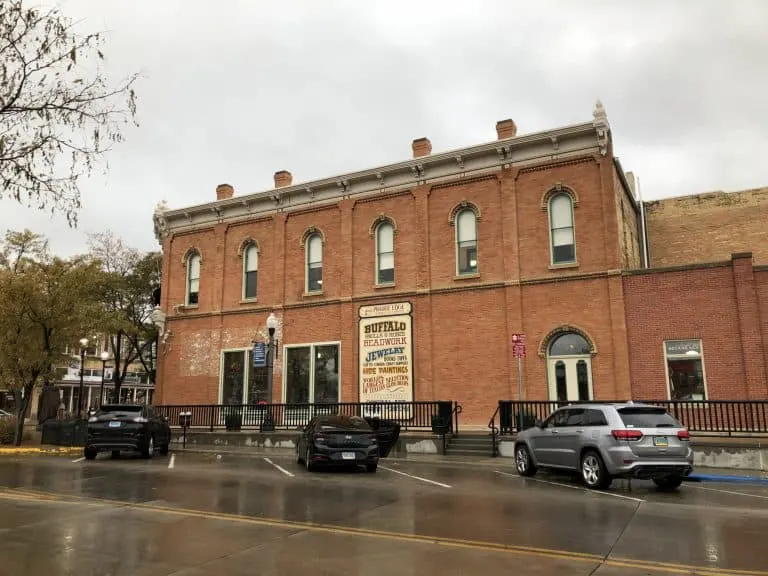 If you are flying into the Black Hills, this is where your journey will begin. The Rapid City Airport is small, and the employees are friendly and welcoming. If you are road tripping, Rapid City is your hub for the region. It is the second largest city in South Dakota, behind Sioux Falls. Here are some of the city's highlights.
Find family-friendly lodging in Rapid City, SD. As a Booking.com affiliate Trekaroo is thrilled to offer our readers the lowest rates.
1. The Journey Museum & Learning Center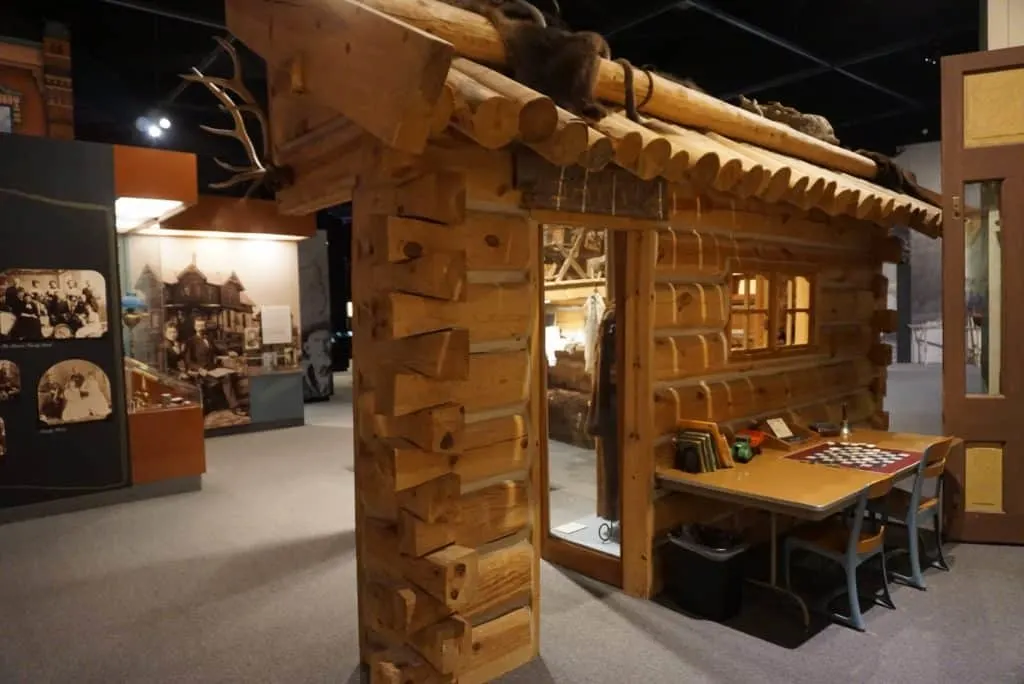 Begin your journey around the Black Hills at the phenomenal Journey Museum which explores the history and culture of the Black Hills, from prehistoric times to recent history. This interactive museum has plenty of hands-on, engaging exhibits which will appeal to young kids, teens, and adults.
One of my favorite exhibits was a satellite image of the Black Hills. It really put the geography of the region into perspective. The Black Hills are a unique island in a sea of prairie and plains.
In addition to geology, the museum also has approachable collections focused on paleontology, archaeology, Native American culture, and pioneer history. Expect to spend at least two hours exploring this great spot.
2. Prairie Edge Trading Co.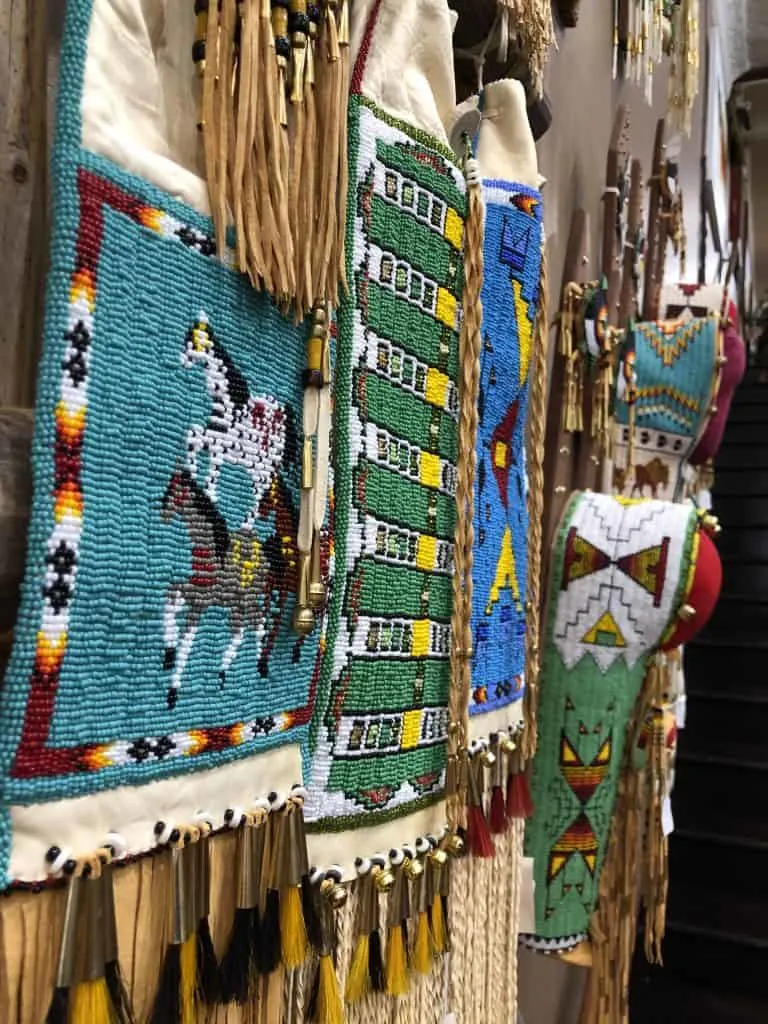 Prairie Edge Trading Co. is a Sioux Trading Post in the heart of downtown. It feels more like a gallery and museum than some of the other trading posts I have visited in the past.
The massive store filled with Native American crafts and artwork. There is even a section where you can purchase traditional craft supplies such as beads (thousands upon thousands of beads) and animal hides as well as dried herbs.
Prairie Edge is a great place to celebrate the incredible arts and crafts of local tribes, and perhaps purchase a treasure of you own!
3. Art Alley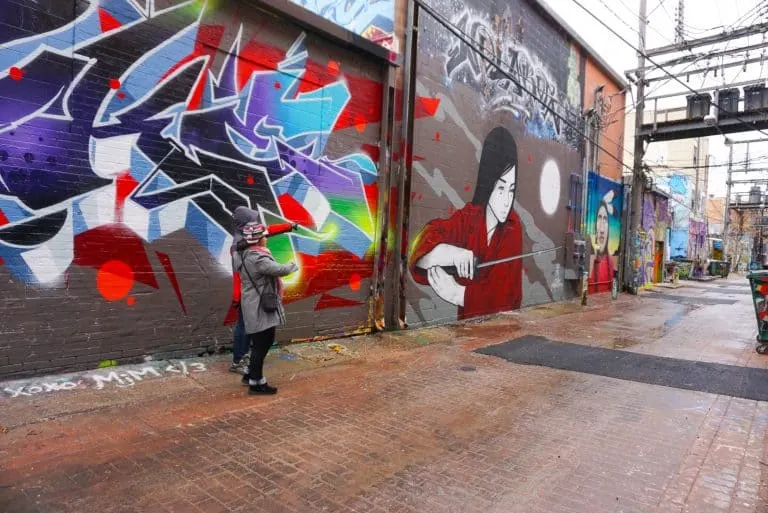 If you have teens or tweens who are Instragram obsessed, you will definitely want to head to Art Alley. There are several ever-changing murals in this colorful alley and they serve as great backdrops for photos!
It is nice to enjoy art from local artists, and the murals change frequently, so you never know what you might see. Art Alley is located less than a block from Prairie Edge Trading Co.
4. City of Presidents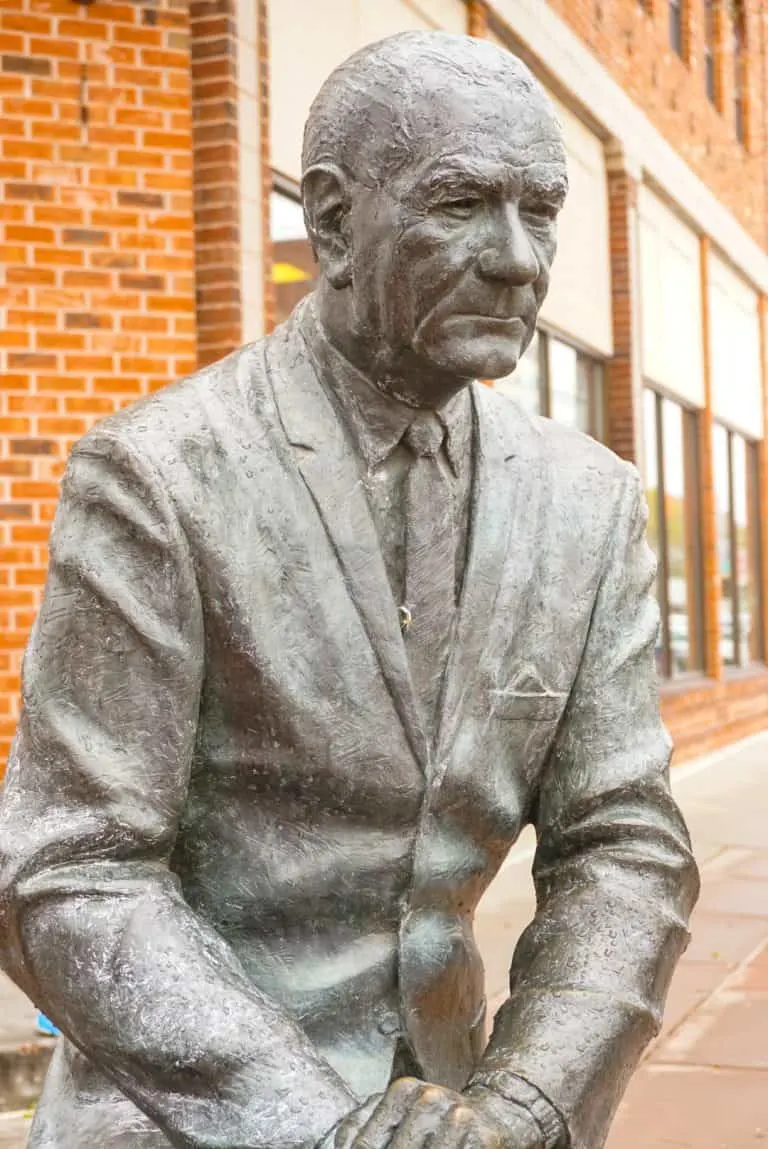 Rapid City is known as the "City of Presidents" for a couple reasons. First, it serves as the gateway city for Mount Rushmore. But second, it is also home to life-sized bronze statues of every past president of the United States.
They are scattered on street corners throughout downtown. It is fun to take selfies with your favorite president and help your kids discover lesser known past leaders.
Trekaroo tip: If you are looking for great food in downtown Rapid City head to Murphy's Pub and Grill. Their fancy fried pickles are the stuff of legends. The menu features a wide variety of sandwiches, burgers, salads, and wraps as well as classics such as shepherd's pie, mac and cheese, fish and chips, and their take on buffalo meatloaf. Make sure you save room for dessert(s) because they are all good!
5. Reptile Gardens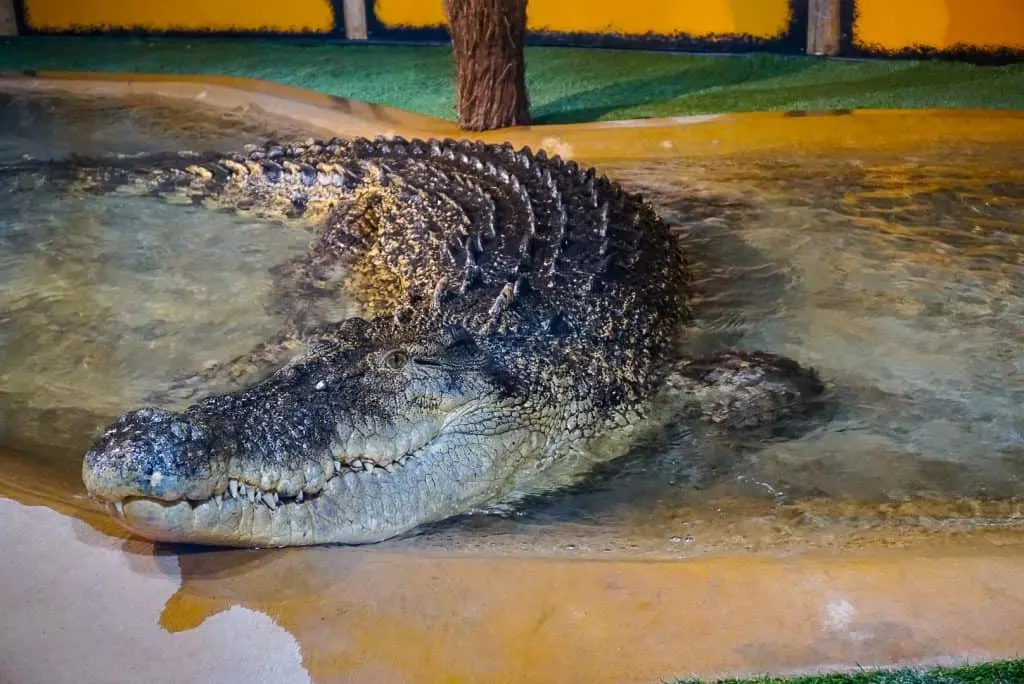 Believe it or not, the world's largest reptile zoo is in Rapid City, South Dakota! Reptile Garden is home to all sorts of snakes (including some of the world's deadliest), alligators, crocodiles, and lizards.
There are also frogs, birds, giant tortoises, and even prairie dogs. It is especially fun to come on crocodile feeding day and watch Maniac, the 16-foot crocodile, inhale a whole chicken like its a Tic Tac!
Even if you miss feeding day there is plenty of animal action to enjoy. There are gator shows, bird shows, and even a snake show where you can watch professional handlers work with deadly snakes. You can even pet a Burmese python or baby alligator yourself!
Besides being a place to enjoy cold-blooded animals, Reptile Gardens is also a place to enjoy plants. The park's botanical gardens are home to all sorts of flowers and greenery from around the globe. Keep in mind that this seasonal zoo is open from March through November.
6. Bear Country U.S.A.
Bears used to roam the Black Hills but hunters drove them out of the area decades ago. Today, you can still enjoy bears at Bear Country USA, a drive-thru wildlife park. In addition to the bears, expect to see wolves, elk, buffalo, reindeer, and other wildlife on your drive.
After the driving portion of the experience, get out of the car and visit more North American animals on the Wildlife Walkway. There are various foxes, mountain lions, bobcats, badgers, skunks, porcupines, and more. The most popular critters on the Wildlife Walkway are the baby bears.
Note: Bear Country USA is a seasonal park that is usually open late April through November.
7. Dinosaur Park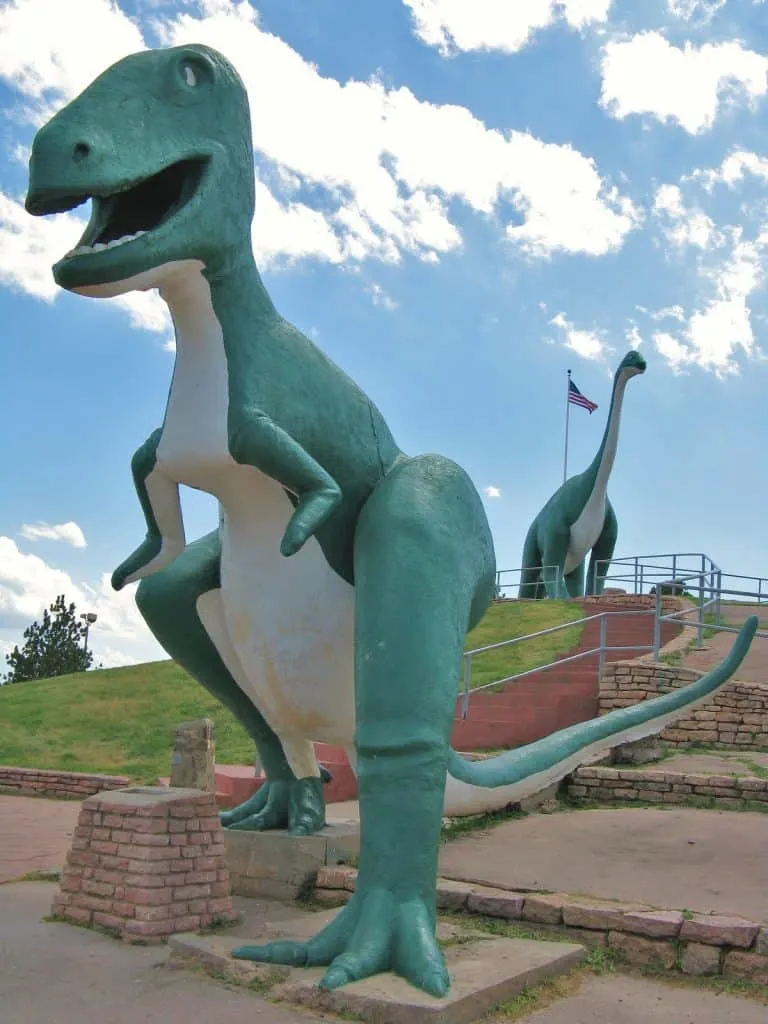 If you have children who love dinosaurs, you will want to stop at Dinosaur Park. This park is a fun place to make a pit stop and get the wiggles out. There are seven, huge concrete replicas of dinosaurs at the park which has been a local attraction since the 1930s, The views from this park are expansive, and extend for 100 miles.
8. Mammoth Site of Hot Springs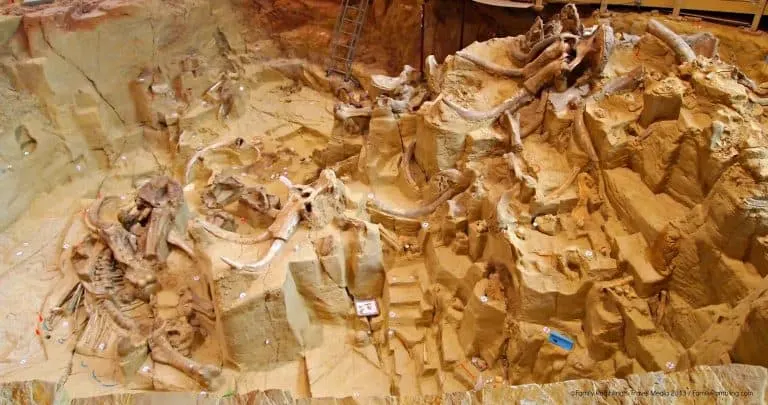 If you have a budding paleontologist in your group, a stop at the Mammoth Site of Hot Springs is a must. This is an indoor, active dig site that is home to largest concentration of Columbian mammoths in the world.
There are several ice age fossils to view but the most exciting part of visiting this museum is participating in the Junior Paleontologists program. It is offered June 1st- August 15th and is designed for kids ages 4-12.
Excavation techniques are taught, including identification of replica mammoth and giant short-faced bear fossils. Kids can expect to get dirty and will happy to bring home a fossil identification booklet to help with their future fossil hunting.
Trekaroo tip: Though there are five sessions a day, they tend to fill up so advanced reservations are highly recommended.
9. Black Hills Adventure Tours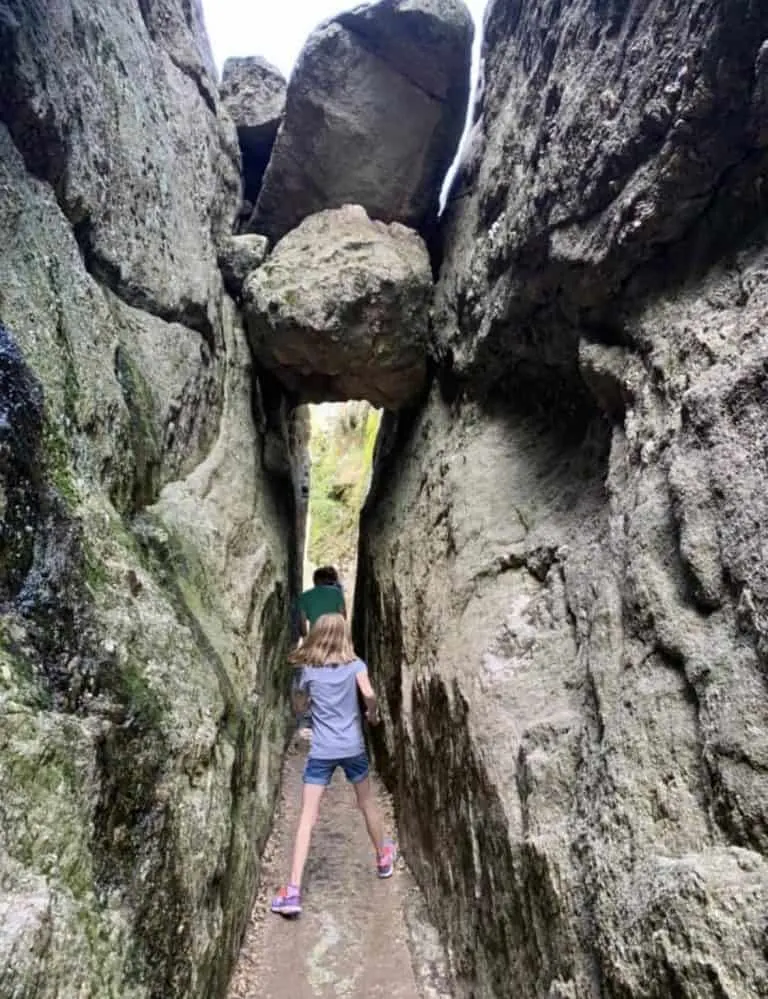 Why explore the area alone when you can leave it to the experts? Owner Carrie Gerlach has lived in the Black Hills region for years and knows all the best places to explore. Her custom tours at Black Hills Adventure Tours take families all over the Black Hills.
Options include sightseeing tours or active adventures such as fossil hunting, guided hikes, and bike tours. She provides equipment and transportation so you can focus on fun! When you book tell Carrie that Trekaroo sent you!
Things to do in the Black Hills Mountain Town of Deadwood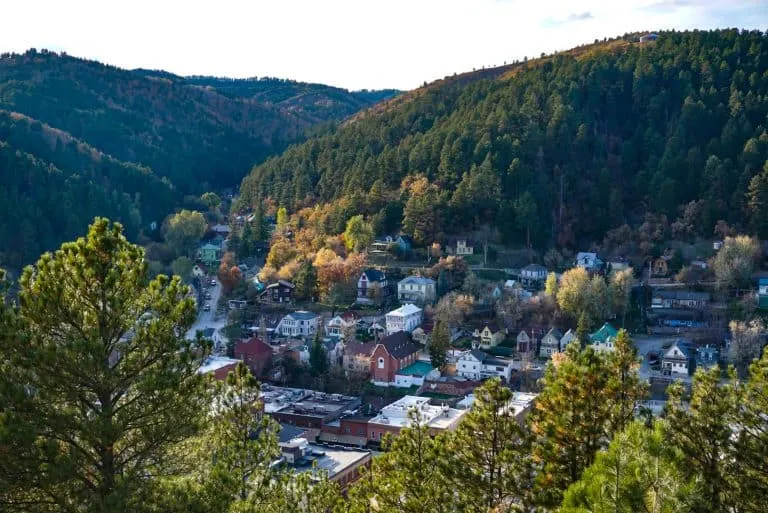 Deadwood is a charming mountain town with a wild and woolly past. Several characters such as Wild Bill Hickok, Calamity Jane, and Poker Alice called this mountain boom town home back during the gold rush days of the late 1800s. Today, the town is known for gambling and historical Wild West re-enactments.
10. Adams Museum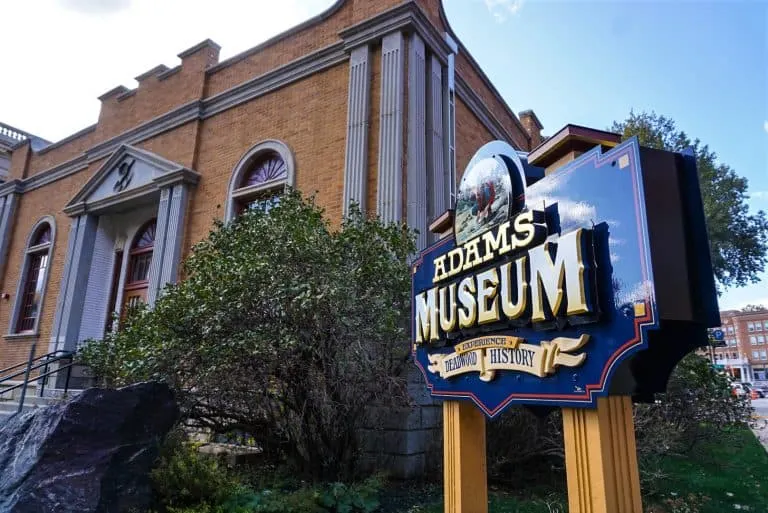 If you want to get to know the history of Deadwood and the surrounding Black Hills, the Adams House is a great place to start. This history museum has an eclectic collection of artifacts from the area and a fun room dedicated to the legendary citizens of the region.
The most famous item in the museum is the large gold nugget that Potato Creek Johnny found back in the gold rush days.
11. Mount Moriah Cemetery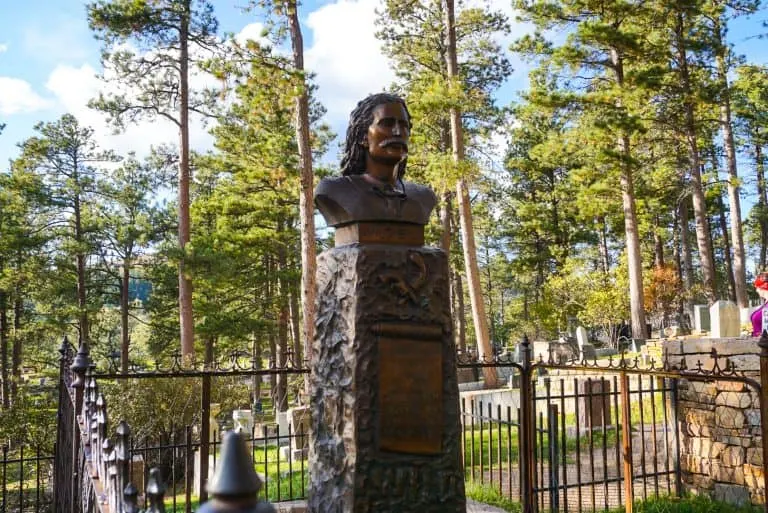 If you want to visit the final resting place of Calamity Jane, Seth Bullock, and Wild Bill Hickok, head to the Mount Moriah Cemetery.
The cemetery is actually quite beautiful and has recently been restored. The views from the cemetery of the town below are worth the $2 admission fee.
12. Broken Boot Gold Mine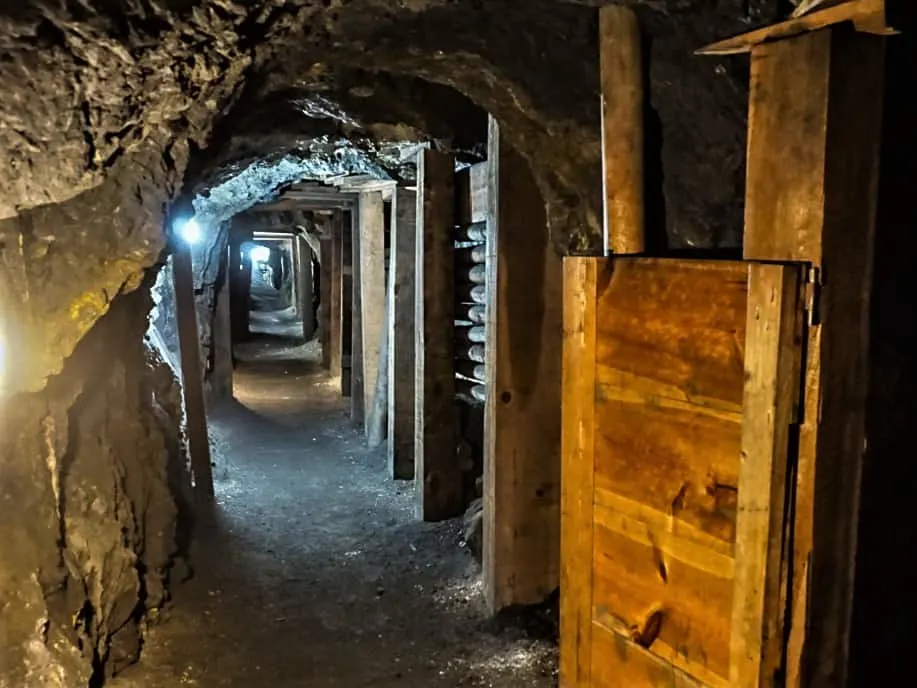 Open seasonally from late May through early September, the Broken Boot Gold Mine is a fun place to learn about the history of the Black Hills Gold Rush.
There are regular mine tours as well as candlelight tours which give people a glimpse of what the mine looked like back when miners were searching for gold. Kids will like panning for gold outside of the mine after the tour is over.
13. Old West Re-enactments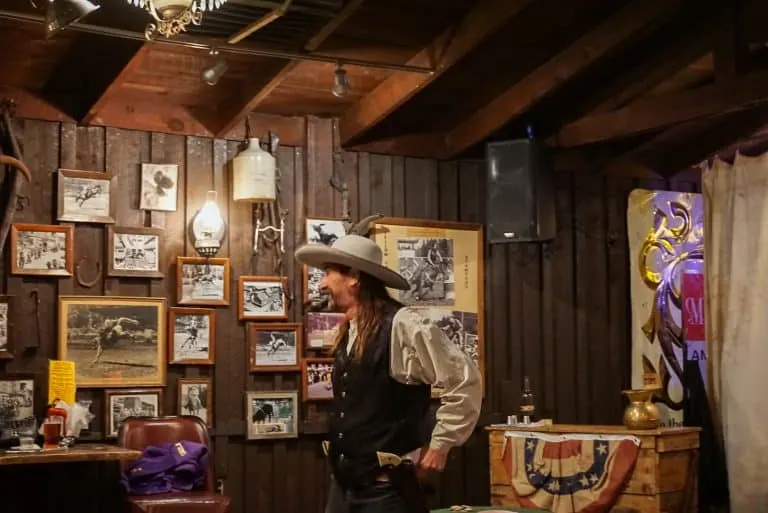 Throughout the day during the summer months (except Sunday), there is always action on Main Street. Kids will love the shootouts and the opportunity to be deputized by the marshal. Stagecoach rides around town will also help you get into the Old West spirit.
Head to Old Style Saloon No. 10 to watch the re-enactment of the shooting of Wild Bill Hickok. This show is free and family friendly, and it takes place in "the only museum in the world with a bar".
Trekaroo tip: Upstairs at Old Style Saloon No. 10 you will find the Deadwood Social Club. This steakhouse with an Italian flair is a fun place to enjoy a great meal. Children are welcome but families with young children will probably feel most comfortable at lunch.
Other re-enactments include the trial of Jack McCall, which happens every evening except Sundays during the summer season. Jack McCall (Wild Bill's killer) is captured at 7:30PM in front of Saloon No. 10. The trial is at 8PM at the Masonic Temple.
14. Bike the Mickelson Trail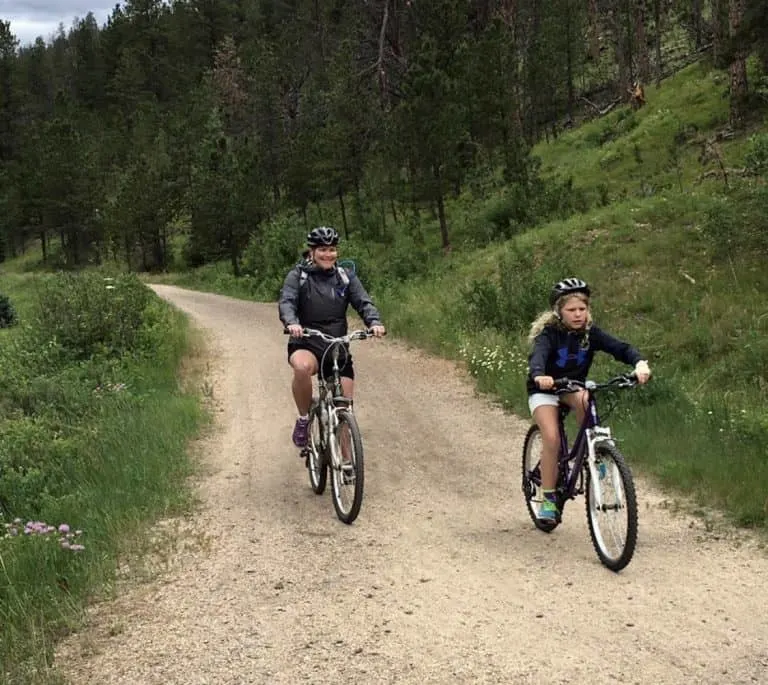 This 109-mile gravel trail follows a historic rail line as it goes over 100 bridges and four rock tunnels. Since the grade is never steep, the Mickelson Trail is great for family biking.
Tour operators, such as Black Hills Adventure Tours, offer guided tours as well as equipment and transportation to some of the most scenic stretches. There are 15 trailheads to park at along the way if you decide to go it alone.
15. Spearfish Canyon Scenic Byway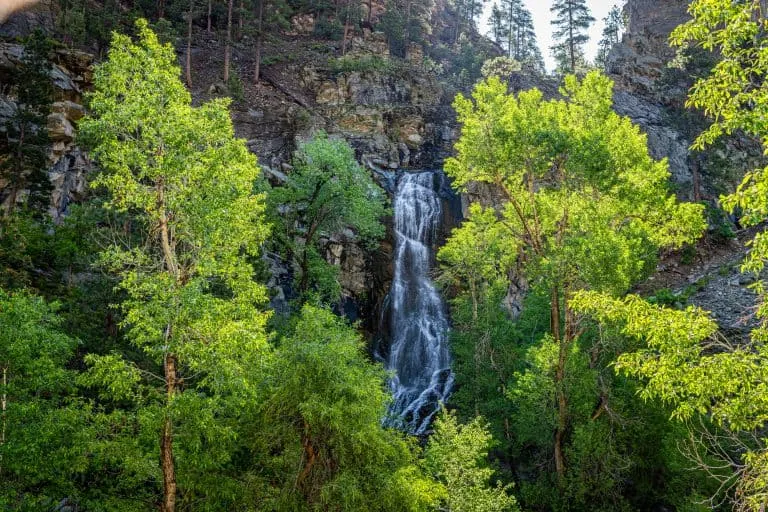 In the northwestern Black Hills beyond Deadwood and Lead, not far from the Wyoming border, is dramatic Spearfish Canyon which follows a 19-mile gorge cut by Spearfish Creek.
This is waterfall country, and Bridal Veil Falls and Roughlock Falls are definitely "must-sees". There are several trails in the area, including Eleventh Hour Gulch which was named because it only receives one hour of direct sunlight per day.
16. Friendship Tower on Mount Roosevelt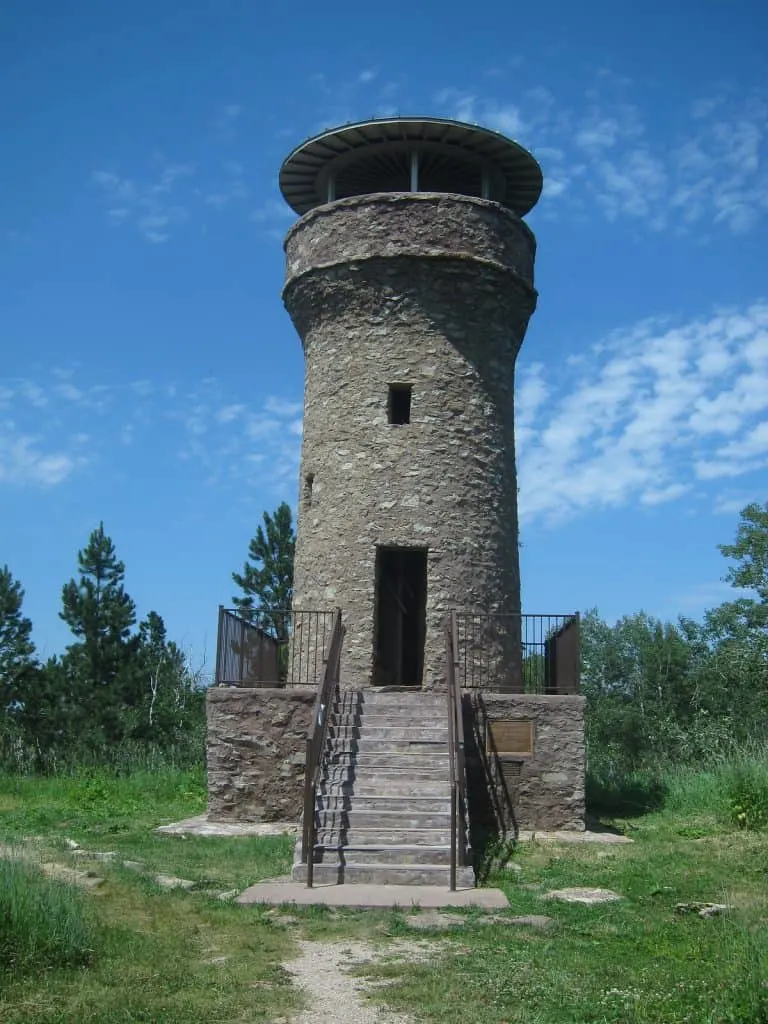 It is an easy, one-mile hike to the Friendship Tower on Mount Roosevelt. The tower was built by former Deadwood sheriff Seth Bullock to honor his friend Theodore Roosevelt. It was restored in 2010 and visitors can climb the spiral staircase to the top to enjoy panoramas of the Black Hills.
Stay at the First Gold Gaming Resort in Deadwood
Gambling is the name of the game in Deadwood and there are several hotel casinos in town. We stayed at the First Gold Gaming Resort which offers family rooms and free stays for children under 12.
There is a buffet, which kids always seem to love, and plenty of slot machines and table games to keep the parents happy as well.
Things to do in the Southern Black Hills
The Southern Black Hills are home to Mount Rushmore, Crazy Horse Memorial, and one the best state parks in the country- Custer State Park. But, that's not all! Read on to discover more of what the region has to offer.
17. Mount Rushmore National Memorial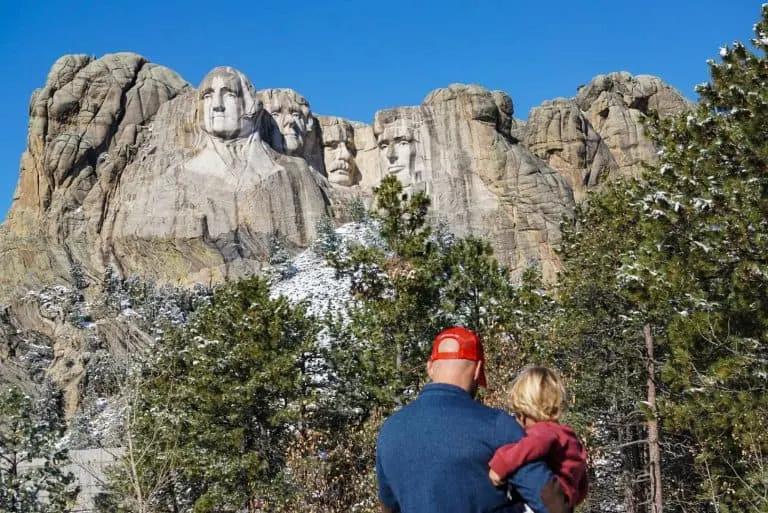 Certainly the most iconic and visited destination in the Black Hills, Mount Rushmore National Memorial is one of the most recognizable monuments in the United States. 2.5 million visitors per year make the pilgrimage to the memorial each year, most of them during the busy summer months.
As you can imagine, the crowds are omnipresent during the high season, but as with most places in the National Park system, the early bird gets the worm. The memorial opens at 5am but the Information Center, gift shop, and cafe all open at 8am.
I suggest arriving early, taking the 0.6 mile Presidential Trail to get closer to the monument, and then grabbing a Junior Ranger booklet to complete while enjoying breakfast at the cafe.
It is cool to see the presidents lit up at night but difficult to photograph. If you are hoping for iconic images of your kids in front of the presidents, morning is best. Expect to spend about one or two hours at this attraction.
18. Crazy Horse Memorial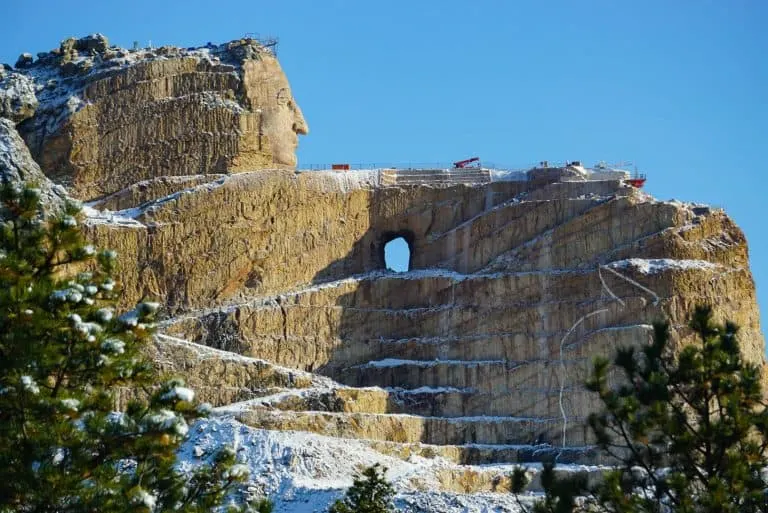 Long before the United States was the United States, various Native American tribes such as the Lakota called the Black Hills and surrounding prairies home. Tragically, their populations were largely decimated. Crazy Horse was one of Lakota's most revered leaders.
In 1939, Chief Henry Standing Bear asked sculptor Korczak Ziolkowski to carve a monument to Crazy Horse in the Black Hills, not far from where he had just worked on Mount Rushmore. Ziolkowski agreed, and dedicated the remainder of his life to working on the project. Though he passed away in 1982, his descendants have remained dedicated to finishing the project.
At this point, the face is completed, and stands 27 feet taller than the heads of Mount Rushmore. When the sculpture is fully completed, Crazy Horse's body and a horse will be part of the incredibly massive 641 by 563 feet tall sculpture. It will be, by far, the world's tallest sculpture.
Today, visitors can visit the in-progress memorial as well as the Indian Museum of North America and the Native American Educational and Cultural Center. There is also the opportunity to see the Sculptor's Home and Studio. Your visit helps fund the building of this important memorial.
19. Custer State Park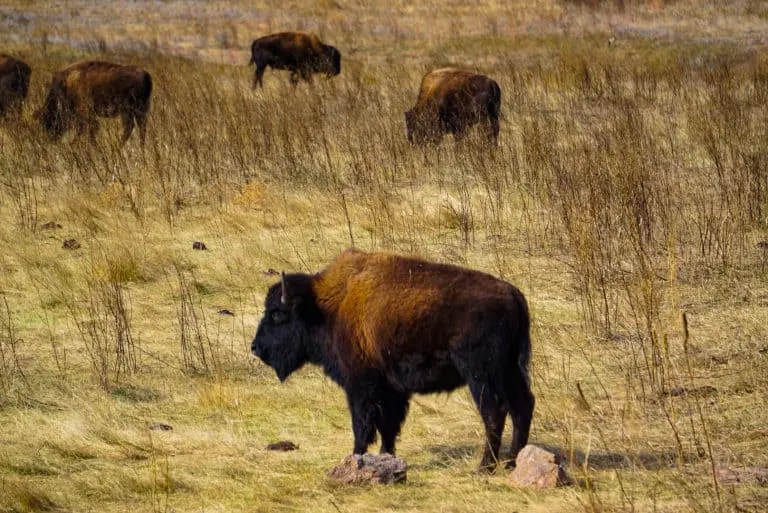 Custer is a state park with a national park feel. It is a place filled with distinct scenery, great lodging option, wonderful outdoor activities, and plenty of wildlife.
The most famous residents of Custer State Park are its bison, and a great way to see them is by taking a Buffalo Safari Jeep Tour. This narrated, open-air experience takes you on back country roads that only these Jeeps are permitted to go.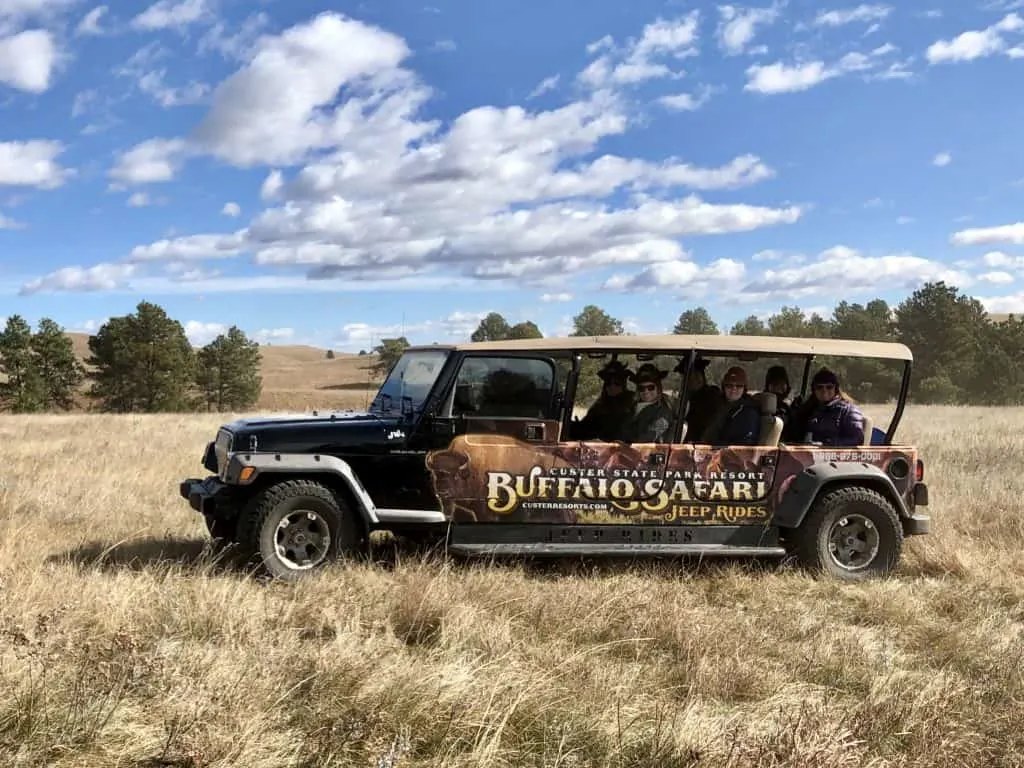 Upgrade to the Buffalo Safari Jeep Tour and Cookout and enjoy a great tour followed by a Chuck Wagon Cookout! The meal includes steak or a hamburger, beans, potato salad, corn bread, watermelon, and cookies. Live music helps set the tone for this outdoor experience.
Besides bison, guests often spot elk, mule deer, white-tailed deer, pronghorn antelope, burros, prairie dogs, mountain goats, and bighorn sheep inside the park. A drive on Wildlife Loop Road is a great way to see them.
Check out this epic guide to Custer State Park.
If you want to get out on the trails the way the cowboys do, head to Blue Bell Lodge Stables and join a trail ride. One and two-hour guided trail rides are available, as well as half-day and full-day rides that include lunch. Children as young as five can hit the trail. Younger kids can still get their horse "fix" by taking a pony ride at the stables.
If time out on the water is what your family desires, you are in luck! There are canoe, kayak, and stand-up paddle board rentals available at Sylvan Lake Lodge and Leglon Lake Lodge. You can also fish at these lakes. Licenses can be purchased at the park's General Stores. Both Sylvan Lake and Legion Lake have swimming beaches and lovely trails around the lakes.
Iron Mountain Road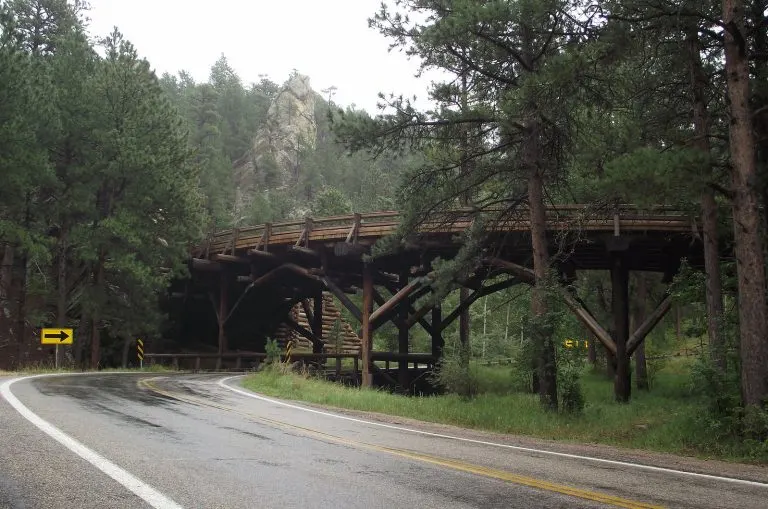 This scenic route winds 17 miles between Custer State Park and Mount Rushmore. It is known for its wooden bridges called "pigtail bridges". The road was purposefully designed to have several switchbacks because it limits the speed of drivers to 35 miles per hour , allowing them to slow down and enjoy the Black Hills.
The biggest highlight of this road are the one-lane tunnels that were built to frame Mt. Rushmore National Memorial like a picture. Wildlife spotting potential is high on this stretch of road as well. Bison, deer, pronghorn antelope, and turkey sightings are common.
Needles Highway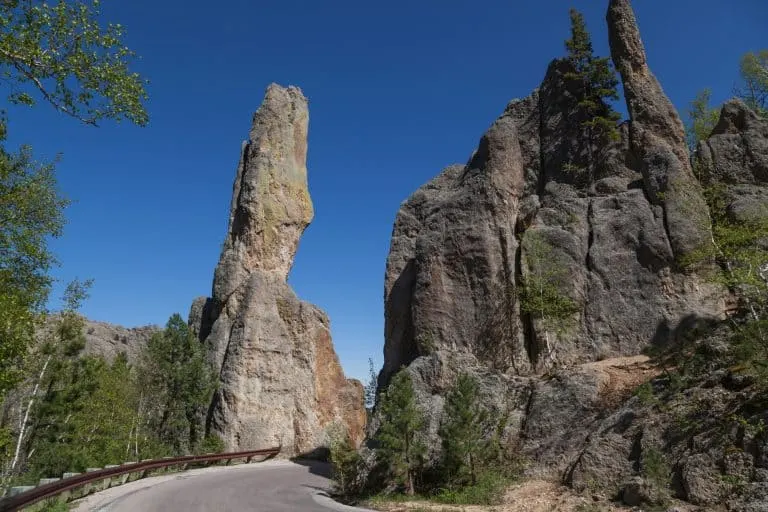 This scenic byway was named for the spiky granite peaks of the Black Hills inside of Custer State Park. The 14-mile road drives through forests of Ponderosa pine and spruce, highlighted by granite tunnels and verdant meadows.
Be sure to take time to get out of the car to take in the famous Needle's Eye formation and go for a swim at Sylvan Lake.
Note: This road is closed during the winter months and not suitable for RVs.
Custer State Park Lodging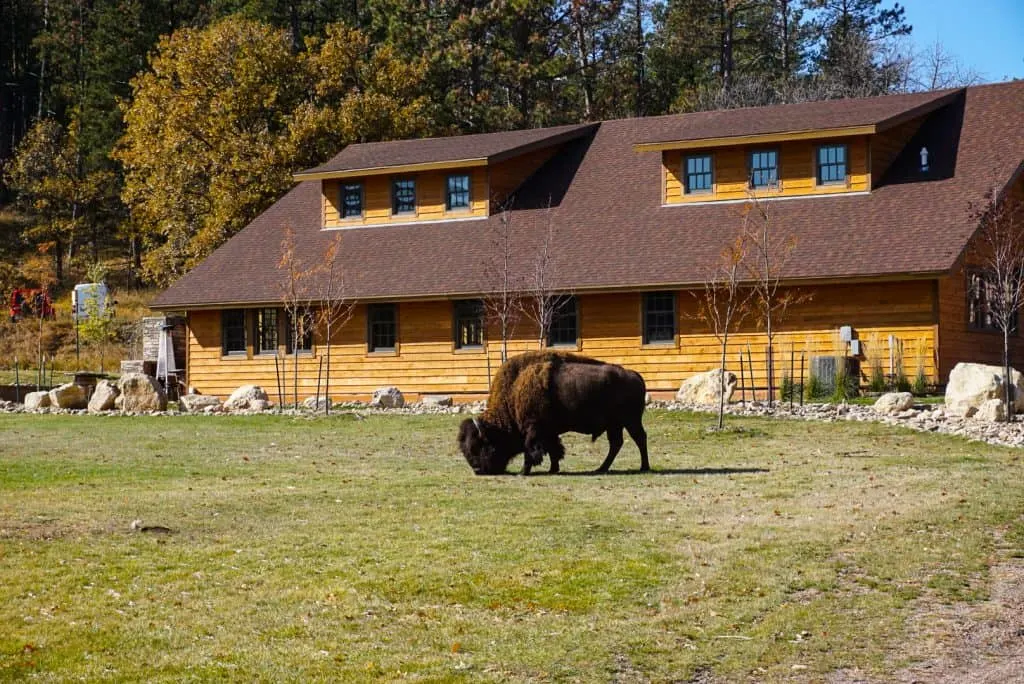 There are several lodges, campgrounds, and cabins inside of Custer State Park. They offer a wide variety of lodging options and price points for families. There are even specialty cabins that sleep up to 28 people, making them perfect for family reunions.
We stayed in the State Game Lodge cabins. Our cabin had two bedrooms and two bathrooms, along with a kitchen and living area. Everything was updated and comfortable. There are a variety of cabins sizes and configurations in this area, making them a perfect fit for families.
The State Game Lodge itself was once the Summer White House for Calvin Coolidge in the 1920s. There are historic hotel rooms inside the lodge. Nearby Creekside Lodge offers larger, modern accommodations. Other lodges inside the park are Blue Bell Lodge, Sylvan Lake Lodge, and Legon Lake Lodge.
If camping is more your speed, there are campground spots for RVs, tents, and even rustic camping cabins.
Read this guide filled with even more great things to do in Custer, South Dakota.
20. Wind Cave National Park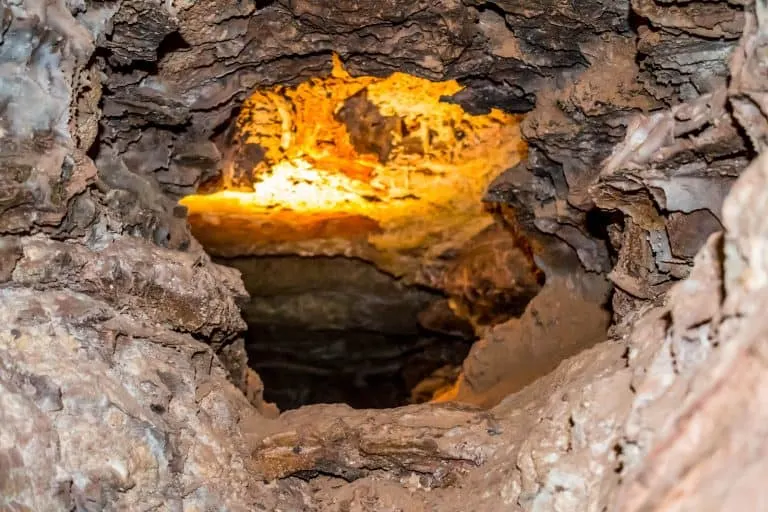 The Badlands aren't the only national park in the Black Hills region. On the southern border of Custer State Park sits Wind Cave National Park, one of the longest and most complex caves in the world.
It doesn't have much of the showy stalactites and stalagmites that many caves are known for. Instead, it is know for formations called boxwork. Boxwork is made of thin blades of calcite that form a honeycomb pattern on cave ceilings and walls.
There are several cave tour options. Candlelight and "wild" cave tours are available in addition to more traditional tours. Most tours are first come, first served and fill up early in the day during the summer months. Be sure to bring a jacket since the cave temperature hovers around 53 degrees all year.
Back up at the surface, there are a few different trails worth exploring, many which lead to opportunities for wildlife spotting. Bison, prairie dogs, elk, and antelope are often spotted. Rankin Ridge is a good family hike. It is a one-mile nature trail features great views from the highest point in the park.
Here is a good guide to visiting Wind Cave National Park.
21. Jewel Cave National Monument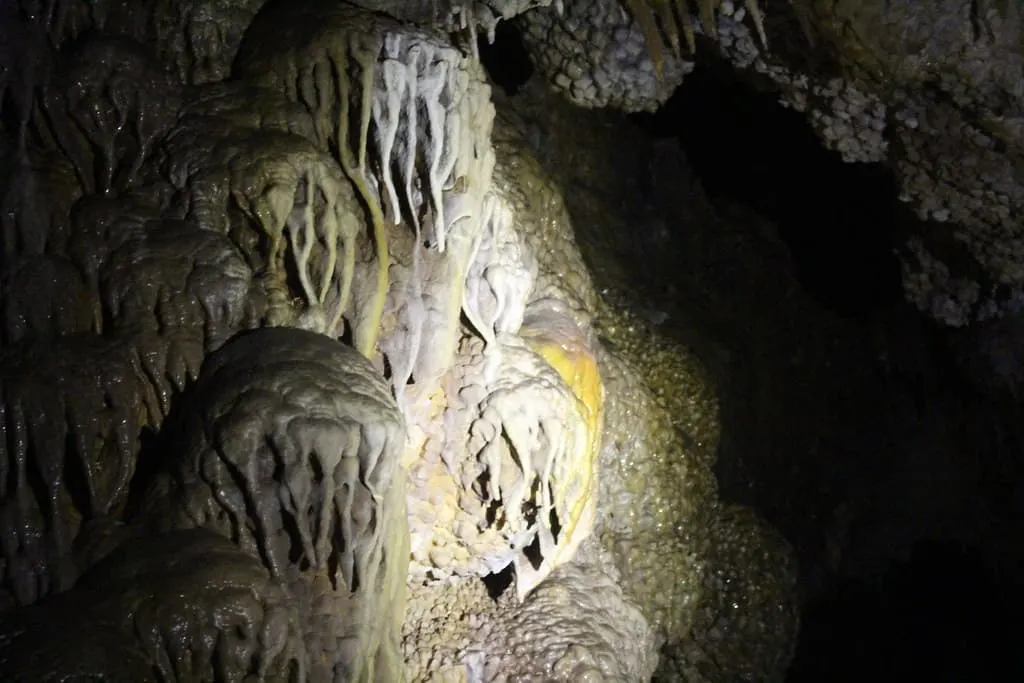 Not far from Wind Cave National Park is Jewel Cave National Monument. It is the third longest cave in the world. The cave is named for its shimmery calcite nailhead and dogtooth spar crystals, as well as variety of other rare cave formations.
Tours are first come, first served, and often sell out by late morning in the summer. You must take a tour to enter the cave. The temperature is 49 degrees year round, and closed-toe shoes are required.
22. Rush Mountain Adventure Park and Rushmore Cave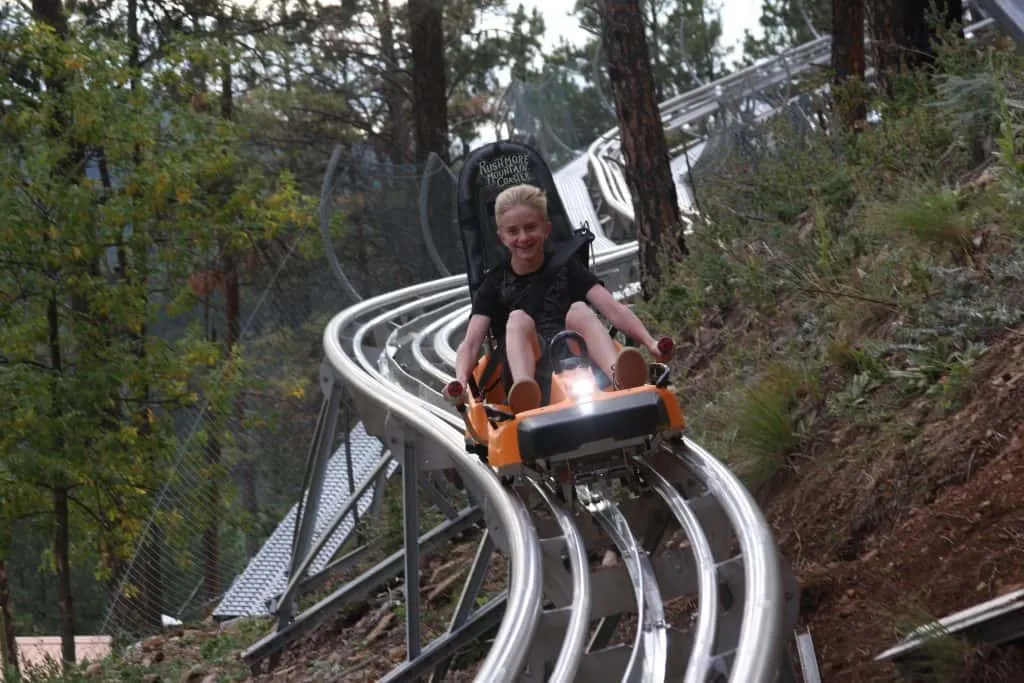 Located in Keystone, Rush Mountain Adventure Park has its own mountain coaster, seated zip line, ropes course, and 7-D ride. It is also home to Rushmore Cave, a cave filled with stalactites and stalagmites.
If you are looking for more of an adventure, take the flashlight tour. It is always the last tour of the day and gives visitors a great perspective on what cave exploration really feels like.
23. Rushmore Tramway Adventures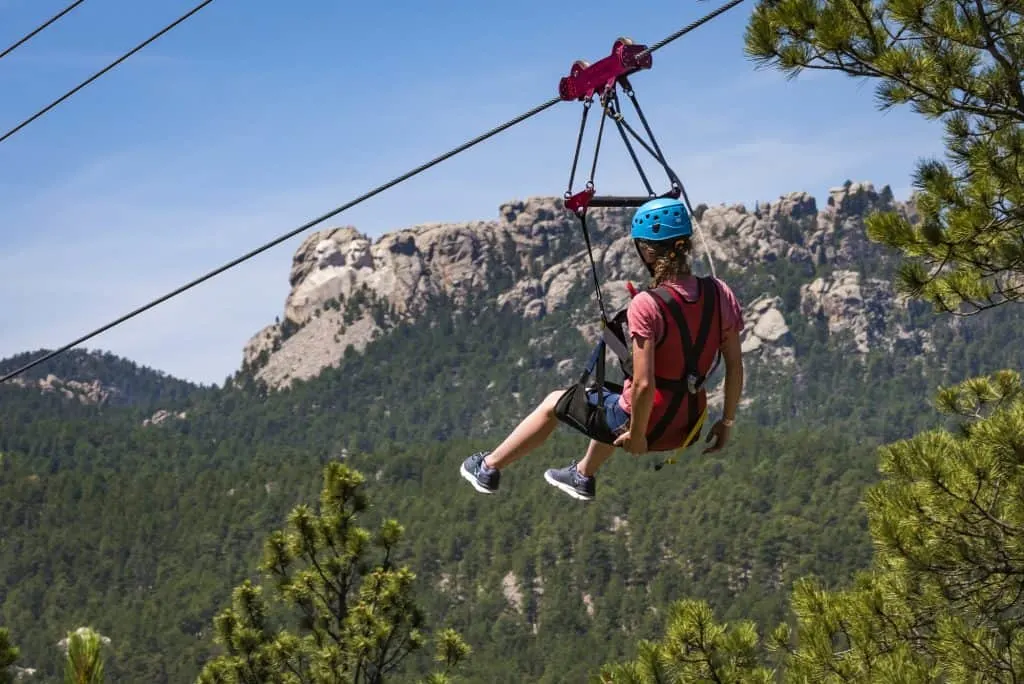 Not to be outdone, Rushmore Tramway Adventures offers its own dose of adventure. There is an aerial ropes course, scenic chairlift, summer tubing hill, alpine slide, jump tower, and a zip line course with five zips.
Southern Black Hills Lodging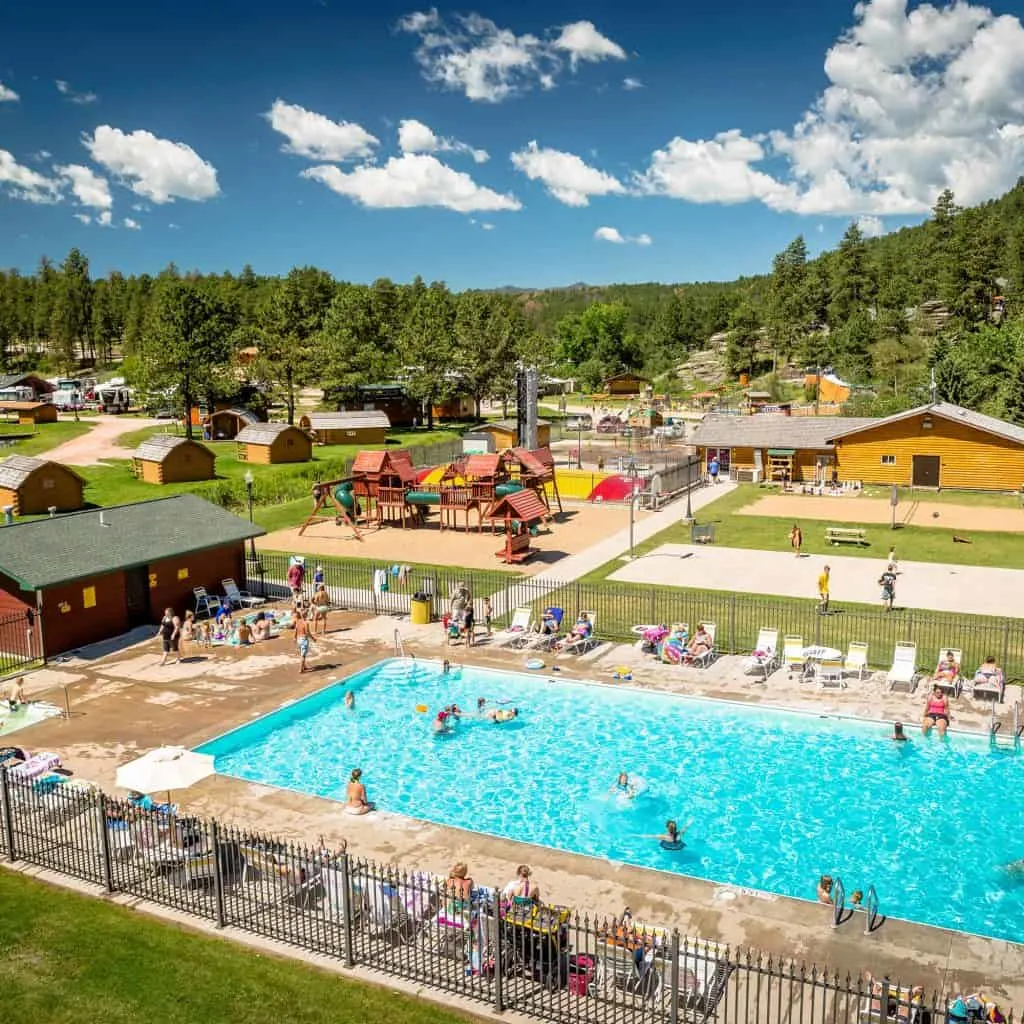 In addition to the options inside of Custer State Park, Trekaroo has two more lodging recommendations:
The Bavarian Inn is a charming inn in Custer. Rooms are cozy and modern. Family suites offer two queen beds and a sleeper sofa. Kids will love the pancake bar at breakfast.
They will also love the indoor and outdoor pools. Pets are welcome at this location, making it a nice option for those traveling with their four-legged family members.
If you are looking for an epic camping experience, head to the Mount Rushmore KOA Resort. This place is like camping on steroids.
There are RV and tent spots as well as KOA cabins and even a hotel! Amenities include pools, a splash park, water slide, climbing wall, bounce pillow, mini golf, horse stables, fishing, bike rentals, UTV rentals, and a variety of kids activities throughout the day.
Things do do Near The Black Hills in the Badlands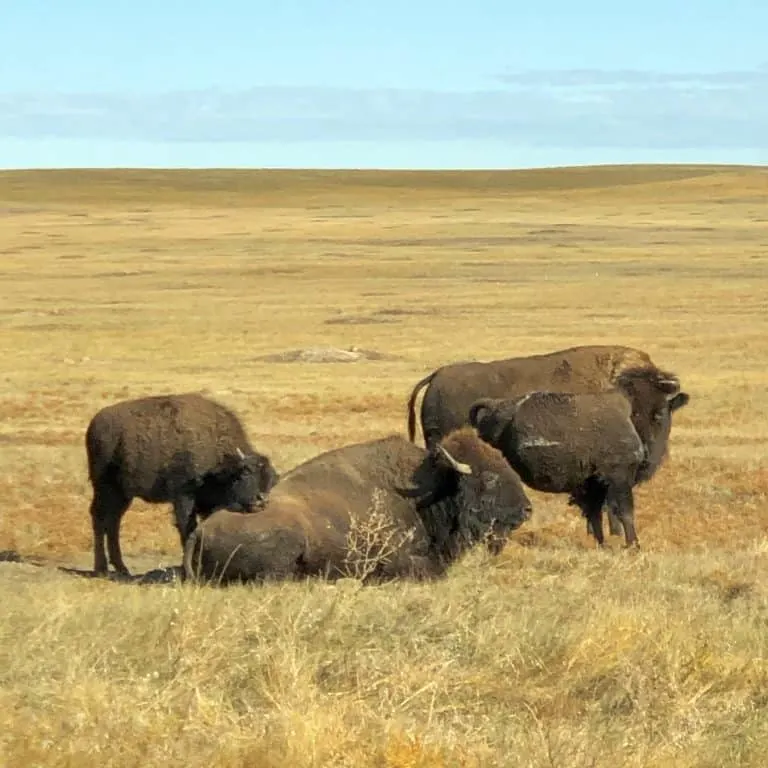 Not technically part of the Black Hills, but close enough! You definitely don't want to plan a trip to the Black Hills without spending some time in the Badlands.
24. Badlands National Park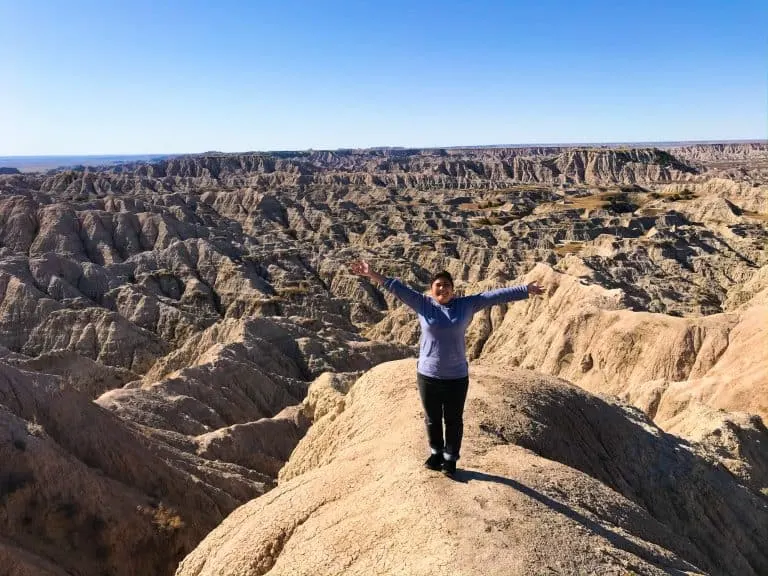 The Badlands of South Dakota stand in stark contrast to the neighboring Black Hills and surrounding prairie lands. Once an inland sea, the Badlands are a jagged, water-less wasteland with their own unique beauty.
In addition to taking in the scenic views from park overlooks on Badlands Loop Road, families should take the opportunity to get out of the car and out on one of the park trails.
Trekaroo Tip: Always go to a national park visitor center first. This is a great place to pick up maps, view park exhibits, talk to park rangers about current conditions, and pick up a Junior Ranger booklet.
Badlands National Park Loop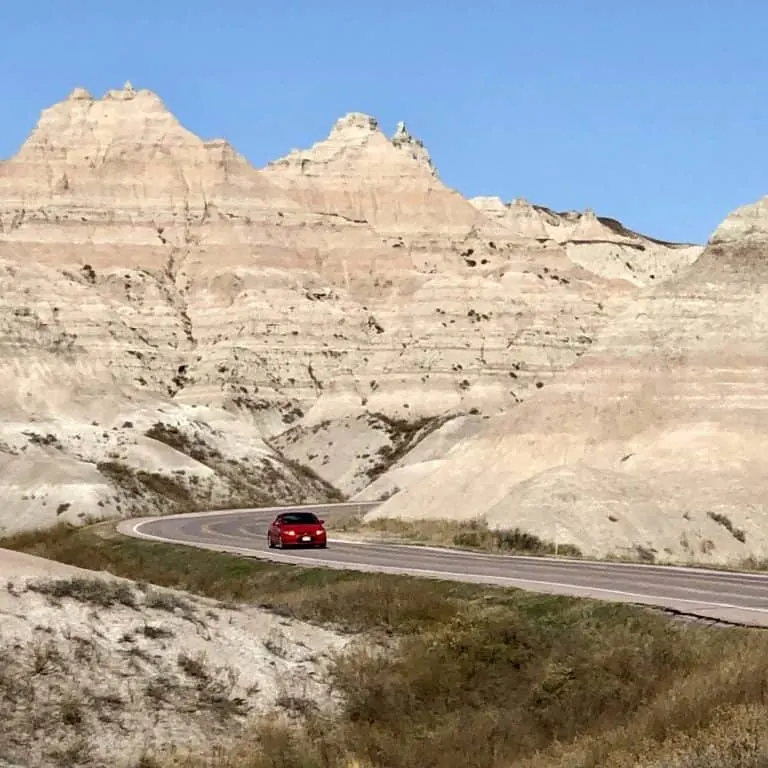 This 25-mile loop travels along the buttes and cliffs of the weathered, multi-hued badlands that are this park's namesake. There are plenty of overlooks to stop at along the way (16 to be exact!) as well as wildlife spotting opportunities.
Top overlooks worth stopping at include the Big Badlands Overlook, Yellow Mounds Overlook, and Pinnacles Overlook. There are also eight trails which begin from the roadside.
Wildlife sightings are common. You are most likely to see proghorn antelope, mule deer, and prairie dogs. If it is buffalo you seek, try the gravel spur road, Sage Creek Rim Road, which leads to the Roberts Prairie Dog town. They tend to hang out in that area.
Badlands Trails for Families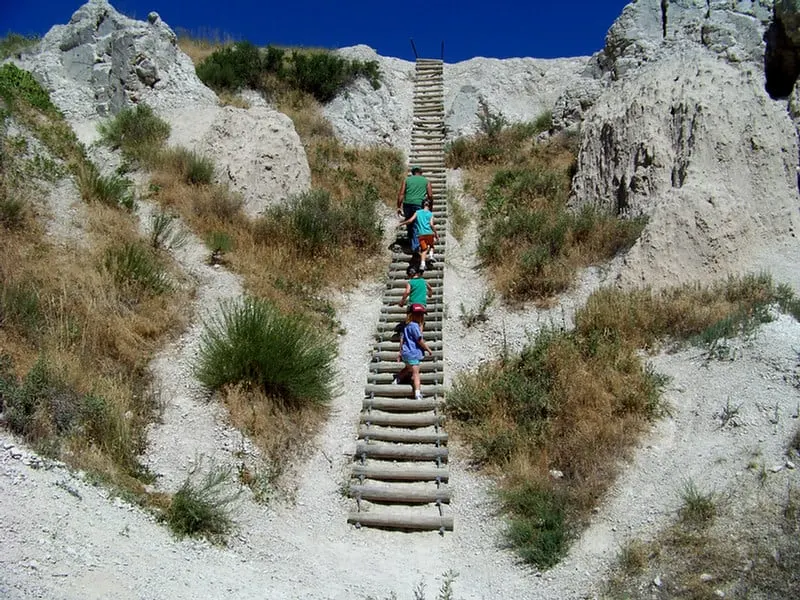 The Door Trail is 1/2 mile walk to an amazing view of the park. There is no official trail, just markers to follow. Kids will love scrambling on rocks along the trail. Nearby, the Window Trail is a short boardwalk (0.25 mile) which ends at a viewpoint.
For something more substantial, try the 1.3 mile Notch Trail. It begins with a walk through a canyon before reaching the highlight- a wooden ladder that is bolted into the side of a hill.
Climb the ladder to reach the top of the canyon and continue walking to experience great views of the area. Be sure to keep an eye on young children near the cliff's edge.
The Badlands are known as a hotbed for fossil discovery. If you do spot a fossil, leave it where it is and let a park ranger know. It is illegal to remove fossils -and basically anything else but trash- from the park. Near the visitor center, take the short Fossil Exhibit Trail and stop by the Fossil Prep Lab to see paleontologists at work.
25. Wall Drug Store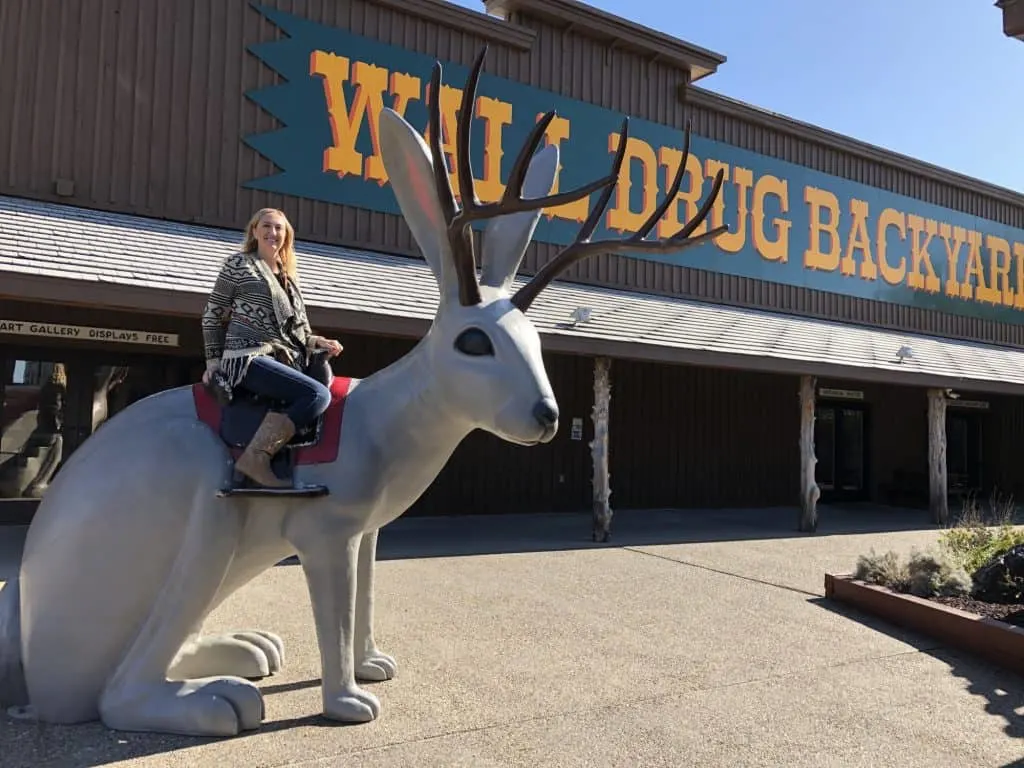 It all started with a sign for free ice water way back in the summer of 1936. Since then, Wall Drug has become one of the most popular roadside attractions in the country! Today, 300 billboards point the way to Wall Drug, making a stop simply irresistible.
Yes, they still serve free ice water, along with 348,000 homemade donuts, 160,000 scoops of ice cream, and 26,000 buffalo burgers per year. This is THE place to stop to eat, shop, and check out various fun things to do in the "backyard" on your way to or from the Badlands.
Shops are filled with Western art and clothing, Black Hills gold jewelry, toys, and countless souvenirs. There is a video arcade, gold panning experience, roaring T. Rex, and the famous, 6-foot tall jackalope. Wall Drug is truly everything you could want in a kitschy, roadside attraction.
26. Minuteman Missile National Historic Site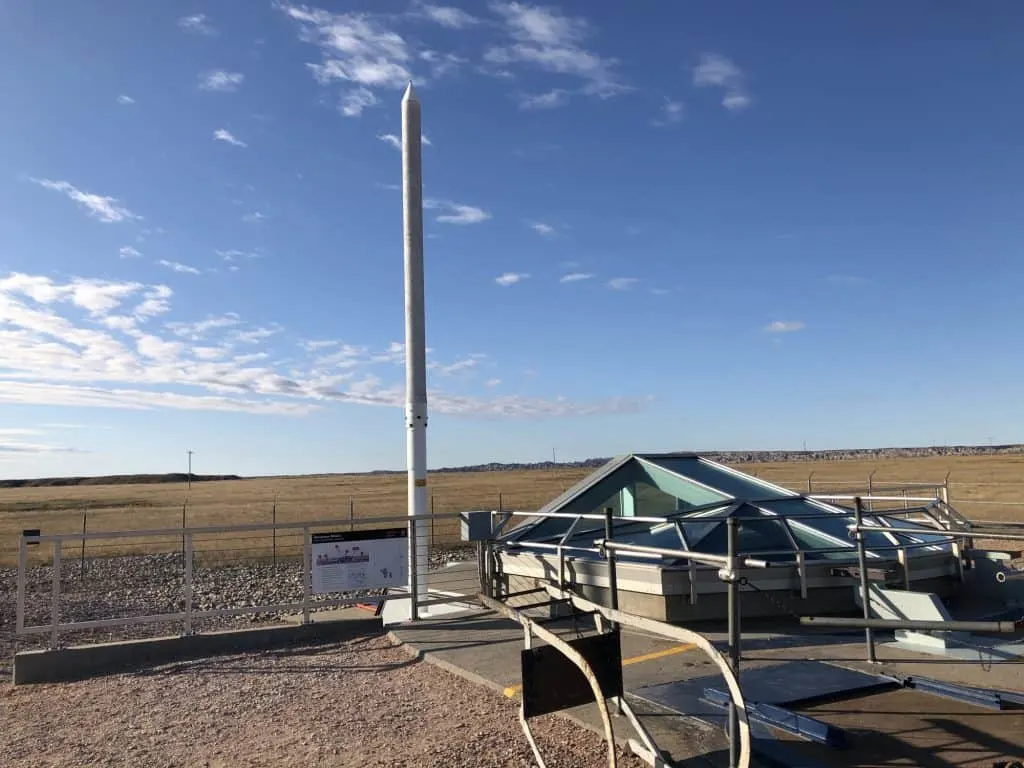 On your way to or from the Badlands, take a detour and stop at the Minuteman Missile National Historic Site. This was the site where nuclear missiles were stored during the Cold War Era.
There are two sites to visit, Delta One Launch Control Facility and Delta Nine Launch Facility. There are underground tours of the silo and control room at Delta One that require advanced reservations.
If you are pressed for time, take the short walk from the parking lot at Delta Nine to see replica nuclear warheads housed in the same place the real ones once were.
Disclosure: The author was hosted by Black Hills & Badlands Tourism Association for the purposes of research for this story. The South Dakota hospitality was great but all opinions are her own. A special thanks to Carrie Gerlach of Black Hills Adventure Tours for keeping us safe and entertained while exploring the region.
Trekaroo has hundreds of guides for locations all over the United States and Canada.