When families think of great destinations to view fall foliage, California is not typically the first state that comes to mind. More often than not, people head to the eastern half of the country to witness New England's dramatic color, or The Great Smokey Mountains ablaze with reds, oranges, and browns. Lucky for us West Coasters, there are still plenty of great places to experience autumn's splendor without hopping a plane and battling the "leafer" crowds. Here are a few of my favorite spots to see California fall colors.
We're an affiliate of Booking.com. When you book through us, you still get their lowest price guarantee and we get a few dollars. Thanks for helping to keep Trekaroo free.
California Fall Colors in June Lake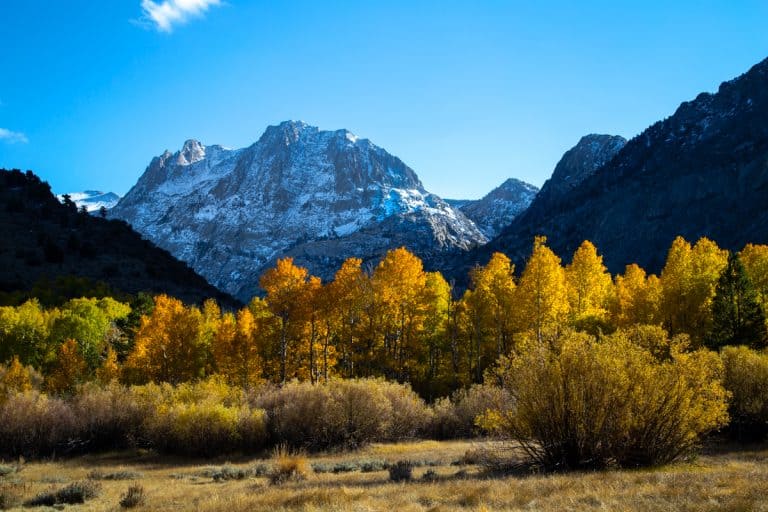 Photo by: Flickr/Brandon Levinger
There are few places in California more beautiful than the Eastern Sierra in the fall. Quaking aspens flanking June Lake seem to glow as the sunlight penetrates their leaves. There is just something about the granite covered mountainside reflecting in the lake with fiery trees highlighting the foreground that keeps drawing people back to June Lake year after year. Come early in the season before the snowfall begins and the area around the lake takes on its winter coat.
Read more about where to stay and what to do while visiting the Eastern Sierra with Kids.
California Fall Colors in Bothe-Napa Valley State Park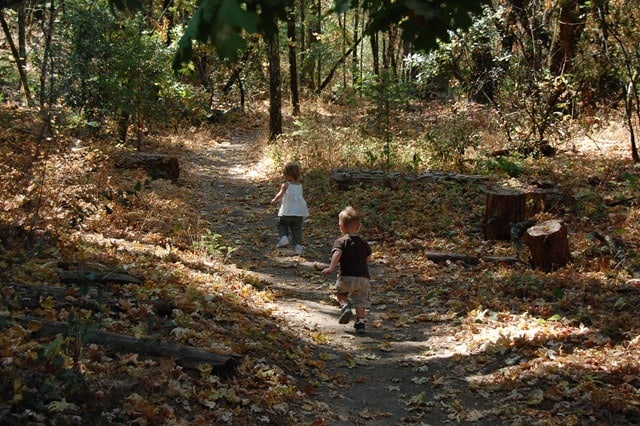 Fall color in Napa Valley is an experience unto itself. Wineries are just finished celebrating "the crush" and the night air is distinctively crisp. In between stops at wineries (yes, there are plenty of family-friendly wineries out there), be sure to walk a trail or two in Bothe-Napa Valley State Park. The big-leafed maples are gorgeous and their leaves sound so wonderful crunching underfoot.
Read about all the activities and lodging suggestions in Wine Country with kids on Trekaroo.
California Fall Colors in Yosemite National Park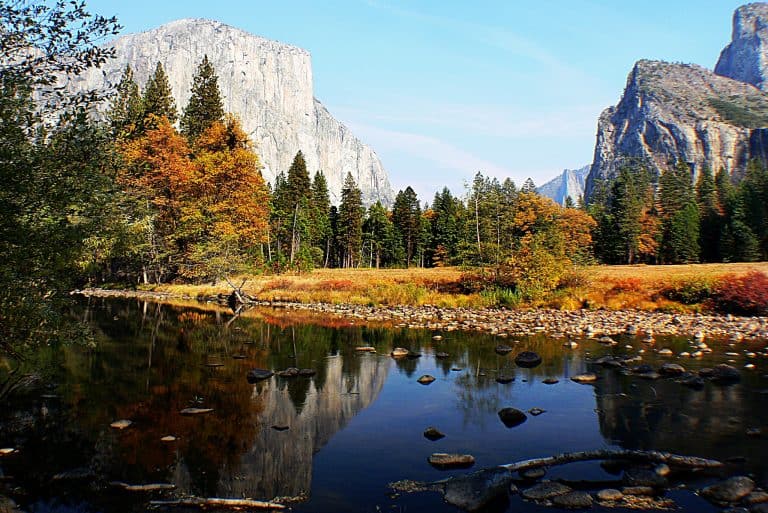 Photo by: Flickr/BernardSpragg
Yosemite National Park is like the prom queen. She's never had a bad hair day and always looks picture perfect. No matter what the season is, Yosemite never stops short of wowing whoever graces her presence. While many of the trees in the park are evergreen, there are still maples, oaks, and dogwoods to spice up the scenery come mid-October. The fall weather makes for nice mid-afternoon strolls on the park's hiking trails.
Check for amazing deals on family-friendly hotels near Yosemite.
Read all about family friendly lodging and activities in Yosemite.

California Fall Colors in Julian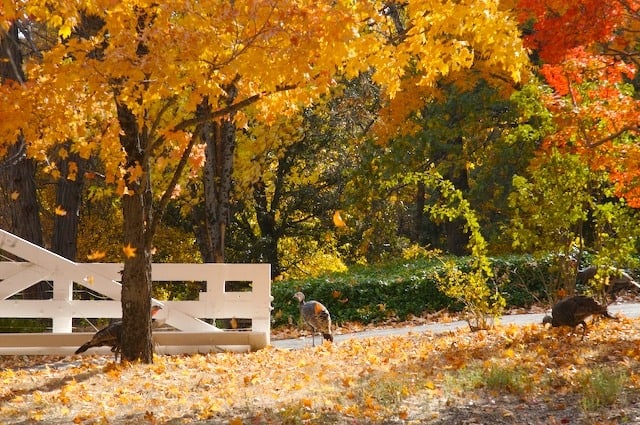 Photo by: Flickr/GoldenStatePhoto
Yes, there really is California fall color in San Diego County! At 4,000 feet in elevation, palm trees and sandy beaches give way to Julian's mountain air, apple orchards, and some wonderful opportunities for leaf peeping. This historic mining town is a great place for Southern California natives to get a taste of fall without having to hop on a plane. Grab a cup of hot apple cider and enjoy the view before heading back on down the mountain and into the land of endless summers.
California Fall Colors in Sacramento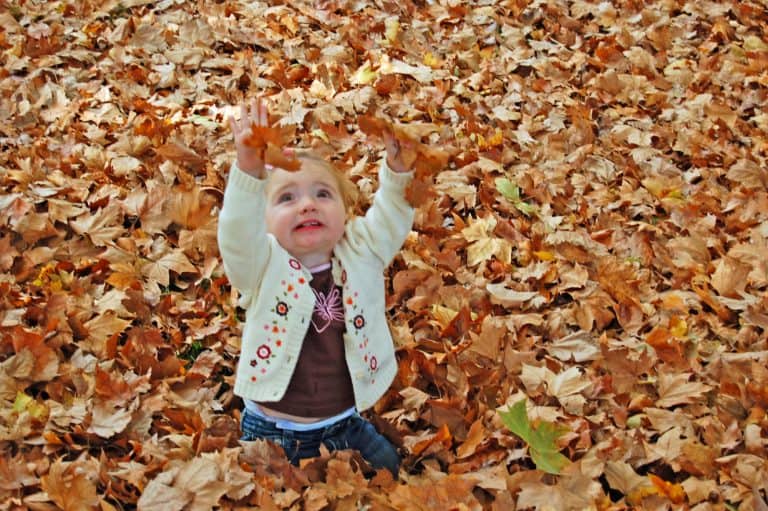 California's capital is filled with more than high rises and legislature. Sacramento's 110,000 city-owned trees (and many more privately owned) create quite a vibrant spectacle come fall. When I lived in Sacramento, I absolutely loved taking the bridge over the river and gazing down at the beautiful trees below. My kids loved jumping in piles of leaves in city parks and searching for maple leaves bigger than their tiny faces. If you can pick any season to visit the City of Trees, make it autumn.
Look for the best hotel prices in California
Read all about where to go and where to stay while in Sacramento with kids.
California Fall Colors in Samuel P Taylor State Park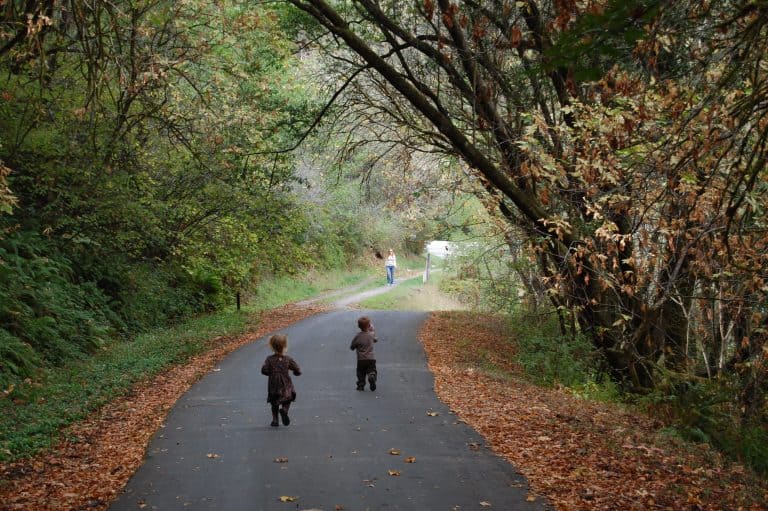 15 miles west of San Rafael, the Bay Area crowds are non-existent and coastal redwoods intermingle with oaks and firs to create a lovely fall spectacle come late October. Samuel P Taylor State Park in Marin County is a great place to hike, bike, and enjoy the golds and browns popping against the evergreens. Pt Reyes National Seashore is nearby, a nice place to take in the sunset this time of year.
Interested in visiting the North Bay? Then be sure to check out all of our suggestions for family friendly lodging and activities in the Bay Area.
Lead Image by: Bigstock/SNEHITDESIGN
Best Spots to View Fall Foliage with Kids in:
Northern and Central California | Southern California | Utah | Texas| Tennessee| New England | North Carolina | Ohio | Pennsylvania | Oregon | Washington