It's hard not to love Vermont. Winding roads, ancient rolling hills and mountains, clapboard town squares, more than 100 covered bridges, and plenty of wild spaces in which to recreate and enjoy incredible Vermont fall foliage.
Fall in the appropriately named Green Mountain State takes its already striking views and vistas and makes them truly spectacular, transforming landscapes into a riot of violet-red pin cherry, golden alder, and blazing orange and vermillion red maples. There is a reason why thousands flock every year to enjoy fall in Vermont.
"Leaf season" generally runs from mid-September to mid-October, with the colors first starting to appear at higher elevations and in the northern part of the state. Over the next few weeks, the color moves down in elevation and from north to south.
With nearly 80% of the state covered in forest, it has the highest concentration of maple trees in the nation, which leads to even more eye-popping color. The state even has a foliage forecaster to help you determine just when to find the peak of the fall colors.
During peak season virtually any road, trail, vista, and town square will treat you to nature's brilliant fall palette. But here are a few places that are exceptional.
Vermont Fall Foliage- 10 Great Ways to Enjoy the Autumn Season
Cruise Lake Memphremagog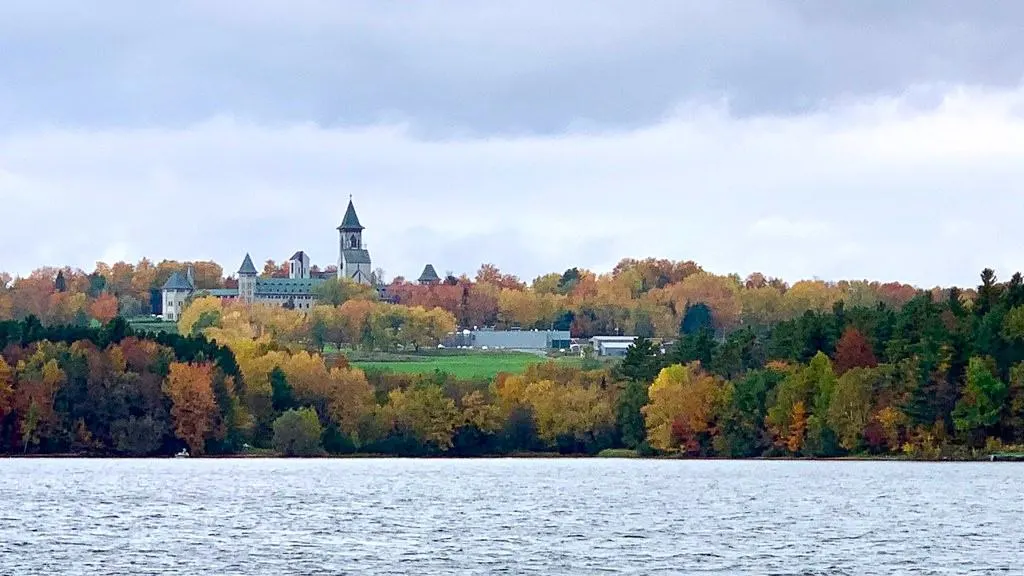 From the northern town of Newport, you can board the 65-foot-long, classically inspired Northern Star and cruise Lake Memphremagog.
The two-hour scenic cruises meander at 10 knots along the eastern edge of the lake right up to the Quebec border. Points of interest are pointed out and local history explained as you cruise smoothly past the brilliant foliage.
There's a full beverage service and light snacks and the upper deck is semi-enclosed. Sunset, dinner, brunch and live music cruises are offered. Bonus- children under three are free!
Admire the Colors Along Green Mountain Byway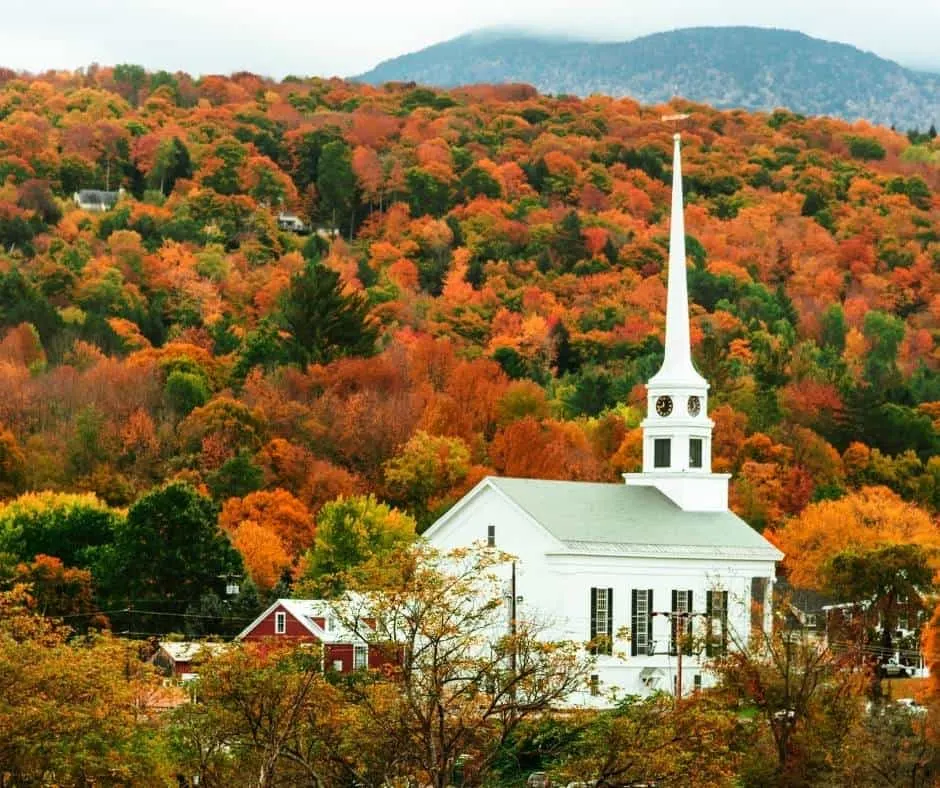 Green Mountain Byway is a 220-mile route from Waterbury to Stowe. It passes lush meadows, quintessential New England villages and quaint farms to end at the state's highest peak – 4,395-foot Mount Mansfield.
The route bisects almost the entire state and meanders among sloping mountains, dipping valleys, cow-filled pastures, and forests awash in shades of orange, red and gold.
There are numerous opportunities to hike and bike at various points along the Byway. The paved Stowe Recreation Path is a great place to walk in the upscale town of Stowe while more adventurous local hikes lead to the top of Mount Mansfield.
Smugglers' Notch Resort (often called simply 'Smuggs' by locals) has a three-acre mountain bike center with skills park, pump track, downhill flow park, ten miles of single track and six miles of double track trails. You can also hike the 1.2-mile out-and-back Sterling Pond Trail at Smuggs. The trail is steep in places and rocky but the view of the pond at the top is amazing.
The Byway is home to hundreds of animal species, including the rare Bicknell's Thrush, bobcats, and black bear. So please be careful driving and always give wildlife safe distance.
Hike Among Changing Trees at Groton State Forest
The more than 26,000 acres of Groton State Forest is comprised of seven state parks, a nature center, several state-designated nature areas, and eight lakes and ponds. It's open to hiking, camping, boating, fishing, hunting, horseback riding and trapping and was once home to 12 sawmills, the remnants of which are still visible.
Take the (steep) 1.5-mile hike up to Owlshead Mountain in New Discovery State Park for fantastic fall views as you look down upon Kettle Pond.
In L.R. Jones State Forest, take the 2.2-mile Spruce Mountain Hiking Trail to the top. Then climb the fire tower there for spectacular views of Camel's Hump, the Worcester Range and other central Vermont highlights.
Explore Jay Peak Resort
Jay Peak Resort is a family-friendly resort in the northern part of the state has a tram that runs 1,952 feet to the peak's summit at 3,820 feet. It's a great way to see the foliage of Vermont – and some in Canada too.
The tram runs through early October from 10am-6pm and there are rest rooms and water fountains (and a seasonal snack bar) at the top. You can purchase a one-way ticket and hike back down the mountain, which takes about an hour.
If you really want to explore the local fall colors, use the four-season resort as a basecamp as there's also a golf course, indoor waterpark, indoor ice rink, general store, disk golf, indoor climbing gym, spa and movie theater.
Time your visit for the annual Bean and Brew Festival to taste locally roasted coffees as well as local beers and ciders while listening to live music and playing lawn games.
The nearby Jay Peak Trailhead leads to the 3.1-mile out-and-back Long Trail, a moderately challenging trail that takes you up the backside of the peak. It takes about 2.5-hours to complete and is a popular trail for birding, hiking and running. You'll be rewarded with 360-degree views of brilliant fall colors running up into Quebec.
Here is a full guide to enjoying Jay Peak during the ski season.
Explore more of the state! Here are our favorite things to do in Vermont with kids.
Go for a Paddle at Waterbury Center State Park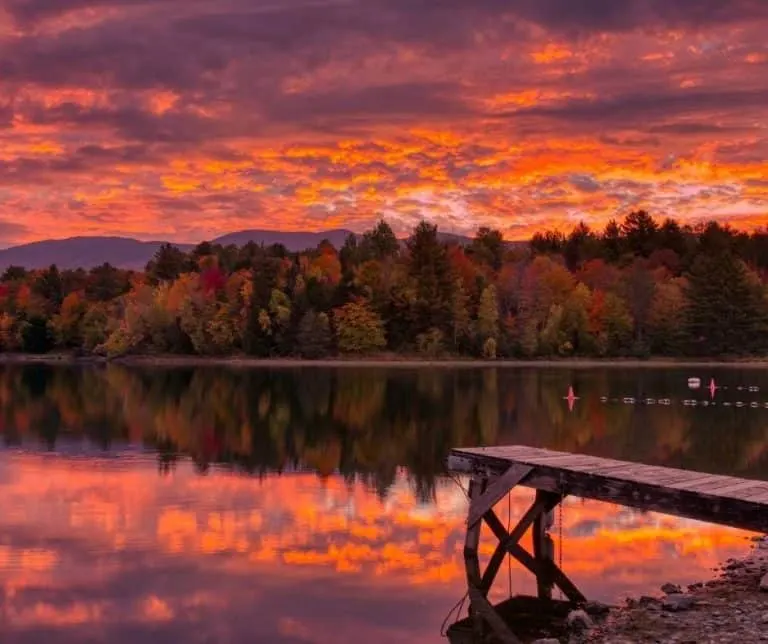 Located on a 90-acre peninsula, the park is home to the 850-acre Waterbury Reservoir. There's a nature trail, swimming beach, an accessible trail with two accessible fishing platforms and several remote camping sites. But to really reflect on the natural beauty of the fall colors, rent a canoe or kayak (available from Umiak Outfitters).
And if you want to stay a little longer to enjoy the foliage, then check out their 27 remote "paddle-to" campsites. The sites are remote enough to provide peace and solitude but they're also very popular, so book early. Each site has roofed, composting toilets and you can stay up to seven days.
Raft the West River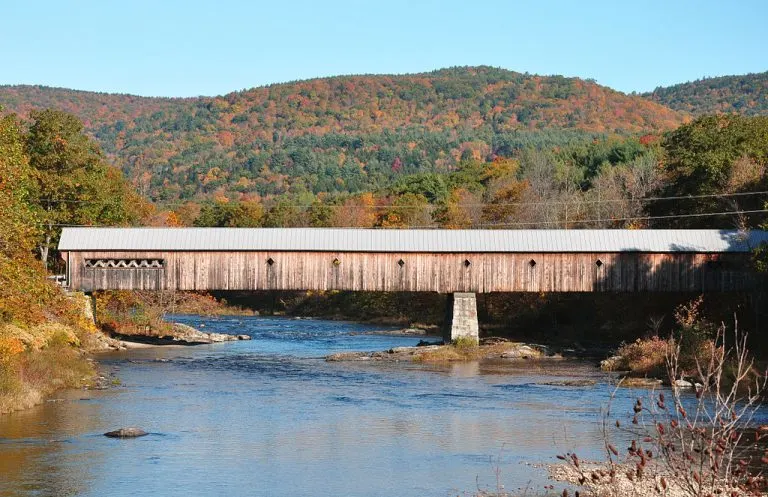 In the fall, outfitters set up shop in the Sundance Base Lodge at Mount Snow and the Main Base Lodge at Stratton Mountain to take clients on an intermediate-level white water rafting trip of 10 miles of fun rapids and amazing scenery on the West River.
The rafting takes about two to three hours, depending on water levels, with the entire experience running about five hours overall, including transportation, a riverside snack and registration. It's an exhilarating way to enjoy the fall scenery and the view from the top of Ball Mountain Dam is particularly striking.
Ride the Rails on the Green Mountain Railroad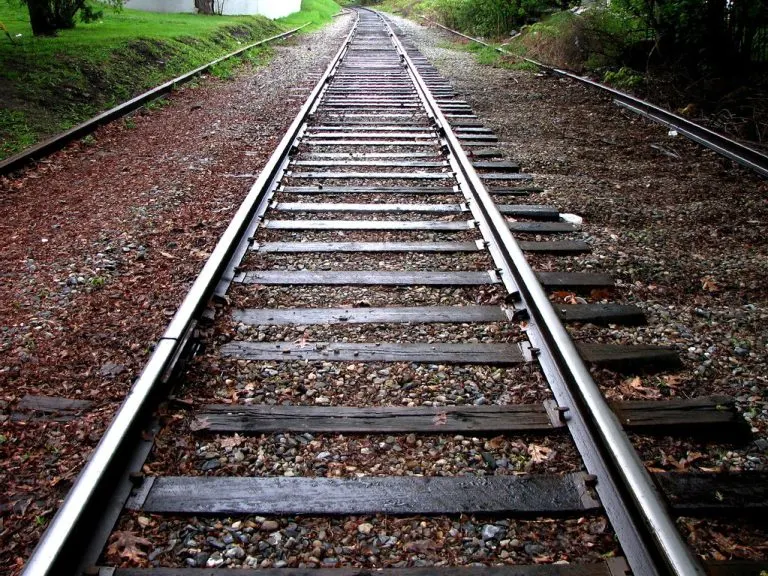 In Burlington, you can board a train for a three-hour ride throughthe Champlain Valley and through the woods of the Green Mountains, ending in the town of Middlebury.
Your whole party will be able to relax and enjoy the beauty of Vermont's fall colors, perhaps with a cocktail or cup of cider in hand. The train runs seasonally from mid-September to later October with two departures on Tuesdays, Thursdays and Sundays and one departure on Saturdays.
Here are 12 fun things to do in Burlington, Vermont on a family vacation.
Go on a Foliage Drive on Route 30
This 47-mile, two-lane highway runs between Manchester and Brattleboro along the West River. Pop into Brattleboro's Museum & Art Center for their contemporary exhibits or the family-friendly Retreat Farm and its storybook walk, forest playground and ten miles of trails.
In Dummerston, you can explore the 571-acre Scott Farm Orchard, where they grow more than 130 varieties of heirloom apples, as well as pears, plums, peaches, cherries and berries. You can even stay there, in the 1892 home of Rudyard Kipling. The four-bedroom property includes much of Kipling's original furniture, including the desk where he wrote The Jungle Book.
In Manchester, you can explore the rods, reels, flies, tackle, art, photographs, manuscripts, and books of the American Museum of Fly Fishing, explore the Manchester Farmers Market in Adams Park and stroll the Manchester Riverwalk. Or hike the loop trail in Dana Thompson Memorial Park and the old Marble Rail-Trail.
Discover 12 more incredible New England fall foliage road trips.
Take Flight Above Vermont Fall Foliage
While the views of the fall colors from the ground are stunning, they're even more grand from above. Head to the town of Quechee to hop into one of the hot air balloons of Quechee Balloon Rides (their balloon 'Jackie the Jack-o'-Lantern' would certainly be seasonally appropriate).
You'll sometimes float a few feet above the treetops and have completely unobstructed, 360-degree views of picturesque farms, covered bridges and villages. The Green Mountain range will dominate the horizon and you can see Killington, Mount Mansfield and even New Hampshire's White Mountains on a clear day.
Or you can head to Warren to soar across the Mad River Valley in a glider with Sugarbush Soaring. On clear days, you'll see the Adirondack Mountains and Lake Champlain to the west, Camel's Hump and Mount Mansfield to the north and Mount Washington to the east.
Trapp Family Lodge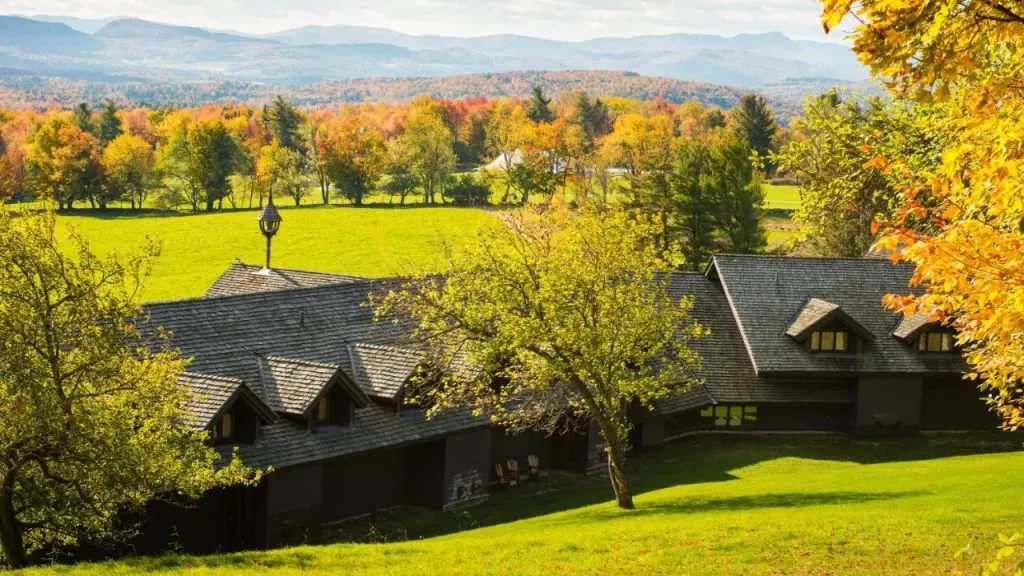 For a little posher leaf-peeping experience, head to Trapp Family Lodge in Stowe. It is situated on 2,500 acres and features Austrian-inspired architecture and European-style accommodations.
They are a gateway to a slew of outdoor activities, rent mountain bikes, have 35 miles of hiking trails and a disc golf course, and offer kid's activities. After a long day of taking in the fall colors, you can relax in the Massage Sanctuary or the outdoor hot tub, enjoy the European cuisine in the main dining room, or head to the Bierhall to enjoy the variety of beers crafted on-site.
Here is a first timer's guide to skiing Stowe Mountain Resort.
'Chez' Chesak is an award-winning adventure travel writer, 20+ year veteran of the outdoor industry, Executive Director of the Outdoor Writers Association of America and chair of The Society of American Travel Writers' Central States Chapter.
His works have appeared in The Los Angeles Times, Fodors.com, Good Housekeeping, Rachel Ray Every Day, Ohio magazine, Cincinnati magazine, Rails-to-Trails, Family Vacation Critic, and dozens more outdoor/adventure publications and websites. He's also done numerous travel segments for his local FOX affiliate and on American Forces Radio and is a regular 'expert' contributor to USA Today's 10Best.
Learn more about him at www.chezconnects.com.
Find More Amazing Fall Foliage Near You!