Fall in Tennessee is colorful and filled with wonderful foliage. From rivers to mountains to national and state parks, Tennessee fall colors abound. Across the state there are great vantage points to see the changing reds, golds and coppers. Here's where to see some of the best fall foliage in Tennessee.
Explore more of the state. Here are the best things to do in Tennessee with kids.
Tennessee Fall Foliage
East Tennessee Fall Colors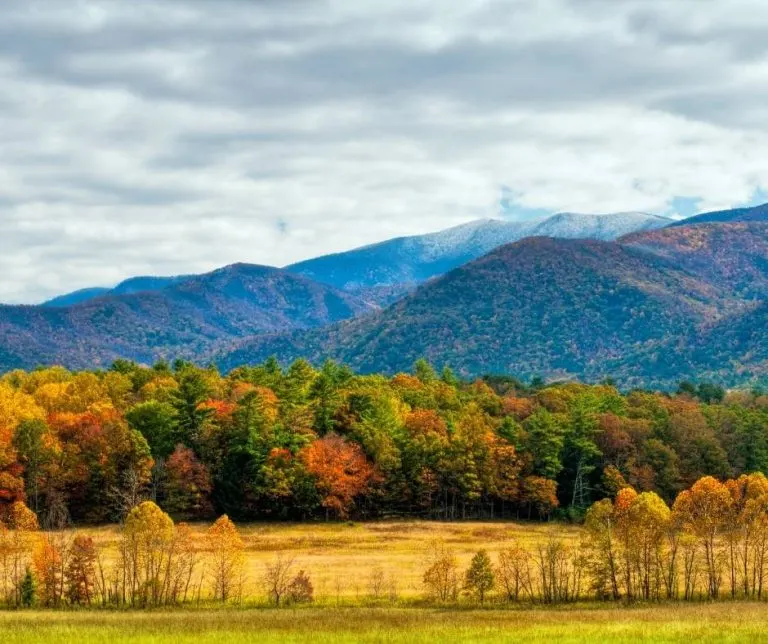 East Tennessee is considered one of the country's best places to see stunning fall foliage. The combination of dense forests, beautiful hiking trails, and rolling landscapes with mountains and valleys is incredible and leads to wonderful fall colors .
In the fall, this region sees an influx of visitors who have come to take in the area's autumnal beauty. Here's where to go to view fall foliage in East Tennessee for yourself.
Great Smoky Mountains National Park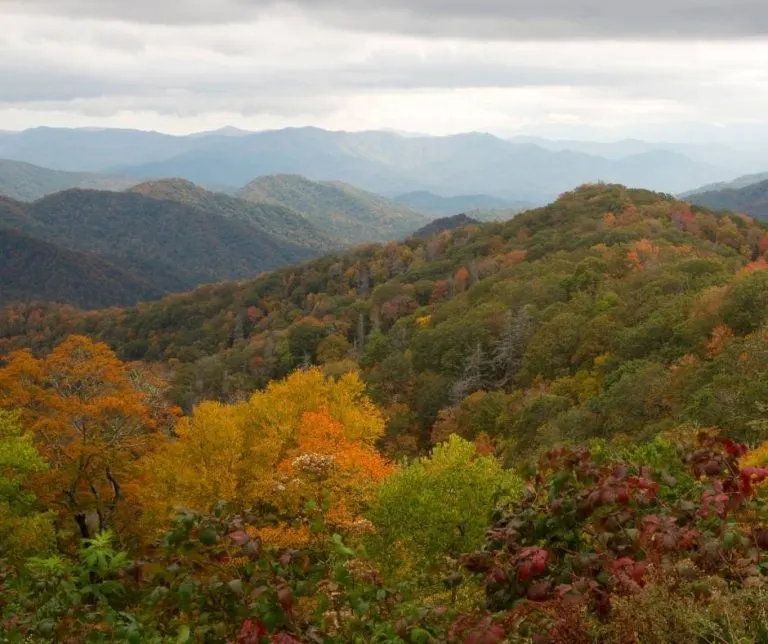 Great Smoky Mountains National Park straddles the border between North Carolina and Tennessee and delivers ridge after ridge of beauty and diversity. It's America's most visited national park, and the best place to see colorful eastern Tennessee fall colors.
Explore Mount Leconte, the highest peak in the national park with trails such as Clingman's Dome and Mount Guyot. Other hikes to try in the park include Alum Cave Bluffs, Andrews Bald, Cades Cove Loop, Rainbow Falls, Newfound Gap, Trillium Gap, Clingman's Dome, Chimney Tops Trails.
Check out this awesome Smoky Mountains road trip itinerary.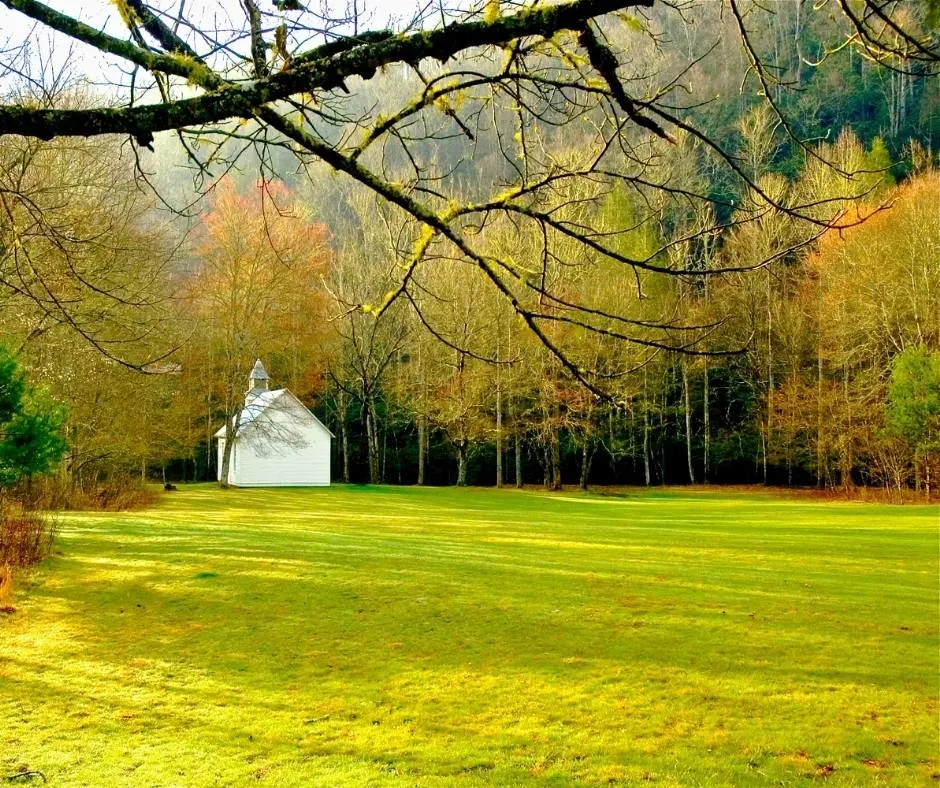 Explore the Cataloochee Valley and look for waterfalls, wildlife, breathtaking views, or simply walk along and enjoy. Kephart Prong Trail and Porters Creek Trail are especially great for walking with children and are short and easy. You may set up guided hikes with a ranger if you'd like or walk on your own.
Remember your cell phone will probably not work in many areas of the park, and take along snacks and water. Visiting is free, while extras like camping and boating may have a fee.
Here are our favorite things to do in Great Smoky Mountains National Park.
Cherokee National Forest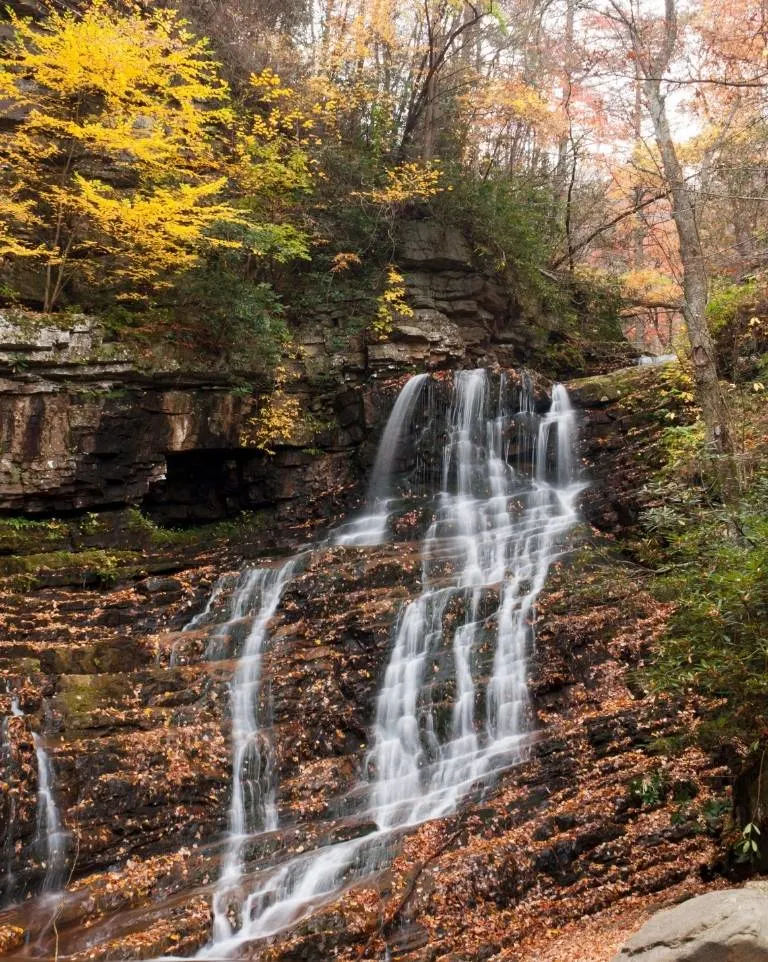 Filled to the brim with hiking opportunities, this Cherokee National Forest in Elizabethton is wonderful for fall colors. Visit in late October to early November and enjoy the sights in this 650,000 acre forest. It covers about 150 miles of the Appalachian Trail and contains more than 600 miles of hiking trails.
Try the Benton Falls Trail, Margarette Falls Trail, Turtletown Falls Trails, Sill Branch Falls, Rhododendron Trail, or Indian Boundary Lake Trail to start. Trails range from easy to moderate to hard, with varying lengths, so there are plenty of opportunities to hike at your comfort level. Visit from sunrise to sunset free of charge.
Spend more time outside with this guide to glamping in Tennessee.
Ober Gatlinburg Aerial Tramway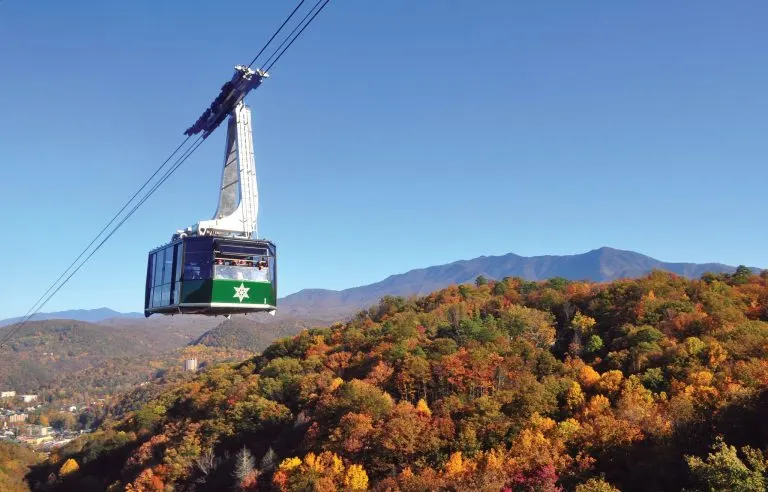 Take a ride on the Ober Gatlinburg Aerial Tramway for a breathtaking view of the Smoky Mountains. This two-mile ride to the Gatlinburg Amusement Park & Ski Area provides aerial photo opportunities for brilliant fall landscapes.
Once at the top, take a ride on the Gatlinburg Mountain Coaster and experience the Smoky Mountains in a whole new way. Zoom down a more than half mile of track through dense forest at speeds of more than 25 mph as the vibrant colors of changing leaves fly past. The fall colors combined with fun ride can make great memories for the whole family.
Reserve a spot to see the foliage online. Approximately $12 for adults and $9.50 for children ages 5-11. Tram runs from 9:30am to 6:40pm, Monday through Friday, and on weekends from 9:30am to 8:40pm.
Take a Ride on the Southern Belle Riverboat in Chattanooga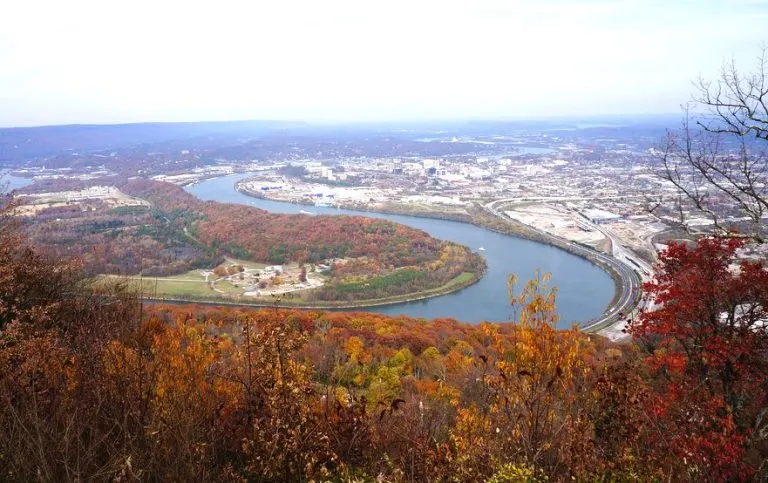 The Southern Belle Riverboat offers a great opportunity top see a brilliant display of fall colors from the water. We ranked it as one of the top things to do in Chattanooga in Tennessee, because this riverboat ride is both relaxing and scenic.
The three-hour fall color ride travels down the Tennessee River to the River Gorge for an amazing view of colors. Included on the ride is live music, tour information and a delicious lunch.
Reserve your family's spot ahead of time, with a cost of about $5.99 for infants ages 0-2, $29.99 for children ages 3-12, and $39.99 for adults ages 13 and above.
These are the best things to do in Chattanooga with kids.
Cherohala Skyway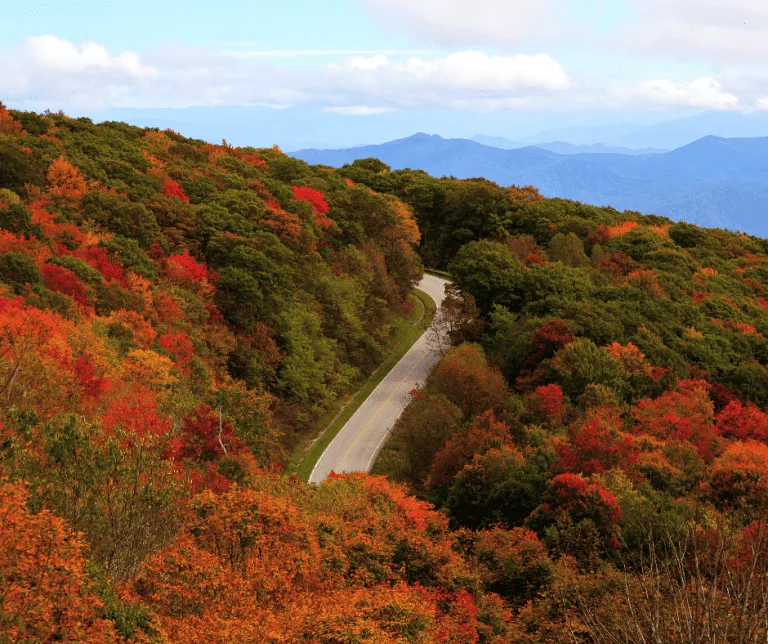 The Cherohala Skyway is a cenic byway which stretches from Tellico Plains, Tennessee, to Robbinsville, North Carolina. It offers panoramic views of the surrounding mountains, making it an excellent place to see fall colors. The road climbs to elevations over 5,000 feet, providing woonderful vistas filled with color.
Bald River Falls offers a stunning backdrop of fall foliage. There are pull-offs where you can park and enjoy the view. Hooper Bald is another popular spot for leaf peeping in the area. There's a short trail that leads to an observation tower, providing an even better vantage point to admire the views.
Huckleberry Knob is the highest point on the Cherohala Skyway and offers expansive views of the surrounding landscapes. The expansive views combined with fall colors make this a must-visit spot. Santeetlah Gap is another high-elevation point along the skyway that offers sweeping views.
Roan Mountain State Park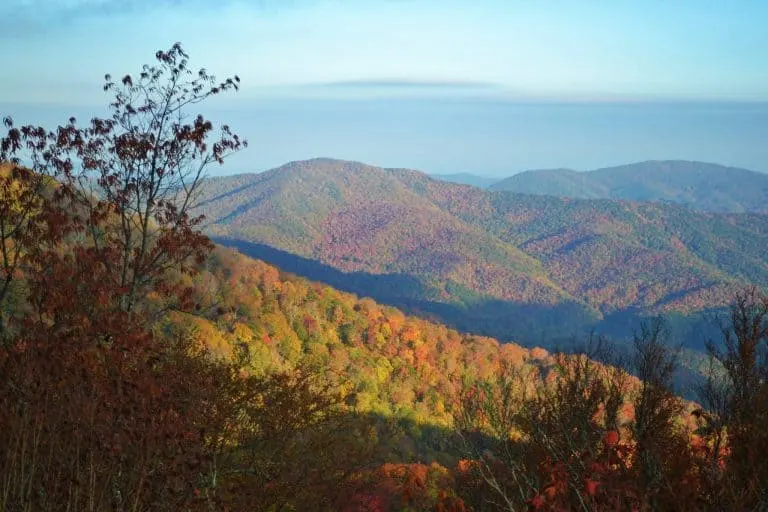 Located near the North Carolina border, this Roan Mountain State Park is famous for its expansive gardens of Catawba rhododendrons. In the fall, these rhododendrons, along with the changing leaves of the surrounding trees, create a wonderful tapestry of colors.
The Rhododendron Gardens Trail is the centerpiece of the park's fall foliage display. It takes you through the famous Catawba rhododendron gardens, which bloom in mid-June but create a unique and colorful landscape in the fall. It's a short and easy walk, perfect for all ages.
The Raven Rock Trail is a moderate, 2.1-mile loop trail leads you through a hardwood forest which are aflame with colors in the autumn.
Big South Fork National River and Recreation Area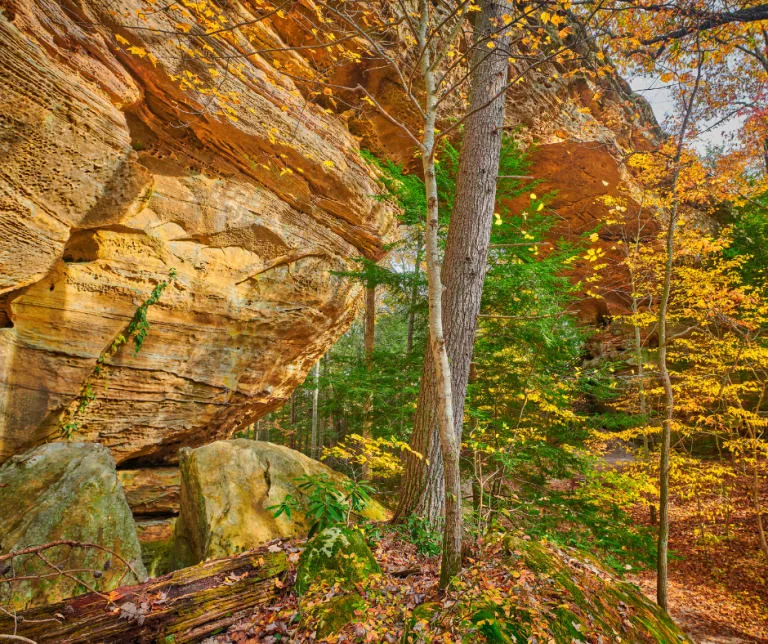 xperiencing fall foliage in the Big South Fork National River and Recreation Area is a wonderful adventure. Located in northeastern Tennessee and southeastern Kentucky, this area offers a unique blend of rugged terrain, deep gorges, sandstone bluffs, and dense forests, creating an ideal backdrop for fall colors.
Peak fall foliage in Big South Fork typically occurs from late September through mid-October. While there aren't extensive scenic drives within the park itself, the roads leading to and around Big South Fork often offer beautiful views of the changing leaves. For example, the drive along Highway 297 from Oneida, Tennessee, to the park entrance is particularly picturesque in the fall.
Big South Fork has an extensive network of hiking trails that provide opportunities to immerse yourself in the fall foliage. Angel Falls Overlook Trail is a 1.5-mile trail leads to an overlook of Angel Falls and the surrounding forest, which is especially beautiful in the fall. If you are looking for a longer trail, the 5.4-mile O&W Bridge to Leatherwood Ford Trail ffers a variety of scenic views, including river vistas and hardwood forests ablaze with color.
One trail you don't want to miss is the Twin Arches Trail which leads to two massive sandstone arches, which are among the largest natural arches in the eastern United States. The trail is only 2.6 miles and will take you to both arches. The North Arch spans 93 feet, and the South Arch stretches 135 feet. Along the trail, you'll encounter various viewpoints that provide scenic vistas of the surrounding forested landscape and the Big South Fork of the Cumberland River Gorge.
Middle Tennessee Fall Colors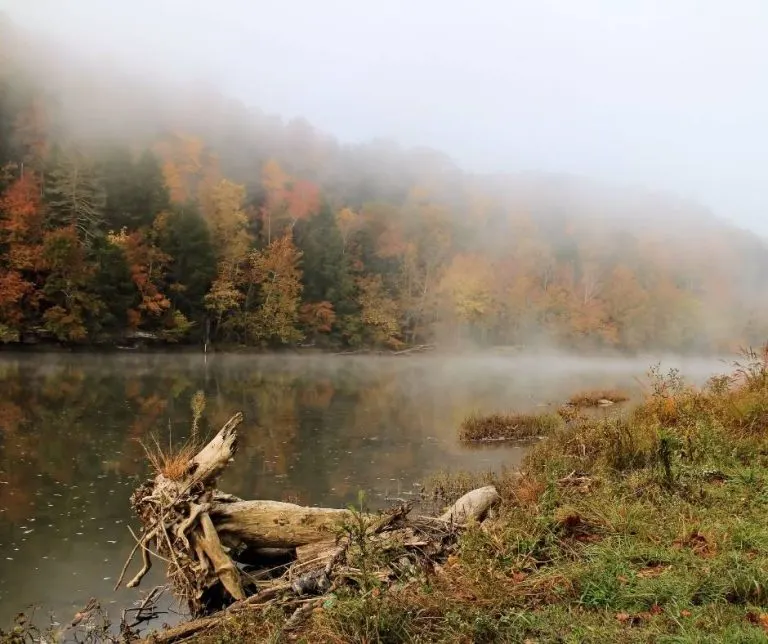 In Middle Tennessee, the leaves begin to change around mid-October, reaching their peak at the end of the month.
Bicentennial Capitol Mall State Park in Nashville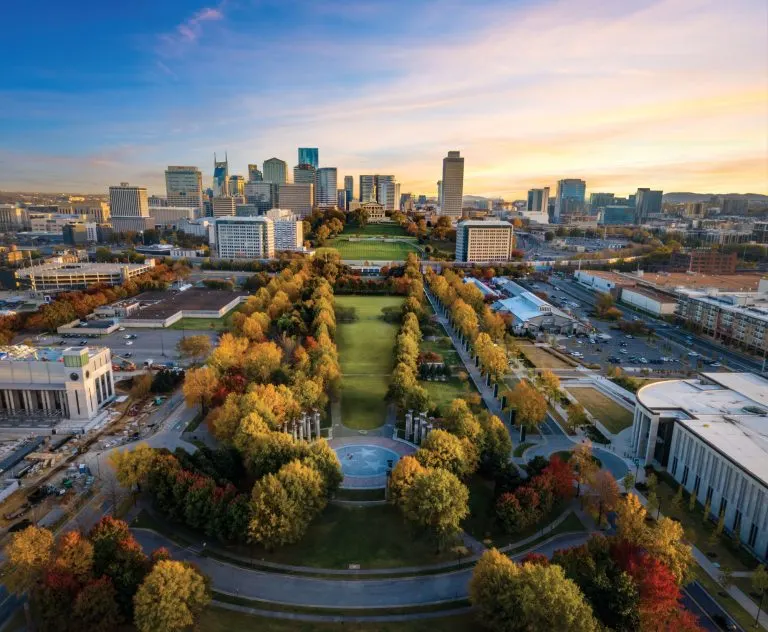 Bicentennial Capitol Mall State Park is one of Nashville's most popular attractions year round. It was opened in 1996 to commemorate the states 200th year of statehood. Highlights incluse a 200-foot granite map of the state, the Rivers of Tennessee Fountains, and 11 planters along the Walkway of Counties that showcase native plant species.
It is a beautiful spot to see fall foliage within the city. The main lawn is lined with a variety of trees that come alive with color in October. The park always has events and festivals, especially in the fall, so you can make a full day of this stop on your fall foliage tour. There is no cost to walk, hike or explore here.
Scenic Train Ride via the Tennessee Central Railway Museum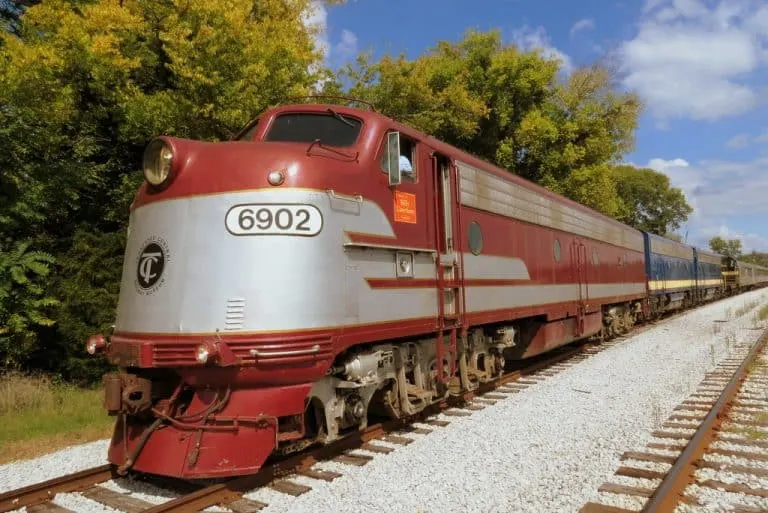 You can take a scenic train ride through the best fall foliage and scenery in Middle Tennessee at the Tennessee Centrail Railway Museum in Nashville. The museum has three fall foliage-themed day trips in October, each taking you to charming little towns outside of Nashville.
The museum and grounds are open Saturdays from 10am to 2pm. Reserve your spot on this ride in advance online or via phone with a cost of about $29.50 for children under 12, coach seats for $65.
The ride is 120 miles round trip and a box lunch and drink is provided. These rides are very popular and sell out quickly so book early!
Long Hunter State Park in Hermitage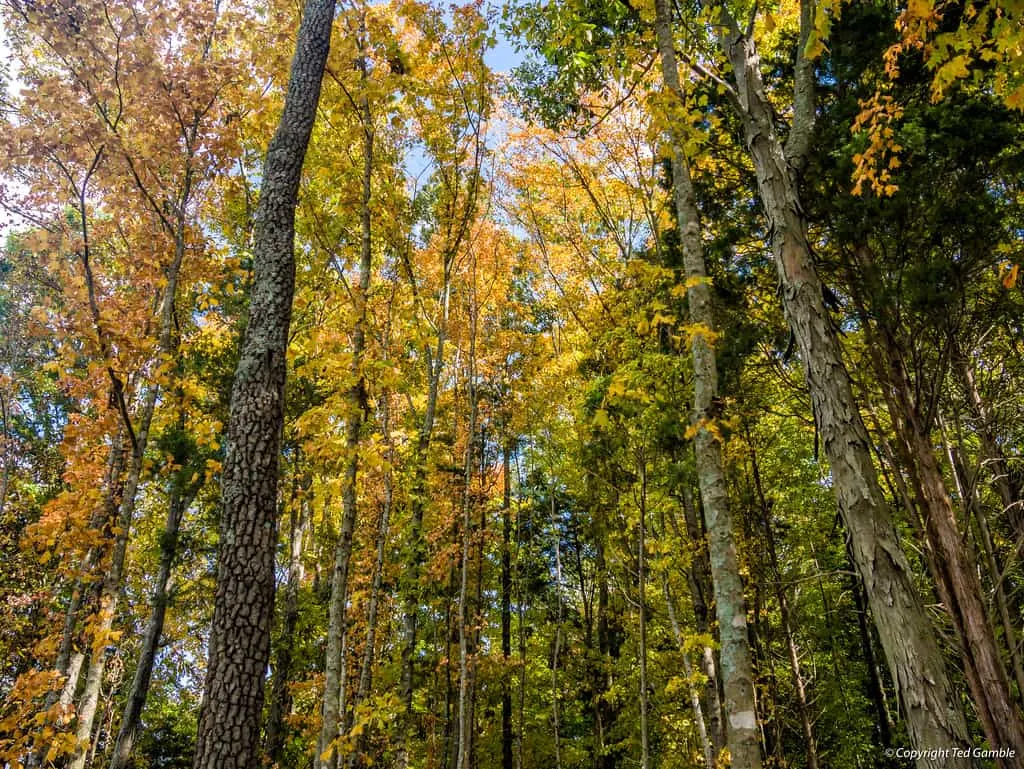 Long Hunter State Park is located along the eastern shores of Percy Priest Lake, and offers spectacular opportunities to take in Tennesseefall colors. Take advantage of the camping, picnicking, or hiking opportunites in this 2,600-acre park.
Trails include the Nature Loop, Lake Trail, Deer Trail or Bryant Grove Trail. The Lake Trail is paved and ideal for those with little ones in strollers. Bryant Grove is a flat, 4-mile trail that follows the shore of Percy Priest Lake to Coachville Lake and includes rare limestone glades and wooden bridge crossing over Bryant Grove Creek.
Mountain bikers won't want to miss the Jones Mill Mountain Bike Trail located in the Bryant Grove Recreation Area. There is also a 50-foot adventure course known as Alpine Tower inside the park that you can rent. Imagine the fall foliage views from there!
Natchez Trace Parkway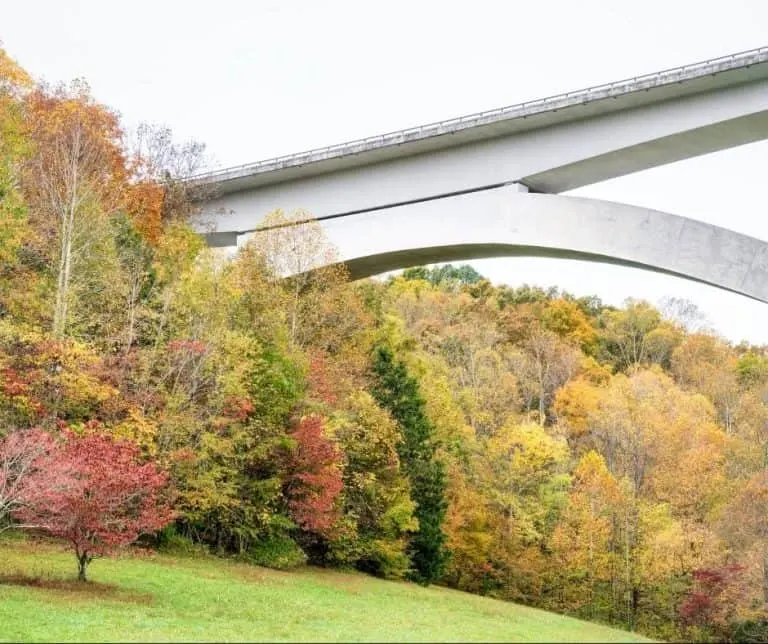 Natchez Trace Parkway traverses Middle Tennessee and goes through Williamson County. This 444-mile road follows the ancient trail used by both animals and people to connected portions of the Mississippi River to the salt licks of central Tennessee.
There are stunning photo opportunities on the Natchez Trace Parkway Bridge south of Nashville. This bridge is surrounded by fall colors toward the end of October and you can see for miles.
While in the area, stop by the historic town of Franklin, also located off the Parkway. The quaint, historic architecture here creates a beautiful backdrop for seasonal colors. Franklin is also full of autumn festivities and fall decorations.
West Tennessee Fall Colors
In West Tennessee, fall foliage begins to emerge mid-to-late October, typically reaching the height of autumnal beauty in the weeks before and after Halloween. This part of the state is full of forests with a wide array of tree species that yield bright ranges of colors in autumn.
Reelfoot Lake State Park in Tiptonville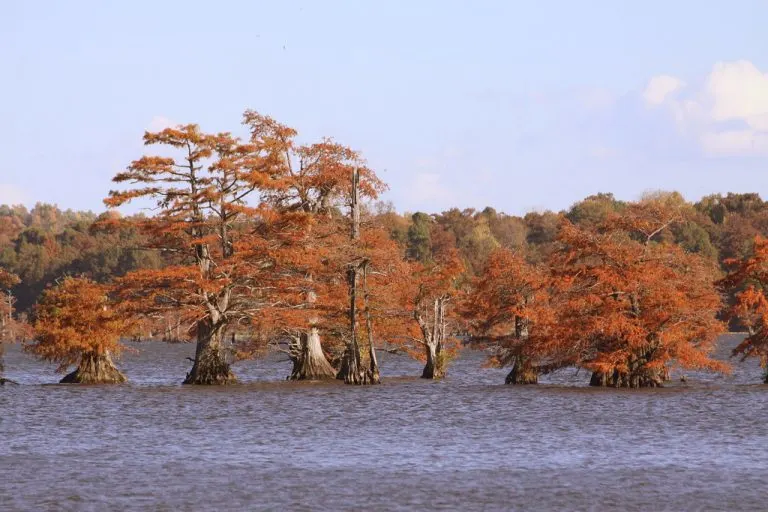 Locatedin the Northwest corner of Tennessee, Reelfoot Lake State Park is a beautiful place for fall outdoor activities.
Take a fall color pontoon cruise, which takes place on the weekends during October and November at Reelfoot Lake. See the changing leaves and water birds on a two-hour tour with an experienced naturalist.
Tour guides will share their knowledge of the area's history and ecology while helping you find the best photo ops for fall foliage. There are even special three-hour fall foliage photography tours you can book as well.
Large groups of eagles and ducks migrate to Reelfoot Lake for the winter, arriving just as autumnal colors reach their peak. There is also a Pelican Festival that takes place in October. Admission here is free, but the boat ride is approximately $10 for adults and $6 for children. Reserve ahead of time online or via phone.
If you would rather go it alone, there are kayaks and canoes available for rent. If you would rather explore the park on foot, there are a few easy trails to enjoy including the two-mile Black Bayou Trail. There is camping available inside this park as well as rental cabins.
Meeman-Shelby Forest State Park in Milington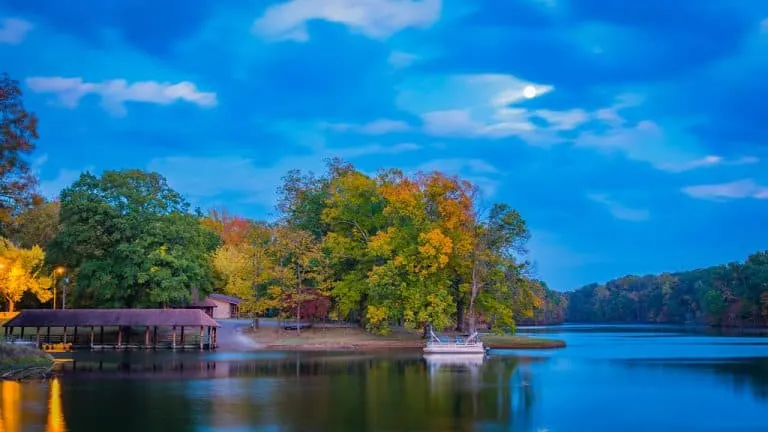 Meeman-Shelby Forest State Park is home to gigantic beech, oak and elm trees that comes alive with a myriad of colors toward the end of October. See the foliage by water in a canoe on Poplar Tree Lake, or hike one of the many trails within the park.
The three-mile loop Woodland Trail has some stunning vantage points for changing leaves. Meeman-Shelby Forest State Park is also known for abundant wildlife, so explore the trails for some critters to add to your foliage photos. Visiting this park is free of charge.
Memphis Botanic Garden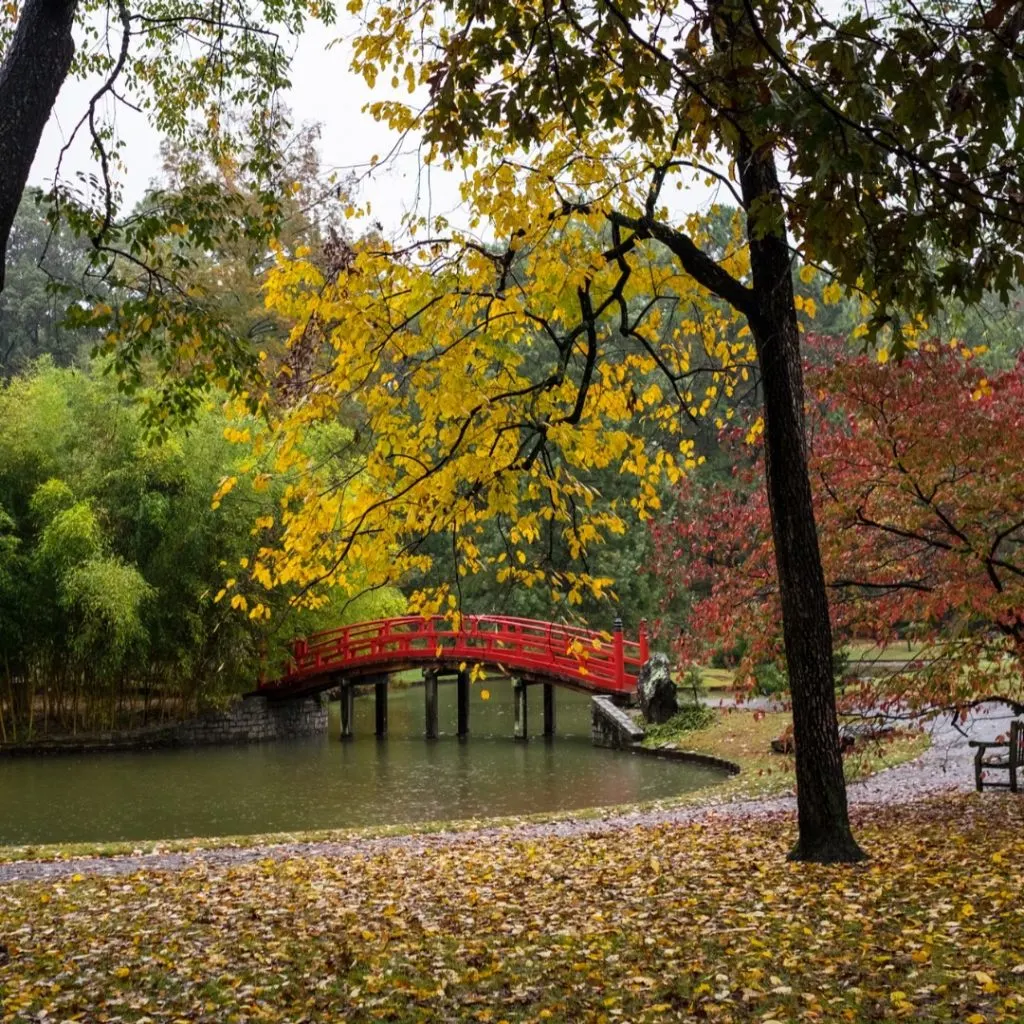 Memphis Botanic Garden is another beautiful place for fall photo opportunities in Western Tennessee. The 96 acres of gardens and trails have all kinds of trees displaying fall foliage in late October to early November and there are still some flowers in bloom during this time.
The Memphis Botanic Garden offers classes year-round, including educational tours and oil painting. The gardens are open year round with special exhibitions to explore seasonally. Admission is $12 for adults, $10 for seniors, and $7 for children ages 2-12. Kiddos under age two are free. Visit from 9 am to 6 pm during autumn.
Chickasaw State Park in Henderson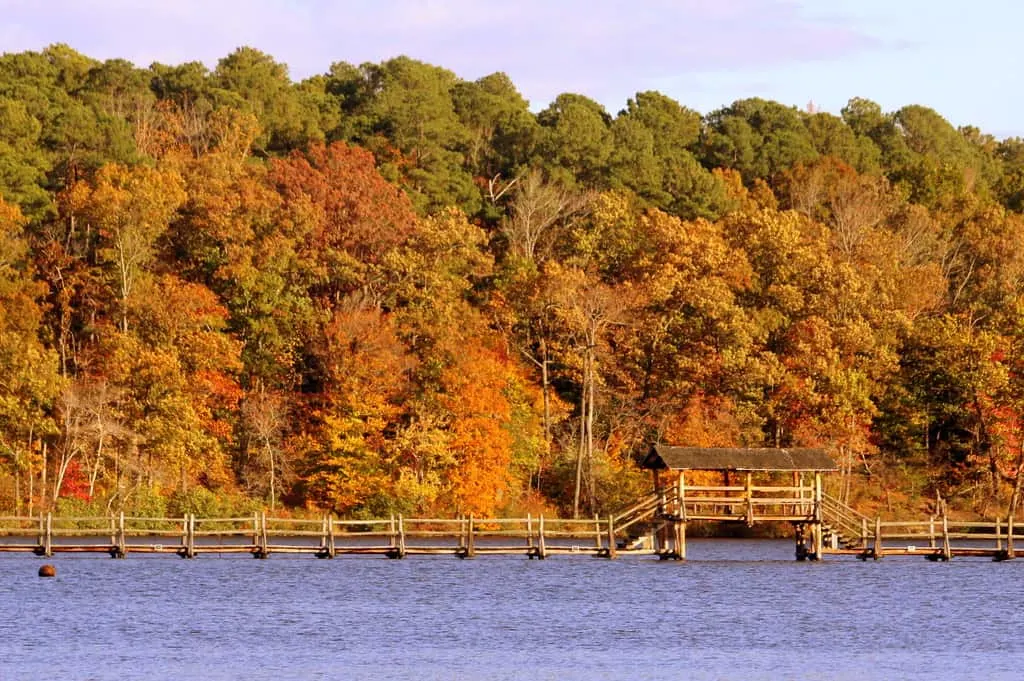 Chickasaw State Park is comprised of 1400 acres and situated on some of the highest terrain in western Tennessee. Take the family out on one of the hiking trails here – there are eight short trails to choose from. Try the Friends Trail, the Lake Shore Trail or Forked Pine Trail.
Paddling on the 54-acre lake offers fall foliage viewing from the water, which is a fun way to see things with kiddos. Rentals are available through mid-October or bring your own kayak. Chickasaw Riding Stables also offers trail rides through the state park on weekends. Visiting this park is free of charge.
Lead photo by TN Dept. of Tourist Development