New England will always be the king of classic fall scenery with its vibrant reds, oranges, and yellows calling for all to enjoy. However, the last thing you want to experience is bumper-to-bumper traffic or crowded areas with obstructive views. This is why we love the Berkshires fall foliage experience.
Consider The Berkshires in Western Massachusetts as your go-to destination for all things autumn. Rolling hills, open pastures, and scenic valleys greet your eyes at every turn. The Berkshires fall foliage typically begins mid-to-late September and peaks at mid-October. Here are some of our favorite ways to enjoy the Berkshires in the fall.
Explore more of New England with these classic New England fall foliage road trips.
Berkshires Fall Foliage Activities
Drive on Route 7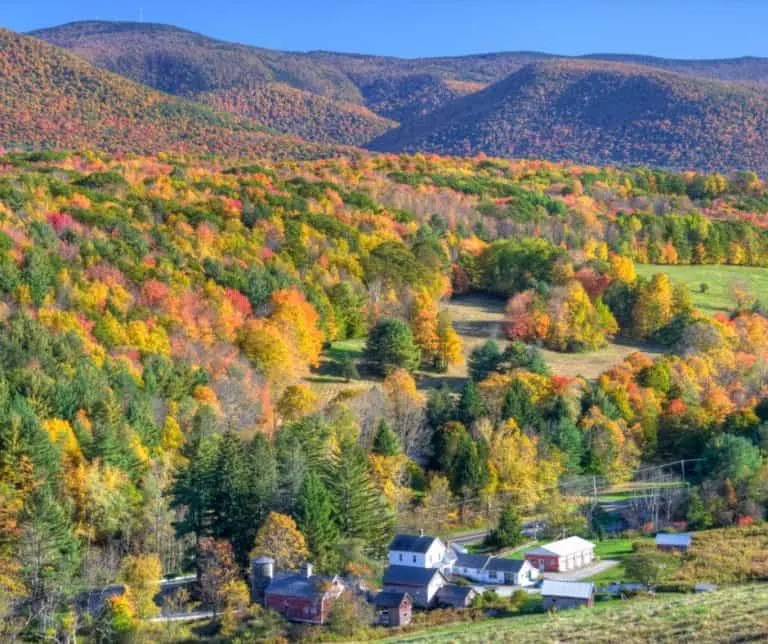 From Great Barrington and North Adams, Route 7 is one of the most famous drives to see stunning fall foliage in the Berkshires. Visitors can enjoy stopping at museums, orchards, farm stands, restaurants and so much more. Enjoy the beautiful scenery of quaint New England towns and agriculture from the comfort of your own car.
Route 7 starts at the Connecticut border in the town of Sheffield, MA, and ends north at the Town of Williamstown where visitors can continue into Vermont. This two-lane rural road winds through the Berkshires and is about 60 miles long.
The drive can be completed in about 1 hour and 15 minutes one way. However, you can extend your visit to a weekend-long adventure with some of these fantastic must-see stops along the way.
Covered Bridge Lane
Located just off Route 7 in Sheffield is the Covered Bridge Lane. A covered bridge is just a timber-truss bridge with a roof, decking, and siding, creating an almost complete enclosure. Covered bridges are synonymous with Vermont, but during your travels through the Berkshires, you can quickly get your photo taken.
With limited parking (10 spots total), visitors can capture the quintessential New England scene with beautiful fall foliage framing the classic covered bridge. Drivers are not allowed to drive through this bridge. Others may be flocking to this covered bridge due to its supernatural history. You will also see an official Commonwealth of Massachusetts sign that commemorates "our nation's first off-world/UFO incident".
Taft Farms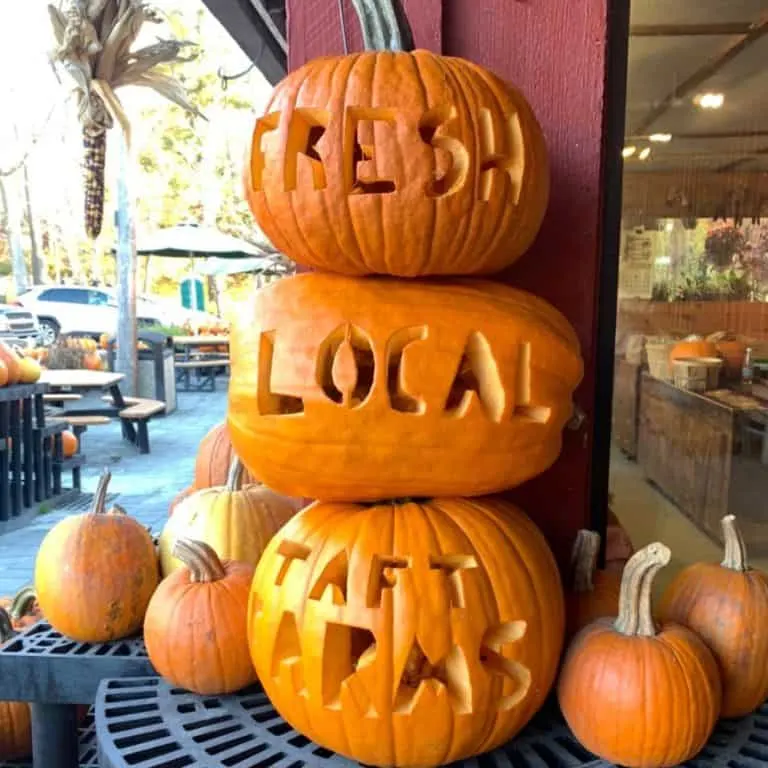 Another fantastic detour while leaf peeping is making a stop at Taft Farms in Great Barrington, MA. At this family farm, families have been celebrating everything fall for 50 years. This is one of the best places to find a pumpkin for your fall or Halloween decorations.
Visitors can pick up some fresh apple cider donuts or take some delicious pies for the road. If you are traveling with kids, make sure you give them time to stretch out their legs in the corn maze.
Windy Hill Farm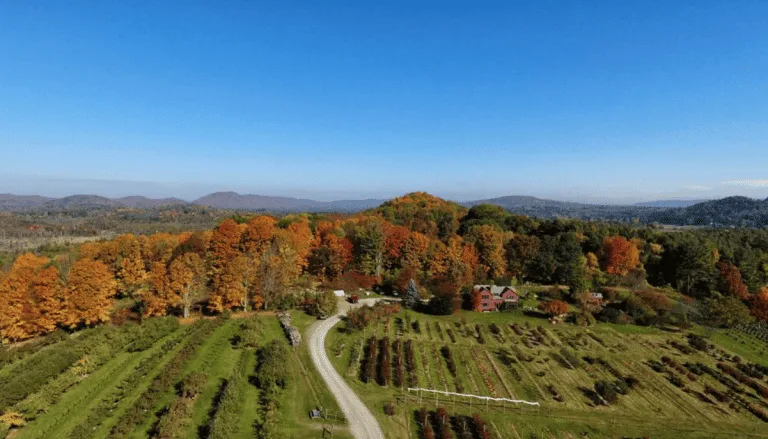 Located in Great Barrington, Windy Hill Farms is known for its pick-your-own apple orchard and cider pressing. Located right on Route 7, this farm could also be a classic New England autumn detour for everyone in the car.
If you visit the farm in the summer, they also grow blueberries and sure enough, you can pick your own! During the holiday season they sell fresh cut trees and handmade wreaths.
Ioka Valley Farm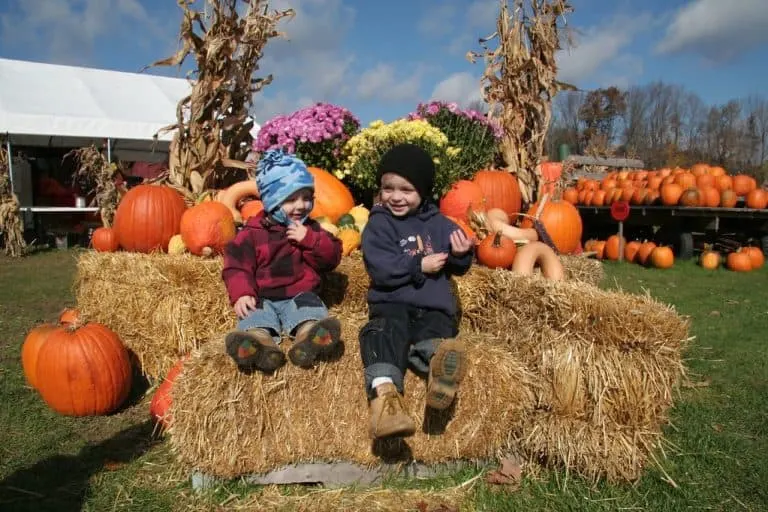 Ioka Valley Farm is another family-friendly fall destination for all to enjoy. Visitors can admire the vibrant Indian corn and pick your very own pumpkins from their patches which are open on weekends.
For a sweet treat to take home, make sure you check out their maple sugar products, cakes, pies, and other sweet treats. Try their roast beef and maple BBQ sandwiches if you need something savory to munch on.
Norman Rockwell Museum Stockbridge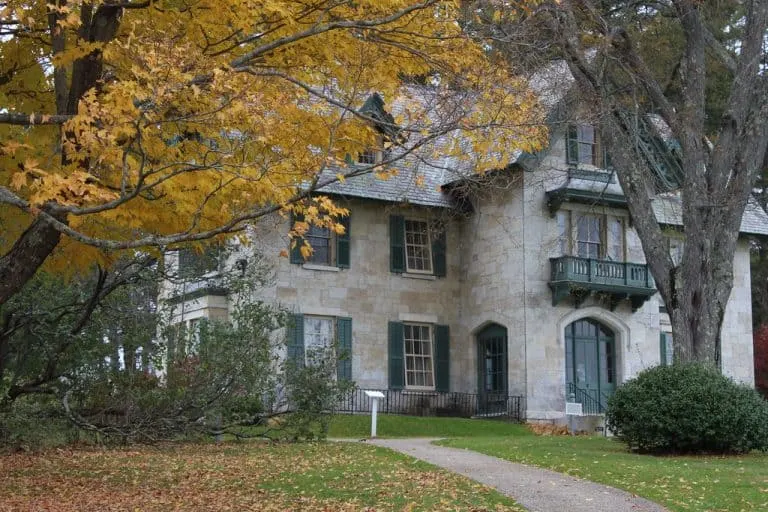 The Norman Rockwell Museum in Stockbridge is home to over 500 pieces of original Rockwell art and is one of the largest collections in the world. The town of Stockbridge was a source of inspiration for the artist for 25 years.
View illustrations from "The Saturday Evening Post" and "The Four Freedoms". Visitors can also view his studio, which is located on the premises. Reserve your visit online for the lowest admission prices.
The Store at Five Corners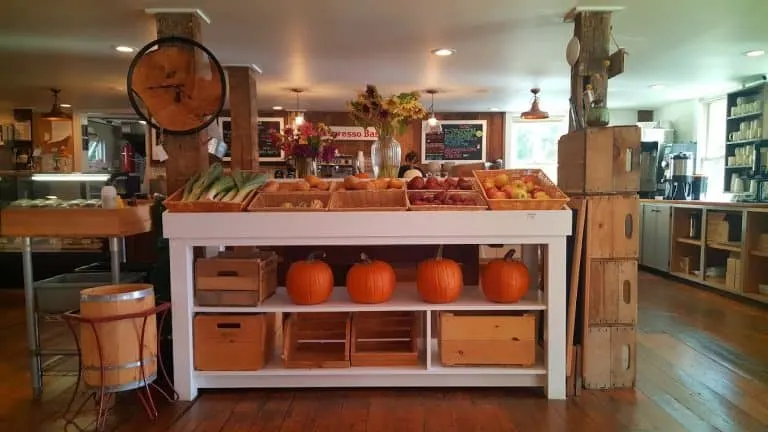 The Store at Five Corners is located right on Route 7 is the perfect breakfast or lunch spot for all hungry travelers. The store is housed in a historic building that has been around for over 200 years.
Inside guests can select locally sourced foods while dining on wooden tables. They also sell a variety of products made by local artisans.
Take a Fall Foliage Train Ride on Berkshires Scenic Railway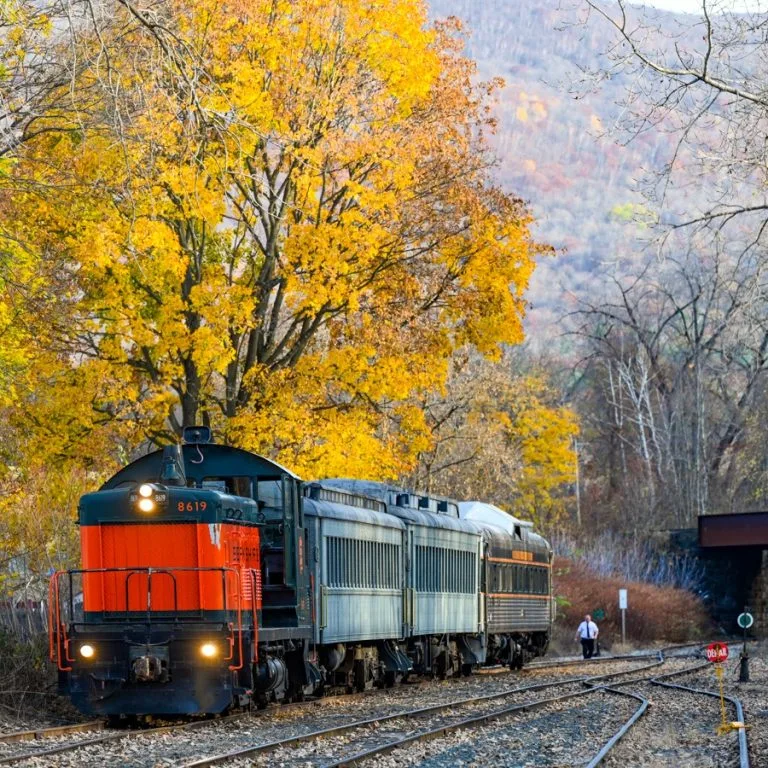 Sometimes, it's not fair that the driver in the car doesn't get to enjoy the leaf peeping like the passengers in the car. To make everyone happy, book a fall foliage train ride with the Berkshire Scenic Railway.
The train ride is about an hour long and visitors can get a gorgeous view of the fall foliage between Adams and North Adams, MA. If you are visiting later in the year they also have a Christmas train as well.
Scenic Chair Lift Ride at Jiminy Peak Mountain Resort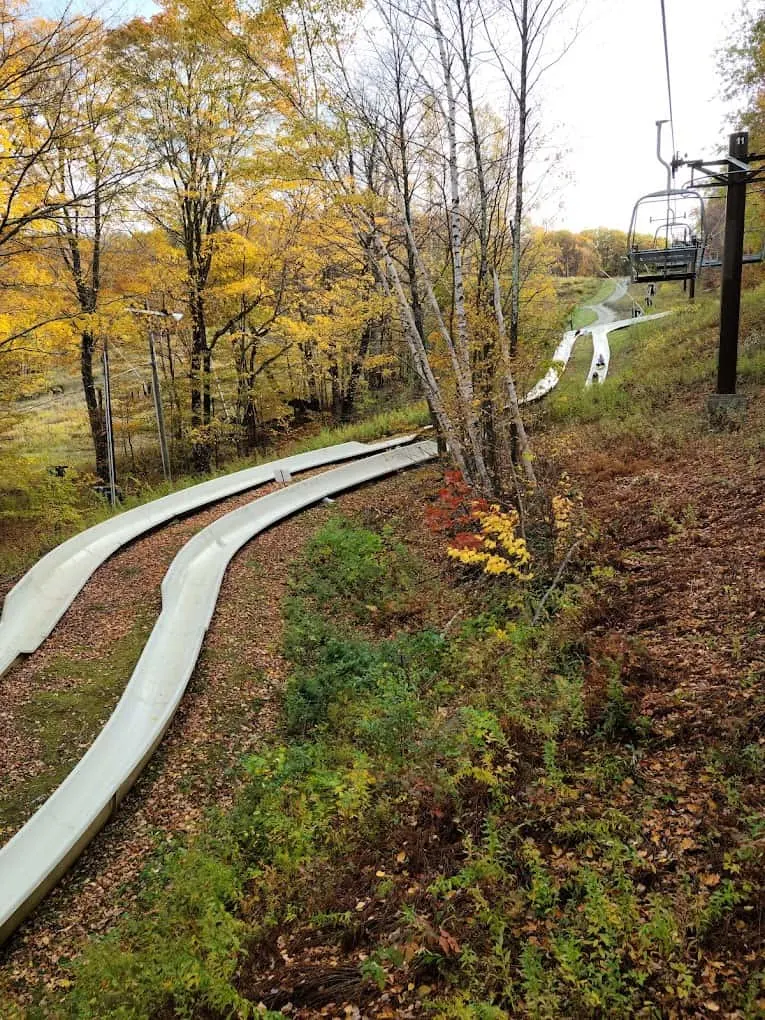 Don't skip visiting a skiing resort for your fall foliage. They often offer a quick and easy way to enjoy views of the region from above.
Check out Jiminy Peak Mountain Resort. Open on the weekends and holidays from July 1st to mid-October, the Berkshire Express is a six-person ski lift that will show you beautiful fall foliage views.
The Mountain Adveture Park is also open on weekends during the Berkshires fall foliage season. In addition to the scenic chairlift they also have an alpine coast, alpine slide, and the Soaring Eagle zip chair.
Ramblewild Adventure Park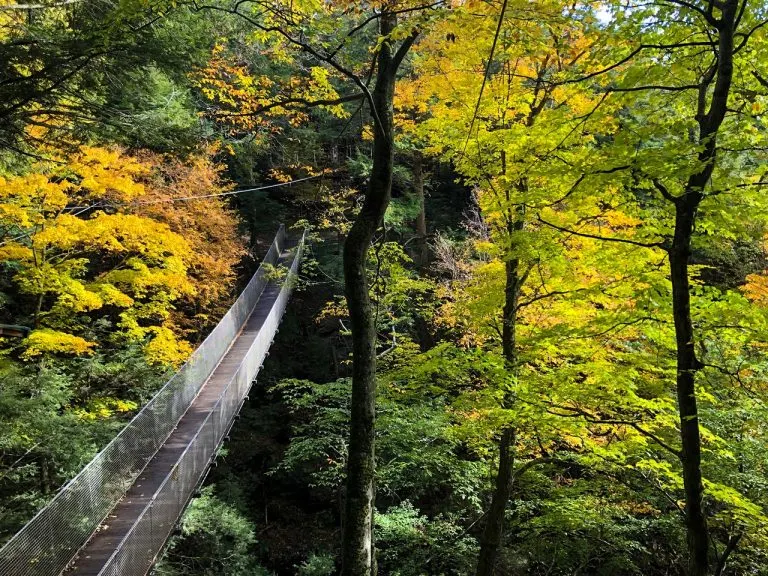 Ramblewild Adventure Park is another great way to spend the day and explore the fall foliage in a unique way. This park has not only an aerial adventure park, but an aerial trail for kids, hiking trails, and a base lodge with a picnic area. What better way to truly be emersed in nature than by climbing from tree platform to tree platform?
Berkshire East Canopy Tours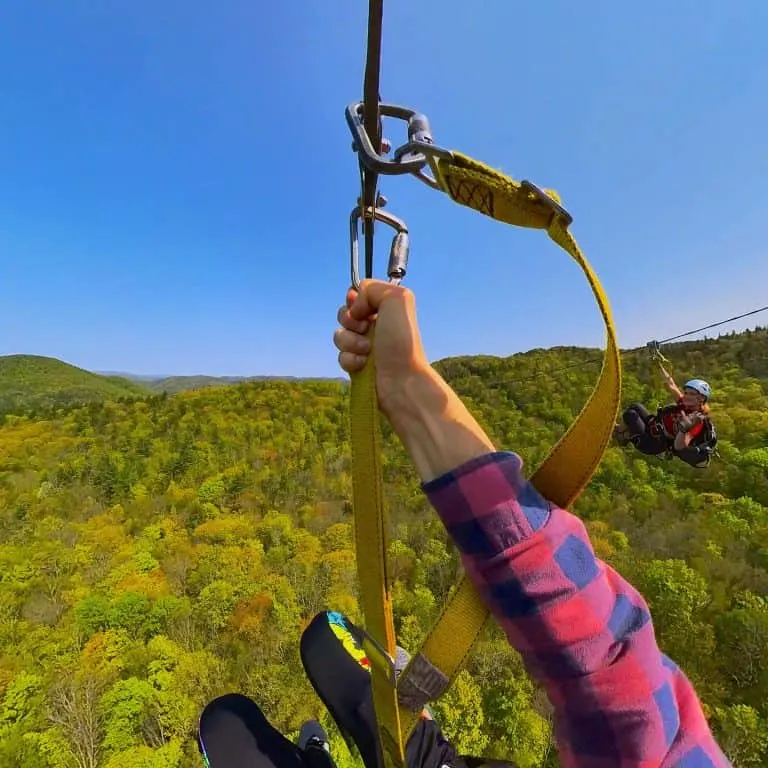 Why don't you look at the fall leaves from the air? The Berkshire East Canopy Tours offers two types of zipline tours, the Valley Jump Tour and the Mountain Top Tour.
With the Valley Jump Tour, guests can ride on 6 different ziplines that are connected to platforms. From the platforms, visitors will have gorgeous views of fall colors to enjoy. The Mountain Top tour has visitors explore the top of Deerfield River Valley on seven zip lines! For both tours, there is also a chairlift ride up and down from the summit.
Berkshires Fall Foliage Hiking and Biking Trails
For those who want to have a closer view of the autumn splendor, put on your hiking boots and head out on one of the local trails to enjoy Berkshires fall foliage while stretching those legs!
Monument Mountain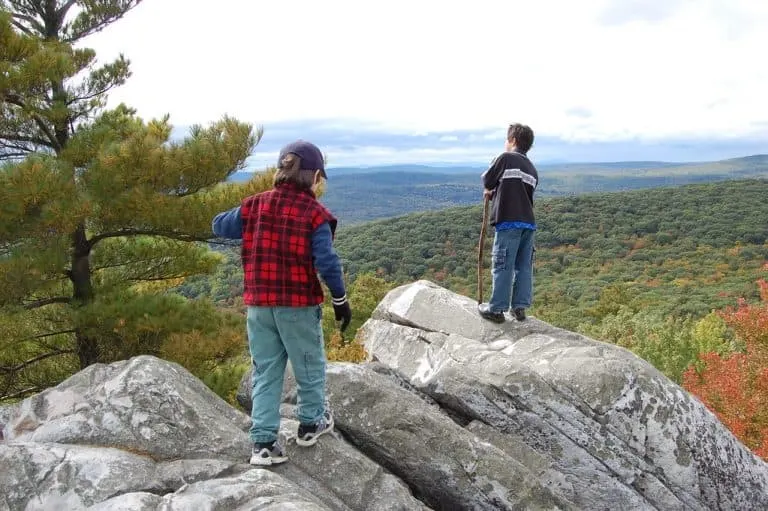 Located near Great Barrington, Massachusetts, the Monument Mountain area offers 5 different trails and will give you stunning panoramic views of the Berkshires along with a view of Mt Greylock. Do keep in mind that there is a parking fee of $6 for the day.
At the parking lot, visitors can choose to pick from the Mohican Monument Trail (1.6 miles) or the Hickey Trail. The most popular trail and direct to the summit is the Hickey Trail which is 0.9 miles with a moderate level of difficulty.
Connecting both the Mohican Monument Trail and the Hickey Trail is the Peeskawso Peak Trail which is 0.6 likes long. This is the trail that will offer the best panoramic views of the Berkshires. We suggest making the whole hike a loop.
Sheep Hill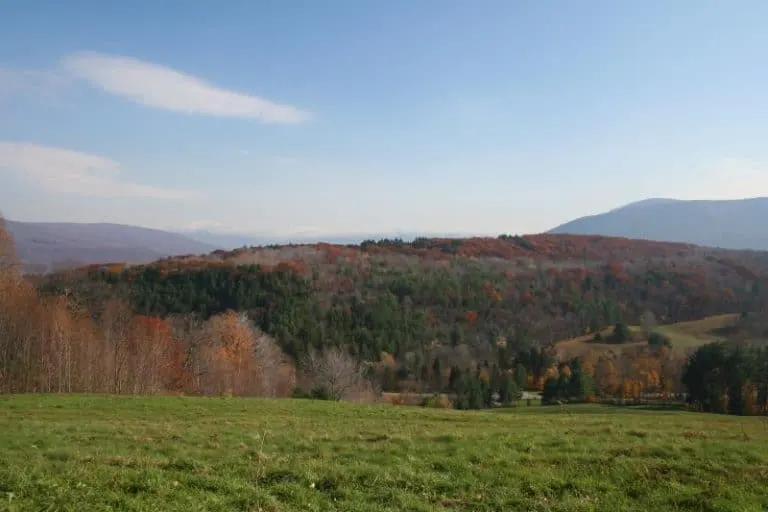 Sheep HIll is part of the Williamstown Rural Lands and the former home of Rosenburg Farm, a former family farm and ski hill. Now Sheep Hill is a lovely place to walk on a couple different trails as you admire the Berkshires fall foliage.
The Sheep Trail is another easy 1.2-mile loop trail that is right next to Route 7 in the Berkshires. The trails are a combination of mowed grass paths and accessible wood floors. Take the time to look at the fall foliage and the old barns that are still standing. Great place for wildlife viewing and photographers.
Ice Glen Trail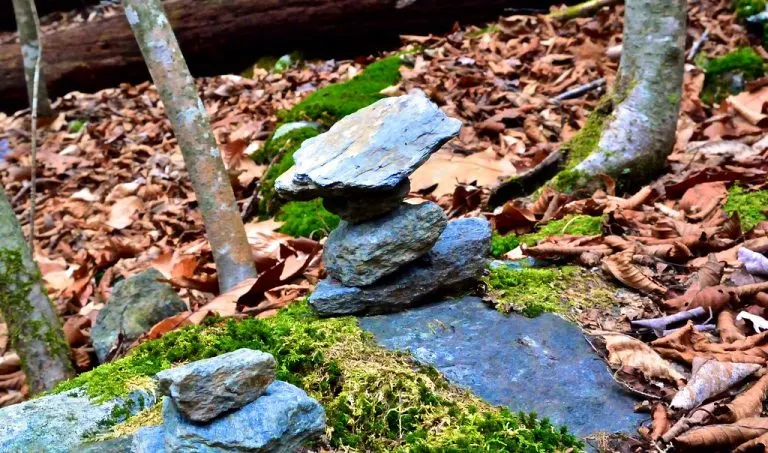 Located in Stockbridge, MA, the Ice Glen Trail is a 1.4-mile out-and-back trail. This trail can be moderately challenging with the large boulders to climb over in a glacial ravine. Sturdy hiking boots and hiking poles are strongly recommended, especially for those who have poor balance.
Mount Greylock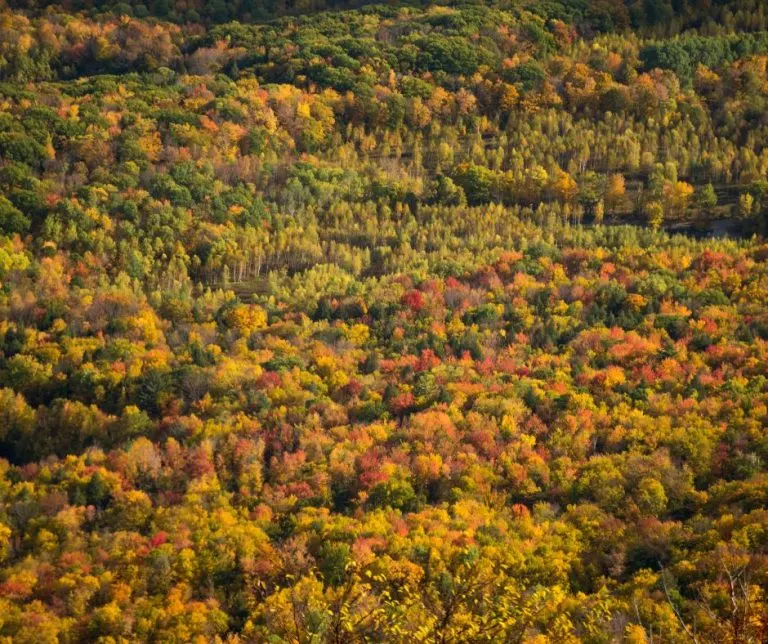 Mount Greylock is the highest point in Massachusetts at 3,491 feet (1.06 km) to the summit, and it is the most popular destination for tourists to visit. Visitors can hike or drive their cars to the summit.
During the leaf-peeping season, especially on the weekends, avoid what the locals call "Greylock Gridlock" if you are planning to do some scenic driving to the summit by arriving early.
The Cheshire Harbor Trail is a perfect all-day hike up to the summit of Mount Greylock. This trail is about seven miles round trip and takes about 4-5 hours to complete. This is the shortest ascent route from the base to the summit of Mount Greylock. From the top, you can see Mount Monadnock in New Hampshire and Mount Wachusett in Massachusetts.
Ashuwilticook Rail Trail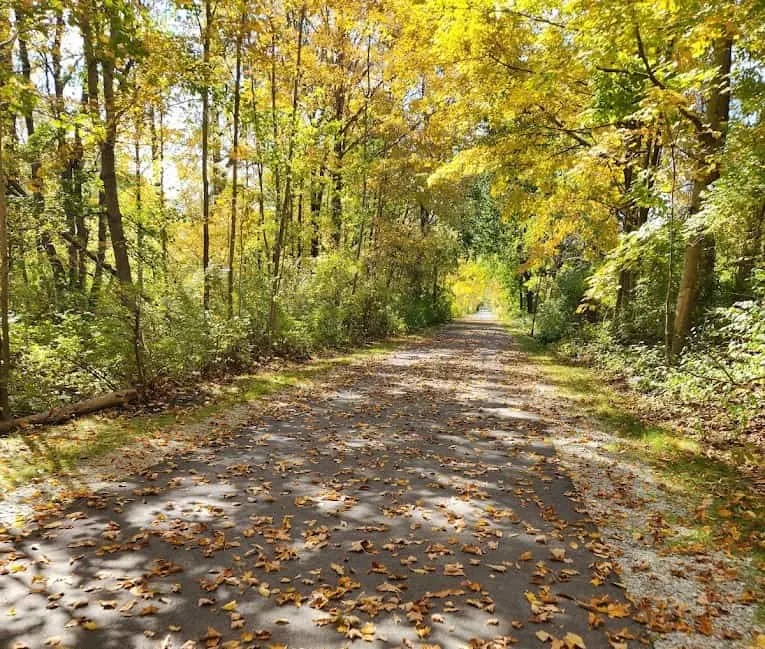 The Ashuwillticook Rail Trail is a great fall destination for the entire family. This converted railroad track runs between Adams and Lanseborough, MA. The path is about 13 miles long (20.9km) and 10 feet (3 meters) wide.
It is ideal for biking, walking, and even rollerblading. Biking as a family while looking at fall leaves is a perfect afternoon activity. Do remember that Massachusetts State law states that children 16 years and younger must wear protective headgear when on wheels. Parking is free on-site.
Greylock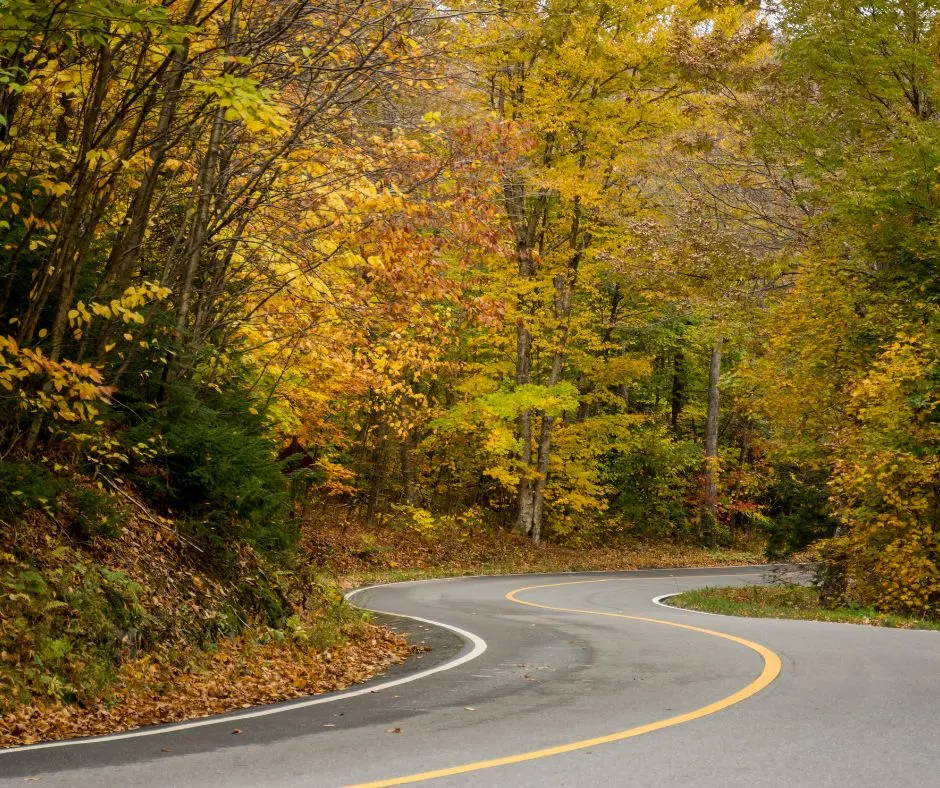 With over 20 different trails to explore, the Mount Greylock area is a fantastic hiking destination for fall foliage. Some of the family-friendly trails include Glen Meadow Loop and Birch Meadow.
The Glen Meadow Loop is an easy 1.6-mile loop trail that is gravel-covered. With its mostly flat terrain, this is a great trail for hikers of all levels to experience. Birch Meadow is another easy out-and-back trail that provides lovely views of Mount Greylock and a birch meadow.
For those who want to hike up to the summit of Mount Greylock, consider taking the Gould Trail from Greylock Glen. This trail is 2.8 miles one way and it is a moderately difficulty trial due to the steep steps and rocky terrain. However, your hiking will be rewarded by reaching the summit of Mount Greylock.
Pittsfield State Forest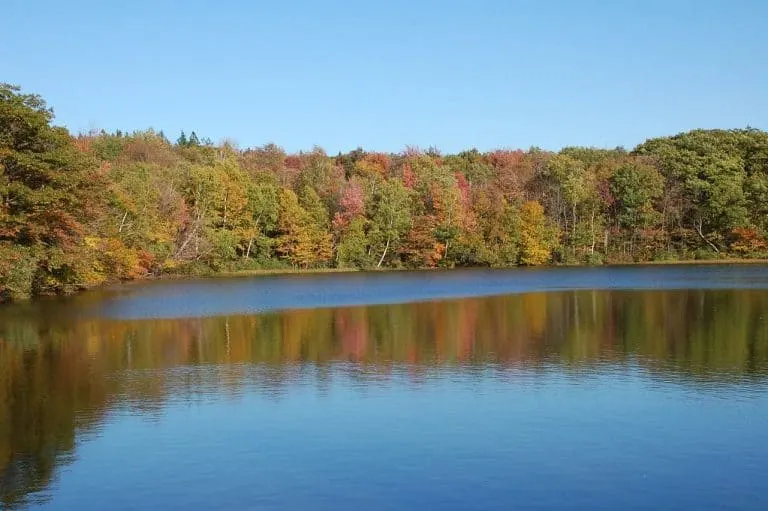 The Pittsfield State Forest is a fantastic area for hiking, camping, and kayaking. In the fall, this is a great spot to spend the day and see the fall leaves. Two highlights in this State Forest include the Tranquility Trail and Berry Pond.
Kate Hood is a Trekaroo contributor. She is currently stationed in Bremerton, WA, and lives with her favorite travel companions, her husband and their son. She has visited 28 out of the 47 prefectures in Japan, and even called Tokyo "home". Some of her favorite destinations include Singapore, Seoul, and Sydney. When she is not dreaming of her next destinations like Reykjavik, Dubai, or Johannesburg, she enjoys recreating international dishes that her family has enjoyed and crocheting baby hats for her local nursery.