Last Updated on
Trekaroo generates revenue from purchases made through links to our partner brands.
Last summer, my family stumbled upon the summer fun that the popular ski town, Park City, had to offer. I couldn't believe just how much there was to do in a place normally associated with winter activity. This year, we found summer fun in a ski town closer to home: Mammoth Lakes, CA.
Mammoth had always been on my radar as a winter destination, with its world class skiing, dramatic high Sierra beauty, and popular resorts, but to be honest, I never even knew much went on in this town once the snow melted. When the Snowcreek Resort invited my family up to visit their resort in Mammoth and participate in the Children's Fishing Festival I thought it sounded like fun but wasn't sure how else we would spend our time. After spending the weekend in Mammoth Lakes, I left wishing we had about five more days to enjoy this amazing place. Here are my tips for what to do, where to eat, and where to stay while in Mammoth:
Summertime in Mammoth with Kids: Where to Stay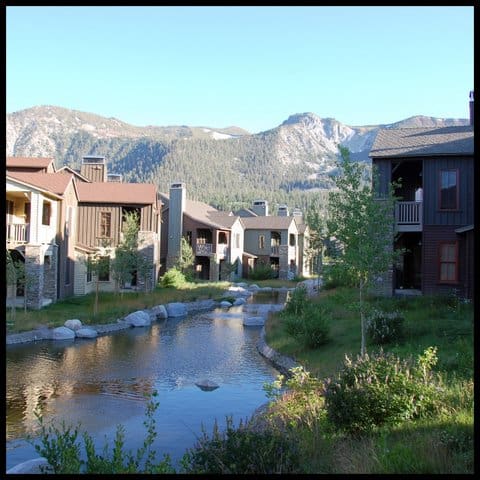 Wow. I could have lived here. The The Snowcreek Resort features spacious condos with all the amenities of home, and then some. We stayed in a two bedroom condo (which was bigger than my house!) and loved every minute of it. The bedrooms were spacious and each had it's own full bathroom. The living area of the condo had a sleeper sofa, wood burning fireplace, dining table and full gourmet kitchen. There are also three and four bedroom condos available and I think these condos would be great for multigenerational family travel, large families, or family friends traveling together.
You can read all about my full review of the Snowcreek Resort and all its incredible amenities (including golf, tennis, and an awesome athletic club).

Summertime in Mammoth with Kids: Where to Eat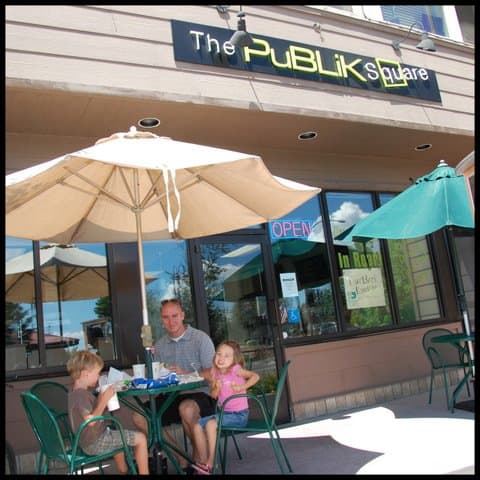 I am sure there are many fine places to eat in a resort town like Mammoth Lakes, but Publik Square and Petra's Bistro are two places I can personally vouch for. Publik Square, is a little sandwich shop that is locally owned, reasonably priced, and just plain yummy. My family and I love to picnic when we hike or play by a lake and Publik Square is the exact style place I look for when packing our lunch.
Petra's Bistro is a high end restaurant in the heart of the main tourist village in Mammoth Lakes. If you are looking for a special occasion meal, this is the place to go. Although they do not have a specific children's menu, they do have child friendly options and were very accommodating to our family. The food was amazing and it was quite nice to put on a dress and see that my kids are capable of eating dinner like civilized little people. Even though we had a very pleasant experience, I do think this restaurant is best suited for parents with older children.
Summertime in Mammoth with Kids: What to do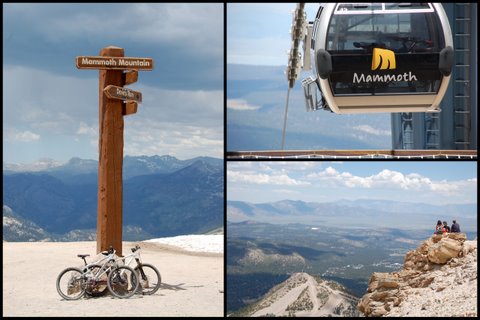 Most people know Mammoth Mountain Resort for its skiing and snow park, but come summer it is also a mountain biking mecca. Riders from all over the country come to take the gondola up to the 11,000 foot summit and ride some of the 70 miles worth of trails that traverse the mountain. I saw kids as young as 7 or 8 strap on their helmets and take to the slopes like pros. Since my children are still on training wheels, we opted to take the gondola ride and explore the summit on foot. The view of the Eastern Sierra was breathtaking. We could see everything from granite and pine covered mountains to the lakes that are Mammoth Lakes' namesake. Back down below there is also a climbing wall and a zipline specifically designed for children 12 and younger. I couldn't convince my kids to zip but I did see tots as young as 3 or 4 ride.
There are so many fun outdoor activities to take part in while visiting Mammoth, including fishing, golfing, and taking day trips to Mono Lake and Yosemite. My family loves to hike, and we found there was no shortage of trails in the region. Some of the best family friendly hikes in the area are found at Devil's Postpile National Monument. The hike from the ranger's station to Devil's Postpile, an impressive and extremely rare example of columnar basalt, is a half mile stroller friendly walk to the base of the formation. Those who choose to head further down the trail (which you absolutely should), will be rewarded by the sight of the 100 foot Rainbow Falls. On sunny days, the mist reflects two rainbows near the base of the falls, thus giving the waterfall it's multihued name.
Disclosure: My family received a complimentary stay at the Snowcreek Resort as part of a press tour. Snowcreek Resort also covered our dining at Publik Square and Petra's Bistro and the Gondola Ride at Mammoth Mountain. They never requested that I express any particular opinion in my reviews. I will always give you my honest opinion of every hotel, restaurant, and activity I visit.