Without a doubt, autumn is the best time to visit New England and relish in the splendor that is provided by the fall foliage. Folks from around the country and the world visit our fair states to get outside and catch a glimpse of the painted countryside. They come to hike the forest, visit farm stands and orchards, and take amazing drives by mountain notches, rural villages, lakeside reflections, and fabulous ocean vistas surrounded by autumnal color. Each state offers its own variation on the fall theme. The following are some of the best and most spectacular New England fall foliage drives to experience with your family.
We're an affiliate of Booking.com. When you book through us, you still get their lowest price guarantee and we get a few dollars. Thanks for helping to keep Trekaroo free.
Best Fall Foliage Drives in Massachusetts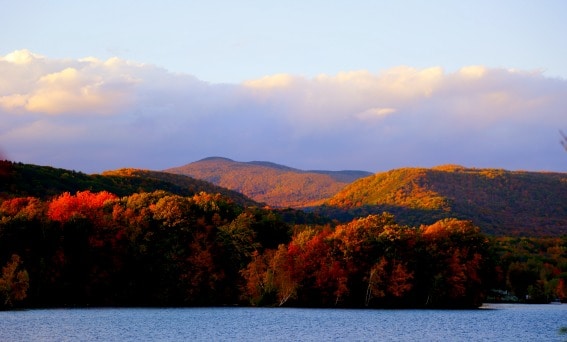 Photo by: Ogden Gigli
Families driving anywhere through the Berkshires in Western Massachusetts will be treated to glorious fall colors. This rural, mountainous area of Massachusetts is filled with winding country roads through quaint villages. A great route to take brings you into the foothills of Mount Greylock, up the slope of the highest peak in Massachusetts then back down through famous college towns like North Adams and Williamstown. Begin one mile north of Lanesborough on Route 7, then take Rockwell Road 10 miles to the summit. Stops along the way include the Mount Greylock Visitor Center, hiking trails, and the War Memorial Tower after Rockwell joins with Notch Road and heads up the mountain. The War Memorial offers vistas for miles through several states. Retrace your route back down Notch then hook up with Route 2 and take it to Route 7 for the ride back to Lanesborough. There is more family fun to be had at nearby Jiminy Peak in Hancock which is open through October. Families can enjoy an aerial tree course, a mountain coaster, alpine slide, a giant swing, or a more tame chairlift to the top!
Look for current hotel deals in Massachusetts.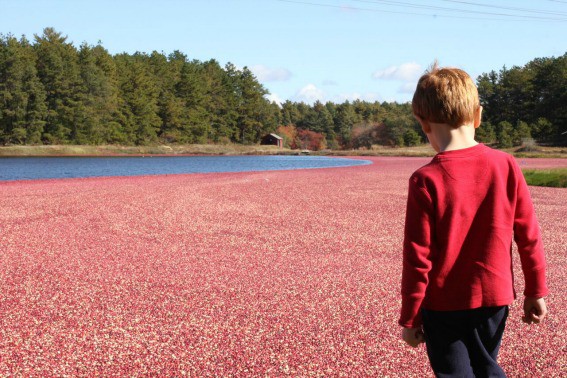 Photo by: The A. D. Makepeace Company, Wareham MA
Holy cranberries!!!! Fall is Cranberry Season in Massachusetts. In addition to the amazing tree colors, travelers in these parts are in for a special treat. South of Boston visitors can start a driving tour where the bogs are full of ripening cranberries. Start in Plympton at the AD Makepeace Company where visitors can watch the harvest, take a tour, or even take part in pulling the cranberries from the bog with advance reservations. Take route 58 out of Plympton to North Carver for more bogs. Stops in Carver for family fun include the unbelievable Edaville with trains galore. Rides for kiddos take center stage but the highlight is truly Thomas Land where the Very Useful Engine is the star of the show. Follow Route 58 to Route 28 toward Wareham to pick up Route 6 toward the water. Route 3A will meet you in Sagamore. Follow this shoreline road north through seaside towns and it will eventually drop visitors in historic Plimouth. Of course, this is the home of Plimouth Plantation another great place for families to stretch legs and learn about history!
Best Fall Foliage Drives in Connecticut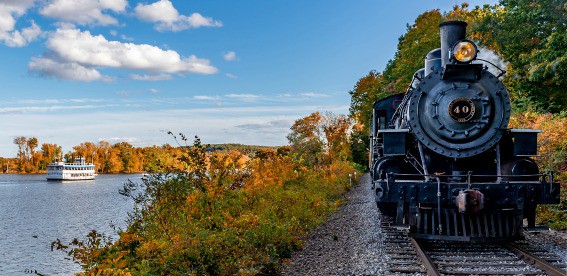 Photo Courtesy Essex Steam Train and Riverboat
Connecticut is our home state and we often take the autumnal splendor here for granted. Periodically on an early morning drive to work or school, I am reminded how truly amazing is the natural handiwork that greets us with the sunrises in October. While you can drive just about anywhere is Connecticut to enjoy views, there are some special drives that are worth merit. The Connecticut River Valley is one such area. Start out in beautiful, quaint Old Saybrook by the shore and take Route 154 North toward Essex. The quaint village of Essex is located on the shores of the Connecticut River and is home to iconic New England homes dotted with stately maples and oaks in all of their glory. Visitors might choose to get out and stretch at the Connecticut River Museum in Essex or perhaps board the Essex Steam train for a foliage rail tour. Combine this excursion with a Riverboat tour with foliage views of the river beds and even Gillette Castle from the boat. Follow Route 154 to Route 82 as it heads toward Haddam. The swing bridge that crosses the river is a special treat. Route 82 heads toward the Castle and eventually meets with Route 434 that passes Devils Hopyard on the east side of the river. Then go back to Route 82 to eventually get back to Route 156 South to return to the starting point.
Check for deals on family-friendly hotels in Connecticut.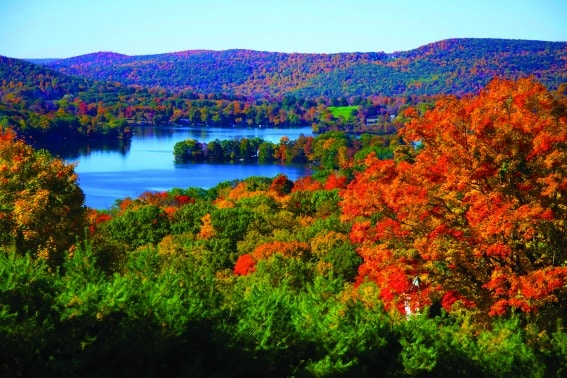 Photo Courtesy Visit Connecticut
The secluded rolling hills of Litchfield County offer some of the best sites for fall splendor in Connecticut. Start in the historic village of Litchfield and take Route 63 North toward Goshen and Route 4 West and enjoy the sites. In Goshen, families with animal lovers might consider a stop at Action Wildlife. While technically a zoo, the animals are caged in large enclosures and kids can even feed some of the animals. Route 4 West will head onward to Cornwall and a historically significant covered bridge that kids are always thrilled to drive over. Route 4 intersects with Route 128 West and the bridge will be just before the intersection with Route 7. Driving Route 7 South follows the Housatonic River down toward Kent Falls State Park and an opportunity to explore the falls and trails. Pick up Route 202 near the New Milford green and follow it northeast toward another local favorite, Mount Tom State Park. Route 202 will bring you back toward Litchfield. Those up for more can head to the Institute of American Indian studies south of Mount Tom in nearby Washington. The museum is dedicated to preserving and sharing of our indigenous people. There is likely no better time to visit than the fall.
Great Fall Drives in New Hampshire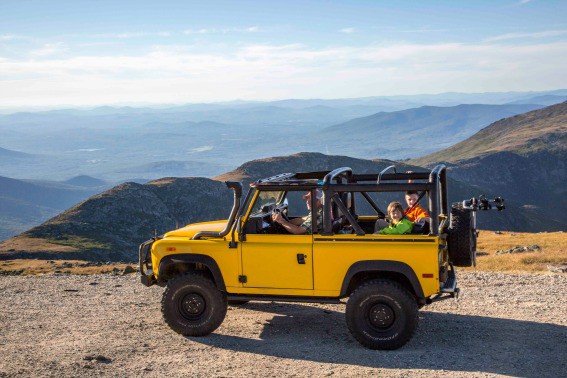 Photo Courtesy New Hampshire Division of Travel
At over 6,200 feet, Mount Washington is an imposing site in these parts. Driving through the White Mountains on Routes 16 and 302 have brought our family some of our most treasured memories. We visit each fall to hike, climb, tour and explore. Any drive chosen on these routes provides incredible views of the fall glory. However, there are a couple of special places worth driving and seeing the sites. The first is the Mount Washington Auto Road; along with hiking and the Cog railway, the Auto Road is the easiest way to drive to the top of the mountain. While this is a toll-road if you choose to drive your own car (you can opt for a guided drive) it IS an adventure. Verdant forests soon give way to stunted trees and warped limbs as you approach tree line. At the top, glorious panoramic views of the White Mountain foliage greet visitors and there is also a visitors center that details the dangers and variations of the Mount Washington climate where the highest wind speed was recorded.
Not to be outdone by the Auto Road is the Kancamagus Highway. This 34 mile drive along Route 112 in New Hampshire offers some of the most beautiful vistas in the White Mountain any time of year, but especially in the fall. Along the road are several pullouts, trails, and interpretive areas, but no other modern conveniences or gas stations, so start out prepared with a full tank of gas and snacks!
My favorite amusement park, Santa's Village is north of the Kancamagus and is a great stop to spend the day. It's Christmas all year!
Look for the best hotel prices in New Hampshire.
Photo Courtesy New Hampshire Division of Travel
While New Hampshire is well-known for the beautiful mountain vistas of the Whites it is also well-known for the Lakes region in the center of the state. A fall drive around the lakes region provides a distinctly different view with the lakes providing a reflective backdrop of the fall foliage. Lake Winnipesaukee is the grandest of the lakes and is the starting point for a drive around the lake. Begin on the town dock in Meridith and head east on Route 25 through Center Harbor and Moultonborough and into Wolfeboro. Pass Wentworth State Park and get out for a quick walk. Continue on Route 109 to Route 28 at the very southern tip of the Lake then head back up north up Route 11 along the lake to Route 3 and finally back to Meredith. The Squam Lake Nature Center just north of Lake Winnipesaukee combines wildlife and hiking in a beautiful setting. There are several interactive wildlife exhibits along the trail detailing local animals. For more adventurous families consider Monkey Trunks ropes course with different levels of adventure condensed among the trees.
Great Fall Drives in Maine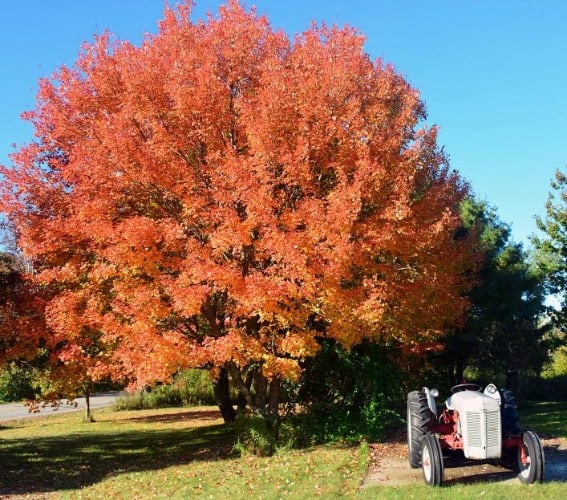 Photo by: Bob Dennis
Maine is renowned for unspoiled natural beauty and ocean vistas. In part, made well-known by the presidential Bush family, the Kennebunks on the shores of Maine are beautiful any time of year but again especially so in the fall. A fall drive in this region allows visitors to experience wildlife, shoreline, and of course, magnificent New England fall foliage. Start in Kennebunk and head south on Route One toward Wells and the Wells Reserve. At the reserve enjoy walking trails and ranger-led programming. Return back to Route 9 and cut through part of the Rachel Carson Wildlife Refuge and perhaps catch a glimpse of some wildlife. Drive Route 9 toward Kennebunkport and take a few of the offshoot roads that lead to the shore (one of the favorites being the Ocean Ave loop). Return to Route 9 and head to Goose Rocks Beach. Once back on Route 9 take West Street back to the intersection of Route One and follow it south to Kennebunk.
Look for current hotel deals in Maine.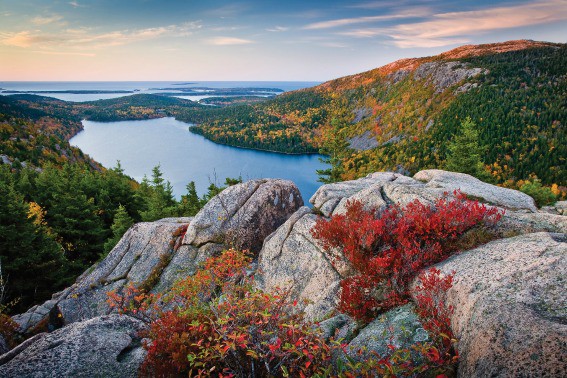 Photo By Maine Office of Tourism
Known for the craggy, rocky shores and high mountain peaks, Acadia is a gem in the crown of the National Park System and fall is a particularly beautiful time for a visit. The Schoodic National Scenic Byway is an amazing fall drive through the park. This route showcases views of quintessential Acadian Maine. Rocking lobster boats, statuesque lighthouses, and fall foliage lining the rising mountaintops of the famous Cadillac Mountain and Mount Desert Island highlight your drive. Picnic areas, hikes, and pit stops line the route. Don't leave without stopping for some lobster or blueberry something!
Great Fall Drives in Vermont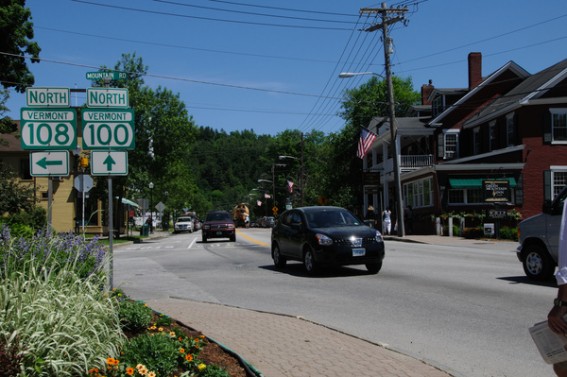 Photo by: Karen Pike
My family and I fell in love with Vermont a few years ago. We always look forward to heading north to Vermont for scenery, fresh food, and friendly people. But Vermont in the fall is a force to be reckoned with. I don't think anyone can visit Vermont in the fall and not fall head over heels. For over 100 miles the Route 100 Scenic Byway takes driving tourists along one of the most beloved routes in Vermont and past quaint villages, ski mountains, maple farms, general stores, and sight-seeing attractions. Start in Ludlow and head north on Route 100. There are several offshoot roads that are worthwhile, but if you stay on Route 100 you won't get lost. Follow it north until almost the Canadian border. Along the way, be on the lookout for the Ben and Jerry's Factory tour in Waterbury, the Stowe Mountain Village in Stowe, and for a real treat Eden Dog Sledding in Eden. You can mush with the unchained gang any season. I can tell you from personal experience it is an unforgettable event!
Check for hotel availability in Vermont.
Photo Courtesy Vermont Department of Tourism and Marketing
Lake Champlain is a vast body of water that straddles Vermont and New York near the Canadian border. Color in these parts is particularly beautiful owing to the large number of sugar maples in Vermont. The Lake Champlain Scenic Byway follows the shores of the lake on the Vermont side beginning in Middlebury. Travel Route 7 North through Vergennes onto Burlington where it turns onto Route 2 and continue along the lake crossing over onto Grand Isle and eventually on toward Canada. Along the way, families can stop along the lakeshore at state parks known for the family-friendly atmosphere, but the Shelburne Museum with hands-on activities and the ECHO Science Center are two other great stops.
Great Fall Drives in Rhode Island
We summer on our family beach house in Rhode Island to enjoy its beaches, waves, and to catch crabs. We rarely make it up in the fall as school and sports get in the way. But I do remember a time BC (before children) when my husband and I spent fall weekends driving the shoreline roads of Rhode Island and appreciating the natural beauty of the state for a reason other than the ocean. Fall is a great time to visit Rhode Island as the crowds are gone, the beaches are relatively deserted, and the trees are on fire with color.
Look for the best hotels prices in Rhode Island.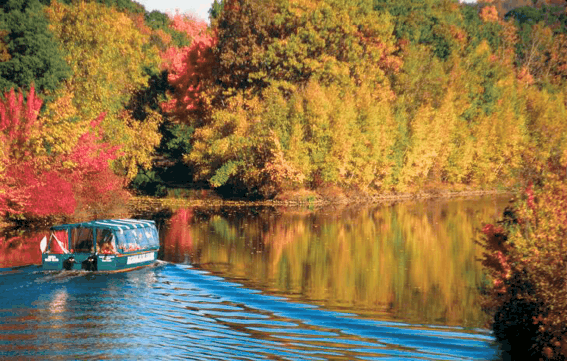 Photo Courtesy Blackstone Valley Tourism Council
The Blackstone River Valley National Historic Park celebrates the power of the Blackstone River. It once aided the change in industry during the Industrial Revolution. Today it remains a river of beauty made all the more so by vibrant fall color. Routes 100 and 96 in northeastern Rhode Island as part of the river valley create a tour through small industrial villages, antique, and country stores. Another option to see the valley and the river is the Blackstone River Explorer Boat ride. Patrons are taken on a guided boat ride down the valley, fall being the most scenic time of year to do so.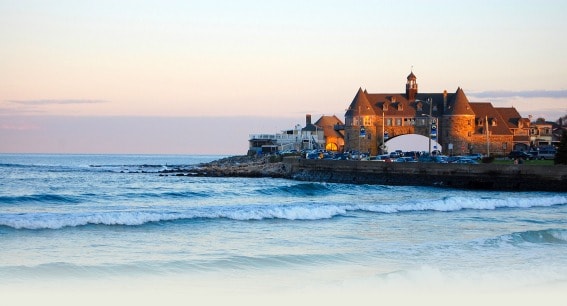 Photo Courtesy South County Tourism Council
As seasoned Rhode Island visitors, we know all about the razzle-dazzle of Newport and clearly, there are some great drives and places to go to see beautiful foliage. However, I am more of a fan of Jamestown, Rhode Island. This quieter hamlet devoid of shops and glamour is situated on the shores a bridge away from Newport, yet offers scenic beauty especially during the fall. A drive through Jamestown allows visitors to see Newport from the shore. There are also two spots on the island bringing a historical element to fall beauty. Fort Wetherill is an artillery fort that was used from the Revolutionary War through WWII. Located on the shore, the fort is a great place to explore and enjoy natural beauty. Not far up the road in Jamestown is Beavertail Lighthouse. Situated like a 'tail' end of the island, Beavertail's terrific bluffs, waves, and views are a great way to spend a few hours exploring. Another great family diversion is the Rose Island Lighthouse. The ferry leaves Jamestown periodically for a short ride to Rose Island. We had a great time pretending to be lighthouse keepers and exploring the remote island between Jamestown and Newport. Visitors might even want to spend the night! When you are back at Jamestown continue back over the bridge on Route 138 and to Route 1 and travel the Ocean Road at Narragansett for a view of the beach, the ocean, and the amazing houses that line the shore.
Heading to New England without kids? Check out these 25 New England Romantic Getaways You Never Knew About.
Lead Image by Shutterstock
SaveSave