Perhaps too often playing third fiddle in popularity to its neighbors to the east and west (Maine and Vermont, respectively), New Hampshire fall foliage is no less brilliant, and probably a little less crowded during the busy autumn season.
The state's White Mountains are often listed among the best places to view fall foliage in the entire world!
Further, the stone faces and cliffs within the rolling, craggy terrain of "The Granite State" provide an additional contrast, a visual foil if you will, to the brilliant cacophony of colors that explode across this rural state each fall. The season's riot of reds, oranges and yellows is even more dramatic and notable when it's opposed by the solemn grays of New Hampshire stone.
For the best colors, head inland from the coast to higher elevations, such as the Lakes Region and the White Mountains.
Well away from harsh coastal winds and just several hundred feet above sea level, it offers the prospects of somewhat longer leaf seasons, generally running from late September into mid-October. And note that the state has a foliage tracker that allows you to target the absolute peak color time.
While you really can't go wrong with just about anywhere in the state during leaf season, here are a few spots that really take it to the next level.
10 New Hampshire Fall Foliage Destinations
Beaver Pond Scenic Area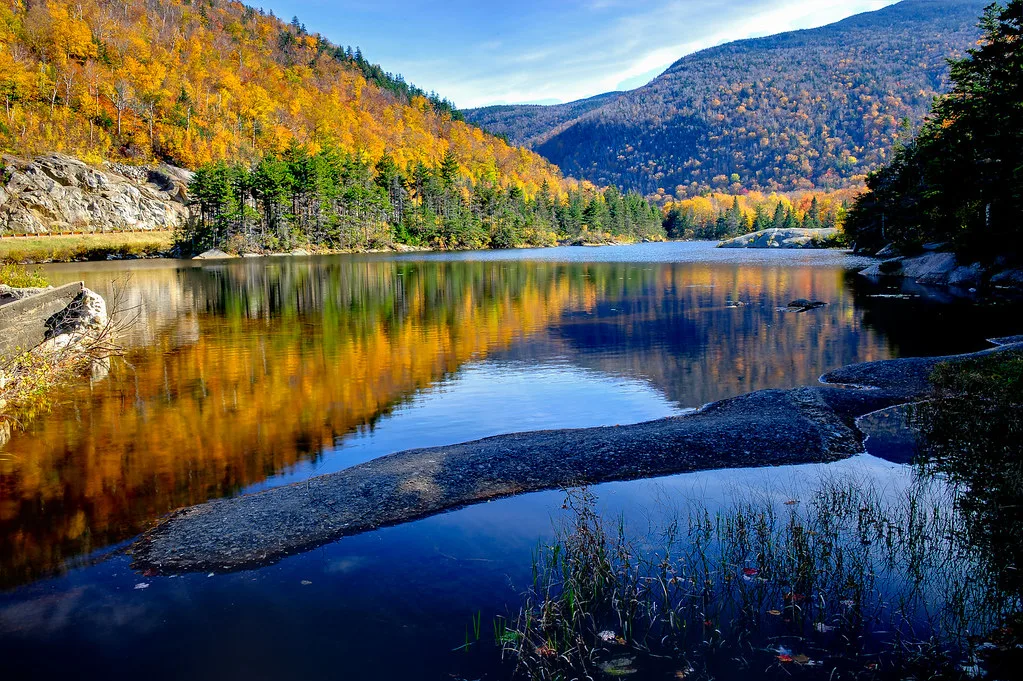 Located along the River Heritage Trail (one of the state's Scenic and Cultural Byways), this scenic roadside beaver pond is a photographer's dream.
Just past the town of Woodstock on the Lost River Road, photographers often line the shore with tripod-mounted cameras in autumn (so arrive early if you want to get that perfect shot).
In the early morning, the reflection of the mountains, speckled in brilliant reds, oranges and yellows, can be captured in the pond. It's no wonder it's such a popular spot for photographers.
Explore more of the state! Here are our favorite things to do in New Hampshire with kids.
Castle in the Clouds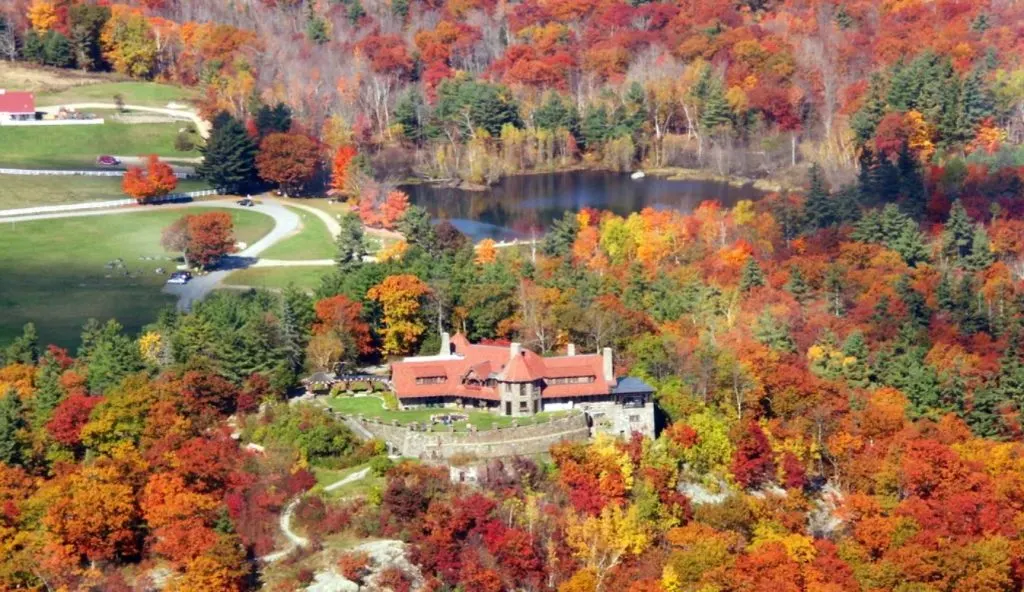 Spend an hour or the whole day at Lucknow, an Arts and Crafts-style mansion in the Ossipee Mountains. The 16-room home, also known as Castle in the Clouds, was built in 1914 on a 125-acre estate.
From this hilltop mansion, you have stunning views of Lake Winnipesaukee, state's largest lake, as well as nearby mountains and more than 5,000 acres of conservation land.
There are tours of the mansion, and the carriage house is home to a highly acclaimed restaurant with a patio that provides an overlook onto the brilliant fall colors.
You can work up your appetite on 28 miles of trails that weave through the woodlands, over brooks and streams, past several waterfalls and to epic vistas. There are also trail, pony and carriage rides as well as events such as guided hikes, birding tours and live music.
If you want to view the fall foliage from the water, book a cruise on the M/S Mount Washington. The ship, which is celebrating its 150th anniversary, cruises Lake Winnipesaukee out of Weir Beach and Wolfeboro. There are even sunset dinner cruises available on the weekends. Just imagine the foliage pictures you can take from the ship during "golden hour"!
Dixville Notch State Park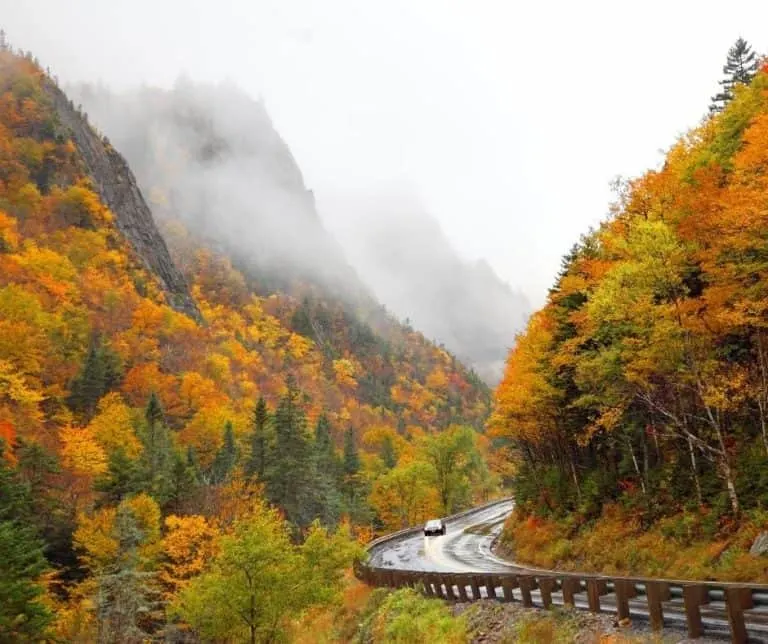 Dixville Notch is a 127-acre park that has stunning views along a scenic gorge and two mountain brook waterfalls.
Near the southern tip of the park, you'll find Huntington Cascades with a lower falls of 18 feet and an upper falls of 50 feet. The other, Dixville Flume, is accessible after a short walk and is a set of three drops over 18 feet. Surrounded by blazes of fall colors, the two will make for some excellent photos for your social media and digital albums.
Be sure to take the short but steep hike up to Table Rock for the fantastic views of the notch.
Check out these awesome New England fall road trips.
Franconia Notch State Park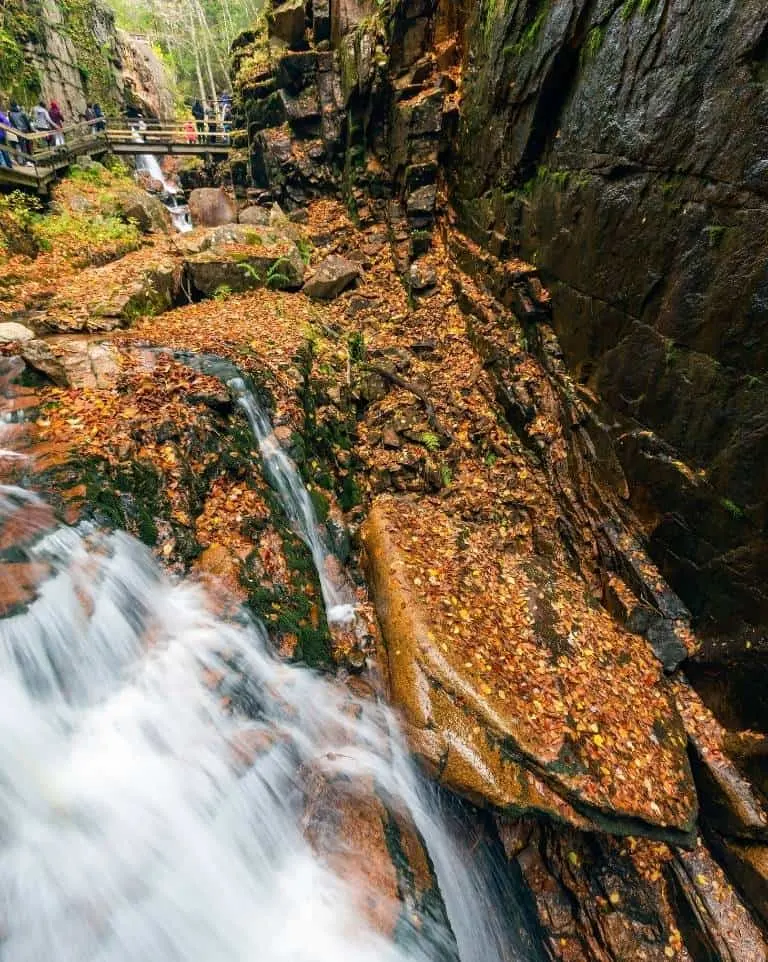 Located in the heart of the White Mountain National Forest, this nature preserve straddles eight miles of I-93 as it passes through Franconia Notch, between the peaks of the Kinsman and Franconia mountain ranges from Flume Gorge at the south to Echo Lake at the north.
You can hike The Flume Trail, a 2-mile loop that takes you through The Flume, where walls of granite rise to 90 feet above you in walls twelve to 20 feet apart (be prepared for lots of stairs).
For great aerial views, take the tram at Cannon Mountain. The eight-minute ride in enclosed cable cars takes you up 2,180 feet to the 4,080-foot summit, which presents panoramic views of the distant valleys and mountains. On a clear day you can see mountains in four states and even into Canada. At the summit there are an observation deck, cafeteria, walking paths and restrooms.
The park also offers a bike path that runs for nearly nine miles, a campground and RV park, fly fishing in Profile Lake, rock climbing and birding on Cannon Cliffs, and the opportunity to hike part of the Appalachian Trail.
Kancamagus Scenic Byway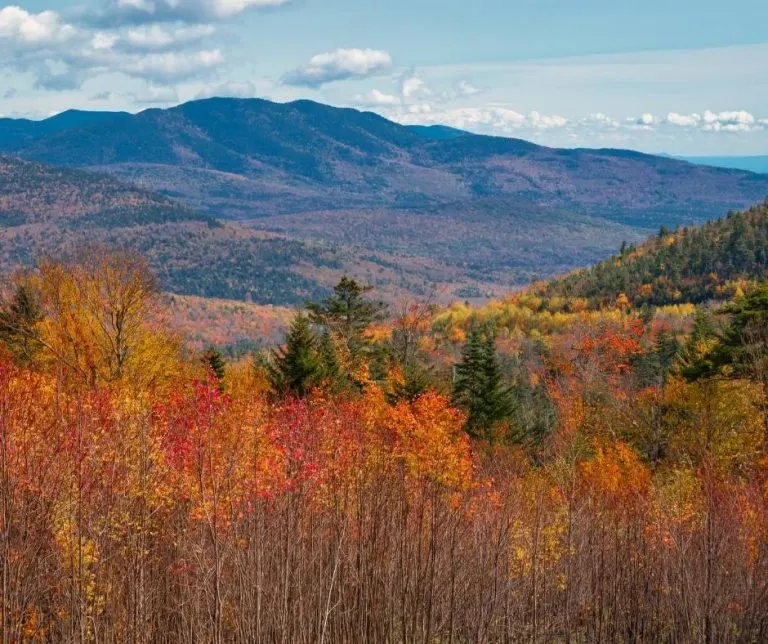 There are less than 200 National Scenic Byways across the U.S. and this 34.5-mile stretch of road coursing through the White Mountains is one of the best to drive in autumn. Known locally as 'The Kanc,' Kancamagus Scenic Byway is well known for gorgeous fall foliage and has received numerous national accolades for its scenic beauty.
Scenic vistas along the route offer incredible views of the Swift River, Lower Falls, Sabbaday Falls and the Rocky Gorge, in addition to the White Mountains themselves.
On the western side of the byway, near the town of Lincoln, there are attractions such as Loon Mountain (take the gondola ride to the top for more brilliant views), the Hobo Express (which has a fall foliage train tour along the Pemigewasset River), and Alpine Adventures where you can zip line through the foliage).
The east end, near Conway, offers up many restaurants, shops and other unique leaf peeping opportunities via the Conway Scenic Railroad and Cranmore Mountain Resort.
Keep an eye out for wildlife too as travelers along The Kanc often spot hawks, falcons, eagles, deer, racoons, porcupines and skunks – even bear and moose (so use caution while driving the route).
Milan Hill State Park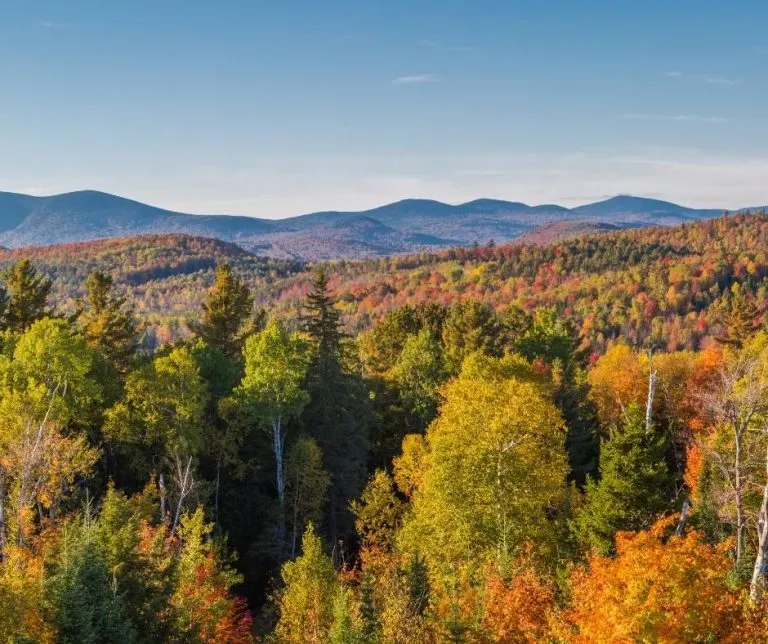 A cozy little park at 'only' 102-acres, Milan Hill State Park popular site for hiking, picnicking, fishing, canoeing, kayaking and watching wildlife was originally a Civilian Conservation Corps camp.
You can hike from the parking lot up the Wapack or Marion Davis Trails (both are 1.4 miles) up to the hilltop, where you'll find a campground and a fire tower that was built in 1932 (or you can simply drive up). Ascend the tower's 45-feet to get a view past New Hampshire's own mountain ranges to spot those in Canada, Maine and Vermont – all awash in fall's brilliance.
If you really want to enjoy the colors, stay a while. You can camp in one of the six campsites or rent one of the four yurts there.
The Monadnock Region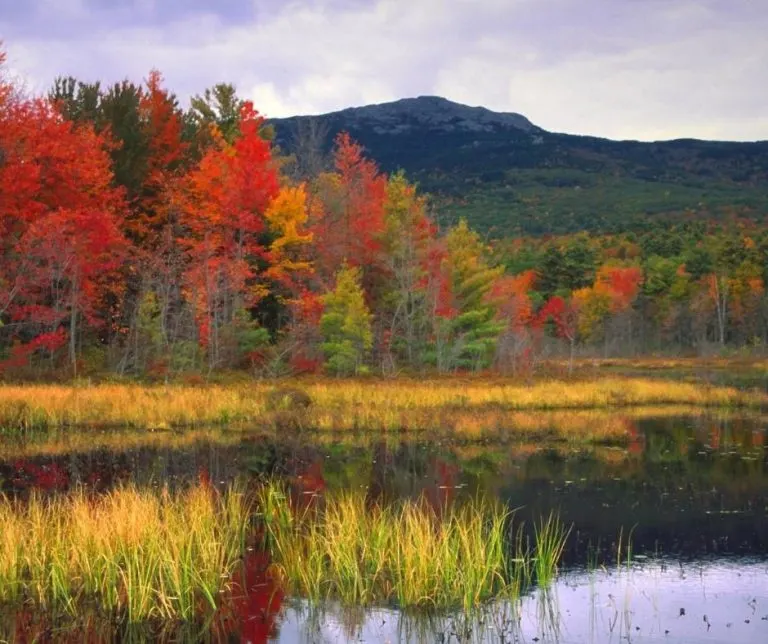 In the southwestern corner of the state, near the Massachusetts and Vermont borders, the Monadnock Region is full of smalltown, clapboard, New England charm.
The country roads wind past old rock walls, over seven covered bridges, and pass through some 40 towns and villages, such as Dublin, Jaffrey, Chesterfield, Westmoreland and Walpole (home of filmmaker Ken Burns). There are plenty of vistas that look out from hillsides over ponds, marshes, and the lovely New Hampshire fall colors.
The region is named for 3,165-foot Mount Monadnock which is only 65 miles from Boston. It's so accessible to major population centers that some 125,000 hikers tackle its summit each year.
Immerse yourself in fall activities like corn mazes, cider donuts, and pick-your-own apples at places like Washburn's Windy Hill Orchard in Greenville or Alyson's Orchard in Walpole.
There are plenty of fall festivals filled with local crafts and you can stop by Stonewell Farm in Keene to visit their Swiss and Holstein cows, take a hayride or hike their trails. The annual Farm to Fork Harvest Festival features farmers, brewers, music, cooking demonstrations and more.
Mount Willard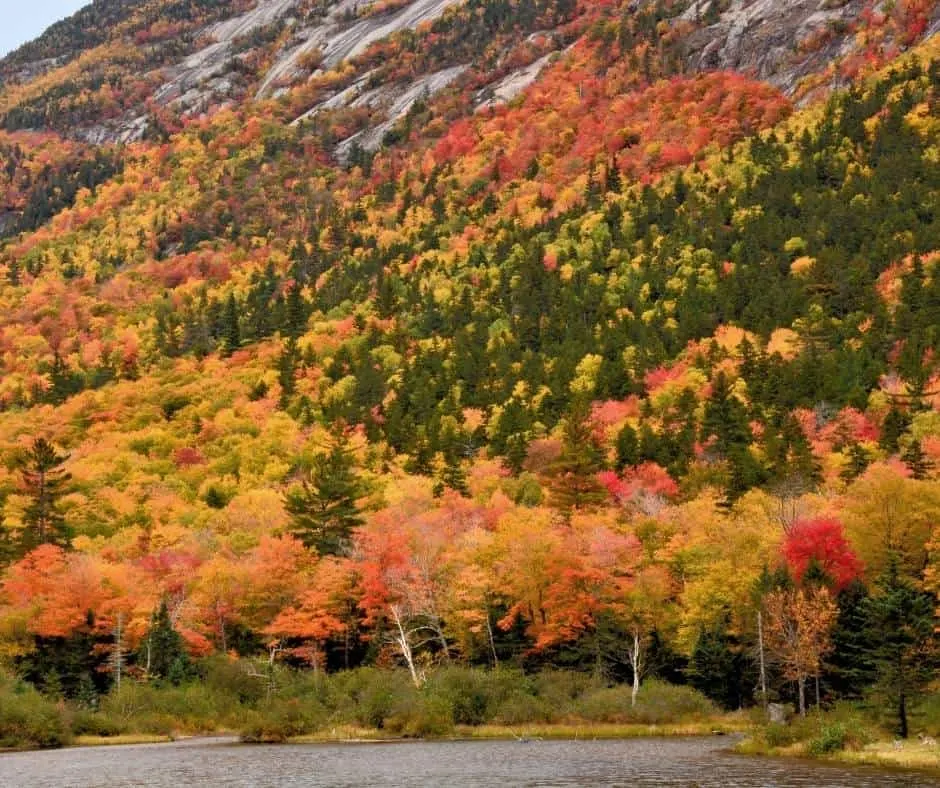 Take a moderate, 3.2-mile hike up 2,815-feet of elevation to the cliff-top summit of Mount Willard. With Mount Field rising above it to the east and Mount Webster looming above it to the west, you'll be rewarded with an incredible view straight through the riot of colors splayed across Crawford Notch.
The trail starts behind the Crawford Notch Railway Station, is fairly steep and closed in by trees. It's a very popular place to view foliage so go early on a weekday (or VERY early on a weekend), as the trailhead can fill up by 7am on weekends.
Sandwich, New Hampshire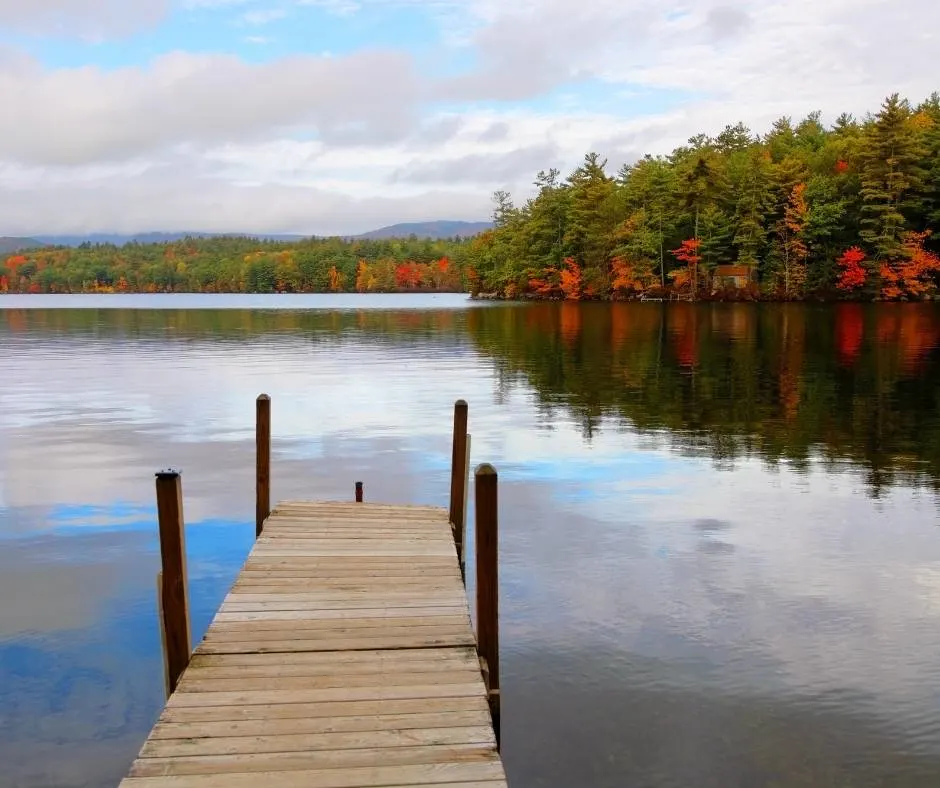 Nestled between White Mountain foothills and Squam Lake which was the filming location for On Golden Pond, Sandwich is a charming, picturesque country village that offers up a bounty of photo opportunities in autumn.
Hike the 160 acres of woodlands and meadows in Chapman Sanctuary/Visny Woods, which has 10 miles of trail, including a self-guided nature trail developed in conjunction with the University of New Hampshire extension service. Or you can hike 8.5 miles to the top of 3,993-foot Sandwich Mountain or the 13.1-mile Squam Lake Traverse.
The village,which was incorporated in 1763. also offers fine dining, hiking, biking, art galleries, antiques, a farmer's market, live music, and more.
Weeks State Park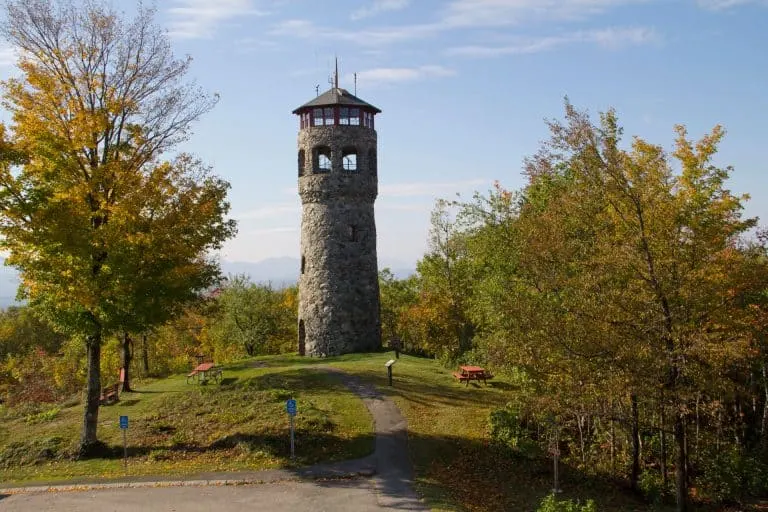 The former estate of U.S. Senator and Secretary of War John Wingate Weeks, Weeks State Park is a 446-acre state park offers 360-degree panoramic views from atop a 50-foot-high stone fire tower.
From there you'll be able to take in the foliage splashed across the Presidential Range of the White Mountains to the southeast, the Green Mountains of Vermont to the west, the Kilkenny Range, the Percy Peaks, and the upper Connecticut River Valley.
There are several short trails around the property and the three-mile Around the Mountain Loop trail which… takes you around the mountain. There's also a small museum in the 20th century country estate house and seasonal tours are offered.
'Chez' Chesak is an award-winning adventure travel writer, 20+ year veteran of the outdoor industry, Executive Director of the Outdoor Writers Association of America and chair of The Society of American Travel Writers' Central States Chapter.
His works have appeared in The Los Angeles Times, Fodors.com, Good Housekeeping, Rachel Ray Every Day, Ohio magazine, Cincinnati magazine, Rails-to-Trails, Family Vacation Critic, and dozens more outdoor/adventure publications and websites. He's also done numerous travel segments for his local FOX affiliate and on American Forces Radio and is a regular 'expert' contributor to USA Today's 10Best.
Learn more about him at www.chezconnects.com.
Find More Amazing Fall Foliage Near You: