There's no shortage of amazing scenery throughout Colorado, no matter the time of year but fall in Colorado is a sight to behold.
Sure, summer and winter are peak times for outdoor enthusiasts wanting to experience the Centennial State's Rocky Mountain playgrounds. But locals know there is nothing like the spectacle of Colorado fall foliage as the aspens alight in hues of gold, typically peaking around mid-September to mid-October (depending on first snowfall). Here are some favorite spots (and ways) to see fall color in Colorado.
Fall in Colorado- 15 Places to Enjoy Fall Foliage
Colorado National Monument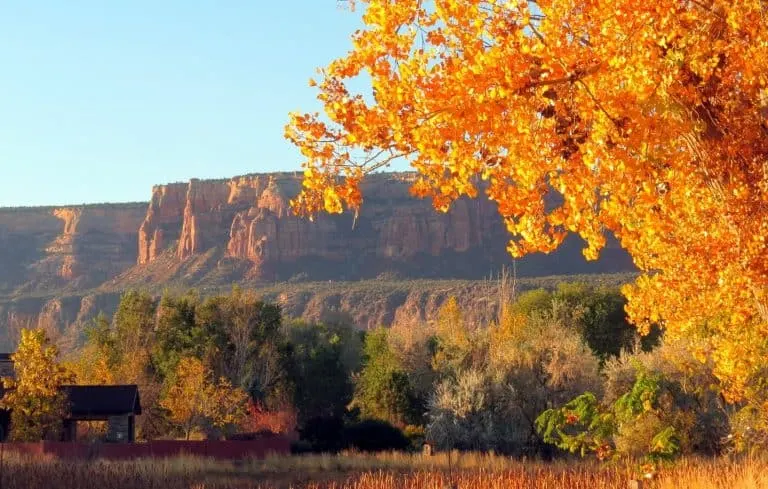 Home to iconic red-rock cliffs and sandstone spires, this Western Slope treasure near Grand Junction and Fruita is a perfect leaf-peeping spot in the cooler fall months.
The easiest way to see monument highlights like Sentinel Spire and Independence Monument is on the 23-mile, paved Rim Rock Drive, offering 19 overlooks.
Grand Mesa, near Colorado National Monument, is another great place to see fall foliage, especially along the Grand Mesa National and Historic Byway. There are several pullouts along the way to enjoy that glorious Colorado fall foliage.
Cripple Creek, Colorado Fall Color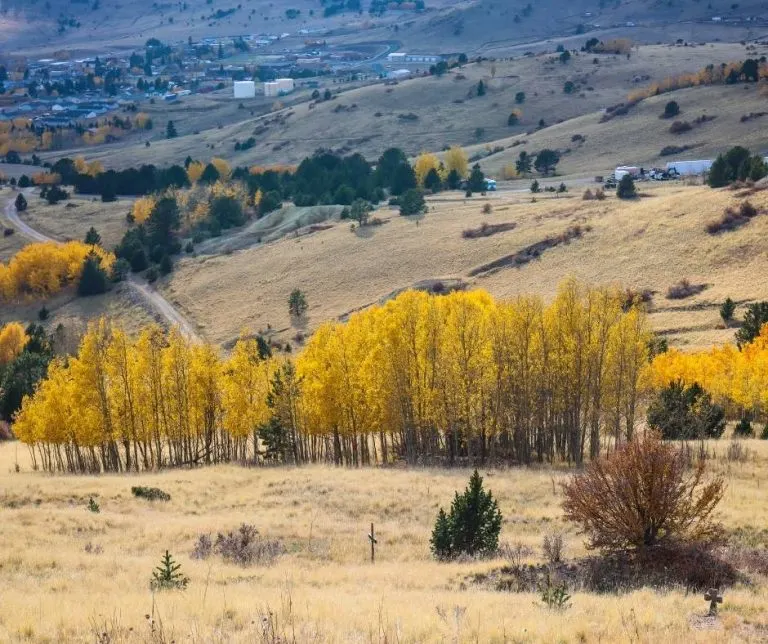 Cripple Creek, a mountainous playground set at the base of Pikes Peak near Colorado Springs, was the site for the biggest (and last) mining boom in late 19th century.
Nicknamed the "World's Greatest Gold Camp," its mining legacy includes a herd of donkeys said to be descendants of the Gold Rush era. Once miners left the area, their beasts of burden were often let loose.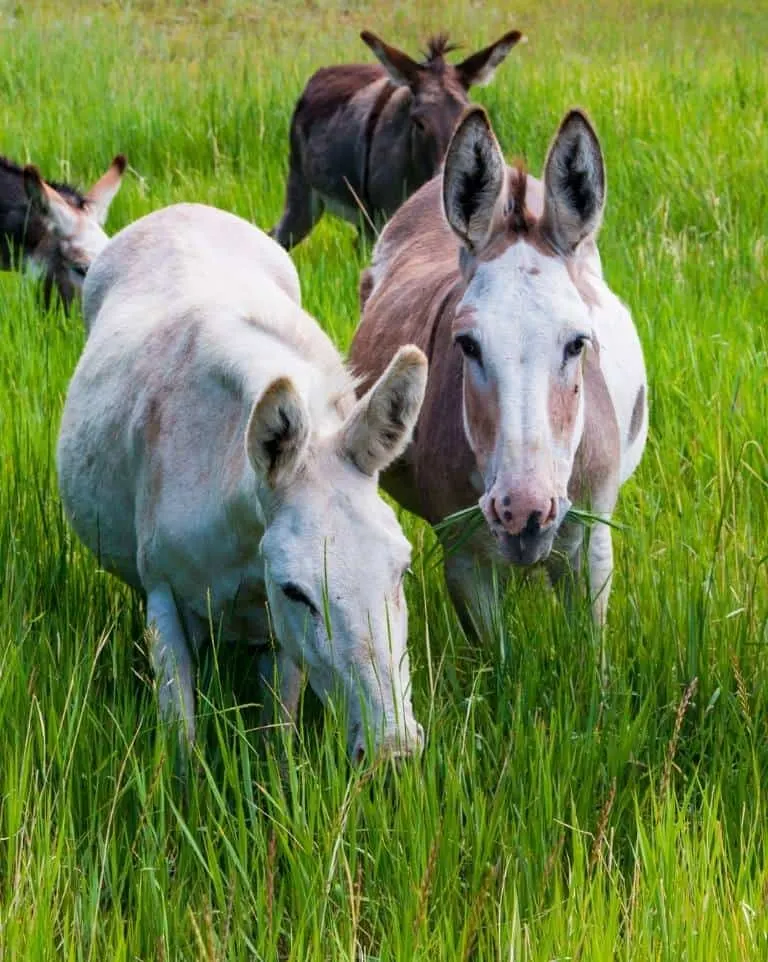 These days they are aintained by the local Two Mile High Club which raises funds for the herd's food and veterinary care several ways, including offering leaf-peeping tours the last two weekends of September.
Durango and Silverton Narrow Gauge Railroad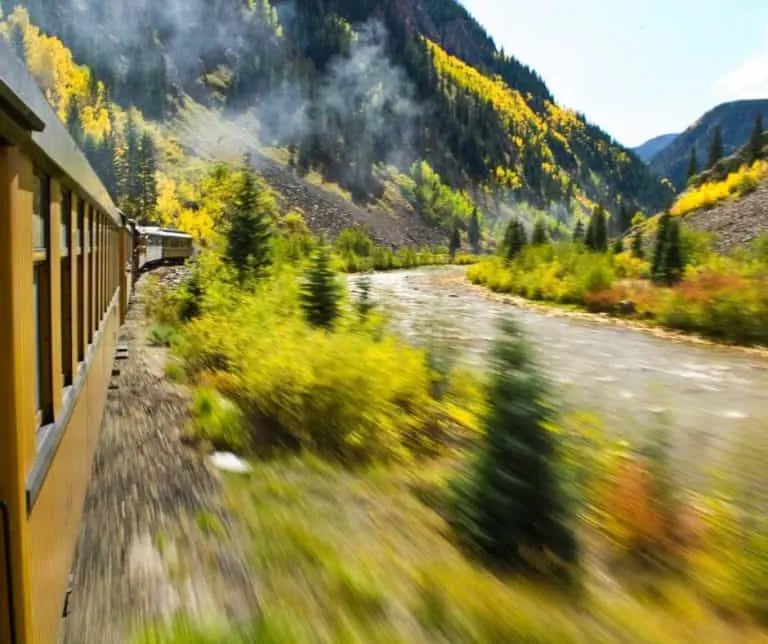 Among the most scenic areas in Southwest Colorado, Durango and Silverton are two historic mining towns connected by one of the most scenic train rides anywhere in the country- the Durango and Silverton Narrow Gauge Railroad.
Operating since 1881, the train was a lifeline for the remote Silverton mines, a town named for the place where miners pulled "silver by the ton." It is a 45-mile, four-hour (one way), cliff-hugging journey through the mountains.
Choose the most authentic experience, riding in an open-air gondola car and enjoy stunning views of the Animas River, fall foliage, and sooty skin. Traditional cars are also available, as well as bathrooms and concessions.
Taking the train both ways makes for a long day- eight hours riding on the train (four hours each way), not including the time spent in the colorful hamlet of Silverton. Reduce travel time by choosing an 80-minute bus ride one way and the four-hour train ride the other.
Georgetown, Colorado Fall Foliage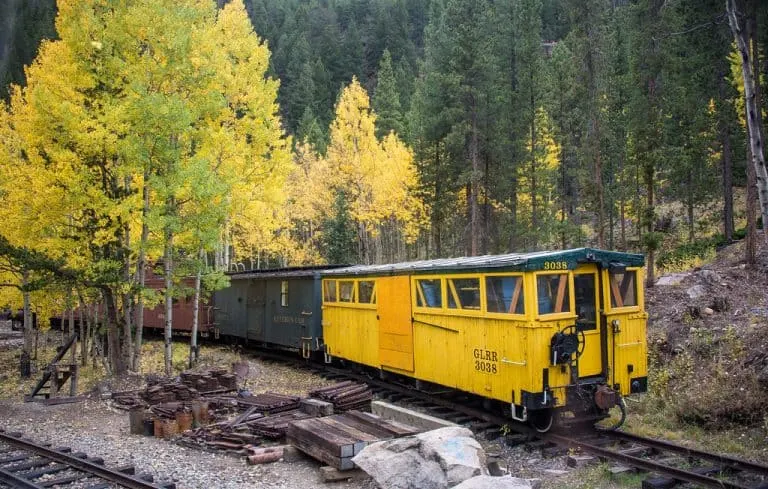 Once the third-largest town in Colorado and part of one of the best-preserved historic mining districts in the state, the Georgetown–Silver Plume Historic District, Georgetown is a perfect leaf-peeping destination just 45 miles west of Denver.
And what better way to enjoy the golden hues of aspen leaves than the Georgetown Loop Railroad? The narrow-gauge steam train, completed in 1884, travels about two miles from Georgetown to nearby Silver Plume. Guests can even opt for an additional tour of the Lebanon Silver Mine. Roundtrip train ride is 75 minutes long; 2.5 hours with a mine tour (April–Sept).
High-Elevation Colorado Fall Color in Guanella Pass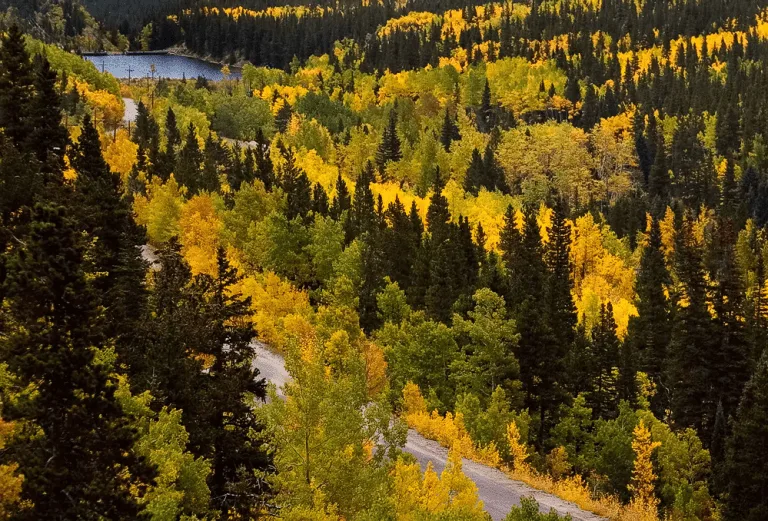 If you would rather drive, check out Guanella Pass. The hour-long journey from Georgetown along I-70 West to US 285 south to Grant climbs over 11,669-foot Guanella Pass.
The fall scenery and mountain views are stunning. Officially the Guanella Pass Scenic Byway, it also offers views to one of the state's easier-to-summit Fourteeners, 14,060-foot Mount Bierstadt.
Golden, Colorado's Autumn Hues
Of course, the name "Golden" says it all. But this charming Old West town set just 15 miles northwest of Denver is also an easy way to "go for the gold" without fighting mountain traffic to other fall-foliage destinations.
Set at the foothills of the Rocky Mountains with Clear Creek running down its center, an easy way to enjoy this outdoor lovers' playground is with an old-fashioned hayride through downtown via The Golden Hayride.
Choose a traditional route or book a Golden Hayride Beer Tour, where they do all the driving and guests have all the fun. Offering several dates throughout September and October, the 6 p.m. fall foliage tours include stops at several local craft-beer and food destinations.
Highway of Legends Historic and Scenic Byway

A unique drive coursing through Colorado's southern foothills, this 82-mile stretch connects Trinidad—roughly 200 miles southeast of Denver and the last major city before exiting south to New Mexico—to the small town of Walsenberg.
A little-known region to those residing outside the area, the historic drive offers views of aspen leaves while meandering along Hwy 12 past mining towns, geologic highlights, and the San Isabel National Forest.
Favorite stops include Cokedale's coke ovens, once used for smelting coal; Monument Lake and its Monument Lake Resort; off-roading at Old La Veta Pass and Stonewall's literal "stone wall" called the Dakota Sandstone Formation. Explore this region while enjoying a free audio tour.
Independence Pass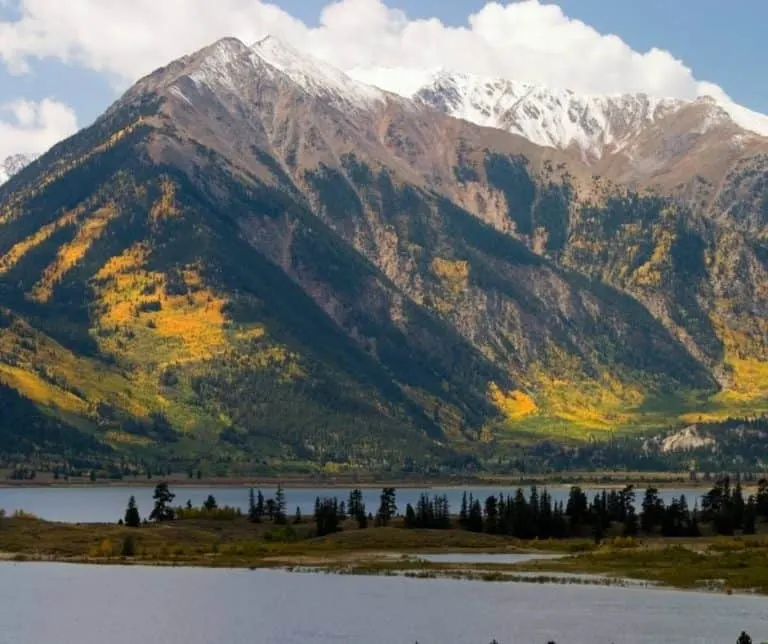 A high-mountain pass in central Colorado passing over the Continental Divide between Aspen and Twin Lakes (near Leadville), Independence Pass is a scenic road reaches 12,095 feet above sea level.
A popular route to Aspen in summer and fall months, the 36-mile drive is typically closed in October (dependent on snow) through early spring. It is a great place to enjoy fall color early in the season, especially in late September.
Kebler Pass
Stretching about 30 miles from Highway 133 near Paonia State Park in the town of Paonia to Crested Butte, Kebler Pass is a former mining-camp supply hub and coal-mining spot that's also nicknamed "the last great Colorado ski town".
Locals flock to this area for camping, hiking, and more. Summiting at 10,007 feet above sea level and passing through the Gunnison National Forest, this roughly two-hour drive is also a popular way to see the aspens' gold colors.
Kenosha Pass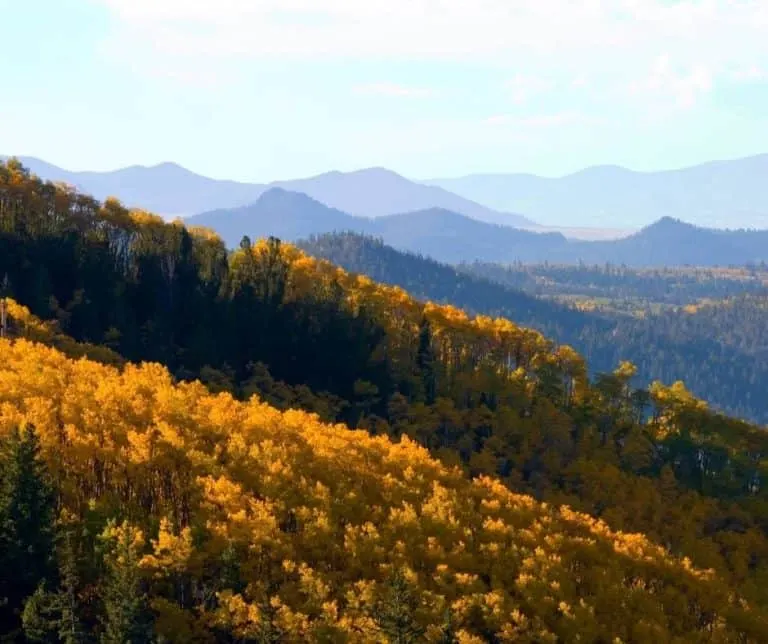 Kenosha Pass is set at an elevation of 10,000 feet along Hwy 285—about 54 miles from Conifer (roughly 33 miles southwest of Denver) to the town of Fairplay. Incidentally, Fairplay is the visual basis for the town of South Park in the television series South Park created by Colorado natives Matt Stone and Trey Parker. This is one of the most popular places near the state's capital to view the state's changing leaves.
The pass is a fairly accessible drive for most vehicles and remains below tree line (around 11,000 feet), making it a fantastic drive with views of South Park and the stunning peaks of the Mosquito Range.
The downside? It's not only popular for spotting fall foliage but also for recreation, from camping to hiking and more, so plan to head out for an early drive to miss the traffic.
Maroon Bells Scenic Area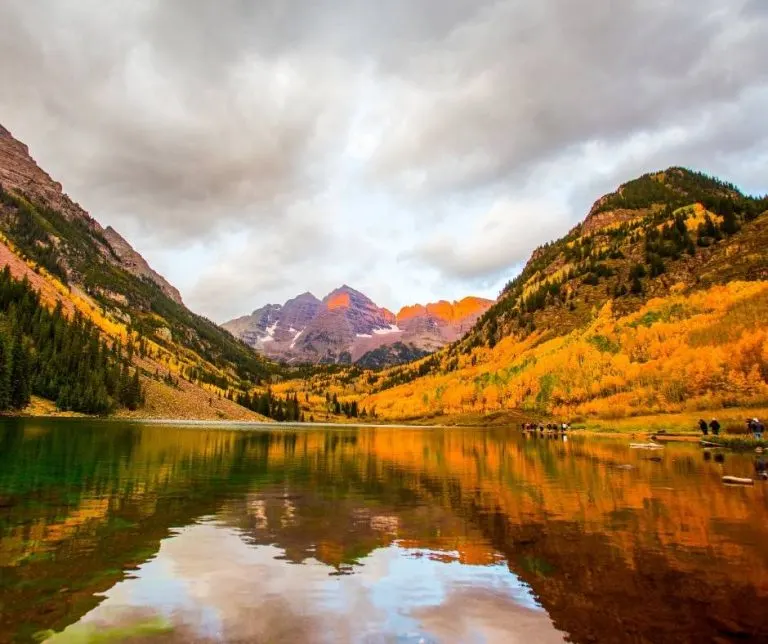 Said to be Colorado's most photographed peaks—some say throughout all of North America—these maroon-colored bells are even more glorious during leaf-peeping season.
Located about 12 miles southwest of Aspen and featuring two Fourteeners (peaks topping more than 14,000 feet) Maroon and North Maroon Peaks, the area is anchored by stunning Maroon Lake.
And the simplest way to enjoy the scenery is via the one-mile route on the Maroon Lake Scenic Trail, which begins at the parking lot and follows along the lake. The only catch is that since 2020, permits are required to park at the scenic area during peak season, mid-May through October.
Mesa Verde National Park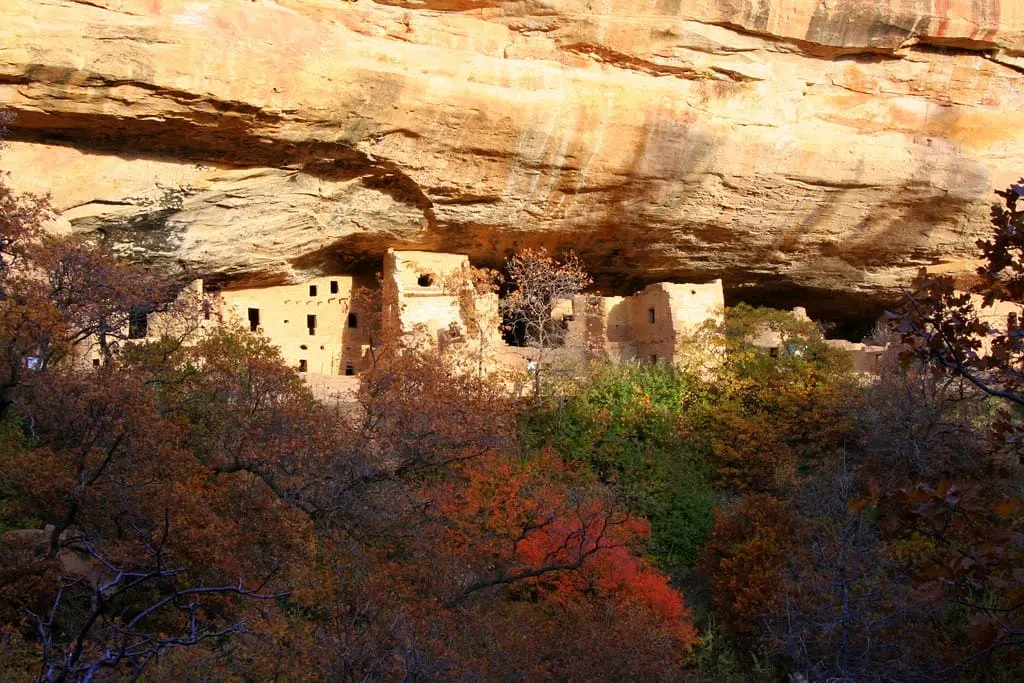 The entire Colorado Southwest is an exceptional destination any time of year, particularly for those interested in exploring its expansive archaeological sites and Native American history. But it can get hot in summer months.
So fall is the sweet spot for this area, offering colorful leaves, warm days, and crisp nights, particularly Mesa Verde National Park, Colorado's only UNESCO World Heritage Site.
Read our full guide to visiting Mesa Verde National Park as well as our guide that highlights all four Colorado National Parks.
The country's largest archaeological preserve, maintaining nearly 5,000 known archaeological sites of the Ancestral Pueblo people, enjoy the fall colors while visiting some of the park's world-famous cliff dwellings, including Balcony House; the park's largest and most-famous, the 150-room Cliff Palace; and Long House.
Million Dollar Highway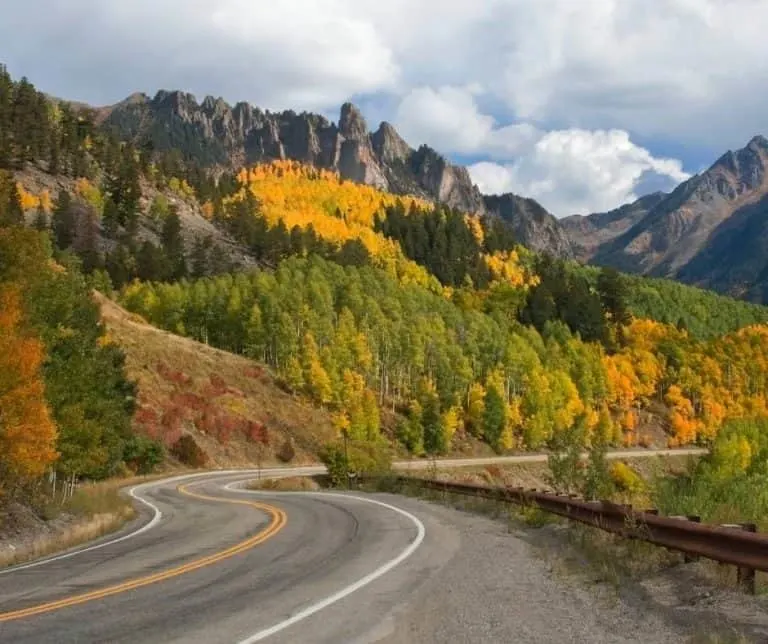 Featuring an array of ruddy peaks and golden-hued trees, Million Dollar Highway is a 25-mile stretch of U.S. Highway 550 from Ouray to Silverton along southwest Colorado's San Juan Skyway Scenic and Historic Byway.
Reaching an elevation of more than 11,000 feet at Red Mountain Pass, the route is one of the most spectacular drives anywhere in the state.
Punctuated by sprawling ranches and bucolic mining towns, some say it was named so because it cost $1 million per mile to build; others say it's for the million-dollar views. Given that you'll want to pull off the road around nearly every corner to snap a photo of the area's stunning fall colors, I'm voting for the latter.
Trail Ridge Road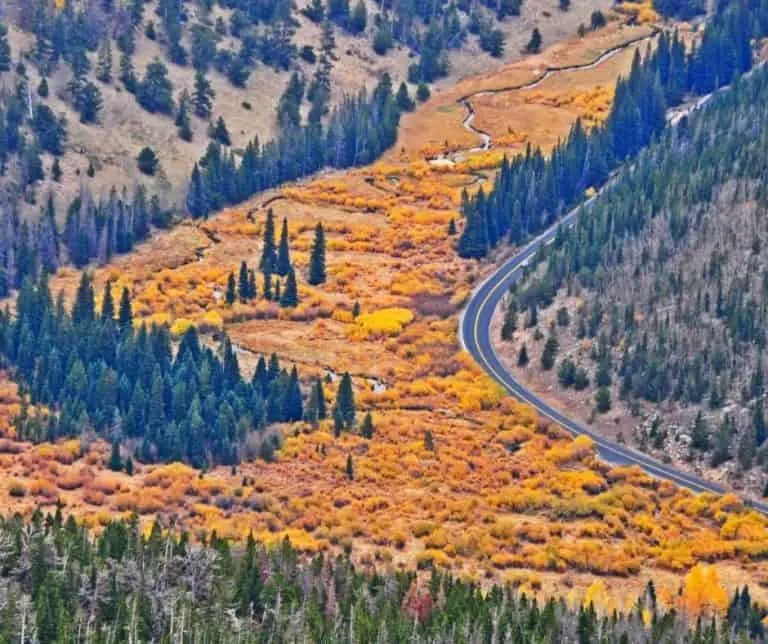 Set in Colorado's iconic Rocky Mountain National Park, Trail Ridge Road is the highest continuous paved road in the United States, reaching 12,183 feet at its apex.
Open roughly Memorial Day to mid-October, the 48 miles along U.S. 34 connect the national park's eastern gateway, Estes Park, to its western gateway, Grand Lake. A timed-entry permit reservation is required to enter the national park between late May and early October.
Discover our favorite hikes in Rocky Mountain National Park.
Roughly a two-hour drive, the area's dramatic peaks resplendent with fall foliage makes this a favorite leaf-peeping spot for locals and tourists alike.
Bonus? Fall is elk-mating season, called an elk rut, so it's easy to spot the herds while looking at leaves. But keep in mind it's often windy here and 20-30 degrees colder than Front Range cities like Denver. Wear layers!
Vail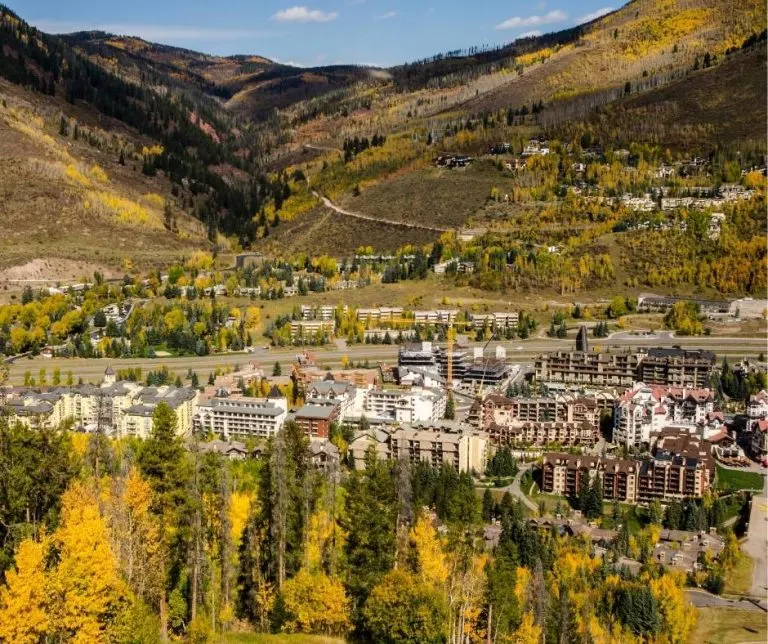 This world-famous ski town at the base of Vail Pass was modeled after Zermatt in the Swiss Alps. It offers a wealth of gorgeous scenery against the backdrop of the Gore and Sawatch mountain ranges.
Enjoy leaf peeping just walking through the five villages, taking a scenic gondola ride to the top of Vail Mountain, and hiking through aspen groves on endless mountain trails throughout the ski area.
Enjoy a free, scenic walk through one of the area's most beloved destinations, the Betty Ford Alpine Gardens, named for the former First Lady and Vail resident, which are the highest in the United States (8,250 feet).
For an extra-unique fall adventure, stay at the Antlers at Vail Resort, a comfortable condominium hotel in Lionshead Village, and revel in the golden colors of fall during a happy hour with real, live goats! Available through Oct. 1, the hotel will take you to Vail Stables' beautiful beer garden overlooking Vail Mountain, where you can snuggle up to and feed baby goats while sipping on craft beers and delicious wine.
Heather Mundt is a native Coloradan, freelance writer and mom of two teen boys (and two huskies). She is also the author of the new guidebook, Colorado Family Outdoor Adventure (UNM Press, June 2022).
Find More Amazing Fall Foliage Near You!