Knowing where to see the best New Jersey fall foliage can help you take advantage of one of the most spectacular times of the year in the Garden State. The arrival of autumn in the Northeast results in colors galore. But where are the best places to enjoy the hues of the season?
As a Jersey girl, I know where to see some amazing displays of fall foliage in New Jersey. Head out and marvel at the variety you can see.
The Best Places to Enjoy New Jersey Fall Foliage
1. Allamuchy Mountain State Park in Stanhope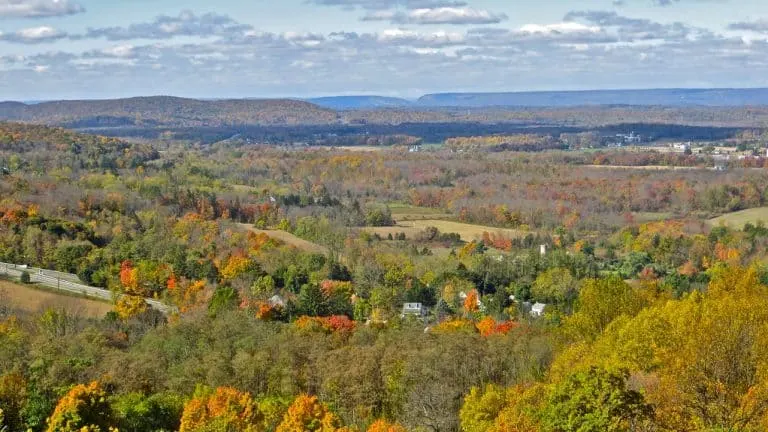 Hike, bike, or even check out colorful fall foliage via horseback at Allamuchy Mountain State Park. The Musconetcong River winds through this scenic 9200 acre park.
Explore the more than 14 miles of marked trails and check out the changing leaves up close and personal. Other trails are not marked but can be great for exploration as well. Choose from distances that range from 1.5 to 9 miles long.
There are seven easy hiking trails here that the whole family can enjoy, as well as other more strenuous routes. Try the Jefferson Lake and Sunset Branch Loop, The Allamuchy Trail Yellow Loop or the Blue to Red Trail Loop, the Sussex Branch Trail, or the Morris Canal Greenway Trail for great easy starters.
Start from Waterloo Rd and explore the colors and textures of this picturesque park. Picnic areas are also available for a great way to round out your visit. Entry to this state park is free.
Explore more of the state! Here are our favorite things to do in New Jersey with kids.
2. High Point State Park in Sussex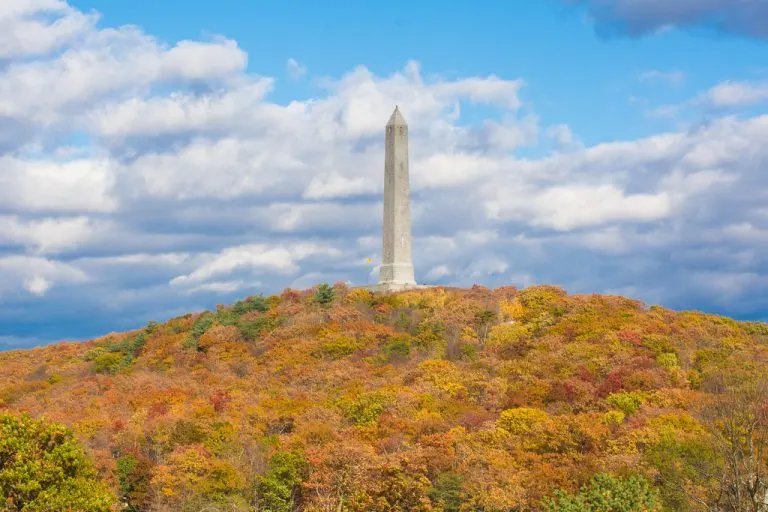 At the top of the Kittatinny Ridge, 1803 feet above sea level, sits High Point, the highest elevation in the state of New Jersey. From the summit, unrivaled 360 degree views of three states and the colorful leaves of their forests can be enjoyed.
The park itself is comprised of over 16,000 acres. Enjoy all kinds of leisure activities from hiking to biking to fishing, swimming, camping, sightseeing, and picnicking in addition to leaf peeping.
The park offers more than 50 miles of hiking trails to help you get out amongst the fall foliage. Multi-use trails are available and vary in length from a half-mile to 4.4 miles.
Check out the Atlantic white cedar swamp on the Cedar Swamp Trail, mountain ridgetops via the Monument Trail or Shawangunk Ridge Trail, as well as dense forests, fields and wetlands. Roughly 18 miles of the Appalachian Trail are included in the park as well, and are for hiking only.
Entry is free and park hours are 8am to 8pm, with monument hours 8:30am to 3:45pm.
3. Stokes State Forest in Branchville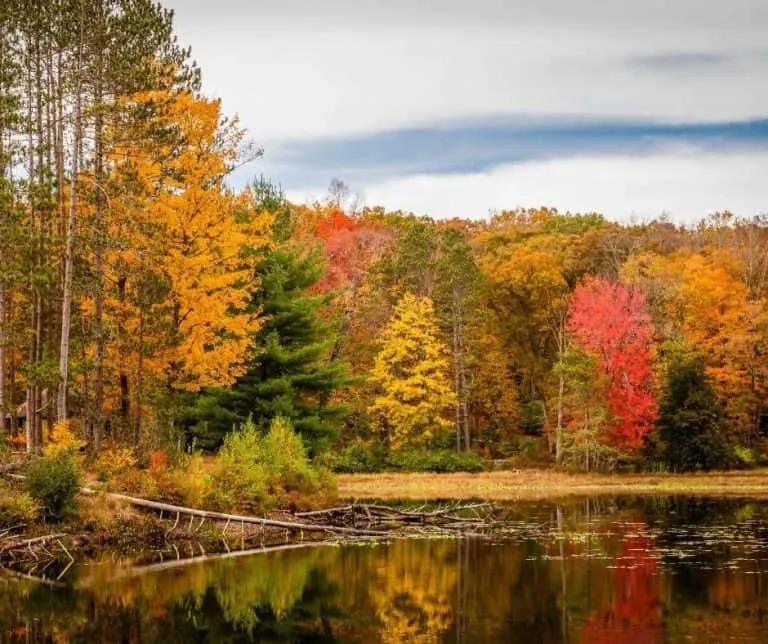 With its plethora of hiking trails and beautiful scenic overlooks, Stokes State Forest is a must-see destination for New Jersey fall foliage.
Forested mountains, clear freshwater streams and Sunrise Mountain's breathtaking, panoramic views allow for great viewing points for leaf watching.
More than 63 miles of trails can be taken to end points such as Sunrise Mountain, the Appalachian Trail, Tillman's Ravine, and Stepping Stones Falls.
Try the Silver Mine Loop or the Stony Brook Trail for some easy hiking. Camping is available here with tent sites, group sites and and trailer sites, some available all year and others April through October. The park is free to access.
4. Allaire State Park in Wall Township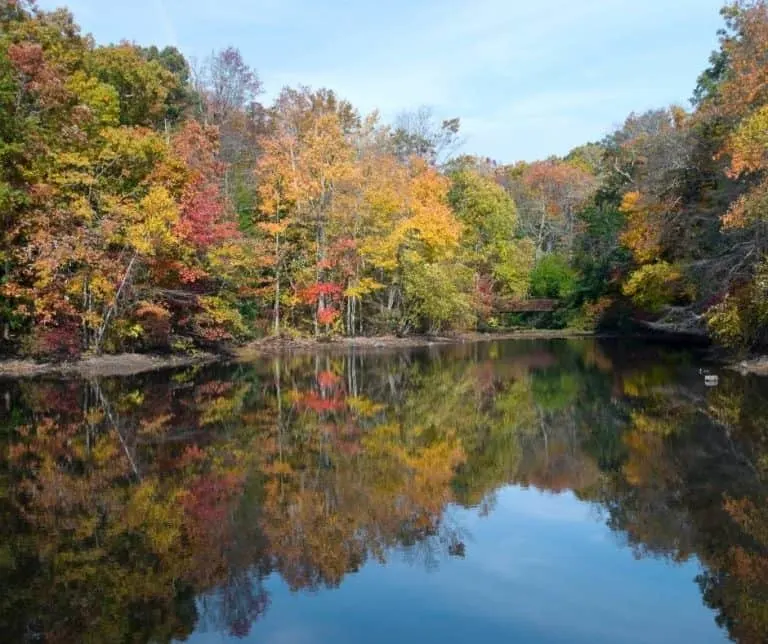 Home to more than 200 species of wildflowers, trees and plants, Allaire State Park is a wonderful place for leaf peeping in NJ.
There are four easy trails in this park that are terrific for the whole family with elevation gains ranging from 29 to 209 feet. Try the Allaire Green (Canal) Trail, the Red Trail, the State Park East Loop Trail or the Edgar Felix Bike Path.
Within the park is also Allaire Village, one of NJ's most popular living history sites, which features 13 buildings from the old Howell Iron Works. It is $7 at the gate, $5 online and children younger than three are free) but it is well worth the price of admission.
5. D&R Canal Trail, New Brunswick to Trenton
Walk (or bike or jog) to your heart's content along the D&R Canal Trail or within the state park that shares its name. Comprised of more than 70 miles of straight, flat trail with additional branches and connections across several counties, the park offers plenty to see and do.
The historic towpath along the canal is a wonderful place to start your journey. The trail officially begins at Baker's Basin Rd in Trenton and continues up to New Brunswick.
Great spots to visit along the way are Bull's Island Recreation Area, Stockton, Lambertville, Frenchtown, and Washington's Crossing. Perfect for all ages, this trail offers a wonderful vantage point to check out changing leaves along your way, and the park is free to visit.
6. Monmouth Battlefield State Park in Manalapan Township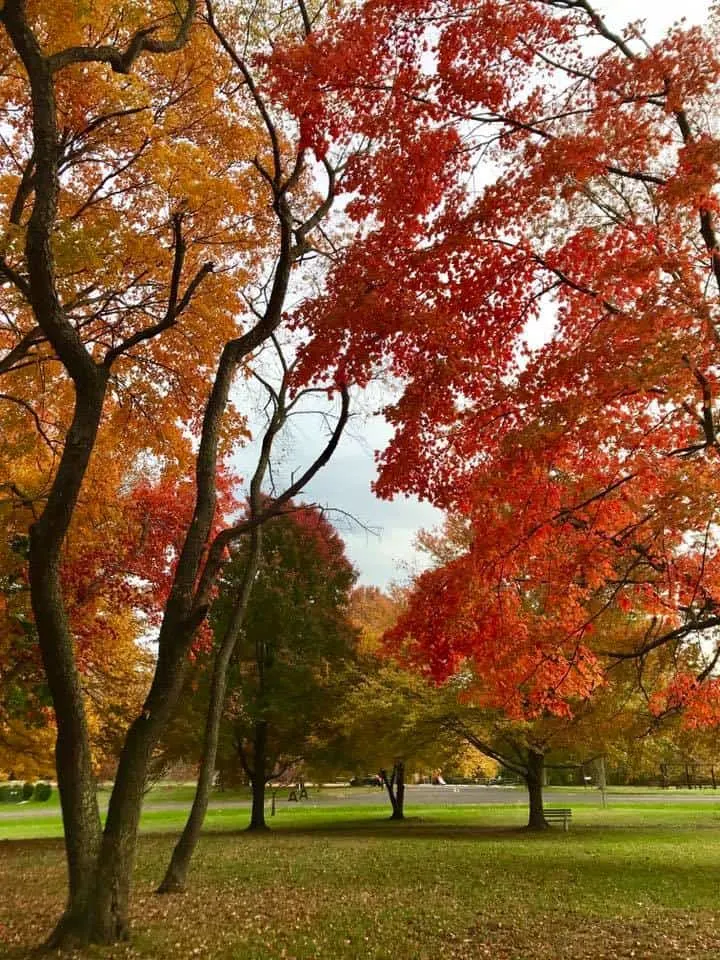 Steeped in history, this park was home to the biggest and longest battles of the American Revolutionary War. Stand in the steps of those who fought for freedom so long ago and walk where they walked.
This hilly park is comprised of 1818 acres in total, and 25 miles of paths, farm roads, and trails that meander through the site, varying in length from a half of a mile to several miles. It's a lovely place to view fall foliage with the whole family.
Try the Monmouth Battlefield Trail, or the Perrine Hill, Suffin Farm and Craig Farm Loop for easy journeys with lots to see along the way. Visit from 8am to 6:30pm with no admission charge.
7. Wharton State Forest in Hammonton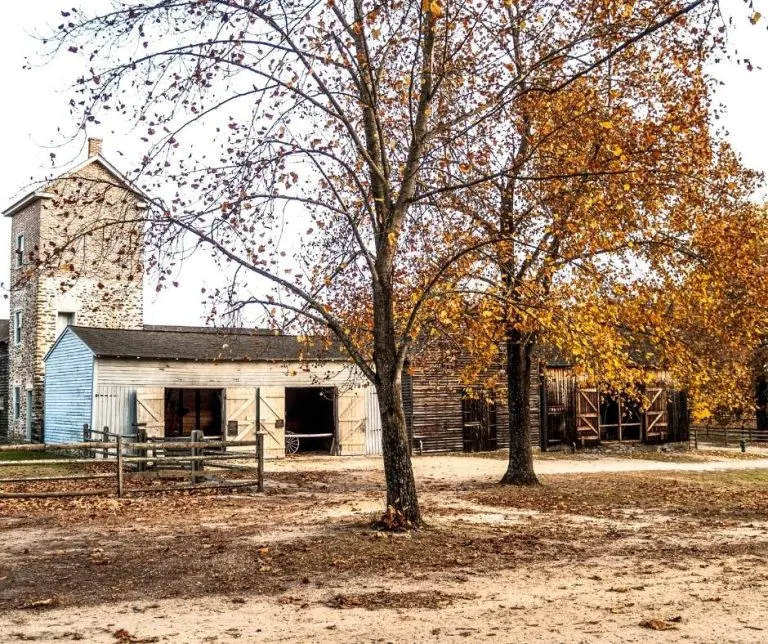 Wharton State Forest has the distinction of being the largest single tract of land within the NJ State Park System. It is also home to Batsto Village, a former bog iron and glassmaking industrial center from 1766 to 1867. The village is open for self-exploration if you'd like to include it on your journey.
Plenty of places to see fall foliage exist here, with 22 great trails to choose from. Try the Batsto Lake Trail, Apple Pie Hill Fire Tower via the Batsto Trail, Harrisville Pond Trail, Tom's Pond (Orange) Trail, or the Mullica River Wilderness Camp Trail for some easy starter walks and see the leaves from your walk. Explore here from 8am to 8pm for free.
8. Parvin State Park in Pittsgrove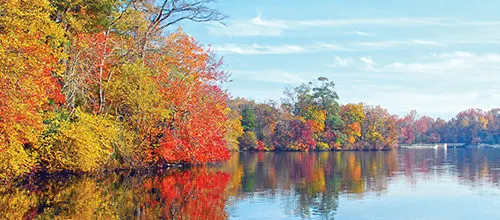 Parvin State Park is situated around Parvin Lake on the edge of the Pine Barrens. It is made up of pine forests, as well as a swamp hardwood forest.
Those looking to take in views of the fall foliage should take the trails around Lake Parvin as well as Lake Thundergust for picturesque sightings of colors galore.
Five scenic trails are available here, perfect for hiking, biking and exploration. Try options like the Parvin Lake Trail (via the Long Trail Loop); Knoll, Loop and Long Trail; Thundergust Lake or the Parvin Lake and Muddy Run Paddle Route. Come here from sunrise to sunset for no charge.
9. Cape May Point State Park in Cape May County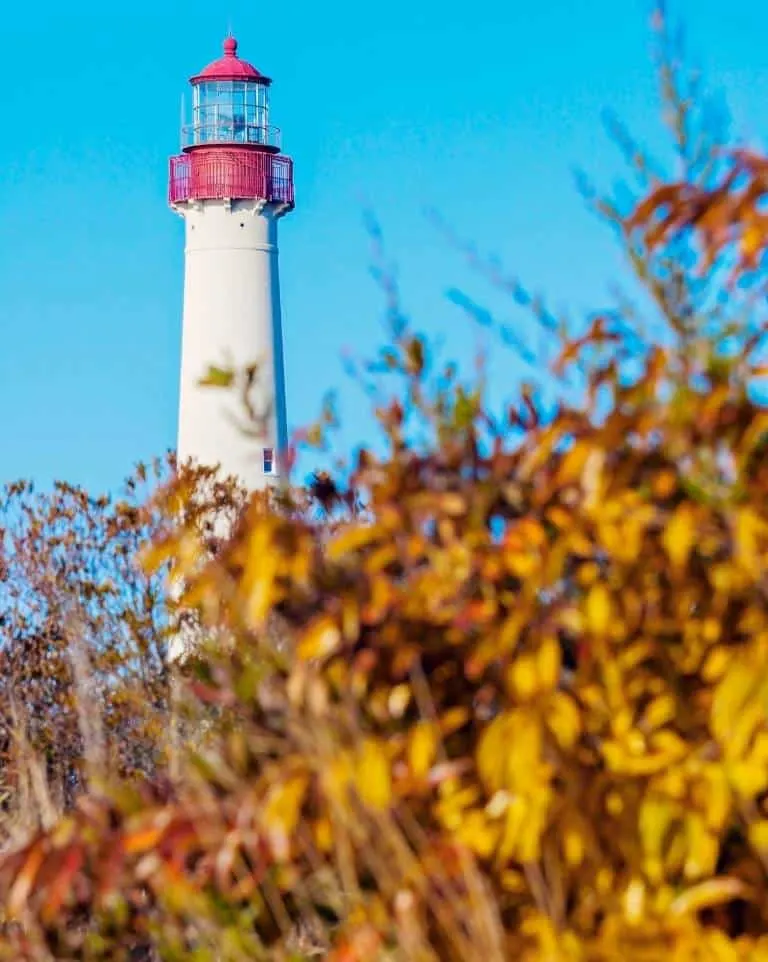 Comprised of 235 acres in southern New Jersey, Cape May Point State Park is scenic and wonderful for fall foliage viewing. You'll love the Cape May Point Trail for an easy, nature-filled outing where leaves of all colors await. At just 1.8 miles long, this trail is an easy and quick way to immerse yourself in nature. The trail is wheelchair and stroller friendly so everyone can join in the fun.
The park is best known for the historic Cape May Lighthouse, a 157-foot navigation guide that is still used today. Feel free to climb to the top of the lighthouse (via 199 steps) and enjoy a spectacular, panoramic view of the picturesque Cape May peninsula with fall foliage galore.
Explore the park from 8am to 4pm at no charge but there is a charge to enter the lighthouse, $12 for adults and $8 for children ages 3-12
Take advantage of these great spots to see Fall foliage in NJ or discover some special locations of your own! Venturing out with the family, creating memories together complete with some stunning scenery, is a perfect Fall activity for all ages.
10. Delaware Water Gap National Recreation Area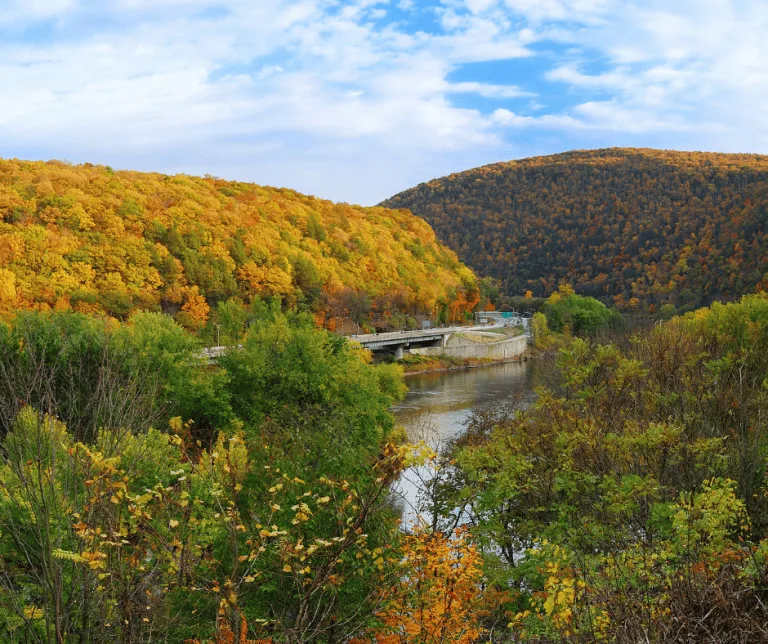 The Delaware Water Gap National Recreation Area, situated along the Delaware River on the border between New Jersey and Pennsylvania, is a fantastic place to enjoy fall foliage. The park's diverse landscape, with its rolling hills, dense forests, and river views, provides numerous opportunities to witness the vibrant colors of autumn.
Old Mine Road runs through the park and offers a scenic drive with plenty of opportunities to pull over and take in the fall colors. The northern section of Old Mine Road, between Millbrook Village and the Kittatinny Point Visitor Center, is particularly picturesque.
Millbrook Village is a living history village within the park is a great place to immerse yourself in the past while enjoying autumn. You may also choose to paddle the Delaware River by canoes or kayak to enjoy the reflection of the changing rees on the water.
If you are looking to hike, try the Mount Tammany Trail at the southern end of the park or the trails to Buttermilk Falls and Dingman Falls. It is alsway nice to enjoy the beauty of a waterfall amplified by the colors of changing trees.
11. The Great Swamp National Wildlife Refuge in Basking Ridge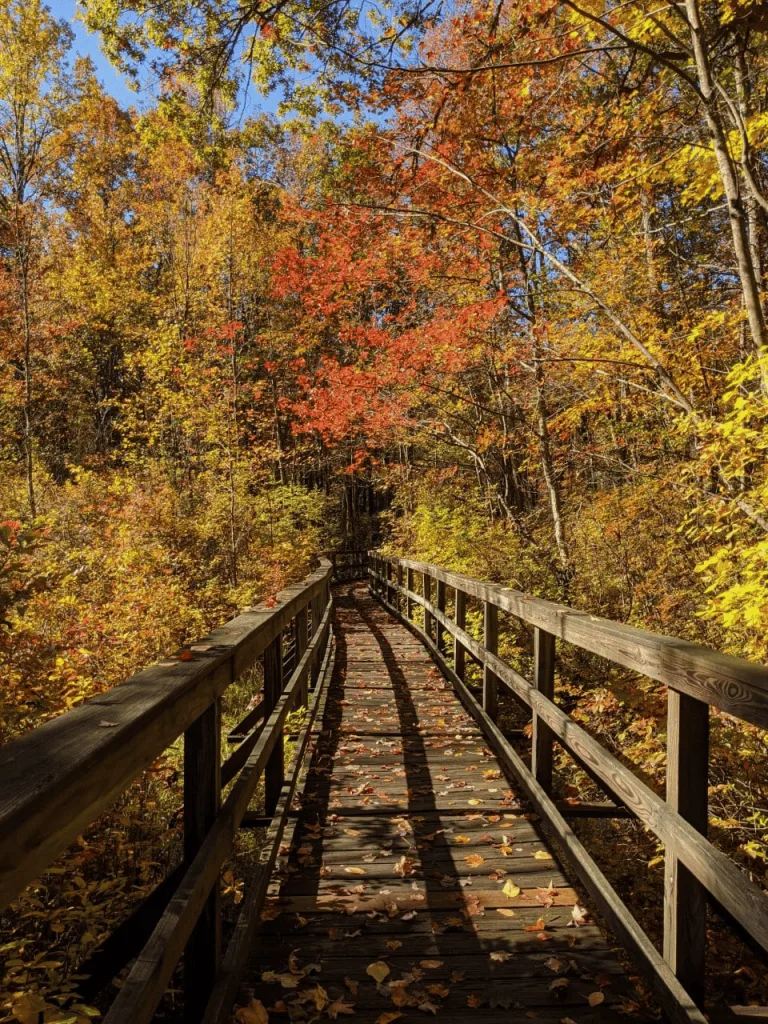 Just a short drive from New York City in Morris County New Jersey, The Great Swamp National Wildlife Refuge is a nice place to experience fall foliage in a serene and natural setting. This refuge is known for its diverse ecosystems, including wetlands, meadows, and hardwood forests, as well as abundant wildlife.
The refuge offers several hiking trails that wind through its various habitats. Some of the popular trails for enjoying fall color include the Great Swamp Walk, the Pleasant Plains Road Trail, and the Wildlife Observation Center Trail. These trails provide opportunities to immerse yourself in the autumn while spotting wildlife including migratory birds, waterfowl, and white-tailed deer.
12. Sourland Mountain Preserve in Hillsborough Township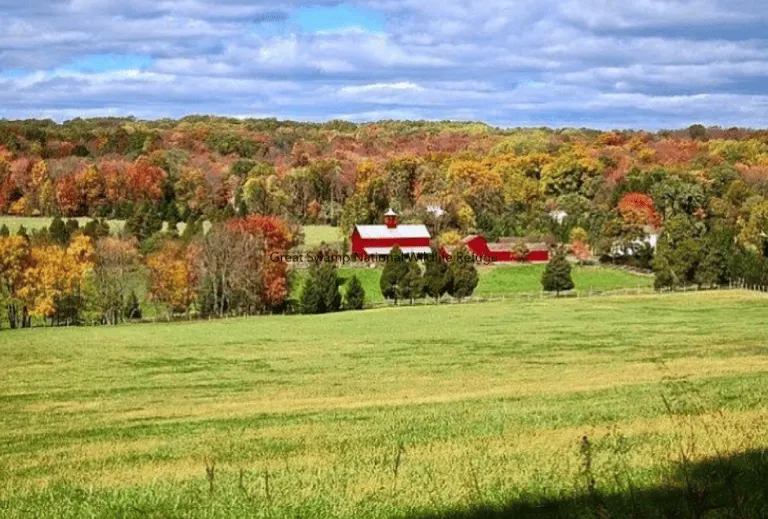 Sourland Mountain Preserve, located in central New Jersey, is a 3,000-acre preserve offers hiking trails, scenic overlooks, and diverse woodlands that come alive with vibrant colors during the autumn season.
It features several hiking trails of varying lengths and difficulties. Some popular trails for enjoying fall foliage include the Ridge Trail, Maple Flats Trail, and Roaring Brook Trail. Sourland Mountain Preserve also has designated mountain biking trails.
The preserve has several scenic overlooks including Devil's Half Acre and Roaring Brook, are excellent spots to capture the fall colors with your camera.
Find More Fall Foliage Near You!