Summer is a whirlwind of splashing and sunshine, baseball games and carnivals. Suddenly, it's sweater weather and the mornings are crisp. In northern Minnesota, the beautiful, fleeting fall flourishes with one last splash of color in September and October, and Duluth fall colors put on a dazzling display like clockwork.
The season is fleeting, lasting from mid-September until mid-to-late October, with the northern and western tiers of the state changing faster than the southern Minneapolis-St. Paul metro area.
Once you've decided you're going to the dramatic duo of Lake Superior + fall color and settle on Duluth as a base of operations, here is all you need to know about the best ways to find fall color around Duluth!
When will the leaves start to change color? When will they hit their peak? Where is the best place to go to see them near Duluth? If you want to experience the fall color extravaganza around Duluth, these time-honored fall color adventures are perfect.
Explore more of the state. Here some of the best places to enjoy Minnesota fall colors.
Where to Enjoy Duluth Fall Colors in 2023
A great resource for gauging fall color in Duluth and further, which is regularly updated during autumn in Minnesota, is the MN Department of Natural Resources Fall Color Finder to better plan your Duluth fall color touring. The season is a little early this year, so anytime from now until mid-October you should be treated to a smorgasbord of colors. Duluth is such a vibrant city – in all the seasons but especially in the fall with the colors alight on the hills.
Enger Tower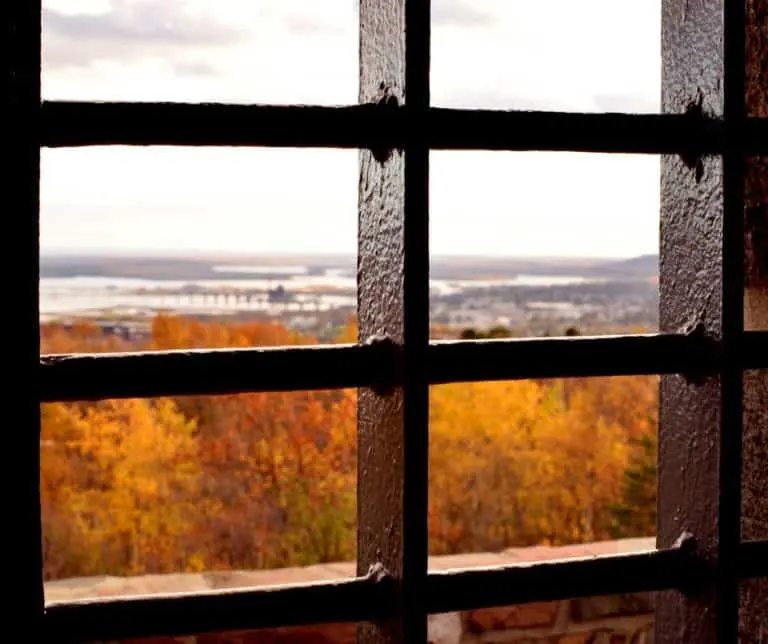 This impressive architectural icon on the hill, Enger Tower overlooks the city and is lovely no matter the season. The sea of vibrant color with lake framing the view will leave you agape.
The area has lots of paved parking, it's a free stop, and sometimes has coffee or food truck options at the parking area. You will have to climb a few flights of old stone stairs to the top of the tower. While there is no accessible option to the top, the tower itself is on a bit of an incline and offers views from the base as well. While it's always a lovely panorama, fall at Enger Tower is unbeatable.
This spot is great in the summertime as well, since it's well-manicured with lots of flowers and ornamentals adorning the paved pathways. The tower itself feels a bit like someplace Rapunzel would live – it's NOT the white-knuckle experience of a narrow fire tower. All the steps are stone and it's an enclosed climb.
1605 Enger Tower Dr, Duluth
Hawk Ridge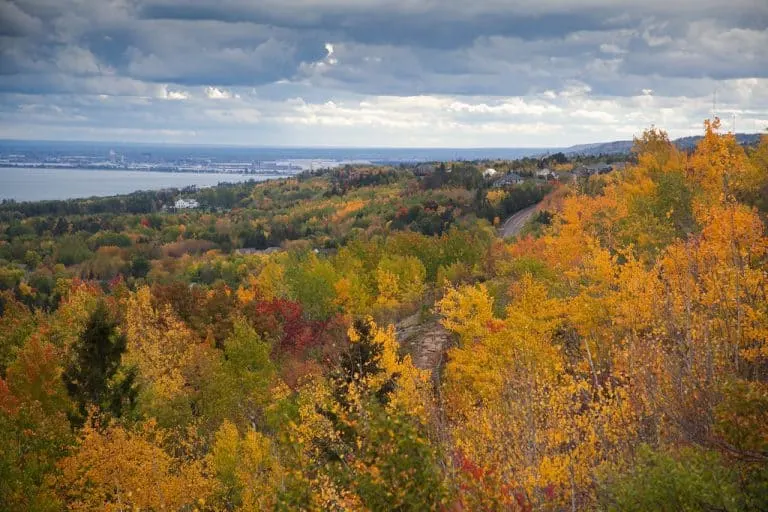 This is about the colors and the trees, we know, but in addition to the gold and crimson vista, birds by the hundreds fly by this cliffside park in the autumn. Birds start migrating past Hawk Ridge mid-August through November, and generally peaks like the leaf color sometime in the last few weeks of September.
During the busy fall season, naturalists and special programs are available on certain dates. A portable toilet is available during the peak fall season. So, if you want to see a diverse array of birds as a bonus to the sweeping views from Hawk Ridge, put this on the top of your list! Donations are accepted and some events, like tours, have fees.
The spot has recorded some really interesting species, including several dozen golden eagles, which are rare to see in northern Minnesota. Other migratory species fly through by the hundreds and thousands in the fall.
Remember to pack your binoculars and dress for a stiff breeze! This is sort of the avian equivalent of a meteor shower – rare sightings, big numbers, and an awe-inspiring afternoon no matter what! In the fall, a festival weekend is also held on-site with lots of naturalist talks and even field trips to other really popular birding sites in northern Minnesota. This is about the leaves, but it's perfectly paired timing to also be about so many birds, if that's your thing!
E Skyline Pkwy, Duluth
Glensheen Mansion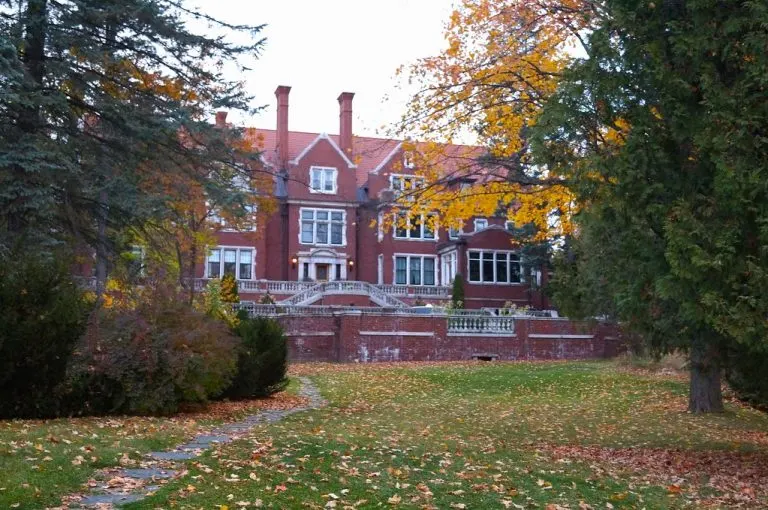 If you've taken the fall color tours or are just not interested in spending the last days of temperate weather in a car, consider a tour of the historic Congdon Estate, the Glensheen Mansion. The grounds are a beautiful spot to get to explore 12 acres of shores of Lake Superior and the mansion is at its finest during the transition to autumn.
There are several tours – including one which only explores the grounds outside the mansion. It is perfect for leaf peeping and fall breezes, and includes an app with history and trivia of the site.
Pairing the pristinely-manicured grounds and gardens with fountains and period architecture is the perfect way to make your fall color adventure a little different! The tour with access to the carriage house and some of the lesser visited areas of the estate feel like you're inside a Nancy Drew mystery or a guest of Gatsby.
While you cannot stay at Glensheen mansion, there are several nearby mansions and boutique hotels which have similarly styled period architecture to rent a room. Or, try one of hundreds of vacation rentals in the area on VRBO.
3300 London Rd, Duluth
Spirit Mountain Recreation Area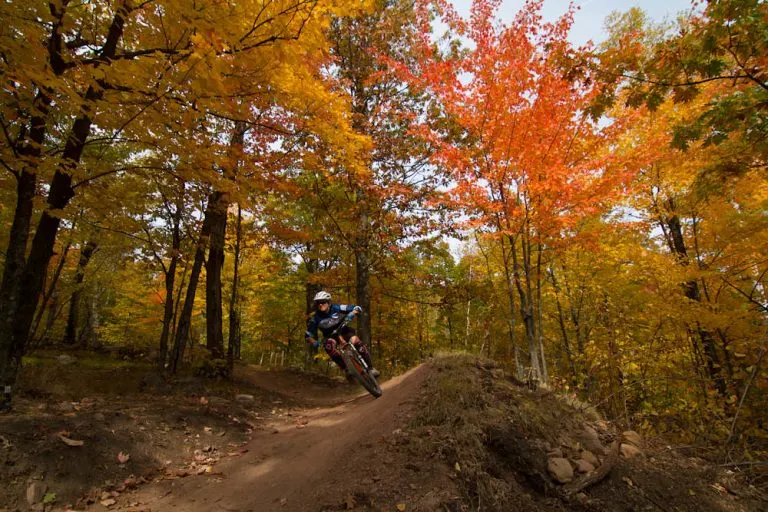 Many in northern Minnesota know Spirit Mountain as a ski hill and terrain park for mountain biking, but there's an entire adventure park which is a thrilling way to zip in and out of the aspen, oaks, and maples when they are alight with color.
Options for modes of moving across the landscape include taking a scenic chairlift ride (perfect for slow observation), a seated zip line, or, the exciting alpine coaster. Spending the day on the side of the mountain serves double duty – family fun and fall color from a different perspective!
Admission rates apply, make sure to check the weather as some attractions close for safety reasons during inclement weather. To save some money, book a package and ride the alpine coaster all day. Mini golf is also on the menu!
We were excited that the whole family could enjoy a fall color day! The chair lift always terrifies me, the alpine coaster wins the favor of the entire family, and the bounce pillow delights the littlest. This site is very weather dependent, so if it looks like rain, opt for another day.
There are not a great plenty of hotel options near Spirit Mountain, but it's only about a 10 minute drive from downtown Duluth. However, if you want gorgeous views and direct access to the mountain, the Mountain Villas are partner lodging on-site at Spirit Mountain. These rentals fill up quickly, book far in advance.
9500 Spirit Mountain Pl
Superior National Forest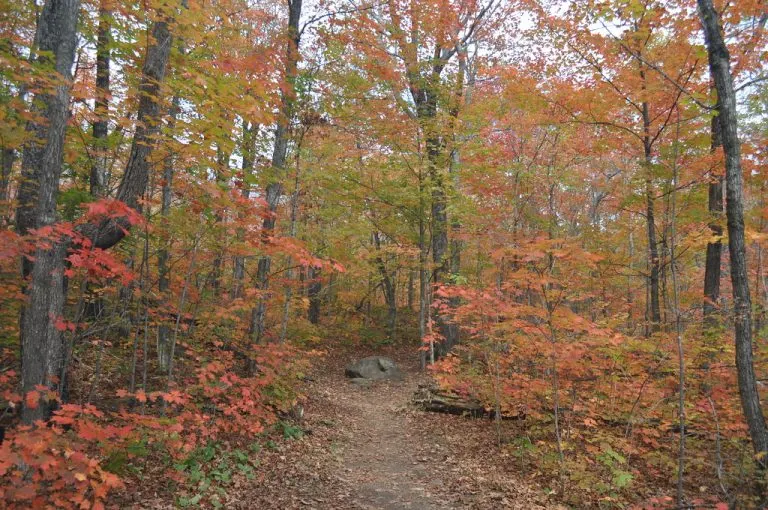 The Superior National Forest Supervisor's Office is located just off of Grand Avenue.
Stopping at the Supervisor's Office is a great place to access information about the vast forest and wilderness with millions of acres of reds, golds, and oranges to explore. They have maps and firsthand knowledge to share some of the best day trips, scenic overlooks, and not-to-be-missed roadside adventures in the forest.
This is all an easy day-trip from Duluth, but the forest spans most of Minnesota's expansive "Arrowhead region" so it could lead to a long weekend getaway pretty easily!
Just down the road from the Superior National Forest office is the Lake Superior Zoo. If you love zoological parks or you have young children, the zoo has fabulous fall colors and a lot of fun fall-themed activities leading up to Boo at the Zoo in the spooky season!) If you do visit the zoo, we highly recommend booking an "extra" experience – we "painted with monkeys" and it was such a hoot to learn about them through an enrichment activity that was just our family.
The small setting makes it super accessible and they really have lovely groundskeeping in the autumn with colors popping and some photo displays as you get closer to Halloween.
8901 Grand Ave Pl, Duluth
While you're in the West Duluth neighborhood, make sure to check out the newest restaurant in Duluth that is super hot right now – Burger Paradox! The place opened in mid-summer and has been packed consistently. The combination of an artsy atmosphere with specialty drinks and juicy craft burgers makes it a win for fueling fall color adventures!
Skyline Parkway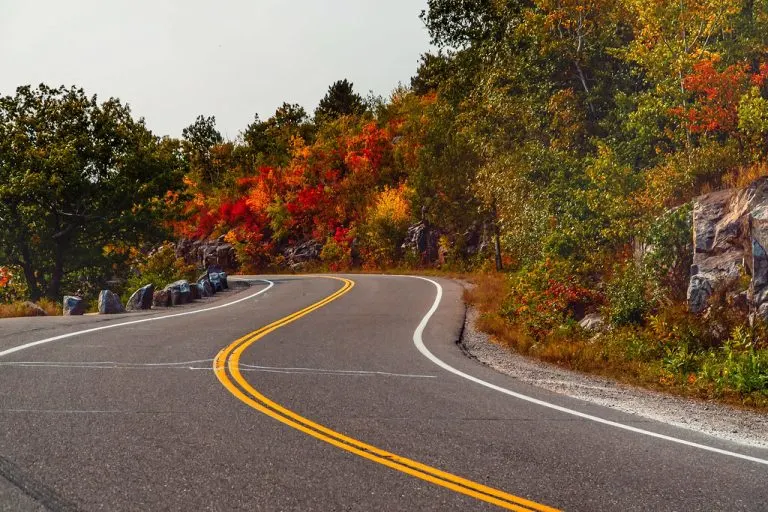 Duluth has a robust city park system and Skyline Parkway is a great way to see the city, end-to-end. With about 25 miles of a driving tour, you'll be able to see many different points of interest, all surrounded by the hardwoods and colors of Minnesota's northwoods.
There are about a dozen overlooks and parks and streams to enjoy on the drive. Take an entire sunny autumn afternoon to really soak it in on this drive. Much of this route actually takes you past other individual parts of fall color hotspots mentioned in this article, so if time is short or you just want a bit of everything, this drive is probably the way to go!
Jay Cooke State Park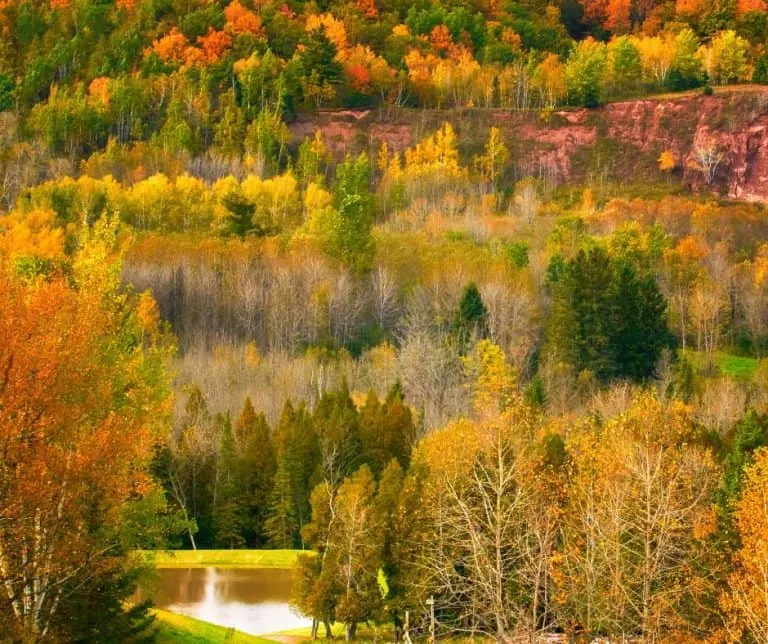 A short trip from Duluth to the West you'll encounter a teeny town of Carlton. This tiny gateway town has a really rugged, dramatic natural wonder in its backyard, and it's stunning in the fall: Jay Cooke State Park.
The old River Inn Visitor Center, built by the Civilian Conservation Corps and one of the largest CCC constructed historic buildings in Minnesota, is lovely on its own. Behind it, you'll find the iconic swinging bridge stretched elegantly across the St. Louis River.
On the other side, many primitive paths lead you to the water's edge and into the forest, for further exploration. The rocky shoreline and swaying bridge add interesting focal points with the leaf color behind for photos. Minnesota State Park admission fees apply.
This was a favorite stop with my two sons who loved the rugged atmosphere of the small, tucked away park. Reminiscent of the Black Canyon of the Gunnison and the Black Hills, this mini version is an epic oasis of exploration to let the family roam without much programming needed. The landscape lends itself to adventure and the colors really pop against the ubiquitous dark gray rocks.
The state park hosts the Agate Cabin and Basalt Cabin as well as a full State Park campground for lodging options within the park. Other fun spots and short hikes include a Pioneer Cemetery and Oldenburg shelter and overlook.
780 MN-210, Carlton
North Shore Scenic Railroad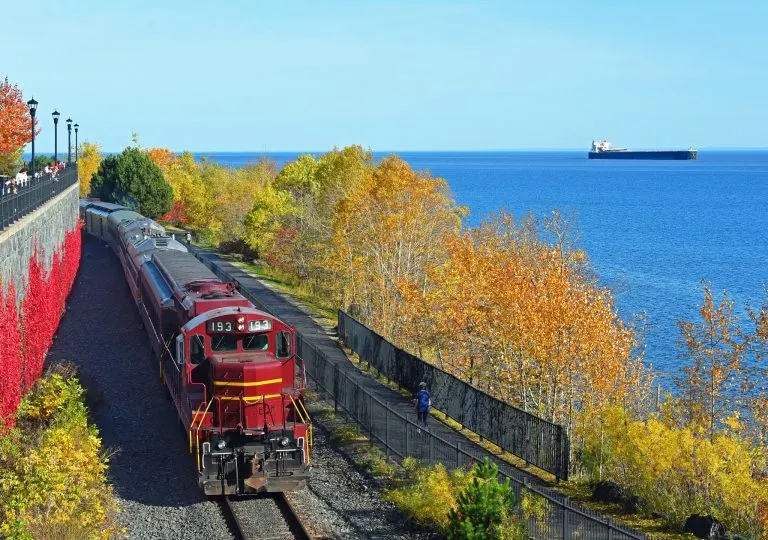 The North Shore Scenic Railroad has so many excursions to try by rail! Elegant dinner events, family pizza party trains, and tours are available throughout the year. Come September, book your ticket to chug along and see the fall colors or a fun and family-friendly Great Pumpkin tour!
The fall color tour is a six-hour full day up the Minnesota's North Shore from Duluth with a two-hour stop for lunch in Two Harbors. It is perfect for a day seeing the sights from the comfort of a first class train ride. All of the rides will probably have some amount of fall color associated, but be sure to grab your seat on the special seasonal train trip before fall colors fade away!
All the downtown Duluth hotels are perfectly positioned near the rail station. However, South Pier Inn and Pier B Resort are two favorites!
506 W Michigan St, Duluth
Vista Fleet Cruise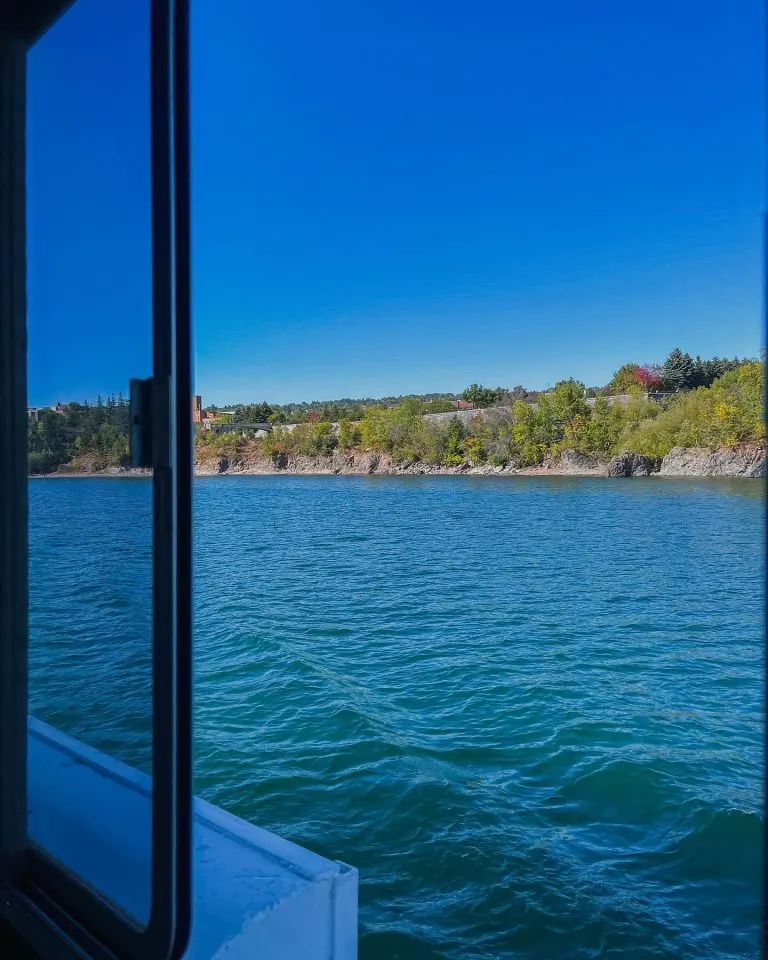 In the autumn months, the Vista Fleet offers three special cruises which include food and beverage as well as brilliant fall colors. The breakfast and lunch cruises explore the St Louis River system with its rich tapestry of shoreline colors. The breakfast and lunch tours are new additions to the line-up of scenic cruises with catered meals to explore the Duluth fall colors from the water!
Coffee and Colors Sunrise cruise (90 minutes)
Lunch and Leaves (2 hours)
Harvest Dinner (2 hours)
The food on the breakfast and lunch tour is catered family style with open general seating. It's a much more casual dining experience compared to the dinner cruise which does sell seating by table. The menus are fall-inspired and there's a kid's menu for those under 12.
I remember doing a Lake Superior cruise with my parents long ago and I still have memories of gulls following the boat and so many interesting views from aboard.
Vista Cruise has two boats – the Queen and the Star which differ in size. Make sure to book tickets in advance, as they often sell out. The booking calendar is really helpful, showing the numbers of seats remaining so you can plan for your group. Bon voyage!
*Parking is available at the DECC parking lot near the Duluth 10 Theater, as well as the lot across the Minnesota Slip Bridge near Grandma's Sports Garden.
Helicopter Tour of Duluth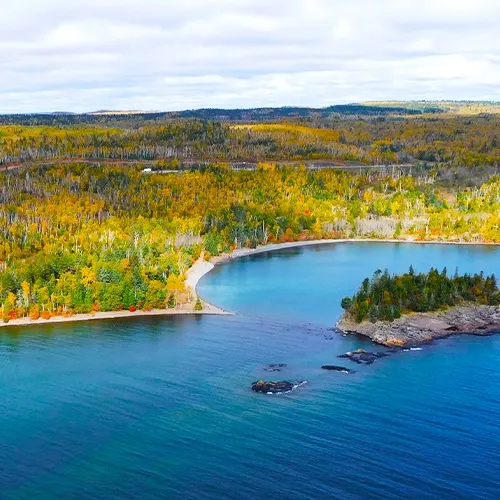 Lake Superior Helicopters is a perfect way to see the entire Greater Duluth area from high in the skies. There are several different routes which can be flown over the Duluth area, starting at $109 for a 15-minute flight.
While I haven't done a tour over Duluth, I did a short introductory flight once in the Black Hills with my kids and it was thrilling for us all. Having traveled by helicopter regularly for work (nothing glamorous–fighting fire, not arriving like the President) Riding in a helicopter offers unparalleled in the views in comparison to a traditional airplane flight.
4525 Airport Approach Rd Duluth, MN 55811
North Shore of Lake Superior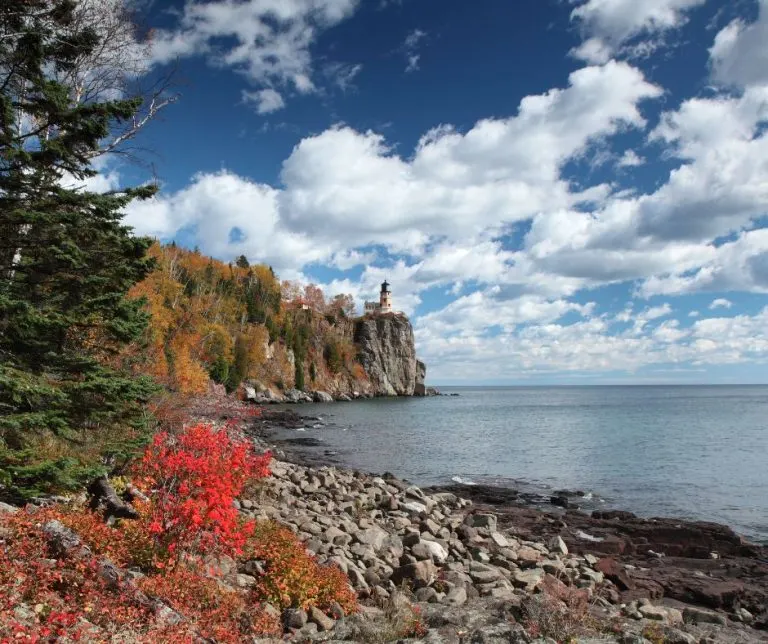 Along the North Shore of Lake Superior are many parks and sight-seeing destinations, with a variety of places to stay. Take a trip to Duluth, Two Harbors, or Grand Marais. Head to Split Rock Lighthouse, plan to conquer stairs at Gooseberry Falls State Park, or drive through the Superior National Forest. Fall colors peak mid-September to early October.
It really depends on how long you'd like to adventure about – Highway 61 travels along Lake Superior and extends all the way to the Canadian border. So, there's no shortage of red maples, golden aspens, and oranges of the species in between. The boreal forest has a mix of hardwoods and evergreens, so it is lovely the entire season!
The shortest day trip would be to spend the afternoon in Two Harbors, an easy 30 minute drive along Old Highway 61. You can take the newer, faster route, but the old highway is much more scenic! We love the New Scenic Cafe for a bit of a foodie stop and Betty's Pies cannot be beat!
If you go the entire distance, you'll be rewarded with waterfalls, a National Monument and a State Park at Grand Portage. In between the two, Grand Marais, a recently recognized small town which is an art colony and a spot I recommend staying for an entire weekend.
My Sister's Place and Sven and Ole's Pizza are places I never pass up when I make the pilgrimage all the way to Grand Marais. In between Duluth and Grand Portage, you could stop at EIGHT state parks along the way! To say this can be more than just a day trip is pretty clear.
I could go on for hours about the North Shore. It has several books dedicated to secret beaches and best places to hike, and even a very robust Facebook group of enthusiasts.
I do have to recommend some of the unique lodging while on your journey – two spots, both near Two Harbors allow you to experience a train railcar and life as a lighthouse keeper, respectively. Keep in mind, it's about the experience, they aren't five-star J.W. Marriott caliber, but they are nestled amongst the fall colors and are a fun way to plan an overnight stay.
The Lakewalk and Canal Park District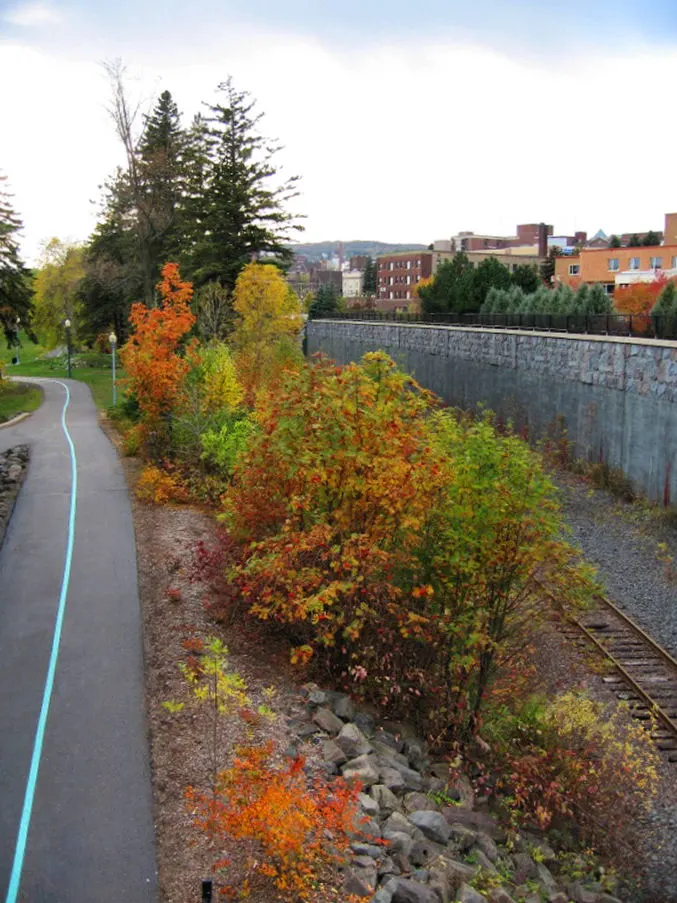 One of the most popular and deservedly so, places in Duluth is the Lakewalk. For about eight miles you can hug the shoreline of Lake Superior and access parts of the bonafide sidewalk from different spots in the city.
The trail welcomes all–it's paved or boardwalk the whole way- and sees a lot of bicycle traffic. The Lakewalk can really punctuate your day. It's a pretty low intensity landscape to walk, paved, relatively flat with just a few small hills.
Since the City of Duluth employs an arborist, you know the trees look great all along the walk and in the city parks. The Lakewalk actually takes you right to Leif Erikson Park and the Duluth Rose Garden.
While the 3,000 roses bloom earlier in the season than the fall colors burst, the 4.5-acre park features stone benches and arches and fountains and is pretty in the fall as well. This walk is dog friendly and accessible. Starting the walk in Canal Park, in the fall you'll find the summer crowds have scattered and in their wake the shoreline stretches out, painted with yellow, orange, and red.
You'll also walk past some of the premier lodging and dining options in Duluth. Some of the best spots I love include Canal Park Brewing Company and Fitger's Inn.
Superior Hiking Trail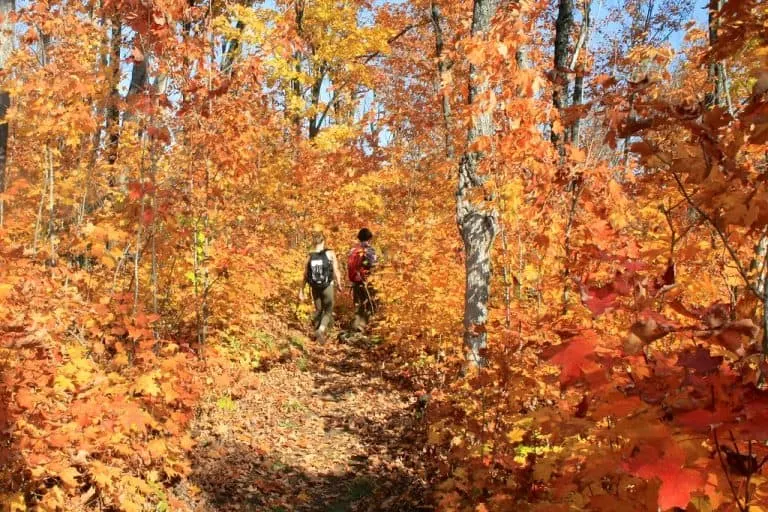 Between Duluth and Two Harbors, there exists eight sections of the Superior Hiking Trail, totalling just over 50 miles of trail to hike and enjoy autumn. There are a lot of spur trails and smaller offshoots which are manageable for shorter duration hikes, as well.
Along the Superior Hiking Trail in Duluth, Brewer Ridge is a spot which offers great views with the city in the background. Another shorter section near Duluth is from the Magney-Snively Park and Natural Area parking lot off Skyline Parkway, it's 3.8 miles out-and-back to a spot called Bardon's Peak and 6.8 miles out-and-back to the popular and well-known Ely's Peak.
The Martin Road trailhead is a close-to-the-city spot to access the Superior Hiking Trail from Duluth proper. This is an almost 7-mile section of the trail, relatively flat, with mixed varieties of trees and lowland areas, providing all sorts of colorful leafscapes to enjoy outside the car. Since this is a long, through hike trail, it's best to research each section and the accessibility information and safety of each section.
Many sections of the Superior Hiking Trail offer gorgeous views of the forest and lake that you just don't see from the road. Make sure to plan accordingly – this through trail may require logistical support or planning. Even just finding the section of trail for you will require some significant research, but if you want to get your boots on the trail to see the golden waves of color in the hills outside Duluth, the Superior Hiking Trail is a superior option!
Beaches with Duluth Fall Colors
If you haven't caught on yet, Lake Superior reigns supreme in these parts and we all adore her. Even though we're talking leaf peeping in northern Minnesota, we like a beach day as much as anyone else! In fact, some of the best beach days we've had have been in Duluth in the autumn!
There are miles of sandy beach (and rocky beaches too) and depending on what you want, you can have it all without traveling more than a few minutes in either direction from the downtown area of Duluth in search of fall colors.
Brighton Beach Kitchi Gammi just received a facelift and was under construction most of the summer. There is parking and more of the rocky beach experience at this spot on the east side of Duluth, traveling London Road and Highway 61. The park is accessible right now via the Lakewalk only until the surface construction is completed.
Brighton Beach Rd, Duluth, MN 55804
The Park Point to Minnesota Point beaches are the sandy expanses of summer beach days. In the fall, the dunes are often a little breezy and chilly, with broody gray skies above Lake Superior and golden colors of shoreline trees and short grasses. The beach dunes are actually really neat ecosystems and are really beautiful if you're searching for autumn golds and yellows.
There are volleyball nets, a picnic pavilion, parking, and all the amenities for a beach day available at Park Point.
While the beach isn't FULL of color where you are located, you get wonderful views across the harbor of the eastern side of the city where you'll see more of the orange and red on the hillsides. It's also such a vibe of its own, experiencing the beach in the fall that it's worth a quick stop just to walk the sandy shore of the great lake and appreciate the view! Maybe you'll even see a ship coming in, since it's still a very active shipping lane.
45th Street & Minnesota Avenue, Duluth, MN
Find More Fall Foliage Near You!