The bucolic Napa Valley is a setting many travelers associate with wine tasting, Michelin Star restaurants, couples getaways, girls' weekends, and destination weddings but, did you know there are also many fun things to do in Napa with kids?
There are places in the Napa Valley that connect families to learning experiences covering agriculture, the environment, geology, and history. The best part is that your kids will be having so much fun that they won't even realize they're doing something educational!
Get ready for an unexpected and mostly outdoorsy adventure in the Napa Valley with kids!
Ready to explore more of the area? Here are the 25 best things to do in Northern California with kids.
Fun Things to do in the Napa with Kids
1. Visit Napa's Kid-Friendly Wineries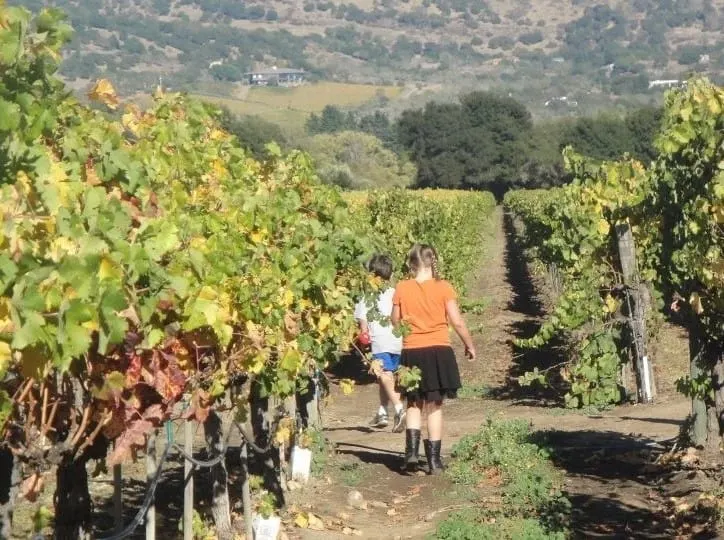 A stroll along the leafy paths of a Napa Valley vineyard with a gleaming glass of Chardonnay or a robust Cabernet in the grasp of your hand and your beloved by your side taking in the crisp air—it's a nice mental picture isn't it?
Think this ideal afternoon is impossible with kids in tow? Think again! Many families are finding kid-friendly wineries are quite prevalent in the Napa Valley. Yes, you read that correctly—KID-FRIENDLY wineries!
From juice boxes and coloring books to free run of outdoor areas, parents and kids are enjoying the perks of the kid-friendly winery.
It's not unusual to find children taking in the valley views from the tram ride at St. Helena's Sterling Vineyards for example. The experience is free for kids under 3 years old. In the tasting room, kids are given coloring books, crayons, and grape juice to enjoy while their parents partake in a wine tasting.
At Frog's Leap Winery, kids are encouraged to explore the barn, vegetable, and fruit gardens. A tour of the Tuscan-style castle that is home to the Castello de Amorosa Winery brings out the inner knight and princess in many tikes.
2. Go Kayaking on the Napa River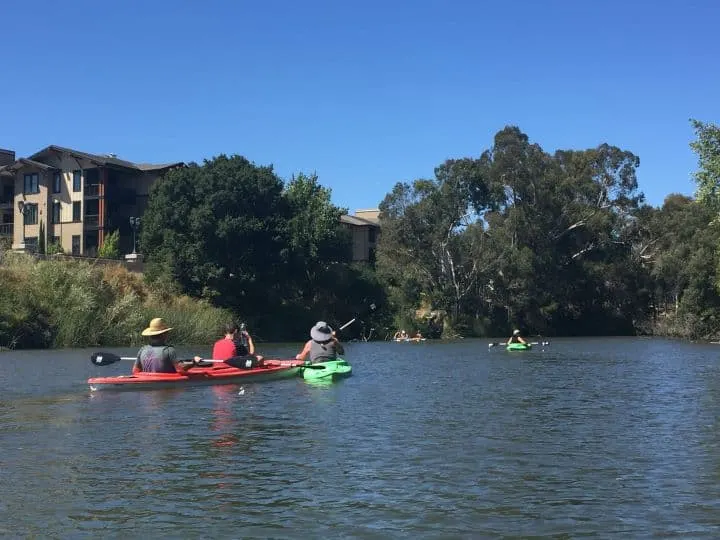 Kayaking on the Napa River is not only one of the fun things to do in Napa with kids, it is one of the most peaceful. Many parts of the river have a very rural, small-town feel to them. You will likely encounter youngsters fishing. You will definitely also get a fresh perspective of Napa itself.
Located at the Marina just below the Napa Riverfront Promenade in downtown Napa, Enjoy Napa Valley not only offers kayaks, stand-up paddleboards, and bikes for rent, they serve up a few ways to experience the river.
On a history tour, you'll get a bit of local lore and learn about the first settlers in the valley as well as how its famed wineries came to be. Tours usually last from 90 minutes to two hours.
You can also simply explore the river on your own if you choose. My family set off on a two-hour row that took us up past the CIA at Copia.
Feeling or fancy or just not wanting to row your own boat? Gondola cruises are also an option.
3. Hop Aboard the Wine Train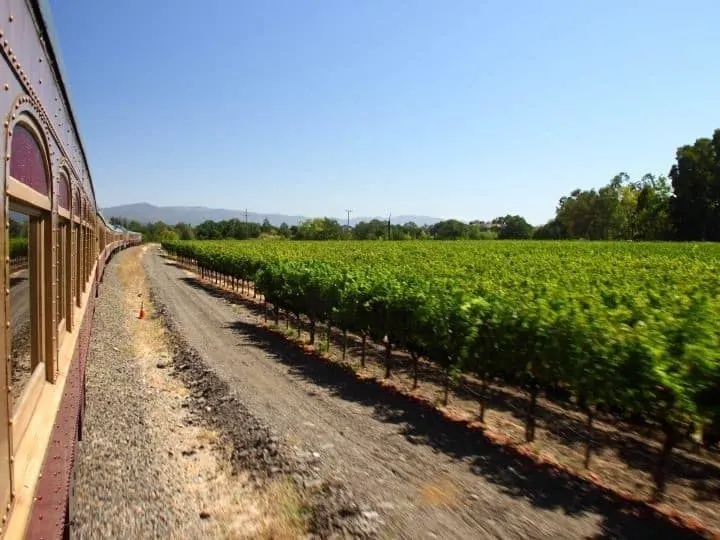 The vintage railcars of the Napa Valley Wine Train are one of those things to do in Napa with kids that will have you believing time travel is possible. Train travel elicits such a nostalgic feeling of a bygone era, doesn't it?
On top of that kids are OBSESSED with trains! The Silverado car is great for a family lunch. The most casual car on the train, its open-air windows offer a panoramic view of the passing scenery as the train travels through the valley.
Now celebrating 30 years of service, the Napa Valley WIne Train is a fully-operational, antique train powered by two modified 1950s-era engines that run on an eco-friendly combination of natural gas and diesel fuel.
The locomotives pull vintage cars that have been refurbished to their original glory, including lush details like polished brass accents, mahogany paneling, and etched glass partitions.
During the winter holiday season, the train transforms into the Santa Train, welcoming young riders to enjoy games, singing, and live entertainment while en route to the "North Pole." The journey is complete with hot cocoa, freshly-baked cookies, and, of course, Santa himself makes an appearance.
4. Bike the Napa Vine Trail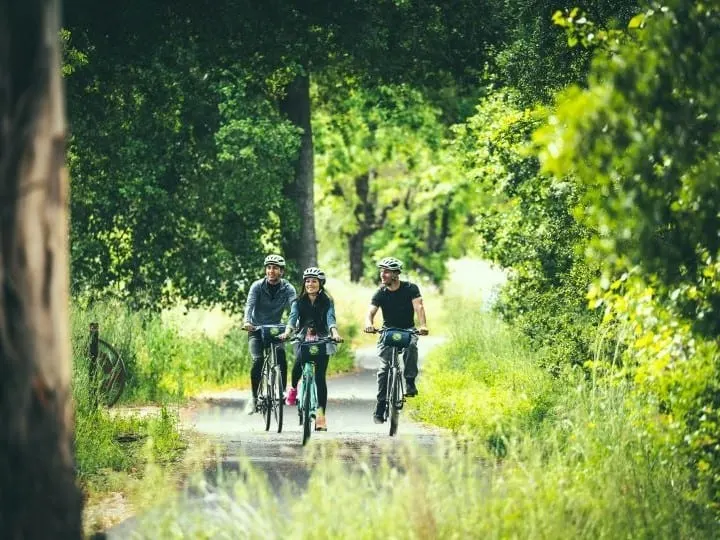 One of the most scenic things to do in Napa with kids is experience its rolling green hills and gorgeous scenery via bicycle. One of the best places to do that with kids is along the Napa Valley Vine Trail.
The aim of this cycling/walking system is to eventually connect the entire Napa Valley, stretching from the ferry terminal in Vallejo all the way to Calistoga. Presently, the trail goes from Kennedy Park in south Napa to the north end of Yountville, approximately 15 miles.
More than 300 newly planted trees will eventually shade trail users. Along the ride, interpretive signs highlight special areas of interest. There are shelters for rest stops with bike racks and bike work stations, maps, and other information. And for those who like to track their progress, there are mileage markers.
There's no need to tote your bikes up with you! Napa Valley Bike Tours has shops in Yountville (6500 Washington Street) and downtown Napa (950 Pearl Street). They charge a $10 relocation fee for one-way trips, and also have electric bikes for rent.
5. Visit Bale Grist Mill State Historic Park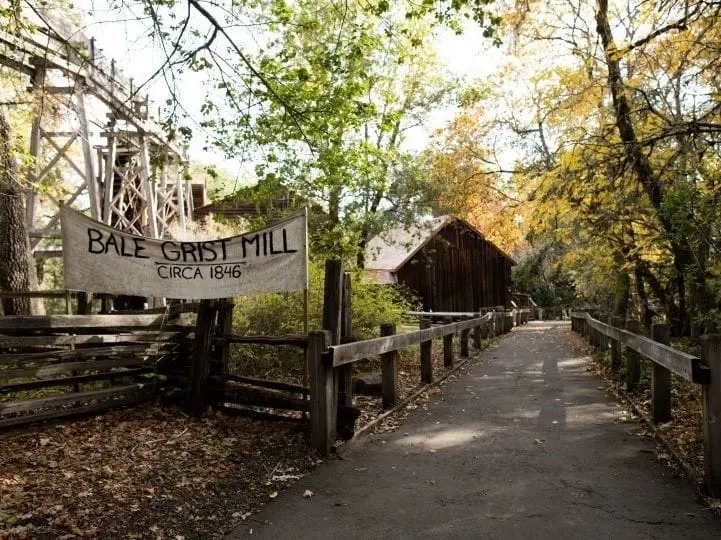 Get a glimpse at what was once the center of Napa Valley's social activity at the Bale Grist Mill State Historic Park.
A 36-foot, water-powered mill constructed in 1846. It is where settlers gathered to have their corn and wheat ground into meal or flour. The mill remained in use until the early 1900s.
One of the coolest things to do in Napa with kids is to watch history come alive again during a milling demonstration. This beautifully restored state historic landmark offers demos that result in different kinds of flour. It even sells flour milled on the premises!
Visitors can hike from the mill to Bothe-Napa Valley State Park, which leads to other trails and extensive picnic grounds. A trail connects the two. The park also includes the site of Napa Valley's first church as well as the Pioneer Cemetery.
6. Watch Old Faithful Geyser Erupt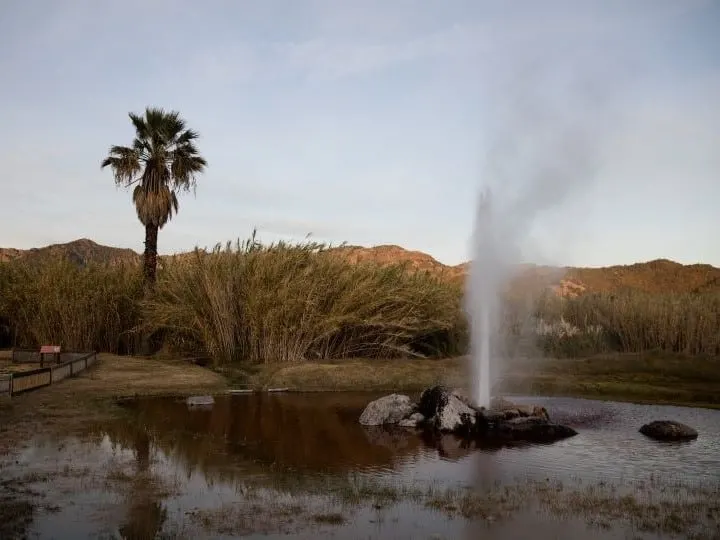 One of the most unusual things to do in the Napa Valley is to visit the Old Faithful Geyser. Calistoga is home to one of only three regularly erupting geysers in the world.
It is referred to as "faithful" because it blows on a fairly regular schedule- roughly every 45 minutes- shooting a column of 350-degree water more than 60 feet into the air.
Explore the grounds while you wait for it to go off. There are plenty of distractions including a petting zoo with llamas and goats, a garden of native plants for junior botanists, and a geology museum that provides background on the geyser.
This part of the Napa Valley is known for its geothermal activity, which is the source of its famous hot springs as well as the geyser. According to local legend, when there are delays between geyser eruptions, it usually means an earthquake is imminent.
7. Visit the Petrified Forest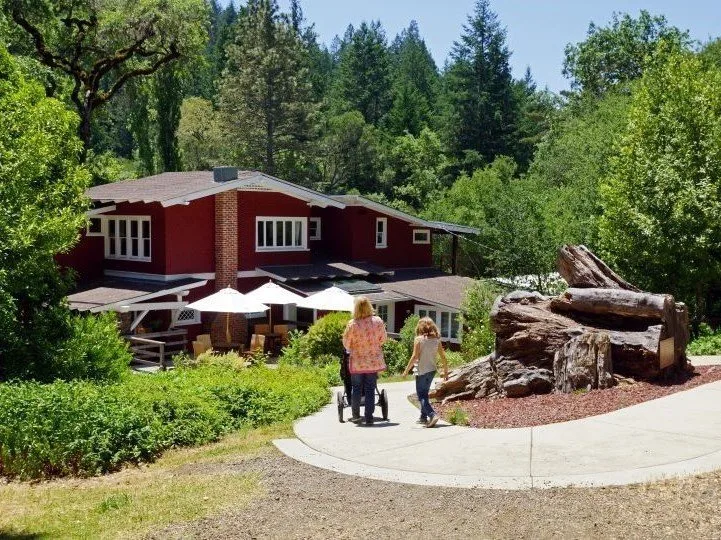 Did you know that one of the finest examples of a preserved ancient forest sits in the hills of Calistoga? The Petrified Forest of one of the most fascinating things to do in Napa with kids. Comprised of more than two dozen petrified trees, it sits seven miles northeast of the remains of an extinct volcano now known as Mount St. Helena.
Approximately 3.4 million years ago, the trees were knocked over and covered with ash during a particularly violent eruption, turning them to stone.
Today visitors can see the trees either by guided or self-guided tour. Educators provide 60-minute daily walks covering the petrified trees, geology, and plant life. On a self-guided tour, visitors can go at their own pace.
No matter the tour, the route is a hilly half-mile loop past some of the most notable trees. Included on this hike are the Giant, a petrified redwood measuring 6-feet across and the Queen, a 65-foot long beauty who was likely already 2,000 years old at the time of the eruption. Don't miss the Pit Tree (not named for Brad Pitt), the only petrified pine found in the forest.
If you find yourself wondering why one of the trees is named for author and poet Robert Louis Stevenson, read his 1883 book, The Silverado Squatters. Spoiler alert: The forest gets a mention.
8. Cast a Rod at Smith's Trout Farm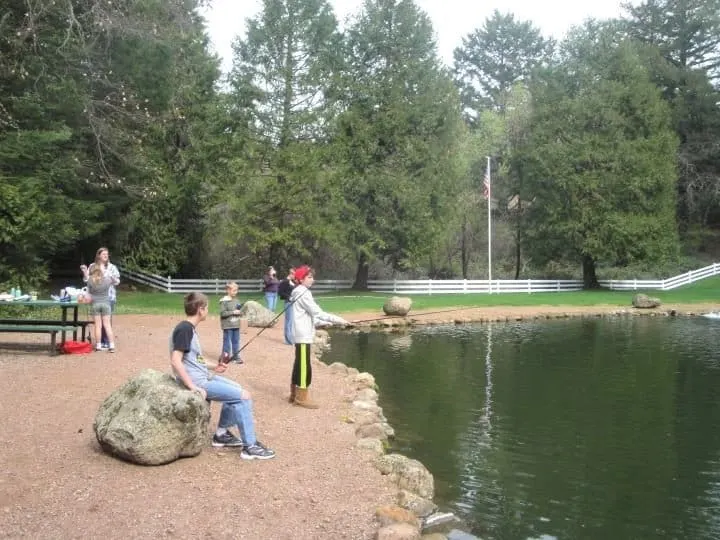 Have you been thinking about introducing your kids to fishing but you don't want to invest in the gear needed until you're sure they'll enjoy it? Well, visiting Smith's Trout Farm is the best thing to do in the Napa Valley to determine whether fishing trips are in your future!
Tucked in the tranquil hills outside Calistoga, it is quite a trek in from the main road, but if you persevere on those narrow twisting roadways the rewards are sweet.
The farm boasts a fishing pond stocked full of rainbow trout and enough simplicity and nature to nurture as many souls as you can stuff into your vehicle!
No bureaucratic fishing license fillings needed. No need to drag fishing gear out to the area. Smith's will supply everything needed to haul in tonight's supper. All you have to bring is a picnic because there are gas barbecues for grilling.
Even the most novice fisherman is guaranteed to catch something, and they will encounter two time-honored fishing frustrations- the possibility a potential catch will eat the bait right off the hook and escape and being the last in the group to reel in a fish!
You pay only for what you catch. That's right, entry into the place and the use of the equipment are at no charge! The pond operator will even clean, gut, and package everything for a small fee.
9. Enjoy Lake Berryessa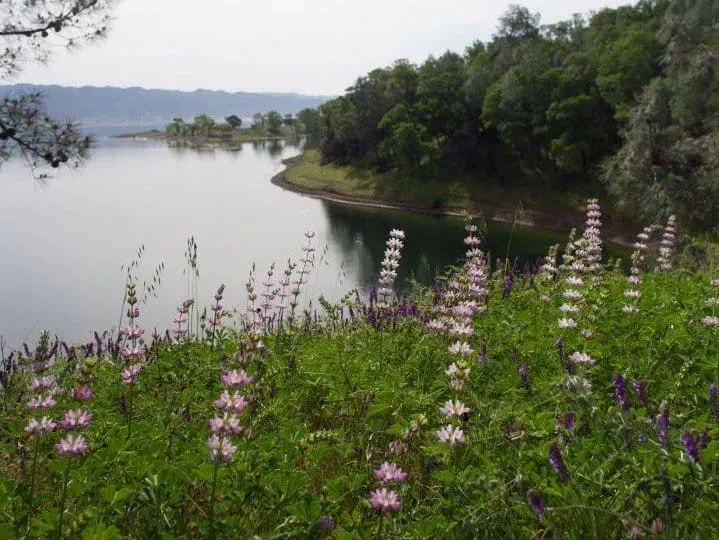 Should your visit take place during the hot summer season, you'll be happy to know there's a gorgeous lake with year-round recreational opportunities to enjoy! One of the most refreshing things to do in Napa with kids is take to the waters of Lake Berryessa.
During the hot summer months, the water of Lake Berryessa can reach 75 degrees, making it the perfect cool-down after a hike or a stroll through sun-drenched vineyards.
At 23 miles long, there are plenty of possibilities for those into fast-paced water sports like boating, water skiing, wake-boarding, and tubing. But its attraction doesn't end there. The lake's quiet coves are perfect for kayaking, swimming, and fishing. There are also two marinas and three recreation areas.
There are six easy trails for hiking around the lake's perimeter. They are great places from which to observe wildlife and enjoy beautiful views.
You might even partake in a little bird watching. Eagles, hawks, songbirds, and wild turkeys are just a few of the species you can spot on a hike in the area.
10. Connect with the Environment at Connolly Ranch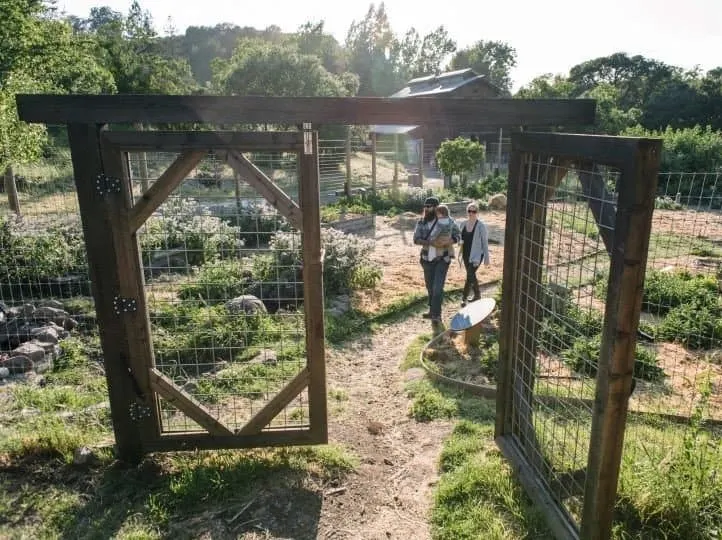 There's a beautiful historic property in the heart of Napa where children and families can connect to nature through farm-based education.
A visit to Connolly Ranch has been one of many fun things to do in Napa since 1993. Here, kids and families learn about farm life, organic gardening, ecology, sustainability, and the wonders of nature. Current programs include day camps, classes, and parent-child experiences.
Once the small homestead of the Connolly family, the ranch now inspires the next generation of environmental stewards. Whether it's visiting with the animals, working in the ranch's edible garden, or exploring mico ecosystems across the property's WildSpaces, Connolly Ranch offers everyone an opportunity to make a mindful connection with the natural world.
Where to Eat in Napa with Kids
The Oxbow Public Market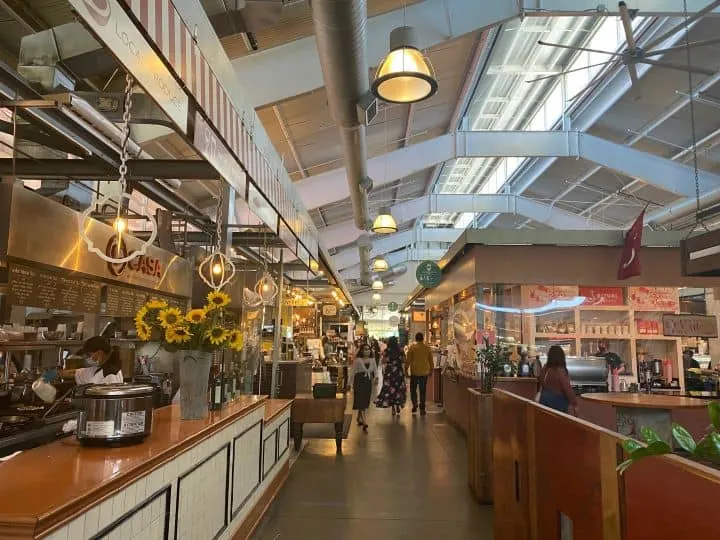 One of the most delicious things to do in the Napa Valley is visit the Oxbow Public Market. You'll find an array of food including artisan pizza, spices, cheeses, wines, and even oysters all under one roof!!
To put it simply, there is something to please every member of the family. Are you skeptical? Then let me walk you through a sampling of goods.
Need a caffeine fix to kick start your day? Ritual Coffee has espresso drinks and brewed coffee daily. C Casa dishes out unique tacos, fresh salads, and salsas.
Eiko's at the Oxbow is a full-service seafood marketplace and sushi bar. You can pick up a fluffy flaky empanada baked to perfection at El Porteño. Get your charcuterie on at the Fatted Calf. Discover an oyster haven at Hog Island Oyster Bar and that's just for starters!
Whether in search of a tasty picnic, great 'take-out, provisions for a fabulous meal, or simply a unique shopping experience, you can't beat the Oxbow!
Gott's Roadside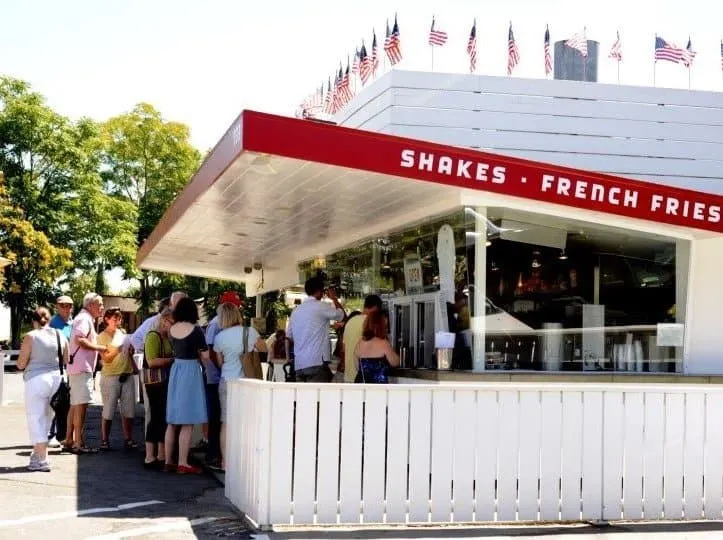 Gott's Roadside may look like a classic roadside eatery where road trippers fuel up before heading to their next destination but, it is far from that! Founded in Saint Helena by brothers Joel and Duncan Gott, this eatery takes a modern approach to American roadside diner classics.
Offering California-inspired dishes like Ahi Poke Crispy Tacos with sushi-grade Ahi tuna, Chicken Kale Caesar, a California Burger with a fried egg, bacon, and balsamic onions, and hand-spun organic shakes, Gott's Roadside truly has something for everyone! All ingredients are locally sourced including wines and beers.
Whether you dine at the original location in Saint Helena or at Napa's Oxbow Market, you'll find other families enjoying the fare. You'll also find plenty of space for kids to move about and no need to "keep it down!"
Oakville Grocery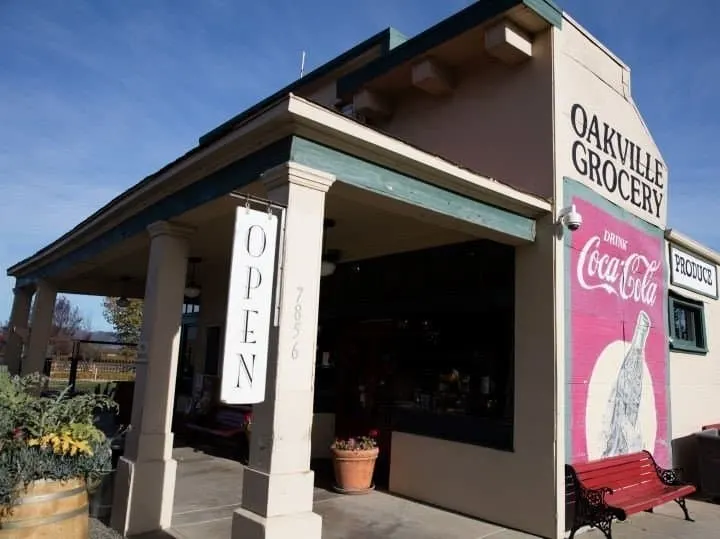 Do your plans include a picnic? With so many picturesque views to claim as a backdrop, a picnic is one of the most classic things to do in the Napa Valley. Oakville Grocery is a great place to good to assemble such an alfresco feast!
You'll find mezze platters, and cheese and charcuterie grazing boards that are perfect for sharing. There are also colorful salads, dips, and spreads that would make perfect additions to a picnic whether it be a destination to be determined or at one of the grocery's outdoor courtyard tables.
Are there pizza lovers in your crew? Oakville Grocery offered fresh wood-fired pizzas, including classics like the Margherita, wild mushroom, Formaggio. and Spicy Italian. The artisan sandwich menu includes classics like roast beef and grilled cheese.
Trekaroo Tip: The oldest Victorian home in the Napa Valley sits adjacent to Oakville Grocery. It is not only home to the Oakville Wine Merchant, it also houses the Napa Wine History Museum.
Where to Stay in Napa with Kids
Vista Collina Resort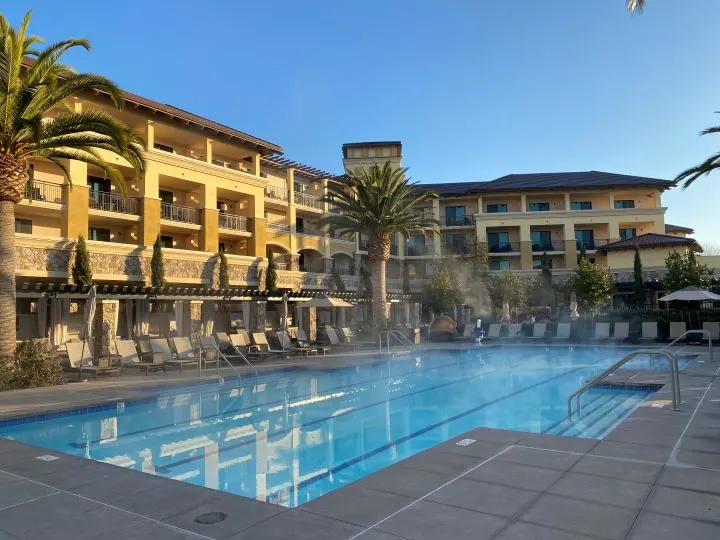 You'll swear you've landed in Tuscany somehow upon arriving at this resort! Located just below Napa Valley's iconic Grape Crusher statue, Vista Collina Resort is part of the Meritage Collection. Its convenient location across the street from its sister property, Napa's Meritage Resort and Spa means your family will have a wider variety of amenities to enjoy!
From bowling and pool to shuffleboard and foosball, if your crew is competitive, the Crush Lounge is the perfect spot for some friendly rivalry. The resort pool has a kids' menu available. Both kid and dog-friendly hiking trails wind through acres of on-site vineyards.
The spacious rooms are stylish and comfortable. The resort has 145 rooms, 39 of which are one-bedroom suites with living rooms, dining rooms, and kitchens. Should you have a room with a kitchen, be sure to take an in-suite cooking class! These are self-led through video instruction. The classes can be geared towards families! All recipe ingredients and cookware are provided.
Embassy Suites Napa Valley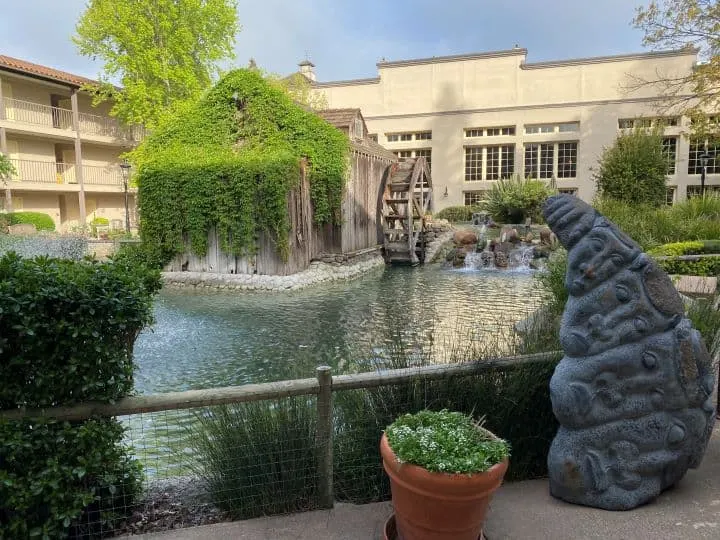 It could easily be said that the Embassy Suites Napa Valley is an oasis. While it's located just a stone's throw from Highway 29, you would never know it once you've checked in.
The grounds are beautiful, loaded with flowers, trees, and a pond with ducks and geese residing in it. During our stay, a mother goose was tending to a nest with five eggs in it! A small water mill sits in the middle of the pond where the birds and ducks live. Artwork is intermingled among the landscape.
The rooms are spacious, contemporary, and clean. We were very comfortable during our stay. Other amenities include an indoor pool and hot tub, as well as an outdoor pool. The hotel's location adjacent to Highway 29 is convenient no matter which direction you head in —- up the valley or over to Carneros.
Silverado Resort and Spa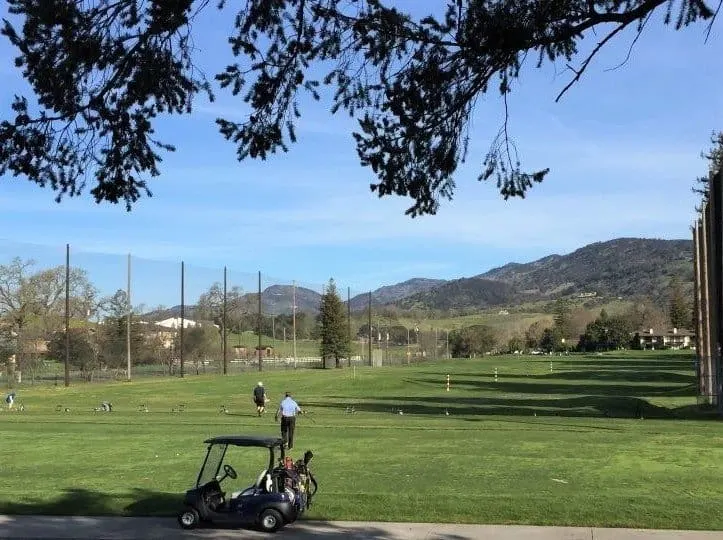 Do you anticipate swinging the irons during your visit? Then one of the best things to do in the Napa Valley is to stay at Silverado Resort and Spa.
The driving range is a stately sight. The pathways often hum with golf carts carrying players clad in plaid golf pants. The resort has two PGA courses that have been redesigned by PGA Hall-of-Famer and resort co-owner Johnny Miller. There are even junior and senior golf academies on-site for players looking for help in up-leveling their game!
Don't worry if golf isn't your game. There are plenty of other things to enjoy at Silverado Resort and Spa. There are 10 plexi-pave tennis courts. The resort has two swimming pools. There are nicely maintained jogging and hiking trails around the property. You can also play bocce at one of three courts located at the Silverado Spa.
Day Trips from Napa with Kids
The Charles M. Schulz Museum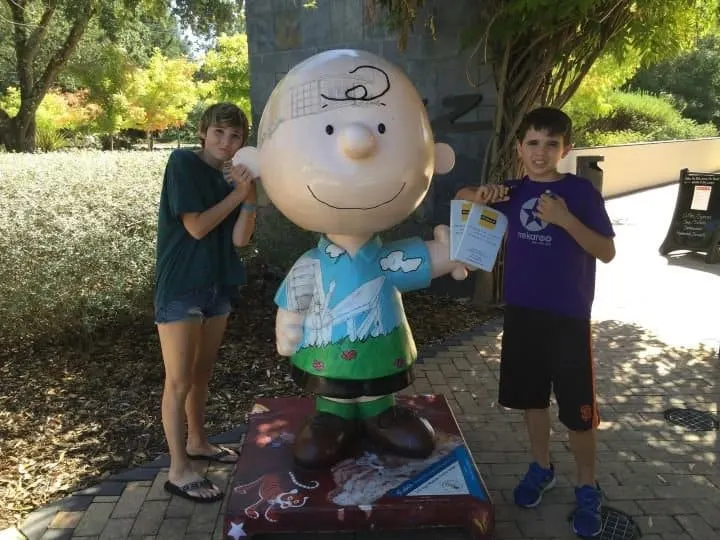 Located over in Santa Rosa, the Charles M. Schulz Museum pays homage to all that is the Peanuts Gang including their creator who called the area home.
Snap a selfie in Lucy's Psychiatry Stand. Do a crossword puzzle with Linus in the courtyard. Check out Snoopy's dog house. Get sentimental over the Charlie Brown Christmas tree.
Once you've had some quality time with your favorite pack of neighborhood kids, visit a replica of the studio where their creator gave them life.
There's also a rotating display of comic strips to look over. No matter which comics are out at the time the evolution of the characters is easy to trace as you go. It was fun to see early versions of Snoopy and the gang.
Be sure to visit the rest of the Schulz campus including the Warm Puppy Cafe, Snoopy's Home Ice, as well as Snoopy's Gallery and Gift Shop. You won't be disappointed.
Read about all our favorite things to do in Santa Rosa with kids.
Trekaroo Tip: Have you ever seen the Peanuts Thanksgiving special? During the month of November, museum visitors can sign up to help prepare and enjoy Snoopy's Thanksgiving meal of popcorn, toast, and jellybeans! Watch the museum's event calendar for more information!
The Sonoma Raceway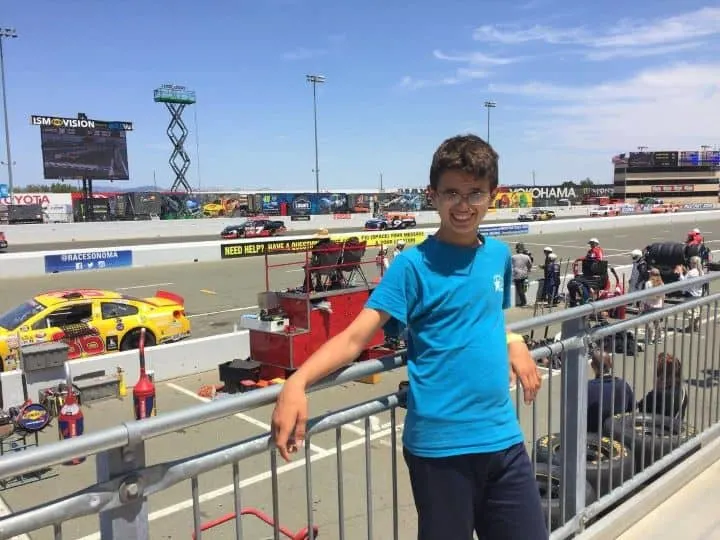 Should all of Napa Valley's peace and tranquility leave you feeling the need for speed and sound, don't worry. Just 30 minutes from the rolling hills and meticulously kept vineyards, Sonoma Raceway hosts motorsport events year-round.
This 1,600-acre facility is not only well kept and clean but is also packed with both family-friendly and grown-up activities. Before the race begins, attendees are often given the chance to check out the latest in infotainment, racing swag, and automotive tech. My son enjoyed getting the view from the driver's seat of tractors and diggers.
There are also a few pre-race traditions that are fun to watch such as the driver meetings in the pit, the patriotic fly-by and, the driver introductions.
There are lots of options for feeding your crew. Sandwiches, Thai food, and salad were among the fare located under the grandstands and in the expo outside. Pizza is a perennial favorite with my son and he was not disappointed.
Trekaroo Tip: If you're going, bring earplugs! Car races are LOUD! Earplugs are helpful, particularly if you are noise sensitive.
Safari West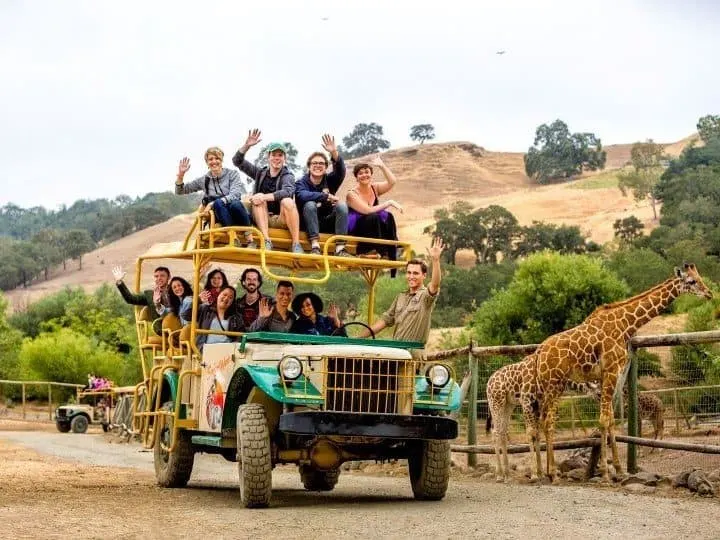 How would you like to experience the sights and sounds of the Serengeti while you're in wine country? Safari West can make that happen!
Located in neighboring Sonoma Wine Country, Safari West is home to over ninety species. Imagine having the opportunity to get up close and personal with nearly a thousand wild animals!
Safari tours are typically three hours long. Part of the tour takes place by vehicle and part of it involves a walk. Climb aboard a custom safari vehicle just like those you see in movies featuring wildlife explorers.
Accompanied by a guide, guests will set off on a wild adventure that could include roving herds of wild antelope, giraffes, rhinoceros, monkeys, cheetahs, and more!
You'll hear fascinating stories about the residents of Safari West as well as of their counterparts in the wilds of Africa. You'll explore the park's lower grounds on foot where you will learn about the park's cheetahs, servals, lemurs, and monkeys. There will also be a visit to the aviaries housing an international bird collection.