Salt Lake City is a great home base for exploring some of the most beautiful and historic places in the Mountain West. As a matter of fact, there are 18 national parks near Salt Lake City, and they all are worth visiting.
Each of these parks are around five hours or less from SLC, making them excellent day trip or weekend getaway destinations. They can also be combined into some great road trips. Here are details on these parks, including distance from SLC and what to do when you arrive.
18 National Parks near Salt Lake City
Timpanogos Cave National Monument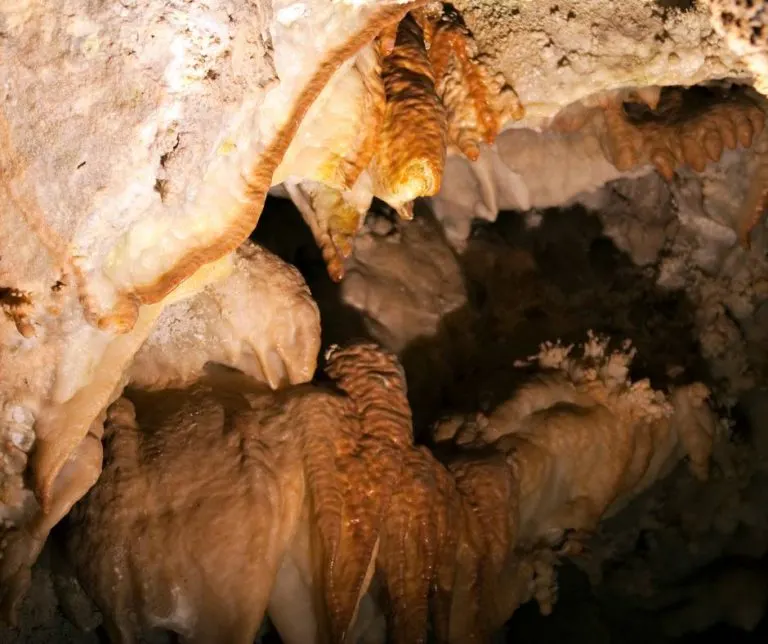 Distance from Salt Lake City: 35 miles (about 40 minutes)
Timpanogos Cave National Monument is a protected area in the Wasatch Mountains just 35 minutes from downtown Salt Lake City off Highway 92. It is the closest national park unit to Salt Lake City.
The monument includes three cave systems: Timpanogos Cave, Hansen Cave, and Middle Cave. Of these, Timpanogos Cave is the most developed and visited. It is famous for its stunning limestone formations including stalactites, stalagmites, helictites, flowstone, and other delicate cave structures.
Visitors can take a guided tour of Timpanogos Cave, which includes a hike up a steep, 1.5-mile trail to the cave entrance which climbs a little over 1,000 feet. The trail is very scenic, but expect to be huffing and puffing on the way up.
Once inside, the tour follows a series of lighted and paved walkways, and includes presentations by park rangers on the cave's geology, history, and ecosystem. Guided tours are about an hour in length and it is recommended that you reserve them in advance. Reservations can be made up to 30 days in advance.
In addition to the standard cave tour, Centennial Lantern Tours are being offered in 2023. This unique tour allows you to experience the cave as explorers did decades ago. If you are looking for a real adventure, check out the Intro to Caving Tour which explores Hansen Cave in its natural state. Spelunkers ages 14 and up will wear helmets and gloves as they scramble and crawl through the cave.
Cave tours are seasonal due to snowpack in the mountains limiting access to the caves, and typically run from late May to September. While it can be very hot outside, the caves remain cold at around 45 degrees, so be sure to bring a jacket!
Golden Spike National Historic Park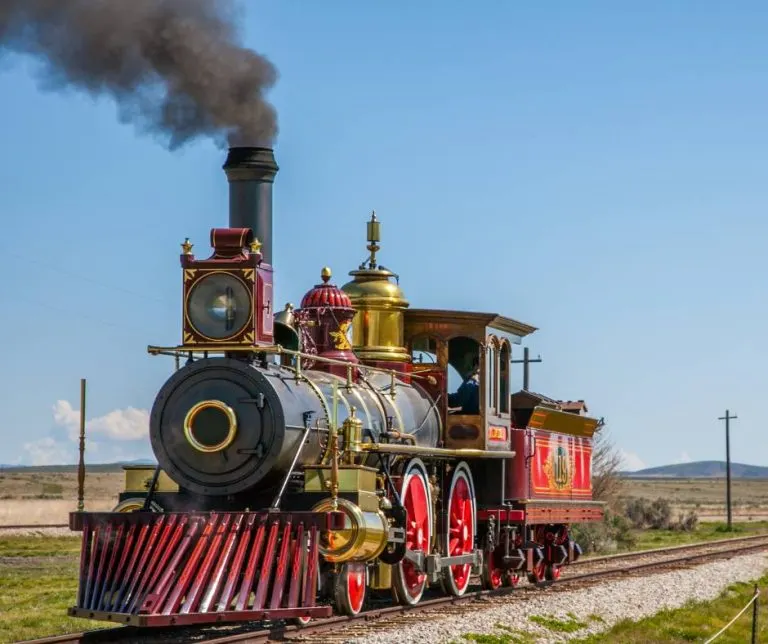 Distance from Salt Lake City: 87 miles (80 minutes)
Golden Spike National Historic Park is located in Promontory Summit north of Salt Lake City. It commemorates the completion of the first Transcontinental Railroad, which linked the eastern and western coasts of the United States on May 10, 1869. As you can imagine, this was a huge deal when it happened and one of most important accomplishments of the 19th century.
The park's main attraction is the Golden Spike Ceremony Site, where the Union Pacific and Central Pacific railroads met and connected their tracks. Visitors can see replicas of the two locomotives that participated in the ceremony, the Jupiter from the Central Pacific and the No. 119 from the Union Pacific.
There are also several historic buildings, including a replica of a telegraph office and a section of the original wooden trestle bridge that once spanned the nearby Great Salt Lake. Costumed reinactments take place on Saturdays from Memorial Day through Labor Day.
This national historic park is best visited May through mid-October, when the visitor center is open daily and the attractions are accessible from dusk to dawn. If you visit in the winter, you will only be able to take an Engine House Tour which mainly focuses on the locamotives themselves.
In addition to the Golden Spike Ceremony Site, there are two driving tours you can take along the railroad grade, as well as a 1.5-mile hiking trail highlighting 19th century building techniques.
Fossil Butte National Monument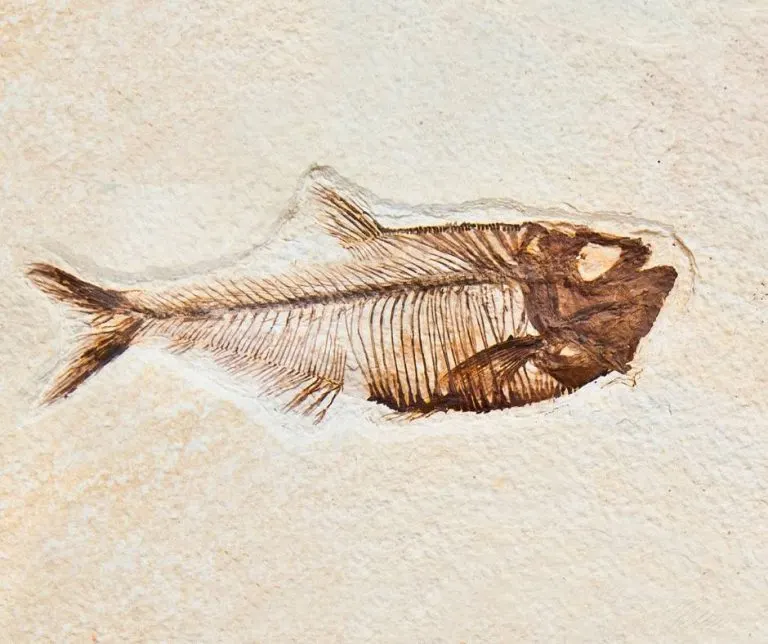 Distance from Salt Lake City: 144 miles (two hours and 15 minutes)
Fossil Butte National Monument is a protected area in southwestern Wyoming, only a little over two hours from Salt Lake City. It was established on a high plateau in the Green River Basin to protect the fossilized remains of ancient animals and plants that lived in the area over 50 million years ago.
Fossil Butte National Monument is famous for its fish fossils, which are some of the best preserved in the world. These fossils provide important clues about the evolution of fish and other aquatic creatures, as well as the ancient climate and ecology of the region.
Visitors to Fossil Butte National Monument can explore the park's visitor center, which features a variety of exhibits and displays that showcase the area's fossil history.
One of the best programs for families at this park is the Research Quarry where families can learn what paleontologists do as well as current research being conducted at the site.
This program is available Fridays and Saturdays from June 23, 2023 through August 12, 2023 from 11-3. While you may be able to help unearth fossils, be aware that anything found must stay in the park's collection. If you are looking to hunt fossils to keep, check out the Fossil Basin website.
If you are looking to stretch your legs, the Historic Quarry Trail is a 2.5-mile loop that offers an overview of the geology and paleontology of the area.
From late spring thorugh earl fall, the park's 5.5-mile scenic drive is open. It leads you to the top of a ridge, providing a panoramic view of the valley below. At the three mile mark this road does turn to gravel and have a steep grade, so a four-wheel drive vehicle is recommended to complete the full loop.
City of Rocks National Reserve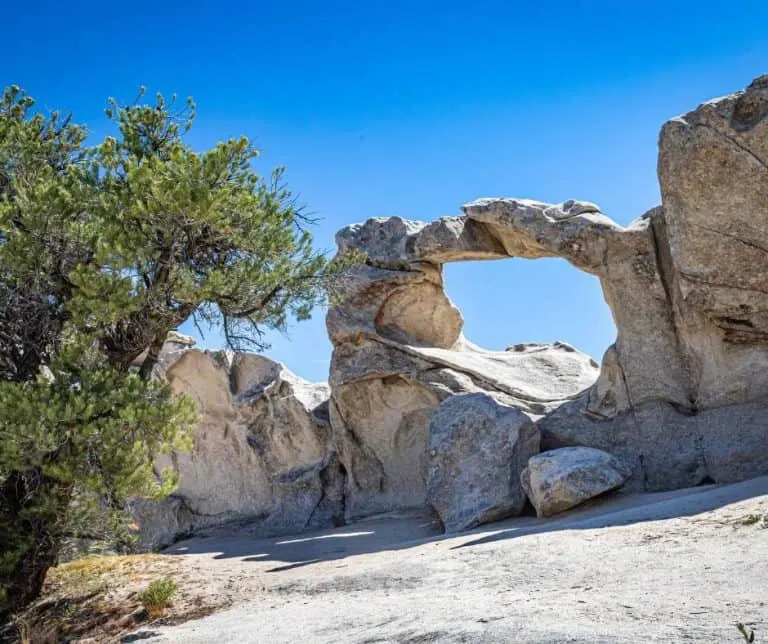 Distance from Salt Lake City: 160 miles (two hours, 40 minutes)
City of Rocks National Reserve is located in southern Idaho, less than three hours from Salt Lake City. It protects the unique geological formations and cultural history on the 14,000-acre reserve.
The reserve is named after the incredible rock formations which are the result of volcanic activity that occurred over 2.5 million years ago. Granite rocks rise up to heights of over 600 feet and are shaped in unusual formations that resemble a city skyline.
This reserve is primarily an outdoor recreation destination, especially for hiking, rock climbing, and camping. The reserve has over 22 miles of hiking trails that wind through the rocks and surrounding wilderness, offering incredible views of the landscape. Plus, this national park site is dog friendly, so you can bring your pup on the trails!
The Window Arch Trail is a moderate 1.5-mile trail that takes you to Window Arch, one of the most popular rock formations in the reserve. Creekside Towers Trail is two miles in length and follows a small creek through a beautiful canyon and past towering rock formations.
If you are looking for more of a challenge, City of Rocks Summit Trail is strenuous 3.8-mile trail that takes you to the summit of the reserve's highest peak, offering breathtaking views of the surrounding landscape.
In addition to the geological formations, City of Rocks National Reserve has a rich cultural history. The area has been used for thousands of years by Native American tribes, and in the 1800s, it served as a popular stopping point for emigrants traveling along the California Trail. Today, visitors can see historic wagon ruts, pioneer inscriptions, and other artifacts from the area's past.
Jurassic National Monument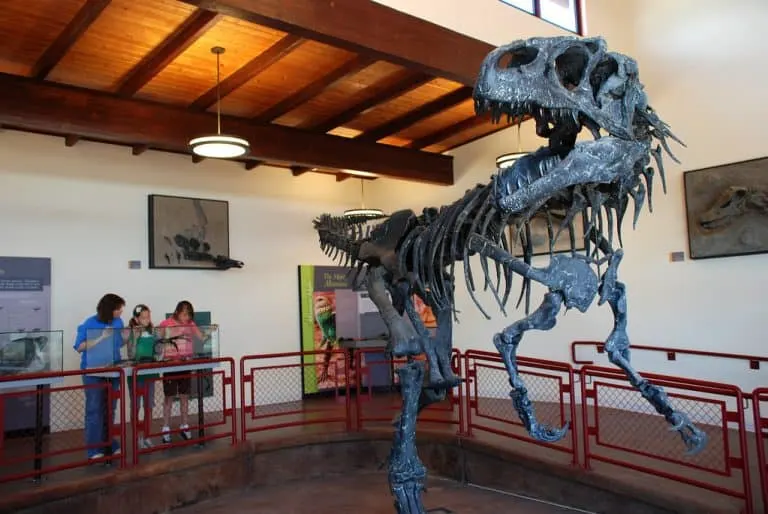 Distance from Salt Lake City: 147 miles, (two hours, 45 minutes)
Jurassic National Monument is managed by the Bureau of Land Management about three hours southeast of Salt Lake City, near the town of Price. The monument encompasses a unique landscape of colorful sandstone cliffs and rock formations which have eroded over millions of years to reveal a treasure trove of dinosaur fossils from the Late Jurassic period.
The Cleveland-Lloyd Dinosaur Quarry, located inside the monument, is one of the most prolific dinosaur fossil sites in the world and contains the densest collection of Jurassic-aged dinosaur bones ever discovered.
It contains over 12,000 dinosaur bones from at least 74 individual dinosaurs, including Allosaurus, Stegosaurus, and Ceratosaurus. The exact cause of the high concentration of dinosaur fossils at the site is still a mystery, but scientists believe that it may have been a trap where carnivorous dinosaurs became stuck in the mud and died, attracting scavengers that also became trapped.
Visitors to the Cleveland-Lloyd Dinosaur Quarry can take guided tours of the site and see the ongoing work of paleontologists as they excavate and study the fossils. The site also has a visitor center with exhibits and displays on the history of the quarry and the dinosaurs that lived there. It is open March 31st – October 30th.
Dinosaur National Monument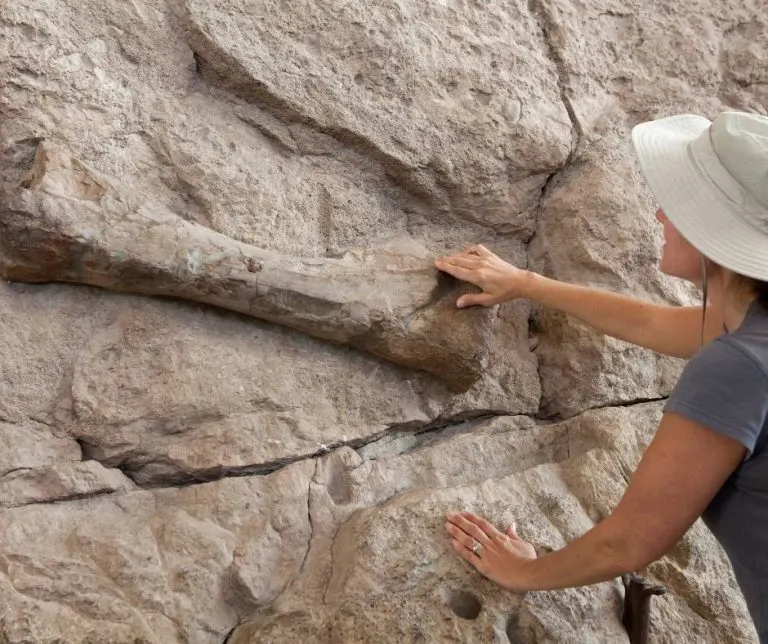 Distance from Salt Lake City: 188 miles (about three hours and 15 minutes)
One of my favorite national parks near Salt Lake City is Dinosaur National Monument. It is in northeast Utah and is known for its wealth of dinosaur fossils as well for being a great river rafting destination.
Dinosaur National Monument encompasses over 210,000 acres of protected land and the main attraction is the Dinosaur Quarry Exhibit Hall, which displays over 1,500 dinosaur bones from a variety of species, including Allosaurus, Stegosaurus, and Diplodocus.
The Green River runs through the heart of the monument, allowing you a perspective of the gorgeous canyons that you can't get without rafting or kayaking.
There are three main rafting sections in Dinosaur National Monument- the Gates of Lodore, Yampa River, and Split Mountain.
The Gates of Lodore is a 44-mile stretch of river that includes a number of Class II and III rapids, which are typically part of a 3-5 day trip which is great for families with kids as young as seven.
The Yampa River has class III and IV rapids making it a bit more adventurous but still great for famileis. It is the one major tributary in the Colorado River system that runs wild and free. Trips on this stretch are 4-5 days.
My family was short on time during our visit to Dinosaur National Monument so we booked a one-day Split Mountain trip with OARS. We have rafted many places around the world and this experience ranked up with some of the best. The scenery was jaw-dropping and we saw a herd of bighorn sheep right on the shore which was such a treat! The rapids were quite tame, making this trip perfect for first timers.
There are lots of Native American ruins and petroglyphs inside the park and most rafting trips include a side trip to one of the sites. There are also petroglyph sites you can hike or drive to.
There are a couple different scenic drives that are popular inside the park. Our favorite is Tour of Tilted Rocks, a 10-mile drive has wonderful geological scenery as well as acess to historic homestead and petroglyphs. There are also interpretive signs along the way explaining the geology and natural history of the area.
Capitol Reef National Park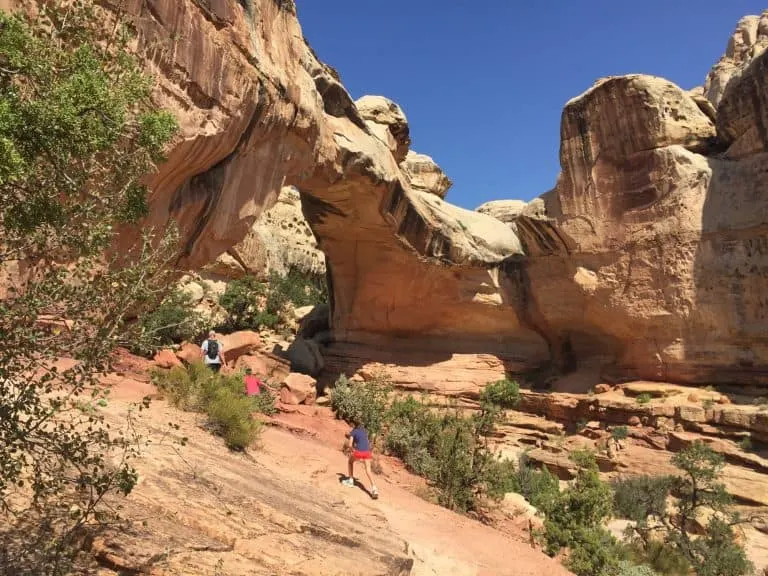 Distance from Salt Lake City: 213 miles (about three hours and 20 minutes)
The closest of Utah's "Mighty 5" to Salt Lake City is Capitol Reef National Park, which is also the least visited. It is least visited because it is the most remote of the five, not because it is any less impressive then the others.
The heart of Capitol Reef National Park is the Waterpocket Fold, a 100-mile buckle in the earth's surface that forms an impressive ridge that forms a barrier of sandstone filled with narrow canyons and interesting geologic features. Highway 24 is the only paved road to cross the Waterpocket Fold.
One of the most popular hiking trails in the Waterpocket Fold include the Grand Wash Trail, an easy, 4.4-mile round trip hike that follows a narrow canyon through colorful sandstone walls. The narrowing canyon eventually becomes 600 feet high and just 16 feet wide at one point. Kids love climbing in the various crevasses and alcoves in the wash's sandstone walls.
If you are looking for more of a challenge, take the 1.7 mile trail (one way) to Cassidy Arch. The trail begins about a quarter mile from the entrance to Grand Wash and winds its way up the side of the mountain, gaining 950 feet in elevation. The arch was named after Butch Cassidy who is said to have used Grand Wash to reach Robber's Roost. You can walk out on this arch and the views are worth the climb.
Another great trail in the Waterpocket Fold is the Capitol Gorge Trail at the end of the park's scenic drive. This easy hike takes you through a narrow canyon past petroglyphs drawn by the Fremont people who lived in this region from 600-1200 AD.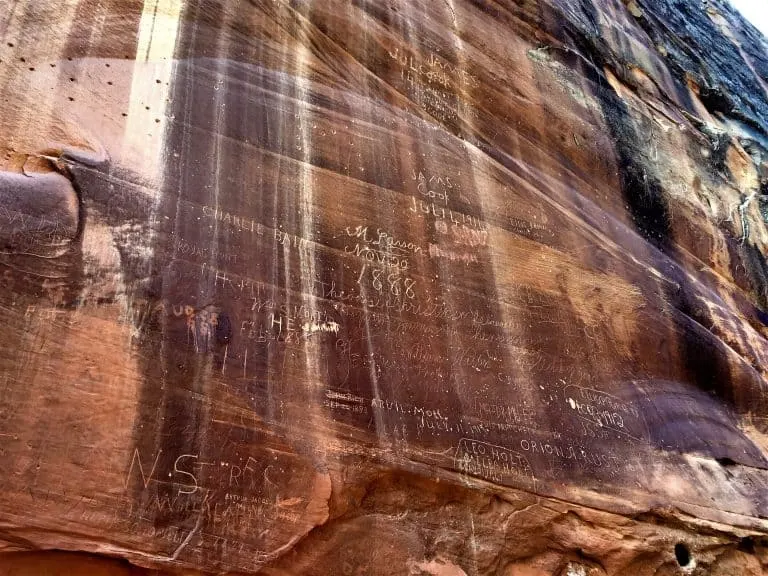 Further in, you will come across a Pioneer Registry on the side of the slot canyon. Pioneers passing through the region in the late 1800s and early 1900s etched and burned their names into the sandstone wall high up from their seats on their wagons.
Another one of my favorite hikes inside Capitol Reef National Park is the one to Hickman Bridge. This two-mile trail gradually climbs in elevation until it reaches the 133-foot arch. The bridge is impressive and the area around the bridge offers lovely shade from the often-relentless desert heat.
Read our full guide to visiting Capitol Reef National Park with kids.
Another big attraction in Capitol Reef is the pioneer settlement of Fruita which has century-old orchards which are still in use today. Nineteen orchards planted by the pioneers are filled with interesting varieties of classics such as cherries, apricots, pears, peaches, and apples. Best of all, you are welcome to pick fruit from any unlocked orchard and eat them inside the orchard for free!
Any fruit you do want to take outside the orchard can be bagged and weighed at the self-pay station. Mule deer and wild turkeys are frequently seen in the orchards trying to snag a free meal.
Visit Capitol Reef and the other parks in the Mighty 5 using our Utah national parks road trip itinerary.
Arches National Park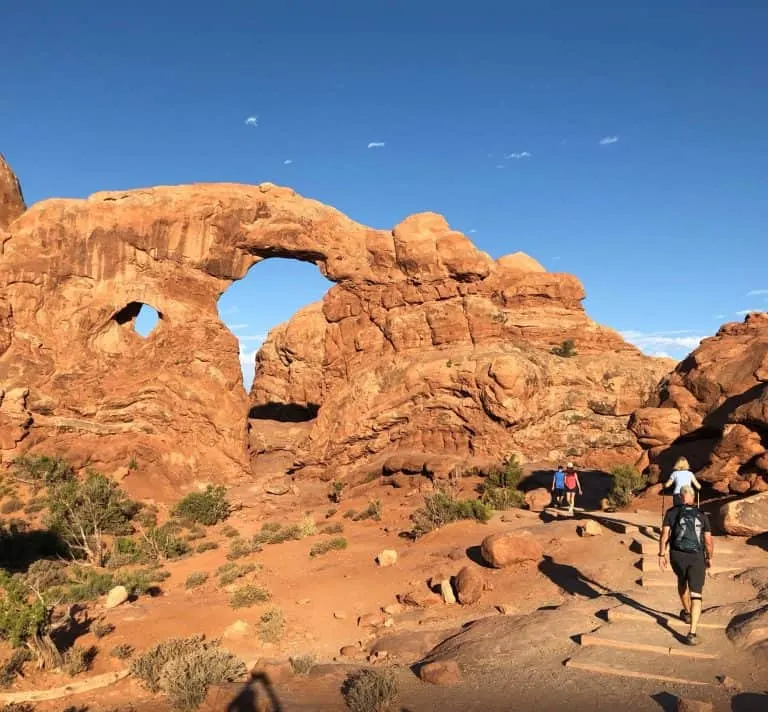 Distance from Salt Lake City: 230 miles (about three hours and 40 minutes)
Arches National Park, located near the awesome, outdoorsy town of Moab, is renowned for it incredible density of natural arches and rock formations in an incredibly scenic desert landscapes. There are 2,000 natural sandstone arches inside this national park!
Here are our favorite things to do in Moab.
Timed-entry tickets are required for entry to Arches National Park April 1- October 3, 2023. Visit the park website for full details on reservations.
The main road in Arches National Park, known as the Arches Scenic Drive, offers breathtaking views and access to many of the park's highlights. Many of the most impressive arches on this drive are accessible via a short hike or a simple walk from the parking lot including Balanced Rock, Courthouse Towers, Double Arch and the Windows area.
If you are looking for hikes, the trail to Landscape Arch, the longest arch in the world, is a great option. The 1.6-mile round-trip hike to this arch includes views of a couple arches along the way. It is a fairly easy hike, but shade is limited so time your visit properly and bring plenty of water.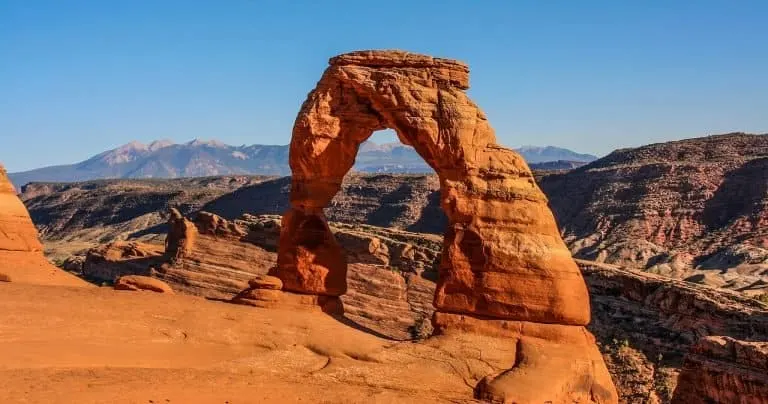 The most famous arch in the world is probably Delicate Arch. Some might know it as the "Utah license plate" arch. The hike is only three miles round trip but it does involve some uphill hiking and doesn't have shade, so I recommend doing this hike in the early morning if you are visiting during the warm season. We have also found this hike to be far less crowded at sunrise than it is at sunset.
The Fiery Furnace is a maze-like labyrinth of narrow canyons, towering walls, and hidden arches. It's a fantastic option for those seeking an adventurous and off-the-beaten-path experience.
It does requires a permit or a guided tour due to its challenging navigation. I recommend families take the guided tour with a ranger. Tours can be booked seven days in advance and do book up quickly.
Read our full guide on things to do in Arches National Park with kids.
Great Basin National Park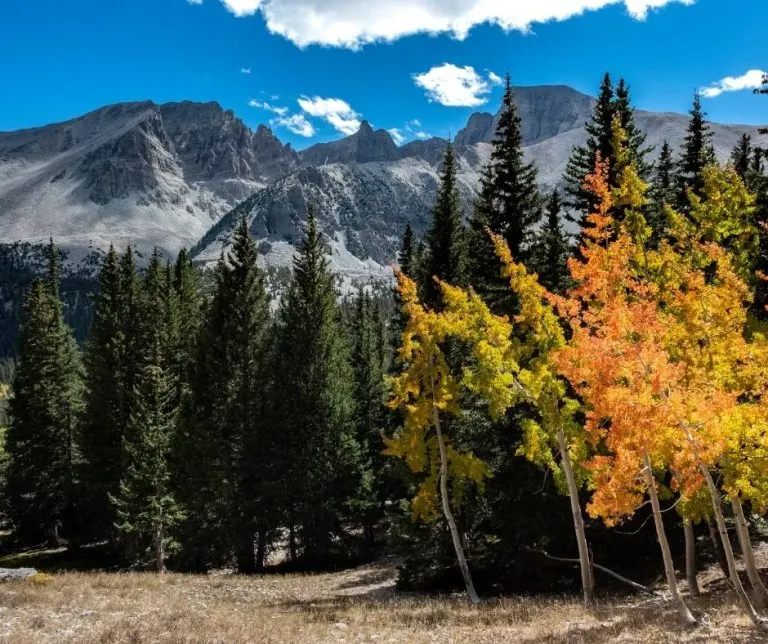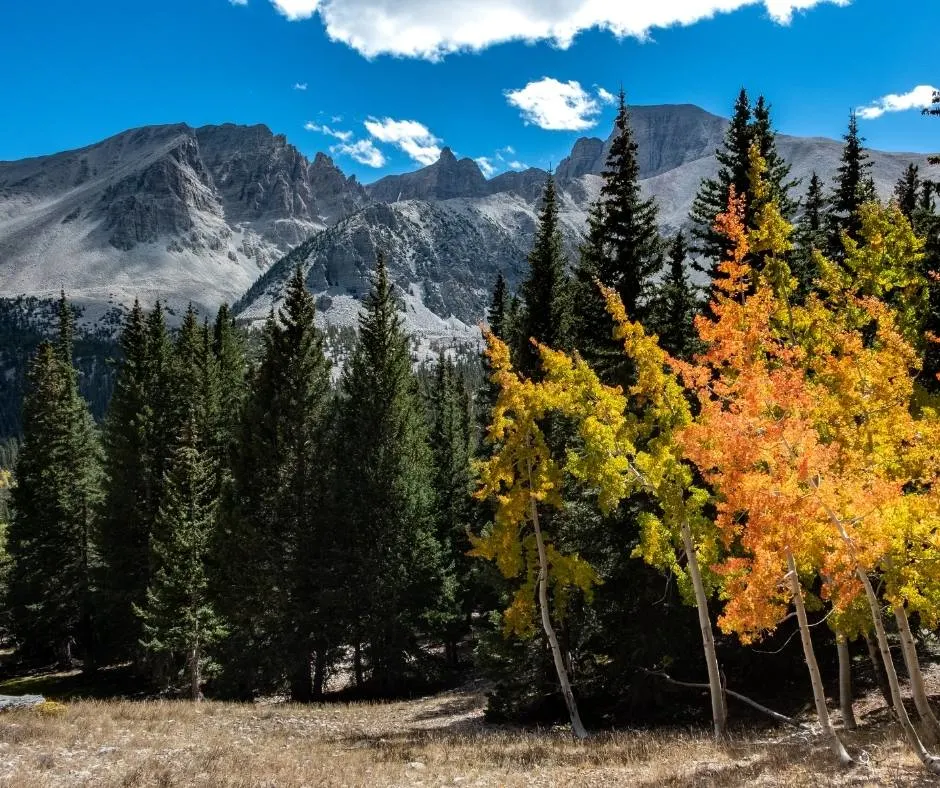 Distance from Salt Lake City: 234 miles (about three hours and 40 minutes)
Great Basin National Park is a beautiful and diverse national park located just west of the Nevada/Utah line. It encompasses a wide range of ecosystems, including high mountain peaks, ancient bristlecone pine forests, alpine lakes, and limestone caves.
Given its remote location, it is also one of the least visited national parks in the Lower 48. Still, this park is definitely worth the drive and most of the time, you can have trails nearly all to yourself.
One of the main attractions in the park is Lehman Caves, an underground labyrinth of intricate limestone formations. Visitors can explore the cave system on guided tours led by park rangers, to learn about stalactites, stalagmites, cave bacon, and other interesting geological features.
The caves are open for 60 and 90 minute tours year round and advance reservations are highly recommended. Tours can be booked online.
The mountains of the Snake Range, which include Wheeler Peak, are like alpine islands in a sea of sagebrush. Wheeler Peak rises 13,063 feet above sea level, dominating the horizon with its jagged, treeless top.
Wheeler Peak Scenic Drive winds quickly up the mountain, leaving the desert floor far behind. Be sure to stop at various overlooks on your way to road's end and enjoy expansive views that stretch for 100 miles. Once you reach the top, there are several great hikes that await.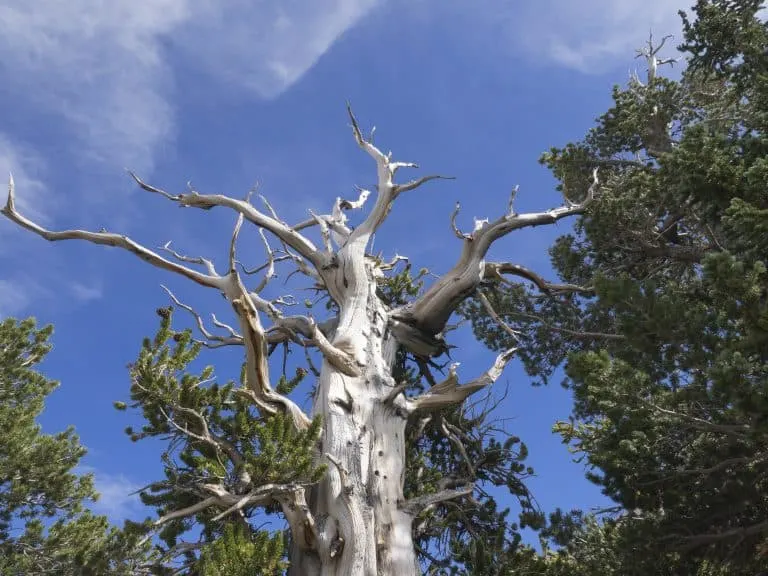 The Bristelcone Trail is a 2.8-mile, round-trip hike that gains 600 feet in elevation and leads to a grove of Bristlecone Pines, ancient trees that can live for 5,000 years. If you continue on up the mountain one mile past the Bristlecone Grove, you will reach a rock glacier. It is the only glacier in Nevada and one of the most southernmost glaciers in the Northern Hemisphere.
The Alpine Lakes Loop is an easy, 2.7-mile trail that winds through an alpine forest. It passes idyllic streams as well as two lovely little lakes with superb views of Wheeler Peak. Keep your eyes out for deer and wild turkeys.
Peak baggers will want to make the climb up to the top of Wheeler Peak. This is a This trail 8.2-mile hike that gains almost 3,000 feet in elevation. It should be started very early in the morning so that hikers can get down off the peak before afternoon thunderstorms roll in.
Read our full guide to the best things to do in Great Basin National Park.
Canyonlands National Park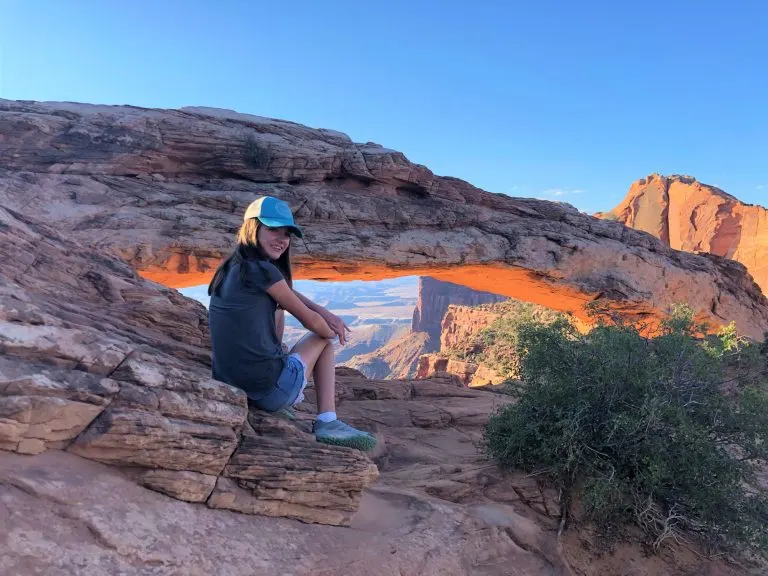 Distance from Salt Lake City: 242 miles (about four hours)
Spanning over 337,598 acres, Canyonlands is a large national park divided into three distinct districts: Island in the Sky, The Needles, and The Maze.
Island in the Sky is the most visited district due to its easy access and close proximity to Moab. It is only about 40 minutes from Moab. I suggest you start your visit by witnessing the sunrise at Mesa Arch. This iconic natural arch frames a dramatic view of the canyons and landscapes below and is especially captivating when the sunlight illuminates the rocks. It's a short, easy hike to reach the arch.
My family also really enjoyed the Whale Rock hike. It is only 1.4 miles round trip and follows cairns across slickrock which lead the way up to the top of the rock which looks like a beached whale from afar. The trail is moderate enough that my 70-year-old mother did it without challenge. Hiking shoes grip to the rock well.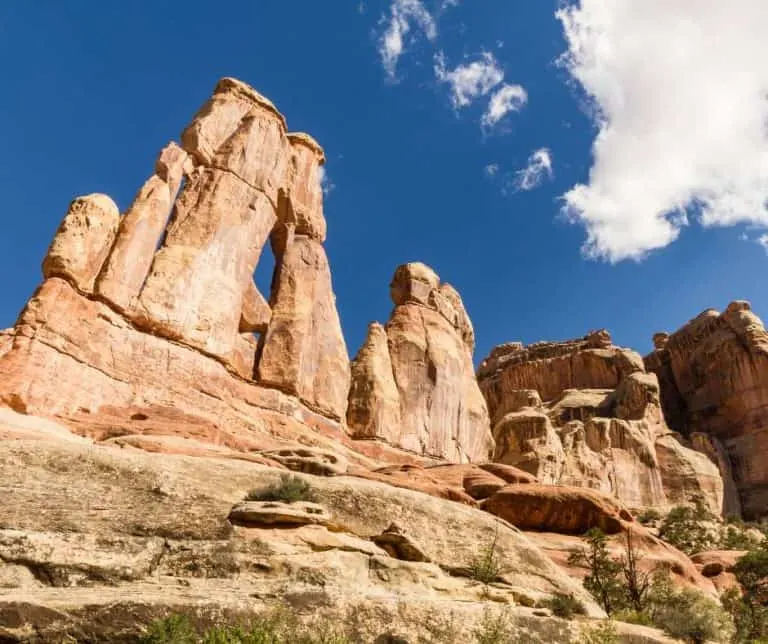 The Needles District is in the southeast corner of the park and is named for the standstone spires that dominate the area. It is about 75 miles from Moab. There is one main paved road as well as about 50 miles of unpaved roads, so as you can imagine this is a good spot for four-wheel driving.
There are allso some spectacular day hikes to enjoy. The Chesler Park Loop is an 11-mile loop trail which takes you through the heart of the Needles, offering views of the unique rock formations, hidden canyons, and expansive meadows.
Another great option is the 10-mile round trip trail to Druid Arch, a massive sandstone arch nestled deep within the Needles.
The Maze District is the most remote and inaccessible part of Canyonlands National Park. It offers a true backcountry experience, with limited services and challenging access. The area is characterized by its maze-like canyons, which can be complex to navigate. For these reasons, it is the least visited portion of the park.
Visitors to the Maze District must be self-sufficient, as there are no services available within the district. It's essential to carry ample water, food, and necessary supplies. It's also important to have a well-equipped, four-wheel drive vehicle, a detailed map, and a good understanding of navigation techniques.
Canyonlands National Park is also a greta place to enjoy a river rafting trip.
The Colorado River flows through Canyonlands' Cataract Canyon, known for its exciting whitewater rapids, ranging from Class III-V. Most trips are four days in length but Moab Adventure Center does off a two-day express trip as well. Love adventure? Check out this great guide to visiting Moab.
Craters of the Moon National Monument and Preserve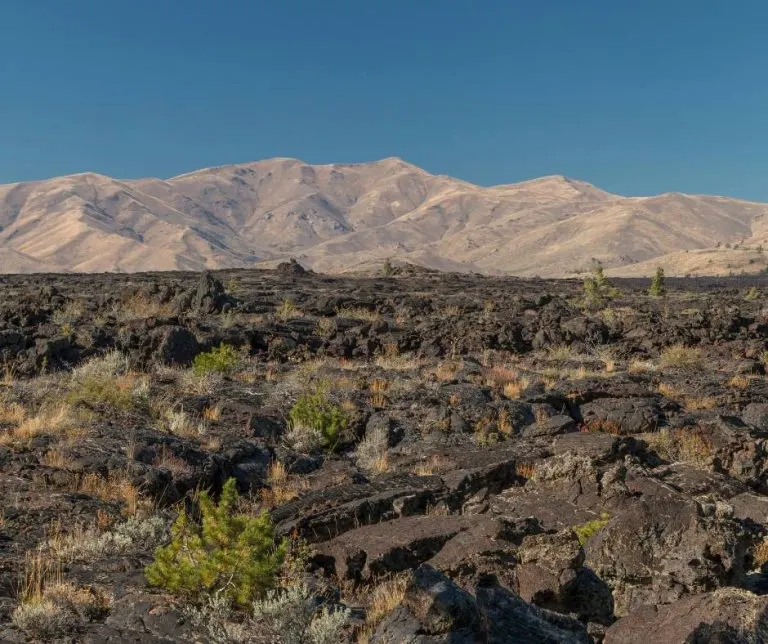 Distance from Salt Lake City: 263 miles (about four hours)
Located in southern Idaho, the National Park Service describes Craters of the Moon National Monument and Preserve as a "weird and scenic landscape" and a "wonderland of lava". We think its a really fun palce to explore!
The volcanic features in this park were formed by a series of eruptions that took place between 15,000 and 2,000 years ago. The volcanic activity resulted in the creation of vast lava fields, cinder cones, lava tubes, and spatter cones. The lava flows and volcanic remnants create an eerie and moon-like landscape, giving the monument its name.
Drive 7 Mile Loop Road to access some of the best views and trails inside the park. There are several marked trails that wind through the expansive lava fields. The Inferno Cone Trail, Devil's Orchard, North Crater Flow Trail, and Broken Top Loop Trail are popular options. Marvel at the unique formations, lava tubes, and volcanic features as you immerse yourself in the otherworldly landscape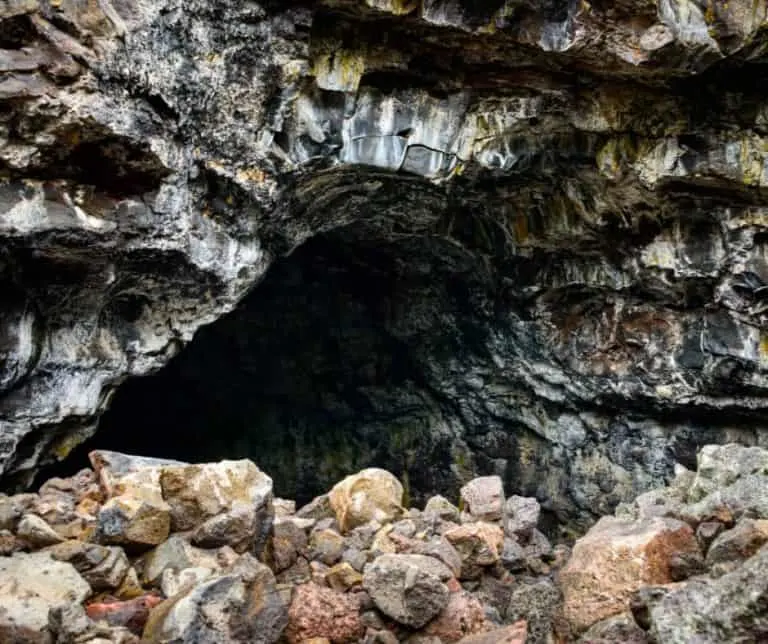 Craters of the Moon is renowned for its lava tubes, and visitors can explore some of these caves and tunnels, such as the Indian Tunnel and Dewdrop Cave. Free permits are required and can be picked up at the visitor center. Long sleeves, pants, sturdy shoes, and a headlamp or flashlight will help you explore comfortably.
Craters of the Moon offers excellent opportunities for stargazing due to its remote location and dark skies. On clear nights, you can witness a spectacular display of stars, planets, and celestial objects. Visit during a meteor shoer and you will be in for a treat!
Bryce Canyon National Park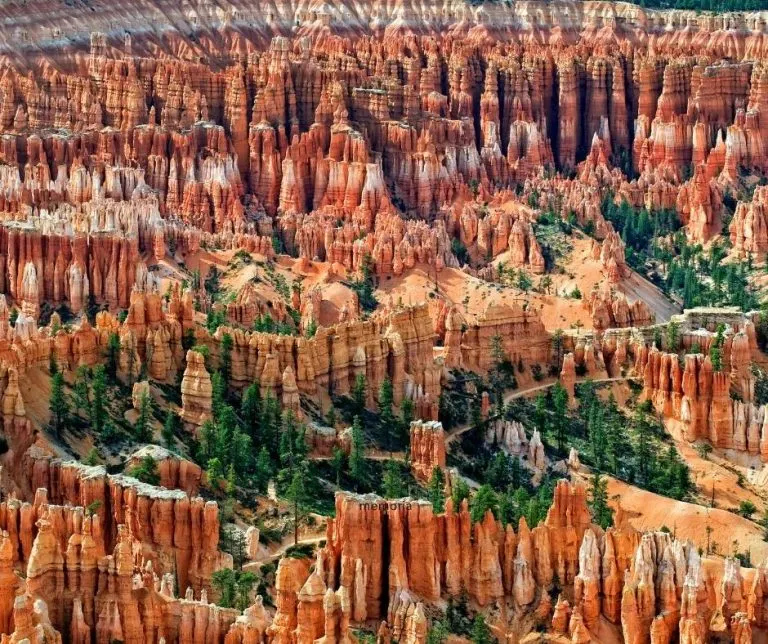 Distance from Salt Lake City: 268 miles (about four hours)
Bryce Canyon National Park is known for its collection of hoodoos- tall, thin spires of rock that have been sculpted by erosion over millions of years. These rock formations come in various shapes and sizes, creating a surreal and breathtaking sight. This park boasts the largest concentration of hoodoos in the world.
Bryce Canyon is a high elevation park where 100 inches of snow falls in the park during the typical year. For this reason, most people visit in the summer when the park is fully accessible and the weather is typically pleasant- in the 70s and 80s.
Read our complete guide to visiting Bryce Canyon National Park with kids.
The park is actually quite compact, with most of the attractions and hikes within the park located off the 18-mile scenic drive. There are several nice spots to pull off along the road and enjoy views of this mesmorizing canyon filled with hoodoos.
Some of the highlights along the way including Natural Bridge, Paria View (a good spot for sunset photography), Bryce Point (excellent for sunrises), Inspiration Point, Sunset Point, and Sunrise Point.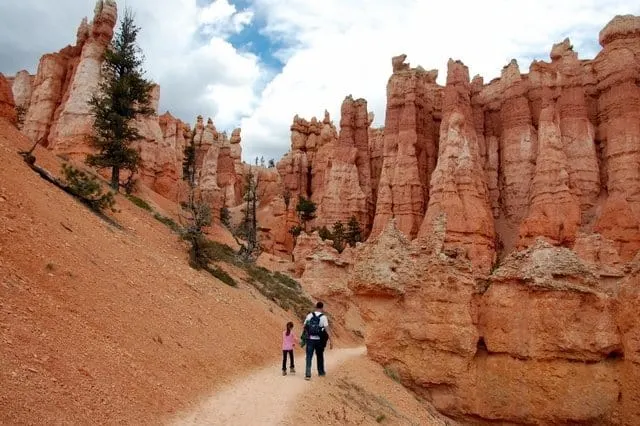 Our favorite hike in Bryce Canyon is the 2.9-mile loop created by combining the Navajo Trail with the Queens Garden Trail.
This loop allows you to walk down into the canyon and experience the famed sandstone walls of Wall Street. Wall Street is absolutely incredible and the hoodoo sky scrapers are dizzying. You truly have not experienced Bryce until you have made your way all the way down into the amphitheater.
The Peek-a-Boo Loop trail is a challenging 5.5-mile hike that take you down deep into the canyon and past scenic hoodoo landmarks with names like the Wall of Windows, the Cathedral, and Fairy Castle.
Back up on top of the amphitheater at the highest portion of the park (9,000 feet in elevation), you won't want to miss the Bristlecone Loop Trail which makes its way through a forest of ancient bristlecone pine trees, some of which are almost 2,000 years old!
Zion National Park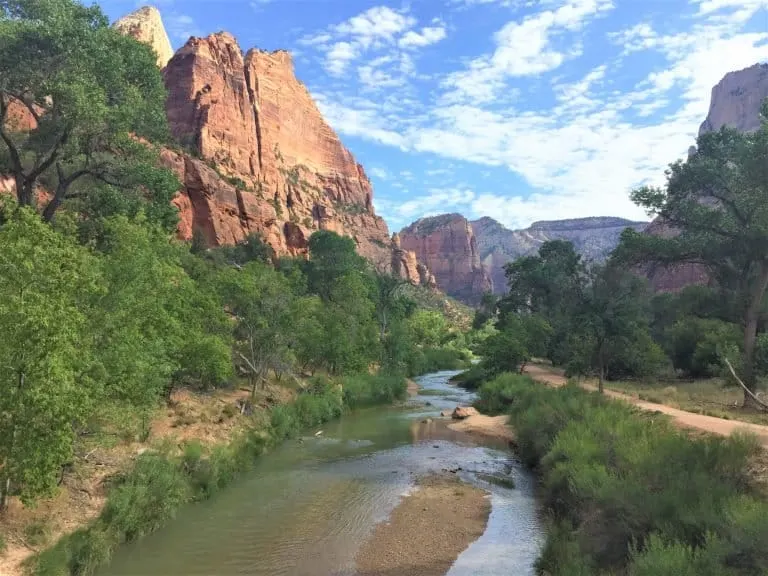 Distance from Salt Lake City: 307 miles (about 4 1/2 hours)
Zion is one of our country's most visited national parks thanks to its close proximity to Las Vegas, Salt Lake City, and Los Angeles. Zion is an all-season destination in Southern Utah's red rock country known for its epic hikes in and around towering Zion Canyon.
Most visit the park between April and September. But there is still plenty to enjoy in Zion during the winter and lingering snow is rarely an isssue. Trekaroo has a full guide to visiting in Zion in winter.
For most of the year, the park service closes off the main road into Zion Canyon to public traffic and operates a free shuttle service. The shuttle stops at all the major trailheads and points of interest inside the canyon.
The hike to Lower and Upper Emerald Pools is popular with families. It is only a little over two miles round trip. I like to Take the trail from Lower Emerald Pools to Upper Emerald Pools and then return to the shuttle via the Kayenta Trail so I am not retracing my steps and also get to enjoy downhill for sprawling views of Zion Canyon and the Virgin River.
The Riverside Walk follows the North Fork of the Virgin River one mile into Zion Canyon. It is a flat, paved path but there are plenty of opportunities to play in or near the river along the way. This popular trail ends where the Zion Narrows Trail begins.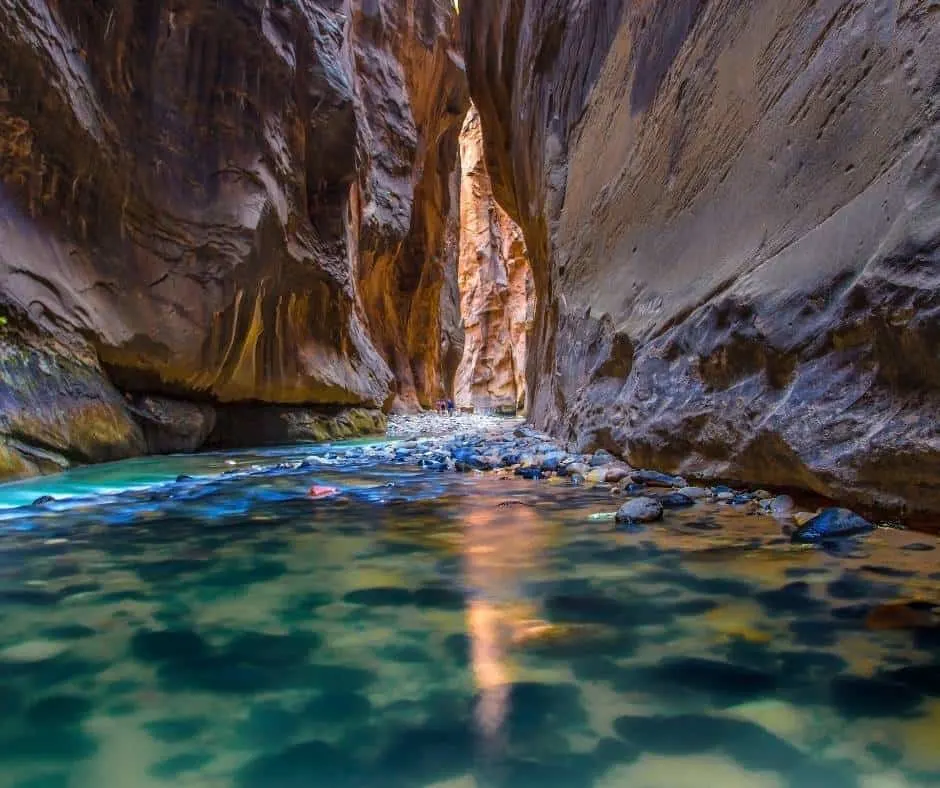 The Narrows is an unforgettable hike almost entirely through the cold water of the Virgin River, which can be refreshing during the heat of the summer. Some sections the water can be ankle deep while in others it is high enough to require some swimming, especially earlier in the summer.
Close-toed shoes and a walking stick are essential, so is an understanding of current weather conditions. Never enter the Narrows during a flash flood watch. It may be pouring up river and suddenly send a deluge your way!
Angels Landing is a steep, 2.5-mile climb to a narrow view point with spectacular views. The first two miles of the trai are a series of switchbacks that can be handled by any fit person, but the last 0.5 mile is extremely narrow and requires holding on to cables with steep drops on either side. If you have a fear of heights, you probably want to avoid that portion of the hike.
This hike has become especially well-known in recent years (thank you, social media) and now there is a lottery that must be entered in order to secure a permit to complete it. You do not need a permit to do the first two miles of the trail before it narrows out and the views from this spot are just as special.
In addition to all the great hikes, people who visit Zion also can enjoy canyoneering, horseback riding, biking, and even tubing in the Virgin River. We cover it all in our complete guide to things to do in Zion with kids.
Finally, we don't want to highlight this park without mentioning the Kolob Canyon portion of Zion National Park. It is located off Interstate 15 in between St. George and Cedar City. It is a great place to stop on a road trip to stretch your legs and visit this less visited portion of the park.
Take time to visit the Kolobs Canyon Viewpoint and then take the short but easy hike to the Timber Creek Overlook. The hike is just one mile in length and the view at trail's end is expansive as it looks down on Timber Creek and the surrounding area.
Cedar Breaks National Monument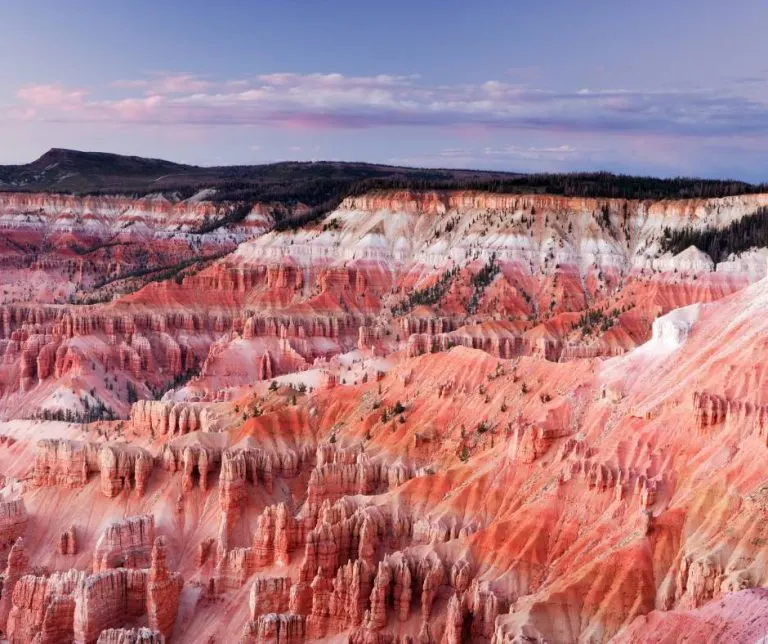 Distance from Salt Lake City: 290 miles (four hours and 40 minutes)
Cedar Breaks National Monument is located near ski resort town of Brian Head, in southern Utah. It is known for its breathtaking amphitheater, which spans over three miles in diameter and is more than 2,000 feet deep.
The amphitheater is characterized by its towering cliffs, deep canyons, and vibrant colors, reminiscent of Bryce Canyon. Unlike Bryce, you can not hike down into the Cedar Breaks Amphitheater. It is simply too steep and dangerous.
There are a few different scenic overlooks that provide panoramic views like Point Supreme, located at an elevation of 10,350 feet and accessible by car. Spectra Point and Ramparts Overlook are two other notable viewpoints that can be reached by short hiking trails.
The Alpine Pond Trail is an easy, 0.6-mile loop trail through a subalpine meadow and passes by Alpine Pond. While on the trail, keep your eyes out for wild flowers. The high elevation and unique climate support a diverse range of wildflowers, including columbines, lupines, and Indian paintbrush.
Bears Ears National Monument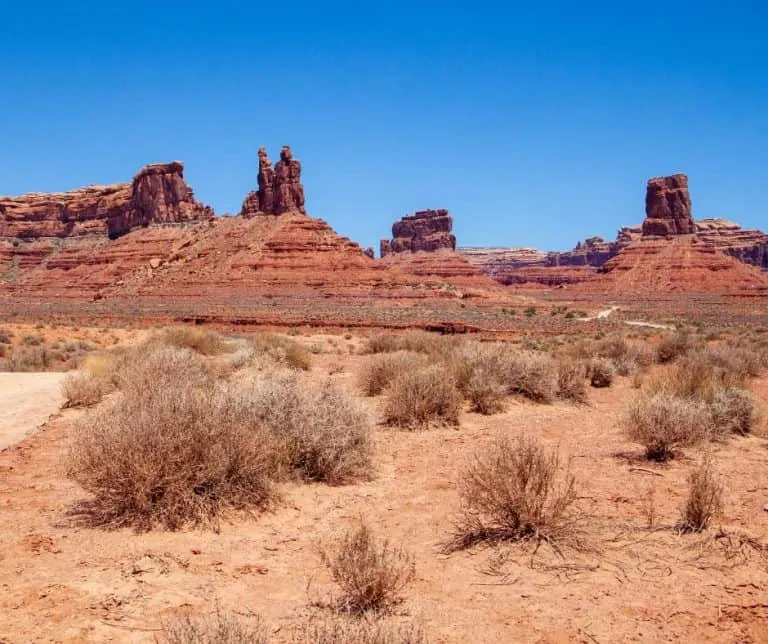 Distance from Salt Lake City: 288 miles, (four hours, 45 minutes)
Bears Ears National Monument has been the center of controversy and debate since its designation in 2016 by then-President Barack Obama. The monument protects cultural, archaeological, and natural resources, but there was significant opposition from some local stakeholders, including elected officials, and ranchers.
Native American tribes, including the Navajo, Hopi, Ute, Zuni, and Ute Mountain Ute, advocated for the monument's creation. They considered the land to be sacred and important to their cultural heritage, and saw the monument as a means to protect their ancestral sites, artifacts, and traditions.
In December 2017, then-President Donald Trump issued a proclamation to significantly reduce the size of Bears Ears National Monument by approximately 85%. The reduction aimed to address concerns raised by opponents of the monument designation and allow for increased access and potential resource extraction within the area.
In October of 2021, President Biden restored more than two million acres to Bears Ears National Monument, further protecting numerous sacred sites, ancient cliff dwellings, petroglyphs, and artifacts that showcase the rich Native American heritage of the region dates back thousands of years.
While this national monument is fairly undeveloped in terms of services, visitors can explore ruins such as the House on Fire Ruin, Mule Canyon Ruins, and Moon House Ruin, among others.
Indian Creek is a scenic area that is popular with climbers in the spring and fall. It is also a great place to search for raptors like golden eagles and peregrine falcons soaring near the area's dramatic cliffs.
Cedar Mesa is a great spot for backpacking through canyons and visiting native cultural sites. A permit is required for visiting this portion of the park whether you are backpacking or going on a day hike, but they are easy to obtain.
There are two great driving routes in this area of the park. The Trail of the Ancients follows State Route 95 from State Route 261 to Blandin and visits sites likes the Mule Canyon Interpretive site, Butler Wash
Interpretive Trail, and the Butler Wash Dinosaur Tracksite.
The Valley of the Gods sits 1,100 feet below Cedar Mesa and is the 17-mile dirt road (okay for two-wheel drive vehicles) is filled with natural sandstone sculptures.
Grand Staircase-Escalante National Monument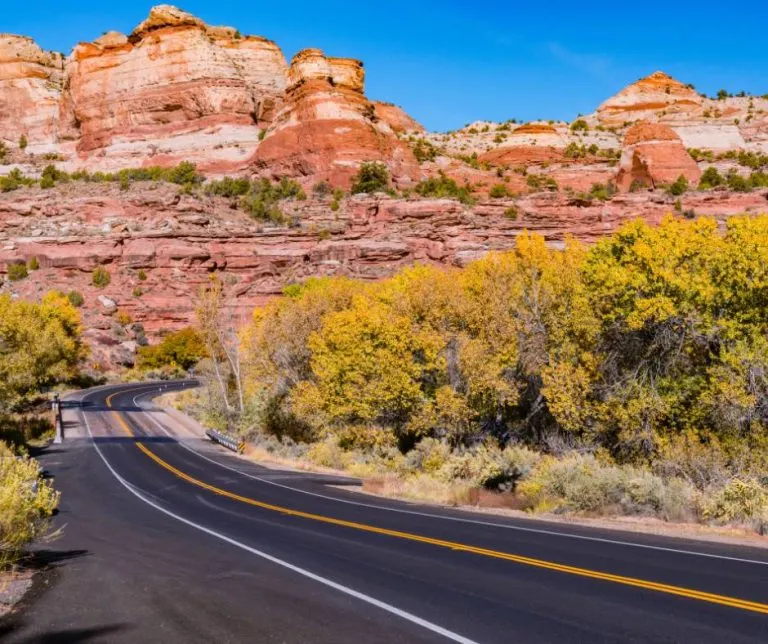 Distance from Salt Lake City: 278 miles, (four hours, 45 minutes)
Like Bears Ears, Grand Staircase-Escalante National Monument has been filled with the same back and forth controversy regarding the size of the monument and the desired usage by other parties. President Trump signed legislation to shrink the monument and President Biden signed legislation to restore it to its former, 1.7-million-acre size.
This park acts as an outdoor laboratory for scientists and several new species of dinosaur have been discovered here, as well as the oldest known marsupial fossils and 600 different types of bees.
Visitors also enjoy outdoor recreation, especially in the park's slot canyons. Hike Peek-a-boo Gulch combined with Spooky Gulch for a 3.5-mile loop through two slot canyons that get very narrow at points.
This hike is located on Hole in the Rock Road which is best suited for SUVs or trucks. Devils Garden is another fun place to stop on Hole in the Rock Road to enjoy hoodoos and unique rock formations. Zebra Canyon is another slot canyon hike to enjoy in the area as well.
Take a scenic drive along Utah's Highway 12 to enjoy the beauty of this national monument. The drive along Highway 12 is amazing any time of year but is especially colorful in the fall. Here are 10 Great Places to See Utah Fall Colors.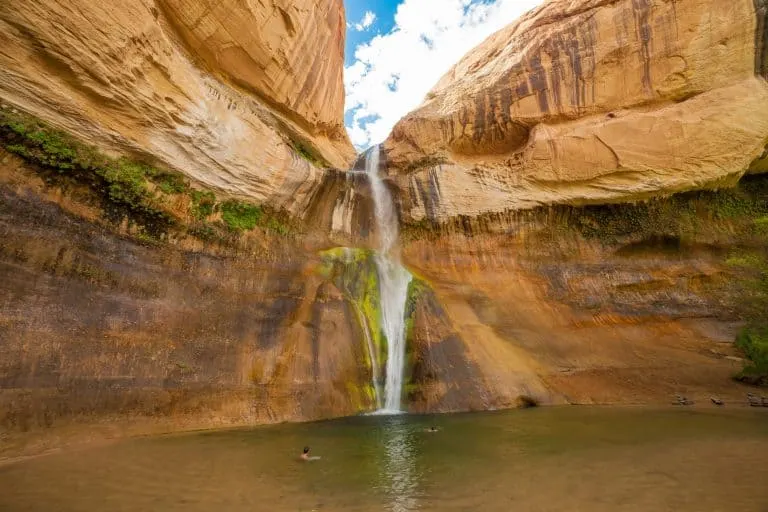 If discovering a waterfall in the desert sounds like fun, take the six-mile (round trip) hike to Lower Calf Creek Falls, where a 130-foot waterfall tumbles into an inviting swimming hole.
Finally, the 4.4-mile trail to Escalante Natural Bridge crosses the river multiple times but it is easy (minus during spring runoff) and great fun for families. There are petroglyphs to enjoy alog the way as well.
Grand Teton National Park
Distance from Salt Lake City: 282 miles, (about five hours)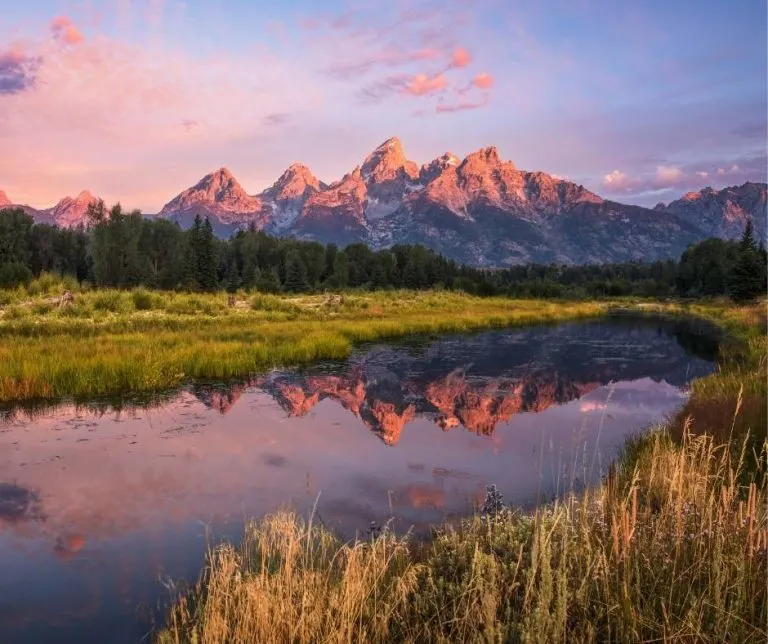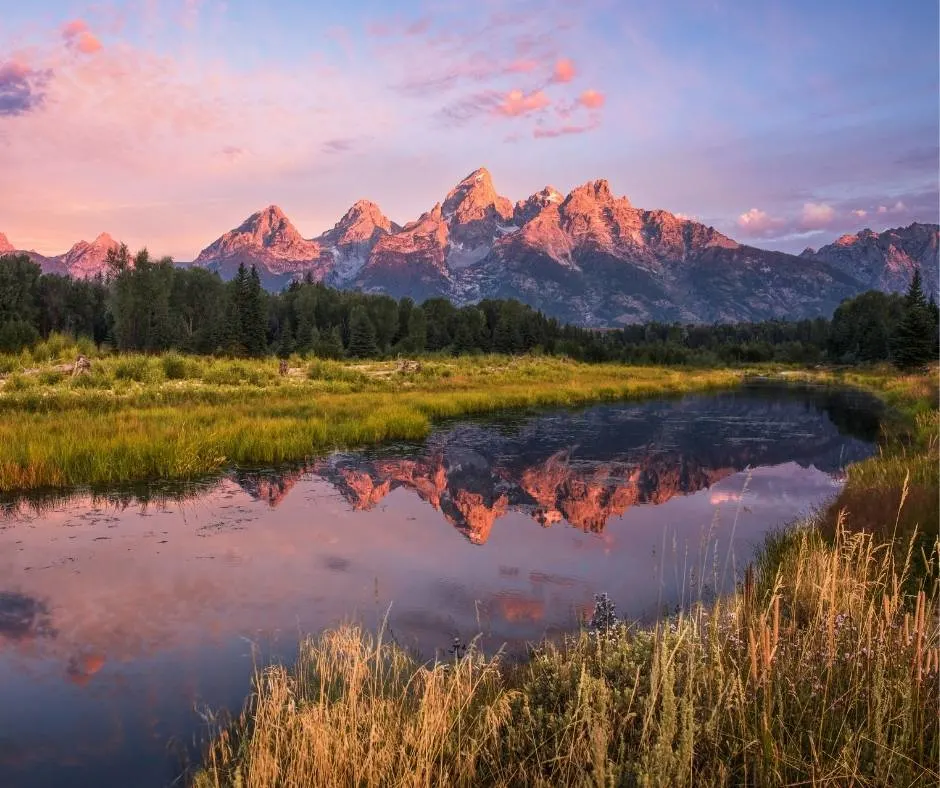 Grand Teton National Park in Wyoming is closer than you think! Only a five-hour drive from Salt Lake City, this park ranks among our favorites in the entire national park system.
Why? The Tetons are some of the most beautiful mountains on the planet (and a photographer's dream), the wildlife is abundant, and the hiking is spectacular. The best time to visit is from mid-May to late September when hiking trails, visitor centers, and water activities are all open.
We have a full guide to things to do in Grand Teton National Park with kids as well as the best hikes in Grand Teton National Park but here are some of the highlights.
If you take only one hike in Grand Teton, let it be the trail to Hidden Falls and Inspiration Point. It is a popular hike so I suggest you do it first thing in the morning to avoid the crowds. Most people reach this trailhead by taking the Jenny Lake ferry shuttle service from the marina near the Jenny Lake Visitor Venter.
Hidden Falls are an impressive waterfall and Inspiration Point looks out over Jenny Lake and the surrounding wilds. You can continue further into Cascade Canyon if you would like to extend your hike.
Biking is a great way to explore the park. A multi-use bike pathway extends all the way from the town of Jackson. You can also enjoy the scenery of the Tetons on horseback. Guided tours depart from Colter Bay, Jackson Lake Lodge, and Headwaters Lodge and Cabins. You can even stay at a dude ranch inside the park- Triangle X Ranch.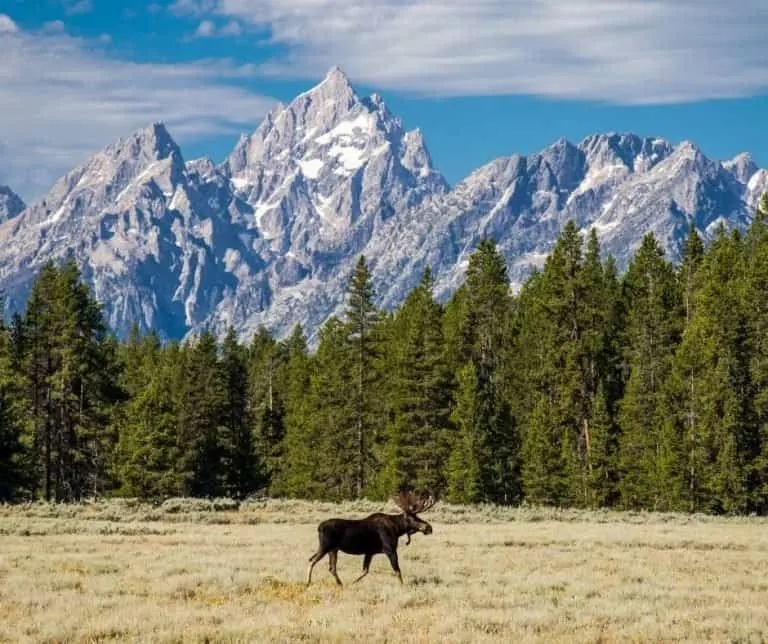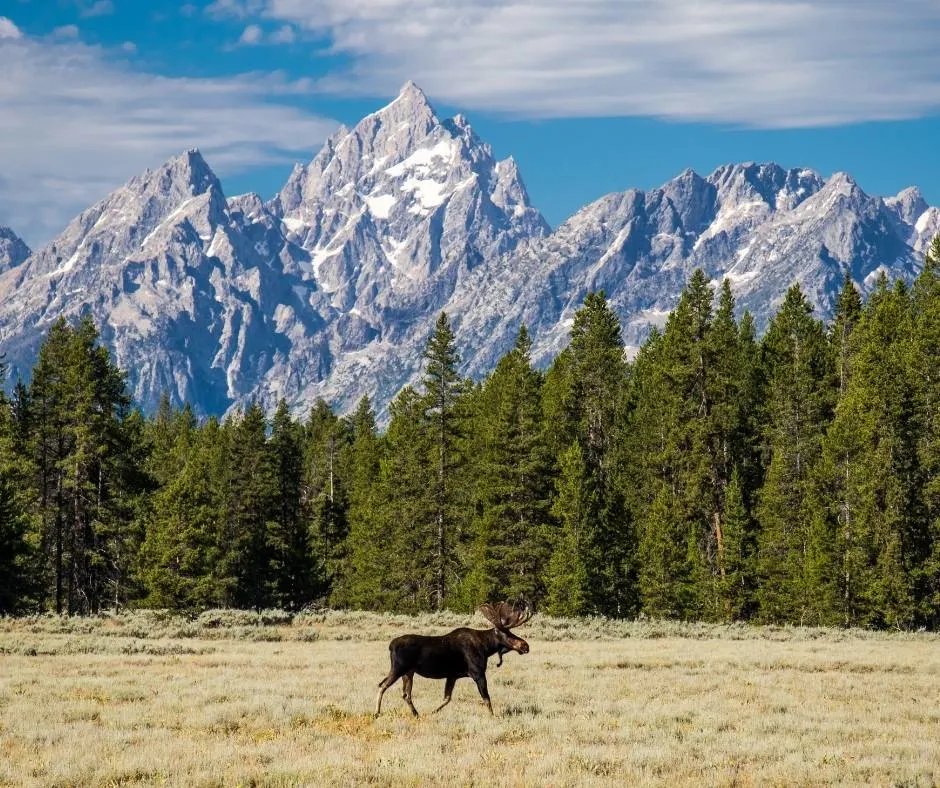 Wildlife viewing is a big draw in this park. You are most likely to spot animals at sunrise or sunset. You can book a guided tour or go it alone. Commonly seen animals include moos, bears, elk, bison, and pronghorn.
Yellowstone National Park
Distance from Salt Lake City: 321 miles (about five hours)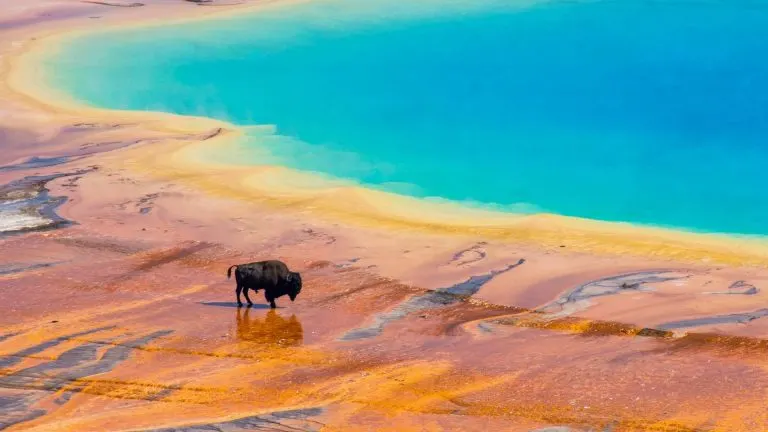 Last but certainly not least, Yellowstone National Park is another one of the national parks near Salt Lake City. The entrance to this park is only about five hours away!
Yellowstone is known for its geysers, wildlife, and incredible diversity. It should be no surprise that we have a complete guide to things to do in Yellowstone with kids, but here are some things to get you excited about taking a trip to this special place.
One of the biggest draws to Yellowstone National Park is that it is home to more geysers, springs, and other hydrothermal features than anywhere else in the world. There are several geyser basins around the park where you can experience these natural wonders.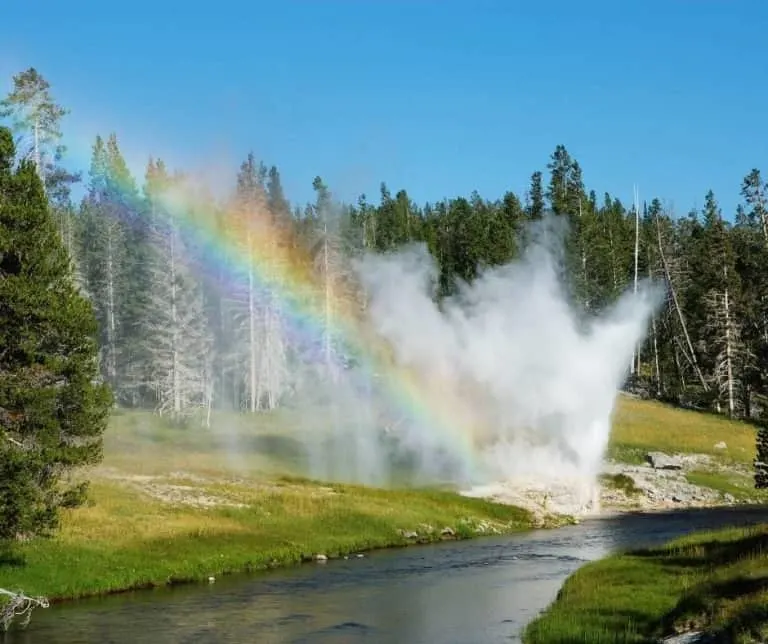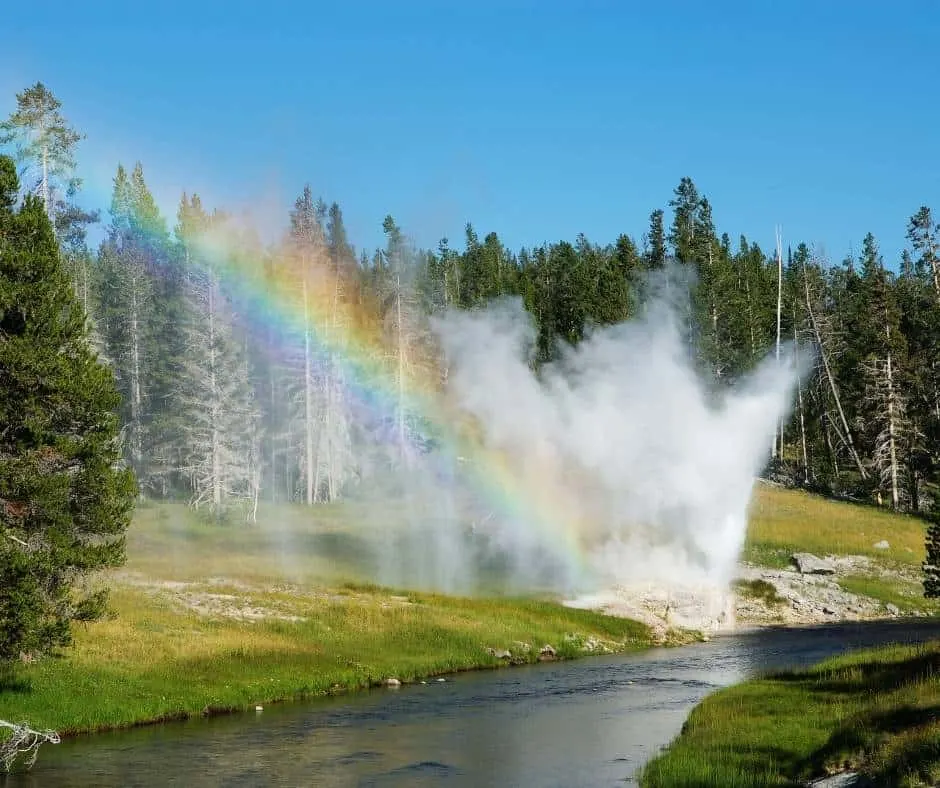 The most popular is Upper Geyser Basin, home to Old Faithful. There are several other geysers in this area which erupt a semi-regular basis, like Riverside Geyser, Grand Geyser, and Castle Geyser. It is also home to the brilliantly colored Morning Glory Pool as well as several others. The entire boardwalk route around the area is five miles.
Grand Canyon of Yellowstone is another place you won't want to miss. The steep walls of this canyon look like they were hand painted and the upper and lower Yellowstone Falls rival waterfalls around the country in terms of beauty. Definitely take time to walk down to the brink of the Lower Falls which is very impressive.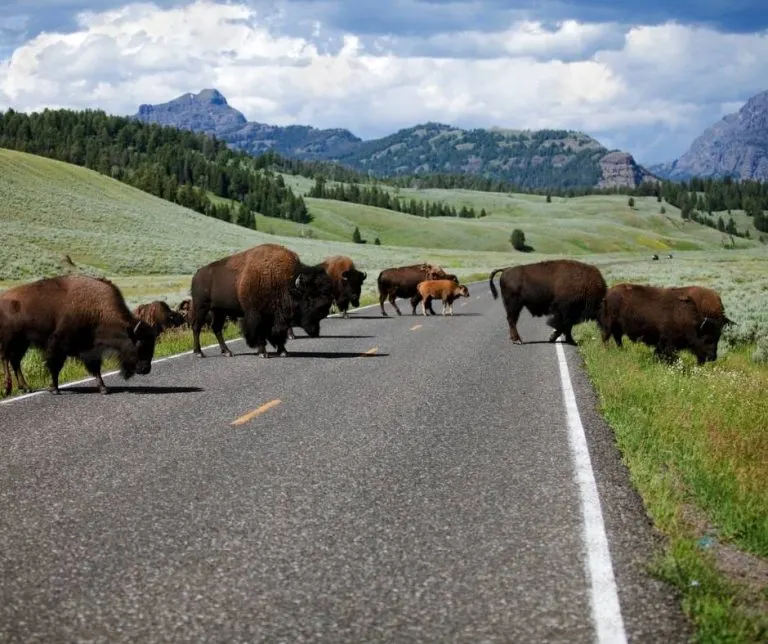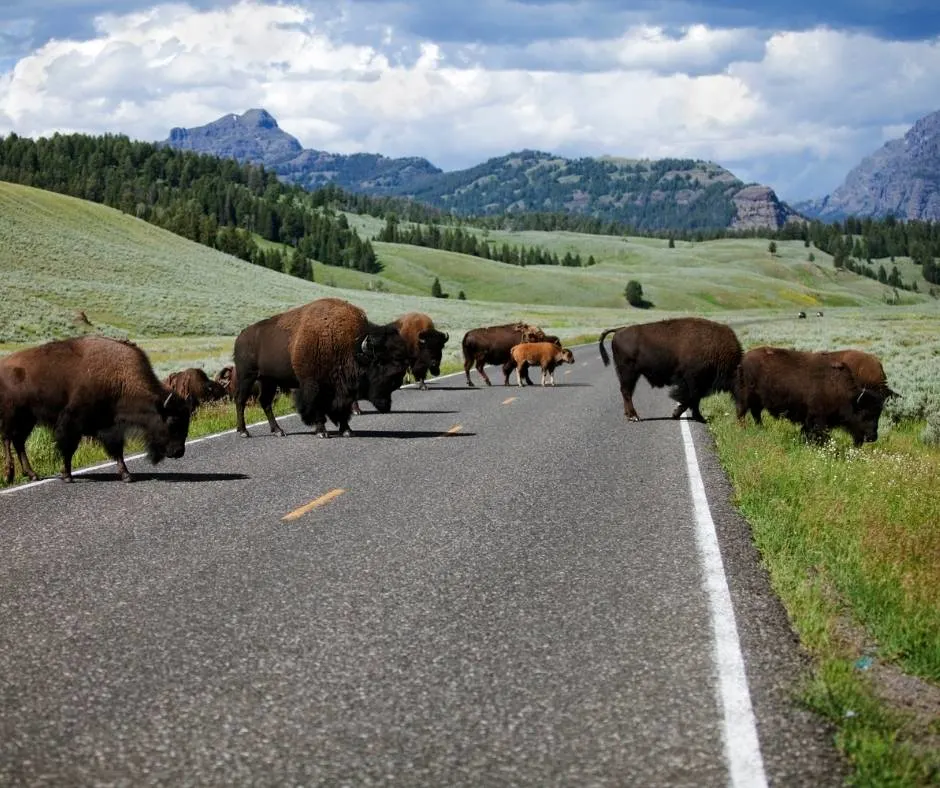 Wildlife viewing is another on of the main attractions in Yellowstone. The best viewing tends to be in the Lamar Valley in the northeast portion of the park. Herds of bison, pronghorn, and deer live here as well as coyotes, bears, and wolves. You can also find these animals in the Hayden Valley, especially at sunrise and sunset.