As the crisp autumn air falls upon the Keystone State, Pennsylvania fall foliage transforms into an array of vibrant colors. From fiery reds to golden yellows and rich oranges, fall color transforms Pennsylvania's landscapes into a striking canvas.
With diverse forests, charming small towns, and stunning parks throughout the state, you will surely find some of the best places to witness nature's majestic transformation in Pennsylvania.
Whether you're a local wishing for scenic drives or an out-of-state visitor planning a leaf-peeping adventure, the Birthplace of America offers abundant options for experiencing the beauty of fall.
Explore more of the state. Here are our favorite things to do in Pennsylvania with kids.
Great Places to See Pennsylvania Fall Foliage
The leaves in Pennsylvania change around the end of September into October. Northern counties, especially those in the mountains like Mckean and Potter counties, tend to change first, then the west, central, and northeast counties, followed finally by the southeast counties surrounding Philadelphia. Check out the yearly calendar from the PA state website for the most up-to-date information.
Pocono Mountains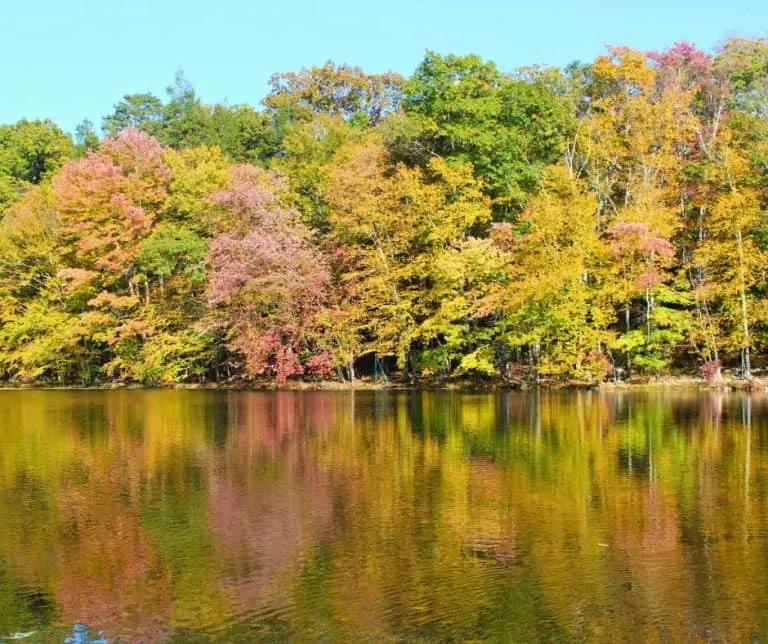 With its beautiful landscapes and dense forests, the Pocono Mountains in Eastern Pennsylvania offer stunning fall foliage views. Capture nature at its finest by planning your trip between late September and early November when the leaves transition from lush green hues to brilliant shades of red, orange, and gold.
For those looking for the perfect fall hike, head out to one of the many state parks dotted around the dense forests, where you'll be surrounded by autumnal splendor. Great trail options include Bushkill Falls Trail, Delaware Water Gap National Recreation Area trails, or Hickory Run State Park trails.
If you're looking for something more leisurely, you can drive along charming routes such as Route 209 or Route 390, where you'll find yourself surrounded by panoramic vistas of rolling hills blanketed in fiery foliage.
The Pocono Mountain region is free, and there is no fee to enter any state park in Pennsylvania. National Recreation areas in the Poconos are also free to enter.
Ricketts Glen State Park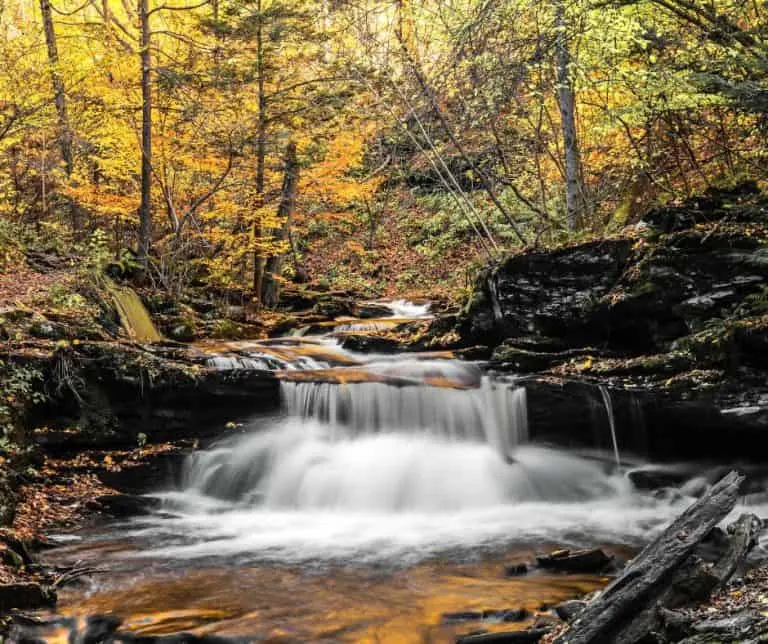 Ricketts Glen State Park is a lesser known treasure in northcentral Pennsylvania with breathtaking scenery and incredible fall foliage. As the leaves begin to change colors, this park transforms into a vibrant paradise that attracts nature enthusiasts from far and wide.
One of the main highlights of Ricketts Glen State Park is its 24 picturesque waterfalls. These cascades are surrounded by lush forests, creating a lovely backdrop for fall foliage viewing. Ricketts Glen's 26 miles of hiking trails and 13,000 acres of forested land are filled with diverse tree species such as maple, oak, birch, and ash – all contributing to a magnificent display of autumn hues.
A crowd favorite, The Falls Trail, is approximately seven miles roundtrip and is a great way to encounter numerous waterfalls surrounded by brightly colored trees.
Entry to the state park is free.
Ohiopyle State Park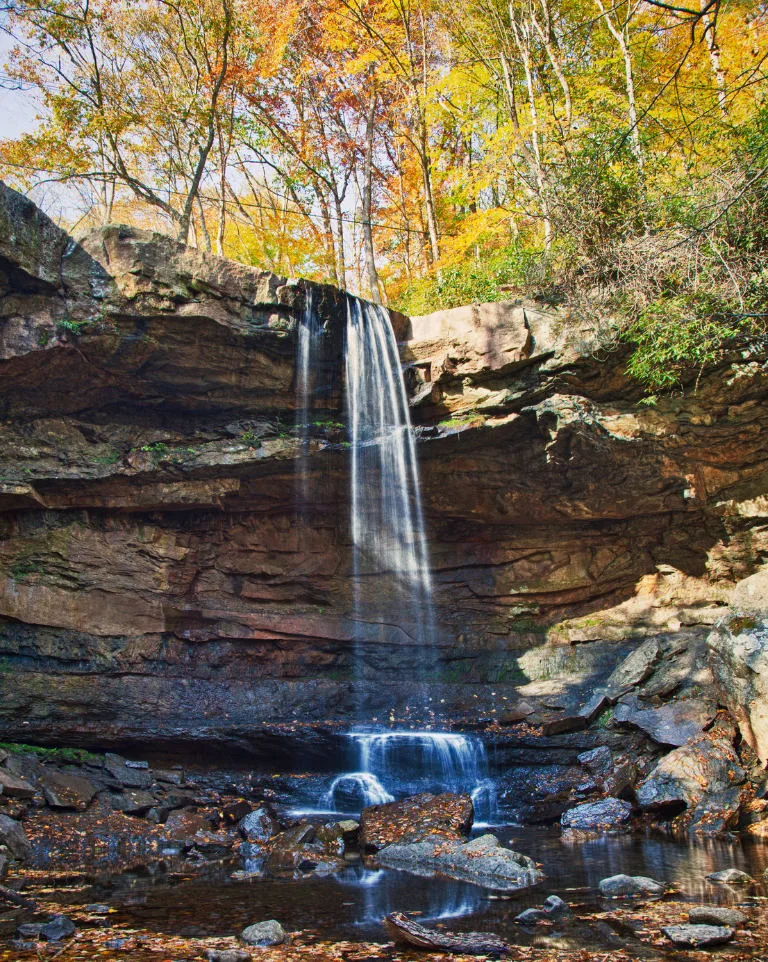 Ohiopyle State Park is a natural wonder in southwestern Pennsylvania. The park is known for its breathtaking landscapes and diverse wildlife and is especially enchanting during the fall season when the foliage transforms into a tapestry of colors.
One of the most popular activities for visitors during this time is hiking along the park's 79 miles of trails. The Ferncliff Trail offers a unique perspective on fall foliage as it winds along the edge of the Youghiogheny River. Capture panoramic views of colorful canopies reflecting off the tranquil waters below while surrounded by towering trees displaying their autumnal grandeur.
Another must-see attraction within Ohiopyle State Park during fall is Cucumber Falls. The Cucumber Falls trail is a challenging hike along the beautiful river, ending in a captivating waterfall framed by autumn leaves adorned with shades of orange and red.
Entry to the state park is free.
Laurel Highlands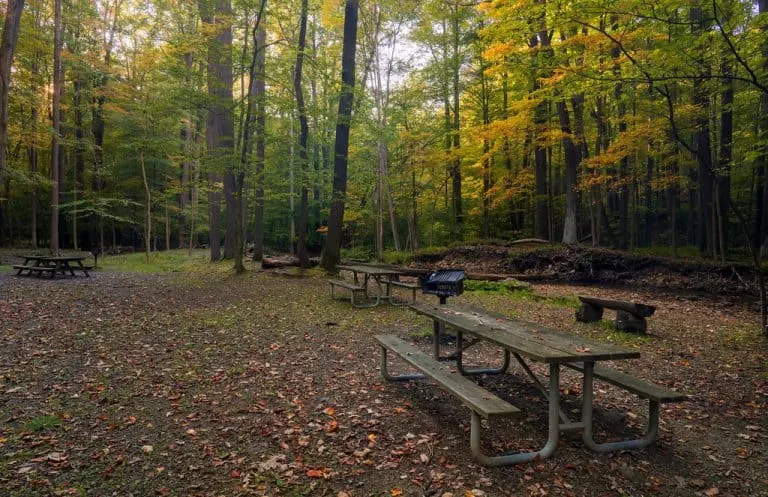 The Laurel Highlands region in southwestern Pennsylvania is known for its natural beauty, especially during the fall. The Laurel Highlands is home to several state parks, including Ohiopyle State Park, mentioned above, but the greater area also offers excellent opportunities for leaf peeping.
Linn Run State Park offers captivating views from Adams Falls Trail, while Kooser State Park features a serene lake surrounded by vibrant trees that can be viewed by easily accessible trails.
For those seeking more active ways to enjoy the fall foliage, Mount Davis, Pennsylvania's highest point, provides an awe-inspiring vantage point from which you can marvel at miles of colorful forested landscapes below. You can access the peak by multiple trails that encircle the peak, with the High Point Trail being the best option.
You can also head out on a drive through some of the most scenic routes in the area, such as Route 381 or Lincoln Highway (Route 30). These roads wind through lush forests and offer incredible panoramic views of colorful hillsides ablaze with autumn hues.
All state parks in Pennsylvania are free.
Hawk Mountain Sanctuary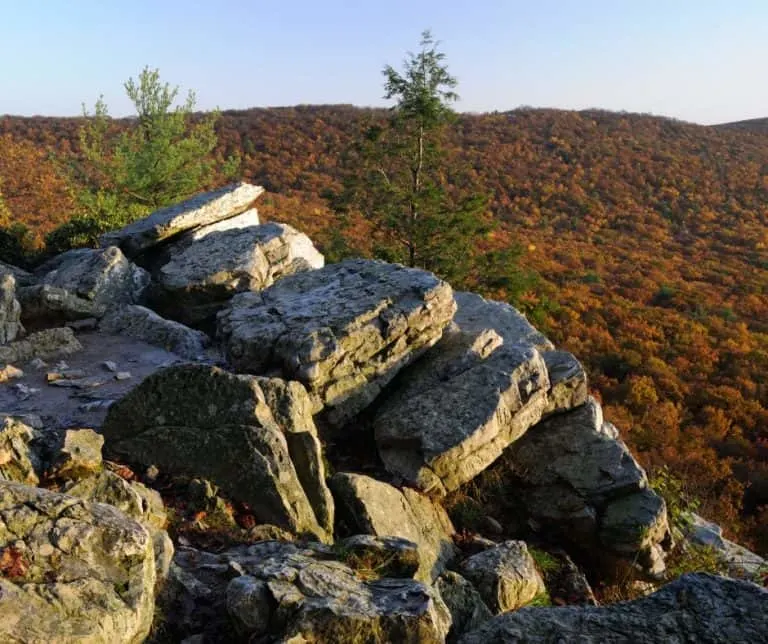 Hawk Mountain Sanctuary is the perfect place to enjoy a beautiful array of fall colors. Nestled in the heart of Pennsylvania's Appalachian Mountains, this sanctuary is a haven for nature enthusiasts and avid hikers.
One of the best ways to experience this natural wonderland is by embarking on one of Hawk Mountain's trails. Whether you're a seasoned trekker or simply enjoy leisurely walks amidst nature's splendor, there are trails suitable for all fitness and adventure levels. One of the best trails is the River Rocks Loop, a 4.5-mile trek that allows for spectacular views of the area.
Hawk Mountain Sanctuary offers guided hawk-watching programs during fall migration season for those seeking even more exhilaration. Witness thousands of majestic birds as they embark on their annual journey southward. Expert guides provide fascinating insights into these magnificent creatures while helping visitors spot various species gliding gracefully across the sky.
Entry fee depends on the date and time of reservation, but prices are typically under $3 per person.
Gettysburg National Military Park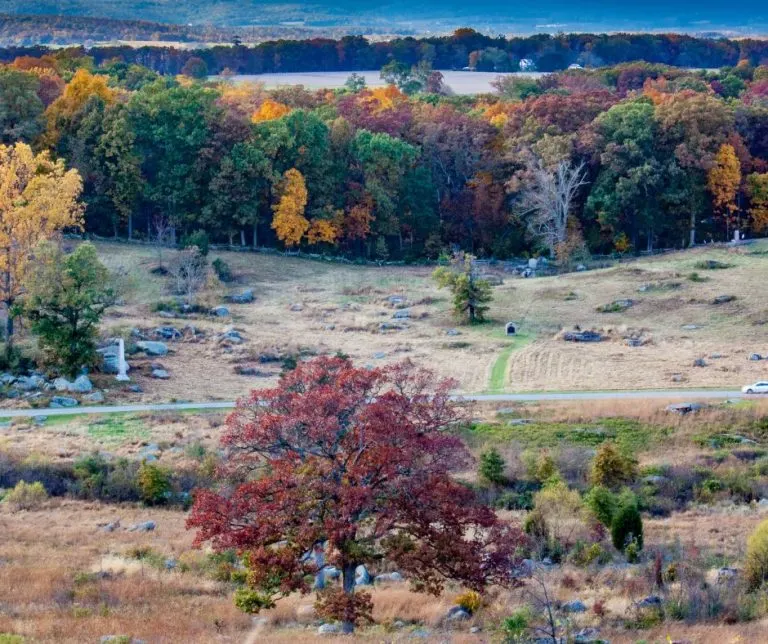 Gettysburg National Military Park combines the rich history of the famous Civil War Battle with colorful fall foliage during the autumn months. Nestled amidst the historic battlefields and monuments, this national park offers a unique opportunity to immerse yourself in both natural beauty and significant historical landmarks.
Depending on your preferences, there are various ways to explore the fall foliage in Gettysburg National Military Park. You can opt for a leisurely drive along winding roads through wooded areas or choose more active options such as hiking or biking trails, like the Big Round Top trail, that offers views of nature's display.
For a deeper understanding of both the natural surroundings and historical significance, consider joining one of the guided tours offered within the park. Knowledgeable guides will lead you through key locations while sharing insights and stories from Gettysburg's past.
It's free to enter Gettysburg.
Allegheny National Forest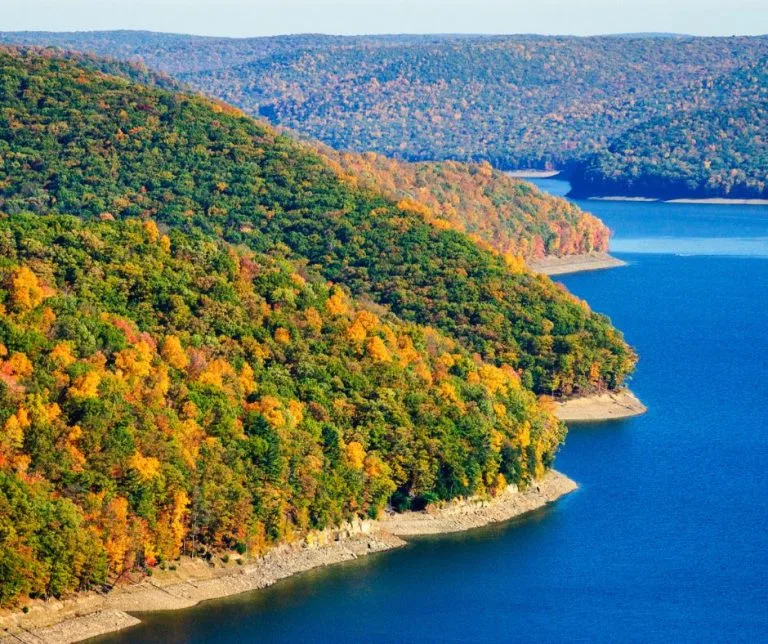 The vast expanse of Allegheny National Forest in Northwest Pennsylvania transforms into an array of reds, oranges, and yellows during the fall season—perfect for leisurely drives or hikes along its numerous trails. With its sprawling woodlands and diverse tree species, this captivating forest provides an unforgettable experience as you immerse yourself in nature's colorful canvas.
For a unique perspective on fall foliage viewing, head to Kinzua Bridge State Park near Mount Jewett. This iconic destination offers panoramic views of the surrounding wilderness on a path extending 624 feet at 225 feet above the valley floor.
The Longhouse Scenic Byway near Kane offers a 36-mile journey through breathtaking landscapes adorned with exquisite fall foliage. For those seeking outdoor adventures on foot, trails like Rimrock Overlook Trail or Minister Creek Trail provide opportunities to hike amidst towering trees ablaze with color.
Entry to the National Forest is free.
Pine Creek Gorge
Pine Creek Gorge is known as the Grand Canyon of Pennsylvania. Every autumn, this location transforms as the leaves change, attracting visitors from near and far. Located in northcentral Pennsylvania, Pine Creek Gorge stretches for over 47 miles and reaches depths of up to 1,450 feet.
Hiking enthusiasts will have plenty of options with the numerous trails that wind their way through this spectacular landscape. The Turkey Path Trail is one popular option that offers the opportunity to descend one mile into the canyon.
If hiking isn't your cup of tea, but you still want to marvel at Mother Nature's artistry, embark on a drive along Route 6, one of the best scenic drives in Pennsylvania. These byways offer panoramic vistas at every turn and are especially enchanting during peak fall foliage season.
Entry to the state park is free.
Presque Isle State Park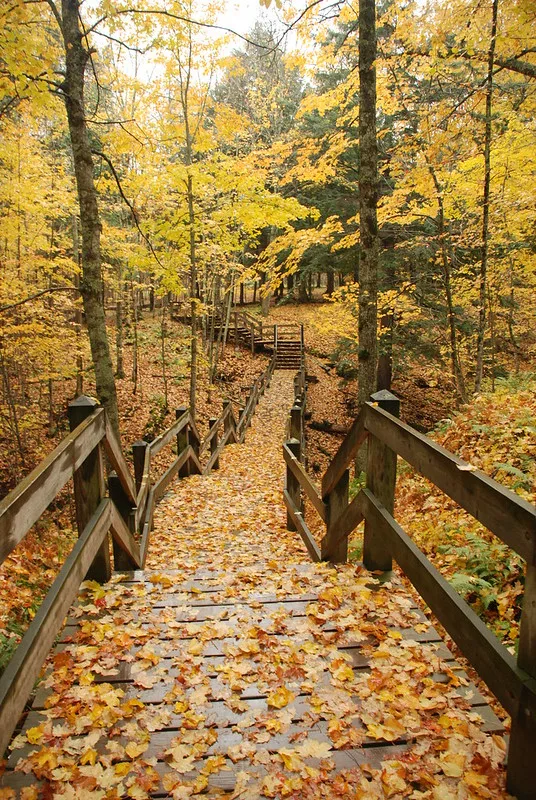 Presque Isle State Park, located on the shores of Lake Erie in Pennsylvania, covers approximately 3,200 acres and is known for its diverse ecosystems, including forests, marshes, and sandy beaches. The park's abundance of deciduous trees makes it a prime destination for leaf peepers during fall.
The Karl Boyes Multi-Purpose National Recreation Trail is a popular trail for viewing fall foliage. This quaint path winds through lush woodlands and offers breathtaking vistas overlooking Lake Erie.
For those seeking a more leisurely experience, drive around the eight-mile loop road that encircles the peninsula, offering panoramic views at every turn. Pause at designated overlooks or find a cozy spot by one of the many picnic areas to enjoy a picnic surrounded by changing leaves.
Entry to the state park is free.
Jim Thorpe and Lehigh Gorge Scenic Railway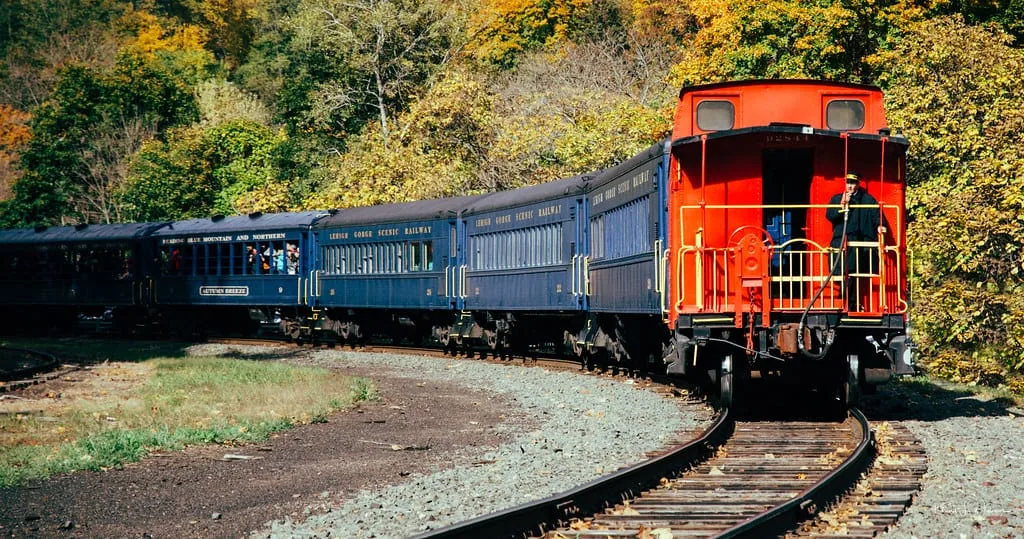 The town of Jim Thorpe, often referred to as "The Switzerland of America," boasts a quaint and cozy landscape that transforms into a tapestry of reds, oranges, yellows, and greens as fall sets in. The towering mountains, dense forests, and winding rivers create an awe-inspiring backdrop for nature enthusiasts seeking the perfect fall getaway.
One of the best ways to witness this natural spectacle is by hopping aboard the historic Lehigh Gorge Scenic Railway. This railway journey takes you on a mesmerizing tour through the heart of Pennsylvania's wild beauty. Take one of the vintage coaches with large windows that frame Mother Nature's majestic artistry.
The Lehigh Gorge Scenic Railway costs $22.
Mackenzie Jervis is a writer currently lives in Las Vegas with her husband, son, and daughter. She's visited over 65 countries and writes about her travels and literary adventures on A Wandering Scribbler. When not writing, she's probably browsing bookstores, out in the mountains, or making lists in her favorite Japanese notebook.