Did you know that you can find brilliant fall folaige in Texas? Its' s true, you can enjoy fall in Texas and fall colors in Texas are actually easy to find if you know where to look. !
Texas is a massive state with quite a bit of diveristy in landscape and foliage. Many of the states riparian areas have deciduous trees lining them, and in October and November, they can be simply marvelous as their leaves show off brilliant oranges, reds, and yellows.
Here are 10 of our favorite places to see Texas fall foliage, from the Pineywoods to urban oases.
Fall in Texas- 12 Places to Enjoy Fall Colors in Texas in 2023
1. Lost Maples State Natural Area in Vanderpool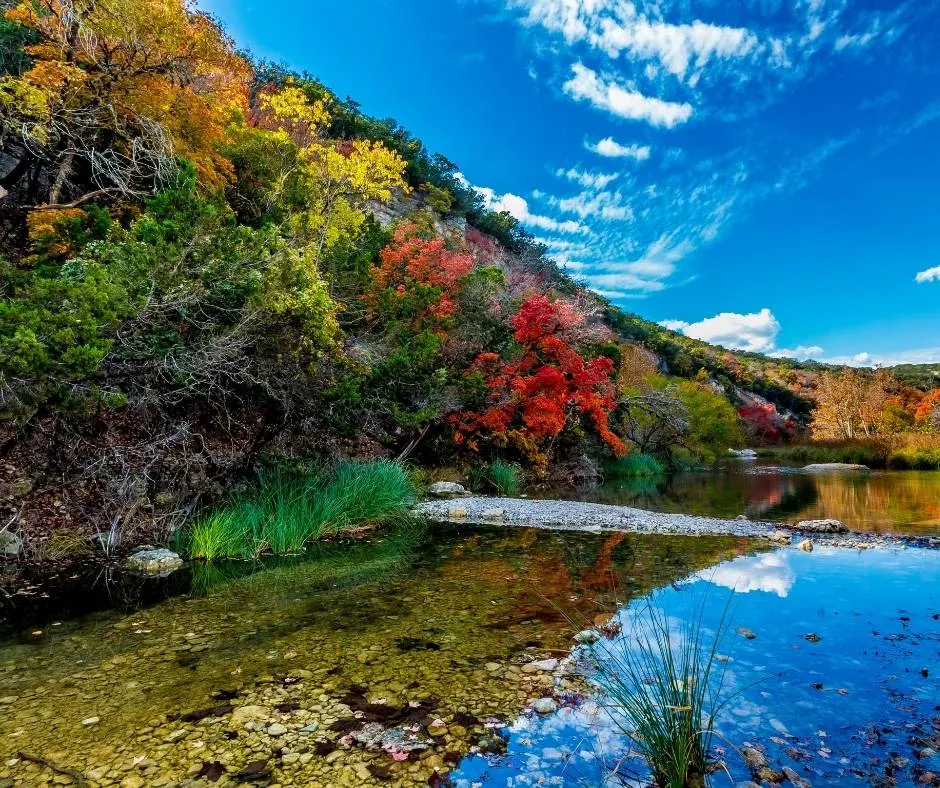 Fall in Texas begins in mid to late October, when the reds and yellows from the Big Tooth Maple Trees will be showing off their beauty! Lost Maples State Natural Area, about two hours from San Antonio and three hours from Austin, is a great place to spend the weekend leaf peeping.
Hike, camp, bike, fish, and bird watch in this 2100-acre state park, all while enjoying fall colors in Texas. Fall foliage tends settle into Sabinal Canyon, where Lost Maples is located, in early November but they have a foliage report worth monitoring beginning in mid-October.
Lost Maples State Natural Area made our list of the best state parks in Texas. See what else made the list!
2. McKittrick Canyon in Guadalupe Mountains National Park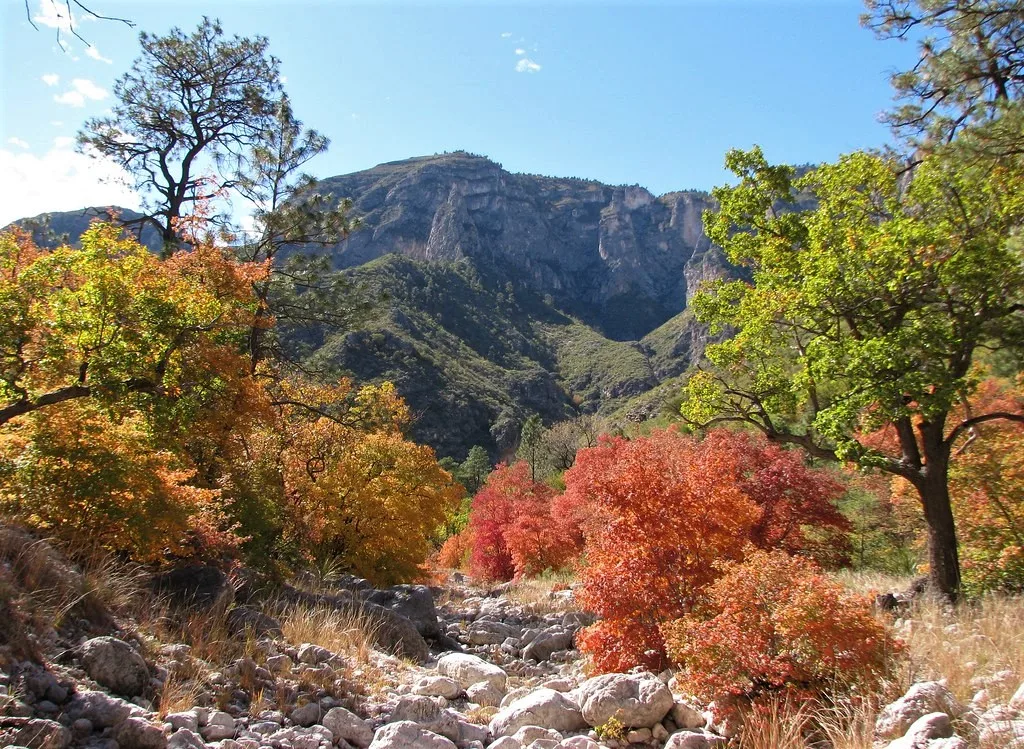 While much of Guadalupe National Park is desert landscape, thereare actually some great places to enjoy Texas fall foliage inside the park.
Smith Springs and Devil's Hall are two good spots, but the most popular place to enjoy fall colors inside the park is McKittrick Canyon.
Late October to mid-November visits to McKittrick Canyon are the most popular for those looking to see fall foliage in Texas.
The trees display their bright reds and golds which beautifully contrast with the steep canyon walls, desert plants, and wildlife. Most of the fall color is between Pratt Cabin and the Grotto by the creek.
If you're planning on hiking in the Canyon, pack a lunch and visit the Stone Pratt Cabin and the Grotto. 800 feet in elevation is gained on this 6.8-mile round trip hike. The stone picnic tables near Hunter Line Shack are good spots to enjoy lunch. Be sure to check out the exposed cave features nearby.
Keep in mind that McKittrick Canyon is designated as day-use only and closes by 6pm in October and 4pm in November. Guadalupe National Park does post fall color updates on their website.
Explore the entire Lone Star State! Here are our favorite things to do in Texas with kids.
3. Experience Fall Colors in Texas at Lake Bob Sandlin State Park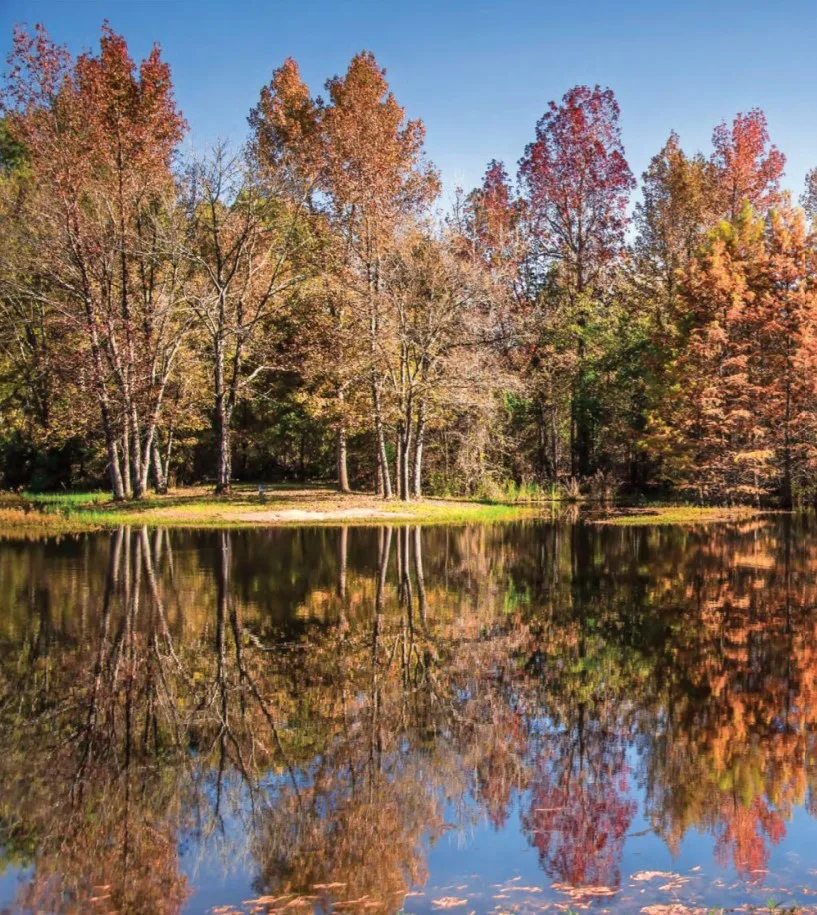 Lake Bob Sandlin in northeast Texas turns red and gold in late October-mid through November. The gorgeous oak, hickory, pine, dogwood, redbud, and maple that live along the lake are in full color display around that time.
Beyond enjoying Texas fall colors, visitors also love to spend time camping, fishing (especially bass, catfish, and crappie), hiking, swimming, and mountain biking at this wonderful state park.
If you're planning on staying for a few days, there are limited use cabins, a playground for kids, and even a lighted fishing pier!
4. See Texas Fall Foliage at Daingerfield State Park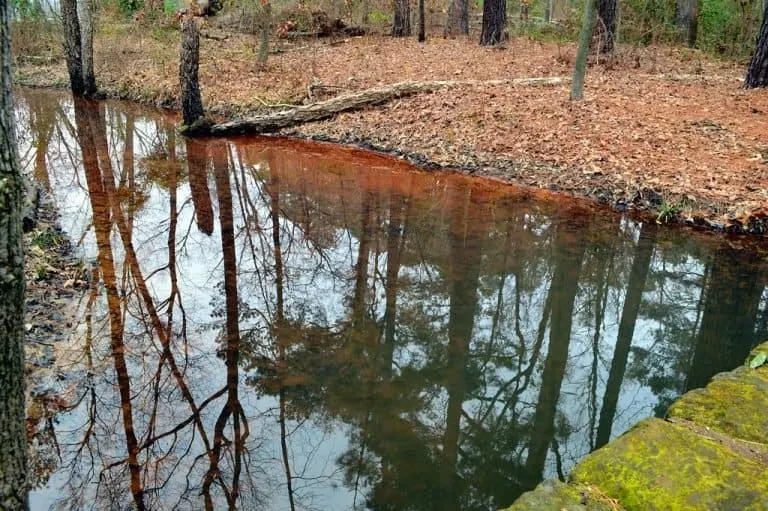 Watch the Sweetgums, Dogwoods, and Wisteria Vines burst into bright reds and golds against the evergreen background at Daingerfield State Park. This is another northeastern Texas gem, about two hours from Dallas.
Visitors with young kids can enjoy hiking, camping, renting a lodge room, swimming, fishing, paddle boating, playing on the playground with slides and swings, and more! It is a great place to enjoy fall in the Piney Woods of Texas.
To maximize your enjoyment of the Texas fall colors, hike the Rustling Leaves Trail which is an easy, 2.4-mile walk around the lake.
5. Enjoy Hill Country Color at Garner State Park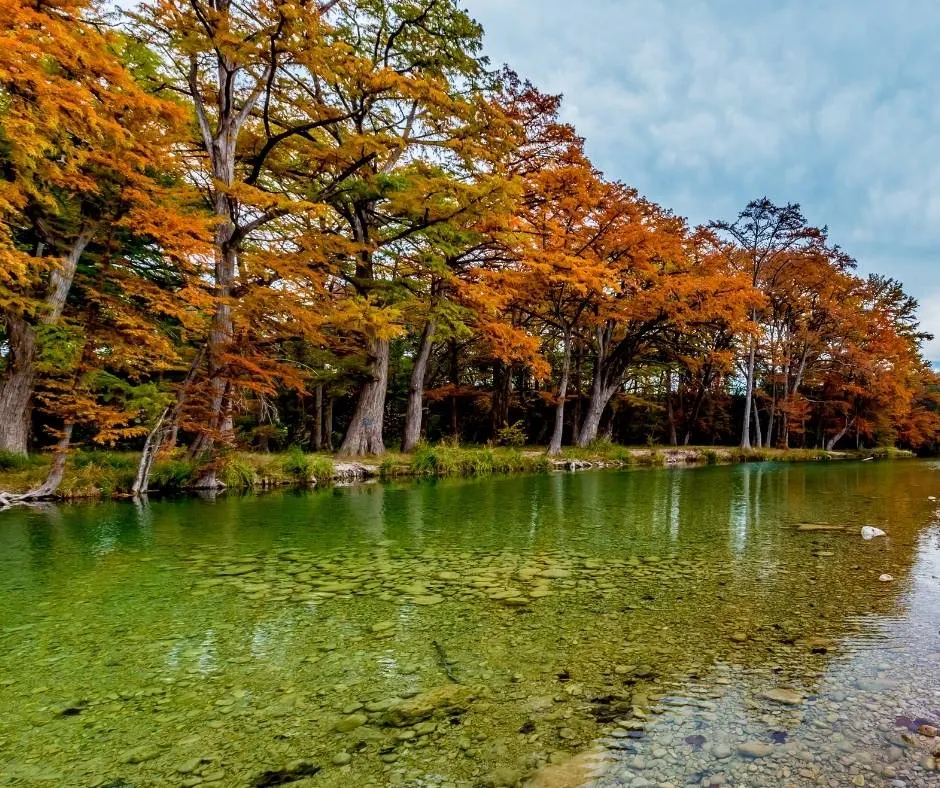 If you are looking for a place to enjoy fall foliage in Texas Hill Country, look no further than Garner State Park.
When the weather is warm, this is a popular spot for swimming and floating in the Frio River but come autumn, the landscape which is lush with cypress, elm, oak, and pecan trees bursts with auburns and golds.
There are 16 miles of hiking trails (we like the 0.5-mile Blinn River Trail, 0.5-mile Old Baldy Trail, and 2.9-mile Frio Canyon Trail) to enjoy inside this state park, and it is a fun place to fish, ride bikes, play miniature golf, or camp.
Choose to stay in rustic cabins that were built by the Civilian Conservation Corps in the 1930s or stay in a screened shelter or campsite.
Trekaroo Tip: If you visit during the summer evenings, you can enjoy the park's popular jukebox dance which has taken place in the evening since the 1940s.
6. Take a Fall Foliage Drive on Hwy 14 From Tyler To Winnsboro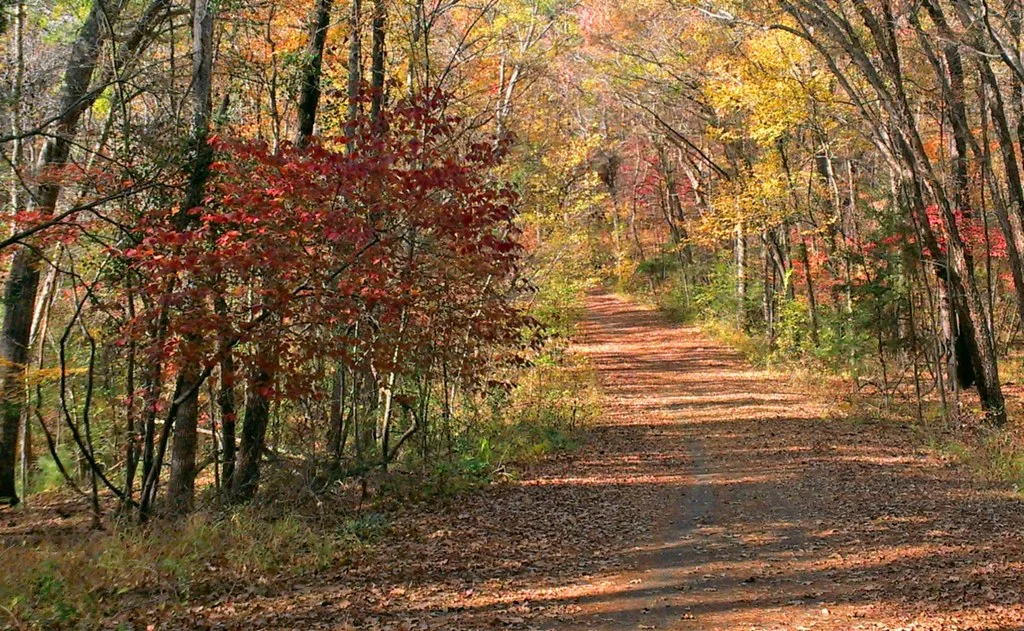 Ready for a Texas fall foliage drive? The area around Tyler is well known for coming alive with Texas fall colors.
At the end of October to Mid-November, bright reds, oranges, and yellows all pop against the deep green evergreens on Highway 14 from Tyler to Winnsboro.
Pack a lunch and enjoy a drive along rolling hills, hay fields, and dairies dotting the road. A one-way trip takes a little over an hour. You can also take time to stop in Tyler State Park which has some lovely autumn foliage this time of year. It is a nice place to boat, fish, mountain bike, and hike.
7. Town Lake in Austin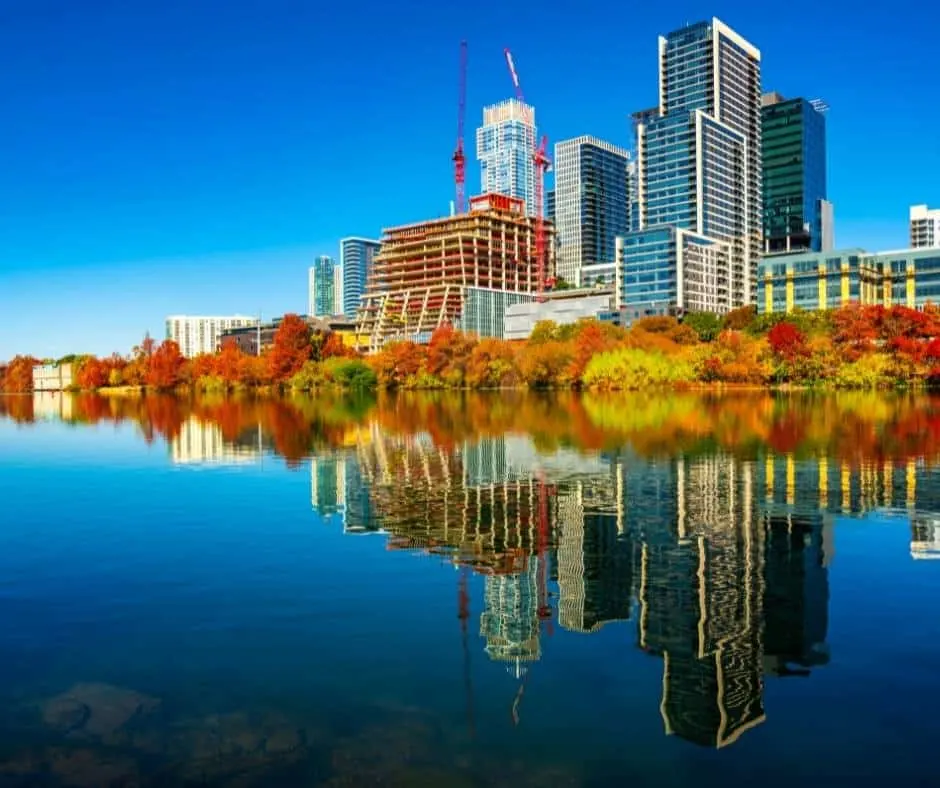 You don't have to leave the city in order to enjoy fall colors in Texas! Rent a kayak or paddleboard and take to the waters of Town Lake to fully experience the vibrant colors lining the shore.
Nearby, Zilker Park is a great place to enjoy fall, especially in the park's botanical gardens. Mayfield Park is another lovely spot to spend an autumn afternoon. The resident peacocks' plummage will really pop against the colorful leaves.
These are our picks for the 10 best things to do in Austin with kids.
8. Palestine, Texas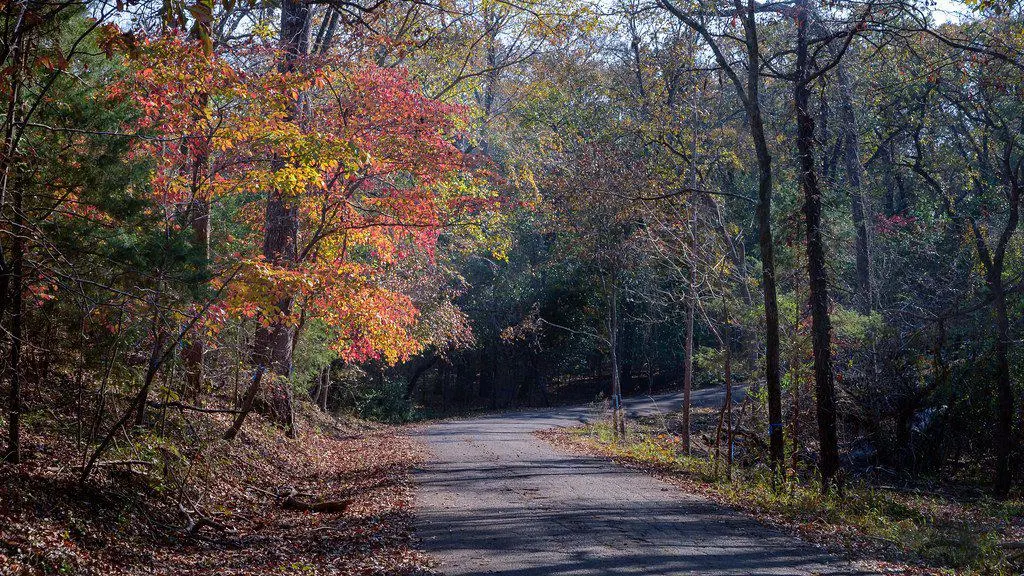 Palestine, Texas is yet another city in the Pineywoods worth visiting in the fall. It is home to Davey Dogwood Park which is especially colorful in late October and early November.
There are eight miles of trails inside the park that are gresat for hiking or mountain biking. You can also jump in the car and cruise through the park on it's five-mile scenic drive.
Speaking of drives, if you are looking for a great fall foliage drive, check out the Pineywoods Autumn Trail. The 145-mile loop goes through Davey Dogwood Park. Then it heads north on Highway 19 to Athens, east to Leagueville, and south on Highway 315 back to Palestine.
Fall's hues typically show up in late November, so keep that in mind as you're planning your next fall road trip.
9. Cypress Creek in Wimberley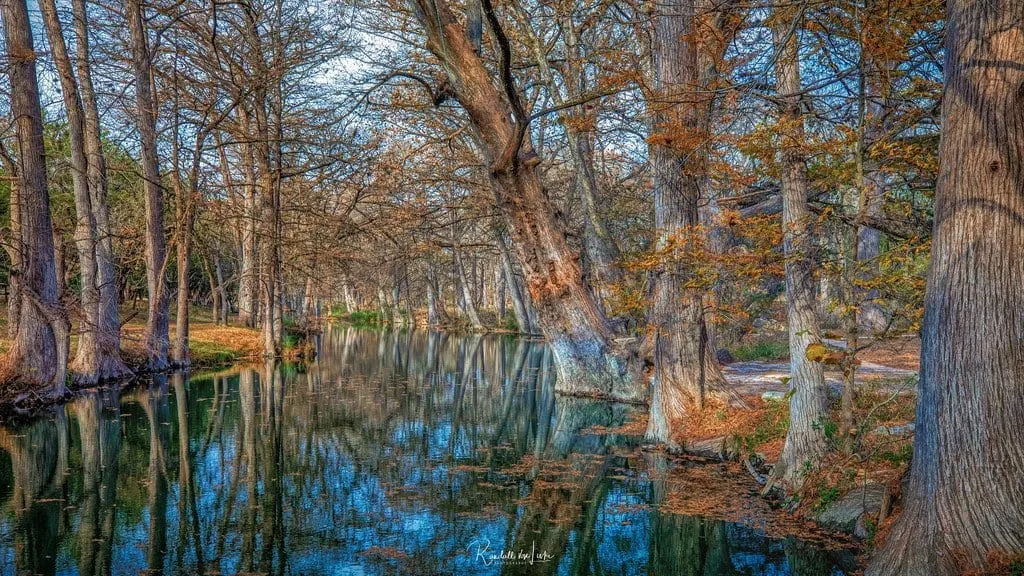 Blue Hole Regional Park, located outside of San Marcos in Wimberley, is a great spot to enjoy fall color in between San Antonio and Austin.
The Blue Hole swimming area is closed in the fall but there is still plenty to do. The charming park in Texas Hill Country has 4.5 miles of trails, a playground, sports courts, and picnic areas.
Take the Creekside Trail from the Blue Hole to the Cypress Creek Nature Preserve. The preserve was acquired by the City of Wimberley in 2001 in order to preotect this special and fragile riparian habitat.
10. Dallas Arboretum and Botanical Garden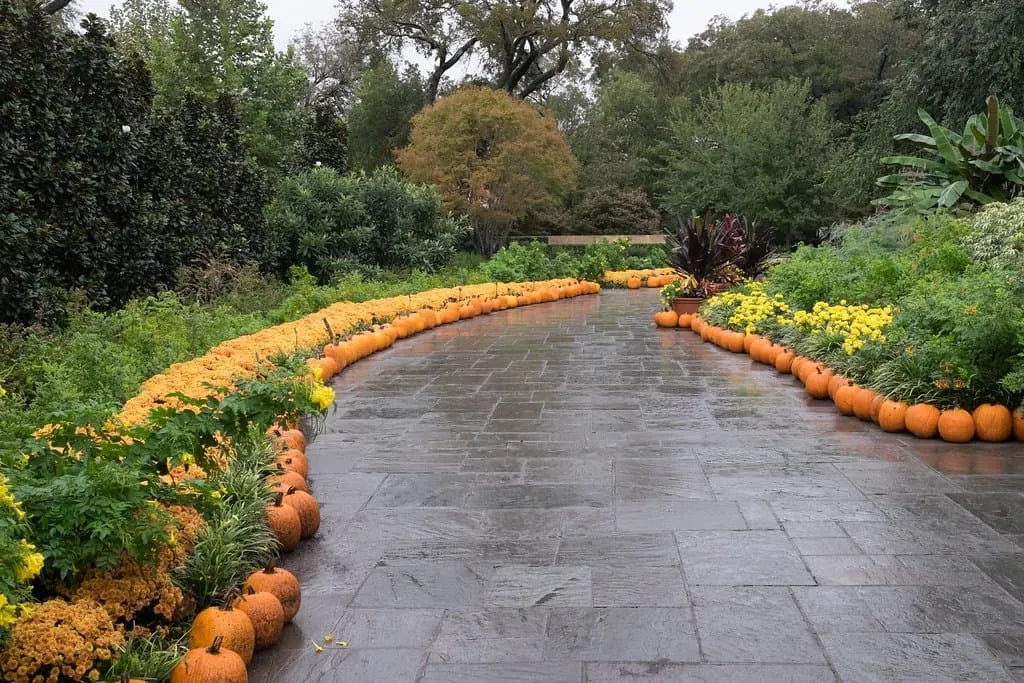 The Dallas Arboretum claims to be the pumpkin capital of Texas every fall during their annual Autumn at the Arboretum. I think their claim is pretty valid, considering they will have 90,000 pumpkins, gourds, and squash in beaatiful displays that truly need to be seen to be appreciated.
This year, their Pumpkin Village will be located right behind the Jonsson Color Garden.You also won't want to miss the Dallas Gourd Patch where artists transform gourds into everything from jewelry to decorative items for your home.
Explore more of the city. Here are our 10 favorite things to do in Dallas with kids.
11. Palo Duro Canyon State Park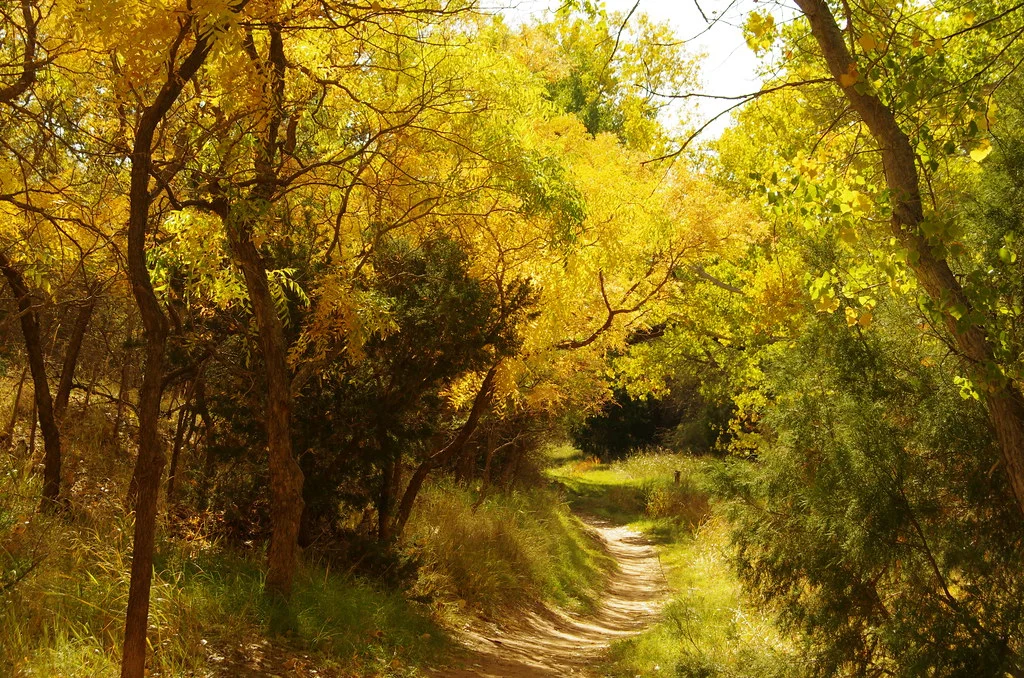 Palo Duro Canyon State Park is located in the Texas Panhandle, approximately 25 miles southeast of Amarillo. It is often referred to as the "Grand Canyon of Texas" due to its red-rock canyons and vast, rugged landscapes.
The cottonwood trees along the canyon's floor and the juniper and oak trees on the canyon walls create a beautiful palette of colors during autumn. Mid to late October is typically when colors start to peak in this park. Head to trails that skirt the river to experience the densest foliage.
12. Davis Mountains State Park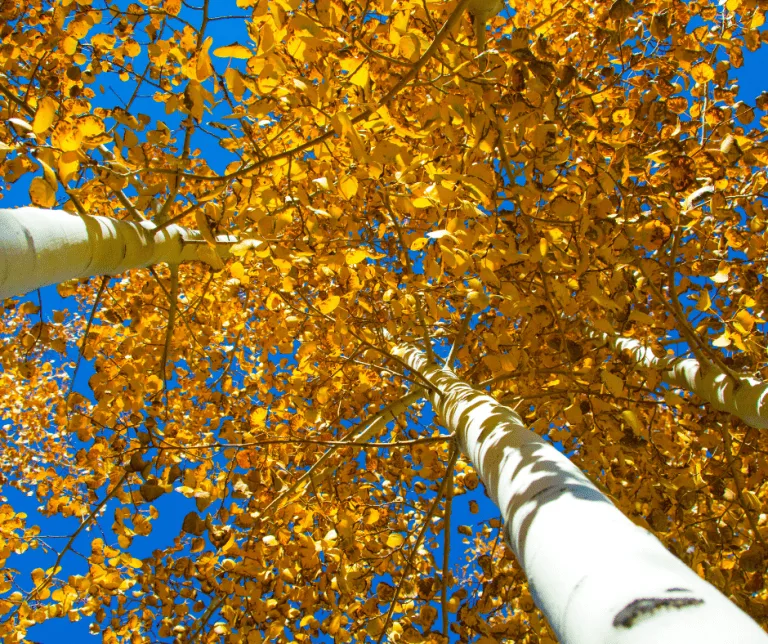 Davis Mountains State Park is known for its groves of quaking aspen trees, which are the stars of the fall foliage show. Aspen leaves turn a brilliant gold and flutter in the breeze, creating a nice backdrop against the surrounding evergreen trees and the rugged mountain terrain. Along the park's streams and springs, cottonwood trees also contribute to the fall color palette.
The park has some scenic drives, such as Skyline Drive and Limpia Canyon Road, which provide opportunities for leaf-peeping. The best bet to enjoy the aspens is to summit Mount Livermore. Fall foliage in Davis Mountains State Park typically peaks in October and can last into early November, depending on local weather conditions.
Find More Amazing Fall Foliage Near You!