It's no secret that visitors that Wisconsin fall colors are worth traveling for. This state is filled with natural beauty, and there are plenty of colorful destinations that will you will want to visit all over the state. From big city oases to national forests, Wisconsin has it all.
Weather can change from week to week and even day to day in Wisconsin. I suggest to plan accordingly. Different areas of the state will peak at different times, so be sure to check the state's fall color map before heading out.
Whether you are hiking, bicycling, canoeing or driving, here are 14 "don't miss" locations to put on your Wisconsin fall foliage list.
15 Great Destinations for Enjoying Wisconsin Fall Colors
Chequamegon-Nicolet National Forest
No trip to Wisconsin is complete without a must-see visit to the Northwoods. Known to all Wisconsinites as "Up North", this area is the part of the state that is relaxing, peaceful and where you always connect with nature.
Covering more than 1.5 million acres, Chequamegon-Nicolet National Forest is filled with wildlife, plants, fisheries, and miles and miles of breathtaking beauty. This forest is so huge that it covers 12 counties in Wisconsin.
Fall camping and water paddling are very popular ways to enjoy fall foliage here. Whether you are walking through the forest or riding on a bike trail, you will see miles of colors. Expect to see maples, oaks, aspen, beech, and birch intermixed with evergreen trees. The trails to Morgan Falls and Anvil Lake are nice options for families.
If you are looking for a scenic drive within this forest check out 13-mile Rustic Road 105, 25-mile Rustic Road 111, or 16-mile Rustic Road 95, all which wind through this magnificent State Forest.
Ice Age Trail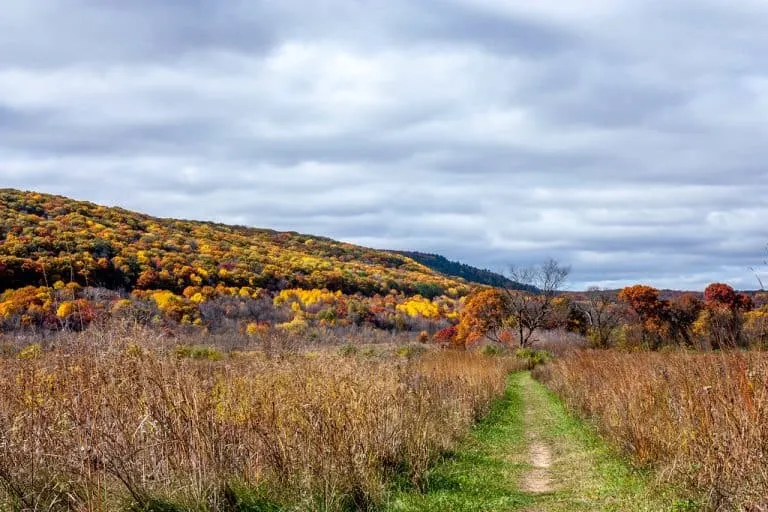 The Ice Age Trail is a 1,000-mile trail which winds through much of Wisconsin and one of only 11 National Scenic Trails in the country. Glaciation played a major role in the carving of Wisconsin's landscape, leaving behind rock formations, prairies, bogs, lakes, and forests.
It has become a major destination for Wisconsin outdoor enthusiasts. You can backpack the entire route but most people complete various sections on day hikes. The Ice Age Trail website has several itineraries and day hikes options. There is also a page dedicated to fall activities and hikes along the trail.
Ice Age Trail ColdCaching is a popular activity for families and basically their version of GeoCaching or EarthCaching. There are dozens of caches to find and interactive map will help you on your way.
Holy Hill in Hubertus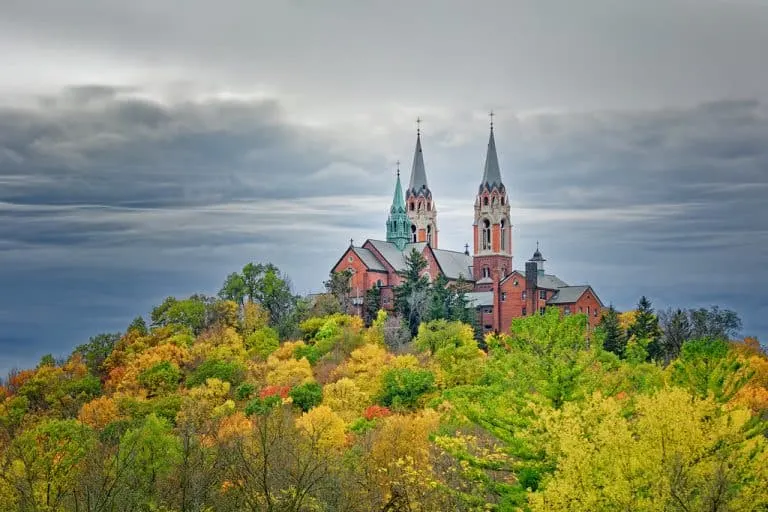 Holy Hill is a Roman Catholic Shrine with a basilica set high with acreage of trees and nature surrounding and below. It is located in the small village of Hubertus, northwest of Milwaukee. The basilica features a collection of crutches and canes that adorn the shrine left behind by those who claim physical healing after praying in the chapel.
Regardless of your religion, you are sure to find the breathtaking views inspiring. Walk up 178 stairs to the top of a scenic tower that overlooks a panoramic view at the highest elevation in Southeastern Wisconsin. On a clear day it is easy to see the Milwaukee skyline 30 miles in the distance and fall foliage dotting the landscape in various autumnal shades.
A portion of the Ice Age Trail passes by Holy Hill.
Lapham Peak Unit of Kettle Moraine State Forest in Delafield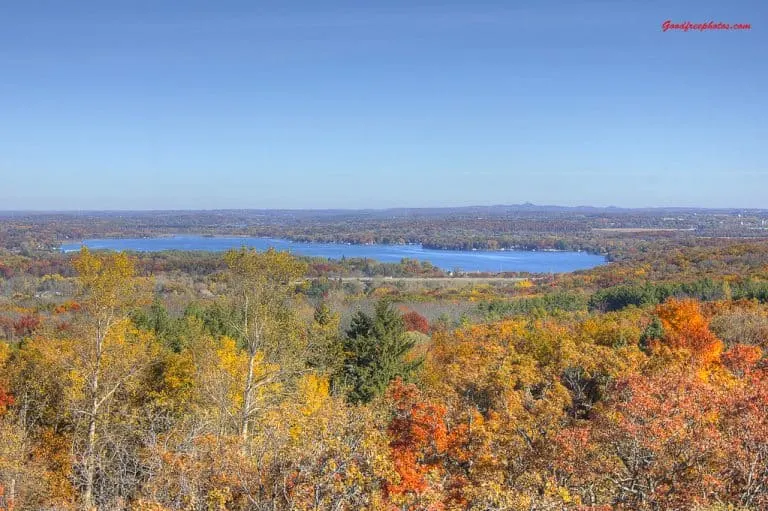 Formed over 10,000 years ago, Kettle Moraine State Forest is located on the Ice Age Trail and contains many glacial remnants. The views are astounding amongst the wetlands, moraines, kettle lakes and valleys.
The Kettle Moraine Scenic Route is a 115-mile drive that makes its way through six counties. It is a popular area for bikers as well as canoers looking to enjoy the crystal clear lakes amidst the trees of color.
Be sure to climb the 45-foot Lapham Peak observation tower for optimal viewing. The forest is filled with exploration and adventure to view wildlife; bring your binoculars if you are interested in birding.
Schlitz Audubon Nature Center in Milwaukee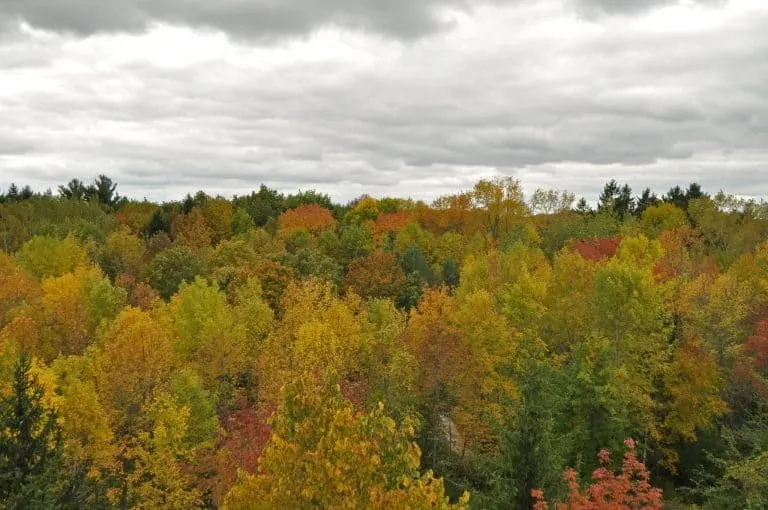 Head to Milwaukee and walk through nature and along the shoreline of Lake Michigan at the Schlitz Audubon Nature Center. There are six miles of paths and trails throughout and to top off your hike, there is an indoor nature center that provides information and education to explore and learn further about conservation and wildlife.
I'd recommend to plan for the full experience as a half day trip. This area is great for birding and 261 different bird species have been observed within the grounds. The 60-foot observation deck is a great place to just stop and take in the view. Walking the shoreline is peaceful and many times you can spot large freight ships in the distance on their way in or out of the Port of Milwaukee.
North Point Lighthouse in Milwaukee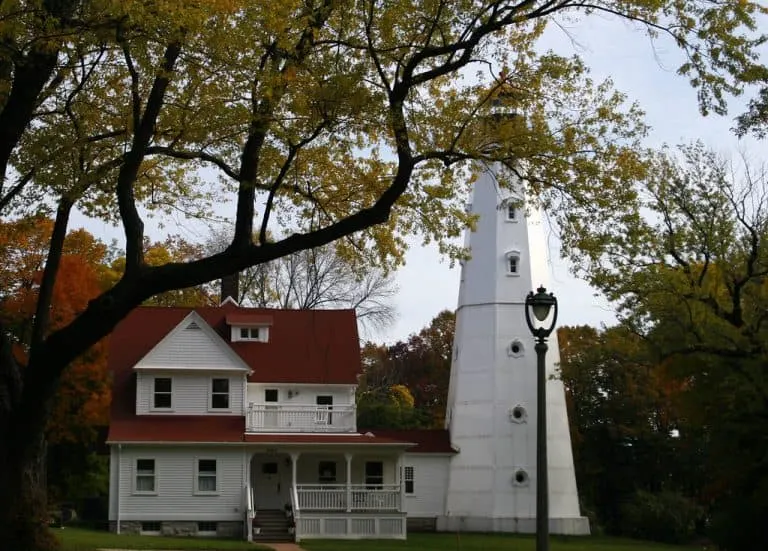 The North Point Lighthouse looks out over the shores of Lake Michigan and is a focal point on the east side of Milwaukee. It is located within a walkable neighborhood of gorgeous homes and mansions of beer baron families and those who's who of those who helped build Milwaukee.
Walking north into Lake Park, there are trails that lead to a croquet court and golf course. Stone walking bridges are along the trail and make for a perfect backdrop for family photos. Make a weekend of it with our guide to the best things to do Milwaukee and consider staying at Hotel Metro, a historic Art Deco-inspired hotel.
Grant Park in South Milwaukee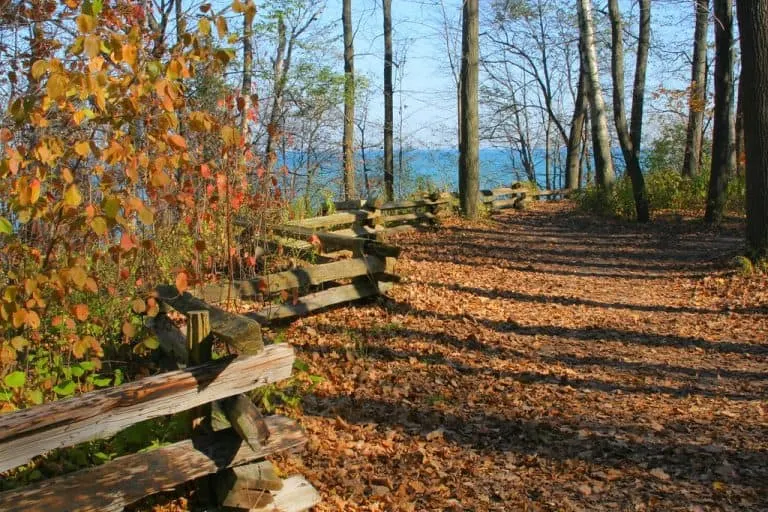 The Seven Bridges Trail in Grant Park is a one-mile trail made of limestone pavers that features staircases with handrails leading to a ravine. The tree and paths surround you and connect to adjoining trails and loops that connect to a picnic and playground area.
There are 10 bridges built over 100 years ago so you will enjoy that historic vibe as you walk along while viewing the abundance of colored leaves. It is one of the most popular parks in Milwaukee County for hiking and a great place to take photographs.
Door County Winding Road and Washington Island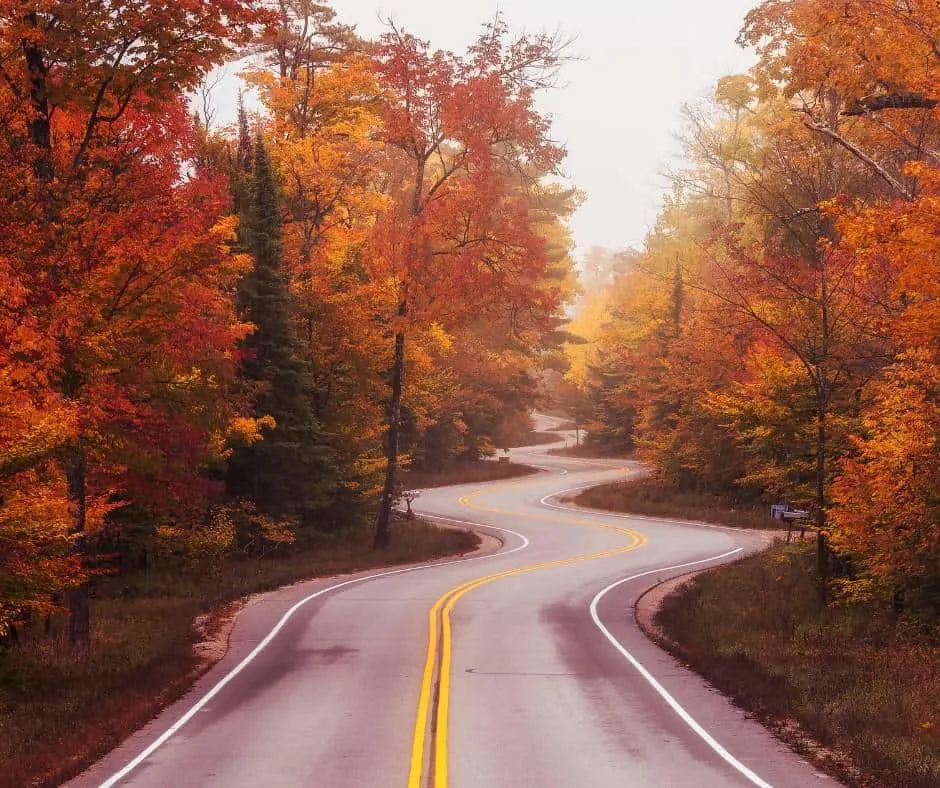 Door County is my most favorite place to visit during fall in Wisconsin. Strap on your seatbelt and drive the winding stretch of Highway 42 between Nortport and Gills Rock down to the Washington Island ferry boat landing. It twists and curves and with the color changing foliage, the experience is mesmerizing and peaceful at the same time.
To experience Door County in fall is just good for the soul. Quaint towns, restaurants, canoeing, lighthouse viewing, cherry pie, great coffee, kayaking and biking are all popular in this area.I also suggest taking a car ferry to Washington Island on Lake Michigan to bike trails through the fall foliage.
Here are some fun things to do in Door County.
Ahnapee State Trail in Door County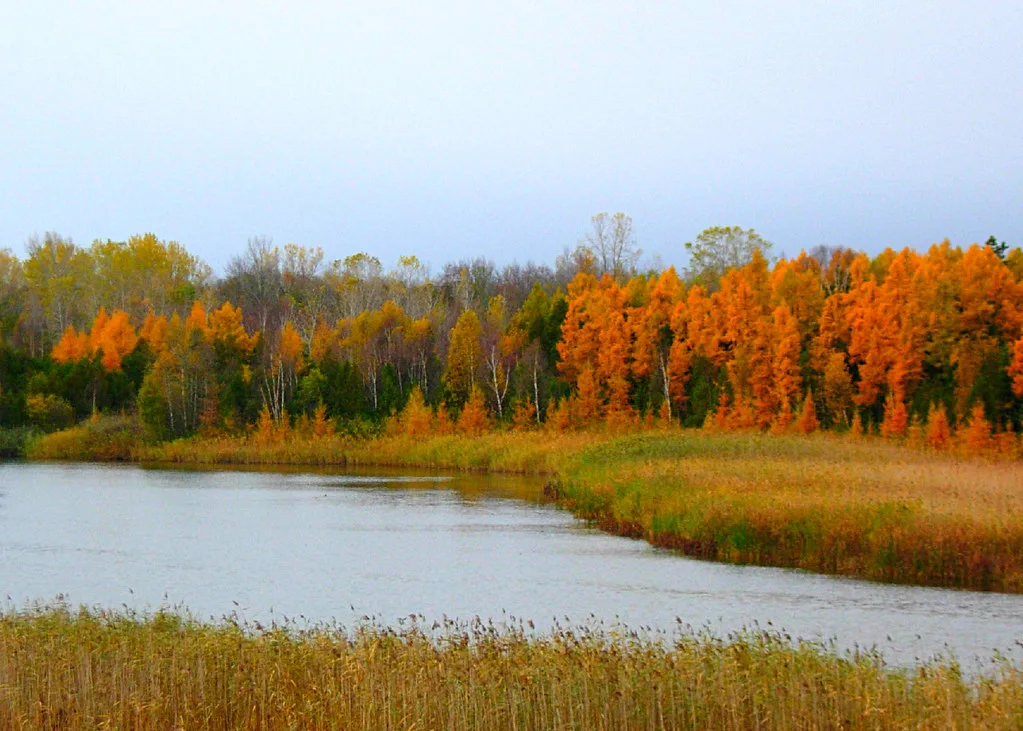 Ahnapee State Trail in Door County features level paths for horseback riding, dog walking and mountain biking. It runs from Kewaunee to Sturgeon Bay along the Ahnapee and Kewaunee Rivers. The trail branches off into three towns- Luxemburg, Algoma, and Kewaunee.
The whole route follows the former railroad line of Ahnapee and Western which was a freight and passenger operator in and out of Door County between 1984-1968. It was used to haul dairy products, lumber and cherry crops to and from the area.
On a fall hike, you will see swamps, farm fields, deer, turkey and plenty of changing trees. The Ice Age Trail does follow sections of this trail as well.
Green Lake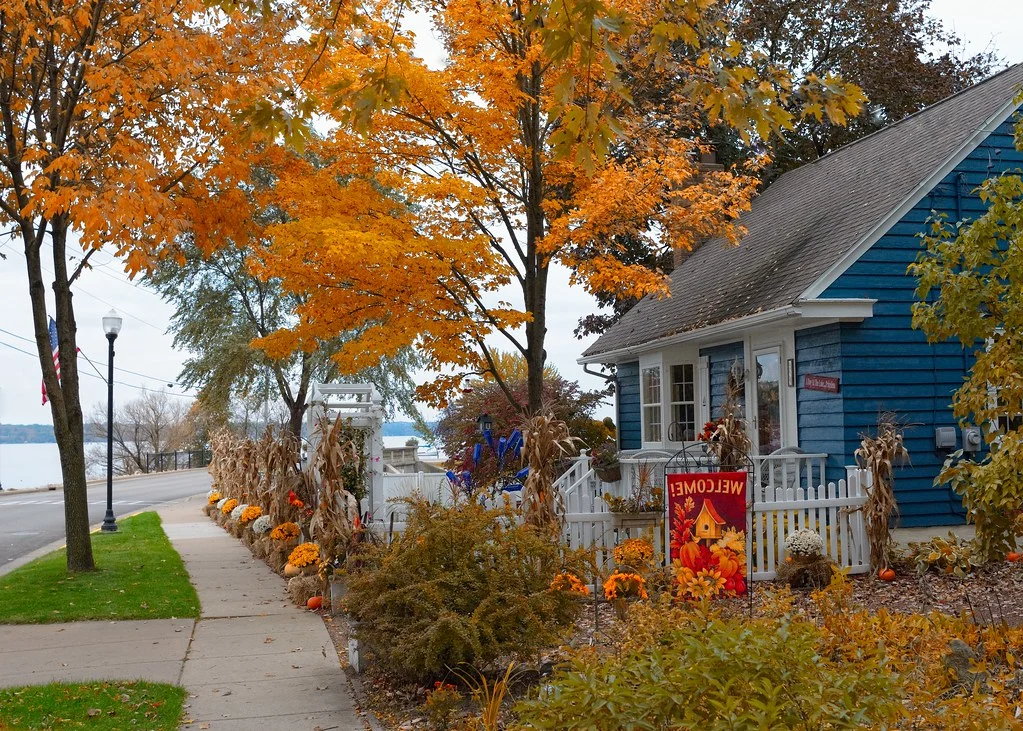 Home to the deepest lake in Wisconsin, Green Lake offers a resort community and a relaxing place to enjoy fall fishing. When fall foliage is at its peak, you will want to be in the outdoors here. The colors here are vibrant and this is a great getaway fall weekend destination.
Birders, golfers and visitors flock here for the Harvest Fest in late September. This two day festival which featuresa c raft fair, farmers market, live entertainment, car show, children's activities, and plentyof food and drink options. There is a popular flea market nearby where you will find many antiques and collectibles. The Princeton Flea Market takes place Saturdays in the park, April through mid-Ocotber.
Apostle Islands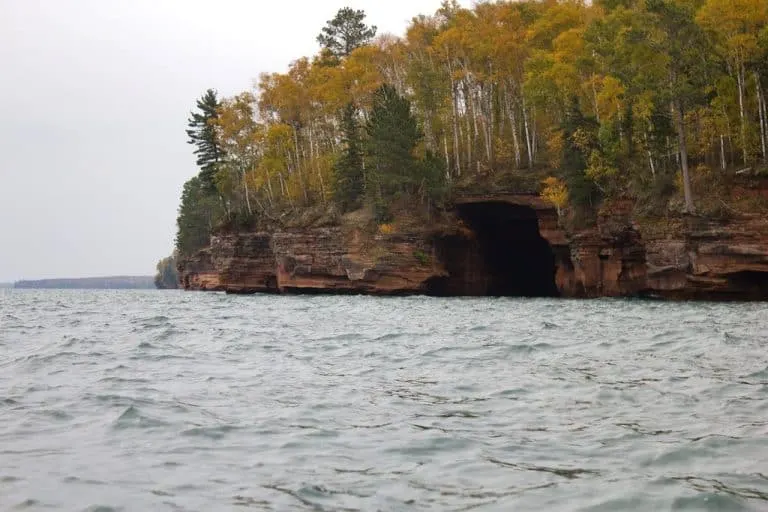 The Apostle Islands are a group of 22 islands in Lake Superior and a great destination for enjoying Wisconsin fall colors. On the 50 miles of trails that traverse these islands you will see farm sites, lighthouses, beaches, scenic overlooks, sea caves and epic views of Lake Superior.
Madeline Island is the largest of the Apostle Islands, and though it is not part of the 21 islands that make up the Apostle Islands National Lakeshore, it is still a wonderful spot to visit. Madeline Island is a great home base for taking day trips to explore the other islands, taking an Apostle Islands cruise, or enjoying a kayak tour. The island's Big Bay State Park has 1.5-mile beach and more than seven miles of hiking trails.
There are several great hiking trails within the Apostle Islands National Lakeshore that are perfect for enjoying fall foliage. On Sand Island try the flat, two-mile Lighthouse Trail which goes from East Bay dock north to the island's lighthouse. Note: the ferries to the outer islands cease operations by mid-october but you can still enjoy mainland trails like Little Sand Bay and Meyers Beach.
Devil's River State Trail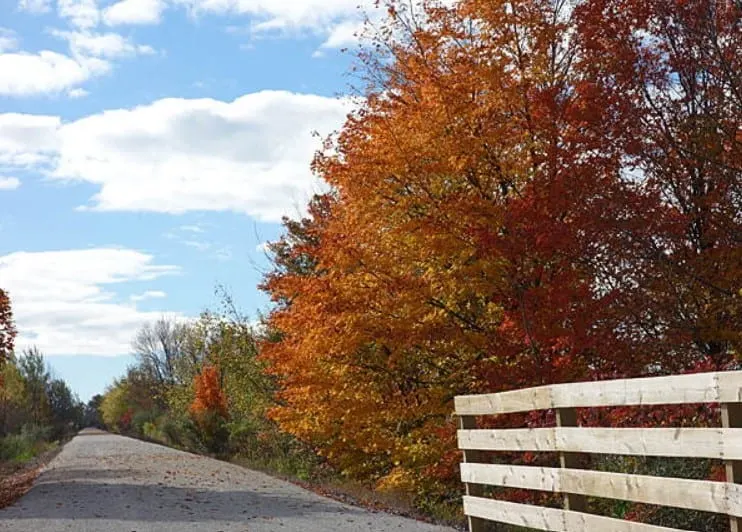 Devil's River State Trail is a 16-mile rail trail that crosses farmlands, prairies, rivers, and wetlands in Manitowoc and Brown Counties. The hard-packed, crushed granite trail is flat and great for hikers and bikers. Leashed pets are allowed on this trail, so pick a section and bring Fido along!
Two of the highlights are steel trestle bridges that cross above the Devil's River. One is 38 feet high and the other is 56 feet high, so you can imagine the views!
Red Cedar River in Menomonie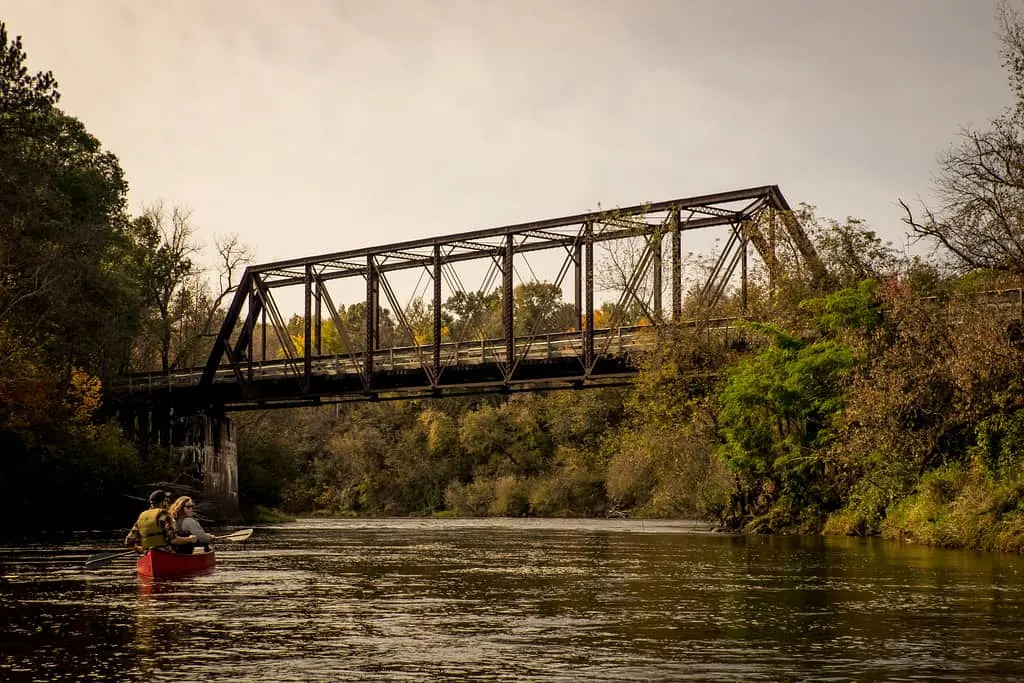 Located in Northwestern Wisconsin, Red Cedar River is a great destination if you prefer to see fall colors by water in kayak or canoe. There are several towns along the river that offer canoes rentals, like Menomonie. Located about 45 minutes from the Minnesota border, this part of the state usually turns colors faster than Southeastern Wisconsin.
The lower 15 miles of the river parallel the Red Cedar State Trail which is popoular with hikers and bikers. Take in the views, breathtaking calmness of the river, and keep your eye out for small mouth bass, musky, walleye and northern in the river while paddling. Bald eagles also frequent the area, so scan the skies as well.
Univeristy of Wisconsin-Madison Arboretum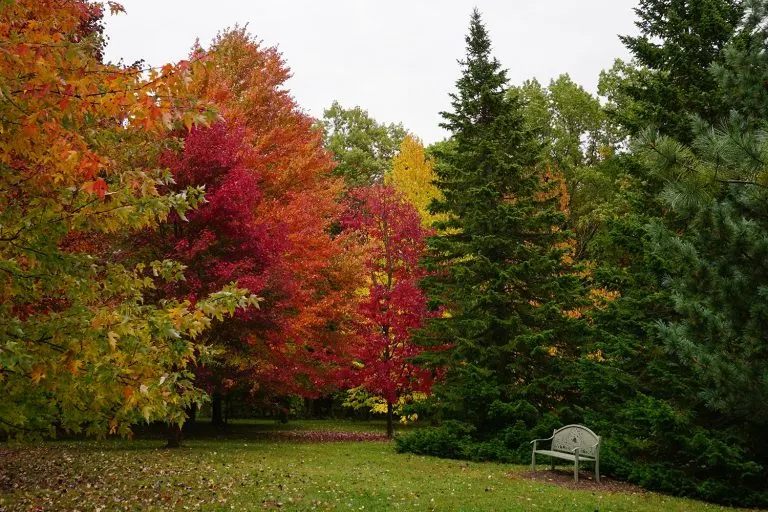 Preserving Wisconsin's ecosystem integrity, the University of Wisconsin-Madison Arboretum is filled with native trees of all varieties, and tallgrass prairies. The change of colors here has the feel of an enchanted forest.
As you traverse through more than 17 trails of woodlands, savannas, prairies and wetlands, you will see wildlife and indigenous plants. Bring your binoculars for bird watching and enjoy your hike amongst the footpaths, boardwalks and even fire lanes; note- bicycles and in-line skating is not allowed.
Fall lectures take place on select Tuesday and Thursday evenings in October. Talks are held in the Visitor Center auditorium.
The University of Wisconsin-Madison is close by so be sure you visit this beautiful campus filled with grand buildings and trees. Madison is built on an isthmus and nestled between Lake Mendota and Lake Monona.
For a great view of the capital, consider staying at the Hilton Madison Monona Terrace.
Wisconsin Dells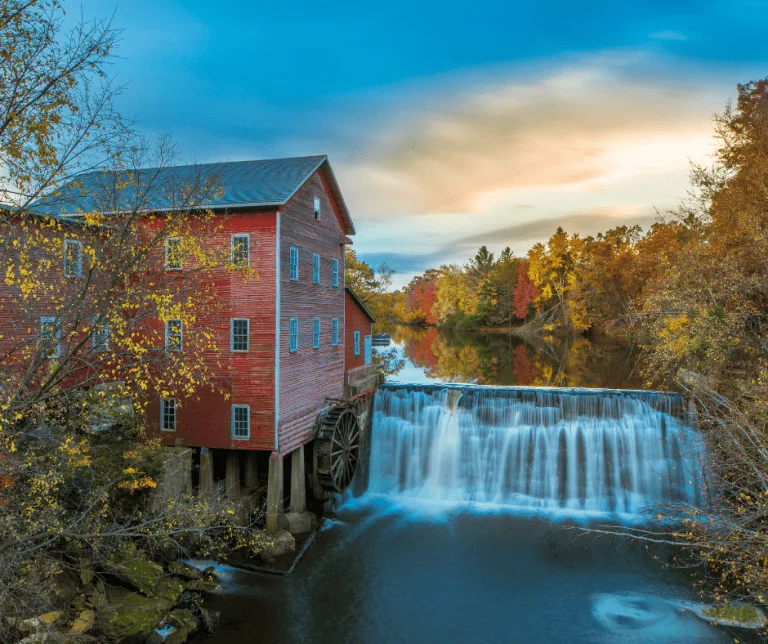 The Wisconsin Dells is known for its indoor waterparks but its unique rock formations and scenic beauty are definitely another reason to visit, especially in autumn.
One of the best ways to take in the fall colors is taking a boat tour along the Wisconsin River. Several tour operators offer scenic cruises that take you through the Dells' iconic rock formations, all while surrounded by vibrant fall foliage
If you are looking for a scenic drive, Rustic Road 73 is a designated scenic route that you won't want to miss. If you are looking for trails to enjoy, Rocky Arbor State Park, Devil's Lake State Park, and Mirror Lake State Park all have trails that wind through the woods surrounded by fall foliage. Devil's Lake State Park's East Bluff Trail and West Bluff Trail are both solid options.
The Dells Grist Mill is an ideal place for taking fall photos. Though it is no longer a functioning mill, it is known for its picturesque setting along the Wisconsin River and its charming, rustic appearance.
Find More Fall Foliage Near You!