Northern California is an epic vacation destination. Why? Because there are so many fun and diverse things to do in Northern California! It's a place where you can enjoy world-class skiing, soak up urban culture, sip on a glass wine surrounded by vineyards, hike to thundering waterfalls, and gaze up at the tallest trees on the planet.
Whether you are a local looking for things to do in Northern California with your kids or a tourist planning an epic road trip, we hope that you will use this guide as your Norcal bucket list.
The Best Things to do in Northern California with Kids
1. Hike Among the Redwoods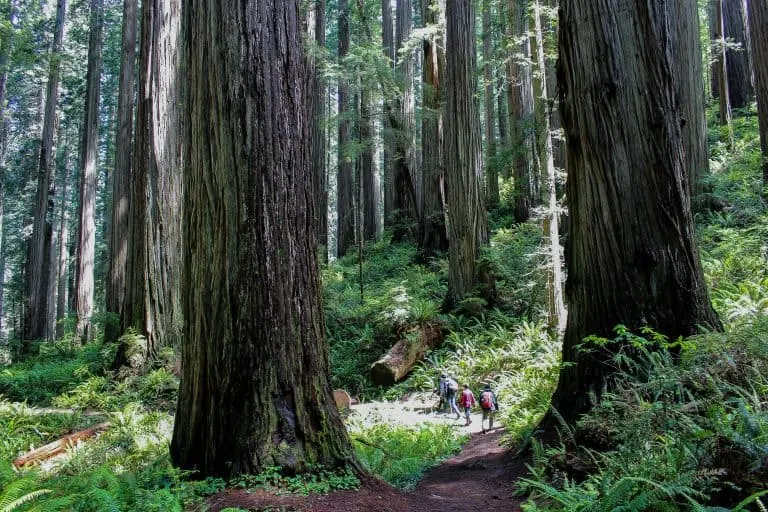 Want to feel like an ant? Head up to Redwood Country and hike among the tallest trees in the world. The Redwood Coast begins in Mendocino County and stretches up to the Oregon border. Here, thick redwood forests will leave you feeling dizzy as you crane your neck to see the tippy tops of these towering trees.
Visit Redwood National Park as well as the surrounding state parks to immerse yourself in the beauty of these ancient forests. Can't miss locales include Jedediah Smith Redwoods State Park, with its epic camping along the crystal clear Smith River. Check out our guide on Jedediah Smith Redwoods State Park for more tips and info about this special place.
Scenes for Jurassic Park 2 were filmed in Fern Canyon inside of Prairie Creek Redwoods State Park. Fifty-foot walls covered in ferns surround a quiet little creek, creating a lush and peaceful atmosphere. The hike through Fern Canyon is an easy one-mile walk among moisture loving flora. My kids loved stomping across the tiny, wood plank bridges.
One of the more unexpected beach experiences in Northern California is coming face to face with Roosevelt elk on Gold Bluffs Beach. After being hunted to near extinction, Roosevelt Elk are making a comeback on the Redwood Coast.
These majestic animals are often spotted on the sandy bluffs and in the meadows of the surrounding area. Keep your distance, especially in autumn when love is the air and rutting season is in full swing.
Trekaroo tip: For a redwoods experience closer to an urban area, check our Muir Woods National Monument just north of San Francisco. Due to its location, this park can get quite crowded. Arrive early and choose weekdays over weekends for your best opportunity to enjoy redwood trees in serenity.
2. Ski (or Sun) in Tahoe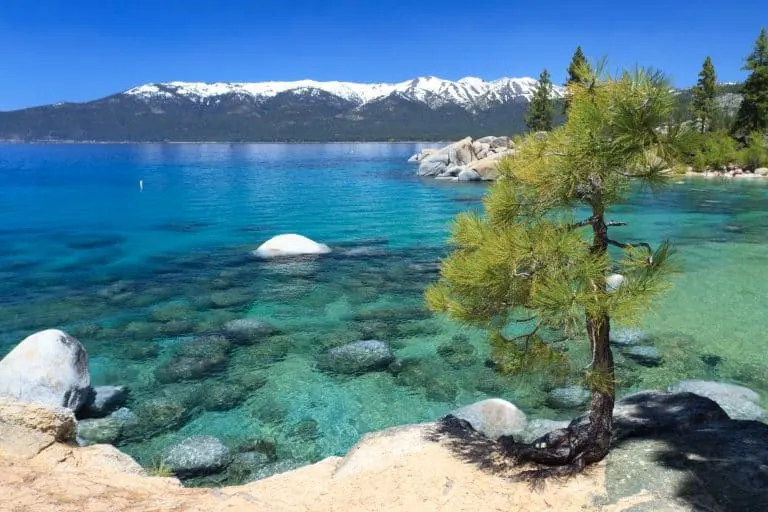 A good chunk of the best things to do in Northern California are found outside. Some of the best skiing in North America can be found at the resorts surrounding Lake Tahoe.
Lake Tahoe boasts epic scenery, world-class ski resorts, proximity to the San Francisco Bay Area, comfortable ski conditions, lots of activities for kids, and good restaurants that are welcoming to families.
Read our full guide to the best Lake Tahoe ski resorts for families.
Lake Tahoe isn't just a winter destination. Summer is an ideal time to visit the blue jewel of the Sierra as well. Boating is a popular way to enjoy Lake Tahoe's waters, but swimming and playing on the beach or floating down nearby Truckee River are popular options as well.
Families looking to get active in this gorgeous corner of the state also love to hike and bike on area trails. Hikes around various area lakes like Fallen Leaf Lake, the Rubicon Trail near Emerald Bay, and on the still-in-progress Tahoe Rim Trail are popular with families.
These are our favorite things to do in North Lake Tahoe no matter the season.
If you want to get out on the water consider booking the popular MS Dixie Dinner Cruise. Catch amazing Tahoe sunsets and scenery while enjoying dinner and music. As a Trip Advisor affiliate Trekaroo receives a small commission to help fund our small business and you get the lowest rates guaranteed.
Book your stay in Lake Tahoe. As a Booking.com affiliate Trekaroo can guarantee the lowest rates.
3. Watch Waterfalls Crash in Yosemite Valley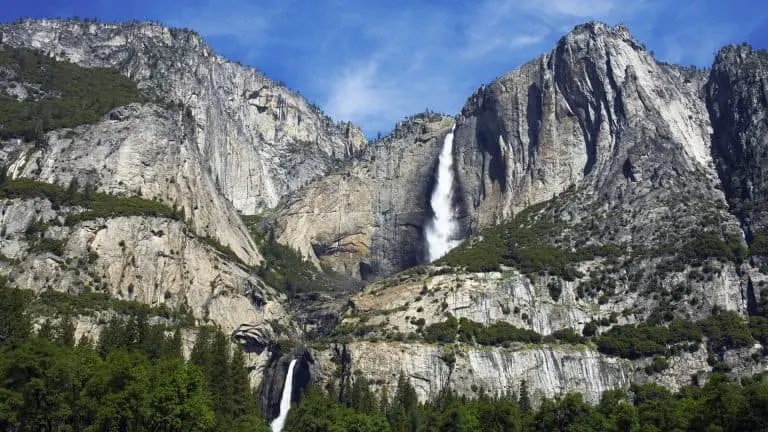 If there was a contest to identify the most beautiful natural place in the world, Yosemite would have a great shot at winning. Stand in one of Yosemite Valley's verdant green meadows with wildflowers all around, gaze at 4,000-foot granite cliffs with waterfalls cascading down, and tell me you know of a more beautiful spot.
Yosemite is paradise, and there are tons of things to do in Yosemite National Park with kids. Hike, bike, float, or just sit quietly and take it all in.
Whether you are learning how to rock climb at the base of El Capitan, getting sprayed by cascading falls on the Mist Trail, gazing out at Sierra peaks that seem to stretch on forever at Glacier Point, or watching a bobcat slink across a meadow as the sun sets, Yosemite is a place where lasting memories are made.
Unfortunately crowds can be a big issue in Yosemite, especially during weekends. Thankfully, we know the best time to visit and have plenty of tips on how to avoid the crowds in Yosemite National Park.
4. Explore an Active Volcano in Lassen Volcanic National Park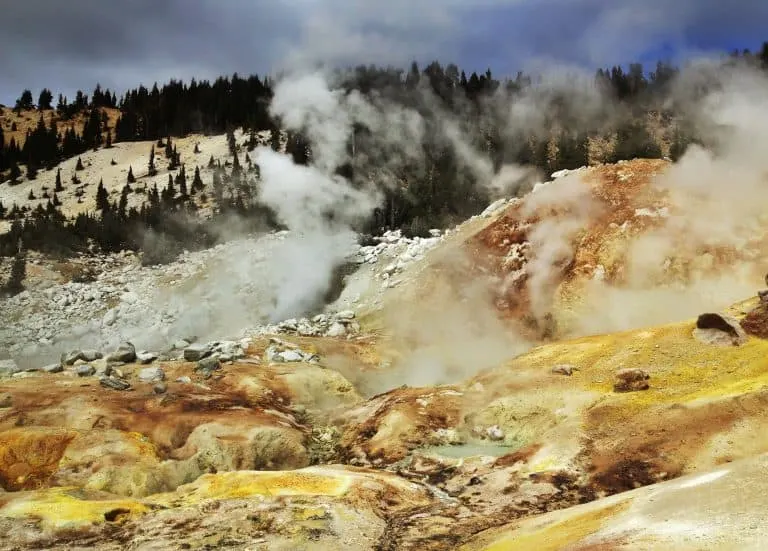 Did you know that Northern California has its very own active volcano? Mt. Lassen last erupted in 1917, but there are many signs that the volcano is still very much alive today.
Perhaps the most exciting, "in your face" place to experience the activity is at Bumpass Hell, named for a man who got too close to a scalding, bubbling mud pot and lost his leg! These days, thankfully, there is a boardwalk which keeps families from experiencing a similar fate.
Bumpass Hell is accessed via a 1.5-mile hike. Once inside the valley, families will see and smell the gurgling inner workings of the volcano's main vent. The bubbling mud is entrancing to watch.
This national park is much more than hot sulphur springs and bubbling mud. Manzanita Lake affords great views of Mt. Lassen which reflects on its waters, begging to be photographed. Families will enjoy kayaking, trout fishing, and hiking around the lake on a 1.5 mile trail.
Inspired? Take this California National Park road trip through Sequoia, Kings Canyon, Yosemite, and Mt. Lassen.
5. Go Wine Tasting (Yes, with Kids!)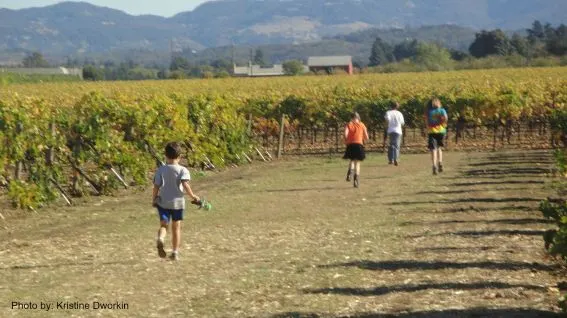 How can one plan an epic trip to Northern California and not spend some time in Wine Country? Yes, it is true that wine tasting is traditionally an adult affair but these days, there are lots of wineries that welcome families.
Sonoma Wine Country, which encompasses towns like Santa Rosa, Geyserville, and the Russian River area, offers beautiful parks and gardens, family-friendly wineries, and outdoor adventures.
Visitors to the Francis Ford Coppola Winery in Geyserville not only enjoy fine wine and food, they are treated to a fabulous collection of memorabilia from Coppola's movies and during the spring and summer, an unrivaled pool scene. While parents enjoy wine tasting, kids can experience different flavors and smells of seasonal fruits at a smoothie tasting. There are also four regulation-sized bocce courts among other gaming activities available to use free of charge.
In Healdsburg, Preston Farm & Winery has bocce, fresh produce, chicken, sheep, and lots of adorable cats in addition to some wonderful wine.
More bocce and a wide variety of lawn games await at the family-friendly (and pet-friendly) Larson Family Winery in Sonoma. It's a great place to enjoy a picnic.
North Napa Valley's Sterling Vineyard's winery is only accessible via an aerial tram. After the ride, kids will receive a backpack with snacks, a drink, and a game to play while parents enjoy views and wine.
Read all about kid-friendly Sonoma wine country. Then book your stay in Sonoma. Or choose to check out the best things to do in Napa with kids and book a stay there.
6. Paddle Tomales Bay & Explore Point Reyes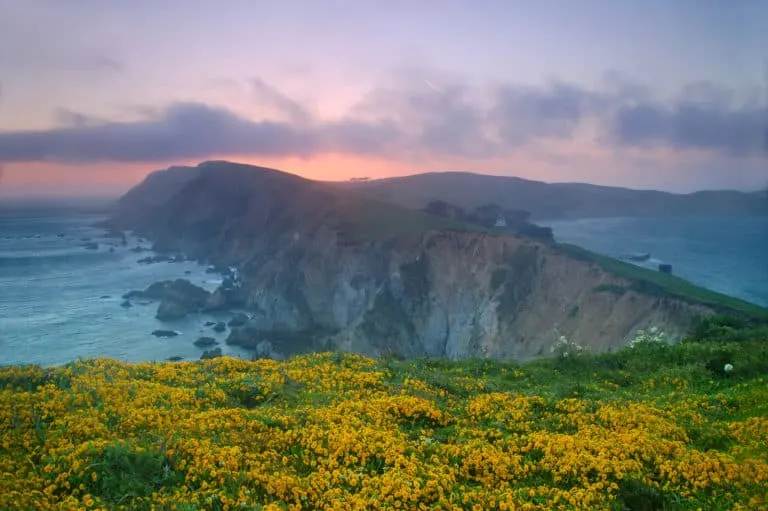 Point Reyes National Seashore may only be 35 miles from San Francisco, but it feels like a world away. Here, the Northern California coast is wild and untamed, and the only traffic jams are caused by an occasional cow blocking the road.
Highlights of Point Reyes include spotting elephant seals at Chimney Rock, hanging out on Drakes Beach, visiting the Point Reyes Lighthouse, and eating (yes eating!).
Point Reyes is a great foodie destination. It is home to fresh oysters at Hog Island Oyster Co. and local award-winning cheeses from Point Reyes dairy cattle at Cowgirl Creamery.
Tule elk call these parts home and Tomales Point is the best place to spot them. Take the trail out towards the point and keep your eyes peeled for these striking creatures grazing on the windswept bluffs.
If you visit between August and October, which is the season of love for tule elk, listen for bull elk bugling out to potential lady friends. If you are lucky you may even see bull elk sparring!
Paddling Tomales Bay is a popular activity for families. Kayak tours may result in in sea otter or harbor seal spottings. You can even take an evening tour to enjoy the calm waters lit up by bioluminescent creatures.
7. Grab a Flashlight & Explore Lava Caves at Lava Beds National Monument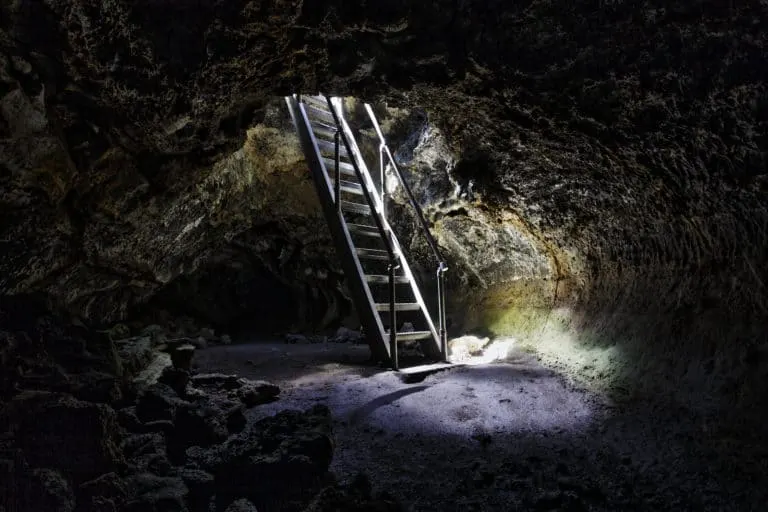 Most cave tours are guided inside of national parks. Not so at Lava Beds National Monument. Sure, they still have some guided options but visiting this remote park is one of our favorite things to do in Northern California with kids because there is an opportunity to experience some real, unguided adventure underground.
The 45,000+ -acre Lava Beds National Monument features more than 700 caves – the highest known concentration of caves in the contiguous U.S. The caves were created by flows of lava 10,500 to 65,000 years ago.
A large portion of the caves open to visitors are within a couple miles of the visitor center, including those on the popular Cave Loop Road. Most of the caves are 55 degrees year round, so long pants and a sweatshirt are recommended. Knee pads are recommended if you plan on exploring some of the more challenging caves.
You can rent hard hats and heavy duty flashlights at the visitor center, and both are highly recommended. My family especially enjoyed the ice floor of Skull Cave, the ease of exploring beautiful Valentine Cave, and the life growing inside of Sunshine Cave.
The closest lodging and services are in Kalamath Falls, Oregon. There is a campground at Lava Beds but no food, so be sure to being your own.
8. Go on a "Mc" Waterfall Adventure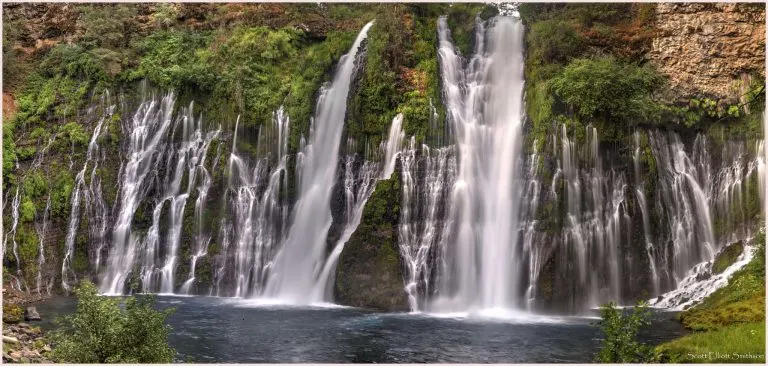 The Mount Shasta region is home to some great waterfalls. Three sets of falls make up the Mc Cloud River Falls area and they are all interconnected by a lovely, 3.5-mile trail. During the summer months, swimming and cliff jumping are popular activities around the falls.
About an hour east of Mc Cloud Falls are the stunning Burney Falls in McArthur Burney Falls Memorial State Park. How impressive are they? Well, president Teddy Roosevelt referred to them as the "the eighth wonder of the world."
These falls are fed by an underground spring and drop 129 feet out of dozens of holes in the side of the cliff, creating a dazzling display unlike any other waterfalls in the state. There is a loop trail which allows for different perspectives on the falls.
Burney Falls are especially beautiful in the autumn. Check out these other amazing places to see California fall color.
Lake Britton is a stone's throw away and is a popular place to camp and enjoy water recreation during the summer months.
9. Houseboat on Lake Shasta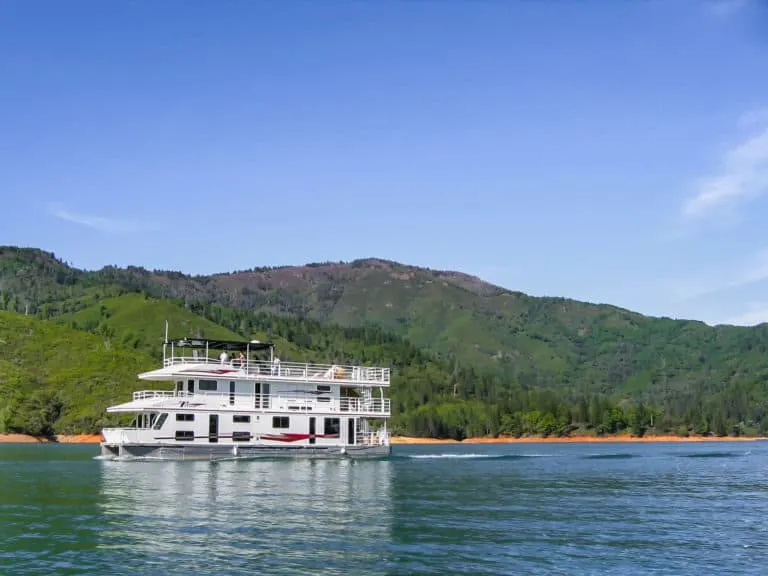 Houseboating on Lake Shasta feels like a Northern California right of passage. During the summer months, the days are hot, the water is cool, and the scenery is splendid.
This, the largest reservoir in California, is a popular spot for boating, water skiing, swimming, and hiking. Boat-accessible Shasta Caverns are also a popular spot with visiting families.
Houseboats range in size and fanciness. Kids especially love the boats with water slides off the back. It is best to book your houseboat at least six months in advance, especially during the peak summer season. Besides Lake Shasta, Lake Don Pedro, Lake Oroville, and Trinity Lake are popular Northern California houseboating destinations.
Note: California is currently experiencing a historic drought. This may impact houseboat opportunities on some of these reservoirs.
10. Fall in Love with San Francisco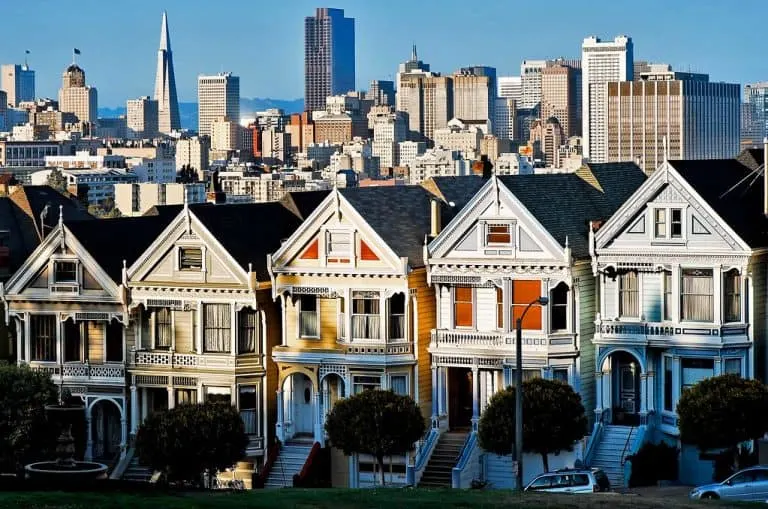 Be prepared to leave your heart in San Francisco. This city is a stunner, with its sprawling bridges, iconic hills, historic cable cars, and charming row houses.
Tourist highlights include Alcatraz, the Golden Gate Bridge, Fisherman's Wharf, and Pier 39, but the real city can be found by wandering through its distinct neighborhoods. Can't-miss spots include Chinatown, Little Italy, the Mission, North Beach, and the Haight.
Believe it or not, the city also offers some great opportunities to enjoy nature. Golden Gate Park is San Francisco's version of Central Park. It hosts world-class museums, cute playgrounds, forested trails, and even a herd of bison!
The Presidio is another great place to enjoy San Francisco's natural beauty. It is home to hiking trails, Crissy Field, and Baker Beach, a great place to snap pictures with Golden Gate Bridge in the background.
But wait, there's more! Here are the top 10 things to do in San Francisco with kids.
Book your San Francisco lodging and get the lowest rates, guaranteed.
11. Pan for Gold Near Sutter's Mill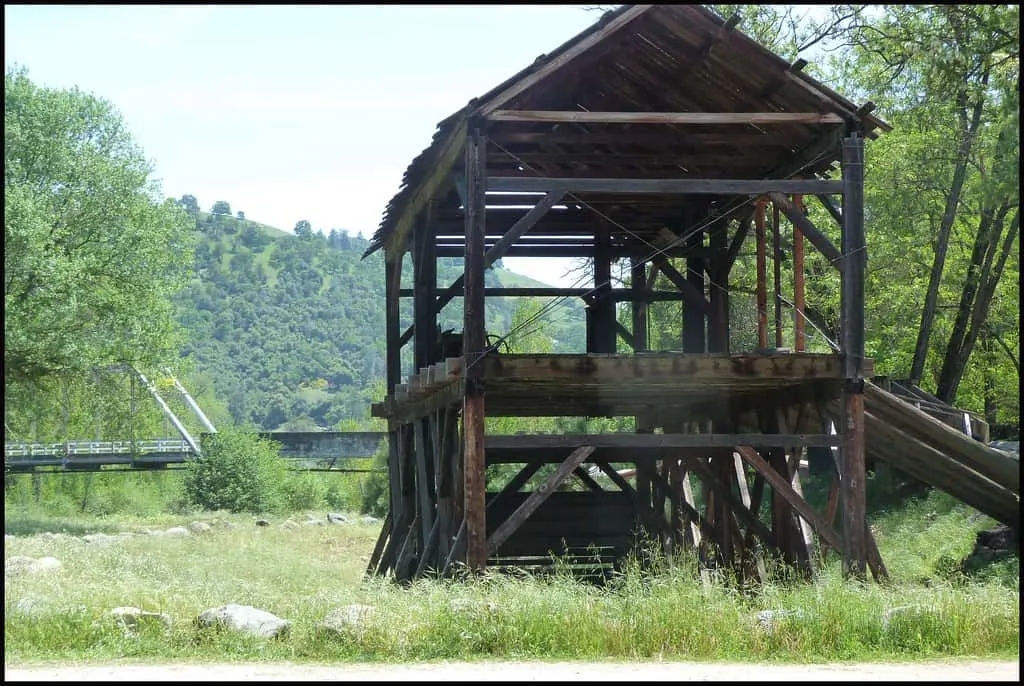 Gold was discovered at Sutter's Mill in Coloma, CA in 1848. Tens of thousands quickly flocked to the Sierra Nevada foothills, hoping to strike it rich. Few did, but the sudden influx of people and commerce led to California becoming a state just two years later.
Today, Gold Country is full of history and rural charm. Coloma is home to a replica of Sutter's original mill, as well 20 historic building like a school, stores, and a blacksmith shop. You can also pan for gold or enjoy a picnic next to the American River.
Other charming towns to explore in the region include Grass Valley, Nevada City, Placerville, and Jamestown. Each has a restored old town area and plenty of history to enjoy.
12. See the Elephant Seals of Ano Nuevo
Ano Nuevo State Park is a special place any time of year because elephant seals call this beach home year round. However, the best time to visit this special spot south of San Francisco is December 15 through March 31.
Bull seals battle for the ladies from early December through January, causing a raucous scene. After that pregnant elephant seals come ashore to give birth and suddenly, babies are everywhere!
During this time, the only way to see the seals is on docents-led walks. The walk is 3-4 miles round trip and about 2 1/2 hours long. Expect to be totally fascinated by these boisterous, endlessly entertaining creatures.
The experience is quite popular and must be reserved ahead of time. Tickets are released 56 days ahead of time and be reserved online.
If you can't score a reservation at Ano Nuevo, elephant seals can also be spotted at Piedras Blancas south of Big Sur (near San Simeon) and Point Reyes.
Note: The Ano Nuevo Reserve is closed to visitors December 1-14 each year.
13. Spend Time at Northern California Beaches Like Glass Beach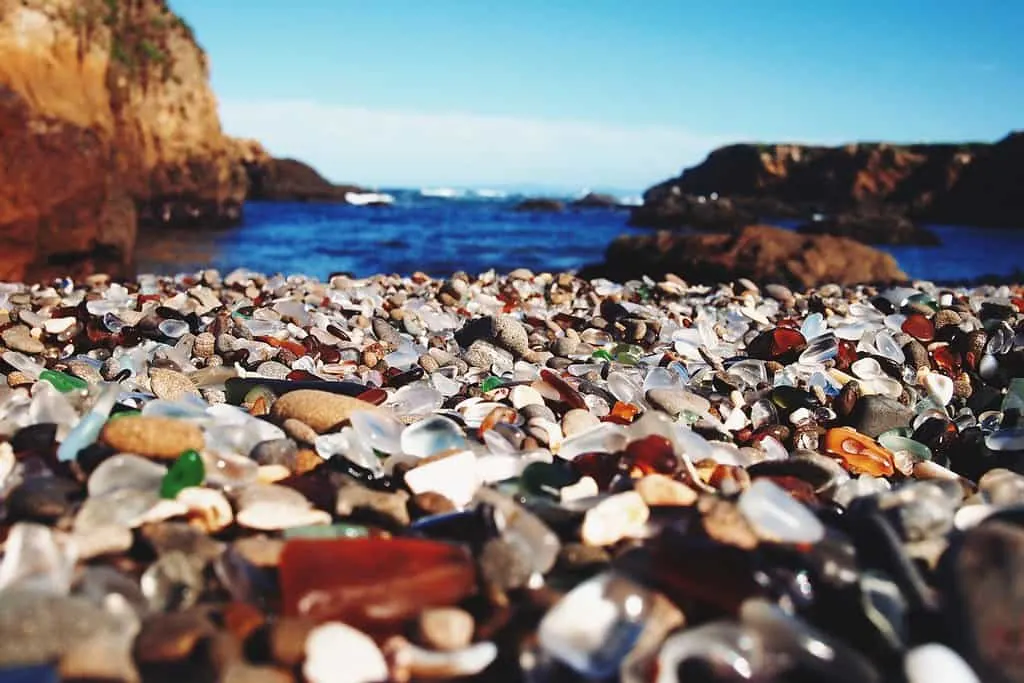 California and beach culture are synonymous, but the beaches of Northern California are nothing like those made popular by the Beach Boys and Baywatch. They are colder, moodier, and filled with tremendous beauty.
Down by Santa Cruz, you can still find the classic wide, sandy beaches and surf culture, but plan on wearing a wet suit if you want to hang ten. During most of the year, the beach is very chilly.
Shell Beach, Bodega Bay, Gualala, and Jenner are popular Sonoma Coast beaches for enjoying remote, windswept views. If you are looking for tide pools, there are several Northern California beaches that made our list of kid-friendly tide pools in California.
In the far north, many of the beaches lie in close proximity to redwoods forests, like Lagoon Creek Beach and Golds Bluff Beach. Russian Gulch State Park as a creek that empties into the ocean which is good for kids to play in.
The most unusual beach in Northern California is Glass Beach in Fort Bragg. Once a city trash dump, today the beach is riddled with tumbled sea glass, creating beautiful glass "sand" that is clear, green, amber, and even blue. As tempting as it might be, keep in mind that it is illegal to take glass from Glass Beach. We want this treasure to be around for generations to come.
14. Paddle Past Sea Otters in Elkhorn Slough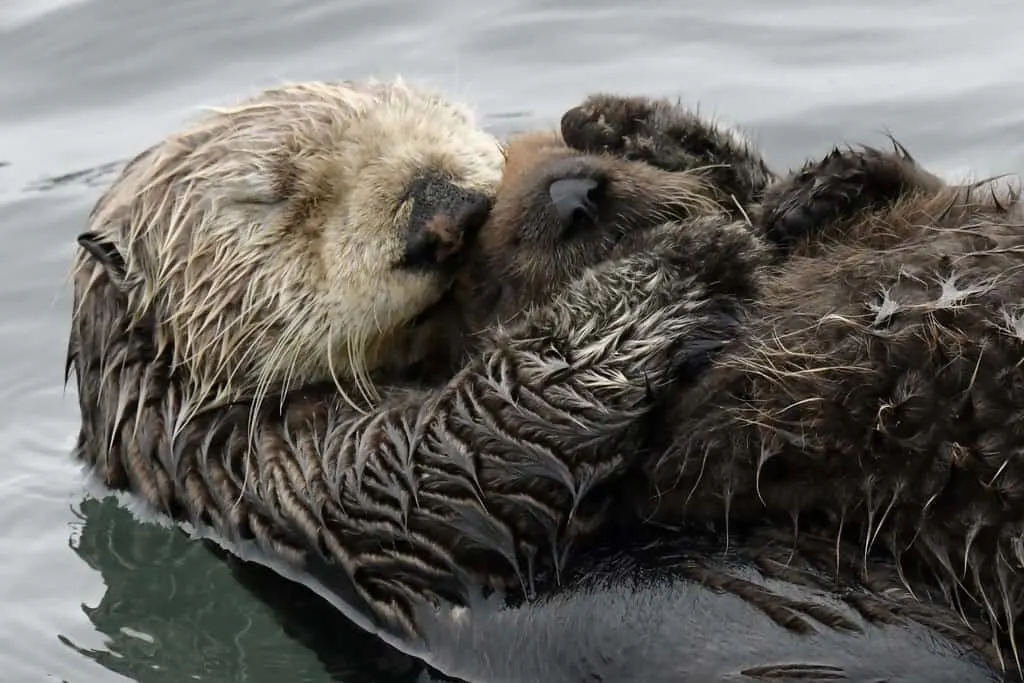 There are few critters cuter than sea otters. There is something special about watching them float on their furry little backs while they snack on an oyster or abalone. And the babies- don't get me started on how absolutely adorable those little fluffs of cuteness are!
One of my favorite ways to enjoy sea otters, seals, and sea lions in their natural habitat is taking an easy kayak tour in Elkhorn Slough. This special spot is located about 30 minutes north of Monterey, and is an ideal spot for wildlife-loving families.
Guided kayak tours are offered by Monterey Bay Kayaks. On my family's tour, we were about 100 yards from shore before we spotted our first sea otter in the water. They were everywhere (including babies)! Some were floating together in what is called a sea otter raft, while others were curious and popped up right beside our kayaks.
We also saw about a hundred sea lions who all seemed to like to hang out together. They were noisy and stinky and highly entertaining. As we paddled deeper into the slough we came across several little beaches filled with seals sunning themselves.
Since we visited during spring, we saw plenty of adorable babies! Some baby seals ever swam right up to the kayak for a closer look.
Prefer not to kayak but still want to see all the wildlife in Elkhorn Slough? Book this Elkhorn Slough Wildlife Tour that takes place on a boat.
15. Spend a Day on the Santa Cruz Beach Boardwalk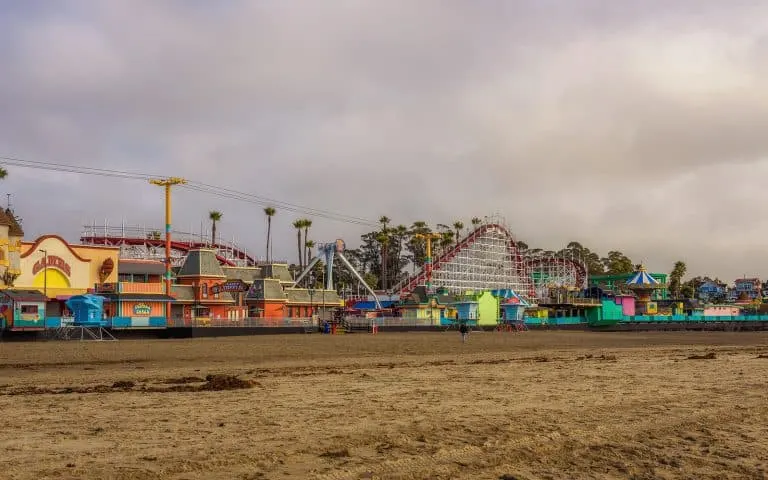 The most famous boardwalk in all of California is the Santa Cruz Beach Boardwalk. It has plenty of classic, old-fashioned boardwalk appeal with lots of rides, games, and junk food to stuff your face with.
On sunny summer days, the beach is packed with families picnicking on the beach and children splashing in the waves. They then come up to the Boardwalk to enjoy a few rides and indulge in classic carnival treats.
The Boardwalk opened in 1907. Today, it boasts 35 unique rides, numerous souvenir shops, plenty of novelty dining options, a massive arcade, mini golf area, bowling alley, laser tag, and carnival games. During the summer months, free live entertainment brings throngs of families and music lovers to the beachfront stage.
The theme park isn't faking the nostalgia; the Giant Dipper coaster and Looff Carousel are both designated National Historic Landmarks. The Giant Dipper, the boardwalk's most popular ride, opened in 1924 and has been in continuous operation ever since.
The Looff Carousel opened in 1911. It is one of the few carousels remaining in the US that features a ring dispenser game. This game allows riders to attempt to snag a ring while riding their horse, and then throw it into a clown's mouth. A perfect shot is rewarded with lights, bells, and whistles.
Ready for more fun in Santa Cruz? Check out the top 10 things to do in Santa Cruz with kids.
Book your beginner surf lessons in Santa Cruz.
16. Visit the Winchester Mystery House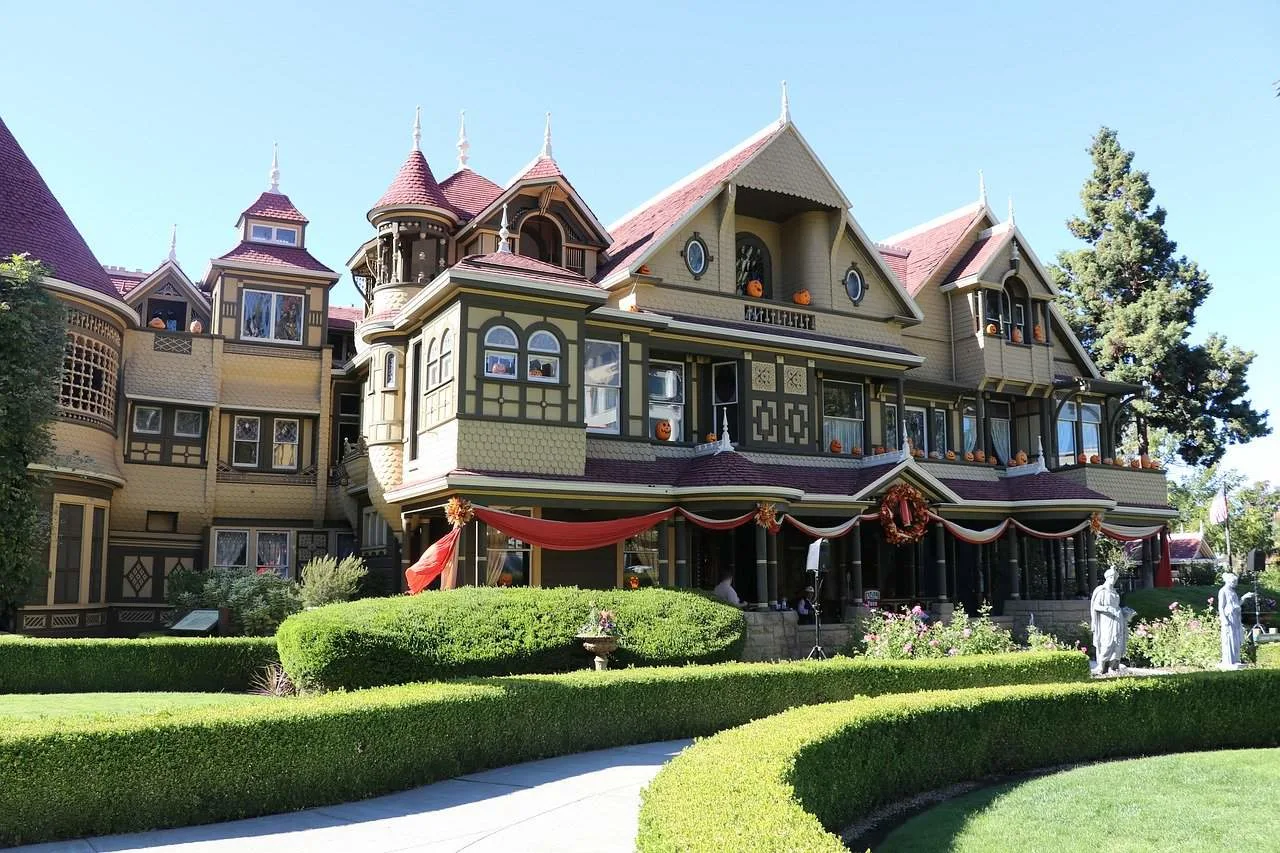 Anyone who grew up in Northern California has surely heard of or visited the Winchester Mystery House. This 100-year-old mansion was built by Sarah Pardess Winchester of the Winchester Rifle fortune. Many believe her incessant home remodeling was fueled by grief and superstition over the loss of her husband and only child.
It is a true architectural wonder filled with dark passages, stairs that lead nowhere, and lots of haunted history. In all, 160 rooms were built in this spooky home. Halloween and Friday the 13th are especially popular times to visit the mansion.
After touring the home, take time to explore San Jose and the rest of the Silicon Valley. There so many great things to do in San Jose with kids, including watching a San Jose Sharks hockey game, dining on Santana Row, and visiting the Tech Museum of Innovation.
17. Go River Rafting in Northern California with Kids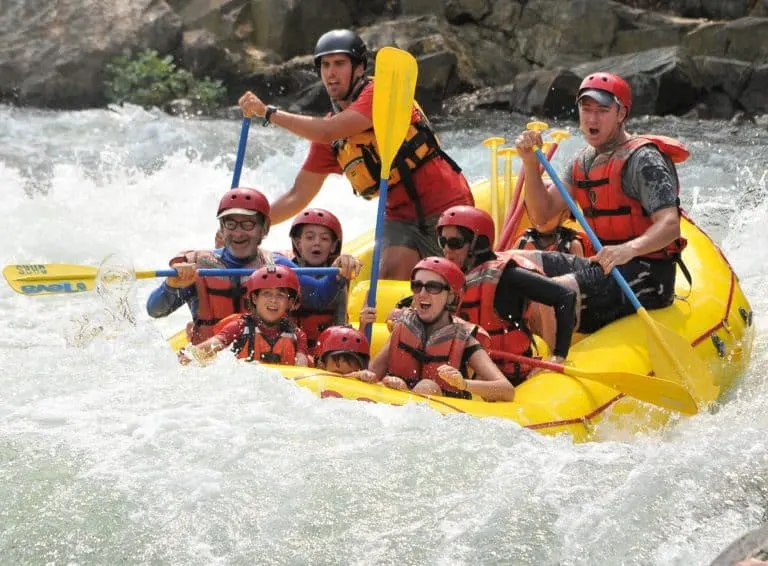 One of my favorite ways to enjoy Northern California's forests and waterways is on a river rafting trip. It is a great way to experience beautiful parts of the state that might otherwise be hard to access.
The most popular route in Norcal is rafting the class III rapids of the South Fork of the American River, just outside of Coloma. These rapids provide thrills and are perfect for beginners. Expect to see modern day prospectors still trying to strike it rich along the banks of this famous Gold Country spot.
Read about rafting the American River with kids.
More excitement can be found on the Middle and North Forks of the American River. These rapids are larger and better suited for teens and experienced rafters. The Merced River near Yosemite is another great option for those looking for Class IV options.
If you seek a tamer experience, head up near the Oregon border and raft the Lower Klamath River. The Class II rapids and warmer water make it a fun destination for families with children as young as four.
18. Paddle Past the Tufas of Mono Lake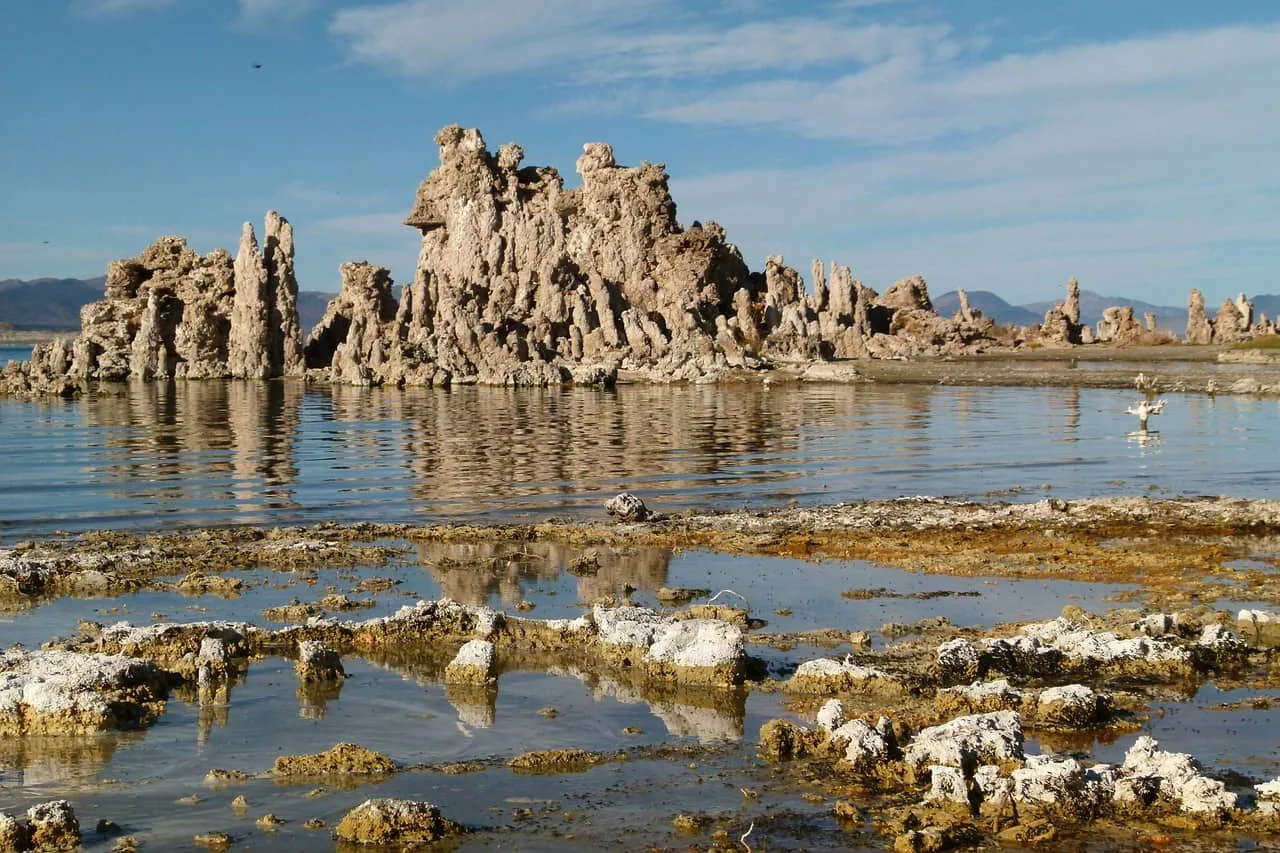 Visiting Mono Lake is like visiting a watery wonderland from another planet. The tufa towers that appear to be growing from the ground are calcium-carbonate "growths" that have been formed when the alkaline lake water mixes with the freshwater springs.
At some points along the lake's trail, you're able to access the shores of Mono Lake and see the strange greenish turquoise colored water. The waters of Mono Lake are many times more salty than ocean water, and it has been dubbed the "Dead Sea of California". Similar to the Dead Sea in the Mediterranean, Mono Lake is fed by streams, but has no outlet.
Use this itinerary to take a family-friendly tour of the Eastern Sierras.
When visiting Mono Lake, consider joining one of the free walks that are offered daily. Naturalists leading the tours will detail how millions of birds feed and rest at the lake. They will allow visitors to scoop up the water which is filled with tiny brine shrimp, and help guests create tiny tufas of their own using the lake water.
Ready to get out on the water? Since the water is so alkaline, it is not really a swimming destination (though it is allowed). Instead, opt to paddle among the tufas. Caldera Kayaks offers guided natural history tours of Mono Lake.
19. Hike to Devil's Postpile & Rainbow Falls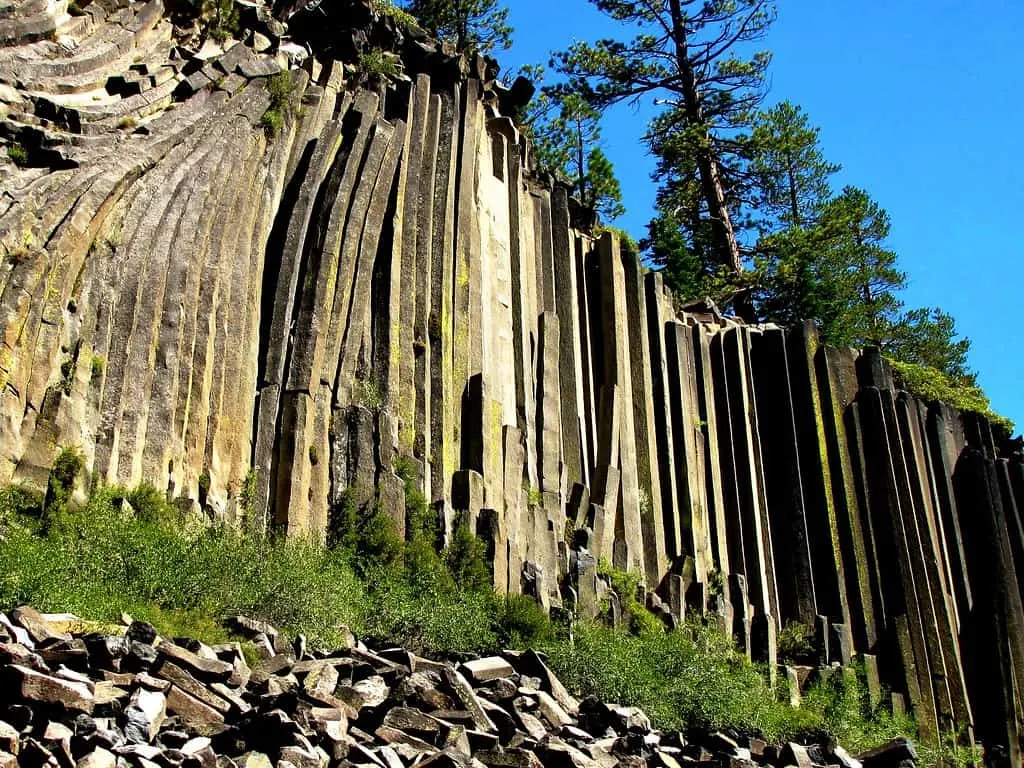 In the Eastern Sierras, not far from Mammoth Mountain Ski Resort, lies a national monument protecting a geological wonder. Devil's Postpile is made up of 60-foot basalt columns that were formed 100,000 years ago by a volcanic eruption. Glaciers carved away one side of the postpile to reveal a wall of columns that really have to be seen to be believed.
During the summer, visitors must park at the Mammoth Adventure Center and take a shuttle down to Devil's Postpile. The hike to Devil's Postpile is an easy 0.8 mile round-trip jaunt, but why stop there? It is best combined with a trip to Rainbow Falls, an impressive cascade that always seems to have a rainbow near its base when the sun is shining.
After enjoying a picnic lunch at Rainbow Falls, finish your hike by taking the spur to Reds Meadow Resort, a pack station with a fun little cafe that serves up great ice cream and milkshakes. You can pick up the shuttle back to Mammoth Adventure Center from here. The entire hike is about 4.5 miles with this extension.
20. Visit Old Town Sacramento & the State Capital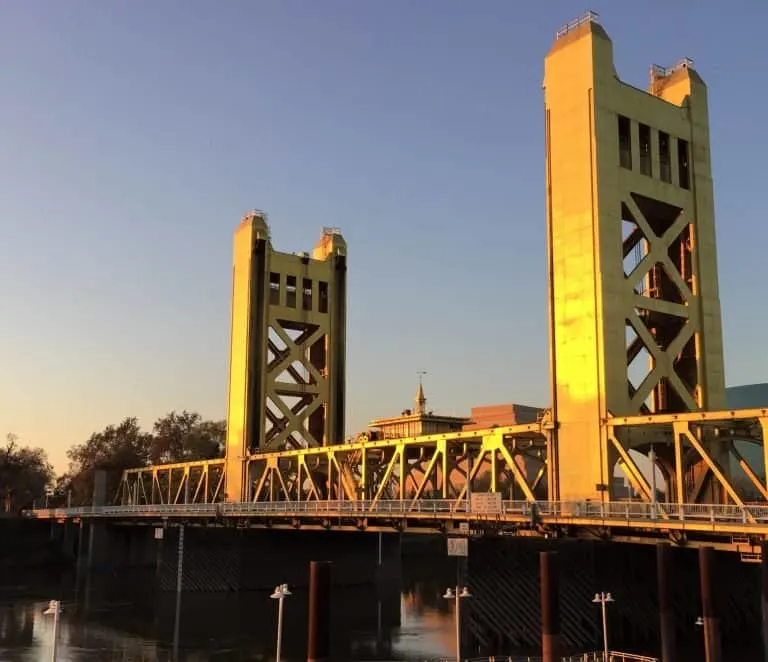 The political center of California is Sacramento, but a visit to the state capital should include far more than just a tour of the legislative building. The River City is also filled with fascinating Gold Rush history.
Just a few blocks from the capital building you will find Sutter's Fort, the original hub of activity and information when the Gold Rush first began. Today, the facility is a state park and touring it is an essential experience for 4th graders in California as they study state history.
Old Sacramento is the tourism hub of the city. Designed to look like the Sacramento of the 1850s, this riverside shopping and dining area is oozing with charm. Evangelines, Wilikers Toy Emporium, and Candy Barrel's vast assortment of candy (including several flavors of salt water taffy) are especially popular shops with families.
After you shop and eat, Take a ride on a horse-drawn carriage or a historic, one-hour river cruise on the Sacramento River. The cruise goes under two historic bridges, the I Street Bridge and the famous Tower Bridge.
Train enthusiasts won't want to miss the California State Railroad Museum, also in Old Sacramento. It is widely regarded as the most popular railroad museum in America. Children love being able to climb around on old rail cars and locomotives. There are even train rides available, including a Christmas train during the holiday season.
Read about the top 10 things to do in Sacramento with kids.
21. Hike Mount Diablo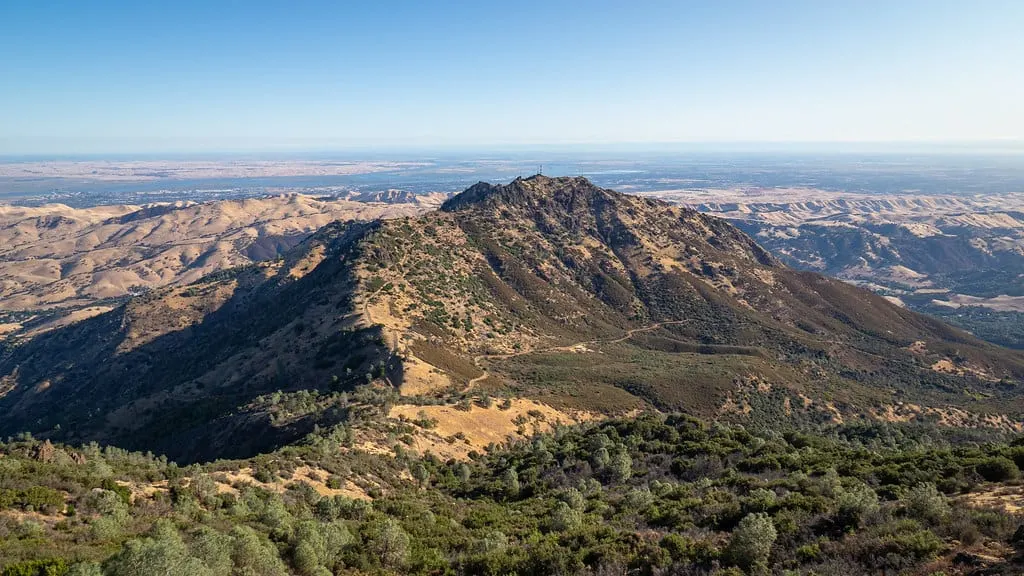 Mount Diablo looms over the Bay Area with with an imposing presence, begging to be explored. This 3,849-foot peak, caused by an uplift fault. It is visible from all over the region, a reminder of California's geological history.
Entrances to Mount Diablo State Park can be found in Danville and Walnut Creek. There are 520 miles of hiking, mountain biking, and equestrian trails.
The summit of the mountain, can be reached via car. There you will find a visitors center with an observation deck (views galore!) and natural history exhibits. The actual peak is housed inside the building! It is accessed via a circular staircase.
One of the most popular spots for families to visit on Mount Diablo is Rock City. Kids love scrambling around in the the sandstone caves and climbing atop big boulders. Mitchell Canyon is a popular spot to start several hikes, including the 5-mile Donner Creek Loop which has waterfalls to enjoy during the rainy season.
22. Walk the Marin Headlands & the Golden Gate Bridge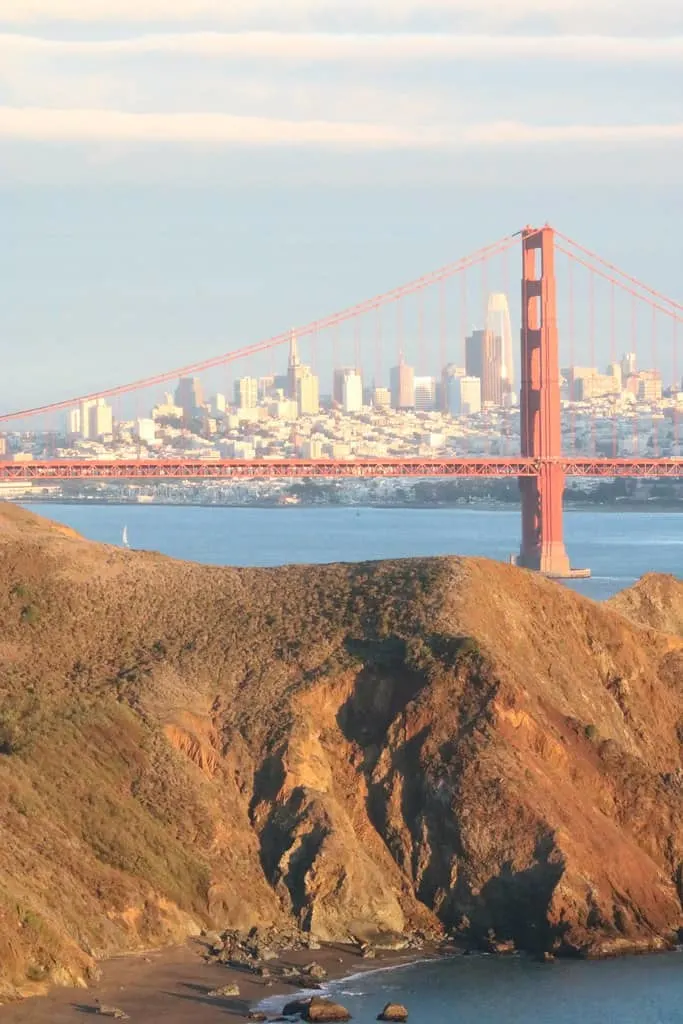 If you want to enjoy magnificent views of San Francisco, head to the Marin Headlands. Situated just across the Golden Gate Bridge from San Francisco, the Marin Headlands are the place to explore World War II bunkers, enjoy sweeping vistas, and get killer pictures of the Golden Gate Bridge.
Don't miss the opportunity to visit Point Bonita Lighthouse. It is a short but steep walk down to the lighthouse, and there are absolutely breathtaking views of San Francisco and the Golden Gate Bridge to enjoy along the way.
Head through the tunnel and then wait in line to go across the little bridge to the lighthouse. They only allow a few people across the bridge at a time because it is so old.
Trekaroo Tip: The lighthouse is open Sundays and Mondays from 12:30 pm to 3:30 pm. It is suggested that you start down the trail by 2:30 pm in order to enjoy the lighthouse.
Make your way down to Rodeo Beach, a black sand beach that feels remarkably wild even though it is so close to an urban area. Nearby Rodeo Lagoon is a nice spot for bird watching. There is a 1.5-mile loop trail that circumnavigates it.
The best way to enjoy the Golden Gate Bridge is to walk across it! We like beginning the journey from the Marin Headlands because of the great views of the city to enjoy along the way.
The entire bridge spans 1.7 miles, so go as far as you would like and then turn around and retrace your steps. Biking the bridge is a popular activity as well.
See what else made our list of the best hikes near San Francisco.
23. Get Swept Away By the Splendor of Big Sur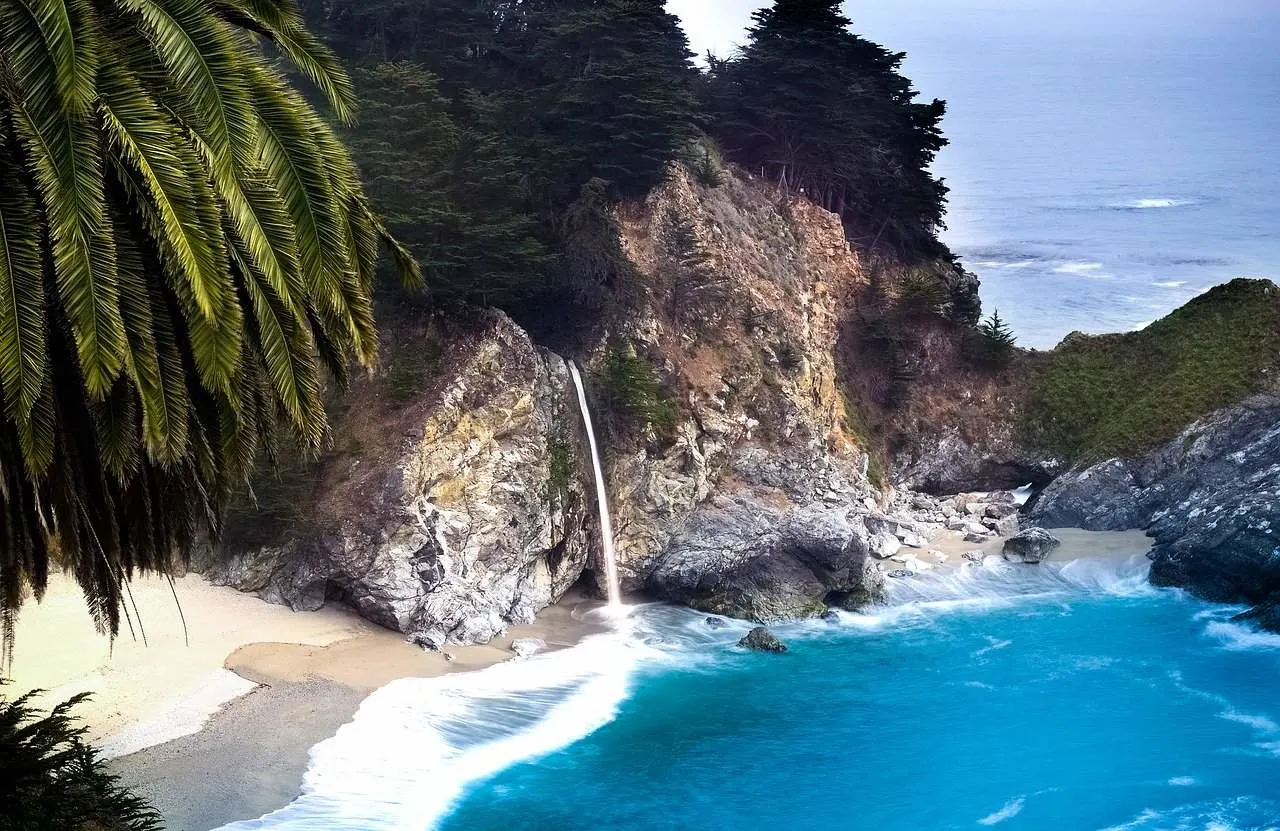 There are few drives more beautiful than the classic California road trip down Highway 1 along the Big Sur coastline. This part of California is wild and rugged. Expect to be wowed by view after view encountered on this twisting, turning road.
Carmel's Point Lobos State Reserve serves as the gateway to Big Sur which sits just to the south. Deemed "the greatest meeting of land and water in the world" by Australian landscape artist Francis McComas, Point Lobos State Marine Reserve is a meeting of turquoise waters, craggy cliffs, and sculptural cypress trees.
Considered by many to be the "crown jewel" of California's State Park system, Point Lobos is a wonderful place for hiking, wildlife viewing, and enjoying the stop-you-in-your-tracks-scenery of the Central California coastline. The North Shore trail leads hikers thought the forest to ocean cliffs with panoramic views.
Bring binoculars to help you spy sea otters floating in the kelp beds offshore and seals sunbathing at Bluefin Cove and Whalers cove.
Further south, camping and outdoorsy fun can be found at Pfeiffer Big Sur State Park. This family-friendly park is a great place to camp, hike, picnic, and fish on the Big Sur River.
There is a trail from the campground which meanders through redwood forest to 60-foot Pfeiffer Falls. Nearby Pfieffer Beach is not to be missed as well.
One of the prettiest views on the planet can be found 10 miles south at Julia Pfeiffer Burns State Park. After short walk from the parking lot you will stumble upon McWay Falls, which cascades onto the beach below and into the ocean.
24. Visit the Monterey Bay Aquarium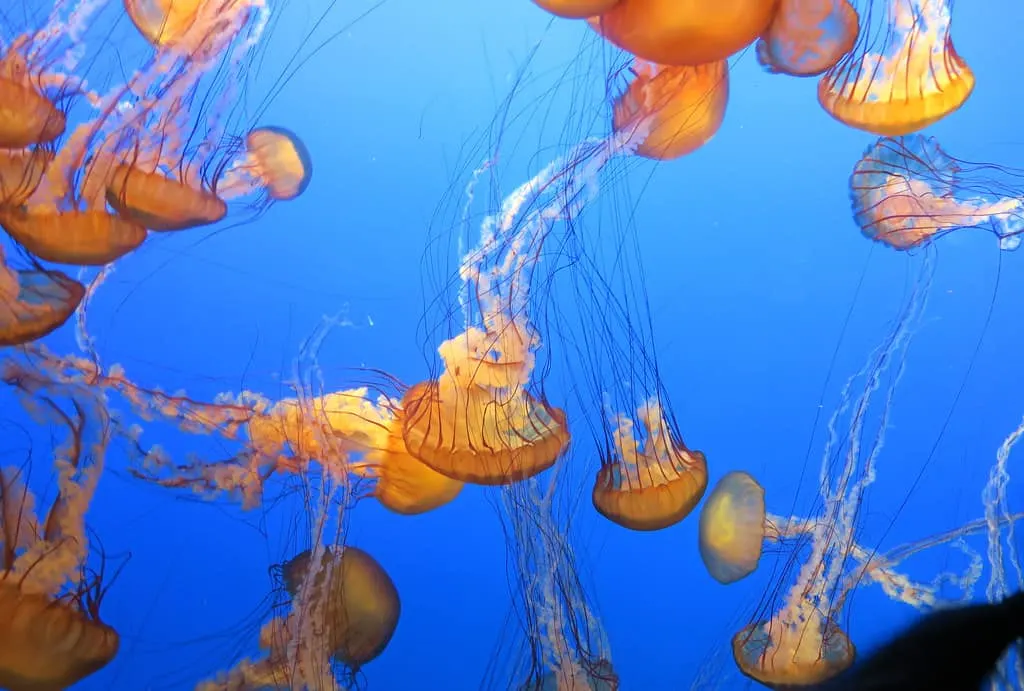 I feel like every family I know that is from California has had at least one family vacation which included a visit to the Monterey Bay Aquarium. This massive aquarium educates and inspires children (and parents!) to gain a deeper understanding of our planet's amazing oceans.
You'll need a full day to explore everything this aquarium has to offer, including hands-on activities like touch pools and themed play areas. The Kelp Forest feeding is a must-see, and there are several wonderful behind-the-scenes tours offered. Expect to see sea otters, sea lions, penguins, and an extensive variety of fish.
Beyond the aquarium, Monterey has so much more to offer families. Highlights include the Dennis the Menace Playground, Cannery Row, piping hot clam chowder in a sourdough bread bowl on Fisherman's Wharf, and the world-famous 17-Mile Drive which loops past Pebble Beach.
Here are our picks for the best things to do in Monterey with kids.
25. Take a Train Ride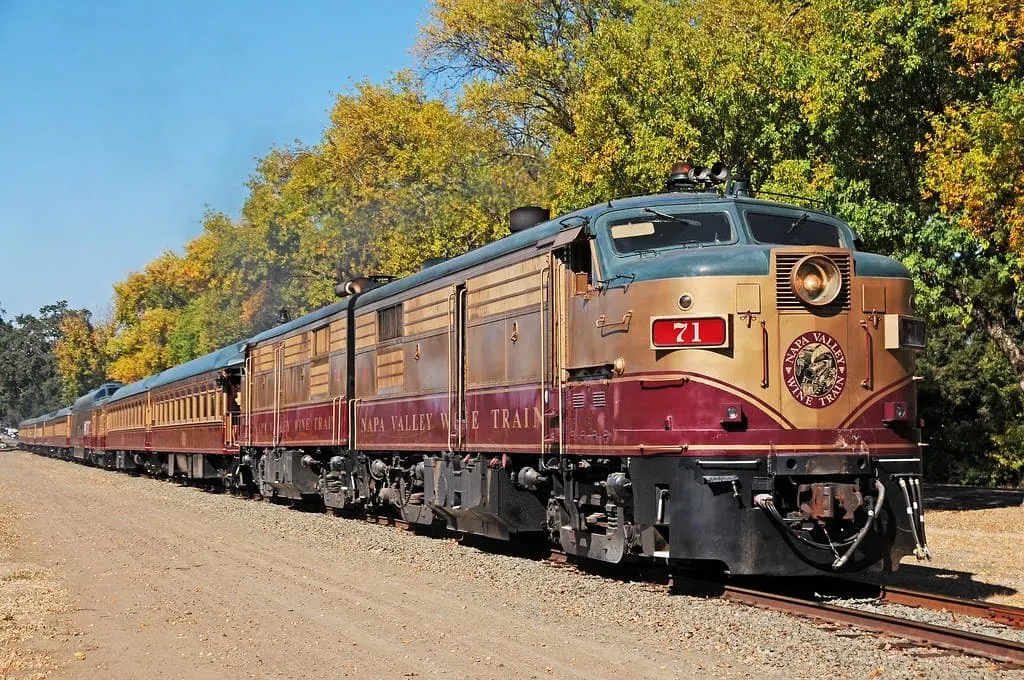 What better way to enjoy the scenery of Northern California than by train? Of course, you could take the classic Amtrak route, but there are also several special trains that shouldn't be missed.
The Skunk Train in Fort Bragg takes riders through old-growth redwood forest, over trestle bridges, and through tunnels. This line was originally built for logging but today, the route is only used for tourism.
Active families with children over six will enjoy the railbikes. These pedal-powered bikes ride the rails on a 90-minute, open-air trip through the redwoods. The trip is guided and includes wildlife viewing opportunities. The railbikes do have a motorized assist if you want to take a break from pedaling.
In South Yosemite, families will enjoy a ride on the Yosemite Sugar Pine Railroad. This seasonal, steam-powered train (April through October) is located 10 minutes from the southern entrance to the park. In addition to train rides, there is also gold panning and a museum.
In Napa, the Napa Valley Wine Train is a classic experience. Yes, it is much more enjoyable to take this 36-mile round-trip journey to St. Helena and back without kids. If you want to be able to enjoy the views, book your experience during the summer months when the days are longer.
Couple love enjoying local wines and tasty cuisine, but children are still welcome. They even offer reduced rates for children under 12. The best time to experience the Wine Train with kids is during the holiday season when Santa comes on board!
Read about more kid-friendly fun in Napa Valley.
Speaking of the holidays, there is a very popular Polar Express experience in Old Sacramento at the California Railroad Museum. This experience sells out early so be sure to check their website in the early fall to secure tickets.
Lead image by Bigstock.