There's a reason why Maine's license plates say 'Vacationland.' The rolling, lush topography, the craggy coastline, and ranges of beautiful, old mountains make for a great vacation spot for people in the northeast United States, in southeast Canada, and from around the world. And in the autumn, Maine fall foliage can't be beat!
During fall, "The Pine Tree State" is extra special as millions of (non-pine) trees explode in brilliant riots of yellows, oranges, and reds. Generally, the coveted peak of foliage season lands within the last week of September and the first two weeks of October. Thankfully, the state has a foliage tracker to help you plan your trip and enjoy peak fall colors in Maine..
Amidst it all though, there are some particularly good places to see Maine's fall foliage. Here are some of our favorites.
13 Places to Enjoy Maine Fall Foliage
Acadia National Park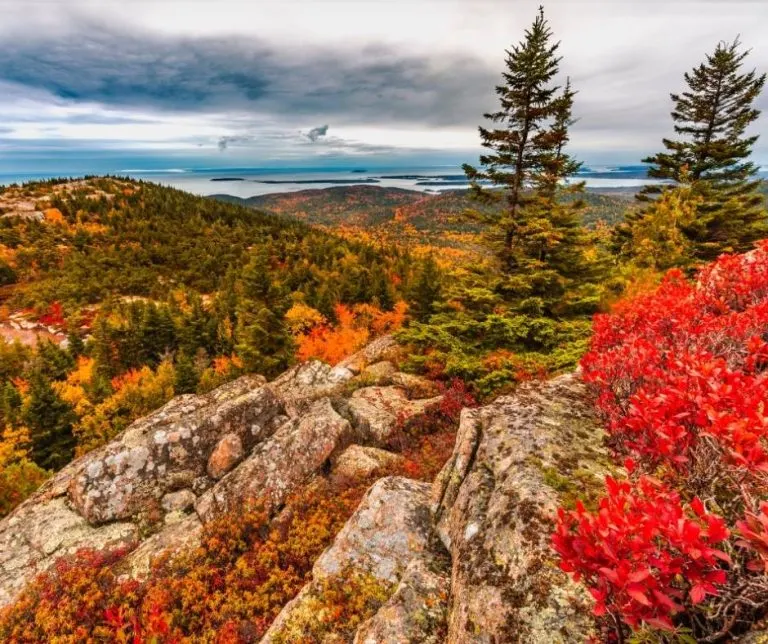 If you're new to Maine, then we must start with the state's icon, Acadia National Park. Situated on the coast (160 miles northeast of Portland), the park's 47,000 acres sprawl across Mount Desert Island and includes parts of the Schoodic Peninsula and Isle au Haut.
There are 120 miles of hiking trails, 300 species of birds to spot (including the peregrine falcon), biking on the 27-mile Park Loop Road or the 45 miles of carriage roads, and ample opportunities for fishing.
Cadillac Mountain will provide great views of the ocean to the east and the fall colors to the west. From October to early March, the mountain welcomes the first rays of daylight to touch the continental United States.
Read our full guide to the best things to do in Acadia National Park with kids.
Black Woods Scenic Byway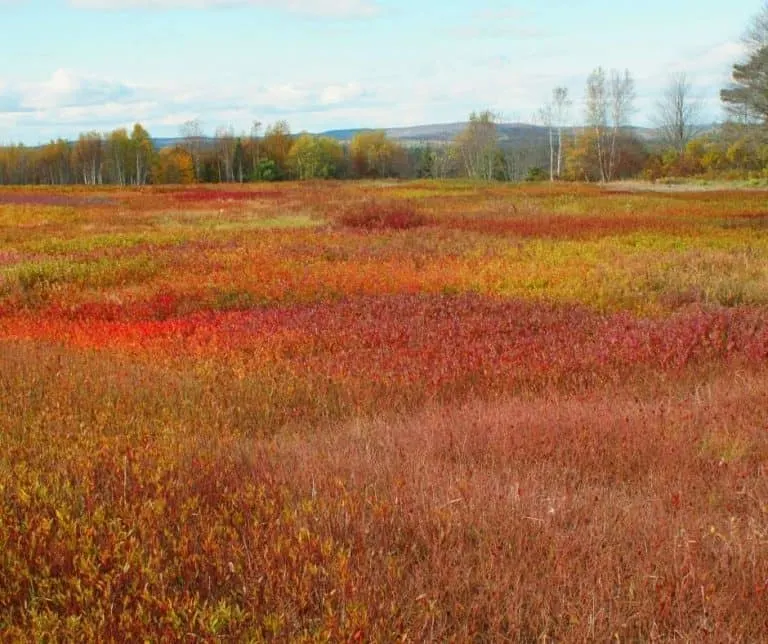 For an entirely different kind of Maine fall foliage experience, head to Franklin and drive east on the Black Woods Scenic Byway.
Driving along this backroad alternative to busy Route 1, you'll pass miles and miles of blueberry barrens. After the harvest is completed, the leaves of the bushes turn a dark crimson, then explode into remarkable hues of red and purple as the fall progresses.
The route also has outstanding viewsheds of mountainous terrain with exposed granite ledges, so that you'll get your fill of "regular" foliage too.
Local towns offer plenty of great examples of 18th and 19th century architecture and are quintessentially New England. From Franklin, the route runs just over 12 miles to Cherryfield, which is known as the 'Wild Blueberry Capital of the World'.
Camden Hills State Park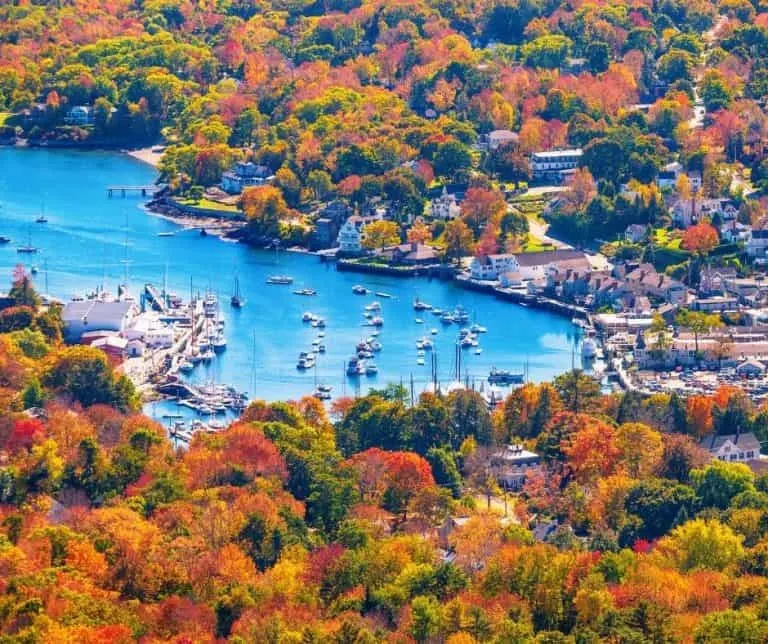 After a hike of just over a mile (or a quick drive up the winding road), you'll feast on view of Camden Harbor, Penobscot Bay and its islands from atop Mount Battie at Camden Hills State Park.
The state park is located just a few minutes from Camden, which offers shops that are within walking distance to the harbor. There you can also view the foliage via a harbor cruise (or go on a whale or puffin watch trip). On a clear day, you just might even spot Cadillac Mountain within Acadia National Park.
There are some 20 trails, some of which are open to biking and/or equestrian use, and opportunities in the park to go birding, hunting or rock climbing.
Explore more of the state! Here are our favorite things to do in Maine.
Fly Above Moosehead Lake – by Seaplane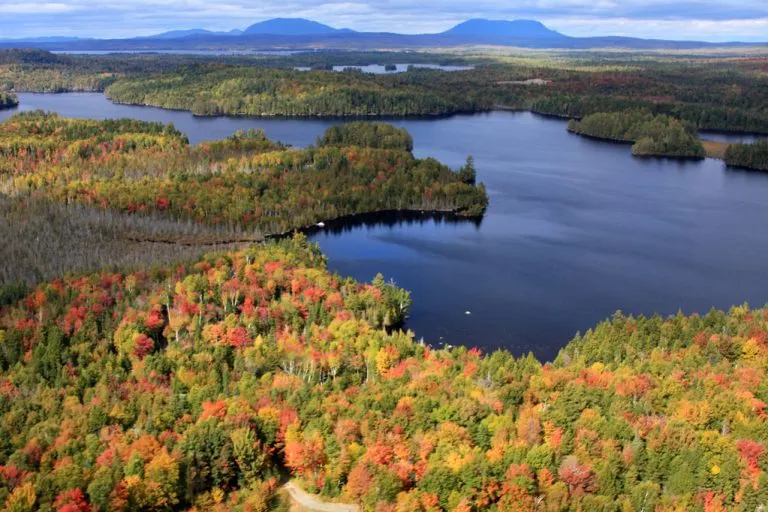 For truly spectacular views, get above it all in a seaplane and soar over the woods, lakes, ponds and mountains as they're aglow in the yellows, oranges and yellows of fall.
See if you can spot wildlife from above (truly a bird's eye view) as your soar over these remote wildlands. And, from the air, you'll see that the 40-mile-long lake really does look like a moose's head, complete with antlers.
Here is a great list of lakes in Southern Maine.
Katahdin Woods and Waters Scenic Byway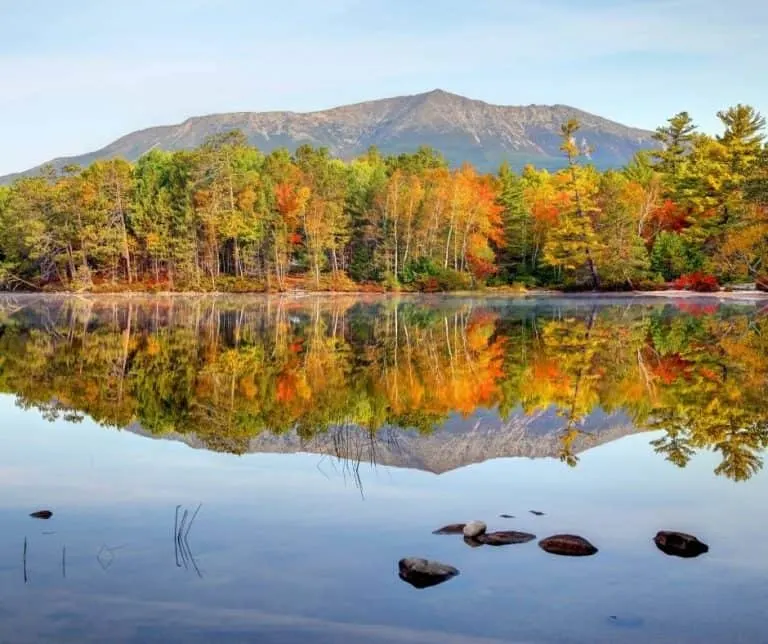 The Katahdin Woods and Waters Scenic Byway winds and rolls for 89 miles past pastoral farms, meadows, and working forests, from the Baxter State Park boundary (near the Tongue Pond Gate) down to Medway and then back up again, past Patten and Shin Pond, to the Metagamon Gate of the park.
Surrounded by fall's glory, you'll travel along the Penobscot River, where ancient trails and portages were once used regularly by the Webanaki people. You will also follow in the footsteps of artists who were (appropriately) seduced by the grandeur of the region, including Frederic Church, Winslow Homer and Jake Day.
The Maine Highlands Hiking Trails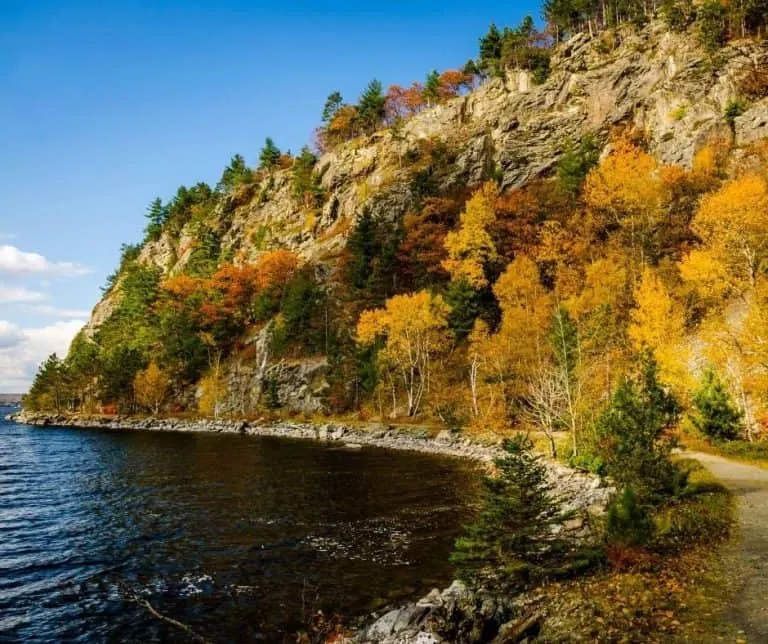 Take in a panorama of autumnal beauty from atop the mountains accessed by the Maine Highlands trail system.
First, there's Mount Katahdin, the highest peak in the state at 5,269-feet and renown terminus of the Appalachian Trail. The trail is "only" 3.2 miles in length, but with an elevation gain of 3,413 feet, it's rated "very strenuous". The views from the top will be worth all the huffing and puffing.
Head to Rockwood and ferry across Moosehead Lake to the base of Mount Kineo. There are two trails to the summit, the longer Bridle Trail and the steeper, cliff-walking Indian Head Trail. At the top you'll be rewarded with 360-degree views of the foliage around the lake which, at 118 miles long and 40 miles wide, is Maine's largest.
There are five separate rail-trails to enjoy, including the 11-mile-long Lagrange Rail Trail, which runs over the former railway of the old Bangor & Aroostook Railroad. Shaded by a colorful fall tree canopy, there are numerous scenic views of the foliage as the trail winds its way past several lovely ponds.
For those more ambitious souls (or those biking), the Four Season Adventure Trail is 26 miles and links five towns, two rivers, three lakes and a whole host of pristine landscapes that will be bursting with fall colors at peak.
Old Canada Road Scenic Byway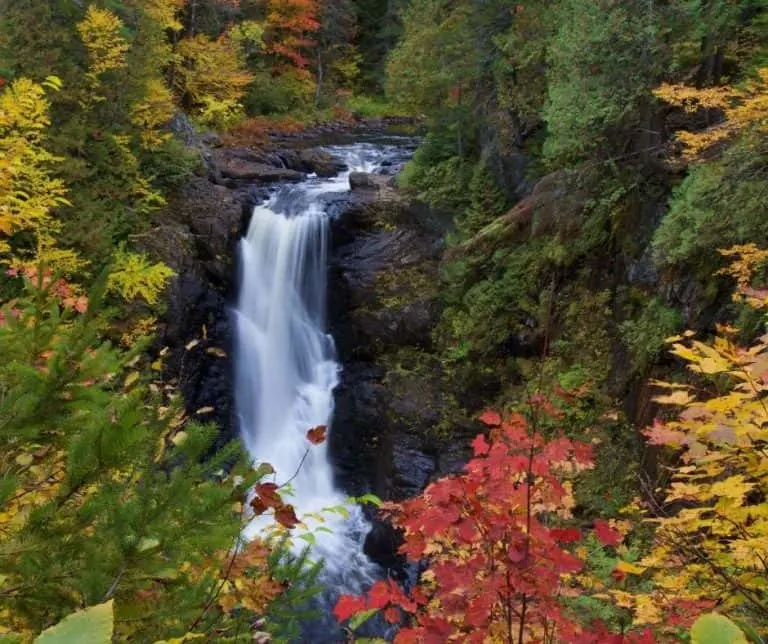 From Solon to the Canadian border, the Old Canada Road Scenic Byway runs for some 78 miles and is sprinkled with quaint villages offering restaurants, quaint lodging and guides and outfitters for a variety of outdoor pursuits.
It's not only a Maine Scenic Byway, but a National Scenic Byway as well, one of less than 200 routes across the nation to garner that distinction. The road travels aside the Kennebec River, up into The Forks, where the Dead River converges.
Hike (or mountain bike) the four-mile Forks Area Scenic Trail or head on a short, family- and dog-friendly hike to Moxie Falls, one of Maine's highest waterfalls. You can also raft the class IV whitewater of the Kennebec into October, a thrilling way to take in the vibrant fall colors.
North of The Forks, the route becomes forestland again (offering even further opportunities for spotting wildlife) before ascending into the rolling Maine mountains.
Rangeley Lake Scenic Byway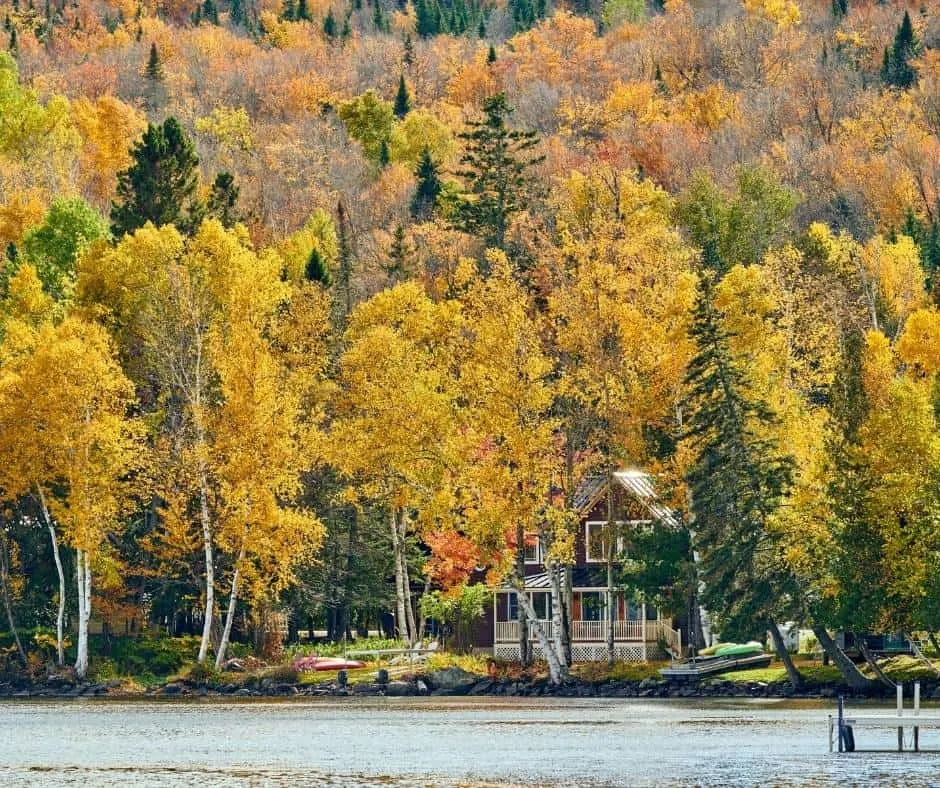 Within Rangeley Lake State Park, this byway is formed by Routes 4 and 17 as they wrap languidly around the nine-mile-long lake. The route powers up the Appalachian Mountain ridge to then drop into rolling valleys and hills, which will all be plastered in colors during the fall.
Perched beside Route 17, Height of Land offers panoramic fall views of forested mountainsides, Upper Richardson Lake, Toothaker Island and the notably tongue-tying Mooselookmeguntic Lake.
Roberts Farm Preserve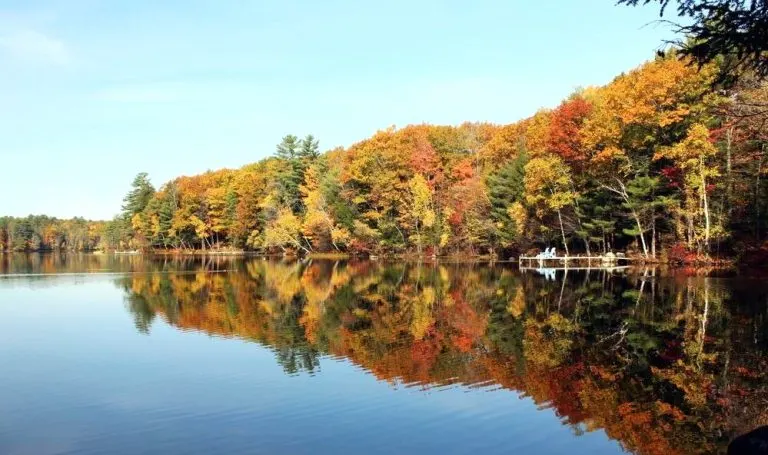 Head to Norway (the town) and the Roberts Farm Preserve within the Western Foothills Land Trust. The 212-acre former dairy farm now offers 12.5 miles of trails that meander through bygone orchards, groves and pastures, and past the remains of stone walls.
The trails are generally moderate and offer great views of Lake Pennesseewassee, which is also known as "Norway Lake", and provide great reflections of the fall colors from its shores.
There is also a short, ADA-accessible trail and two large sculptures that are part of the statewide Langlais Art Trail. Activities allowed on the preserve include walking and mountain biking, and dogs are allowed.
Saco River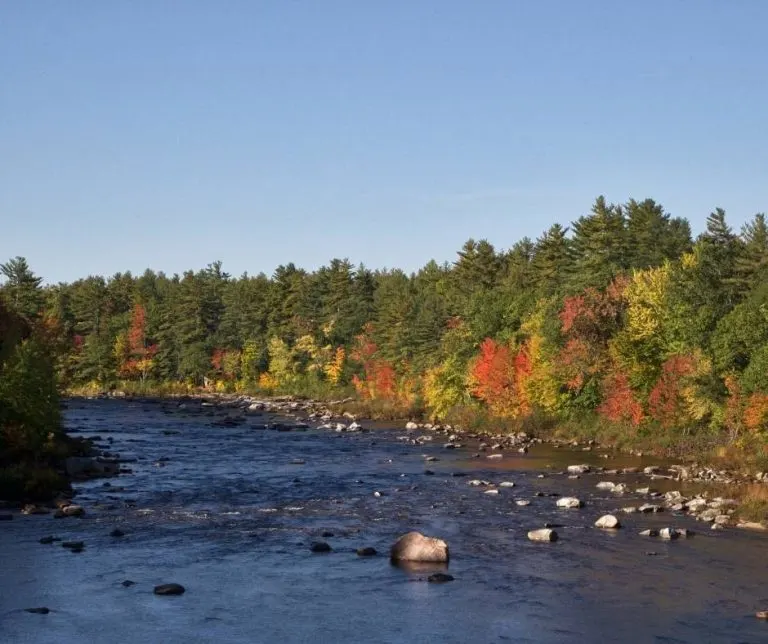 Situated around the generally calm and relaxed waters of the Saco River are plenty of great hikes. You can head to Hiram to hike both peaks of Mount Cutler on the 2.7-mile loop Mount Cutler Trail.
Or head to Brownfield for the Burnt Meadow Mountain Trail, that takes you on a 3.6-mile loop with 1,391 feet elevation gain. Another nearby option is the Jockey Cap Trail in Fryeburg, an easy half-mile out-and-back hike. The reward from all? Gorgeous views of the White Mountains, ablaze in their fall colors.
Better still, get onto the river itself. There are plenty of outfitters in towns like Brownfield and Fryeburg, offering canoe and tube rentals and/or guided day and overnight trips. It's a brilliant way (pun intended) to see the foliage.
St. John Valley Cultural Byway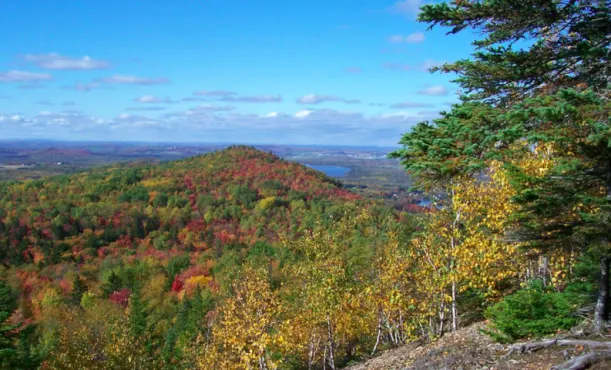 Running for 92 miles in northern Maine, this working byway is not only a great route to be a leaf peeper, but is a throughfare that supports local agricultural and forestry industries. Much of it parallels the St. John River, the boundary between the state and the Canadian province of New Brunswick.
Not only is the drive striking in the fall, the byway is rich with local heritage and culture, including that of Native American, Quebecois and Scots-Irish peoples.
It is as common to hear the French language as it is English and don't be surprised when your phone lights up with a Canadian cell phone provider to say, "Welcome to Canada!" Note: I do hear that the cell phone companies are very forgiving if you accidentally get charged any international fees while traveling along the border.
And if you need more, the nearby Fish River National Scenic Byway runs for another 38 miles, rolling past wildflower meadows and lakes – and serving up views of Mt. Katahdin.
Local wildlife includes eagles, brook trout, beaver, landlocked salmon and moose. Fall is one of the best times to spot moose, particularly at dusk and dawn, as it's their breeding season. It's also when the impressive antlers of the bull moose are fully formed – and can get up to five feet wide.
Grafton Notch State Park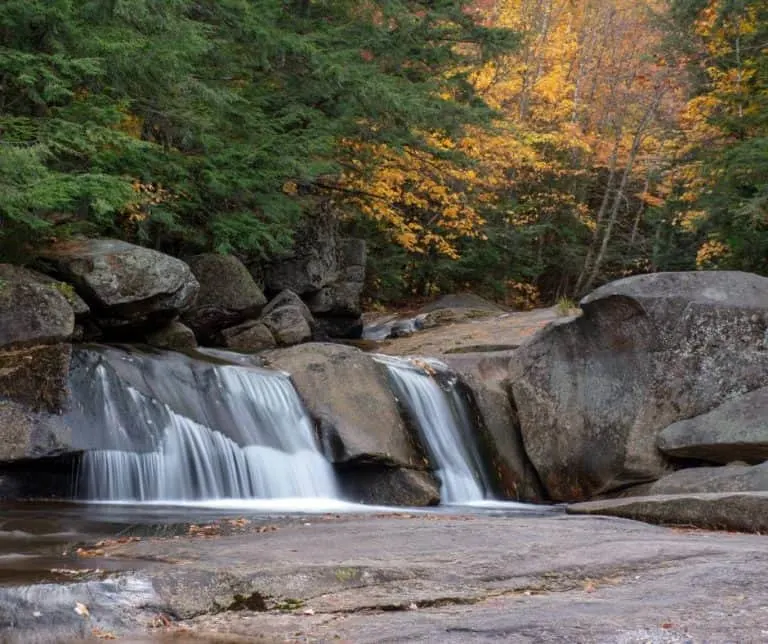 Located in western Maine, Grafton Notch State Park offers a dramatic mountain landscape with hiking trails that provide panoramic views of fall colors, especially along the Appalachian Trail. This rugged park is known for its dramatic mountain scenery, rocky gorges, and dense forests, making it an ideal destination for leaf-peeping.
Hiking to the summit of Old Speck Mountain is one of the park's highlights. The trail, which is part of the Appalachian Trail, offers breathtaking vistas of the surrounding mountains and valleys blanketed in fall colors. The Table Rock Trail is another nice trail that has a rewarding view of the Bear River Valley.
Screw Auger Falls and Mother Walker Falls are two waterfalls inside the park that around surrounded by autumn color and quite photogenic.
Rangeley Lakes National Scenic Byway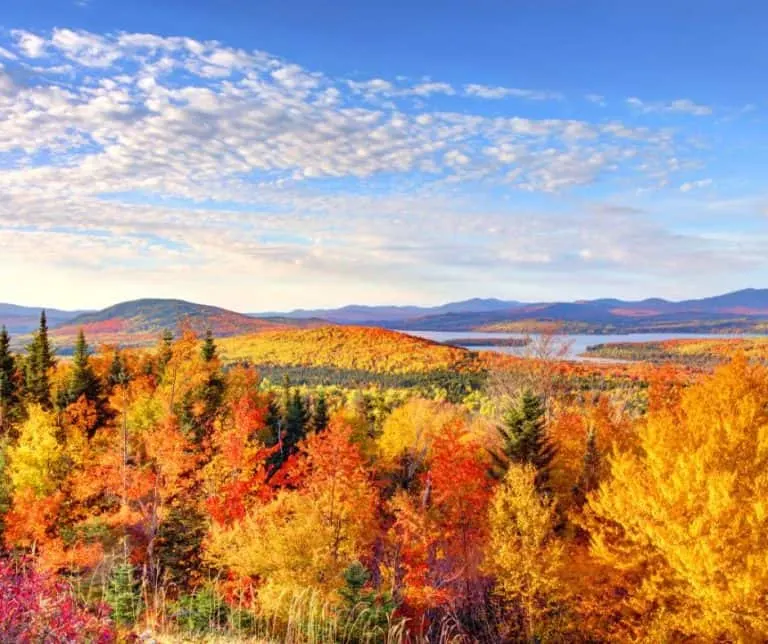 The Rangeley Lakes area in western Maine boasts a collection of lakes surrounded by forested hillsides. Take a scenic drive along Route 17, also known as the Rangeley Lakes National Scenic Byway, known for its views of Rangeley Lake, Mooselookmeguntic Lake, and the surrounding mountains. The drive itself is a leaf-peeping adventure, and there are several pull-offs for photo opportunities.
Height of Land is a renowned viewpoint that provides sweeping vistas of Mooselookmeguntic Lake and the distant mountains. It's one of the most iconic spots for enjoying fall foliage in the region. Quill Hill is an easy hike with panoramic views. The summit overlooks Rangeley Lake and the nearby hillsides, which turn into a sea of red, orange, and gold in the fall.
or explore the local trails for wonderful leaf-peeping opportunities.
'Chez' Chesak is an award-winning adventure travel writer, 20+ year veteran of the outdoor industry, Executive Director of the Outdoor Writers Association of America and chair of The Society of American Travel Writers' Central States Chapter.
His works have appeared in The Los Angeles Times, Fodors.com, Good Housekeeping, Rachel Ray Every Day, Ohio magazine, Cincinnati magazine, Rails-to-Trails, Family Vacation Critic, and dozens more outdoor/adventure publications and websites. He's also done numerous travel segments for his local FOX affiliate and on American Forces Radio and is a regular 'expert' contributor to USA Today's 10Best.
Learn more about him at www.chezconnects.com.
Discover More Amazing Fall Foliage Near You: