There are several places to enjoy Iowa fall colors before the snow starts to fly in the Midwest. I have lived in Iowa all my life and find myself taking a road trip to enjoy the fall color that my home state shows off.
These are some of my favorite places to explore Iowa fall colors. I hope you will plan a road trip, visit an Iowa State Park, or explore a new area of Iowa. I know you will find enjoyment and fall in love with the rich colors that fall offers.
Come and visit my home state of Iowa, as I have more than 100 reasons why you should. Mid-September through the end of October tend to be when Iowa is in its full glory of fall color.
Iowa Fall Colors
1. Ledges State Park in Boone, Iowa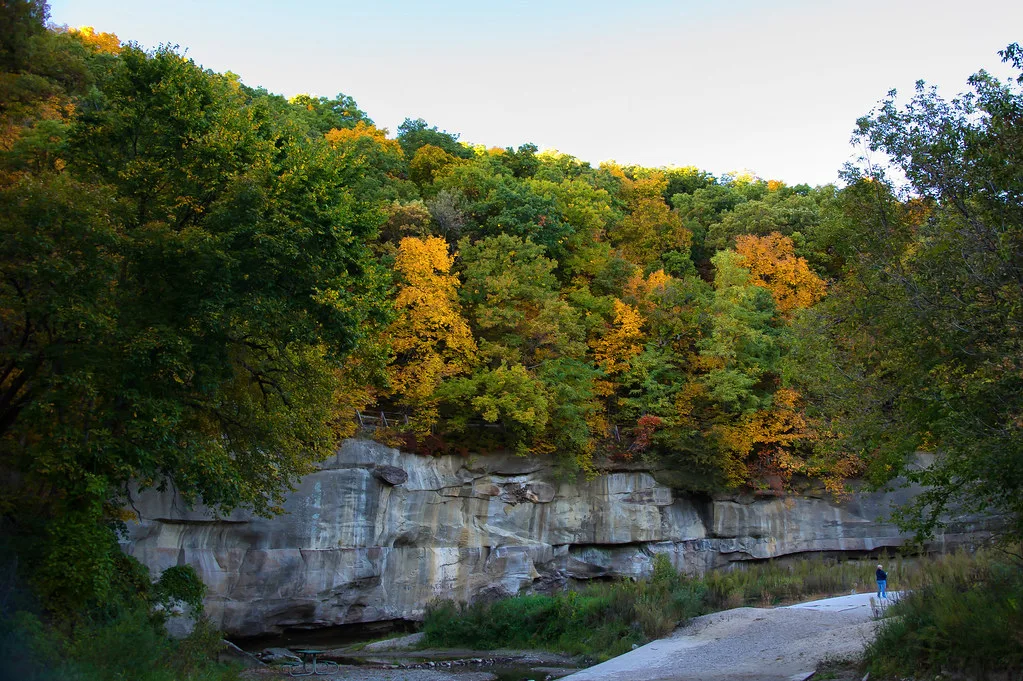 If you love hiking and the colors of fall, you will appreciate the several miles of hiking trails that offer incredible view in Ledges State Park.
Pea's Creek is one of my favorite hikes. If you visit on a warm fall day, creek stomping will be inviting. Who doesn't enjoy walking through a creek surrounded by the rich colors of fall?
Pea's Creek is not only great for hikers of all ages, but it's also an opportunity to see the canyon that runs through Ledges State Park. With 90 electric and non-electric campsites, this is a great state park to embrace fall in Iowa.
Note: Boone is a short, 50-mile drive from the Des Moines Metro area.
Explore more of the state. Here are our favorite things to do in Iowa with kids.
2. Yellow River State Forest in Allamakee County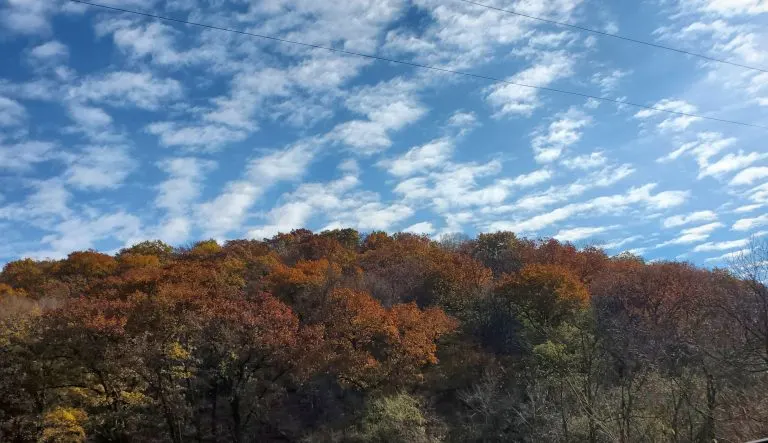 The Yellow River State Forest is in Northeast Iowa, Allamakee County. With more than 8,000 acres of wooded beauty, fall colors pop in this state forest.
Hiking, primitive camping, equestrian trails, mountain biking, trout fishing, canoeing, and kayaking are all popular activities during the fall. If you are more of a windshield viewer, there's plenty of opportunity for never leaving your car on your visit. The yellow, orange, and red colors shine for miles and miles in the Yellow River State Forest.
3. Pilot Knob State Park in Forest City, Iowa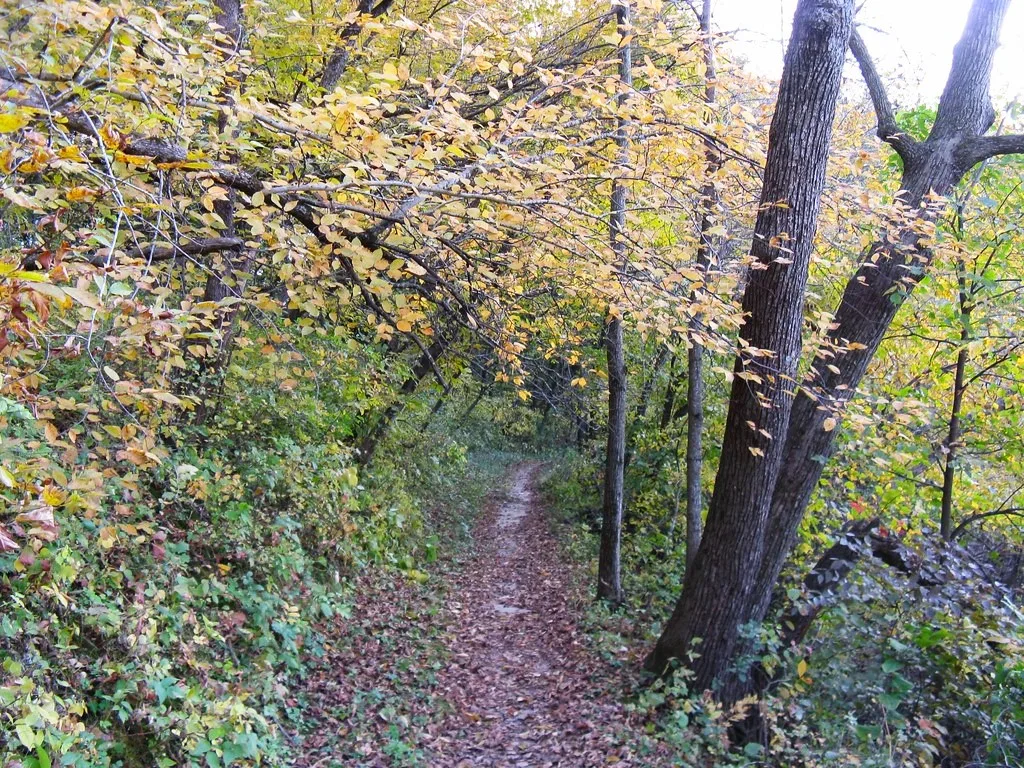 Many people have climbed to the 33-foot tower in Pilot Knob State Park, in Northcentral Iowa. The views of the natural Iowa landscape are sure to wow you.
Fall brings color to the treetops and the surrounding area, which includes corn and soybean fields. Several miles of hiking are in Pilot Knob State Park, which include a hike to Dead Man's Lake, a sphagnum bog. This bog is one of its kind in Iowa and offers four acres for visitors to take in all the fall color that surrounds the lake.
4. Bridges of Madison County in Winterset, Iowa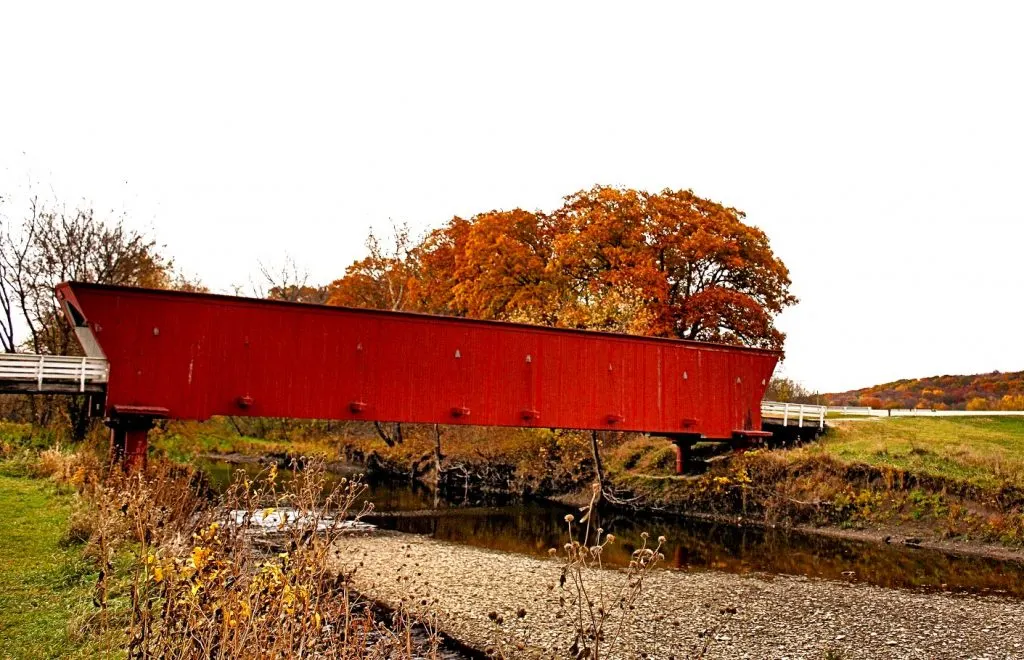 The Covered Bridges Scenic Byway travels through Madison County, near Winterset, Iowa. The world-famous bridges offer an incredible viewing opportunity once Iowa fall colors fall into place.
Each covered bridge offers a fun drive through the backcountry of Madison County. You can drive this scenic byway in one day, all 80+ miles. The curves, hills, and fall foliage will quickly win your heart as you explore the Bridges of Madison County. With the weather still nice and mild, fall makes an incredible time of year to visit this area of Iowa.
Note: Make time to explore the town of Winterset, as the town square is incredibly beautiful inn all four seasons.
5. Iowa's Great River Road National Scenic Byway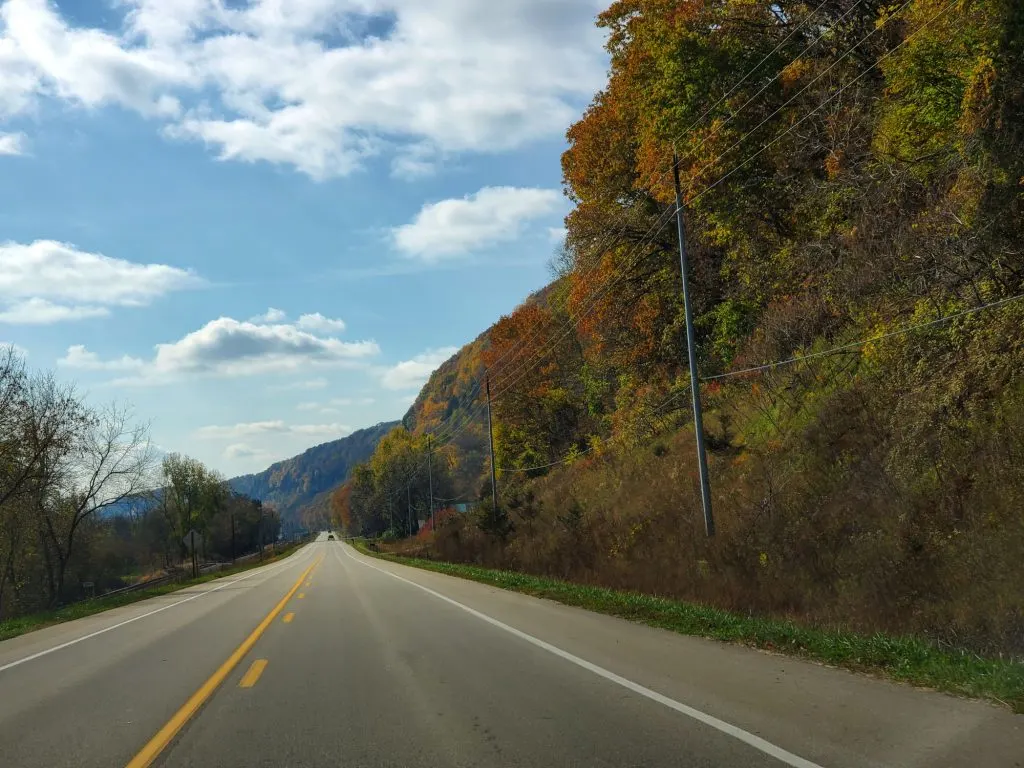 One of Iowa's most memorable drives is the Great River Road National Scenic Byway. This beautiful scenic byway sits along the eastern border of Iowa and parallels the Mississippi River. Fall colors are vibrant from the end of September through the middle of October.
Hop on this scenic byway in Lansing and wrap up your fall road trip in Keokuk in Southeastern Iowa. The charming towns, historical sites, and outdoor hiking experiences will keep you busy as you travel. Fall colors shine vibrantly as you view the Mississippi River and Iowa fall colors through your windshield.
If you want to visit a National Monument while on this route? Check out Effigy Mounds.
6. Loess Hills National Scenic Byway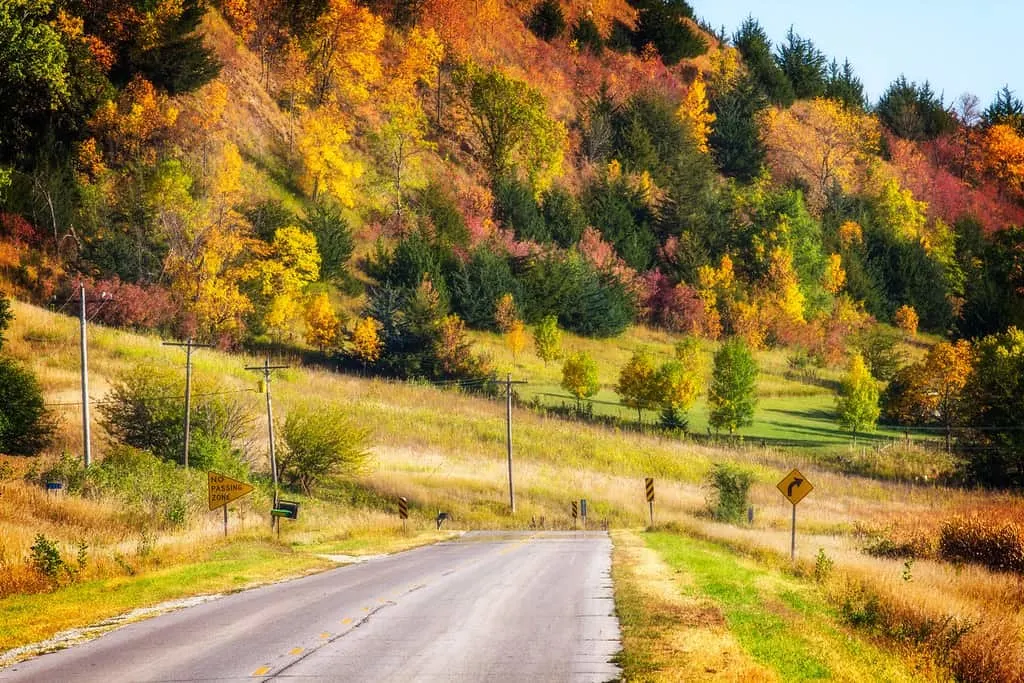 The Loess Hills National Scenic Byway sits on the western side of Iowa, alongside the Missouri River. You can begin your incredible road trip viewing Iowa fall colors in Akron and drive to Hamburg in Southwestern Iowa.
This 200+ mile road trip offers more than 180 miles of additional loops along your route. This is another epic road trip that you can enjoy while experiencing fall colors in Iowa.
A highlight of this route is Stone State Park. Find a bench that sits at a higher level in the park and take in the view. If you are lucky, you will have found a seat that showcases the Loess Hills National Scenic Byway. With a never-ending forest along this route, you will be sure to enjoy fall in Iowa.
7. Briggs Woods Park in Webster City, Iowa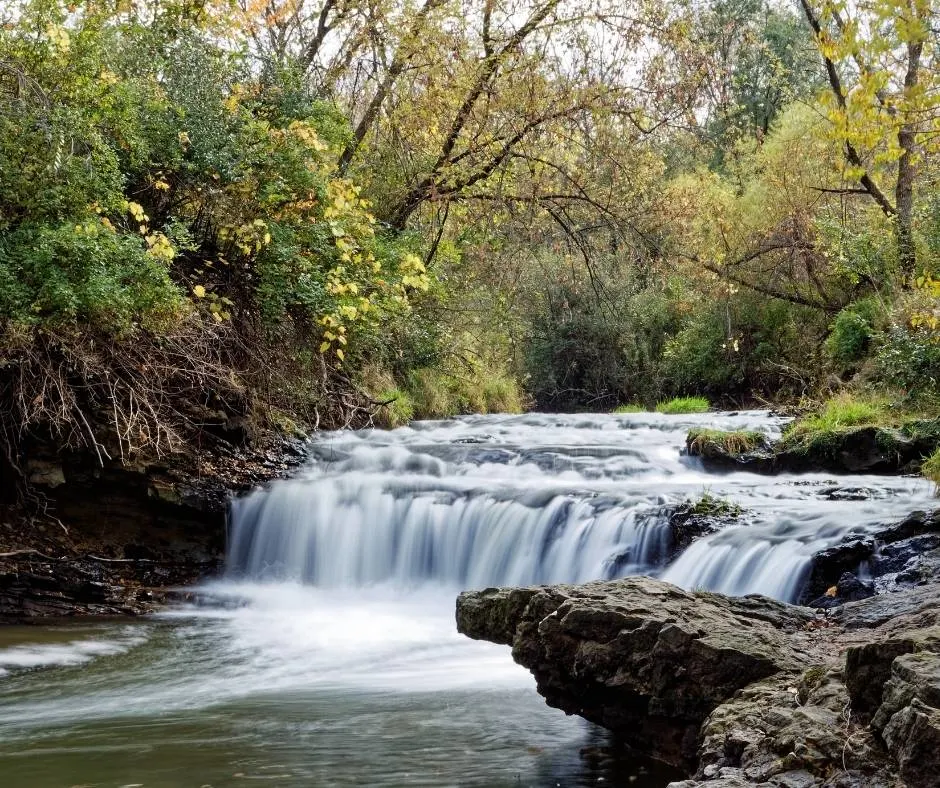 Webster City is off Highway 20, a road that crosses the state of Iowa from east to west in Northern Iowa. Briggs Woods Park is a short drive off Highway 20 and offers some of the best leaf viewing in the state of Iowa.
Camping is available with full hookups through October 31st. After this time, camping is allowed, but there is no running water in the campground.
A paved bike trail runs through the park and bicycles are available for rent in the park. If you want to see fall colors in Iowa, Briggs Woods Park is another fine opportunity to experience them in all their glory.
8. Historic Hills Scenic Byway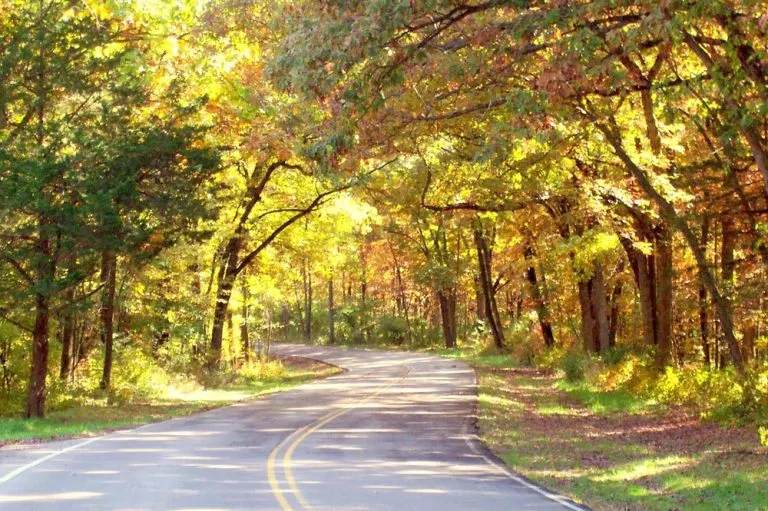 The Historic Hills Scenic Byway is one of many fantastic scenic byways in the state of Iowa. With 110 miles of fall color, this byway is one you will fall in love with.
This autumn drive in Southeastern Iowa will encourage you to slow down and enjoy the charming towns that dot the byway.
A highlight of this byway is the Bloom and Bark Farm. Local artisans work is showcased at the farm, where you can also try your hand at glass blowing. Each community along the byway offers homegrown food, including fall pumpkin patches. Slow down take the scenic route in Southeastern Iowa, and don't forget to include a stop at the American Gothic House in Eldon.
Iowa is a state that is enchanted with Iowa fall colors. Wherever you turn during the months of September and October, you are sure to find the vibrant shades of yellow, red, and orange flaming from the trees. Most importantly, take the scenic route to allow yourself time to slow down and enjoy all that Iowa has to offer.
9. Pikes Peak State Park in MacGregor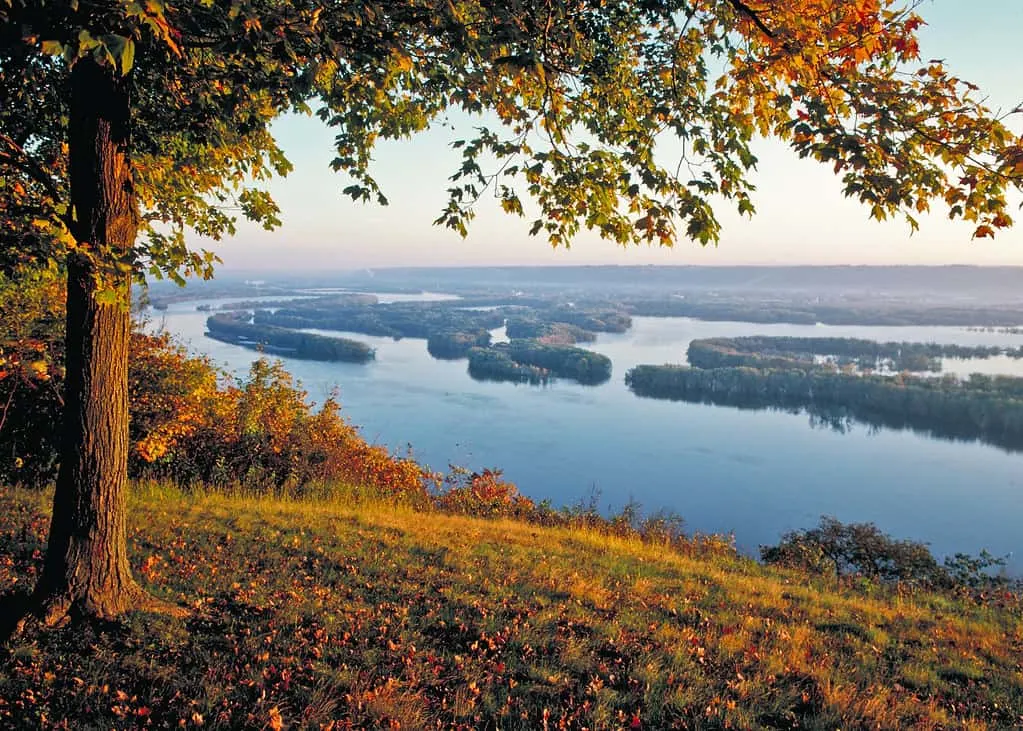 Pikes Peak State Park, high bluff that provides panoramic views of the confluence of the Mississippi and Wisconsin Rivers, is located near McGregor in northeastern Iowa. It is is renowned for its scenic overlooks, which are ideal spots to take in the vibrant Iowa fall colors. The expansive view of the rivers, valleys, and wooded hillsides are especially picturesque in the fall.
The dense hardwood forests along the cliffs and the banks of the Mississippi River create a colorful backdrop for outdoor enthusiasts and photographers. The Yellow Birch Trail and Bridal Veil Falls Trail are popular choices for hikers looking to immerse themselves in the autumn scenery.
10. Maquoketa Caves State Park in Maquoketa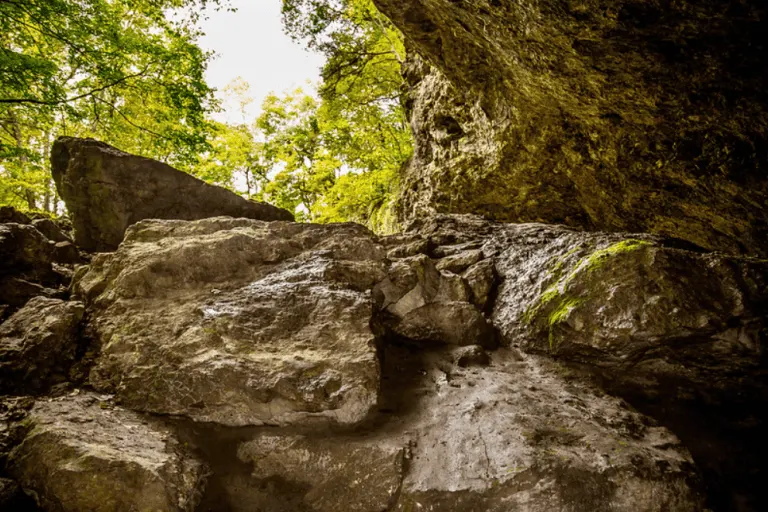 This state park is known for its namesake caves caves and limestone formations, but it also offers a beautiful natural setting that comes alive with vibrant autumn colors during the fall season. he park is surrounded by dense woodlands, primarily featuring oak and maple trees. As the temperatures drop and daylight hours decrease, these trees transform into a dazzling array of red, orange, and yellow leaves.
There are several trails within the park that provide excellent opportunities for hikers to immerse themselves in the Iowa fall foliage. The Ridge, Caves, and Dancehall trails are popular choices for taking in the autumn scenery.
Of course, you will most certainly want to make time to enjoy the caves as well. While the caves themselves don't change color with the seasons, the surrounding foliage adds to the overall beauty of your cave exploration. The contrast between the cool, dark caves and the warm, colorful leaves outside is striking.
Sara Broers is an Iowa-based writer and the woman behind TravelwithSara.com where she shares her passion for her home state and anywhere a plane, car, train, or boat will take her.
Lead image by Sara Broers.
Find More Amazing Fall Foliage Near You!