Last Updated on
It's that time of year again when Mother Nature puts on her best show. Reds, yellows, and oranges paint the sky; the mountains are calling, and Georgia has quite the show. Here are five best places to view fall colors in Georgia and take in the stunning changes this autumn season in the Atlanta Metro area.
We're an affiliate of Booking.com. When you book through us, you still get their lowest price guarantee and we get a few dollars. Thanks for helping to keep Trekaroo free.
Fall Colors in Georgia – Summit Hike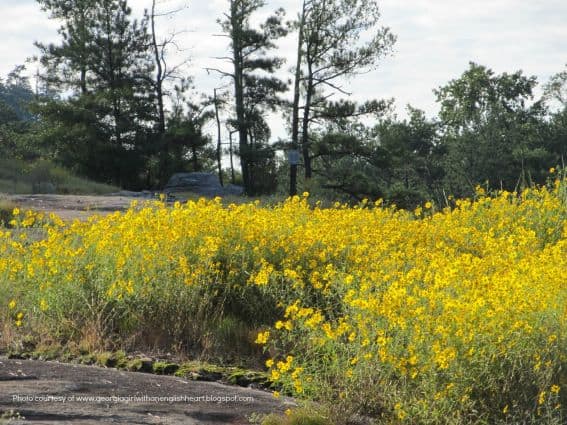 Georgia's mountain ranges amass with summits that allow hikers to see for miles in multiple directions. Our family's favorites include Pine Mountain Trail in Cartersville and Blood Mountain in Blairsville. Both of these are rugged trails, two and five miles, respectively. Arabia Mountain offers an easier 1-mile hike for vista views from the top of Mountaintop Trail. Fall unleashes gorgeous color including the unique Stone Mountain Yellow Daisy (also called the Confederate Daisy) that only grows within a 60-mile radius of the area. Finally, take to the top of the Blue Ridge Mountain chains southern-most summit on the Indian Seats Trail at Sawnee Nature Preserve. Unique rock "seat" formations at the top provide the perfect respite for overlooking the mountain's colorful show.
Fall Colors in Georgia – Georgia State Parks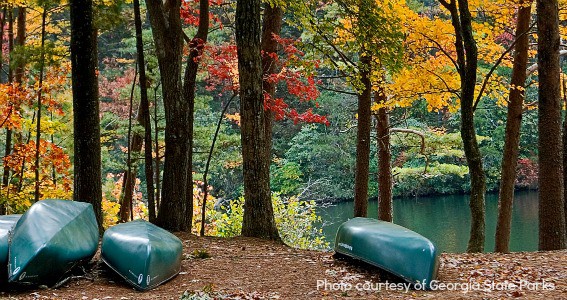 Fifteen of Georgia's State Parks are in the colorful North Georgia Mountains, making them an ideal location for hiking, lounging, fishing, and spending a glorious fall weekend. With the highest elevation of any park in the state, Black Rock Mountain State Park tends to see fall's majesty first. Fall colors in Georgia can be found in Cloudland Canyon State Park. The deep oranges, reds, and yellows against the canyon walls breathe new life into any adventure. You can try Fort Mountain, Amicalola Falls, or James "Sloppy" Floyd State Park for a breathtaking autumn spectacle.
Read more about overnighting in a Georgia State Park Cottage.
Fall Colors in Georgia – Mountain Zip Line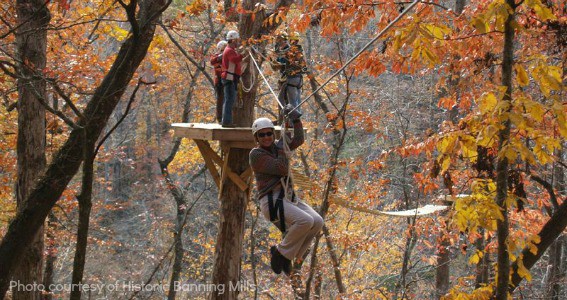 What better way to view the autumn color changes than from within the trees themselves? Visit the world's largest and longest zip line at Historic Banning Mills. Soar through 10-miles of canopy, crossing a babbling creek in West Georgia. Spend the weekend if you can, Banning Mills won "Prettiest Place in Georgia" and "Best Weekend Getaway in Georgia" by WSBTV2 and the AJC. North Georgia Canopy Tours is another fall-color zip line adventure, complete with teepee bunks for overnight explorers.
Fall Colors in Georgia – Chattahoochee River National Recreation Areas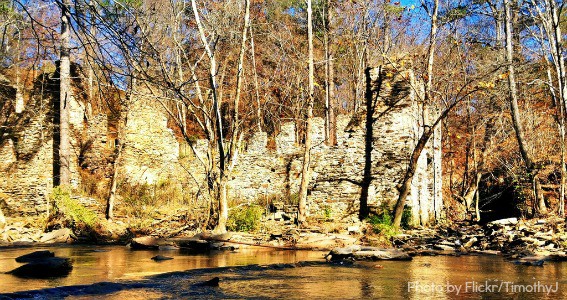 If you're looking for fall color closer to the city, try one of 15 different units of the Chattahoochee River National Recreation Areas. Walk along the river at Island Ford, where gigantic boulders and towering pines line the trail. The ruins at Sope Creek make it a fun hike for the kids, with the golden leaves reflecting in the river. The best place, by far, to see the colors of fall is in a canoe or kayak along the 48 miles of river in this recreational area.
Fall Colors in Georgia- Blue Ridge Scenic Railroad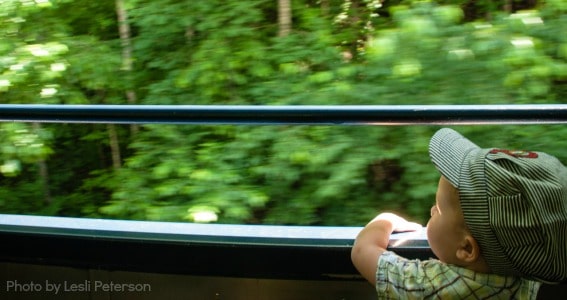 Blaze through the Blue Ridge Mountains on the Blue Ridge Scenic Railway, while the forest is aglow with seasonal shades of red, yellow, and orange. Southern Living named the railway one of the top five attractions for experiencing fall color. Our family relishes the 26-mile round trip excursion to the Georgia/Tennessee border. A two-hour layover in the border town leaves time for a great lunch and window-shopping. Any seat on the railway is fantastic, but the best views (and most fun!) are from the open-air cars. Get your tickets early; this is a popular event, drawing passengers from multiple states in the area.
Check for deals on the top family-friendly hotels in Georgia.
Read more about taking a weekend excursion to Blue Ridge, Georgia.
Love fall and ready for adventure? Check out these 5 must-see fall destinations on Southwest Airlines.
Featured photo by: Shutterstock