There are several great places to enjoy Utah fall colors before the snow starts to fall. These drives and destinations are some of our favorite spots to enjoy autumn in the Beehive State.
From Utah ski country to the national parks of Southern Utah, here are some of our favorite locations to enjoy fall in Utah.
Fall in Utah- 12 Places to Enjoy Utah Fall Colors in 2023
1. Alpine Loop Near Sundance, Utah
This loop drive is the definitive place to enjoy northern Utah fall colors and scenic views of Mount Timpanogos. The road is twisty and narrow in spots, so be prepared if your kiddos get car sick.
The Alpine Loop route is about 20 miles and takes 45 minutes to drive without stops. It begins in the America Fork Canyon via SR-92 and goes through Provo Canyon ending on US-189. It goes through Sundance along the way.
Consider taking a short hike along the way (like the 4.3-mile Pine Hollow Trail), or at least stopping at one of the many turn-offs for a fabulous fall color family photo. If you do stop along the route, keep in mind that you must purchase a recreation pass to use facilities in the area.
Note: The Alpine Loop is open from late May to late October.
Explore more of the state! Here are the 10 best things to do in Utah with kids.
2. Capitol Reef National Park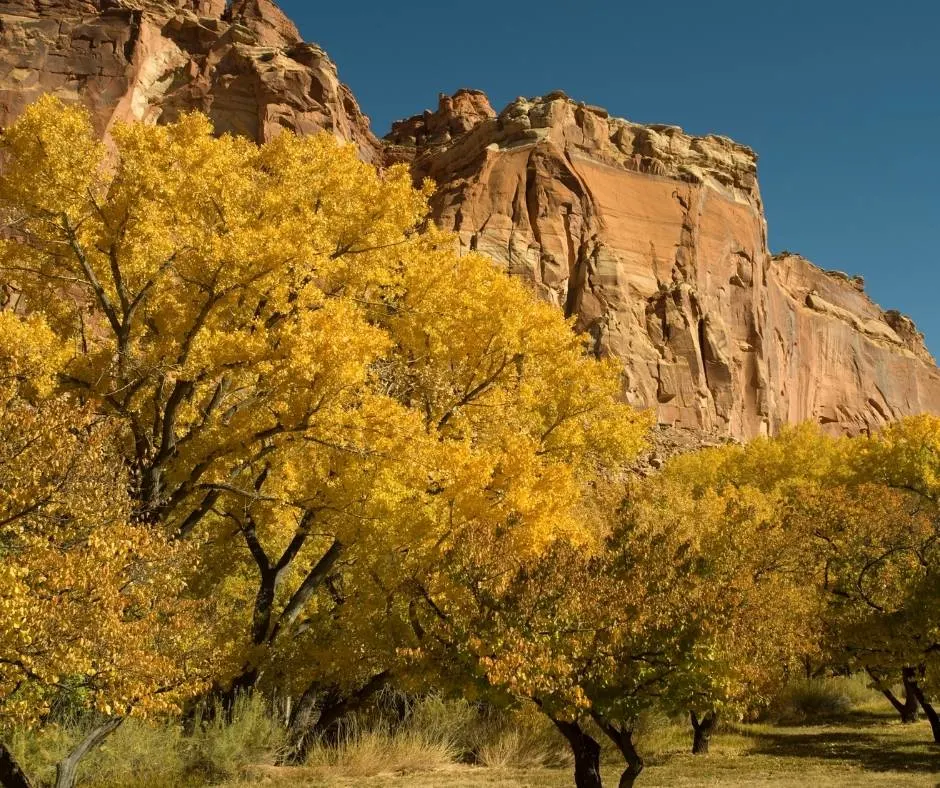 Capitol Reef National Park is the place to enjoy a national park, autumn harvest, and fall foliage all in one.
Orchards were planted by Mormon pioneers who settled the former town of Fruita (now part of the national park). These days, you can pick whatever fruit is ripe. In the fall, that is usually apples. Eat what you want while your harvest for free, or purchase your bounty for a small fee.
Beyond the orchards, there is plenty of autumn fun awaiting you inside the park, including wonderful hikes. Here is our full guide to things to do in Capitol Reef National Park.
3. Highway 12 Between Bryce Canyon National Park and Capitol Reef National Park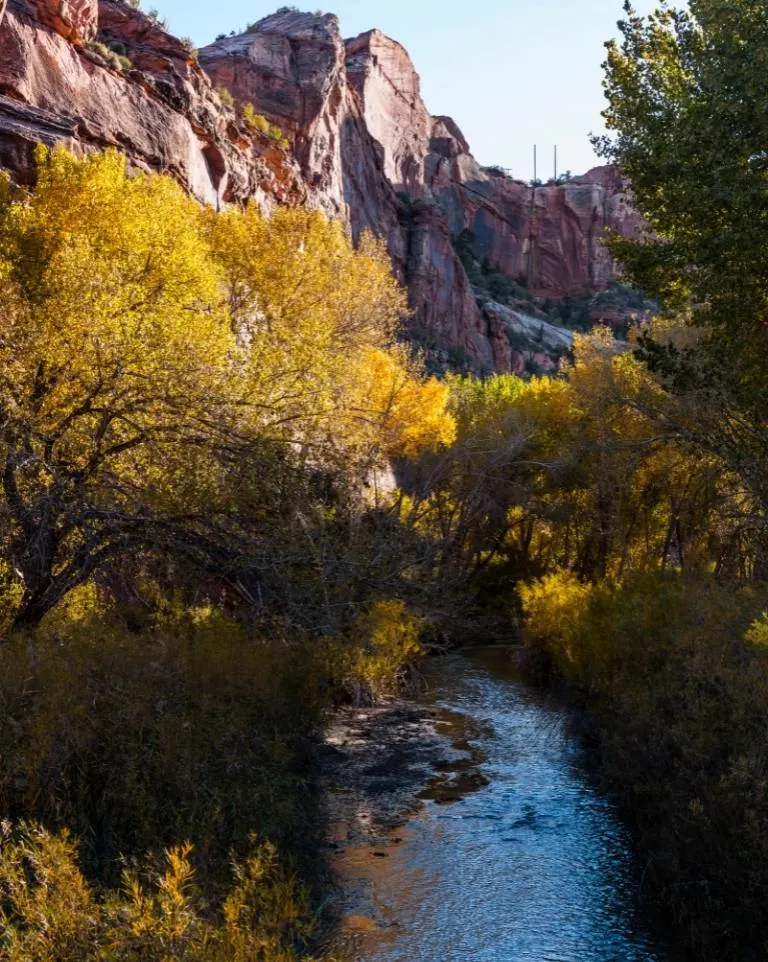 Drive along Scenic Byway 12, an All-American Road, and be impressed with fall foliage in the high desert.
This strip of highway is one of my favorite places to drive in any season because the scenery is astounding. The entire route is over 100 miles long, but the portion that winds through Dixie National Forest is where you will see the aspens changing colors amongst the firs.
The route connects Bryce Canyon National Park with Capitol Reef National Park and passes by several attractions along the way, including Grand Staircase-Escalante National Monument. Drive along "Devil's Backbone" and learn first-hand why it has that name.
See all five of Utah's national parks on this epic Utah National Park Road Trip itinerary.
4. Indian Creek Canyon in Bears Ears National Monument & The Needles District of Canyonlands National Park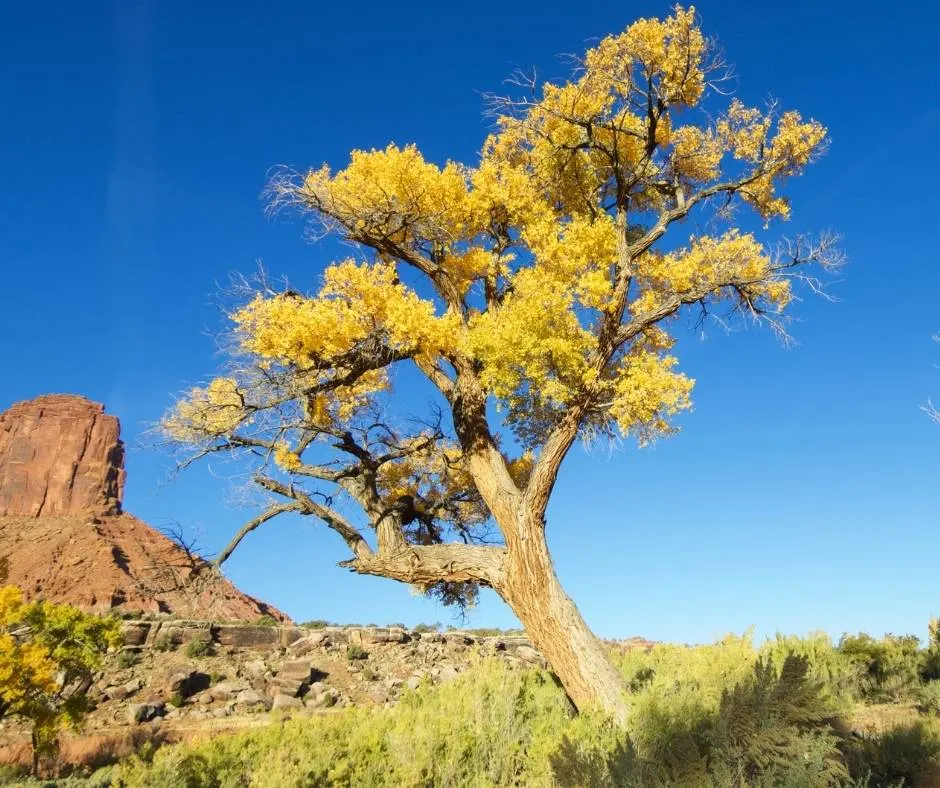 Drive to the Needles District of Canyonlands National Park near Monticello on the Indian Creek Scenic Byway.
This route leads you to Indian Creek Canyon, which is located in Bears Ears National Monument, where families can enjoy desert fall foliage (mainly cottonwoods) and sandstone cliffs hovering above.
Be sure to check out the rock art at Newspaper Rock. This is one of the largest collections of petroglyphs in the world, with some dating back 2,000 years.
The Needles District of Canyonlands National Park is desolate and remote, but is definitely an awe-inspiring place in any season.
There are no services and lodging options are nothing more than a few basic campgrounds, but you will likely have much of this region all to yourselves when you visit.
The most visited ditrict of Canyonlands National Park is Island in the Sky near Moab. Here are the best things to do in Moab with kids, including visiting this special spot.
5. Canyons Village Ski Area and Guardsman Pass in Park City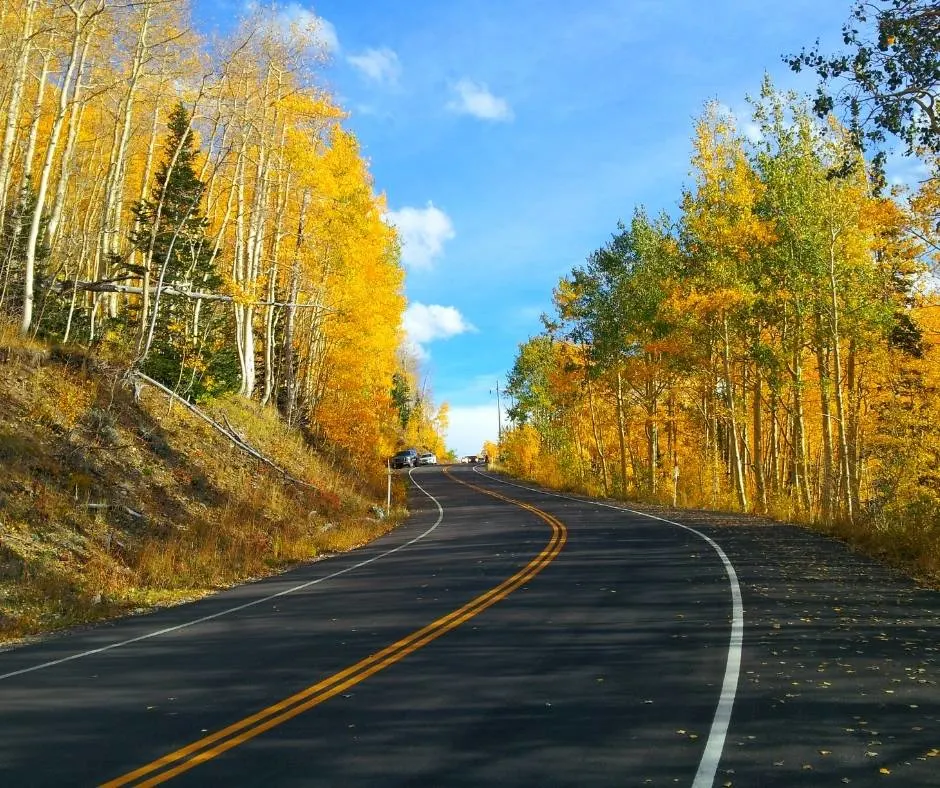 Park City is well-known as one of the premier ski destinations in the world, but it is truly a year-round destination. Fall is probably one of the most overlooked seasons to visit Park City, but the scenery is beautiful and there are plenty of Utah fall colors to enjoy in late September and early October.
The Canyons Village is one of Utah's lower elevation ski areas in Park City, and a great option to enjoy fall foliage if the weather has already turned and the tops of the mountains are already covered with a powdered-sugar-like dusting of snow.
If you visit before October 1st, you can take a scenic chairlift ride and enjoy hiking and biking before its time to go home and wax those skis.
If you are looking for a scenic drive in the area, take Marsac Avenue as it winds through Deer Valley and makes it was up to Guardsman Pass (9,700 feet in elevation). In addition to the fall foliage, keep your eyes out for wildlife like moose and elk.
6. Timpanogos Cave National Monument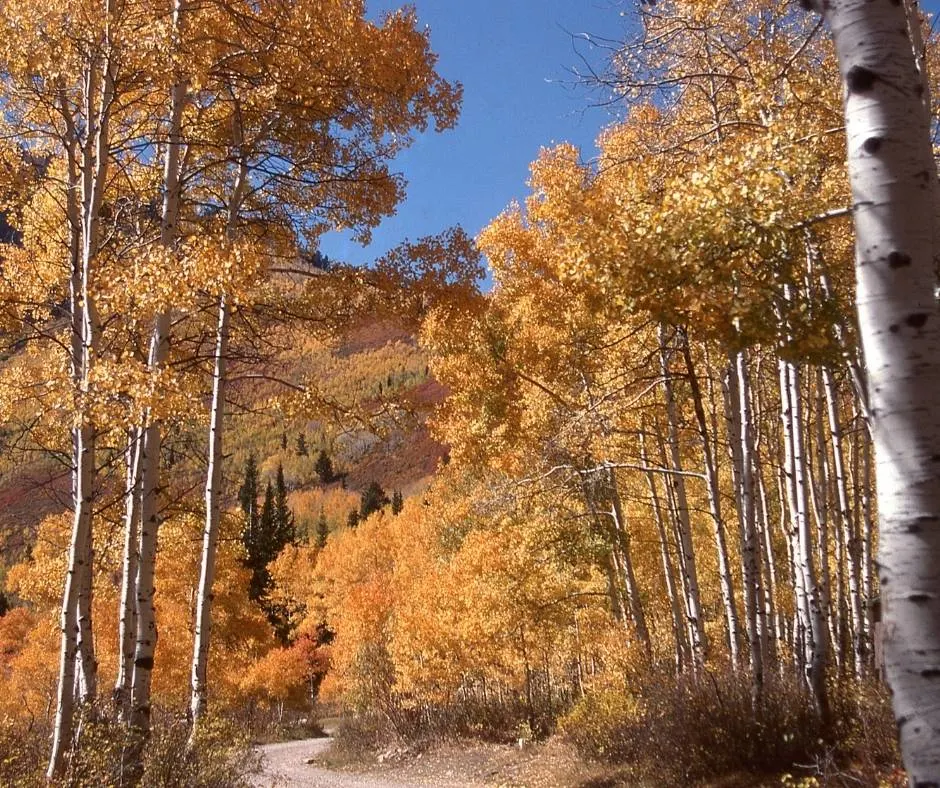 Fall is my favorite time to visit Timpanogos Cave National Monument. You might not associate a cave tour with fall color, but accessing this tour requires a hike and the cooler weather makes the 1 1/2-mile hike up to the cave tour much more bearable.
In the summer, temperatures hover around 100, making the 1000-foot climb difficult. But come fall, temperatures are much more comfortable and there are plenty of gorgeous Utah fall colors and picturesque viewpoints to enjoy all along the way.
Once inside the cave, temperatures dip down to 45 degrees, so be prepared with layers. Tours of the cave are guided and the round-trip hike combined with the tour of the cave takes about three hours.
7. Snowbird Ski and Summer Resort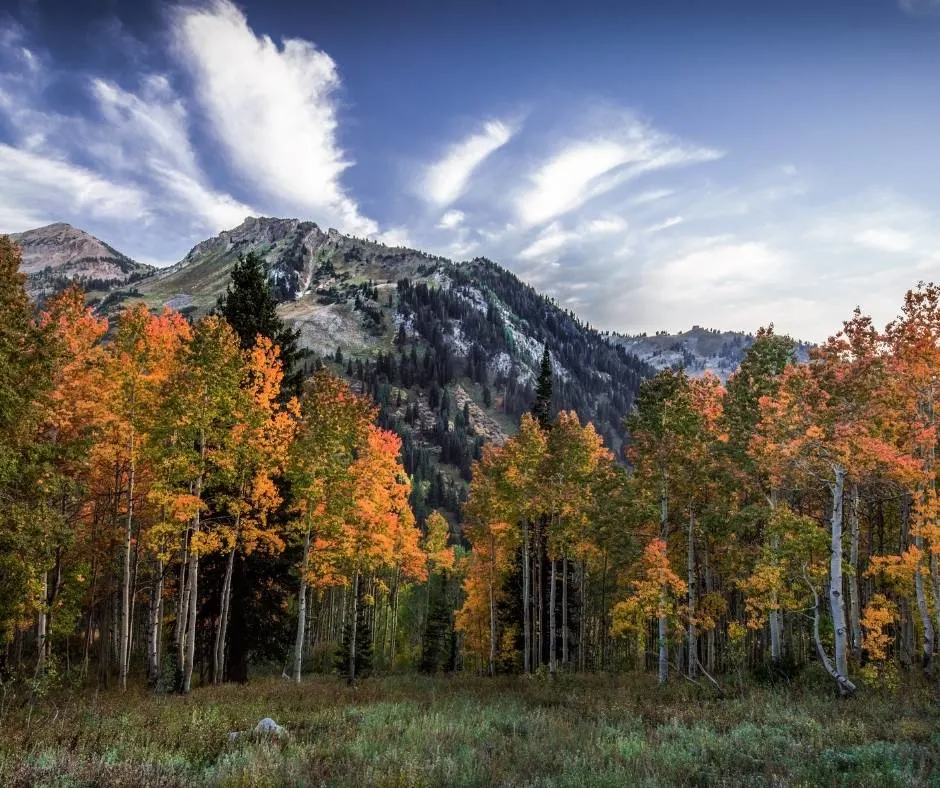 Utah's ski resorts are most well-known for having the best snow on earth. But, these resorts should also be known for some amazing fall foliage!
Consider visiting Snowbird on a weekend in early fall and enjoying their Oktoberfest celebration with plenty of music, food and rides for the kids. Take a tram ride if the weather is nice and enjoy fall foliage at some seriously high altitude.
Remember, fall comes earlier at higher elevations, so late September and early October are when you will experience prime leaf peeping. Early October snowstorms are not out of the question. The contrast of the white snow against the oranges, yellows, and reds is simply magical.
8. Little Cottonwood Canyon & Crecret Lake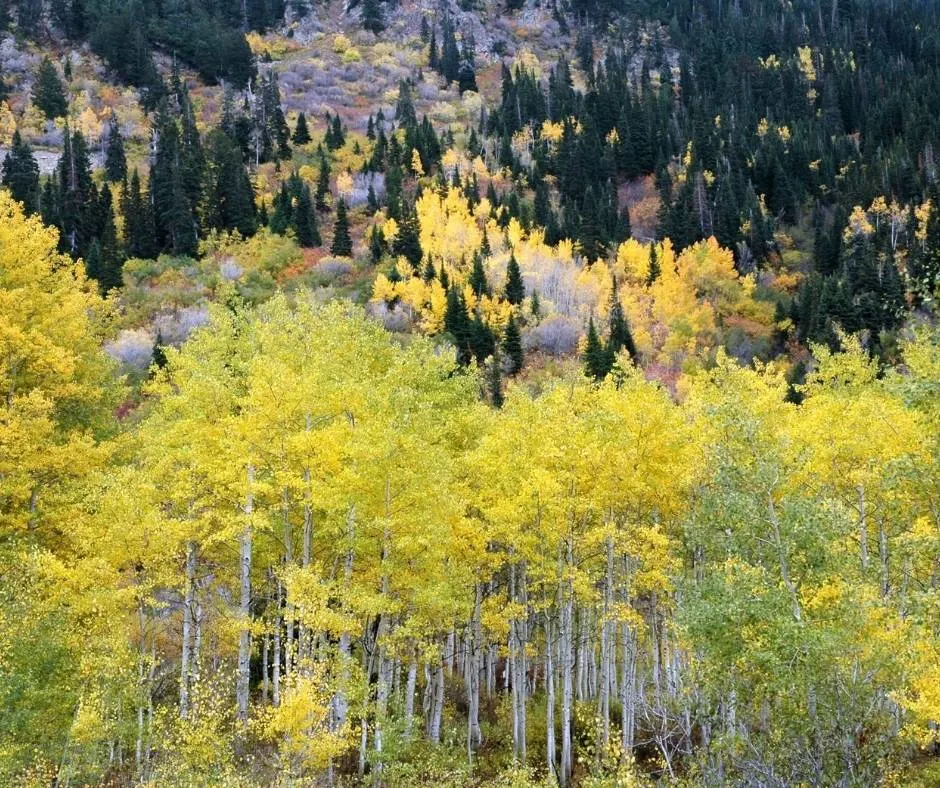 Little Cottonwood Canyon is known as the scenic drive on UT-210 that leads to Snowbird Ski Resort, but the drive itself is a great place enjoy fall foliage.
A drive to Cecret Lake's trailhead up Little Cottonwood Canyon is a wonderful place to catch some fall foliage.
This is high elevation hiking (9,875 feet) so be prepared for cooler temps. Bring a camera and enjoy the views from above. Cecret Lake is also known as a great destination for wildflower viewing in the summer.
9. Big Cottonwood Canyon Silver Lake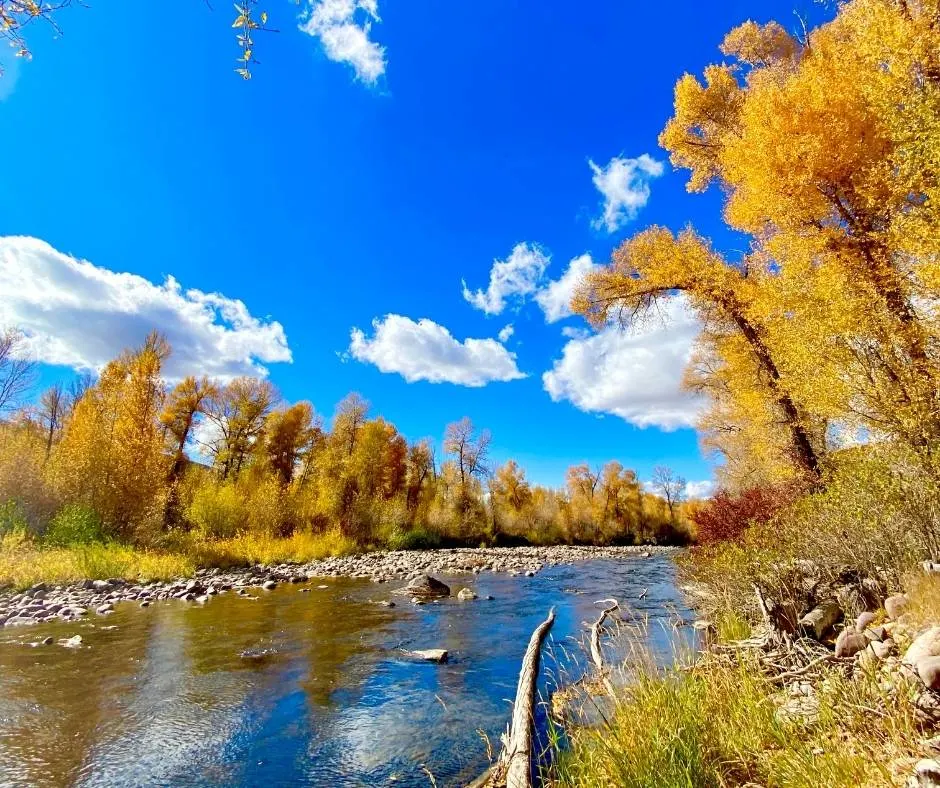 The drive up Big Cottonwood Canyon to Silver Lake is both convenient and awe-inspiring for Salt Lake County locals and visitors alike.
Consider spending some time exploring Silver Lake at the top of Big Cottonwood Canyon. Or just take a drive, pack some snacks or a picnic and spend a day soaking in the last of the season's sun before the snow falls.
Living in or visiting Salt Lake? Here are our favorite things to do in Salt Lake City with kids.
10. Mount Nebo Scenic Byway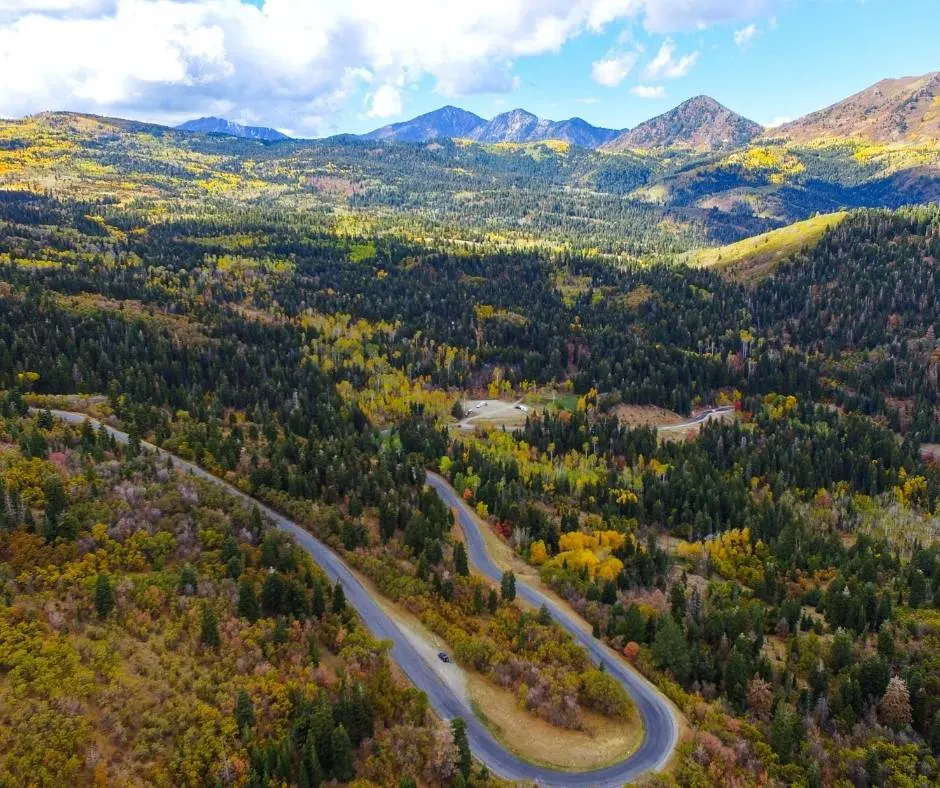 Mount Nebo Scenic Byway, aka: the Nebo Loop, is another loop drive perfect for enjoying the fall colors. This drive is longer than the Alpine Loop and a bit more isolated.
It makes its way through Uinta National Forest between Nephi and Payson. There are several trailheads and overlooks to enjoy along this route.
The entire loop is 38 miles and typically takes 90 minutes to drive. The route is accessed from I-15 at Nephi or Payson, and is on Forest Road 015.
Some of the highlights along the Nebo Scenic Byway include amazing views of Mount Nebo (11,928 feet), Payson Lakes, the trail to Grotto Falls, and Devils Kitchen Geological Area which is reminiscent of Bryce Canyon.
11. Logan Canyon Scenic Byway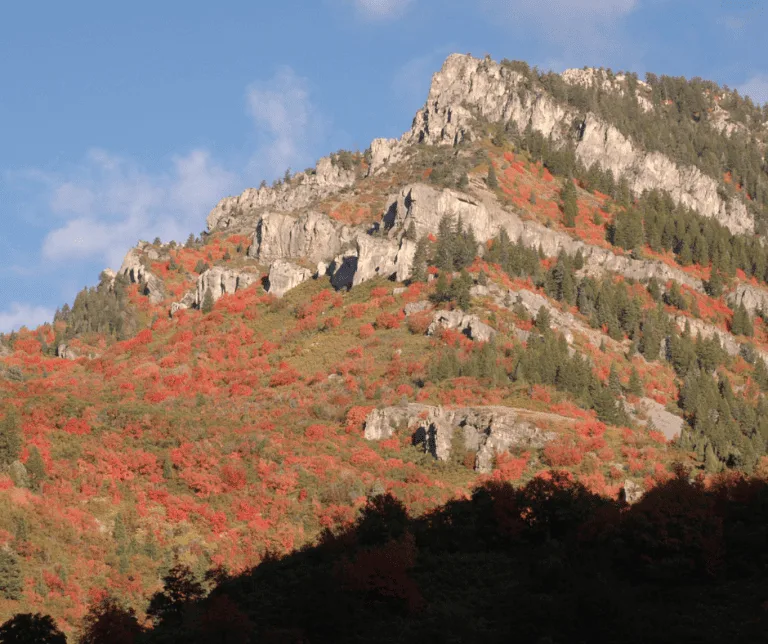 Located in northern Utah, Logan Canyon Scenic Byway is a picturesque route winds through the Cache National Forest, following the Logan River, and showcasing views of colorful aspen groves, lush evergreen forests, and towering limestone cliffs.
The star of the show along this byway is the quaking aspen, known for its brilliant yellow and gold leaves in the fall. The aspen groves that line the road create a vibrant canopy of colors that can be particularly breathtaking during peak foliage season. Area trails like Wind Cave, Tony Grove Lake, and the Crimson Trail offer opportunities to immerse yourself in the fall foliage.
12. Monti-La Sal National Forest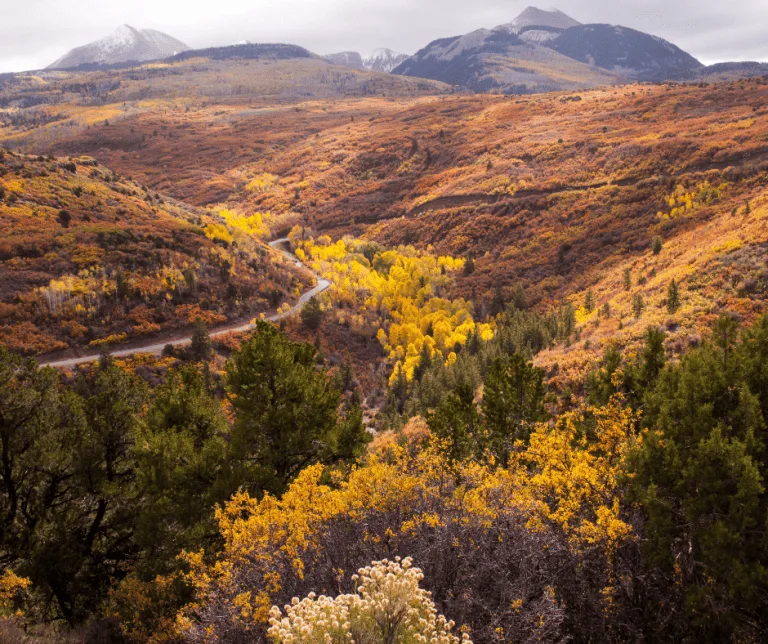 The La Sal Mountains are the highest peaks in southeastern Utah, and they have plenty of fall foliage to show off. As you drive along the La Sal Mountain Loop Road, you'll encounter groves of aspen trees with leaves that turn vibrant shades of yellow and gold in the fall.
In the northern part of Manti-La Sal National Forest, Ferron Reservoir is surrounded by aspen and mixed-conifer forests. The area is particularly picturesque in the fall when the aspen leaves change color.
The forest's Skyline Drive offers a high-altitude route that passes through diverse landscapes, including areas with fall foliage. It provides panoramic views and access to hiking trails, making it a great choice for experiencing autumn colors.
You will also want to make time to visit the Indian Creek Corridor near the town of Monticello which features colorful cottonwood and oak trees along Indian Creek.
Find More Amazing Fall Foliage Near You!