Creating a guide to the best things to do in California with kids was both a joy and heart-wrenching experience- I could have easily made it a top 100!
I love California. I have been lucky enough to travel all over the country and experience some truly incredible parks, museums, and vistas, but my heart always leads me back to my home state. After all, a California family vacation is the stuff dreams are made of!
After many hours of deliberation, I feel this list will give families the ultimate California experience. California family vacations can be filled with beaches, big city fun, and lots of adventure in California's wild places.
Without further ado, here are Trekaroo's picks for the best things to do in California with kids.
Fun Things to do in California with Kids on a Family Vacation
1. Roam the California Desert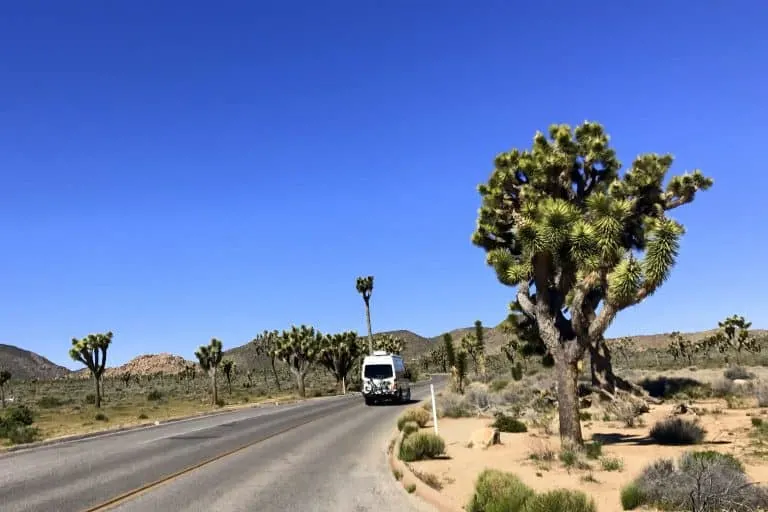 Over 15% of California's total area is desert, so a trip to the Golden State wouldn't be complete without some time discovering it's often overlooked beauty.
Families will have a blast climbing on the massive boulders surrounded by grotesque, Dr. Seuss-like Joshua trees in Joshua Tree National Park. Spring is the best time for a visit, especially after a particular rainy winter. The desert becomes a riot of color from wildflower super blooms.
Don't miss our guide to visiting Joshua Tree National Park with kids.
There is nothing quite like standing at the lowest point in North America inside of Death Valley National Park before climbing up (sledding down) the massive Eureka Sand Dunes.
Death Valley is the largest national park in the Lower 48 and is filled with great scenery and hiking. Visit during the winter so you don't melt in the heat!
Be sure to read our guide to Death Valley National Park before you venture out into the desert.
If it rest and relaxation with plenty of sunshine that you crave, there is no better place to do it than Palm Springs. The Coachella Valley is where LA locals go for a weekend away that includes plenty of pool time.

Beyond the sprawling resorts filled with family fun, there are also lots of great things to do in Palm Springs with kids. We especially love that you take a ride on the Palm Springs Aerial Tramway to play in the snow for a couple hours and then head back to your hotel and play in the pool!
2. Leave Your Heart in San Francisco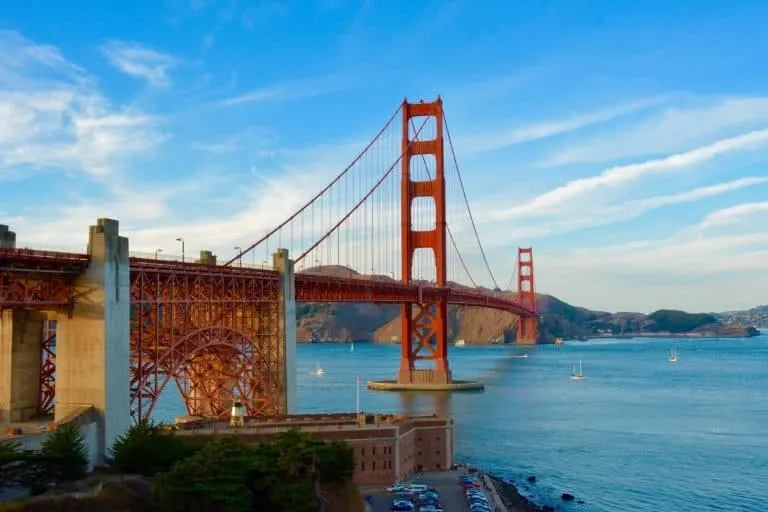 I have yet to see a city more beautiful then San Francisco with it's row-house-lined rolling hills, expansive Golden Gate Park, and iconic bridges. Families could spend weeks exploring "The City" (locals would never call it San Fran) and still not see everything worth seeing.
Tour Alcatraz, visit the sea lions at Pier 39, ride a cable car, and have a bread bowl filled with clam chowder from Boudin's at Fisherman's Wharf. Fly a kite at Crissy Field within view of the Golden Gate Bridge or snap Instagram-worthy shots of the iconic structure from Baker Beach.
Of course, dining in the city's many ethnic neighborhoods, exploring all the incredible museums (including the California Academy of Sciences, MoMA, and the Exploratorium), watching free concerts in Golden Gate Park, shopping in Union Square, and catching a Giants game at Oracle Park are all essential experiences as well.
Plan your perfect San Francisco vacation by reading about Top 10 Things to do in San Francisco with kids!
Save big while you explore San Francisco! The San Francisco CityPass will save you 44% on the most popular family attractions in San Francisco. Trekaroo is proud to be a trusted CityPass affiliate.
3. See San Diego's Wild Side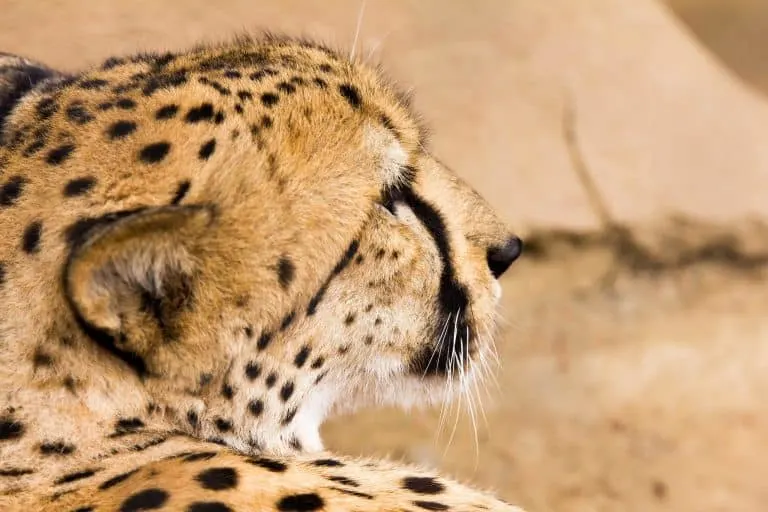 San Diego is an animal lover's vacation destination. It is home to the world-famous San Diego Zoo and its 4,000 animals representing 800 species from around the world.
SeaWorld, an aquatic theme park filled with marine life and family fun, is located on the calm waters of San Diego's Mission Bay.
For a safari experience without the hassle of leaving the continent, head to the San Diego Zoo's Safari Park which houses 3,000 African and Asian species over 1800 acres, many of which are co-mingling on a recreated savannah that guests can tour from the comfort of a narrated safari tram.
Of course, San Diego is also a great beach destination. Some of the best beach resorts in California line San Diego's picture-perfect stretches of sand.
Sea stars, limpets, and anemones living inside the tide pools of Cabrillo National Monument's are always fun to discover. So are the grey whales offshore during the winter months.
For more great views of the Pacific Coast, head to Coronado Island, home to the famous Hotel Del Coronado and one of the best beaches in the state.
Further north, La Jolla is home to amazing beaches as well. Don't miss the opportunity to kayak in local sea caves or snorkel with harmless tiger sharks at La Jolla Shores. It's one of the fun things to do in California with kids that many people don't know about!
If you are looking for culture, head to Balboa Park to visit world-class museums and enjoy an urban park bigger than NYC's Central Park. The USS Midway Aircraft Carrier Museum should not be missed as well. Kids love the opportunity to explore this massive ship.
Big City Bonus: Check out our Top 10 Things to do in San Diego and the best hotels for families in San Diego.
4. Stand at the Base of the Largest & Tallest Living Things on Earth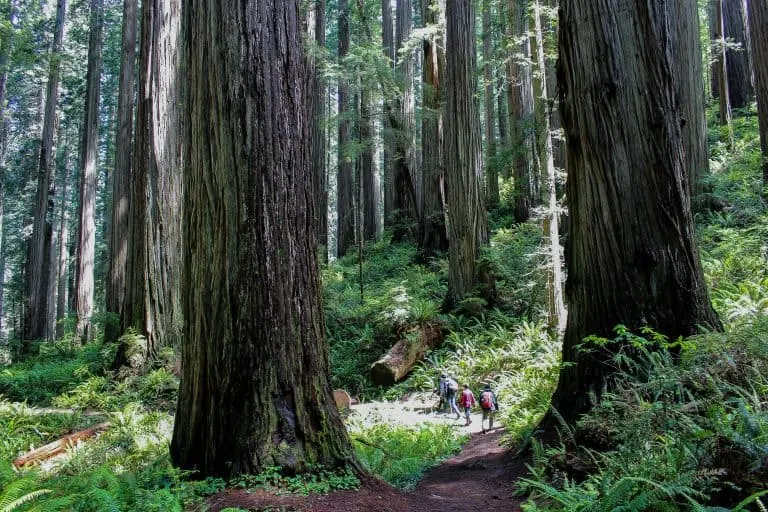 Tucked up in the northwestern corner of California is a fog-shrouded coastline and a forest filled with redwood trees. The tallest redwood stands at a dizzying 379.1 feet, but looking up at any of the old growth giants is sure to make your head spin.
Visiting the redwoods made our list of the best things to do in Northern California with kids. See what else made the list!
Redwoods can be found along the California coast, from the California/Oregon border to the area south of Monterey Bay.
Redwood National Park has several hiking trails worth exploring. A walk through nearby Prairie Creek Redwoods State Park's Fern Canyon feels like a walk through Jurassic Park. Follow it up with some time on the beach watching the resident heard of Roosevelt elk.
Further east in the Sierra Nevada foothills, Sequoia trees stake their claim as the largest trees on earth.
General Sherman, the largest tree in the world, has a trunk circumference of over 102 feet! Sequoia National Park, Kings Canyon National Park, and Yosemite National Park are the best places to witness these behemoth trees that truly need to be seen to be believed.
Love national parks?? Don't miss our California National Parks road trip itinerary.
5. Spot Stars in Hollywood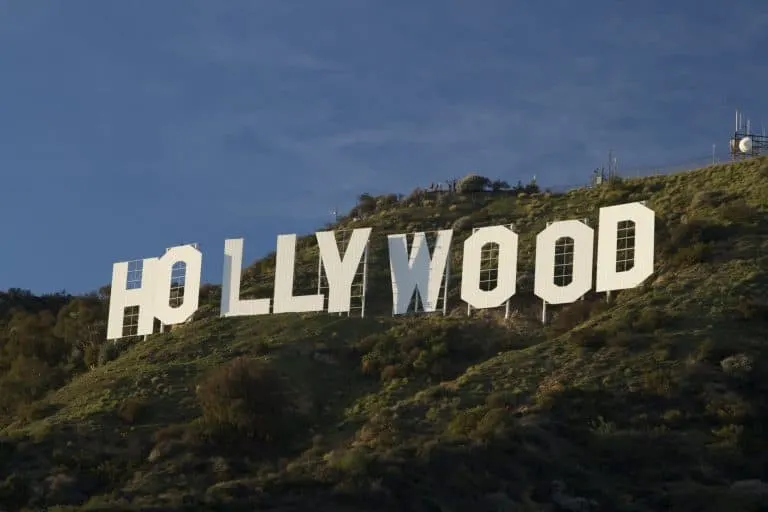 It seems like whenever I talk to people who are planning their first vacation in California, a trip to Hollywood is near the top of their "must do" list. Celebrity dominates our culture and Hollywood is the center of the celebrity universe.
Head to Universal Studios or the Warner Brothers lot and take the fascinating studio tours.Universal Studios is particularly great for kids because it is a theme park with popular attractions like the Wizarding World of Harry Potter.
We have a complete guide to visiting Universal Studios and even have a guide to Universal Studios food!
You should also snag free tickets to watch one of your favorite television shows tape, rub elbows with wax representations of your favorite stars at Madame Tussauds, put your hands in the celebrity prints in front of Mann's Chinese Theater, and stroll the Walk of Fame.
If you want to go for a great Southern California hike, take the trail in Griffith Park which runs between the Griffith Observatory and the Hollywood sign. The views of the whole LA Basin are spectacular. On a clear day you can see the Pacific Ocean, the snow-capped peaks of Angeles National Forest, and even Mt. San Jacinto near Palms Springs!
Find more family friendly fun near Hollywood or explore our Top 10 Things to Do in Los Angeles!
6. See the Deep Blue Beauty of Lake Tahoe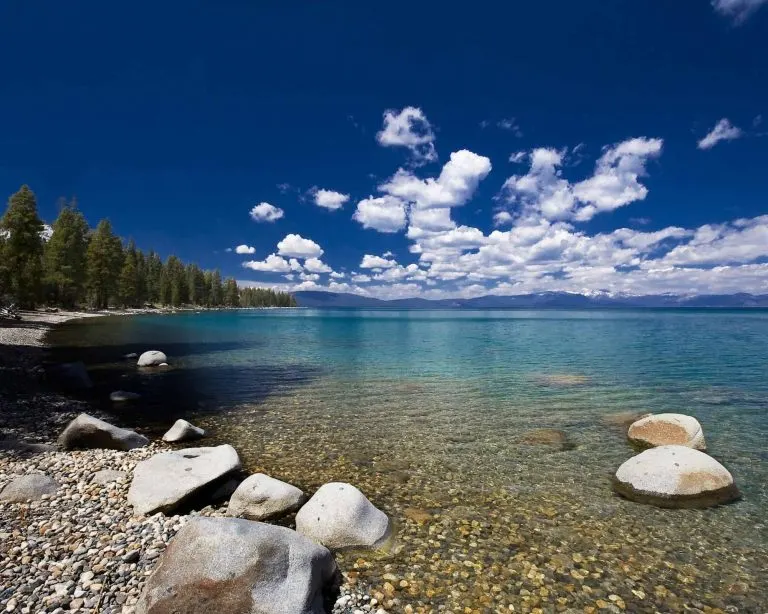 California's Sierra Nevada mountain range is filled with azure alpine lakes, evergreen forests, and granite mountainsides. Lake Tahoe is the crown jewel.
Tahoe is the largest alpine lake in North America. It is amazingly clear and has a 1,645-foot depth. The surrounding wilderness is a wonderful all-season destination.
During the winter months, alpine sports such as skiing and snowboarding are family favorites. Trekaroo has a comprehensive guide to the best ski resorts in Lake Tahoe for families.
During the summer months, boating, hiking, and swimming are the most popular activities at the lake. Hiking the surrounding wilderness or floating down the nearby Truckee River are popular things to do as well.
On the eastern side of the Sierra Nevadas, Mammoth Lakes is the big destination you don't want to miss. It is an especially great destination for skiing in the winter and hiking in the summer. Here are our favorite things to do in Mammoth Lakes in summer, including some epic hikes for families.
7. See Central California's Jaw-Dropping Big Sur Coast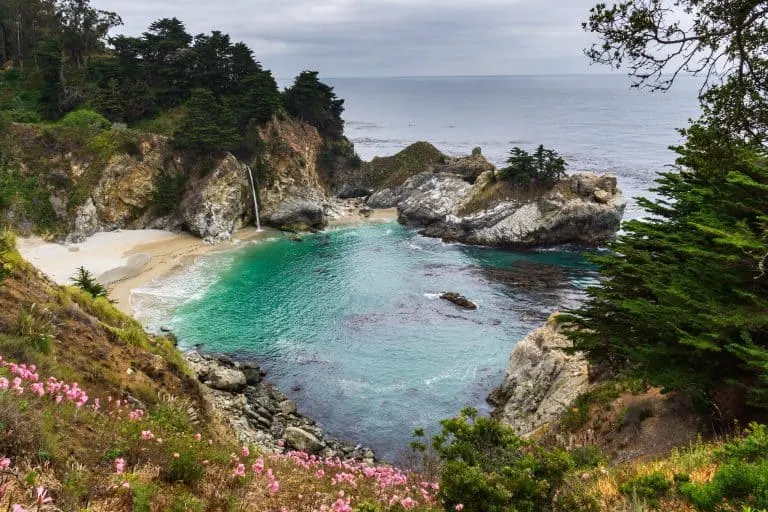 Imagine walking through a forest and suddenly reaching an opening in the trees. You come to a cliff's edge, hear the crashing Pacific below, and peer over the edge to discover a waterfall plunging down onto the deserted beach below. Sound like paradise? I think so!
You can find this slice of heaven at Julia Pfeiffer Burns State Park, as well as many more take-your-breath-away scenes as you drive the Big Sur Coast. Start your scenic drive in Monterey and Carmel-by-the-Sea.
Make time to kayak past sea otters and sea lions in Elkhorn Slough, hike at Point Lobos State Reserve, and visit world-famous Monterey Bay Aquarium.
Here are all of our favorite things to do in Monterey with kids.
Drive further south, enjoy the natural beauty of Big Sur, making time hike or take in the jaw-dropping views from various pull-outs along the way. Be sure to make time to visit Hearst Castle in San Simeon and enjoy the raucous created by the town's resident rookery of elephant seals.
8. Visit the Happiest Place on Earth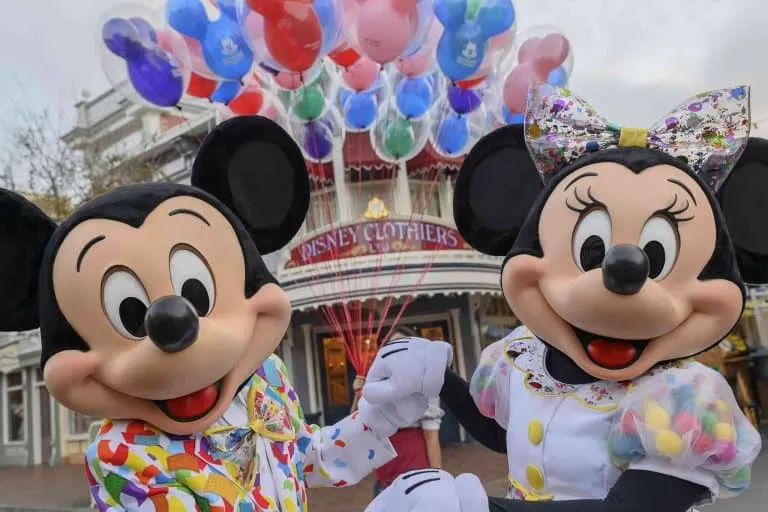 Magical down to the very last detail, a trip to the Disneyland Resort is most definitely an essential California experience. Sure there are parks in Florida, Japan, and Europe, but Disneyland is the original.
Walt Disney wanted Disneyland to be continuously evolving, and the recent additions to the park have us more excited than ever to spend time at the "Happiest Place on Earth". Star Wars: Galaxy's Edge is the newest addition, with a new Avengers Campus which opened up at Disney's California Adventure in 2021.
We at Trekaroo pride ourselves on being Disneyland experts. We have so many great resources to offer families, including Disneyland tips and lodging recommendations near the park. Visit our Disneyland vacation planning guide which is filled with resources for families planning their Disney vacations.
9. Fall in Love with Yosemite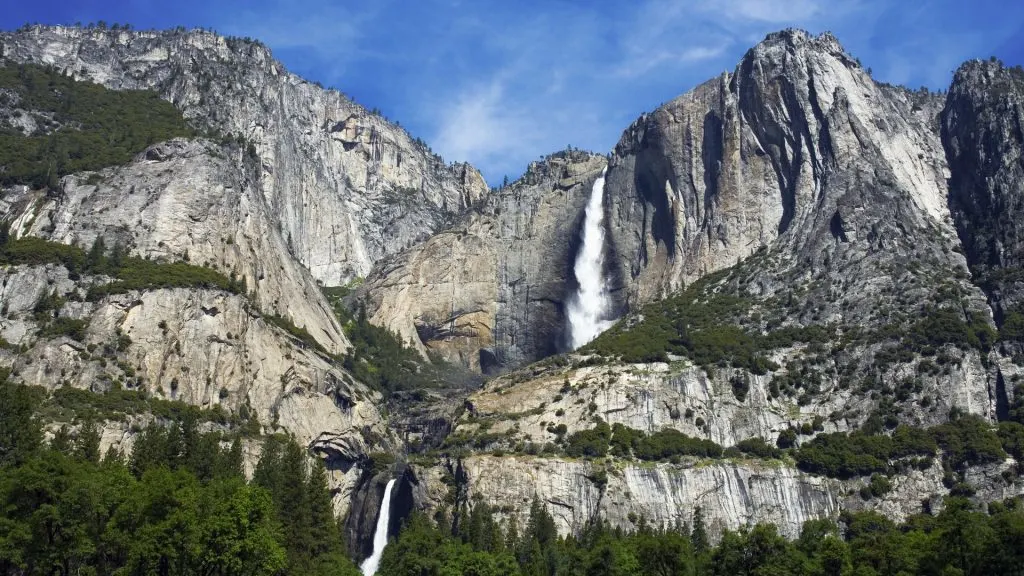 John Muir once said of Yosemite, "but no temple made with hands can compare with Yosemite. Every rock in its walls seems to glow with life…as if into this one mountain mansion Nature had gathered her choicest treasures…"
Standing in the middle of Yosemite Valley surrounded by sheer granite monoliths, rushing waterfalls, and lush meadows, it is hard to disagree. But Yosemite is much more than that small, 7-mile-by-1-mile valley. It is Tuolumne Meadows, Glacier Point, Mariposa Grove, Hetch Hetchy, and 761,268 acres of pristine and protected wilderness.
Truth be told, Yosemite Valley can be incredibly crowded during the high season, which is why we are happy to share our secrets to enjoying Yosemite Without the Crowds. We also have a great guide to the top Things to do in Yosemite with kids.
10. Watch a Sunset on the Beach in California with Kids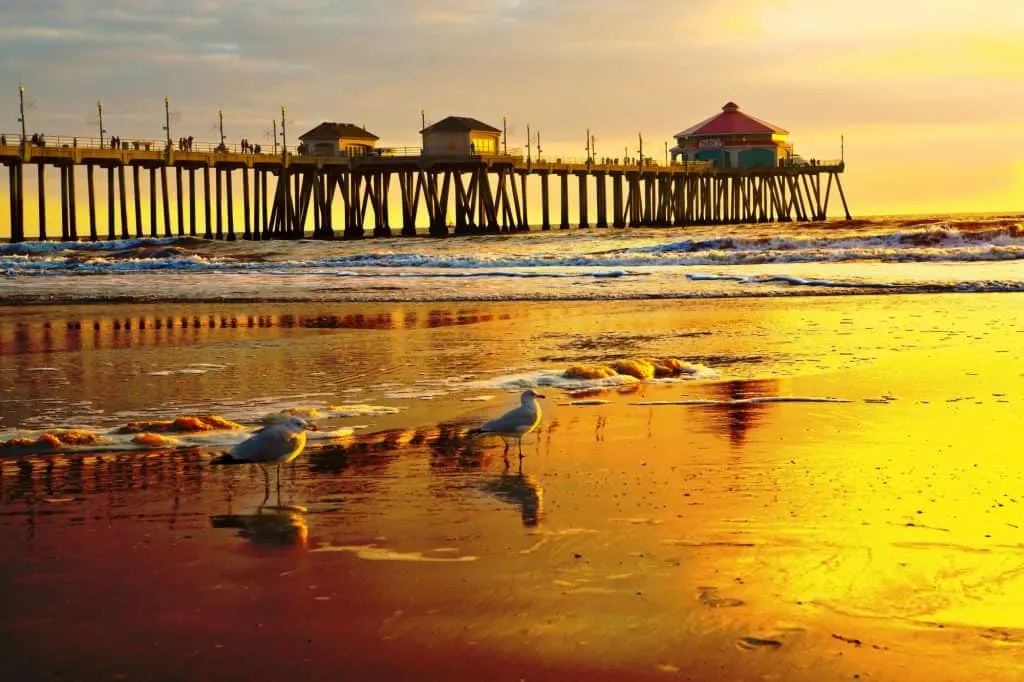 California has 840 miles of coastline and hundreds of diverse beaches just waiting to be explored.
Wide sandy beaches like Santa Monica (home to the famous Santa Monica Pier) or Huntington Beach are popular with families looking for a classic California beach day.
Animal enthusiasts will love spotting elephant seals at Año Nuevo and sea otters off Avila Beach in Central California.
See which beaches made our list of the best beaches in Southern California.
The lonely windswept beaches of Point Reyes are just as beautiful as the sun-kissed surfing spots in Santa Barbara. So whether it is on white sand in Laguna Beach, black sand and at Stinson Beach, or among rocky tidelands along Northern California's Lost Coast, make time to stare out into Pacific and watch those last moments of light slip away. Isn't California grand?
Trekaroo has hundreds of guides for locations all over the United States and Canada.