When looking at the lush landscape of San Francisco's historic Golden Gate Park, it's hard to believe that the area once consisted of sand dunes and not much else. Today, park visitors not only find a miracle of hardscaping, but they also discover there are many great things to do in Golden Gate Park, covering a gamut of interests and offering peeks into some quirky city history.
From hands-on museums and luscious garden to an amazing playground and gorgeous vistas, Golden Gate Park is full of fun activities for families.
If you are planning on exploring more of the city, check out Top 10 Things to do in San Francisco with Kids and 15 Free Things to do in San Francisco.
Things to do in Golden Gate Park San Francisco
1. The California Academy of Sciences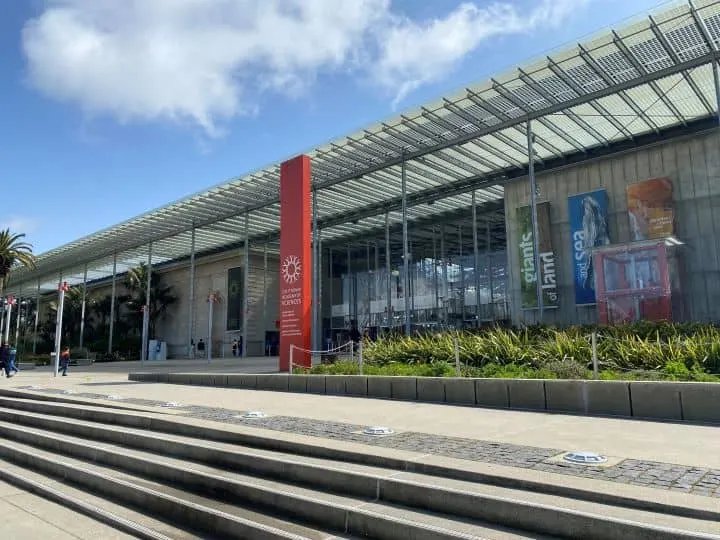 Home to 38,000 living animals (including an albino alligator named Claude) from 900 species the California Academy of Sciences includes the Kimball Natural History Museum, the Morrison Planetarium, the Steinhart Aquarium, and a four-story rain forest dome that is unlike anything you've ever seen!
The Academy is also known for its educational programs that focus on 11 scientific fields. The entire museum is housed in an impressively sustainable building that includes a 2 ½ – acre living roof that visitors can check out for themselves.
Visiting this incredible museum is certainly one of the most popular things to do in Golden Gate Park so we suggest purchasing your California Academy of Sciences tickets in advance.
2. The de Young Museum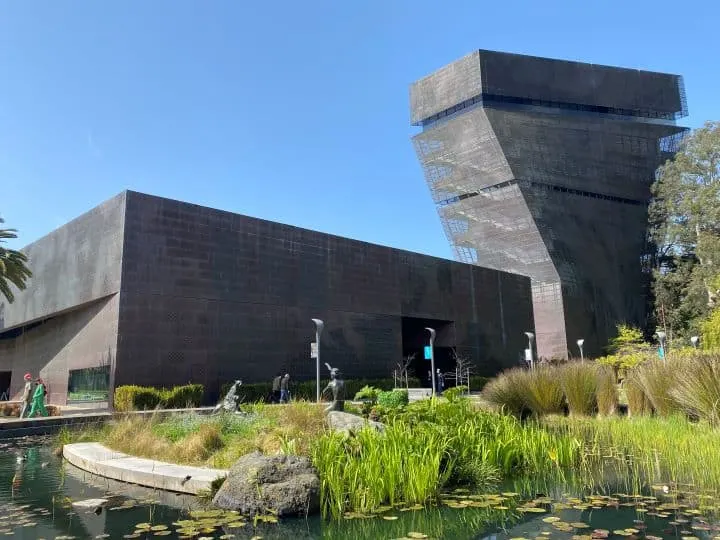 San Francisco's oldest museum, the de Young Museum was originally part of the city's 1894 Midwinter International Exposition. Today, this Golden Gate Park attraction houses permanent collections of American paintings, art, and sculpture, along with an array of international pieces and artifacts from ancient civilizations.
Be sure to visit the Hamon Observation Tower, a spectacular glass-walled space offering 360-degree panoramic views of Golden Gate Park and extending as far as the Marin Headlands.
Be sure to visit the de Young's sister museum the Legion of Honor in San Francisco's Lincoln Park.
3. The Conservatory of Flowers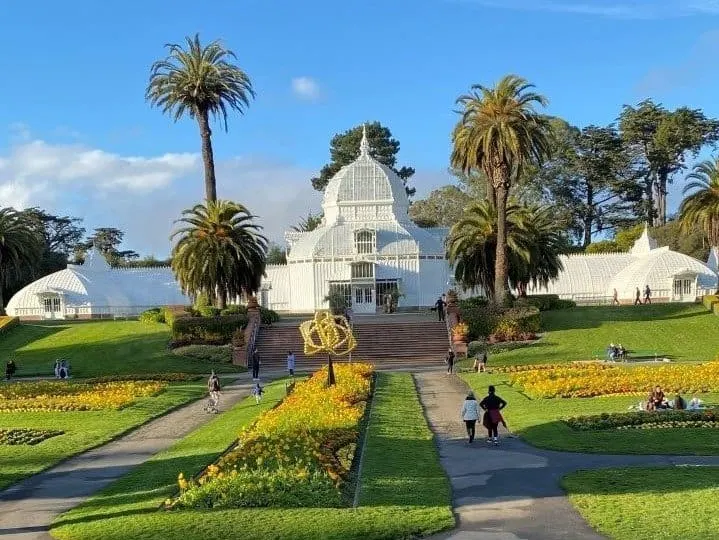 The oldest existing glass and wood Victorian greenhouse in the Western Hemisphere, the Conservatory of Flowers is home to a spectacular collection of over 1700 plant species from around the globe.
While there are rare orchids, a century-old philodendron, and a few carnivorous plants, the most infamous of the bunch is the Corpse Flower. It blooms about every 7-10 years and as you probably already guessed it smells foul! Little visitors are always amazed to discover that the conservatory's lily pads could hold the weight of a small child. Please don't test this claim, just take our word for it!
4. Stow Lake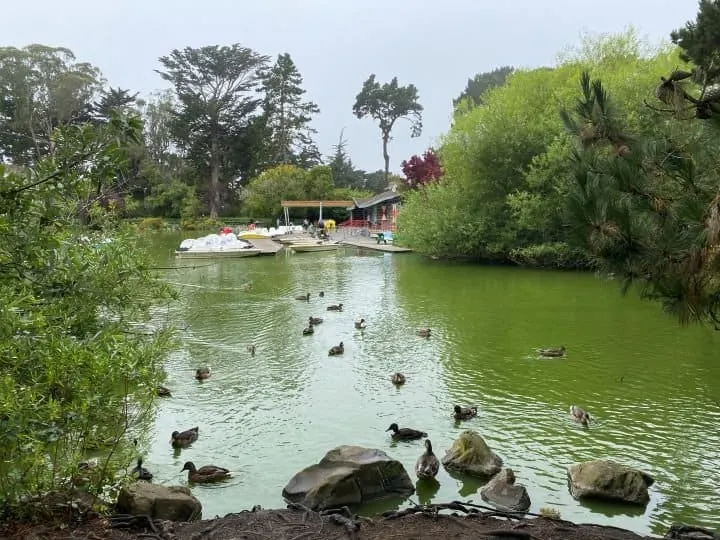 A man-made lake with over a century of rich history, Stow Lake is a great place to rent paddleboats and rowboats. Be sure to check out Strawberry Hill, a naturally formed island in the middle of the lake with great views.
Other surprising sites on this little island include an artificially made waterfall and a small pavilion that was a gift from the city of Taipei. There are toddler-friendly paths around the lake that include ducks to feed. It's beautiful, rarely crowded, and only a 10-minute walk from the California Academy of Sciences.
Trekaroo Tip: If you are traveling with teens who are unhappy about being dragged along on this outing, there is a ghost story connected to this place!
5. The Buffalo Paddock
The name is a little misleading. Golden Gate Park's Buffalo Paddock is actually home to a few American Bison. It has housed all kinds of animals since 1892. Bears, goats, and elk have all inhibited the free-range environment sometimes causing a stir inside the fence. Did you know that bison live in the middle of San Francisco?
6. The Dutch Windmills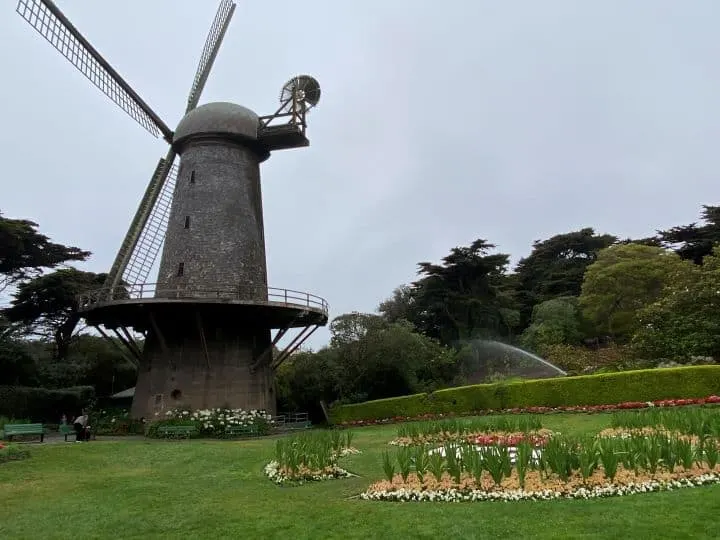 Once responsible for pumping to 1 ½ million gallons of water into the city on a daily basis, windmills have been a mainstay of Golden Gate Park. The Dutch and Murphy Mills now make for an interesting backdrop for a family portrait, particularly when the tulips planted in the adjacent Queen Wihelmina Tulip Garden are in full bloom.
7. Koret Children's Quarter Playground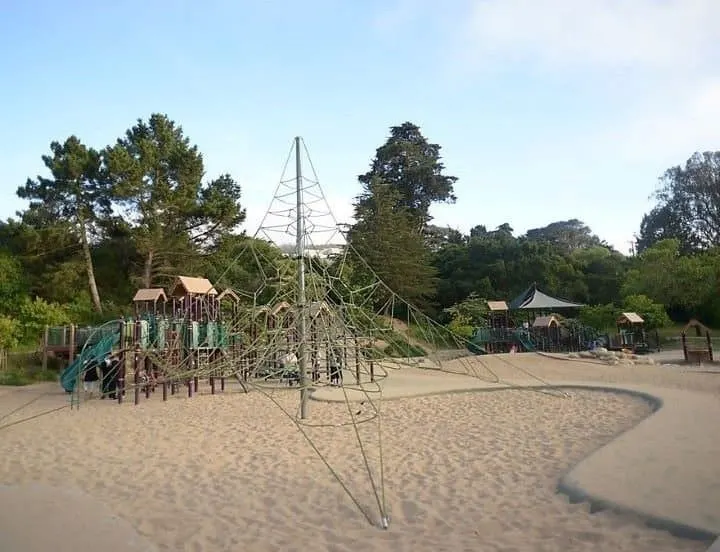 Want to slide down some great cement slides on a piece of cardboard? Families can do this and more at the beloved Koret Children's Quarter Playground. The slides themselves are something to see, as they have survived multiple reconstructions of the playground.
If that wasn't enough, there is s a huge sand box, large play structure, a carousel, and rope pyramid. The Koret Children's Quarter Playground is about a 15-20 minute walk from the California Academy of Sciences.
8. The San Francisco Botanical Garden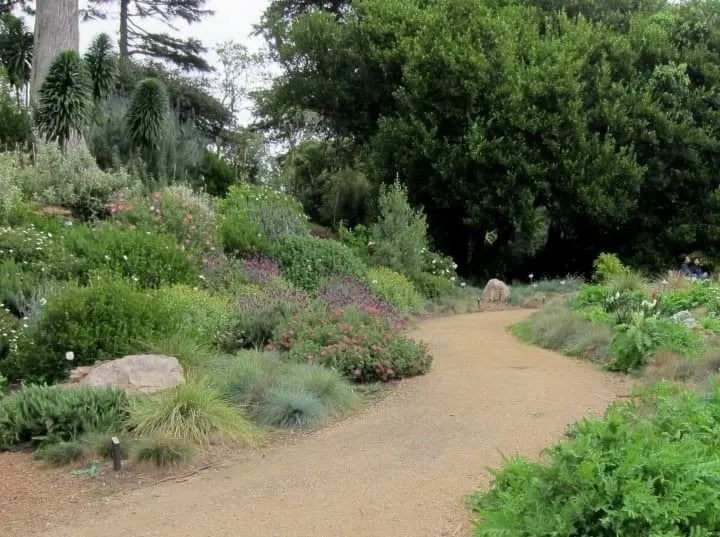 Golden Gate Park doesn't play favorites when it comes to the vibrant colors and fragrant aromas of its well-kept gardens. The San Francisco Botanical Garden is a prime example.
With more than 7,500 varieties of flowers from around the world, this living museum offers 55 acres of both landscaped and open spaces to appreciate.
9. The Japanese Tea Garden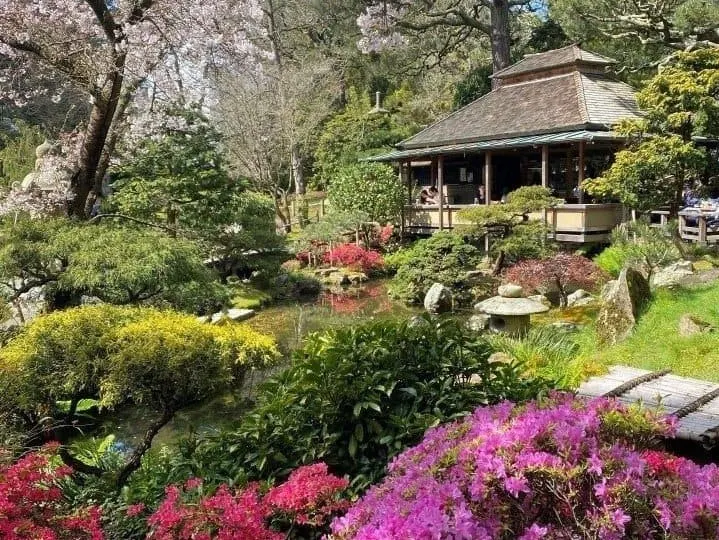 Constructed as part of the 1894 Midwinter International Exposition, the Japanese Tea Garden is five acres of ponds and paths winding through sumptuous plant life. Visitors are often pleasantly surprised by hidden bridges and sculptures.
Beautiful year-round, the most desirable time to visit this Golden Gate Park attraction is during cherry blossom season as the garden is in full bloom. When you're finished exploring the garden, stop in at the tea house for traditional tea and cookies.
10. The SkyStar Observation Wheel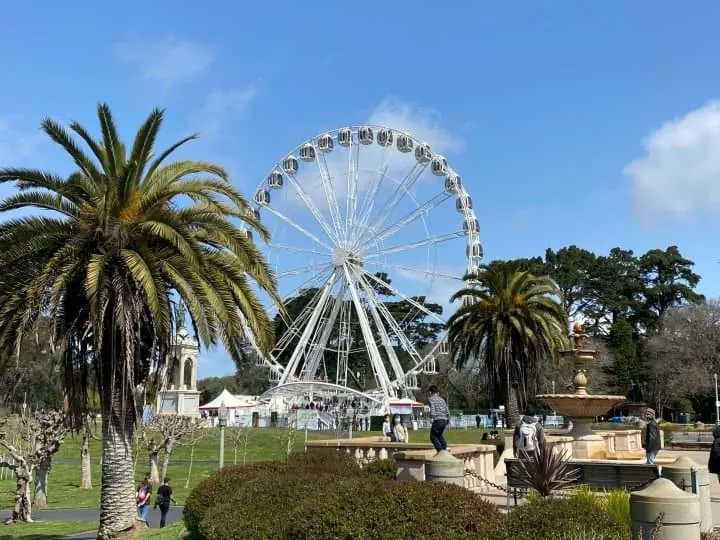 The SkyStar Observation Wheel was originally set up on edge on the Music Concourse to celebrate the 150 birthday of Golden Gate Park. Standing 150 feet tall, the wheel features 36 enclosed, well-ventilated gondolas with sweeping views to downtown San Francisco and the ocean.
The wheel is quite a sight when illuminated at night! The attraction has become so popular that the Recreation and Parks Department decided to extend its stay for another four years.
Where to Eat in (and Near) Golden Gate Park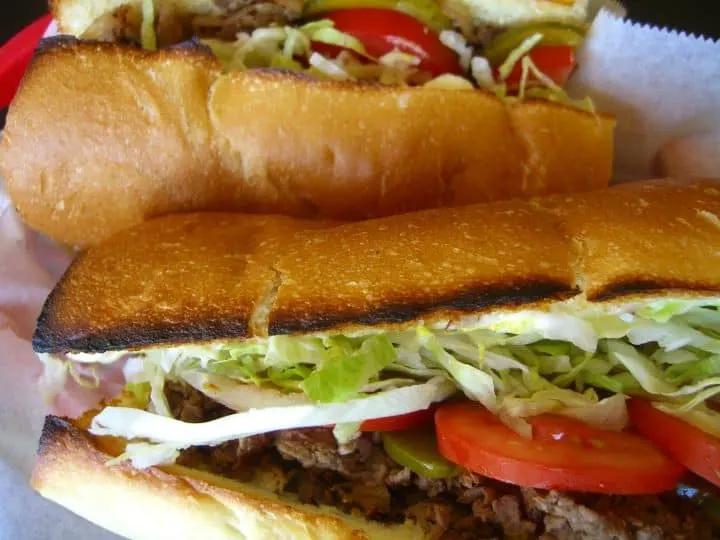 There's no need to leave the park for good food! Exceptional cafeteria food is available at the California Academy of Sciences as well as at the de Young Museum.
The cafeteria seating area at the Academy is right next to the aquariums and the cafe at the de Young opens onto a sculpture garden. Both are great options for containing the kids while you enjoy your lunch.
If you are more of a grab-and-go bunch, there is a small assortment of food trucks behind the bandshell on the Music Concourse.
There are also countless restaurants on Irving Street just a block away from Golden Gate Park. Stop by Arizmendi Bakery for a pastry. Family-friendly Thai food can be found at Marnee Thai less than a block outside the park.
Plutos is a great choice for made-to-order salads, and more. A made-to-order sandwich and house-made chips at the Yellow Submarine will keep your crew fueled for the rest of the day.
Driving, Parking & Public Transportation Tips for Golden Gate Park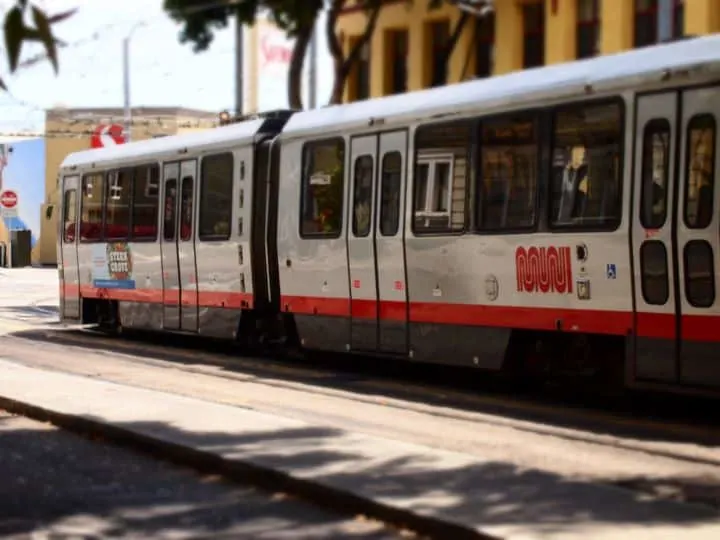 For the best chance at street parking, arrive at the park before the museums open. Read signs carefully for time limits and street cleanings; there are traffic cops, and they will issue parking tickets.
For those who are not city drivers or early birds, there is an underground parking garage, Music Concourse Parking Facility, between the de Young Museum and California Academy of Sciences.
The MUNI might be the easiest way to arrive at the park. Take the N Judah line and get off at 9th Ave and Irving Street (by the Jamba Juice). The MUNI is never the fastest way to get anywhere in San Francisco, but if you're not in a hurry and can walk a bit, it can get you where you need to go.
Special thanks to Melissa Moore who wrote the original version of this article.