Explore the Best Family-Friendly Beaches in Southern California.
Yes- we California dudes think that the beaches in the Golden State are some of the best in the world. Several of the most famous of the sand-swept shores are right here in Southern California. Use this guide to find the best beach for your family. Don't go to Disneyland and skip these beautiful beaches. You don't want to miss the fun of Surfin' USA!
Know your region but need specific tips on where to go?
Jump straight to Santa Barbara | Ventura | Malibu | Los Angeles | North Orange County | Central Orange County | Laguna Beach | South Orange County | North San Diego | San Diego
Don't miss our Cheat Sheet to finding the best beaches for your interests in SoCal- located at the bottom of this article!
Santa Barbara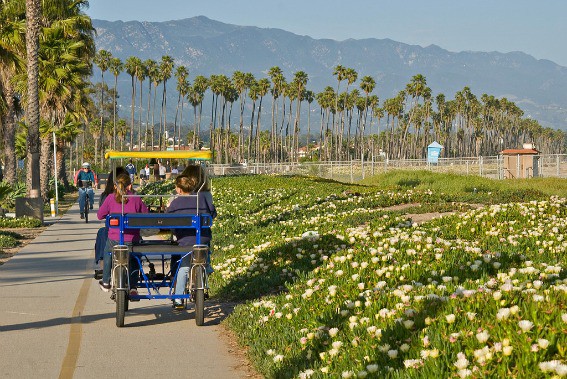 Photo by: Flickr/Damian Gadal
It could hardly get more beautiful than cruising in a surrey on palm-lined East Beach. Known as the California Riviera, Santa Barbara soaks up the sun that shines most every day on tourists and locals alike who relax on the grass or set up umbrellas on the sand. A nearby playground affectionately called "Shipwreck Playground" has creative spaces for kids to play, and a small playset on East Beach is a welcome site after playing in the gentle waves. Take a ride on the Waterfront Shuttle for 50 cents along East Beach or up and down State Street or take a stroll on Stearns Wharf to visit the educational exhibits at the Sea Center, souvenir shops, and restaurants – plus enjoy some great ice cream.
Great Beaches Nearby:
Refugio State Beach – Known for beach-front camping and launching spots for kayaking.

Goleta Beach Park – Known for being less crowded. Includes a playground, pier, and easy parking.

Arroyo Burro (Hendry's Beach) – Known for secluded sand tucked under cliffs and off-leash dog access.

Carpinteria State Beach – Known for a small-town feel and great swimming for kids.
RELATED: Explore the Top 10 Things for Families to do in Santa Barbara.
Look for current hotel deals in Santa Barbara
Ventura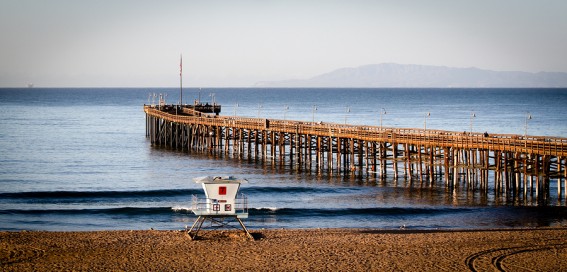 Photo by: Bigstock/Lehnerer
The wooden pier stretches out over the Pacific waves beckoning visitors to enjoy the view from above at San Buenaventura State Beach. Grab crispy fried fish sticks from the Pier Beach Grill and snack on golden french fries while you watch kite fliers below. Rent bikes or ride scooters down to Marina Park to the south to enjoy a seaside playground complete with a zip-line. Be sure to stop at Channel Islands National Park Visitor Center to learn about the magical islands across the channel filled with foxes, wildlife, and sea caves.
Great Beaches Nearby:
Oxnard Beach Park – Known for windy conditions with sand dunes to explore and a seaside playground.

Point Mugu State Park – Known for hiking trails, beachside camping, and boogie boarding.

Emma Wood State Beach – Known for watching kitesurfing, bonfires, and RV camping.
Check for hotel availabilities in Ventura
Malibu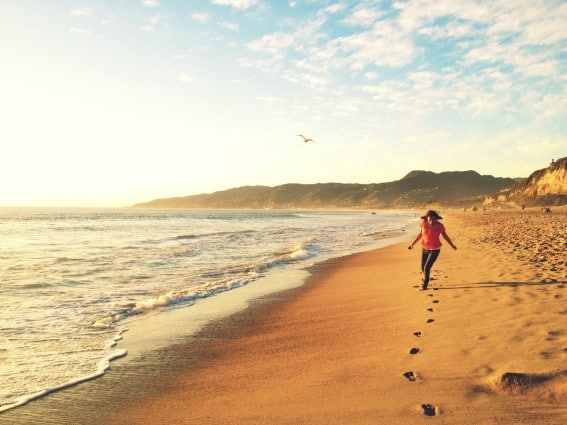 Photo by: Flickr/Melissa Salm
The wide stretch of sand, crystal waters, and the chance to spot celebrities attracts Angelinos and tourists to Zuma Beach. The lifeguard towers and snack bars make it an ideal summer beach for families to enjoy. Tell all your friends that you went to the beach in Malibu and they will stare wide-eyed in amazement. Kids will love swimming, watching surfers, and flying kites.
Nearby Great Beaches:
Point Dume State Beach – Known for bluff trails at the end of a beautiful stretch of beach plus whale watching in season and tide pools.

Leo Carrillo State Park – Known for great tidepools and camping.
Look for the best hotel prices in Malibu
Los Angeles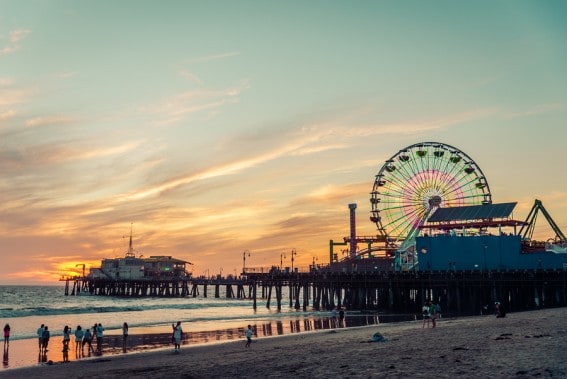 Photo by: Bigstock/oneinchpunch
The iconic pier of Santa Monica with a giant ferris wheel and carnival rides plus the miles of clean sand make this beach a top destination for families in Los Angeles. The cement boardwalk is alive with walkers, strollers, bikes, scooters, and skaters cruising the palm-lined beach. Just off the boardwalk is the famous Muscle Beach where historic movie stars went to train. These days you can find buff men and women crossing the rings and climbing the ropes and kids are welcome to test their skills as well. Swing on the giant swings and walk on the balancing boards but don't miss the slack lines to the south where you can test your ability to walk a flat tightrope. Along the miles of beach are paid parking lots which offer plenty of spots. Famous restaurants such as the Original Hot Dog on a Stick will be enticing to teens, and carnival food and rides, including a large rollercoaster make Paradise Pier an attractive place to spend the day.
Great beaches nearby:
Venice Beach – Known for street performers, artists, and street vendors

Manhattan, Hermosa, Redondo, and Torrance Beaches – Known for long stretches of sand with pro beach volleyball tournaments.

Long Beach – boasts a few stretches of sandy shore and a host of family-friendly fun.
RELATED: Top 10 Things to do in Long Beach with Kids
Look for current hotel deals in Los Angeles
North Orange County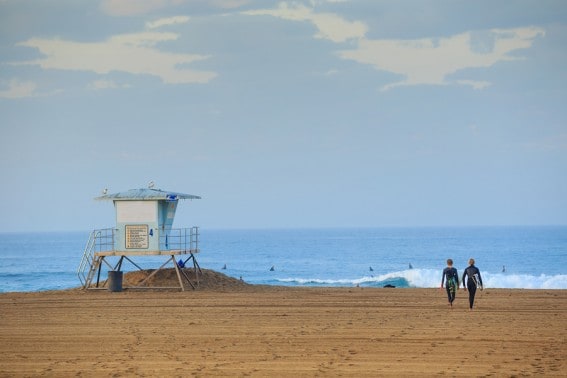 Photo by: Bigstock/f11photo
Huntington Beach , a.k.a. Surf City USA, is the premier destination to watch professional surfing and take a lesson yourself. Watching the waves from the pier or wading in the white surf is just as thrilling for kids. Visit the fun shops off of PCH or enjoy a 40s era diner at the end of the pier. Rent a surrey and cruise the beach boardwalk under miles of palm trees. Bring marshmallows, chocolate, and graham crackers when you secure a bonfire pit and taste the sweetness of summer at sunset. This is THE SoCal beach experience you have been looking for!
Great Beaches Nearby:
Seal Beach – Known for a small town main street ending in a pier, seaside playground, and great swimming.

Bolsa Chica State Beach – Known for RV camping, plentiful parking, and over 200 fire pits!
RELATED: 8 Great things to do in Surf City USA
Central Orange County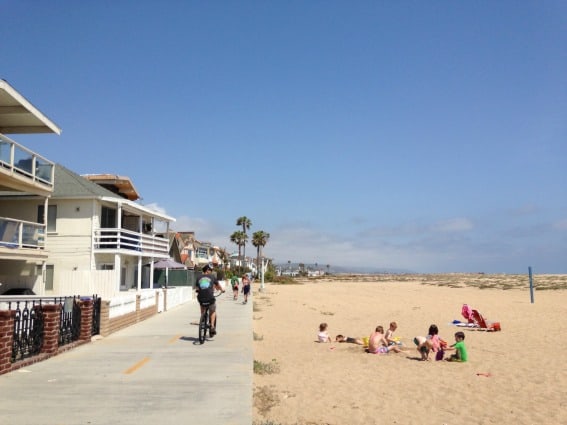 Photo by: Michelle McCoy
The beaches of Newport and Balboa offer a large playground for families packed with miles of sandy beaches perfect for swimming, boogie boarding, and watching surfers. Two piers stick out over the huge waves with Ruby's Diner at the end of Balboa Pier. Rent a bike and ride down the cement beach boardwalk for miles. Be sure to check out the Balboa Fun Zone and enjoy the longest ride on a ferris wheel ever. The auto ferry takes cars and pedestrians across the narrow bay at a steal for a ride to Balboa Island where the most beautiful homes sit on the quiet bay, bedecked in flowers and flags. Balboa Bars, chocolate-dipped ice cream cones, and frozen bananas are a must-eat for a delicious treat.
Great Beaches Nearby:
Corona Del Mar State Beach – Known for a large fee parking lot, clean sand, and gentle waters. Families appreciate the easy parking and large restrooms.

Little Corona Beach – Known for its beauty with tide pools.
Laguna Beach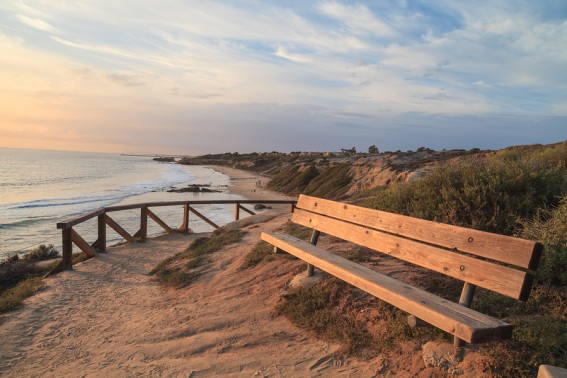 Photo by: Bigstock/steffstarr
Set among cliffs, rocks, and tide pools lies the gem of coves of Laguna Beach. Main Beach sits like a jewel at the end of Laguna Canyon, beckoning families to enjoy a stroll on the boardwalk, a swim in the aqua waters, or discovering sea life in the tide pools. Art galleries and restaurants line the streets of this small town and a free trolley makes it easy to discover them. Just north of Main Beach lies several miles of wilderness preserved at Crystal Cove State Park. The beaches there are combed with tidepools and impressive beauty. Sea lions and dolphins can be seen frolicking in the coves because the water is nearly translucent. Grab an ice cream shake at Ruby's Shake Shack overlooking the historic district of Crystal Cove and discover why this is a favorite beach for Orange County locals.
Check for hotel availabilities in Laguna Beach
Great Beaches Nearby:
Crescent Bay Beach – Known for being one of the beautiful coves of Laguna with bathrooms and tidepools to the north and south.
South Orange County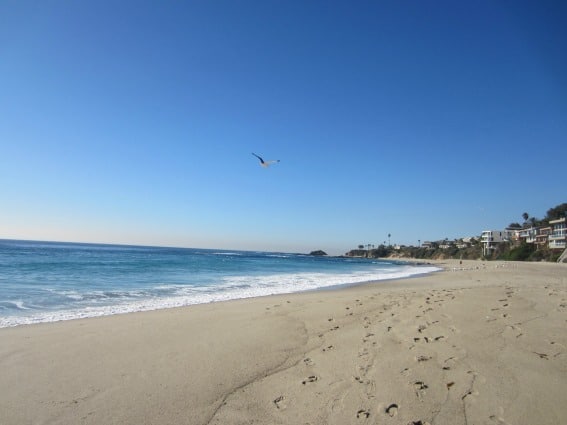 Photo by: Michelle McCoy
With a playground right on the sand and fire pits to snag, Aliso Creek Beach is a favorite for Orange County locals. Walking north or south along the sand will take you to rocks to climb, tide pools to discover, and a rock arch near the Montage. Shore break can be shallow which means that the water gets deep quick and the waves have a strong pull so be cautious letting small kids play in the waves. Shore break is why skim boarders love this beach – and watching them surf is an incredible thrill! Aliso Creek flows into the ocean and can create a fun play area for kids with flowing creek water and sand cliffs. Just note that after a rain, the creek can carry unhealthy levels of bacteria and runoff.
Great Beaches Nearby:
Salt Creek Beach Park – Known for large stretches of green grass below with great places for picnics.

Strands Beach – Known for long stretches of sand and a funicular to transport kids and stuff from the beach to the parking lot high above (runs during the summer and holiday weekends.)

T

restles – Known as a favorite surfing spot. Requires a mile hike to get to the sand.
North San Diego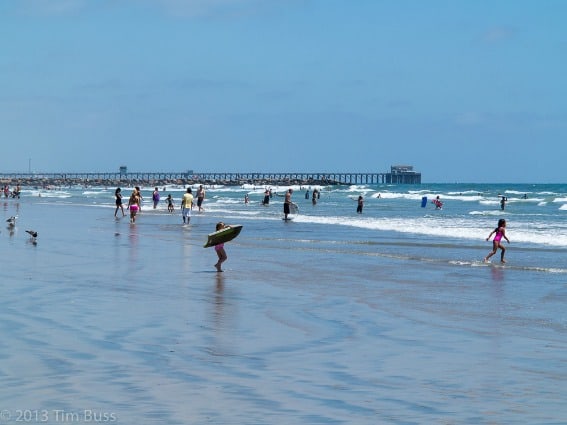 Photo by Flickr/Tim Buss
The beach in Oceanside is idyllic with long, shallow waves and smooth sand. The pier stretches far into the ocean with Ruby's Diner at the end creating delicious ice cream shakes and burgers. Stake out a fire pit for roasting hot dogs at sunset and enjoy the seaside playground.
Great Beaches Nearby:
Carlsbad Beaches: Known for being located less than 5 minutes from LEGOLAND and offering a great place to enjoy the sand, surf, and sun.

Solana Beach and Del Mar Beach – Known for long stretches of shallow waves perfect for learning to surf and a dog beach in Del Mar.

La Jolla Shores – Known for its gorgeous cliffs, sea life watching, kayaking to sea caves, and wide stretches of sand with gentle waves.

Torrey Pines State Beach – Known for a long stretch of sand topped with a State National Reserve with hiking trails and ocean views.
San Diego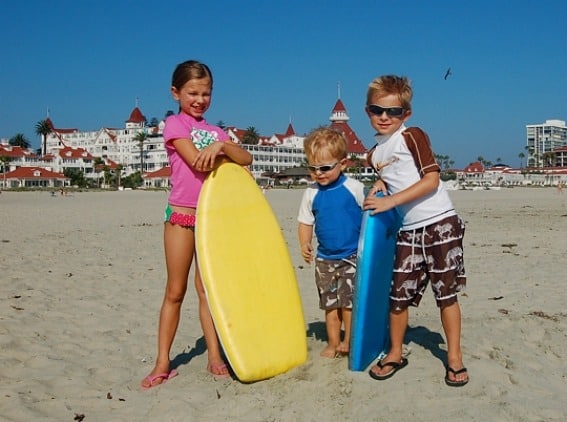 Photo by: Trekaroo/Clarkjulis
It's no surprise that Coronado Beach has historically been voted as the best beach in the US! The sand glistens with golden mica and the gentle waves are ideal for families. The red peaked roofs of Hotel del Coronado sit just off of the sand and create a beautiful backdrop for a day at the beach. The sun sets just behind Point Loma across the San Diego Bay creating a gorgeous sunset vista. Enjoy ice skating in season at the Del, surrey bikes to rent, and amazing ice cream at Moo Time Creamery.
Great Beaches Nearby:
Mission Beach – Known for being the closest beach to SeaWorld with perfect sunset views, a cement boardwalk, and miles of sand.

Ocean Beach – Known for a very long pier, beautiful sand, and perfect sunsets.

Silver Strand – Known for windy beaches that are popular with RVers.

Imperial Beach – Known as the southernmost beach in California with a great beach town vibe.
RELATED: Top 10 Things for Families to do in San Diego
Look for the best hotel prices in San Diego
Cheat Sheet: Guide to SoCal Beaches for Families
Whether you want to learn to surf, pack a picnic lunch, kayak, play volleyball, or explore tide pools, our reference helps you determine which beach to visit for your family's wants & needs.
Check out the Best beach for…
Collage photos courtesy of Bigstock. Boy with dog/olechowski; Sant Monica Pier/Oneinchpunch; Surf & Sand/hydromet; Biking sillouette/nadezhda1906; Campfire/lijuan; Yellow kayaks/janoon028; Starfish/wade mcmillan; Surfing Girls/Dudarev Mikhail
Featured photo by: Shutterstock