Ready for a great family getaway? Try Monterey! This charming town is located two hours south of San Francisco and there are lots of great things to do in Monterey with Kids.
The Monterey Peninsula is a great place to hike, bike, visit a world-class aquarium, explore beaches, and dine at great restaurants. With a seemingly endless array of things to see and do, Monterey makes for a terrific family vacation destination.
Things to do in Monterey with Kids
1. Enjoy a Beach Day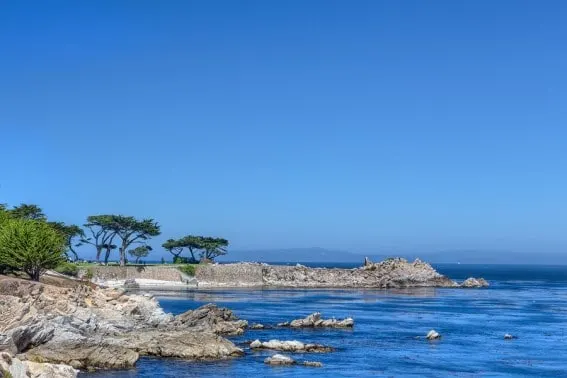 Although the craggy cliffs and stunning cypress trees line a significant portion of Monterey's coastline, there are still plenty of sandy beaches that offer families the chance to dip their toes into the cool, clear waters of the Pacific Ocean.
Lovers Point Beach boasts a small but incredibly kid-friendly beach that includes sandy shores, gentle waves, and easy access to clean restrooms.
The grassy park above the beach is fabulous for family pictures, flying kites, or sampling a bite to eat at the coffee shop and onsite restaurant.
Other great sandy beaches in Monterey include Monterey State Beach, Del Monte Municipal Beach near downtown and numerous hotels, Asilomar State Beach, and Carmel Beach.
2. Explore Quaint Carmel-by-the-Sea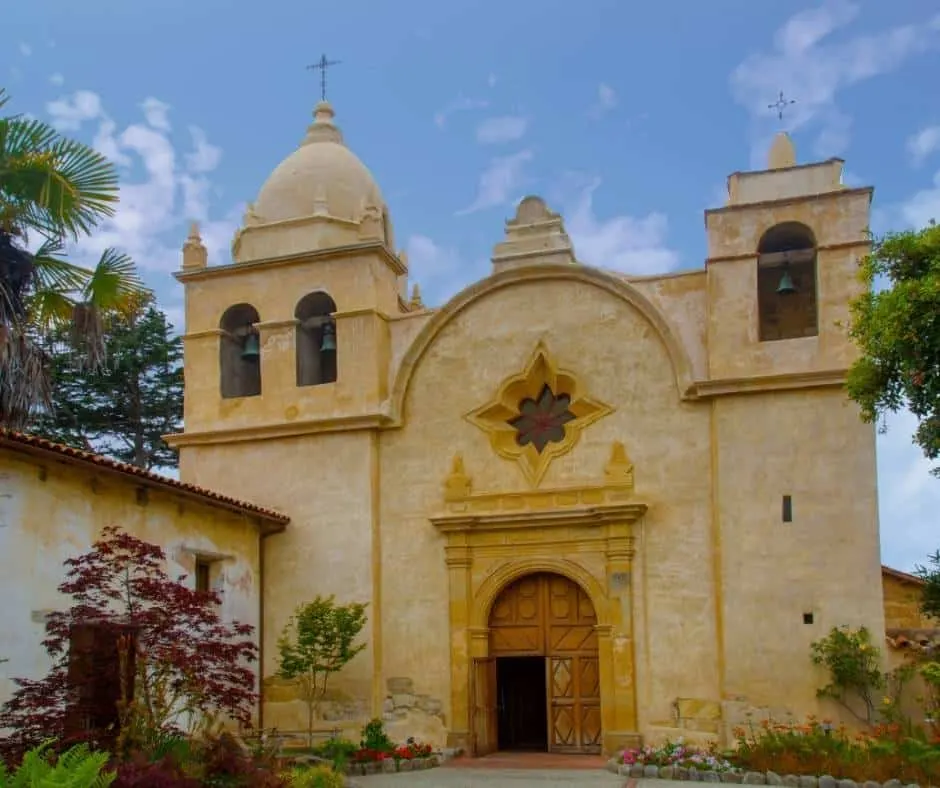 Families rave about Carmel, the quaint seaside town just four miles south of downtown Monterey.
Father Junipero Serra, founder of the California Missions, is buried in the working Mission San Carlos Borromeo del Rio. If you haven't toured a California mission, this is the one to see. It is a favorite by many travelers.
If your kids get antsy you can bribe them with a visit to a Hansel and Gretel-style Cottage of Sweets. All the classic candy store treats are inside this charming building, including a wide variety of fudge.
The Carmel Coffee House is great place to stop in for coffee for parents and fancy hot chocolate for the kids. If you are craving pasta, definitely stop into Bistro Giovanni where decadent dishes like lobster ravioli and classics like rigatoni are sure to leave everyone satisfied.
Outdoor enthusiasts won't want to miss Carmel's Garland Ranch Regional Park which has 50 miles of trails past the Carmel River, a waterfall, and native dwellings.
3. Traverse Rocky Beaches, Bluffs, & Tide Pools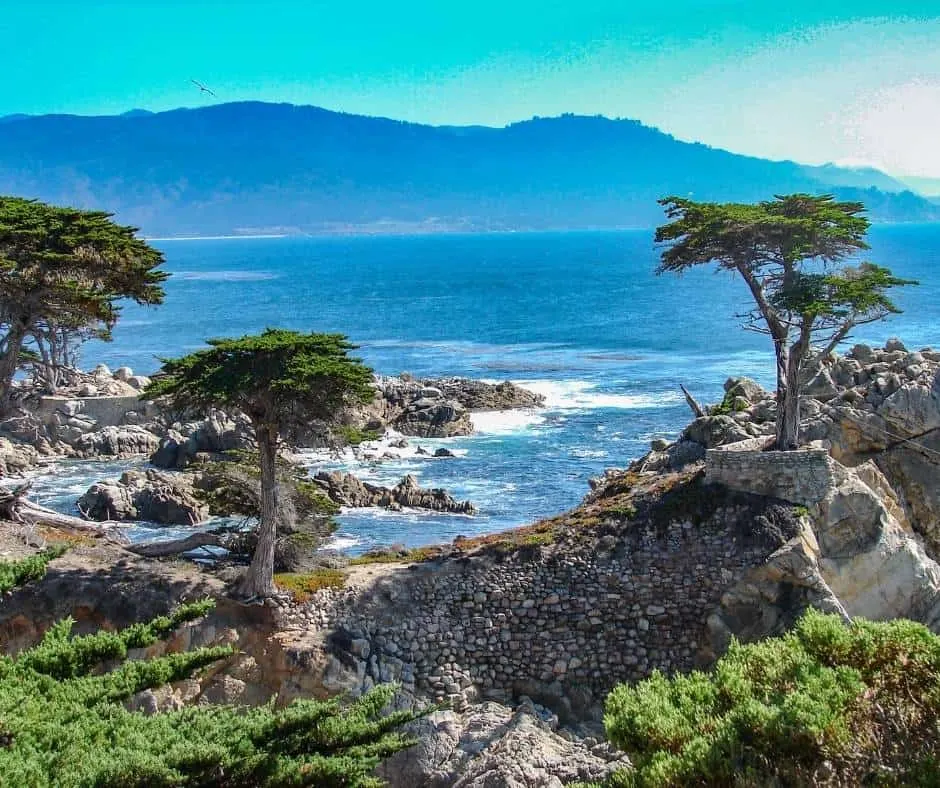 The rocky coastline of Monterey affords numerous opportunities to enjoy expansive overlooks on jutting bluffs as well as fantastic rocky tide pools for exploring sea life and ocean critters.
From downtown Monterey, take a drive north on Ocean Boulevard for scenic views around the lighthouse to Asilomar State Beach, a great spot for tidepooling.
Or, cruise the world-famous 17-Mile Drive for its sought after beauty and breathtaking scenery. The entire Pebble Beach community is gated which means you have to pay $10 to take the drive.
One of the big highlights for my family was flying kites on Spanish Bay Beach. The sand is so powdery and white and the weather was perfect for soaring a kite above the sand.
You can even take an electric bike tour of the 17-Mile Drive with kids!
Another must-visit for tide pool exploration is Fitzgerald Marine Reserve and Point Lobos Reserve. This state reserve has an incredible amount of stop-you-in-your-tracks scenery, wildlife-spotting opportunities, and several great family-friendly trails. Keep your eyes out for seals and sea otters.
4. Learn About Monterey's History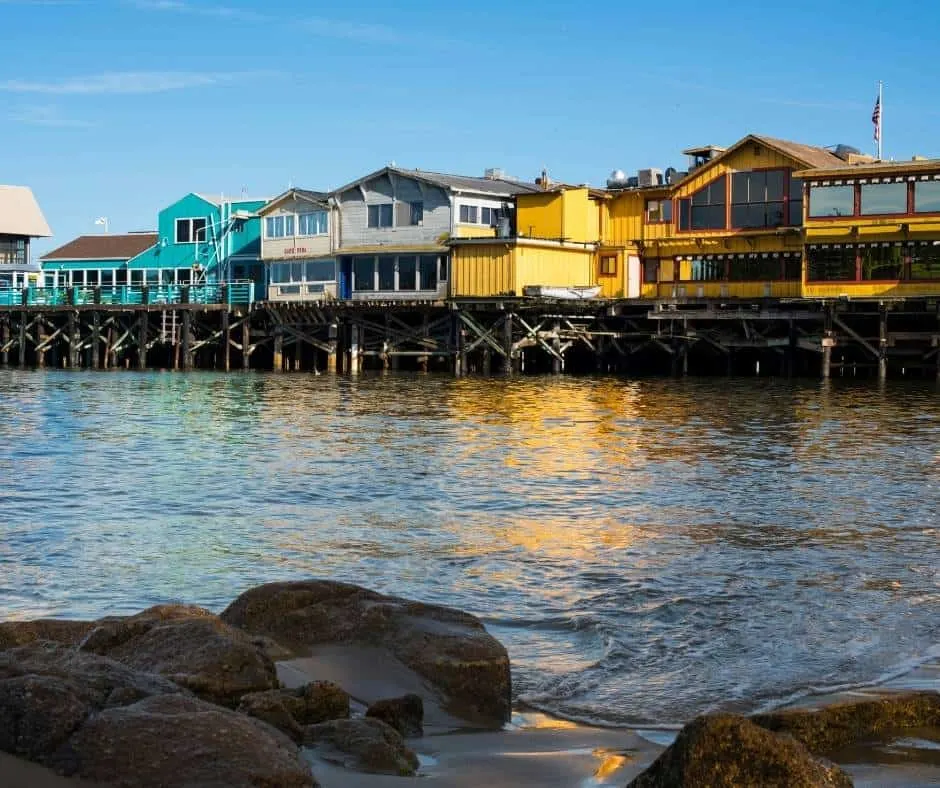 A visit to Monterey wouldn't be complete without a look at the region's unique and storied history. Monterey is one of California's oldest cities, with Spanish settlement beginning in the early 1600s and the state's oldest standing public building, the Custom House, built in 1814.
From its 1848 addition to the United States through the canning era made famous by local resident John Steinbeck, Monterey has quite a few stories to tell.
Our family had a blast exploring Monterey's scenic and historic wonders in a SeaCar Tour. These are essentially little scooter cars that allowed us easy hop-on, hop-off opportunities with the wind in our hair. Driving around in these fun vehicles kept the kids interested in sightseeing.
Book your SeaCar Tour on Trip Advisor. Trekaroo is a Trip Advisor affiliate.
Families can follow the steps of time throughout Monterey's history by visiting the Monterey State Historic Park downtown. A series of connected historic buildings come alive with life during special events throughout the year.
Other must-see historic sites in Monterey including Cannery Row, Fisherman's Wharf, Point Pinos Lighthouse, and the National Steinbeck Center in nearby Salinas.
5. Go Whale Watching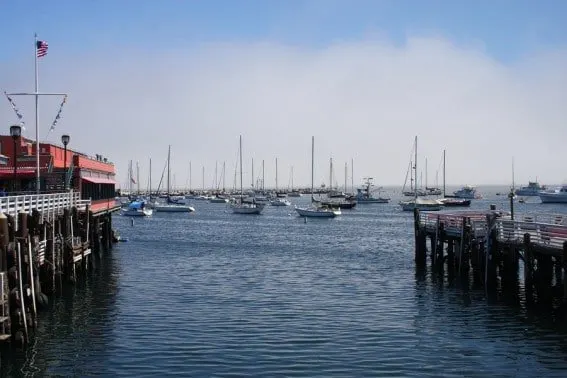 The California coast is a goldmine for whale watching excursions, and Monterey's central location between southern tropical species and northern cold-water species means that a boat trip from Monterey is chock full of marine life opportunities.
Whale watching, deep-sea fishing, and boating excursions abound from Monterey's harbor.
Book your Whale Watching Tour today!
Winter and early spring are the best times to see Gray Whales. Humpback Whales and Blue Whales are most likely to be spotted in summer and fall. Dolphins are year round.
Trekaroo Tip: Read our tips & tricks on Whale Watching with Kids to make the best of your experience.
6. Play The Day Away at Dennis the Menace Playground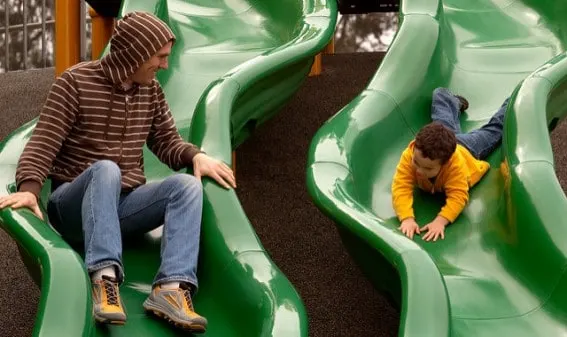 El Estero Park features 45 acres of lakes, trails, playgrounds, and picnic grounds. But it is most well-known for the famous Dennis the Menace Playground. It is definitely one of the most popular things to do in Monterey with kids.
This epic playground has several play structures, a suspension bridge, climbing wall, hedge maze, slides, tunnels, and steam engine. People visit this park from all over the world for its over-the-top fun, so be sure to add it to your Monterey itinerary.
Trekaroo Tip: Encounter a rainy day? For indoor fun & adventure visit the family-approved Monterey County Youth Museum (MY Museum) downtown.
7. Take a Memorable Wildlife Tour in Elkhorn Slough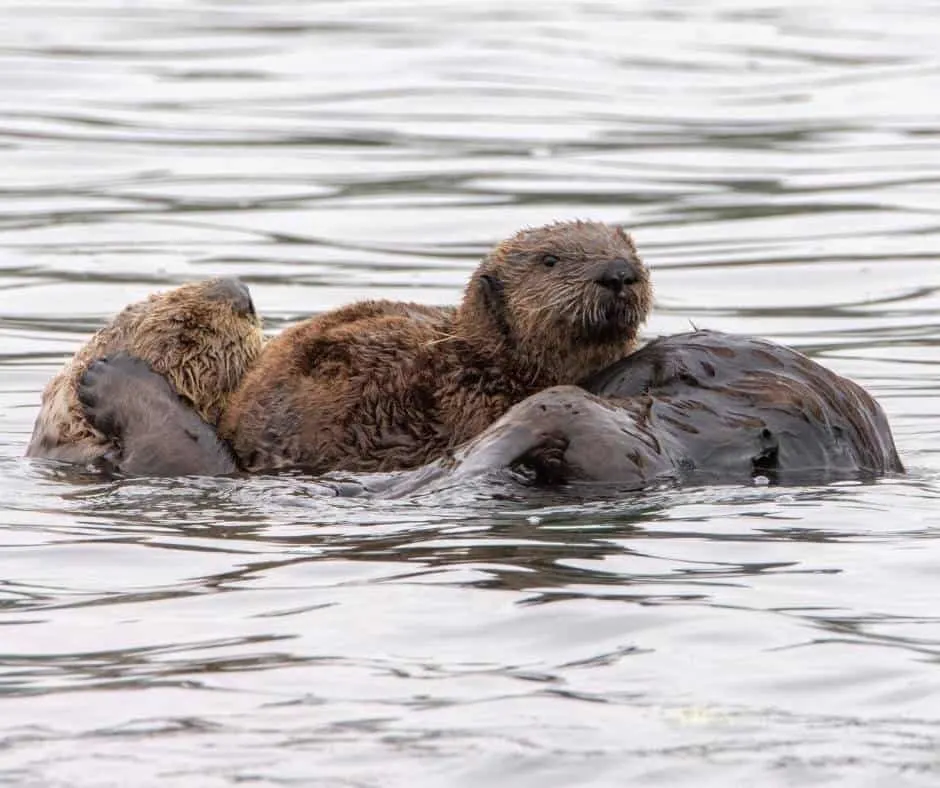 Just northeast of Monterey lies Elkhorn Slough, a tidal slough and estuary protected by the Elkhorn Slough National Estuarine Research Reserve and Elkhorn Slough Foundation.
The unique combination of fresh and salt water provides for one of the most diverse slices of flora and fauna.
Morning is the best time to kayak the tidal waters of the Elkhorn Slough. The winds are typically calm, making it much easier to paddle back to the harbor after heading up into the slough.
While kayakers are welcome to venture out on their own, I recommend families opt for a guided tour with Monterey Bay Kayaks. Passionate and friendly guides educate tourgoers about the animals that call the slough home as well as the history and ecology of this very special place.
On our tour we spotted lots of sea lions, seals, sea otters, and plenty of baby animals. Your best chance of seeing babies is during the spring.
After your paddle, grab a bite to eat at The Haute Enchilada, a funky eatery in nearby Moss Landing. This eclectic café serves up Latin American dishes, many of which feature sustainable seafood and local organic produce. Make time to visit the onsite galleries which feature local artists' work.
8. Take a Hike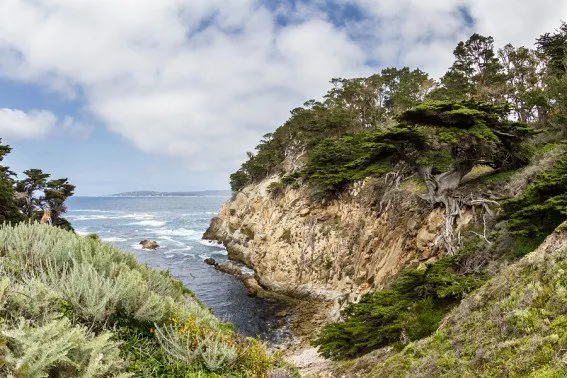 The pleasant year-round weather in Monterey affords hikers with nearly 365 days of fabulous trail conditions. Trekaroo families rave about the numerous hiking opportunities at Point Lobos Reserve in Carmel.
If you are staying closer to downtown Monterey, take an easy journey along the Monterey Bay Coastal Recreation Trail that connects Fisherman's Wharf to Cannery Row. This is also a great place for biking.
If you are up for a day trip, head to Monterey County's Pinnacles National Park.
Massive fallen boulders have formed talus caves which are home to 13 different bat species and are a blast to explore. Pack headlamps or flashlights in your daypacks and head on up the scenic Bear Gulch Trail, taking time to enjoy scrambling through the cave.
Keep your eyes out for the rare California Condor which calls this park home. It is the largest bird in North America.
Read our full guide to visiting Pinnacles National Park with Kids.
9. Visit the Winter Home of the Monarch Butterfly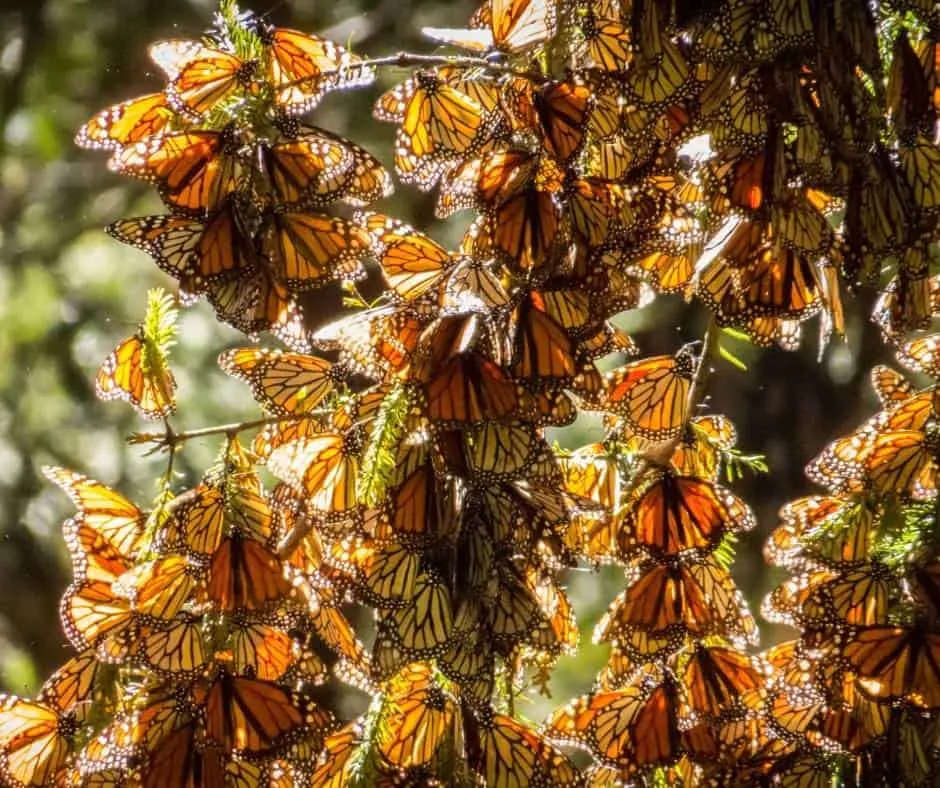 The Monterey Bay Peninsula is home to a unique breed of tourists- the Monarch butterfly. Every winter, hundreds of thousands of monarchs head to the towering Eucalyptus groves that line the area to make their winter roost.
Families can check out the winter sites in person and explore the hands-on exhibits at the Pacific Grove Natural History Museum, where you can also bring home a free pack of milkweed to attract monarchs to your own yard.
Read our best tips & tricks for where to see the monarch butterflies in Monterey.
10. Visit the Monterey Aquarium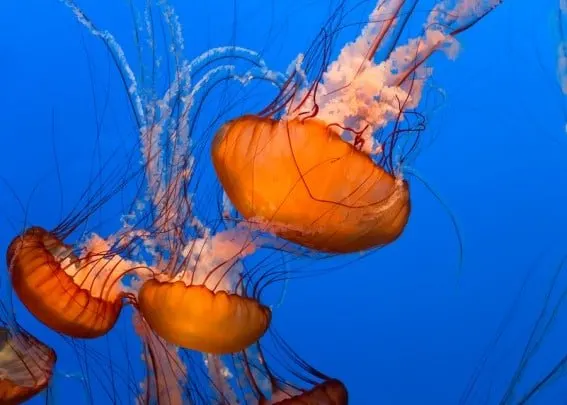 A favorite of Trekaroo adventurers, the Monterey Bay Aquarium is Monterey's premiere attraction for families.
This massive aquarium educates and inspires children and parents to gain a deeper understanding of our planet's amazing oceans.
You'll need a full day (or longer) to truly explore everything this aquarium has to offer, including several large aquariums filled with sea life, hands-on activities like touch pools and themed play areas, and animal encounters.
Check for feeding times (the Kelp Forest feeding is a must-see!), behind-the-scenes tours, movies, and topical presentations.
The on-site café offers healthy meal options, sustainable seafood, and kid-friendly favorites.
Where to Eat in Monterey with Kids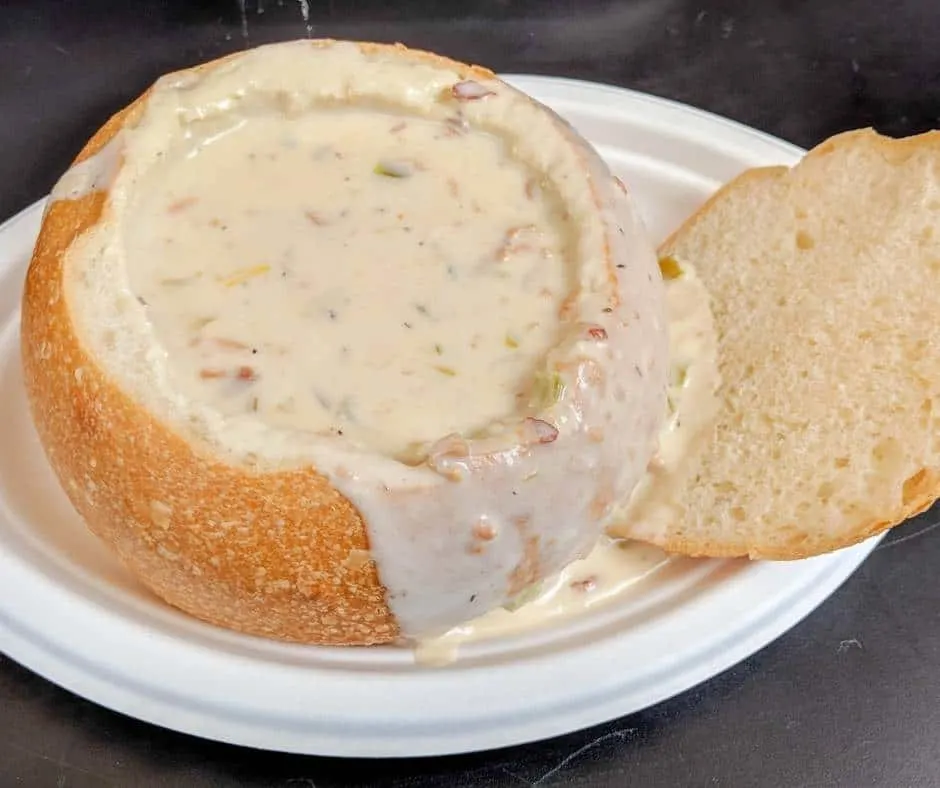 There's lots of delicious food to eat while visiting Monterey with your family. For a quintessential pick, head to Fisherman's Wharf and grab a sourdough bread bowl of clam chowder. You can also window shop or enjoy the view of beautiful boats and sea animals that tend to float by in the bay.
The Coastal Recreation Trail connects Fisherman's Wharf with Cannery Row, a hub for touristy eateries and activities for families. Downtown, grab a bite at Peter B's Brewpub; kids will enjoy the unlimited popcorn refills while waiting for food. The pirate-themed menus & kid's activities are a fantastic bonus!
Gianni's Pizza, also located downtown among fun crepe shops and coffee joints, is a great grab-and-go option for families.
Other family-favorite recommendations include Gusto Handcrafted Pasta and Pizza (just like Italy), Peppers Mexicali Grill, and Ike's Love and Sandwiches (an irreverently-decorated but seriously delish sub shop).
Where to Stay in Monterey with Kids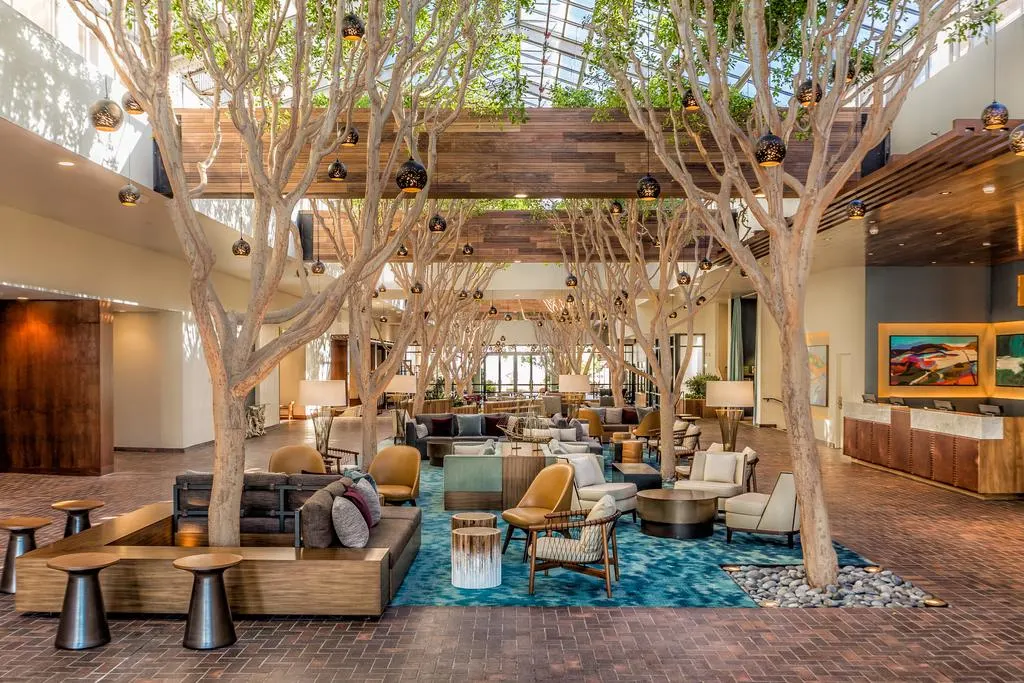 Monterey's romantic coastline features dozens of bed and breakfasts, as well as exclusive boutiques for lovers, but if you are looking for kid-friendly lodging, look no further than Portola Hotel & Spa.
Located downtown overlooking Fisherman's Wharf, Portola Hotel & Spa recently underwent a massive renovation that made this family-friendly hotel an even more ultimate destination.
Highlights include a pirate treasure hunt, freebies at check in, pool & spa, a location that is walking distance to the sand, kid-friendly onsite dining, and massive rooms that allow families to spread out in style. Need I say more?
Book a room today (best rates guaranteed!)
Day Trips From Monterey with Kids
Day trips from Monterey are so plentiful. Families can use Monterey as a hub for exploration of the region as they explore these must-visit locations, all just a drive away.
Pinnacles National Park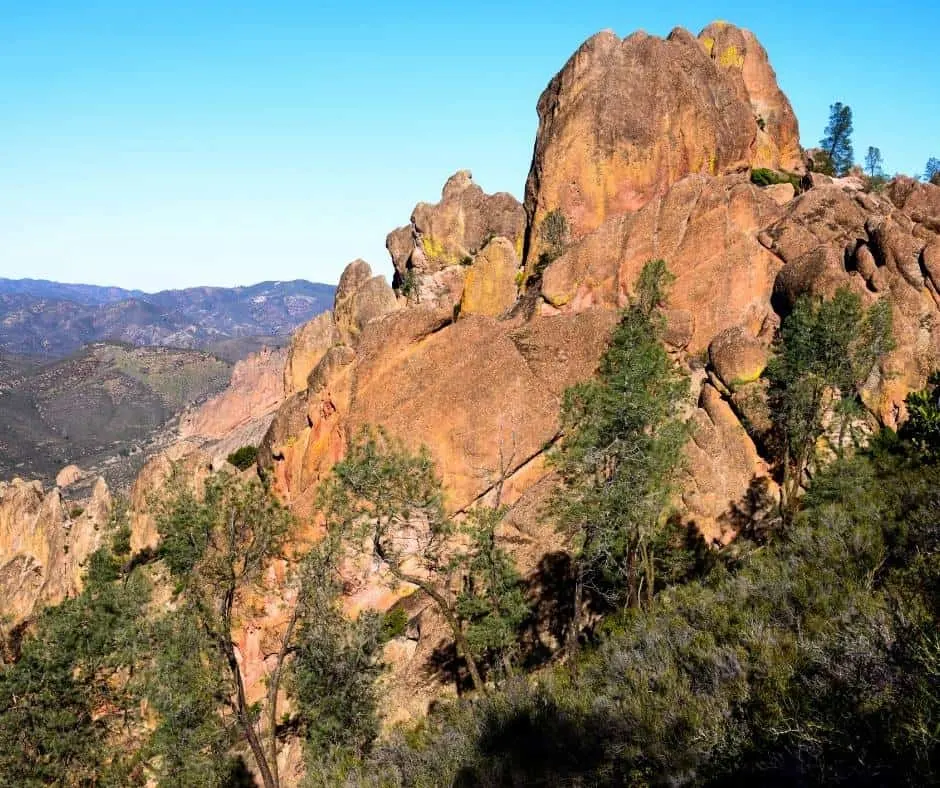 One of the nation's youngest national parks, Pinnacles National Park, is located just 52 miles from Monterey's seashore via the 101 freeway and a short stretch of highway.
The park's west entrance (accessible from Monterey) features two caves (Bear Gulch Cave and Balconies Cave) that your kiddos won't want to miss.
Big Sur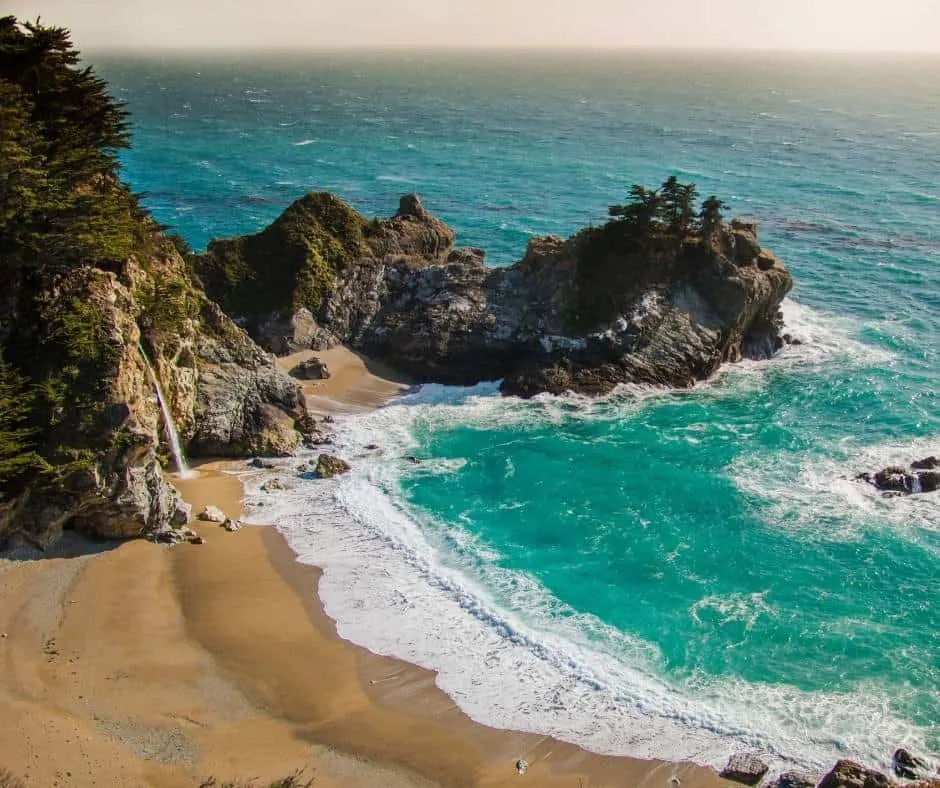 Majestic coastal views and towering redwood trees will be yours to enjoy in the Big Sur area and at Julia Pfeiffer Big Sur State Park.
Trekaroo families love camping and hiking here, and even if you drive down for a short day trip, you'll be rewarded with a plethora of options from exploring Pfeiffer Falls, hiking the creeks, watching the misty coastline along Hwy 1, searching for treasure on the beach, or grabbing ice cream.
Santa Cruz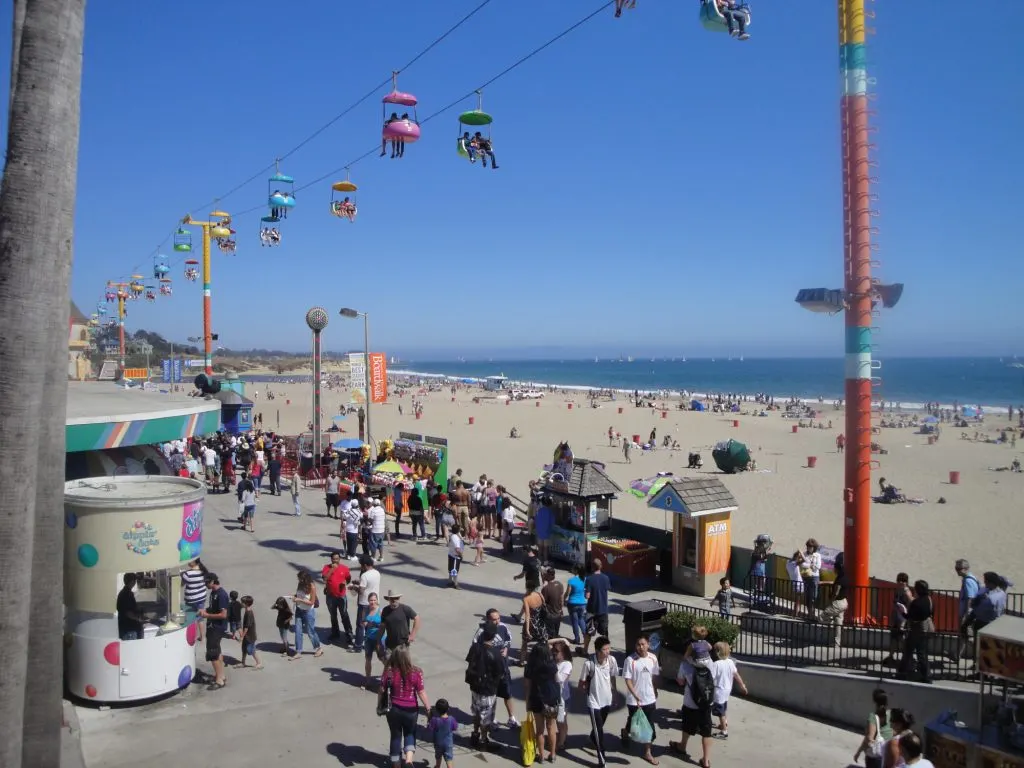 Just an hour's drive north around the Monterey Bay sits the funky surfside town of Santa Cruz.
It ischock full of local coffee shops, eclectic artisans, natural wonders (including Big Basin Redwood State Park and Natural Bridges State Beach), and the famous Santa Cruz Boardwalk.
Read our article which uncovers the Top 10 Things to do in Santa Cruz with Kids.