The most anticipated expansion in Disneyland history is almost here! After several years of anticipation, the opening date is set for the brand new Star Wars land at Disneyland. Star Wars: Galaxy's Edge open on May 31, 2019!
Trekaroo has been invited to among the first to explore this incredible new Star Wars themed land, and we are excited to be offering the inside scoop on all there is to see, do, eat, and explore.
Return to this article frequently. It will be updated as we learn more.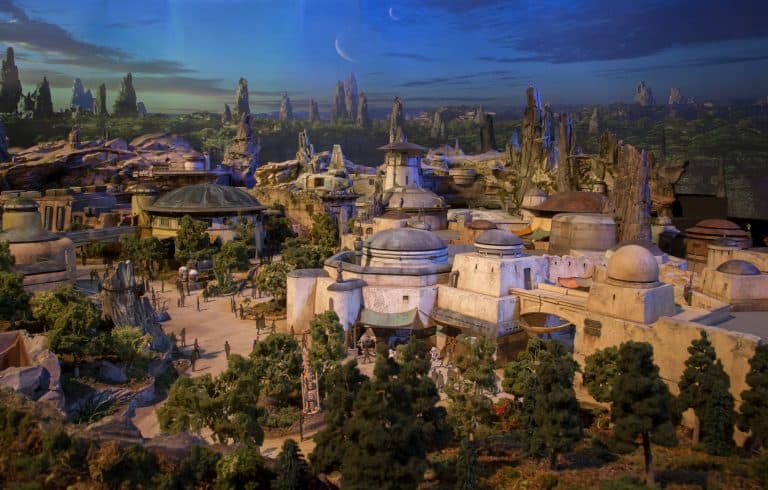 If you and your family are Star Wars fans, then you'll want to know all the details of what to expect for the grand opening, and how to secure your reservations.
If it's your first time to Disneyland, don't panic! Check out our First Timer's Guide to Disneyland.
Star Wars: Rise of the Resistance opens at Disney's Hollywood Studios at Walt Disney World Resort on August 29th.
How to Get Reservations Star Wars: Galaxy's Edge
The only way to experience this new Star Wars land at Disneyland when it opens on May 31, 2019 through June 23, 2019 is to have an advanced reservation. Reservations for those not staying at a Disneyland Resort property were booked up within 25 minutes of their release!
But don't be dismayed! Reservations are guaranteed to those staying at a Disneyland Resort hotel during this time period. Book quickly because these rooms are sure to go fast.
Each REGISTERED GUEST with a valid theme park admission ticket will receive a reservation to Star Wars: Galaxy's Edge. If the hotel reservation is canceled, the Star Wars: Galaxy's Edge reservation will be canceled.
Need Help? Talk to our friends at Small World Vacations.
They'll have your Disney vacation booked in no time at all! They are experts in saving you time, headache, and money.
As a diamond-level authorized Disney vacation planner, their services are free. Disney pays them to help you.
Talk to an Agent
Trekaroo gets a small commission when you book with Small World Vacations. Thanks for feeding our kangaroos.
What you Need to Bring With You for Entry
You must have a valid Disneyland park admission ticket PLUS your Star Wars: Galaxy's Edge reservation information
The guest who made the reservation and anyone over 18 in your party must have with them a government-issued photo ID that matches the names on your reservation. Only guests listed on the Star Wars: Galaxy's Edge reservation with proper ID will be admitted.
Guests under 18 do not need to produce ID and kids under the age of 3 do not need a Star Wars: Galaxy's Edge reservation.
Guests with reservations will be given a color-coded wristband which will give them access to the land for 4 hours. After the 4 hours, they will be unable to ride Millennium Falcon: Smugglers Run or purchase food, beverages, or retail. If guests don't make their way out of the land at the end of the 4-hour window, Storm Troopers will escort them out.
After June 23, reservations will no longer be required to enter the land. Disneyland is planning use some sort of same day reservation system for guests to enter the land (we are guessing it will be similar to FastPass) but those details have yet to be released.
Know Before You Go Tips for Visiting Stars Wars: Galaxy's Edge
There is no standby line to enter Star Wars: Galaxy's Edge between May 31 and June 23
Only guests with reservations will be able to access the land during this time.
14 and up, leave costumes at home.
It is Disneyland policy to only allow guests 14 and younger to dress in costume so if you are an adult, leave your Yoda mask at home. Outfits inspired by your favorite Star Wars characters are still encouraged. The rules are more extensive, so be sure to check the Disneyland Resort costume policy for more details.

Use the "Play" Disney Parks Mobile App To Engage with Planet Batuu

Disney really wants a guest's experience in Star Wars: Galaxy's Edge to be about more than just the rides. They have added quite a bit of technology to the visitor experience via their Play Disney Parks mobile app.

The Disney mobile PLAY app will activate your galactic datapad as soon as you enter planet Batuu. Choose to be a Smuggler, member of the Resistance, and loyal to the First Order, and have a different experience on each visit.

You can interact with droids, take on jobs, translate galactic languages, discover hidden cargo and digital goods throughout the land. You can even back into device and control panels in the Star Wars: Galaxy's Edge land. Receive digital rewards like ship schematics, star maps, galactic credits as you complete different jobs.

Tip: Bring backup phone batteries when visiting Disneyland Resort. Batteries tend to drain quickly while inside the parks and you don't want to miss out on any of the fun!

Star Wars: Galaxy's Edge will interact with your smartphone if you download the Disneyland mobile app
What We Know About Star Wars: Galaxy's Edge at Disneyland
Star Wars fans have been dreaming about this massive 14-acre park expansion since it was announced. Visitors will get live their own Star Wars adventures on the remote planet of Batuu. Immerse yourself in the unique sights, sounds, smells, and tastes of planet Batuu.
Star Wars: Galaxy's Edge Rides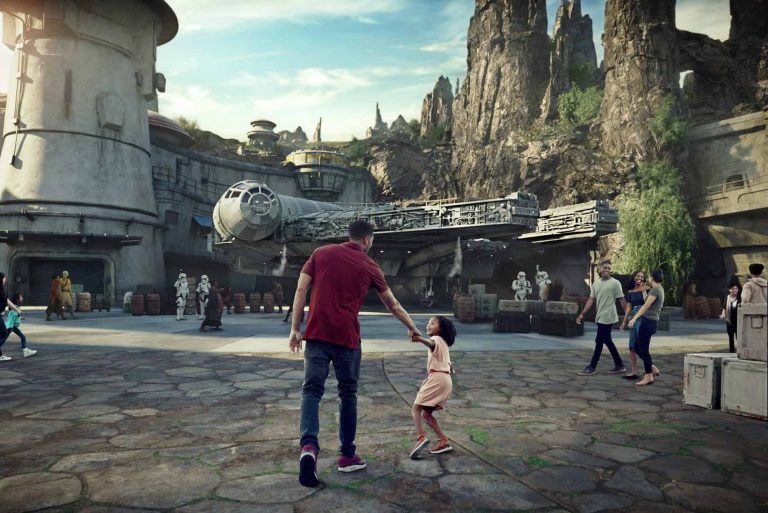 There are two rides in Batuu, the distant planet this new land is themed after. Only one ride, Millennium Falcon: Smugglers Run, will open on May 31. The other ride, Star Wars: Rise of the Resistance, is scheduled to open later this year. Here is what we know so far:
Millennium Falcon: Smugglers Run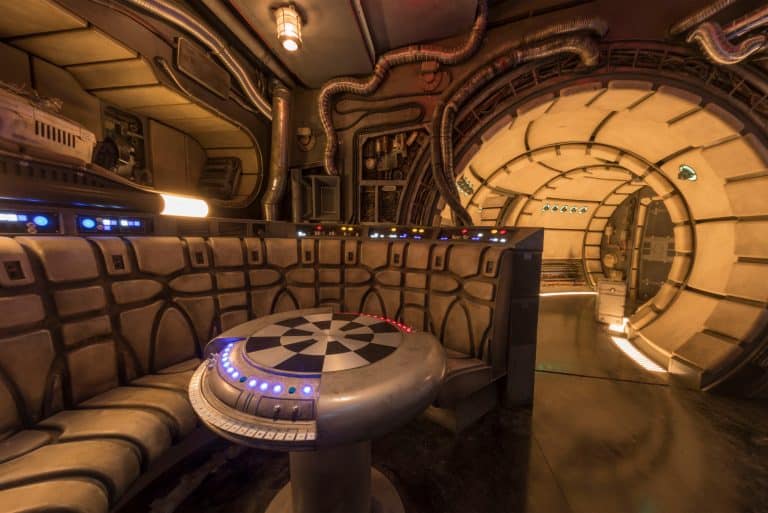 Yes, it's true- you finally get a chance to help pilot the most famous ship in the galaxy! Each rider will be assigned 1 of 3 important roles onboard the "fastest hunk of junk in the galaxy" and your decisions will have an impact on your ultimate ride experience.
Star Wars: Rise of the Resistance
Later in the year, Disneyland's Star Wars: Rise of the Resistance will open, but Disney has yet to set a date.
Disney calls this ride "the most ambitious, immersive, and advanced attraction ever imagined" and we can't wait to experience it! This attraction will put you in the middle of a battle between the First Order and the Resistance.
We know that the experience is expected to be a long one. Rumors have put the ride time at around 15-20 minutes. We also know that this ride will take passengers inside a full-size starship and aboard a Star Destroyer.
Star Wars: Galaxy's Edge Food and Beverage
Sure, we have all wondered what it is like to pilot the Millennium Falcon but have you ever thought about what it must be like to taste Blue Milk? Star Wars fans will now have a chance to sample this as well a diverse array of food while on Batuu.
Mobile Ordering will be allowed at select Star Wars: Galaxy's Edge restaurants. This will allow guests to avoid long lines by pre-ordering and pre-paying for their food. If you're traveling with someone with has food allergies, we have tips on visiting Disneyland with Food Allergies.
Ronto Roasters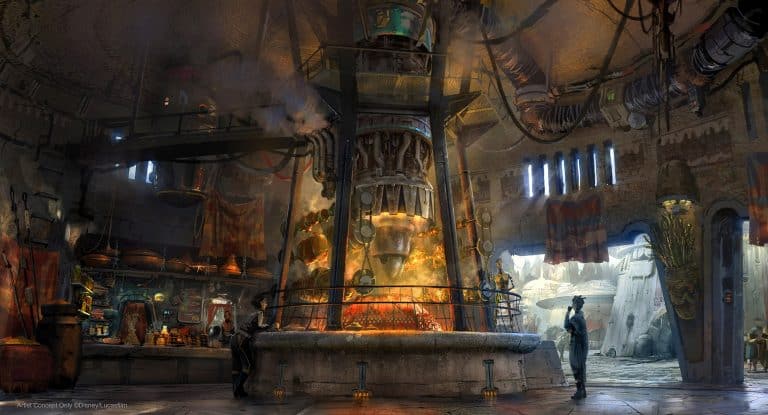 This restaurant is rumored to have big entrances. Why? To get the massive Ronto inside, of course! A giant podracer engine serves as the spit that exotic meats from around the galaxy will be cooked up on by a smelter droid.
Their signature food item will be a Ronto Wrap. This handheld pita sandwich is filled with roasted pork, Portuguese sausage, and a cabbage slaw topped with spicy "clutch sauce".
Docking Bay 7 Food and Cargo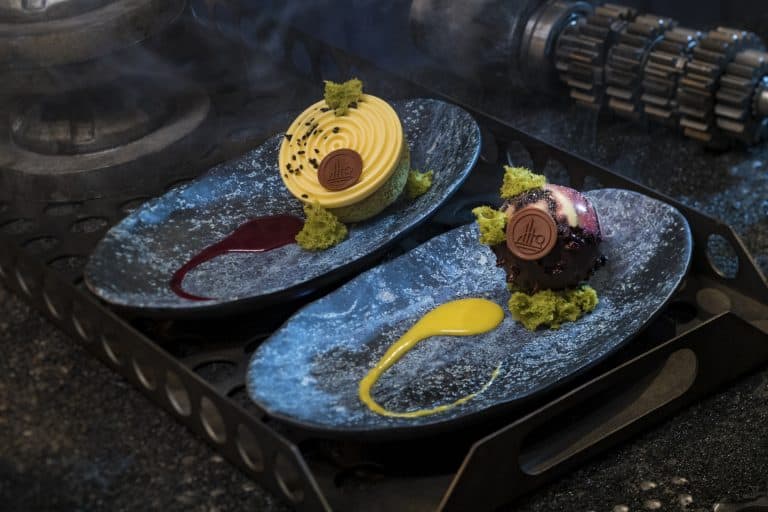 This restaurant is housed in a multi-purpose transport shuttle that is docked atop a large hangar. Inside Chef Strono "Cookie" Tuggs is serving up a wide variety of dishes using spices and techniques from across the galaxy.
Some of the food to be served here are Kaadu Ribs (pork ribs with a blueberry muffin and cabbage slaw), Felucian Garden Spread (a vegetarian "meatball" dish served with herb hummus and tomato-cucumber relish with pita bread), and Fried Endorian Tip-Yip (rectangular fried chicken).
If you are looking for a fun beverage don't miss the Meiloorun Juice which is based on fruit from the popular Star Wars Rebels animated series.
Milk Stand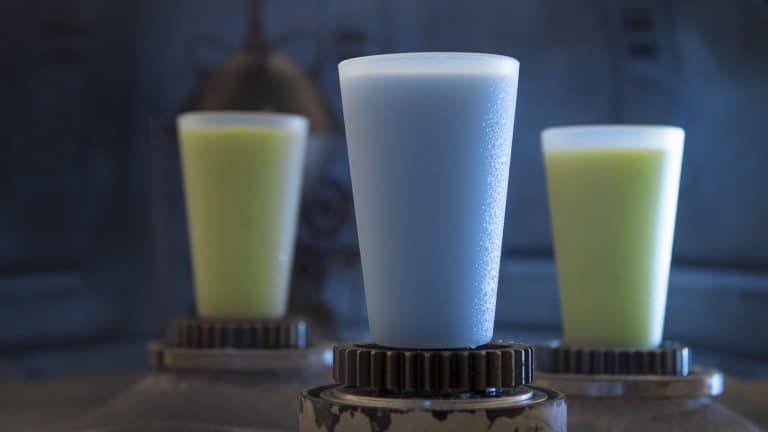 Blue Milk and Green Milk will be for sale at this food stand. Blue Milk was first seen in Star Wars: Episode IV- A New Hope and Green Milk made its debut in Star Wars: Episode III- The Last Jedi. Blue Milk is said to have a berry flavor while Green Milk is more tropical.
Kat Saka' Kettle
We all love Disneyland popcorn but they had to dream up something extra special for Star Wars fans so they kicked things up a notch at this food stand. The resulting popcorn snack is sweet, salty, and savory.
Oga's Cantina
At long last, your dreams will be realized. You can enjoy a frosty beverage inside a Cantina like the one made famous in the original Star Wars film. There will be plenty of fun music courtesy of DJ R-3X, of former Star Tours fame (yep, he's back!).
Non-alcoholic drinks will include the Tatooine Sunset which is a tea-based drink and Moof Juice which is a pink fruit juice. Blue milk will also be available at this location.
Alcoholic beverages have names like the Fuzzy Ttauntaun, the Outer Rim, the Bespin Fizz, and the Bloody Rancor which is garnished with an edible bone.
Star Wars: Galaxy's Edge Shopping
We can buy shirts with Star Wars characters on them just about anywhere these days, so Disney made an effort to do something different with the merchandise for sale in Batuu. Instead of selling the same old gear, they are also selling things that you might expect to buy while visiting this distant planet in another galaxy which is pretty cool!
Droid Depot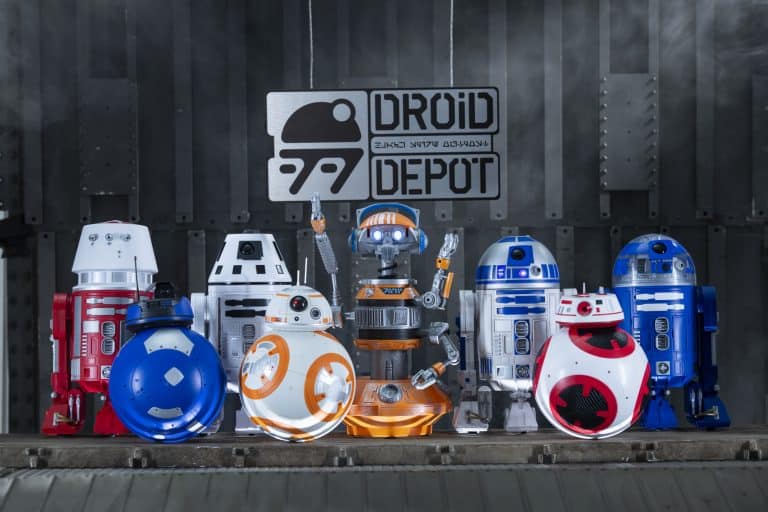 Build your own droid! Start with a base model (R-series or BB-series) and then choose parts from a conveyor belt to customize your droid. Additional programming chips and special accessories are also available. These special droids will be able to interact with elements in the land- we can barely contain our excitement!
Savi's Workshop-Handbuilt Lightsabers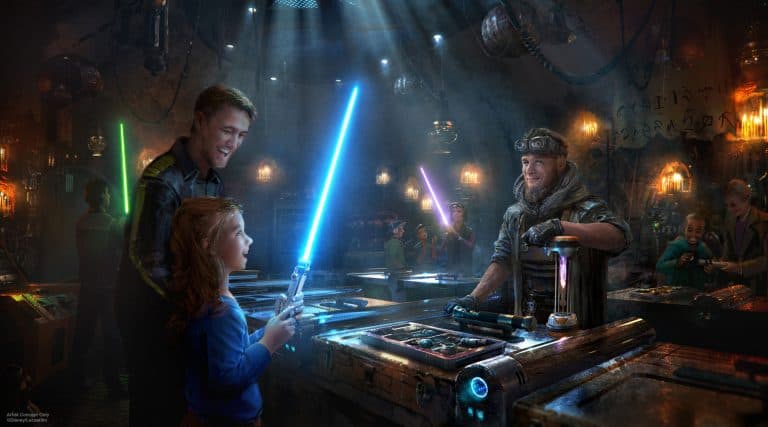 As the name suggests, this is the place to go to build and customize your own lightsabers.
Dok-Ondar's Den of Antiquities
A wide variety of rare and mysterious items are for sale in this shop. Highlights include holocrons as well as ancient Jedi and Sith artifacts. Keep your eyes out for Doth and the large Ithorian in charge of checking inventory.
Black Spire Outpost Market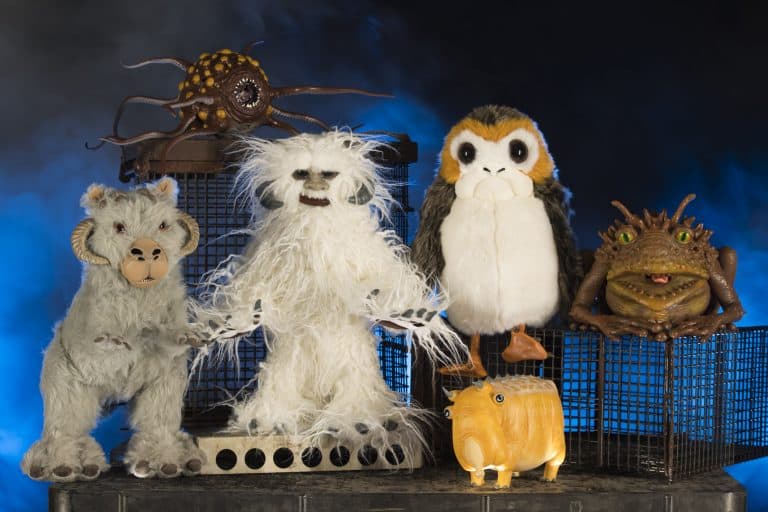 There are a few different stalls at this market. The Creature Stall sells rare and fascinating creatures from across the galaxy. Toydarian Toymaker sells toys crafted by a Toydarian, an alien species first seen in Star Wars Episode I- The Phantom Menace. Black Spire Outfitters sells a variety of accessories.
Just outside of the market you will find First Order Cargo, selling pins, caps, gear, and model ships which allow guest to pledge allegiance to the first order.
Hidden in the Resistance command center is Resistance Supply, filled with pins, caps, and gear that will help guests feeling like they are joining the cause.