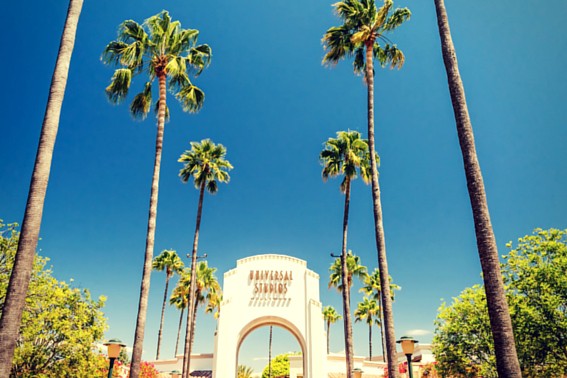 Explore Universal Studios Hollywood with Kids! Photo courtesy of BigStock/marcorubino
Hollywood, CA may offer glitz and glamour for families to see, but Universal Studios takes the best of Hollywood and creates a great theme park celebrating film and television with the same appeal!
Universal Studios Hollywood has recently been undertaking a massive renovation of their classic theme park. Over 60% of the property has been reinvented in the past five years! Our family guide to Universal Studios Hollywood with kids features how the park has undergone some remarkable changes and offers a variety of attractions for the entire family.
Family Guide to Universal Studies Hollywood with Kids!
The Wizarding World of Harry Potter

Photo Courtesy of Universal/ David Sprague
The Wizarding World of Harry Potter is the newest installment at Universal Studios Hollywood! This land is truly a sight to behold. This section of Universal includes the family-friendly roller coaster The Flight of the Hippogriff. Take some time to stroll through Hogsmeade and explore some of the classic visual experiences from the popular family movie Harry Potter. Don't forget to stop by Hogwarts Castle to take a ride on the Harry Potter and the Forbidden Journey! If your little wizard is too small for a broomstick, take a break at the front of the line at the child swap station and enjoy the Harry Potter movie while waiting for the rest of the family.
Looking for more? Take a peek at our Guide to The Wizarding World of Harry Potter for a detailed look into this great new addition to the park!
Minion Mayhem and Super Silly Fun Land
Step into the world of Despicable Me! Visit the park that Gru took his daughters and his mischievous minions to spend a heartwarming day as a family! Get a chance to play their favorite Carnival Games and experience Silly Swirly Fun Ride! Kids can cool off from the summer sun in nearby fountains. For those more adventurous, take a stop in at the Minion Mayhem 3-D Ride. The line itself is sure to be a crowd pleaser and entertains the family while waiting to embark on a chance to become a minion yourself!
Studio Tour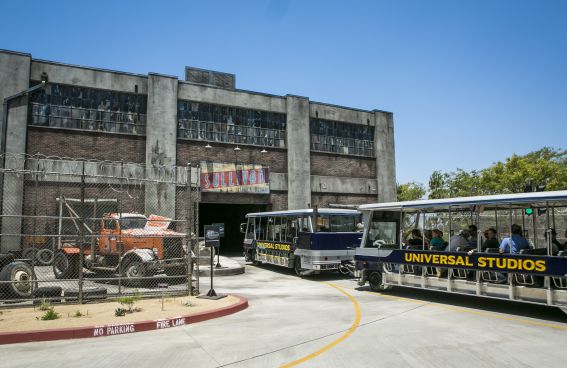 Photo Compliments of Universal Studios Hollywood
This behind the scenes tour allows families to explore some of the most famous back-lots and the world's largest working studio! Experience this legendary tour during the day or venture out to take it at night and find out what happens when film making is done by moonlight! Do you remember the King Kong of the past? King Kong 360 3-D offers families a new experience with the world's largest 3-D experience captivating the entire tour tram! Sit back and enjoy the tour or try to catch a glimpse of some active lots, as well as some of your favorite movie backdrops, including an encounter with Jaws! While viewing the Fast and Furious Supercharged, offered in 3-D imagery on a 360 degree screen, the finale is sure to get your family fired up to explore the rest of the park.
Exploring the Lower Level Park
You may have experienced some of these rides in the past if this is not your first time to the park, however, here's the inside scoop on fitting them into your day. The park is divided into two levels; in order to reach the lower level you will need to take a series of four massive escalators (an elevator is available for those unable to use the stairs). This trek takes approximately 5-10 minutes. Once you reach the lower level you will find some fast action rides.
Revenge of the Mummy the Ride
The Revenge of the Mummy is one of the most intense and thrilling rides offered at Universal Studios! Experience special-effects and extreme speeds both forwards and backwards. Take on this roller coaster if you dare; it is not suited to young or skittish riders.
Jurassic Park the Ride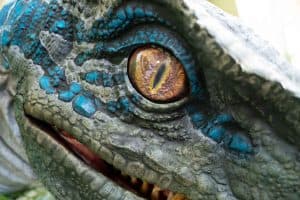 Photo Courtesy of NBC Universal/
On Jurassic Park the Ride, enjoy the serene surroundings of what should be a peaceful day at Jurassic Park until the ride does a 50 foot drop over an edge into clothes-drenching water on this exhilarating rafting adventure. If your little ones are too small for this ride Universal Studios has you covered; there's a great kid swap area complete with a dinosaur playground to keep kids happy and help them get their wiggles out as well!
Tip: This is your last chance to ride this classic as you know it -after summer it will be closed and updated to include Jurassic World!
Transformers the Ride 3-D
Transformers 3-D is a thrilling and fully-immersive ride taking guests on a mission to meet the next generation of transformers! This is a fast-moving, high intensity ride made for adventurers! Those prone to motion sickness may want to skip this ride and opt for the meet and greet just right of the entrance.
Tip: If you don't mind breaking up your group, try the single rider line and save time. When rides were backed up for 30 minutes, my family (as single riders), walked right on the ride.
Exploring the Upper Level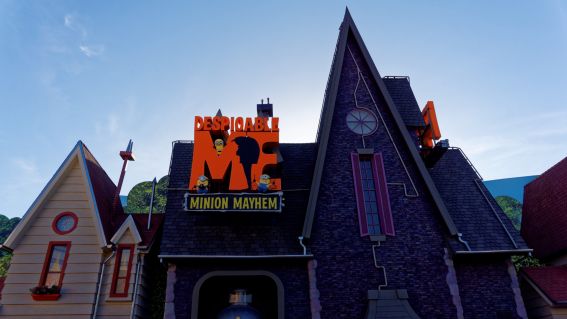 Photo By Miguel Discart
In addition to the Wizarding World of Harry Potter, Despicable Me, the Studio Tour, and the majority of dining options, the upper level will be where you spend the most amount of your time. This level offers several shows and is by far the largest part of Universal.
The Simpsons Ride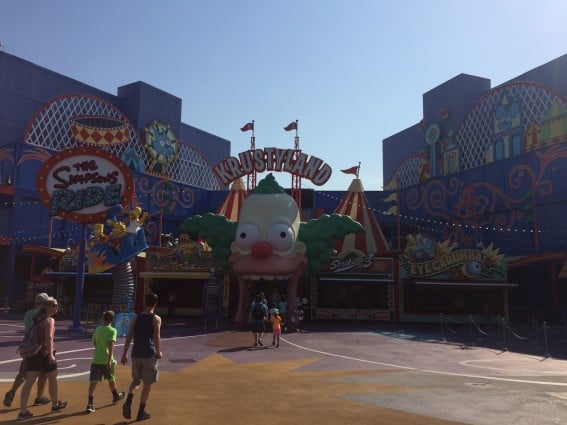 Photo by Woman_In_Travel
This is one for the super fans of Springfield! Experience this 80-foot diameter dome with high-definition projections on a carnival-like ride. Remember, this is The Simpsons, so of course there will be plenty of humor and inside jokes sprinkled along the way!
DreamWorks Theatre Featuring "Kung Fu Panda: The Emperor's Quest"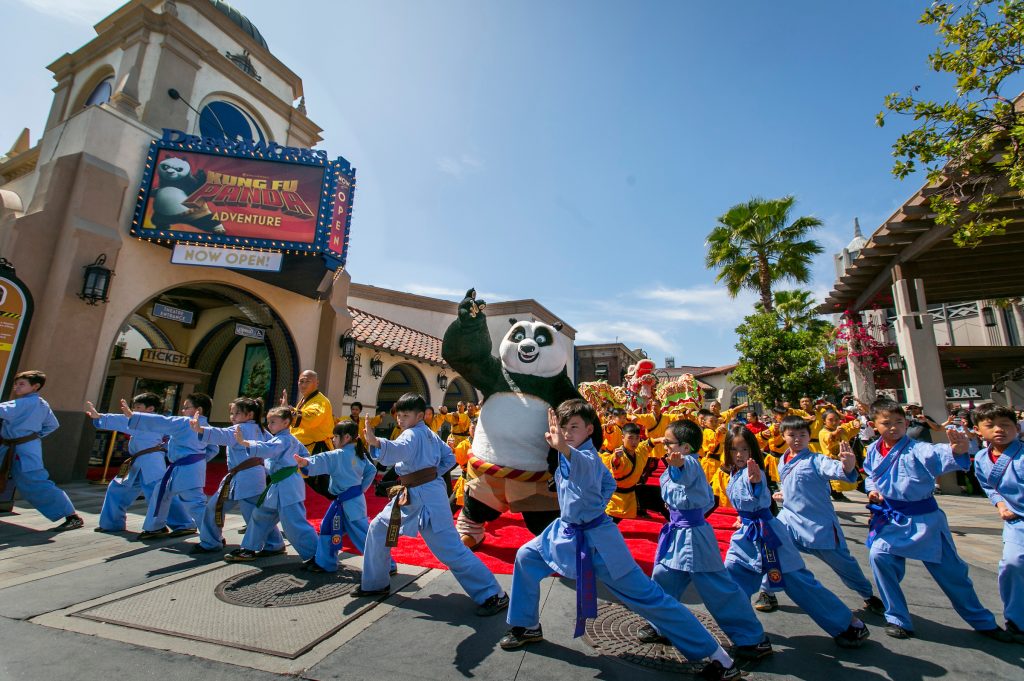 Photo Courtesy of NBC Universal/ Anastasia Lee
This new and first of its kind theater will put you into the DreamWorks movie Kung Fu Panda! New for the Summer of 2018 (opening June 15) this experience will bring flocks of fans to the park and you will not want to miss out the chance to experience the 4K screens and 360 degree surround sound! The experience begins in a gorgeous outdoor garden, followed by movie memorabilia, and a delightful pre-show complete with Po The Dragon Warrior himself. This attraction is sure to be an awesome experience!
Hollywood-Inspired Shows
Looking for a show to keep the entire family happy? The Universals Animal Actors show features some of Hollywood's finest four-legged friends taking on some exciting tricks. Get insight on how hard your furry friends work behind the scenes!
Character Encounters
One thing kids love to enjoy at parks like Universal Studios are the characters! Children will get a chance to meet some of their favorite and most beloved characters from movies and TV shows! Some characters children may have the chance of meeting are Transformers, the Minions and Friends from Despicable Me, The Simpsons, SpongeBob SquarePants, the friends from Shrek, Curious George, Scooby Doo and Shaggy, and old Hollywood characters such as Dracula and Bette Boop. Many more friends pop up throughout the park to surprise families with a meeting of some of their favorite characters!
Tip: New for the summer of 2018 guests can interact with Blue from Jurassic World!
Dining Throughout the Park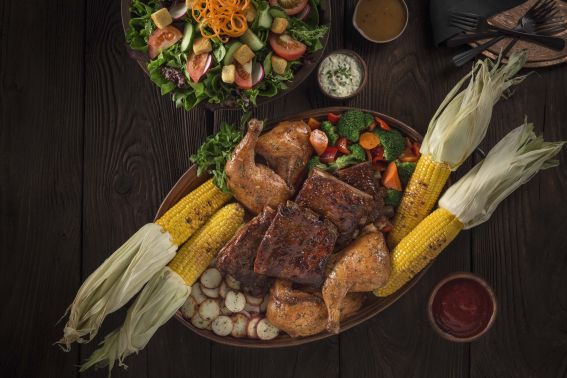 Photo Courtesy of Universal/B. Goldsworth
Dining is available throughout the park and families can find something that is sure to entice! You might even find one of your favorite fictional restaurants come to life!
The Three Broomsticks
Take pleasure in dining out in one of Harry Potter's favorite restaurants The Three Broomsticks! Take a moment to try some of London's classic cuisine! This restaurant offers both breakfast and lunch/dinner menus. Try to head here early to get a taste of Hogsmeade while the lines are still short. Just have time for a quick drink? Why not stop by the Hog's Head located next-door to The Three Broomsticks or taste some Butterbeer from nearby carts.
Despicable Delights
Try one of the minion's favorite treats – a frozen, chocolate dipped banana! Check out one of their Freeze Ray smoothies, of course offered in banana flavor. Despicable Delights has some great options for the entire family.
Crusty Burger
Crusty Burger is another new option offered in Springfield, USA. Enjoy the legendary Crusty Burgers or try a Sideshow Bob foot long! Wash it all down after with a quick stop to Moe's Tavern!
Mel's Diner

Photo Courtesy of Universal/ D. Begley
This All-American eatery comes straight from the iconic movie American Graffiti. Mel's Diner includes the usual diner menu items such as 100% fresh premium burgers, turkey legs, chicken tenders, and to top it all off, add a milkshakes and apple pie!
French Street Bistro
Grab a convenient sandwich or a tasty salad made fresh at Universal Studios at the French Street Bistro. Enjoy their selection of baked pastries and scrumptious desserts or sip on the Starbucks signature beverages available here.
Panda Express
Yes, you read that right! Panda Express is offered at Universal Studios Hollywood. Stop in here for one of their traditional items or a fresh sushi roll made there each morning!
Jurassic Cafe
The Jurassic Cafe serves up great California cuisine! Kids will love the personal pizzas and adults will enjoy the gourmet burgers! Looking for something substantial? Try the roasted chicken with potatoes and veggies.
Quick bites are available at Ben & Jerry's located near the Minion Mayhem ride, Cinnabon located near Universal Plaza, and Starbucks is available on both the upper and lower levels of Universal Studios.
With new attractions, entertaining shows, and exciting rides, Universal Studios Hollywood offers something for the entire family!
Staying in SoCal for a little longer? Check out our Top 10 Things for Families to do in Los Angeles.
Disclosure: This author was an invited guest of Universal Studios Hollywood for the purposes of relaying this information to Trekaroo readers. All opinions are her own.
Featured photo by: Shutterstock