Last Updated on
Trekaroo generates revenue from purchases made through links to our partner brands.
"Why do you want to go to Palm Springs? Its nothing but old people!" exclaimed my 60-something but decidedly not old mother-in-law.  Though she hadn't been to Palm Springs in over a decade, the image of gray-haired senior citizens riding around in golf carts seemed to dominate her opinion of the Coachella Valley.  In actuality, I had recently visited the area and was well aware that visiting  Palm Springs with kids was a great idea.  As a matter of fact, on our nightly strolls down Palm Canyon Drive we passed by many more families with young children than elderly folks grumbling about whippersnappers cramping their style. In an effort to prove my mother-in-law wrong (a devilish pastime of mine), I began carrying on about the many great activities, resorts, and dining options that Palm Springs offers families. Curious?  Here is a glimpse at some of the things that have helped put Palm Springs on my families permanent vacation map:
Explore the Great Outdoors
Most people associate the desert with heat, and rightly so. It can certainly get hot during the sweltering summer months. Most of the year, however, the weather is quite pleasant and the desert is ripe for exploring. During the fall, winter, and spring, places like Palm Canyon, located in the Indian Canyons, are wonderful places to hike. A vast palm oasis lines a running stream creating a perfect place to have a picnic and enjoy the beauty of the desert.
Read my full review of Indian Canyons.
If you opt to visit during the summer months and still want to get outside and explore, a trip on the Palm Springs Aerial Tramway towards the top of towering Mt. San Jacinto is a great option.  The ride itself is amazing, taking riders up to 8,500 feet and into a world where pine trees rule and palm trees are non-existent. The temperature is often 40 degrees cooler than the valley floor, making it a nice place to hike during the summer months and a fun spot to enjoy the snow during the winter.
Read reviews of the Palm Springs Aerial Tramway.
Trick your kids into learning
It is always a goal of mine to educate my kids as much as possible while on vacation. I firmly believe that children learn so much more through experiences than through text books.  The Palm Springs Air Museum is a great place to educate your kids about World War II. They will be excited to walk amongst a huge collection of World War II airplanes and are bound to absorb some important history in the process.  Of course, the opportunity to climb inside a plane, paint a real plane, and fly a plane on a flight simulator certainly will make the experience that much more exciting.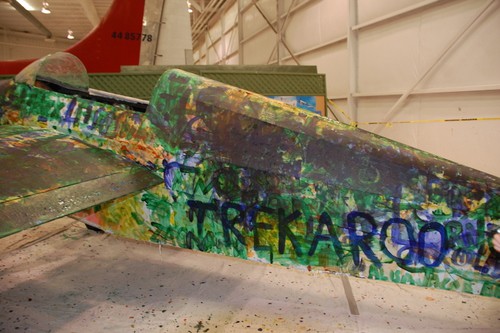 Read my full review of the Palm Springs Air Museum.
If your kids have a fascination with the animal world,  The Living Desert is a must visit. This world class zoo and botanical gardens features exhibits dedicated to the plants and animals that call deserts around the globe their home.  Some the highlights of my family's visit included the camel rides, Mexican wolves, cheetahs, jaguars, butterfly house, and a beautiful big horn sheep enclosure.  Model train enthusiasts will appreciate the huge G-scale model train display.
Read reviews of the Living Desert.
Dine on famous Palm Canyon Drive
Palm Canyon Drive is the place to see and be seen in Palm Springs, but it is also offers great walkable atmosphere and a nice place for families to dine.  My family enjoyed lunch Ruby's, a popular Southern California 1940's themed burger diner with a fun old fashioned soda fountain. For dinner, we dined with an amazing balcony view and tasty pizza at Matchbox and watched our daughter dance her heart out to the sounds of a live band at the popular and lively Mexican restaurant, Las Casuelas Terraza. Of course, the ultimate desert dessert is ice cream, and a few different ice cream shops call Palm Canyon Drive home. We opted for our family's favorite, Ben and Jerry's, and licked our cones as we strolled down the street back to our hotel.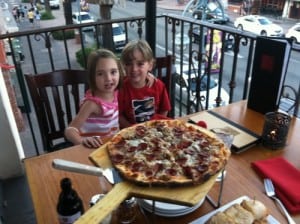 Read my full reviews of Matchbox and Las Casuelas Terraza.
Speaking of hotels….
There are several large resorts all over the Palm Springs region, but if you family wants to be in the heart of all the action downtown and still have space to spread out, the Hyatt Regency Suites Palm Springs is your best bet.  It is the only hotel in downtown Palm Springs with a Palm Canyon Drive address, making it the perfect spot for families who prefer to walk and explore the area. The hotel is an all-suite property, and rooms include a separate living area and bedroom.  The pool is a great place to splash and play after a long day of sightseeing and the happy hour, which includes complimentary snacks and discounted drinks, is not to be missed.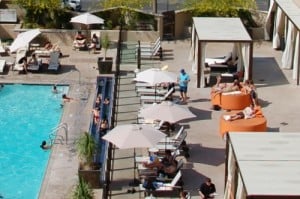 Read more in my full review of the Hyatt Regency Suites Palm Springs.
Disclosure: My family received complimentary lodging, dinner, and activities as guests of the Palm Springs Visitor Center in order for me to complete this story and several reviews. The visitor center did not ask that I express any particular opinions of anything I experienced and all of my reviews and blog posts always reflect my honest opinion.