A Palm Springs family vacation is popular for good reason- there are so many fun things to do in Palm Springs with kids! This all-season destination is so much more than a haven for snowbirds.
Families flock to the Palm Springs area, also known as the Coachella Valley, to enjoy its sunny weather, plethora of outdoor activities, and fun local culture. Here are some of our favorite things to do in this desert hot spot.
Trekaroo Fact: Did you know that Palm Springs sits on the 4th largest aquifer on the planet? That's how they keep all those golf courses so green!
Palm Springs is a very dog-friendly city and many hotels welcome pets. If you are new to traveling with your pet you will want to check out this article filled with info on how to vacation with your dog.
Fun Things to do in Palm Springs with Kids
1. Explore the Palm Oases of Indian Canyons in Palm Springs with Kids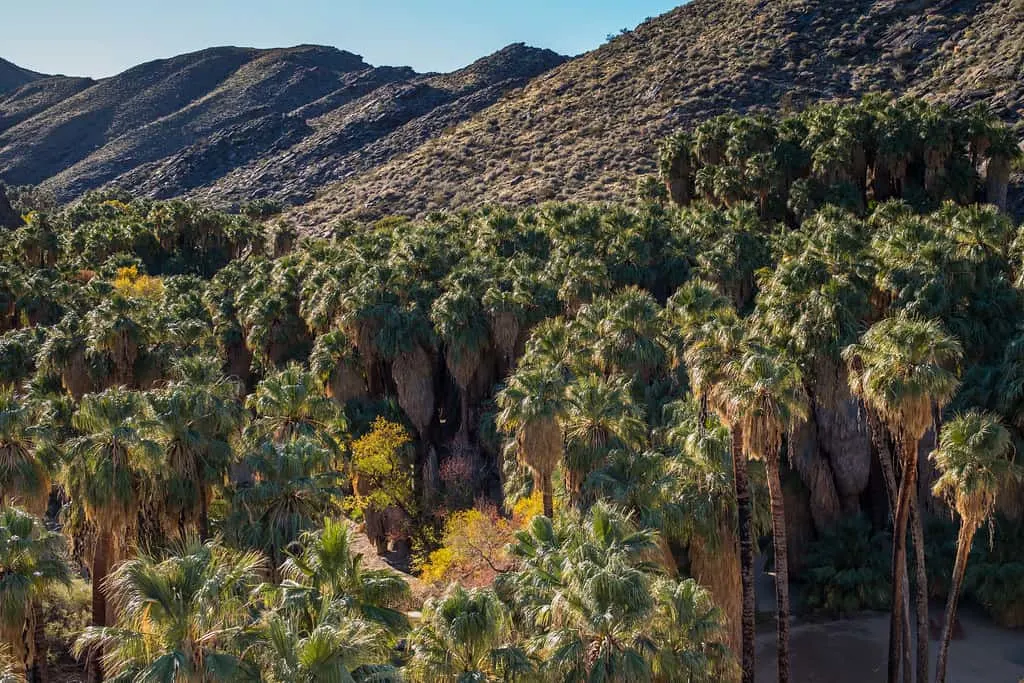 Most people associate the desert with heat, and rightly so. It can certainly get hot during the sweltering summer months. Most of the year, however, the weather is quite pleasant and the desert is ripe for exploring.
Owned by the Agua Caliente Cahuilla tribe, Indian Canyons are lush, palm-filled canyons fed by a shallow aquifer. For a small fee, guests can gain access to these canyons which are great for hikes and picnics.
Andreas Canyon features a short, 1-mile loop trail that follows a stream back into a canyon shaded by fan palms. The 3.9-mile Murray Canyon Trail is the Seven Sacred Sisters waterfall, a perfect spot to enjoy a picnic.
Palm Canyon is one of the largest palm oases on the planet. A trail leads 15 miles back into the canyon; follow it for as long as you would like or just enjoy splashing in the streams and having a picnic lunch under the cooling palm trees at the base of the canyon.
Check out this guided tour of Indian Canyons with Red Jeep Tours. My family had a blast on it and learned so much.
2. Have a Snow Day at Mt. San Jacinto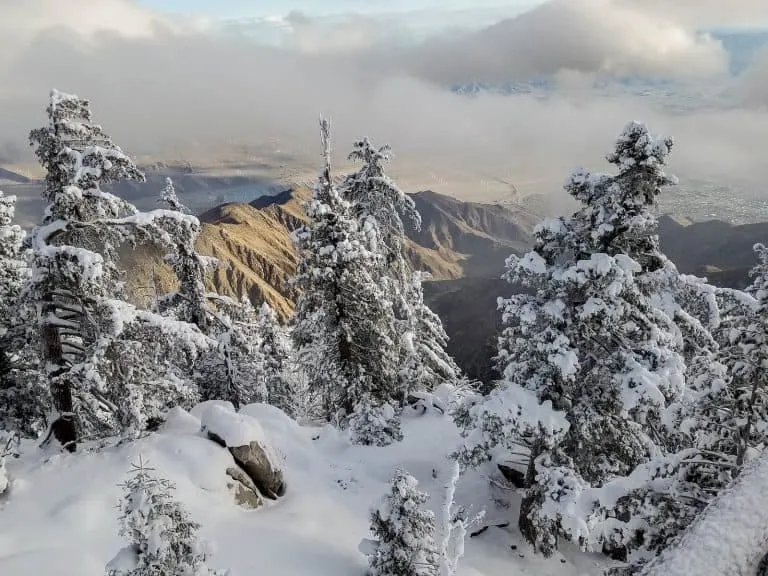 Where else can you trade sun-kissed palm trees for snow-blanketed white firs in just 10 minutes? Located just six miles from downtown Palm Springs, the Palm Springs Aerial Tramway takes riders on a scenic, 2.5-mile journey up the steep mountainside of Mt. San Jacinto.
Temperatures are often 30-40 degrees cooler at the tram's Mountain Station, elevation 8,516 feet, and the views of the entire Coachella Valley are spectacular. During the winter and early spring months, snowshoes and cross country skis can be rented from the Adventure Center. There is just something extra special about spending the morning sledding and the afternoon at a resort pool!
In the summer, escape the valley heat and discover a wildly different environment complete with 50 miles of hiking trails among ancient boulders and towering evergreens.
Need a place to stay? Here is Trekaroo's guide to the top family-friendly hotels in the Palm Springs area.
3. Go on a Jeep Tour of the Desert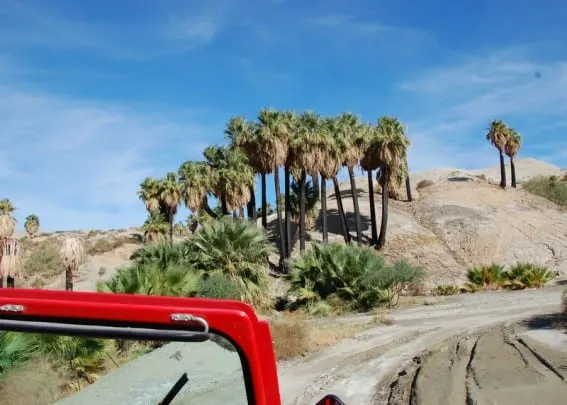 Take a red Jeep ride into the desert with an expert guide from Desert Adventures. Your guide will passionately introduce you to the wonders of the desert, including the jagged results of the Pacific and North American plates colliding while standing atop the legendary San Andreas fault.
Learn about how native cultures used the natural resources of the desert to survive. Zip through slot canyons where portions of the original Star Wars movie was filmed. Visit a palm oasis where water bubbles up to the surface (an actual palm spring!). The enthusiasm their knowledgeable guides have for the desert is contagious and the jeeps pick up from most hotels across the valley.
Book your adventure with Red Jeep Tours. As a Trip Advisor affiliate Trekaroo receives a small commission to help fund our small business and you get the lowest rates guaranteed.
4. Visit the Palm Springs Air Museum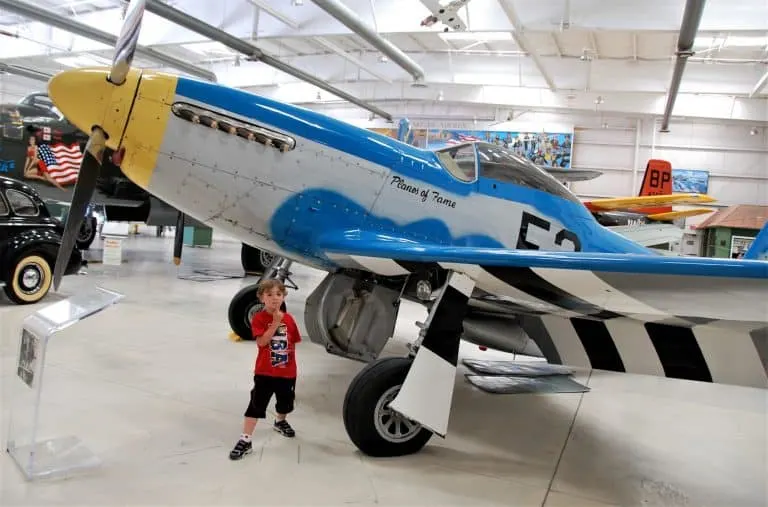 It is always a goal of mine to educate my kids as much as possible while on vacation. I firmly believe that children learn so much more through experiences than through text books.
The Palm Springs Air Museum is a great place to educate your kids about World War II. They will have fun exploring a huge collection of World War II airplanes. They can also inside a plane, paint a real plane, and fly a plane on a flight simulator. If you have an aviation enthusiast in your family, definitely don't miss this museum.
5. Get Wild at the Living Desert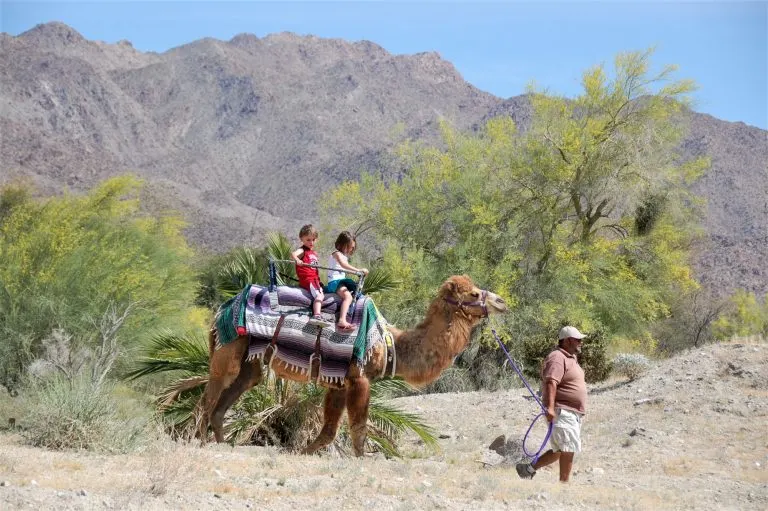 If your kids have a fascination with the animal world, The Living Desert is a must visit. This world class zoo and botanical gardens features exhibits dedicated to the plants and animals that call deserts around the globe their home.
This beautifully manicured zoo and botanical garden is dedicated to all things "desert". Animals from North America and Africa dominate this zoo such as cheetahs, Mexican wolves, bighorn sheep, and leopards.
Kids will love the opportunity to feed giraffes and go on camel rides. In addition to all the desert-themed fun, The Living Desert is also home to an extensive model train display, train rides, and a carousel. A tram runs around this sprawling zoo and has many stops, ideal for hot summer days or people with mobility issues.
Explore more of the state! Here are the 10 best things to do in California with kids.
6. Take Little Ones to the Children's Discovery Museum of the Desert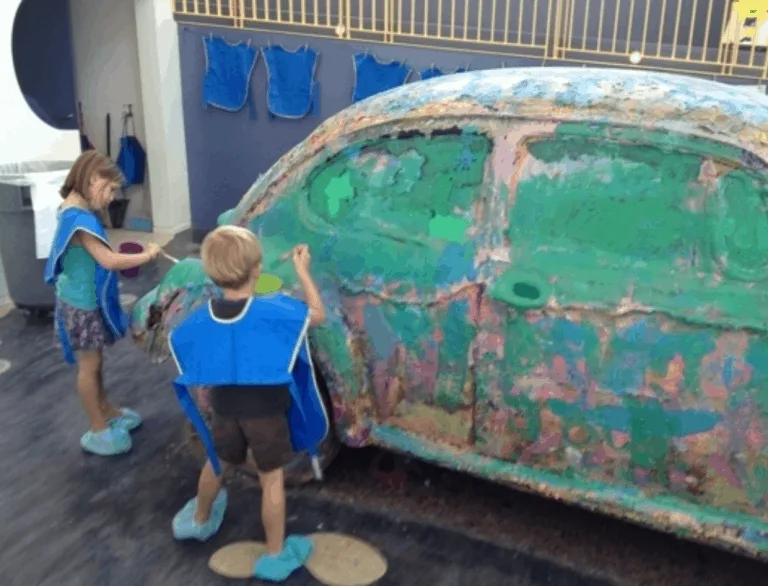 If you are looking to escape the desert heat, the Children's Discovery Museum of the Desert is a cool place to spend a couple hours. Various hands-on exhibits are geared towards children under 10. There are 80 hands-on exhibits spread out over three galleries. Kids love the miniature grocery store, car painting, and rope play area.
Check out the calendar of events to best determine when to take your trip to the museum. Special events for toddlers and holidays pop up throughout the year!
7. Take a Day Trip to Joshua Tree National Park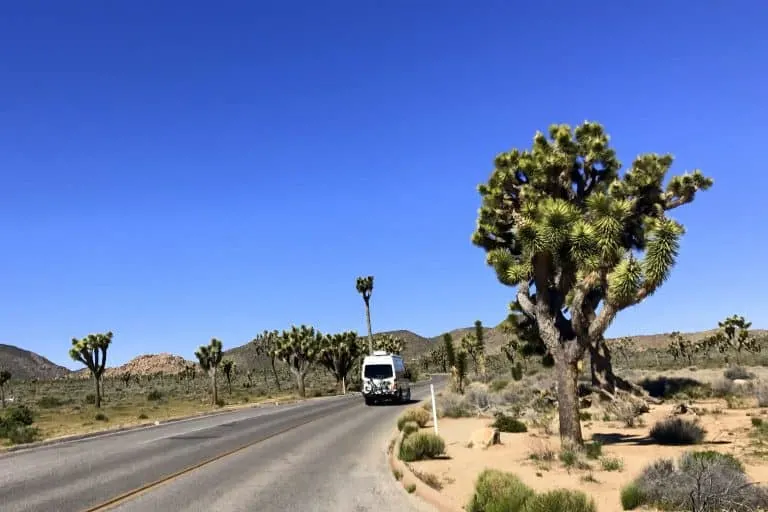 Named for those Dr. Seussian trees that speckle the high deserts of California, Joshua Tree National Park is an awesome day trip option for those vacationing in the Palm Springs Area. The park has long been a destination for rock climbers and offers plenty of opportunities for all abilities to scramble, clamber, and scale jumbo-sized boulders.
During the spring bloom, the desert becomes awash with natural color. The lemony scent of turpentine broom fills the air while tiny pink and yellow wildflowers sprinkle the sand. Cacti of all shapes and sizes are topped with showy flowers and even the Joshua Trees themselves burst into bloom.
Temperatures in the high desert of Joshua Tree are often significantly cooler than in the Coachella Valley so be sure to check weather reports. It is also important to note that there are no services within the park so be sure to pack a lunch and fill up your gas tank before heading out.
You can read more about the park in our full guide to visiting Joshua Tree National Park.
8. Chill by the Pool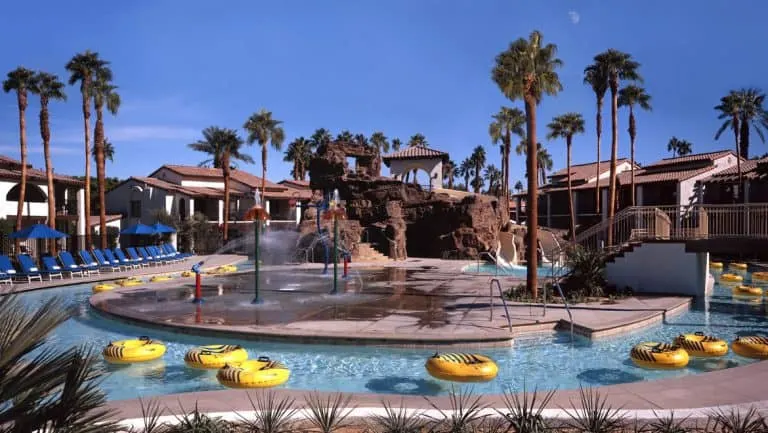 No trip to Palm Spring is complete without some pool time! Luckily there are several resorts across the Coachella Valley with great pool complexes.
Hyatt Regency Indian Wells Resort & Spa offers a families-only pool and a Dive-in movie for evening entertainment. Additionally, the Hyatt property has several added water amenities including a slide, water basketball, and a giant water sphere called the Desert Pipe.
The Desert Pipe is a unique way to experience a cool down – water is placed in the round clear ball and you jump on in – the sphere rotates at various speeds and you start running like a hamster!
Another great on-property pool is located at the Renaissance Indian Wells Resort & Spa, check out the sandy beach entrance or the cooling waterfall for some kid friendly fun!
Splashtopia!, a massive water-park located within the Omni Rancho Las Palmas hotel is another great option. Families love the water slides, lazy river a beach area for tots, a splash pad, and a huge pool featuring summer Dive-In movies. This is definitely the place you want to be hanging out during those hot desert days.
See which Palm Springs area hotels made our list of the best hotel pools in the USA.
9. Enjoy a Round of Golf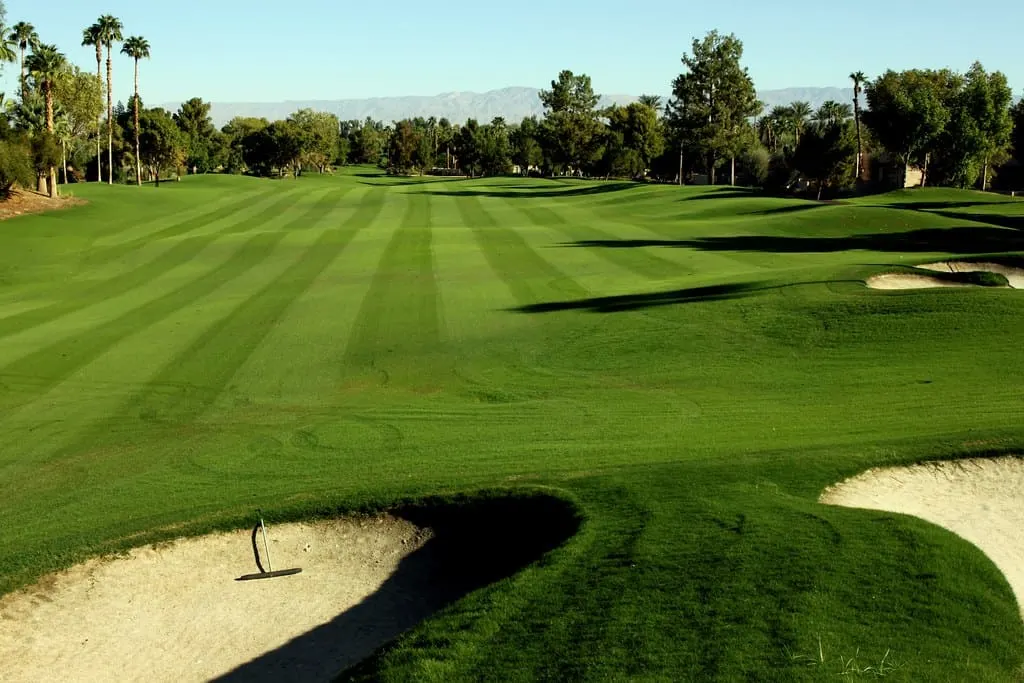 For many people Palm Springs is most well known for its wonderful golf courses! Families can choose from world class PGA courses and well renowned municipal courses.
Tahquitz Creek Golf Course is a fabulous option for families with young golfers – early tee times are great for cooler rounds but what is valued most here are their great spots for shade!
Indian Wells Golf Resort is one of the most well kept golf resorts year round. With two courses – the Players and the Celebrity course – tee times are usually available and both courses play great! Tese are also the best courses for keeping cool at any temperature. The resort offers a full-time Snack Carts complete with iced towels insuring you will rarely be wanting for anything!
10. Enjoy the Weekly Open Air Festivities at Villagefest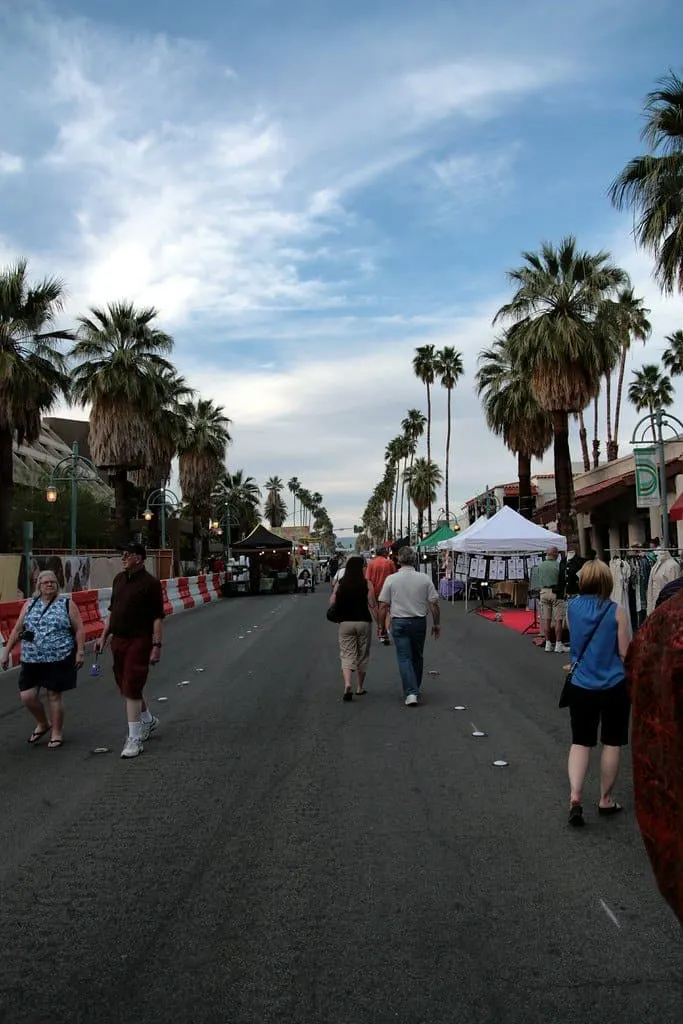 This Palm Springs mainstay takes place every Thursday night from 6-10PM and features dozens of craft booths, a Farmers Market, entertainment, and several dining options in the heart of downtown Palm Springs. This is one of our favorite things to do in Palm Springs with kids because it is a great way for visitors to absorb the energy and culture of the Coachella Valley.
Disclosure: My family received complimentary lodging, dinner, and activities as guests of the Palm Springs Visitor Center in order for me to complete this story and several reviews. The visitor center did not ask that I express any particular opinions of anything I experienced and all of my reviews and blog posts always reflect my honest opinion.