Up and down the Golden Coast, there are so many amazing California beach resorts for families. A California beach vacation is filled with sunshine, surf, and some of the best sunsets around. It is truly a dream vacation.
There are literally dozens and dozens of inns, hotels, and motels along California's coast, but not all California beach resorts are created equally.
As a California native and family travel specialist, I have had the pleasure of visitng many great beach resorts in California and these, along with some recommendations from my fellow family travel experts, are the best of the best.
There are plenty of websites out there that will give you a list of beach hotels in California, but many of them are written by people who have never even visited them! This is a list for families by families who have real life experience at these amazing beach resorts.
The Best California Beach Resorts for Families
Best California Beach Resorts for Families in San Diego County
Hotel Del Coronado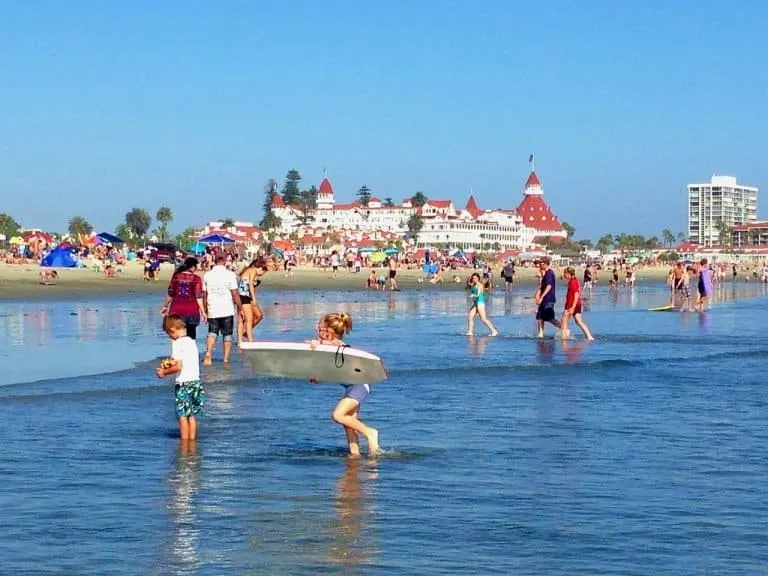 Although California boasts plenty of coastline, picturesque Coronado Beach with the iconic Hotel del Coronado in the background is a scene that is tough to beat.
Coronado Beach made our list of the best beaches in San Diego for families.
The hotel's history dates back to 1888, and this National Historic Landmark has had plenty of famous visitors stay during the past 130 years including Marilyn Monroe, Charlie Chaplin, Charles Lindberg, and numerous US presidents.
And yes, there are ghost stories if your family is so inclined.
The property now includes four "neighborhoods," each with their own distinctive flare. The Victorian (the original hotel with its famed red turrets and unique rooms), The Cabanas (with beachside fire pits or poolside private cabanas), The Views (with various offerings, many with sunset views), and The Beach Village (private, gated 1-3 bedroom vacation rental homes).
Families staying at the property have unparalleled access to the gorgeous shoreline in front of the hotel where you can play in the waves, search for shells, build a sandcastle, or watch the sun set over Point Loma across the bay.
Surf and paddleboard lessons, rentals, cabanas, as well as food and beverage service (San Diego's only in-sand drink options!) are available for resort guests.
Kiddos can take a break from the sand and splash around in the Cabana Pool as well. Eight onsite restaurants offer world-class fare and will keep your family well fed during your stay.
Looking for more fun? Don't miss renting family bikes from the hotel. Cruising along the flat beach or down Coronado's charming Orange Street to discover quaint restaurants and shops is a must.
Onsite, DelVentures offers kids club services for the 5-12 set if mom and dad are looking to enjoy a moment without the kids.
The Ice House Museum offers free admission and gives guests a glimpse at the historic 1889 ice house as well as a brief tour of the property and its storied past. Additional historic guided walking tours are available for guests looking more depth; haunted tours are also available.
Don't miss the Hotel Del during the winter holidays. The already magical resort transforms into a winter wonderland with a beach-front ice rink, a two-story lobby Christmas tree, visits with Santa, a holiday light show, festive movies on the lawn, gingerbread houses, elf visits, and so much more.
Here are our top picks for San Diego Christmas events for families, including the offerings at Hotel Del.
–Katie Bodell, Trekaroo Editor-at-Large
San Diego Mission Bay Resort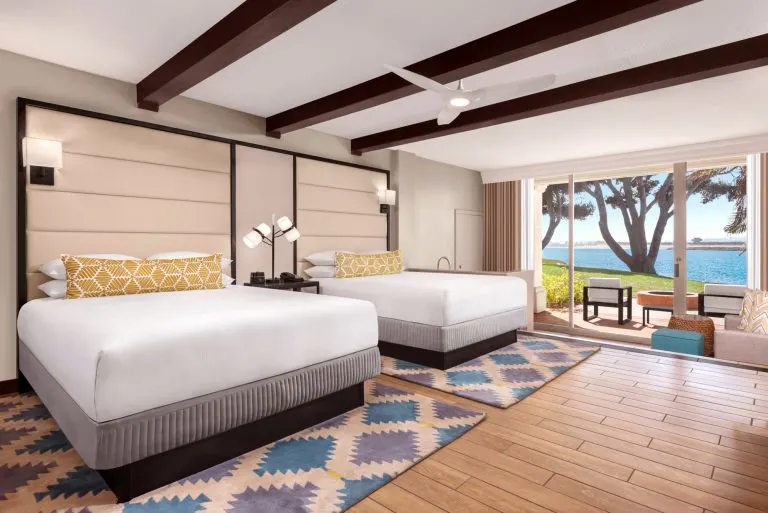 Water-loving families will be as happy as clams at San Diego Mission Bay Resort.
The sandy beach at this hotel is a wonderful choice for families with young children because it's located on Mission Bay rather than the Pacific Ocean, which means minimal waves and warmer water. Active families will want to rent paddle boards, jet skis, or a boat to get out onto the bay.
All ages love the resort's large palm-lined, zero-entry pool. On summer weekend nights, float in an innertube or pull up a lounge chair to watch family-friendly dive-in movies. A splash pool with fountain is a great place to play with littles, too.
On land, roast marshmallows around beach fire pits on S'mores Nights or listen to live bayside music on select nights. Guests can also borrow recreation equipment for volleyball, basketball, ping pong, cornhole, and tennis. There's a giant chessboard for friendly competitions, too.
To explore beyond the resort, rent bicycles or a surrey and follow the trail that winds around the bay and beyond.
Located just minutes from the San Diego Zoo, Balboa Park, the Gaslamp Quarter, Mission Bay makes a great launching pad for a San Diego family vacation. You can even view SeaWorld San Diego's nightly fireworks across the bay from the resort.
Bonus: San Diego Mission Bay Resort provides a free shuttle to this aquatic theme park!
Personally, I prefer San Diego Mission Bay Resort's garden rooms to the more expensive water view options. I recommend booking one with its own firepit!
-Colleen Lanin, Founder/Editor of TravelMamas.com
Book your discount tickets to SeaWorld San Diego with Undercover Tourist. Save big and skip the lines!

Trekaroo tip: If you are visiting during the winter or early spring, be sure to book a whale watching trip while in San Diego to see gray whales and their calves on their annual migration! This whale watching cruise departs directly from Mission Bay.
Discover the 10 best things to do in San Diego with kids.
La Jolla Beach and Tennis Club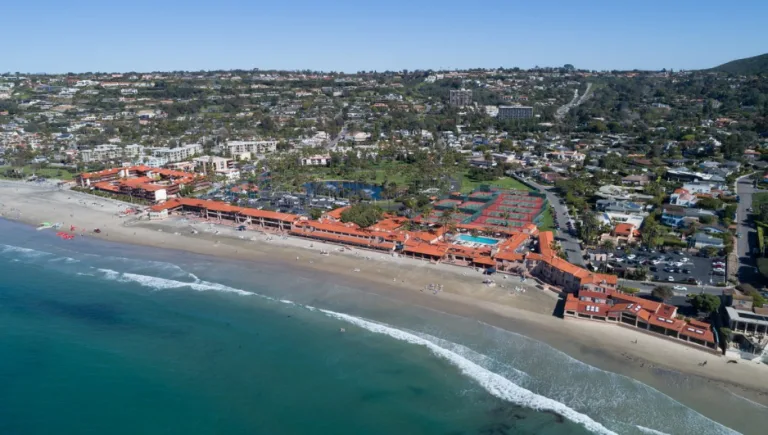 La Jolla Beach and Tennis Club is an exclusive and private club whose members are among the most elite families in San Diego. Luckily, us regular folk still have the opportunity to experience the perks of belonging to an oceanfront club because the La Jolla Beach and Tennis Club is also a full service resort.
The resort is located on the sand at La Jolla Shores Beach. The setting is spectacular with gentle waves lapping at the sand and the famous La Jolla sea caves sharing the same cove. Taking a guided kayak tour to these caves is a must!
Most of the rooms on property are suites, varying from one to three bedrooms, with small kitchens. There are also a wide variety of restaurants and shops within walking distance.
While the rooms are nice, most people stay at this resort for the perks. Every day, club emloyees set out colorful (and complimentary) beach umbrellas and chairs for guests. I suggest heading down in the morning and securing your sot for the day.
There are also complimentary sand toys are available for check out along with beach tennis, volleyball, and bocce ball equipment.
The resort has 12 tennis courts and guests can reserve courts, check out equipment, or take lessons from one of the club's pros.
There is also a large outdoor heated pool (which is kept at a lovely 83 degrees), small kiddie pool, fitness center, massage services, 9-hole par three golf course, and a playground.
The highlight of our stay was the night we participated in the Beach Barbeque tradition. For a small fee, guests can rent a barbeque, table, and 10 chairs. The barbeque includes charcoal, and utensils. Club staff light the barbeques for you and set up your tables directly on the sand.
After dinner, make s'mores on the sand and watch the sunset so you can soak up every last moment of this slice of paradise.
–Sharlene Earnshaw, Trekaroo Editor-in-Chief
La Jolla Shores made our list of the best beaches in Southern California for families. See what other special spots made our list.
Seabird Resort in Oceanside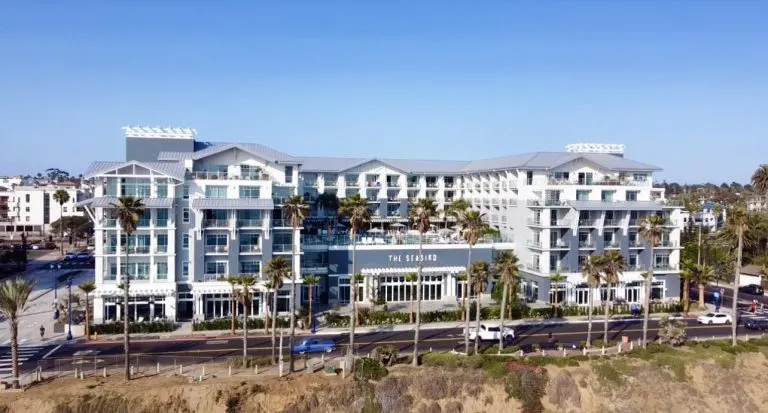 One of our favorite California beach resorts for families is The Seabird Resort in Oceanside. Newly opened in 2021, visitors will be hooked from the moment they enter the lobby with its gorgeous modern beach design, abundance of fresh flowers, and local artwork in every nook and cranny.
Even though the property is managed by Hyatt, it feels like a boutique hotel. There's a cozy library on the second floor, a pool overlooking the Oceanside boardwalk, and welcoming spaces for families to hang out both pre and post pool/beach time.
The hotel also has a private rotating art collection on loan from the Oceanside Museum of Art. It might sound fancy, but it is extremely comfortable while still being upscale.
The best thing about The Seabird is that it's right on the beach and the majority of the resort's 226 rooms have ocean views. Our room had two queen beds, ample space, and an unobstructed ocean view.
The resort is walking distance to everything including restaurants, museums, and the beach. The Seabird team has events throughout the week to keep the kids entertained including: scavenger hunts, tie-die crafts, kite flying, and more. There's so much to do on-site, your kids might never want to leave!
-Kirsten Maxwell, KidsAreATrip.com
Oceanside has been named one of the best girl's weekend getaways destinations by Your Time to Fly.
Best California Beach Resorts for Familes in LA and Orange County
The Resort at Pelican Hill in Newport Beach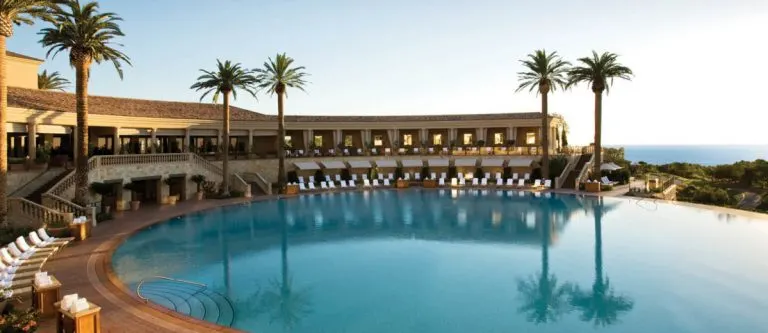 Set on 504 acres on the bluffs of exclusive Newport Beach, The Resort at Pelican Hill is a Renaissance-style resort with architecture reminiscent of Andrea Palladio's celebrated churches, villas, and palaces in Northern Italy.
Everything about this resort is grand and luxurious, from the massive arch your car passes under as it heads up the hill to the resort to the circular, infinity-edged Coliseum Pool (one of the world's largest) with its 1.1 million hand-cut glass mosaic tiles which mirror the brilliantly blue coastal skies.
The stunning views from the lobby, with the Tom Fazio designed golf course in the foreground and the brilliant Pacific looming behind, are breathtaking and best enjoyed with a cup full of house made gelato from the café.
Those staying at Pelican Hill will be happy to hear that the smallest room is a spacious 847 feet. Each bungalow features a private terrace with ocean views, a fireplace framed with Italian limestone, and décor that is the finest in understated luxury.
There are even massive two-, three-, and four-bedroom villas ranging from 2,193 to 3,581 square feet that feature the best of everything including huge patios with expansive ocean views, private garages, full kitchens, large living areas, plenty of room for the kids to run around, and personalized service from your butler.
Every family staying at The Resort at Pelican Hill will definitely want to take advantage of the Beach Experience at my favorite beach in Orange County, Crystal Cove State Park. The beach made our list of the top beaches in Southern California for families.
The Beach Experience includes:
• Complimentary round-trip coach service
• Set-up of complimentary beach chairs and umbrellas on the sand
• Food and beverage service on the sand from The Beachcomber Café
• A complimentary beach bag with towels and bottled water
You haven't really experienced pampering until you have experienced a beach day like that!
Speaking of pampering, Mom and Dad won't want to miss experiencing the property's magnificent 23,000-square foot, 5-Star Spa featuring organic treatments and a state-of-the-art fitness center.
–Sharlene Earnshaw, Trekaroo Editor-in-Chief
Explore OC with our guide to 30 Fun Things to do in Orange County with Kids.
Ritz Carlton Laguna Niguel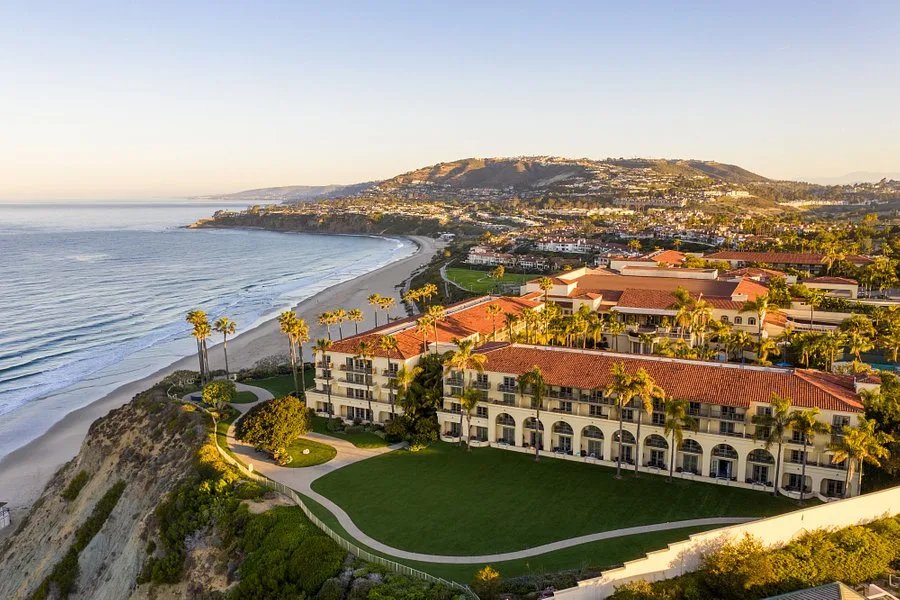 As an Orange County resident and frequent visitor to Salt Creek Beach in Dana Point, I have always admired the stunning Ritz Carlton, Laguna Niguel which sits up on the bluff overlooking one of the best views of the Southern California coast.
And while I have had the pleasure of dining at Raya, the property's restaurant, and enjoying drinks at 180blũ, the resort's epic outdoor lounge (with views of whales and dolphins out in the water) on more than one occasion, staying at this family-friendly California beach resort is always a treat.
The property has two pools, a playground, organic garden, tennis courts, complimentary yoga and pilates classes, and a full service spa with treatments reflecting its oceanfront location, but the real attraction is its amazing beachfront location.
Whether you are sitting on an Adirondack chair on the lawn overlooking the ocean, watching the waves from the outdoor patio at 180blũ, or taking a complimentary shuttle ride down the bluff to the beach for a few hours of fun on the sand, it is hard not to be enchanted by the picture-perfect surroundings.
Once on the sand, guests can take advantage of the Ritz Carlton's Beach Butler Service which inlcudes towel service, umbrellas, and beach chairs.
Salt Creek is a great beach for surfing, boogey boarding, sunbathing, and sandcastle making. During the summer months there is a snack bar right on the sand serving up food and treats.
Salt Creek also has huge grassy areas which are perfect for picnicking, throwing a football, or watching the sunset.
You also want to make time to visit the resort's Eco-Adventure Center which has various classes and adventures focused around with Southern California's unique ecosystems. Whale watching, organic cooking classes, and snorkeling in kelp beds are just some of the experiences offered.
I suggest staying on the concierge level of the Ritz Carlton, Laguna Niguel. On this level, guests have free reign at various food options which are served throughout the day as well as complimentary beverages, including alcohol.
Being able to step outside our room and find a wide variety of delicious food was almost as exciting as Santa Claus for my kids! My husband and I found cocktail time after a long day in the sun and surf to be the perfect cap to a lovely day.
If you visit the resort during the Christmas season you will find the Ritz all dressed up for holidays with multiple Christmas trees and one of the most elaborate gingerbread displays you have ever seen. There really isn't a bad time of year to stay at the Ritz.
–Sharlene Earnshaw, Trekaroo Editor-in-Chief
Montage Laguna Beach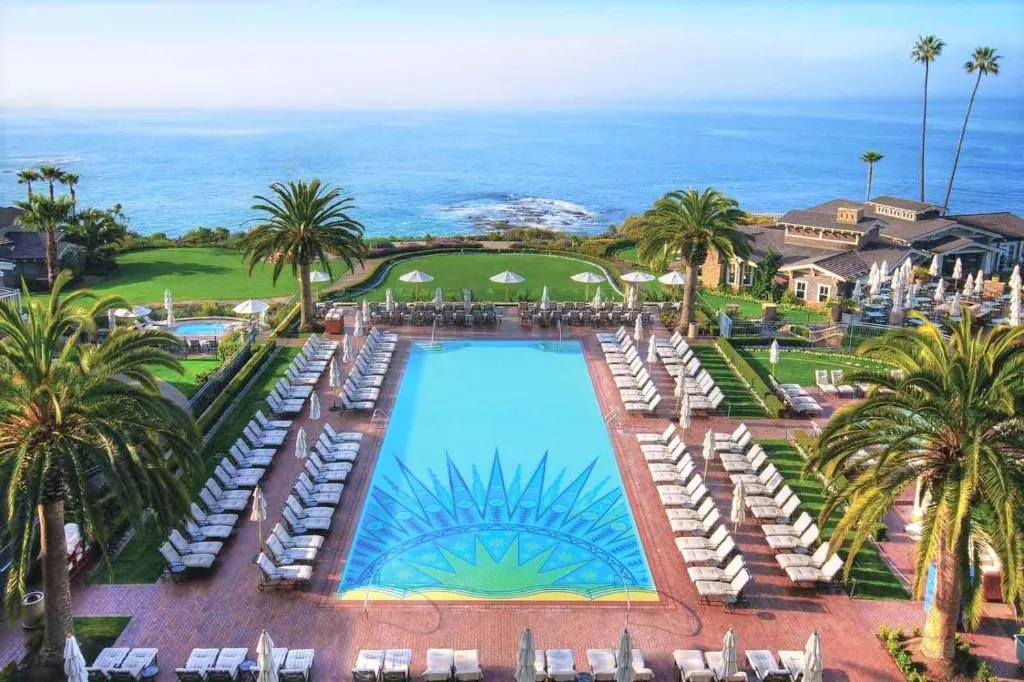 Families staying at the Montage Laguna Beach know they are in for a first-class experience from the moment they check in.
Every guest is given a brief overview of the property from the lobby's impressive fifth floor balcony, which overlooks the infinity-edged mosaic pool and the azure Pacific, before being escorted to their room.
This resort's 30-acre cliffside location allows for each spacious guestroom to have an expansive ocean view. Since Laguna Beach was originally founded as an art colony in the early 1900's, the resort was built to reflect that era's architecture with Craftsman-style design featuring rich wood, copper gutters and a shingle-style roof.
Room amenities are top notch and include feather-top beds with 400-thread-count sheets, marble bathrooms featuring products by Antica, and luxuriously soft bathrobes.
The patio outside our room made for a great place for my kids to run around while I relaxed on the lounge chair and took in our gorgeous coastal scenery.
The property's infinity-edged Mosaic Pool sits center stage with its heated waters floating parallel with the surrounding sidewalk as it reflects the sunshine. There is also a children's pool and play area. Cabanas feature the typical amenities such as beverages, fruit, champagne, and dedicated servers.
As perfectly luxurious as the pool is, it still can't compete with Treasure Island, the beach that lies just below the Montage. One of Laguna Beach's finest stretches of sand, Treasure Island has turquoise waters, white sand, nice tide pools, and a dramatic natural sandstone arch, perfect for framing sunset shots.
The Montage offers beach service, complete with comfortable chairs perfect for lounging on while soaking up the sun's rays. Be sure to find time to enjoy a sunset as it dips below the Pacific from this spectacular stretch of sand.
Paintbox, the children's program at the Montage, is one of the finest I have come across. My kids had so much fun that my son actually cried when I came to pick him up- he never wanted to leave!
The camp counselors took my kids down to the beach, for a swim in the pool, and helped them make crafts including personalized backpacks to carry home all their treasures. One counselor painted my daughter's face while another played Spiderman computer games with my son.
Laguna Beach is a great town for families who love the outdoors and Montage is happy to set families up on a variety of adventures. Guests can arrange guided sea lion kayak tours, stand-up paddle board lessons, bike tours, and even private family surf lessons.
The perfect complement to a stay at the Montage is a few hours of pampering at the Spa Montage. Wraps and scrubs incorporate local elements such as seaweed and citrus, and customized facials focus on each individual's needs based on an expert esthetician's knowledge and diagnosis of your skin.
After your treatment, be sure spend some time in the sauna, whirlpool, cold plunge, or just lounging by the adult-only spa pool while taking in the incredible ocean views.
–Sharlene Earnshaw, Trekaroo Editor-in-Chief
Hyatt Regency Huntington Beach Resort & Spa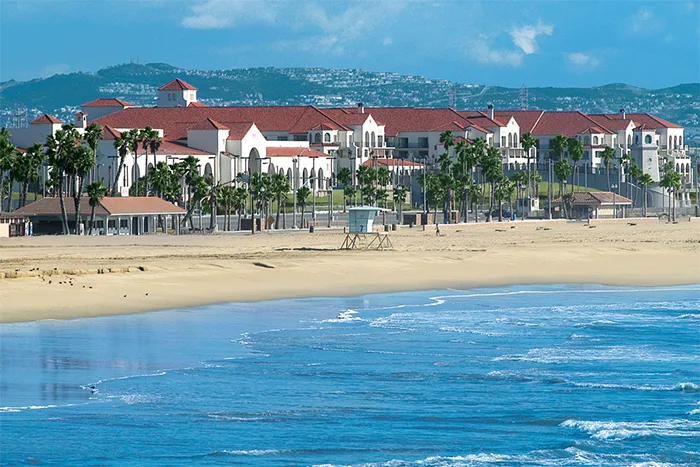 The Hyatt Regency Huntington Beach Resort & Spa is located in Surf City USA along one of the most famous stretches of sand in the world.
The Hyatt Regency Huntington Beach is the perfect place for an escape. The grounds are filled with palm trees, fountains, and the wonderful Spanish architecture that California is known for.
And, since the resort is directly across the street from the beach, the ocean views are incredible. As a matter of fact, a walkway over Pacific Coast Highway gives guests direct access to the beach from the hotel.
Rooms are updated and very nice. Many have ocean views and some even have their own private firepits! Rooms on the club level include breakfast, evening hors d'oeuvres & cocktail service.
One of the most exciting things for kids when staying at a hotel is checking out the pool and this hotel certainly has plenty of pools to get excited about.
The main pool is lagoon style with plenty of lounge chairs for mom and dad to relax in but the real excitement for kids is the Slyders Water Playground. Slyders has three water slides, a large spa, a pool, and a wading pool which is perfect for little ones. Cabanas are available for rent and very popular during the summer.
If you are looking for a special experience for your little ones, check out Mermaid Magic where kids will learn to swim like mermaids in special mermaid suits.
There is also a grill where families can get snacks (or cocktails) and fire pits where that are perfect for roasting marshmallows on the those cool California evenings.
In addition to multiple dining options on site, there are also a few little shops, a small grocery store, an arcade, and a surf shop where you can rent beach cruisers, chairs, sand toys, umbrella, surfboards, body boards, wetsuits.
The surf shop also offers surf lessons, stand-up paddle boarding lessons, kayaking tours, and even beach cabana rental with butler service!
–Sharlene Earnshaw, Trekaroo Editor-in-Chief
Terranea Resort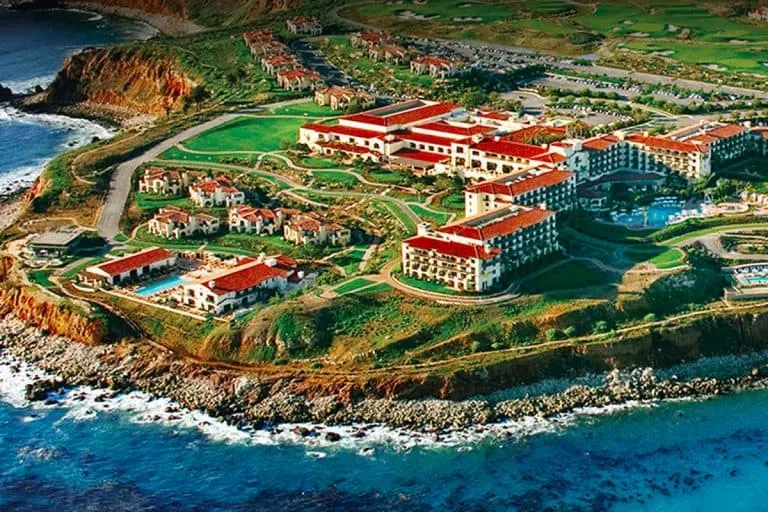 Located just 16 miles south of LAX, Terranea Resort sits atop the Rancho Palos Verdes Peninsula and is the premier beachfront resort in LA County.
Inspired by the luxury of the Mediterranean, the resort has 582 guest rooms, suites, villas, and casitas which will suit families big and small. All guest rooms feature top-of-the-line linens, bedding, technology, and amenities, including private ocean-view balconies or patios in every room.
Onsite, families will find nine dining options to tempt their palates including fine dining options, quick service and cafe bites to go, pool-side dining, and multiple bars.
There are four different pools at Terrena Resort but most families will spend the bulk of their time at the 5,000-square-foot Main Pool which has a 140-foot water slide and a splash pad. There are cabanas available for rent and a poolside bar and grill which will keep your group well fed.
The resort also features an award-winning golf course, a luxurious spa, and world-class fitness center.
Activities abound at Terranea, with a heavy emphasis on nature and its inspiration. Families can take painting lessons, learn archery or falconry, go on a guided hike (or just follow the numerous trails), explore the tide pools, kyack, or try stand-up paddleboarding.
Kids Club Activity Boxes (including a painting project, nature journal, and DIY beach ball) can be taken with you as you explore the resort. In addition, a Kids Club Discovery Garden drop-off program is available for kids ages 4-10.
-Katie Bodell, Trekaroo Editor-at-Large
Explore LA! Here are the best things to do in Los Angeles with kids.
Shutters on the Beach in Santa Monica
Santa Monica is the most popular beach in the Los Angeles area, thanks to its wide stretches of sand, prime location, and world-famous pier. It is definitely a place see and be seen.
Shutters on the Beach is the best beach resort for families in Santa Monica who want to prioritize luxury and an amazing location. This resort has a definite New England vibe and rooms feel less like hotel rooms and more like a vacation home with cozy-yet-sophisticated decor.
While there are standard rooms available, larger groups will also be happy to learn that there are two-bedroom suites that sleep up to eight as well. These suites really do feel like beachfront vacation homes, but come with all the perks of staying at a beach resort hotel.
The bedding is exquisite and feels the way you wished your home felt. Add in the views and waking up to the sound of waves crashing, and it is clear that you are on vacation someplace special. Keep your eyes out for celebrities, which are known to frequent the property.
The property has a pool with ocean views, as well as private cabanas that are available to rent. There is also a full service spa which is highly rated and a fitness center for those who prefer to exercise indoors. But, keep in mind that Muscle Beach is just steps away and a great place to exercise as well.
There are three restaurants on property (and Coast is well-known for its breakfast and brunch) but kids menu prices do tend to be on the steep side. Still, the food and the location justify the higher prices.
Thankfully, if you would rather not spend $20 on a kids meal, there are plenty of great restaurants within walking distance. There is room service available if you are exhausted from a day at the beach and not up for sit-down dining.
Activities abound just outside your door. Rent beach cruisers and go for a bike ride down to Venice. Spend a couple hours riding the rides and playing the games at the Santa Monica Pier. Or, just enjoy the fact that you are at the beach and spend your days playing in the surf and sand.
–Sharlene Earnshaw, Trekaroo Editor-in-Chief
Best California Beach Resorts for Familes in Ventura and Santa Barbara Counties
Embassy Suites Mandalay Beach in Oxnard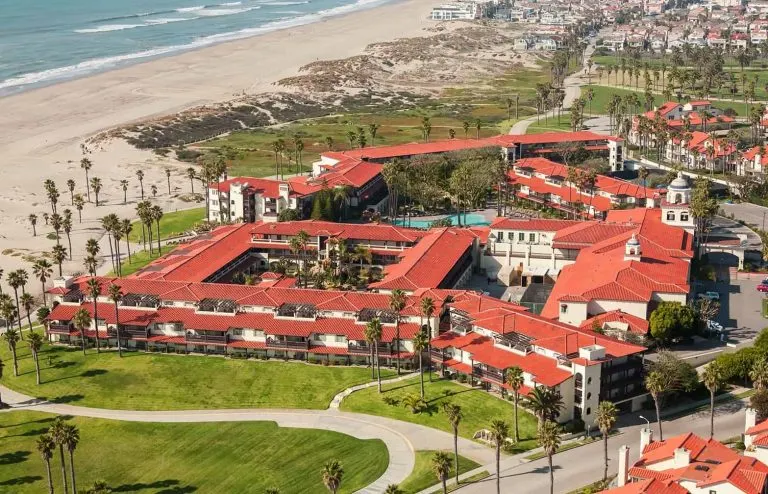 Embassy Suites Mandalay Beach Hotel & Resort, located on the beautiful Ventura County shoreline just 60 minutes north of Los Angeles, offers families the best of two seemingly contradictory worlds: it is both budget-friendly and surprisingly luxurious.
The stunning Pacific is literally steps outside the door of the hotel's updated and modern two- or three-bedroom suites. Standard room amenities include private bedroom and living quarters, two full-size bathrooms, private balconies or patios, and upgraded linens.
Onsite concierge has a full array of beach play items you might need for your trip including towels, buckets, shovels, kites, boogie boards, bicycles, and metal detectors. The summer months bring kid-friendly treasure hunts on the beach, disc golf, potato sack races, and even giant bowling!
Nearby, catch all the action at the Channel Islands Harbor where boating, golf, shopping, and even a visit to Channel Islands National Park awaits. And, of course, who can resist the surf and sand at Oxnard State Beach?
This beautiful Embassy Suites property features a sprawling outdoor pool and two large spas. Families can enjoy ping pong, basketball, and tennis. There is also a spa and on-site fitness center.
All stays at the Embassy Suites Mandalay Beach include daily complimentary cooked-to-order breakfasts including omelets, cooked to order eggs, fried potatoes, bacon, sausage, and much more.
Before heading out to dinner, be sure to stop by the complementary evening reception featuring soda and snacks for the kids as well as wine, beer, and appetizers for the parents.
The property does have its own restaurant, Coastal Grill, which serves lunch and dinner in addition to the complimentary breakfast.
In addition to all that I've listed above, the Embassy Suites also offers:
• On site laundry (so you aren't packing sand filled bathing suites in your luggage!)
• Free & extremely convenient parking (valet service also available)
• Morning newspaper
• Gift Shop
• Room Service
• Airport Shuttle Service
-Katie Bodell, Trekaroo Editor-at-Large
Mar Monte Hotel in Santa Barbara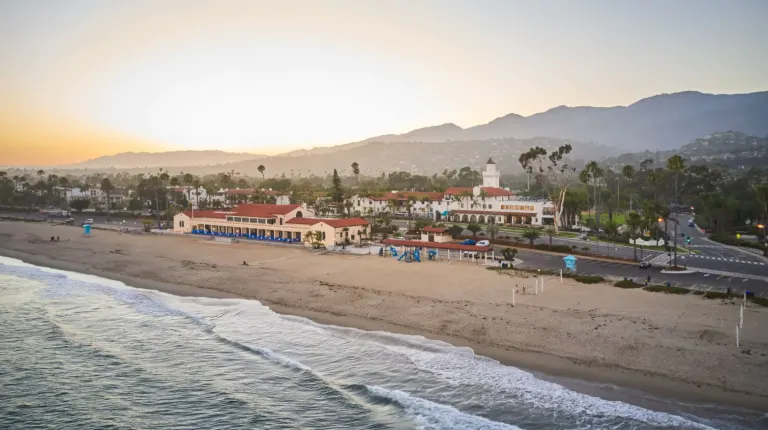 If you are looking for a beachfront hotel right in the heart of Santa Barbara, the Mar Monte Hotel by Hyatt is a great option. This beautiful property is located right across the street from East Beach, which has a playground, gentle waves, and plenty of sand for families to enjoy.
Mar Monte Hotel is centrally located on Cabrillo Blvd, Santa Barbara's main coastal drag. Itis a short, 10-minute walk to the charming Santa Barbara Zoo, and about a mile to Stearns Wharf and downtown.
The property has a boutique vibe with classic Mission-style architecture. I love the tile floors in the lobby, white stucco walls, warm woods, and gorgeous fireplace. It puts me in the "Santa Barbara" mood. Ocean view rooms with balconies are avialable. There are also garden view rooms for those looking to pay less.
While many families will be spending their time at the gorgeous beaches that Santa Barbara is famous for, they will happy to know that there is a nice pool deck with ocean views and a hot tub. If you prefer to exercise indoors, you wil be happy to know there is a fitness center onsite.
There are two restaurants on the property. Costa Kitchen and Bar is open for dinner and features coastal Italian cuisine. Cafe Lido is located poolside and serves three meals daily, as well as some tasty cocktails. Room service is also available.
Read our article higlighting the best things to do in Santa Barbara with kids before your visit.
-Sharlene Earnshaw, Trekaroo Editor-in-Chief
Ritz-Carlton Bacara in Santa Barbara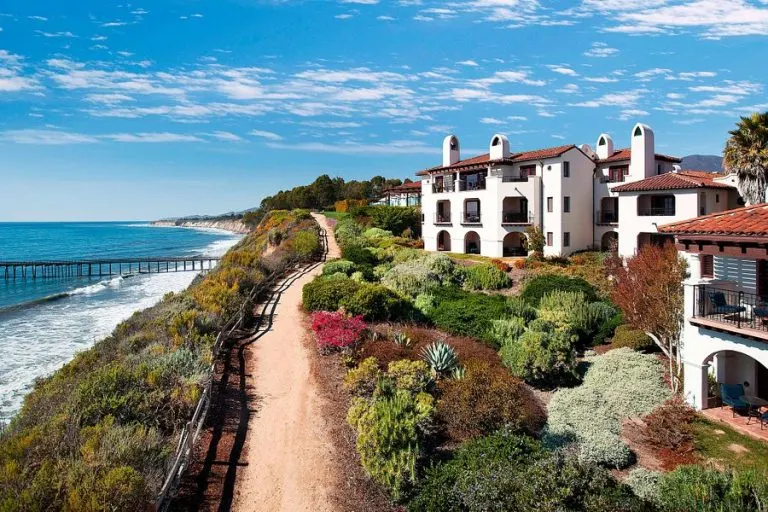 Located just north of Santa Barbara on a bluff above the Pacific, the Ritz-Carlton Bacara is one of the best California beachfront resorts for families who want to get away from it all without sacrificing luxury or things to do.
This 78-acre property is just 20 minutes from dowtown Santa Barbara but its location, tucked in between the Santa Ynez Mountains and the sea, feels far from the hustle and bustle.
The resort has three zero-edge heated pools onsite (one is adults only), as well as private cabanas which can be reserved. The views from the main pool overlooking the ocean are magical.
If you have golfers in your family they will be happy to learn that there are three championship golf courses next to the resort. There are also four clay tennis courts.
Families looking to spend time at the two mile beach below the resort will be happy to know that surf board, body board, and kayak rentals are available at CalCoast Adventures near the main lobby. You can can also rent beach cruisers and mountain bikes from this location.
This Ritz-Carlton property is part of the Jean-Michel Cousteau "Ambassadors of the Environment" program which focus on hands-on education and adventure about the natural and cultural elements of the area wihtout sacrificing any of the fun!
Programs have names like "CSI: Coastal Scene Investigator", "Cosmic Adventures", and "Shark" and include tide pool exploration, eco-hikes, and stargazing. Most of these are geared towards children but family programming is also available upon request.
Every one of the 313 guest rooms has a private balcony or patio with a view (ocean, mountian, or garden). Several rooms have fireplaces. There are even suites available with dual masters bedrooms!
There is a full service, 42,000 square foot spa as well as a large fitness center and complimentary fitness classes like yoga, pilates, and core work.
Dining options range from an elegant steakhouse dinner at Angel Oak to casual dining at both The Bistro with its pizza and burgers and Caffe, the coffee and ice cream stand.. If you are planning a special day, Caffe will put together a picnic basket for you.
-Sharlene Earnshaw, Trekaroo Editor-in-Chief
Best California Beach Resorts for Familes on the Central Coast
Avila Lighthouse Suites in Avila Beach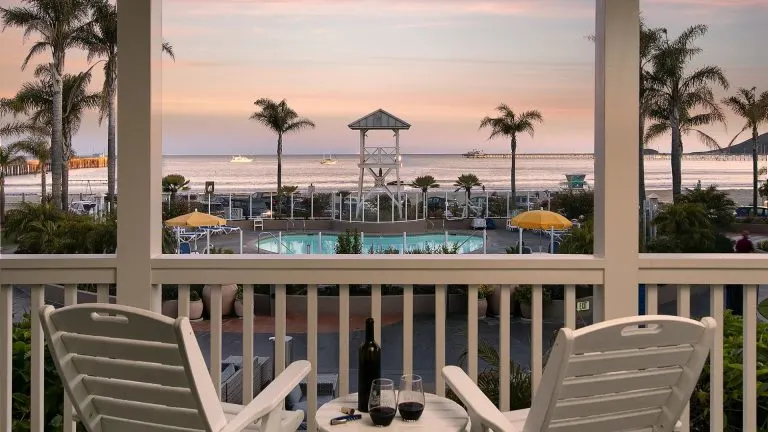 Avila Beach is a perfect destination for families looking for a relaxing California beach escape. Located halfway between San Francisco and Los Angeles, this little seaside town is ideally situated for a fun weekend getaway.
If you choose to vacation at Avila Beach, It's hard to find a better hotel option for families than the Avila Lighthouse Suites. Steps from the main City Beach and all the fun and convenience of the downtown area, you won't even have to get back in the car until it's time to go home.
Every room at Avila Lighthouse Suites has a separate living room and bedroom. Owner's Suites include a small kitchen so you can head in from the beach to make lunch. No need to lug a cooler onto the sand! All of the hotel's 54 guestrooms have an outdoor balcony or patio where you can relax and enjoy the views as well.
Because of the way the hills surround Avila's beaches, you'll find that the weather is warmer and sunnier here than in other Central Coast destinations. When you tire of the ocean, you can splash in the heated pool and soak in the hot tub with ocean views.
More family play areas include ping pong, life-size checkers, and a putting green. Guests also enjoy complimentary breakfast, parking, and high-speed internet without extra resort fees.
When you're not playing at the hotel or on the beach, kayak to the Port San Luis lighthouse or hop on a whale watching or harbor tour. And if you want to check out what's going on inland, the delightful Avila Barn can be reached by a family bike ride along the nearby Bob Jones Trail.
–Kristy Esparza, JJandtheBug.com
Dream Inn in Santa Cruz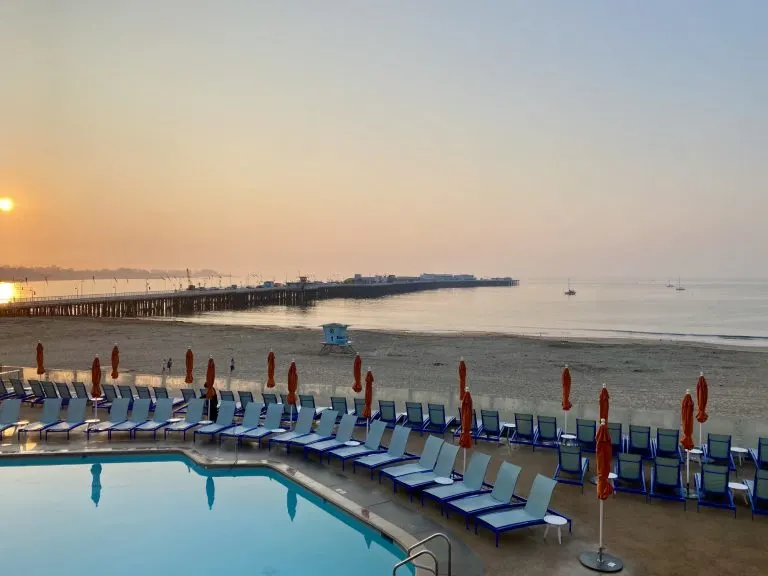 The Dream Inn is boutiquey, very trendy, and has an old-time California feel. It's a perfect combination of retro and surfer. As you walk into the lobby, you're greeted with an old-fashioned juke box next to a wall lined with surfboards.
The best part of the Dream Inn is that it's the only beachfront hotel in Santa Cruz, and every room has a beach view of Cowell Beach—not a semi or part beach view, a full on beach view. Each room has a good-sized balcony with a table and chairs. It was our favorite place to enjoy the sound of waves crashing after the kids were sleep.
In addition to the Dream Inn's beachfront location, the property has a fun pool area with a heated pool and hot tub, plenty of lounge chairs, cabanas, and a cozy fire pit. There's also a pool bar that offers food and drinks so you never have to leave.
The location of the Dream Inn can't be beat- it's within walking distance of the Santa Cruz Wharf and the Beach Boardwalk on one side, and West Cliff Drive on the other. There are also adult bike rentals included with the room reservation to explore the town.
An adorable coffee shop in the lobby serves coffee, teas, and pastries, and there's a delicious restaurant, Jack O'Neills, on site.
Staying at the Dream Inn really is a Santa Cruz dream.
-Besa Sumovic, Beachesandbabies.com